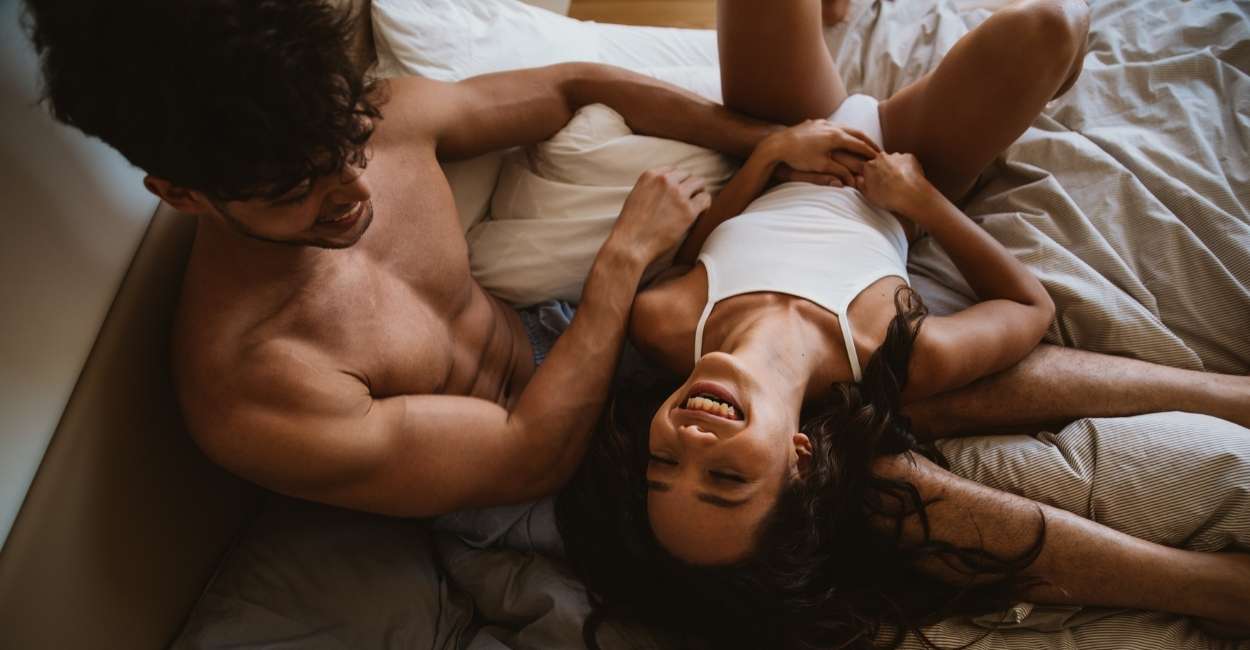 Are you looking for sex ideas? Is your sex life lacking something? Perhaps, you still don't know what works the best for you both? Or, do you wanna try something new?
I'm so glad you reached out to us… It's great to know people put so much effort into their sex life. Why, you ask? Because sex is an important part of relationships and human health.
Whether you guys like sex while getting dirty or clean, kinky or romantic, wanna play with a third party, or just toys… there's something for everyone out there.
So, for healthier and more satisfying sex life, hop on my ride…
Sex Ideas Infographic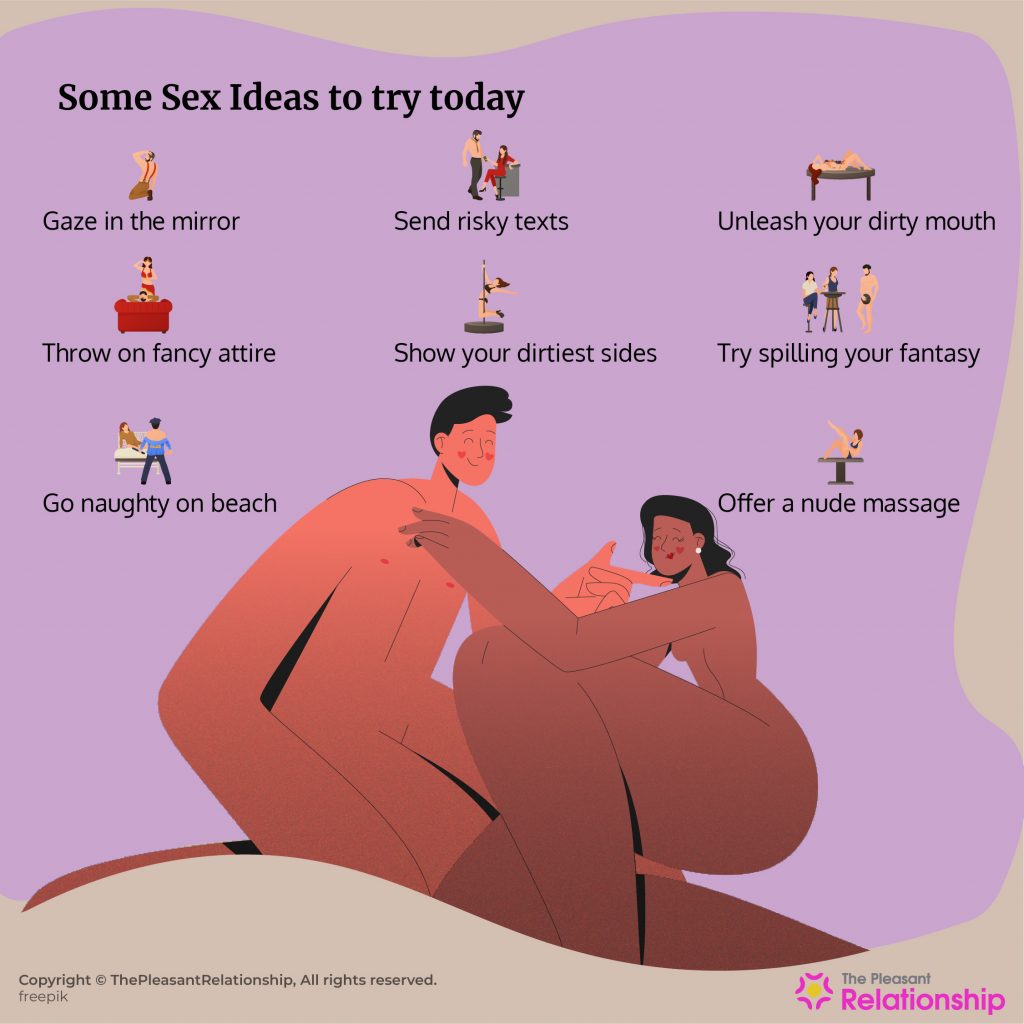 Fun sex ideas
Sex is all about enjoying the carnal pleasure and exploring your body. At some point, people believed sex was only for reproduction and family planning. However, most of the world is way beyond that point.
Currently, sex is all about fun and having fun, and enjoying the orgasm of course. So, let's know how to add more to your fun…
1. Gaze in the mirror
Get a full-size head-to-toe mirror. Lead your partner in front of it. The one with a bigger physique must stand behind the other.
Tell your partner to keep their eyes open and watch your actions very closely. The actions will turn on your partner even more than usual.
2. Send risky texts
Sometimes, tease your partner from the morning itself. Send them texts about what you'll do once it's time. Will you torture them with your tongue, hands, a sex toy, or something else?
Don't promise them anything you haven't prepared. Don't disappoint your partner's expectations.
3. Unleash your dirty mouth
During sex, dirty talk about what you want your partner to do seductively like "I love it when <action> to me".
Or, when you do something they like, confidently tell them how you'll make a mess out of them like "I'll rip off your pants/stockings and make you so hard/wet".
4. Throw on fancy attire
If you two live together for a long time, then you probably don't care about your appearances much. Women, put more effort into your lingerie, apply minimal makeup.
Men, groom your privates and wear something your partner likes. Your efforts may push your partner to the edge.
5. Show your dirtiest sides
Push your shyness aside, wear something sexy, caress your neck, chest, or the valley of your breasts, pinch your nipples, and play with yourself down there – all in front of your partner.
Don't lose eye contact and soon your partner will be all over you.
6. Try spilling your fantasy
While you have vanilla sex, talk about your sexual fantasies. It's quite similar to talking dirty but you make your partner imagine your possible kinky sides.
Excite your partner with the possible naughtiness but without even trying out original naughty thoughts.
7. Go naughty on the beach
Public sex is illegal in many places, so don't try anything that might trouble you. Instead, go to the beach, play in the water, slowly go somewhere away from the public eye.
Playfully grab your partner's privates under the water until they get the hint and throw them on you.
8. Offer a nude massage
Make your partner naked, spread eagle on the massage table. Reward your hard-working bae with a full-body massage.
When your partner relaxes, take it up another notch with a genital massage. Help them reach climax and slowly turn it into oily sex.
9. Bite and suck
Whether you're gonna cum or you just began teasing your partner. This is a fun way to show your playful and cute side.
Bite very lightly and test if your partner is okay with some teeth. Trace your partner's body with teeth and suck in between.
10. Restrain your babe
If either of you wanna try BDSM but aren't sure, this can be your window. Get a pair of handcuffs from the sex store or wrap their wrists with a silk scarf to the bed headboard. Seductively continue your relentless ministrations all over their body and enjoy.
But does fun mean the same to everyone? Each of us is unique and has different definitions when it comes to love, attraction, beauty, and even fun.
To some, fun in bed is more about getting kinky. So, let's expand the sexual possibilities here…
Kinky sex ideas
Did anyone tell you to have unusual taste in sex? Do you feel ashamed of your choices during sex? Well, so long as you don't use knives or hurt small animals, don't be ashamed!
You're kinkier than others and that's all the more attractive to people with similar tastes. When you get a partner who accepts you wholeheartedly and finds your thoughts hot, definitely try these out…
11. Get a blindfold
If you thought about BDSM, you're wrong. Only use a pretty blindfold and proceed as usual. Even with usual moves, your partner will feel every touch, caress, or kiss intensely… all because their blocked sight makes their other senses more sensitive. Send electric shivers down their spine tonight.
12. Punish them with a spank
Imagine getting your ass spanked in the middle of nowhere… it's a turn-off! Rather, when you're mid-way in your passionate sex, but haven't quite stripped off completely… pull up her skirt and give her a light smack on her buttocks. Don't forget to go a bit harder, if she gets wet.
13. Get breezy with open windows
If you dare, open the windows before having sex. Depending on how far you wanna go, you may do it in front of the window, or pull transparent curtains and switch on the dim light.
Feel excited with the fear of getting caught showing off your raw and dirty side.
14. Tug on their hair
When your partner kisses you, goes down on you, or teases you, wrap your arms around their neck, run your fingers through his/her hair, grab, and pull.
If you fear hurting your partner, make sure you grab as much hair as possible in your hand. This won't hurt but turn them on more.
15. Massage with candle oil
A hot massage candle won't burn your skin, so calm your heart. Light the candle, blow it out when the oil melts, use it slowly to sensually massage your partner's body.
Take turns to make your sex sessions more fun with it. Make sure you don't get too excited and put it inside your body.
16. Plunge in the sex toy
Check out your nearest sex shop together, get a small vibrator, and leave it inside your partner. Put it inside them in the washroom yourself.
Walk all the way back home as you play with the vibrator settings. If your partner can't take it, you might relieve them a bit on your way!
17. Make love with ice-cream
Get your partner's favorite ice cream flavor and cover your naughty, sensitive, and erogenous zones with that ice cream.
Act as if you spilled it mistakenly, show that body part, and say "oops… don't wanna waste your fave ice cream, right? Wanna clean it off?" Turn on your partner with playfulness.
18. Play pornstars
Get a tripod, find good angles and lights, your smartphone, a good phone, and app security, and you're all ready for this one.
Shoot yourself having sex and make your own special porn. Once the content is created, don't forget to keep it safe or delete it after watching it.
19. Scream your heart out
Next time in bed, be more vocal. Feeling shy? Well, verbally asking for what turns you on is a great turn-on for your partner.
Let your partner know what feels good, where you want your partner to rub more, what makes you wetter/harder. Boost your partner's sexual ego for hotter sex.
20. Pop the ice trail
Pop an ice cube, trail it down your partner's sensitive bits like neck, back, chest, nipples, navel… the rest is for you to get creative.
This is a great way to sensitize your partner's body without much expense. The chilly sensation is perfect to make a steamy ambiance.
Sometimes kinky addition to your regular sex life doesn't cut to the chase. You may want to be more creative even beyond a list of kinky sex ideas.
Perhaps you wanna move your body in some new style? Well, this one might be it for you…
Sex position ideas
Do you both like getting bendy during sex? Is the same old missionary making your life hell? Or do you wanna burn some calories with sex? Trying out different sex positions are great for all of these.
They activate different muscles, help lose weight for real, and even the freshness excites you more. So, give these a shot…
21. Grab a sex pillow
Some sex stores also avail sex pillows – a pillow but with different angles. Find an assortment of sex pillows to fix which angle is best for your sex life.
Or, splurge on a few to make even missionary sex something wholesome. Angles matter when it comes to hitting the right hidden spots.
22. Try mutual oral sex
Or what you call "69"! Make sure you both like going down on one another or taking consent if you don't know.
Pull down your partner's bottoms until they feel high. While they're in a daze, get rid of your pants and urge them to pleasure you at the same time.
23. Screw them like a cork
In the "corkscrew", let your partner lie at the edge of the bed. Ask them to keep their thighs shut tight while you grind them from behind while standing.
Your partner may also thrust toward you to make the experience even more enjoyable.
24. Do it like the dogs
For "doggy style", make your partner get down on all fours, kneel behind them, and aim for the home-run buddy!
Reach your partner's G-spot easily with this position. Spice up your sex life with doggy style and simultaneous clitoris attention from this weekend.
25. "Prone Bone" the bone
Lie down on your stomach, keep a pillow under your belly to raise your hips, and straighten your legs.
Ask your partner to lie over you and penetrate you from behind. This makes the penis feel even bigger and longer. It's best if you're craving something bigger.
26. Push in the "Wheelbarrow"
Go down on all fours but your partner stands behind you and slowly picks you by the pelvis.
Grab on to their waist with your legs for deeper and more satisfying sex life. This is somewhat like the doggy style but is a great arm workout.
27. Bang like a "cowgirl"
The woman rides the man, the man supports her weight on his pelvis and thighs. Since the woman is sexually dominant here, she may delay her partner's orgasm and intensify her own.
She can widen her legs to get the best depth and ride at a favorable speed.
28. Modify the doggy into "froggy style"
Get down on fours like doggy style… but rest your head and arms on a pillow. It gives a break to your arms if you're tired.
You may transition from the doggy style or simply begin with this one. Pull your partner's hands to stimulate your nipples and clitoris.
29. Go deeper with "pretzel dip"
Lie on your side in the middle of the bed. Raise your outer leg to let your partner fit in. Try this new angle to get even more access to your G-spot.
Also, watch your partner's turned-on face while you tease them with bare hands or a vibrator.
30. Try the "Face-off"
Ask your partner to sit on the edge of the bed. Sit on their lap facing them with your legs by two sides and hug them.
This is a great position to penetrate deeper, kiss, fondle and play with one another. It stimulates just the right spot for mutual orgasm.
Sex positions are too mainstream for you? Wanna try something out of the box? Do you think simple kinks and position changing won't help your arousal?
You might be a real freak in bed. Take that as a compliment and check out everything here…
Freaky sex ideas
I get that you're eccentric when it comes to sex. However, I wonder how far are you willing to go? Ever wondered about your limits?
Perhaps you too have some limits? Or, are you a limitless sex freak? Wanna test the intensity of your desires?
Come on, let's figure out your daring nature here…
31. Get inside the changing room
Visit the shopping mall together and try out different clothes and show your partner. When nobody's around, pull your partner inside the changing room and have a steamy make-out session. Don't forget to keep it down, otherwise, you'll be banned from the mall.
32. Try watching porn together
If you're into porn, why watch it alone? Watch porn together to connect and enjoy better. Play something softcore and try mimicking what they show on the screen.
The slushy noise from the background along with the sexual inspo is great to enjoy sex even better.
33. Go panty-less
On your next date, wear a skirt, go to the washroom, take off your panties, return to the table and smoothly hand it over to your partner.
Your partner won't be able to focus on the food. They might not wait until you return home!
34. Pull them to an alley
While returning from a date, if you find a dark alley, pull your partner into a deserted one.
Smash your lips on theirs, push your tongue inside their mouth, battle their tongue, and grope them as you like. They won't wait long to return the favor.
35. Play with whipped cream
Get a can of whipped cream, strip naked, cover up your ero zones, and ask your partner to suckle on those places. Enjoy the painfully slow suckle and watch them turn on slowly.
Don't forget to get some on your lips for a passionate kiss. Do as per your partner's lactose tolerance levels.
36. Get at it near the graves
You wanted freaky and you got it! Drive to the graveyard at night, go as deep as possible… better not get caught at the get-go by someone… near their grandparent's grave. Get as many orgasms as you can before you join the grave.
37. Go hard during periods
If you don't get period cramps, you're lucky! Scared of messing up your bed or couch? Well, who said you can't use other surfaces?
Enjoy the heightened sensation from extra lubrication on the living room floor. It's even more exciting if you never tried it.
38. Pull the third one in
If you guys are open to threesomes or always wanted to, it's time to realize both of your desires again.
Surprise your partner with a third consenting person to enjoy an unforgettable night. Don't skip the safe sex practice conversation before you dig in.
39. Get cucked
If you fantasize about your wife getting it from someone else and if she fancies this idea too, explore the unknown grounds of cuckoldry.
Find your partner a good cuck and get excited while you watch her get it hard from someone else.
40. Wear sex-special lingerie to dates
Some lingerie has slits around the nipples and vagina. They're great indoors on sexy nights. Wear it underneath a white outfit and carry a shrug or an extra t-shirt.
If it's summer, dump a bottle of water on your chest and watch your partner's reaction. You can't help but get steamy right then.
Freaky or kinky, sex is wonderful despite your gender and sexuality. Some people might shun homosexuals, but they deserve as much love as they're open to.
After all, sex is about feeling and enjoying your heat. It's not just about making babies. So, let's check these…
Same-gender sex ideas
Society says homosexuals have mental issues, that their genitals don't fit, that they won't feel pleasure in such unnatural pairings.
Well, they may talk as much as they want because you live for yourself and not them.
Whether you're a girl-loving girl or a boy-loving boy, you have nothing to fear. So, check out these exotic ideas…
For him…
41. Go on a naughty anal walk
Get your man's favorite anal toy, dilate him well, put the toy inside, and go on a walk. Stay near your house as he might soon feel uncomfortable.
Don't let him take it out himself. Make him wait until you do it yourself.
42. Try couple cock rings
If either of you suffers from premature ejaculation, this is a great item to lengthen your intercourse time.
Try on vibrating cock rings to provide extra pleasure to him during anal sex. If you penetrate your partner more, they can even hold back from cuming until it's their turn.
43. Help him with a fleshlight
While you indulge in anal sex with your partner, their genitals are lonely. Let them help themselves with an artificial anus.
Enjoy a mutual orgasm… even better if he comes with both his anus and penis together. Make your next sex night the most memorable.
44. Contract your anus
When your partner enters you, try contracting your anus. Give your partner's member a good squeeze and catch him off-guard.
Show him your eagerness with your body. When he gets the signal, get ready for the hardest sex of your life.
45. Pull apart his cheeks
Before you begin, pull apart his ass cheeks as hard as you can. He'll let out a loud yelp if you never did that before.
But it's a great way to go real deep and show him who the daddy is. Dominate his rear and explore his deepest crevices.
For her…
46. Try a dual toy date
Pop in your favorite bullet vibrators and go on a date. Switch on your partner's vibrator whenever they're talking with someone.
They must do the same for you. Return home with soggy wet panties, if you can. If not, get frisky on the way back home.
47. Shave one another
This might sound like a regular grooming session, but it might lead to sexual activity. Ask your partner to groom you down there.
When she's done, return the favor. Then play with their clit with stupid excuses like "a lone pubic hair is stuck". Wait until she gets hot and bothered.
48. Try a sexy rainy date
On a rainy day, wear your skimpiest outfit without a bra. If you have a terrace or your backyard, soak in the rain until your clothes go transparent.
Make out as much as you want and get steamy for later. You may try it out publicly but the weird glances won't give you privacy.
49. Tease her with your mouth
Pull her pants off, sniff her down there, peck, and nuzzle her. Do everything but don't insert your finger or tongue inside her.
Make her beg for it… but ask her to show you how to do it. She may finger herself or you or lick you there to show it.
50. Avoid her genitals
Play with her inner thighs, the bikini line, or squeeze her buttocks. Caress her legs with weather soft touches, but don't get rid of her panties.
Make her groan in anticipation. When she feels frustrated, she might get rid of her panties and push your face down there.
Though this section mainly focused on our homo mates, it's not that we'll forget about you in the remaining space.
Many ideas will work despite your sexuality, so keep your eyes peeled! And if you wanna get a bit crazier, follow me to these…
Crazy sex ideas
Are you a bit on the crazy side? Are you mad about sex and go to great lengths to feel pleasure? Damn, that must sound so hot to your partner!
They get to have a sex-loving person all to themselves. And even if you're not one, do you want that? Let's know how to have crazy sex here…
51. Visit a nude beach
Sex isn't allowed on nude beaches, so be very careful about your actions. Either watch others ogling at your partner's body, watch others yourself.
If you guys get horny and wanna try something, tread very carefully. Or, wait until you get home or book a room.
52. Care for a footjob
If your partner has a foot fetish, this might turn them on even better. Scrub your foot well before bed, pull down your partner's pants with your feet, and try to give them a foot job (same as a hand job, done with feet). Don't be afraid to try it even without a foot fetish.
53. Or, massage their feet
If you have a foot fetish, you probably tried it… maybe? For the rest, learn to give sensual foot massages from YouTube.
There are many nerve endings on the feet. Foot rub orgasms are also a thing. Use a toothbrush to make your partner feel it even more.
54. Have a virtual sex party
If you guys like the idea of swinging, try getting a virtual sex party invite. You might also get a hint of voyeurism and exhibitionism from the comfort of your home.
Watch other parties get dirty, take or give them inspo, and enjoy it without feeling unsafe.
55. Recreate favorite sex scenes
Talk to your partner about your favorite sex scene from TV shows. Get all the props or set up the ambiance to make it picture-perfect.
Try saying your dialogues, if any, and don't forget to record yourself. It'll be great content for individual masturbation too.
56. Make a meal of aphrodisiacs
Whip something out of a pumpkin, sweet potatoes, cinnamon, celery, apples, or any other stimulating food. Focus on mainly using most aphrodisiac ingredients for the full course and even dessert.
Discuss how all of them work to boost your sex life. Your partner will get your hints in no time.
57. Experiment with vaginal massage
Dedicate a day or night to your partner's vagina only. Check the internet to try various ways of fingering her or search for a yoni massage.
She can do this on her own, but another pair of hands can help her reach her cavity deep. Help her find her G-spot because most women can't.
58. Hop on the Kitchen Table
Help your partner on the kitchen table. Ask them to clean the messy kitchen like dust, oil, and grime. Meanwhile, relentlessly make love to your hard-working partner.
If they lose focus, spank them as a punishment. Or, your partner may do the dishes, while you have fun penetrating and fondling them from behind.
59. Compete in Masturbating with Netflix
Stream your favorite Netflix shows and compete at reaching orgasm. Mutual masturbation helps spicing up your sex monotony.
This may start off as a mere self-pleasure competition but will turn into a full-on heated sex marathon in no time. Make sure you give your partner enough sexy glances during this.
60. Try boat sex
Lease a boat or cruise and have fun with the bobbing waves. Don't start having sex immediately after boarding the boat.
If either of you didn't ever board one, you might have sea-sickness. Take time to tease one another while you understand your reactions to the motion.
However, if these ideas are too straightforward for your relationship, you may want to take them slowly. If you're not into as much craziness but wanna turn on the heat, sex games are your best bet.
Come on, let's check some worthy…
Sex game ideas
From new lovers, couples who love more soft-core sex, or couples who aren't ready for sex but ache for it… to couples who want to tease one another until they explode… sex games are great to unleash your playful side.
They're good to build sexual tension too. If this deal sounds mmm delish to you, read on…
61. Play "sex billiards"
If you have your own pool table, why not play a round of billiards with your clothes at stake? You probably watched movie actresses wearing sexy outfits.
Wear skimpy clothes to tease your partner. Your partner might not hold back till the game finishes.
62. Get naughty with "Twister"
Bring out your old twister board and reuse it for sexy time. Let your naked bodies be entwined in the most embarrassing and steamy ways.
Help yourself to tease one another with your mouth when a good opportunity appears. Play as dirty as you can, don't let your opponent defeat you.
63. Get kinky with "Truth or Dare"
Play Truth or Dare with your beau and slowly nudge at their deepest desires. Ask them about their naughty secrets and dare them to do something naughty.
Want ideas? What's your most embarrassing sexual fantasy? I dare you to play this round without panties. Let them drink to pass a question.
64. Roll the "sex dice"
In the sex dice game, there are two dice. One has body parts on the faces and the other tells the actions.
Depending on your set, there might even be a third dice with locations in your house. Explore the various possibilities in and outside your bedroom together.
65. Try "Talk, Flirt, Dare"
This is a card game similar to Truth or Dare. There are hilarious conversation starters and flirtatious tasks.
The flirt cards are the best as they help you intensify the chemistry between you two. When you feel brave, don't shy away from Dare cards.
66. Sexily play Two Truths and a Lie
Get to know one another with Two Truths and a Lie… same old? Then, how about a sweet twist of penalties and rewards?
If your partner answers it correct/wrong, either you or they perform desirable sexual actions. It's a win-win situation, whether you get it right or wrong.
67. Beat the rut with "Monogamy"
Think your sex life turned boring? Don't know how to change it? Play the conversation game – monogamy – to find a way out of this boredom. With hundreds of ideas, this is a bestseller adult board game for your sexy time.
68. Find the Syrup
Pour syrup on your partner's body yourself. Ask them to blindfold you. Then, find the syrup on their body in that state, with your tongue only.
Lick your partner clean or shower them with sloppy open-mouthed kisses all the way to the syrup location.
69. Explore with "Nookii"
This is a pro-level game to explore your and your partner's body. It's great to build anticipation and sexual tension between you guys.
Some people add a timer to not flow with the mood into prohibited zones. Others take all the time to enjoy the sweet sensations.
70. "Use your mouth"
If you guys feel shy talking about sex, I don't judge you! That's normal but it's time to break the ice about sex. Know one another's thoughts about sex and this game will surely lead you to good sex life.
New lovers, was that enough for a warm-up? If you're ready to tease your partner even more, then indulge them in their sexual fantasies.
Everyone has some so, know about them and stimulate them with sex ideas like these…
Sex outfits ideas
When it comes to outfits for sex, it's not just lingerie. You'll find many ideas if you take a sneak peek into one another's fantasies.
Yup! You guessed it right, this calls for some good ol' role play on a steamy night. This will turn on your partner too much, so prepare for the hottest night with these…
71. Go bossy at night
If you find office outfits hot, wanna tear your secretary's stockings, or get spanked by your boss. Pull out your work outfit and get to play.
Punish your secretary for their mistakes or plead with your boss for a promotion with a blowjob. Get as steamy as you can.
72. Play doctor and patient
Tired of getting flu shots from nurses? Get a naughty doctor outfit for yourself or your partner.
When they're done giving you a shot, inject them with your medicine in their other mouth. Or, let your patient suckle on you while you get them the shot.
73. Become your master's maid
Maid costumes are an all-time hit since the old times. Though at some point, it was an infidelity topic, not anymore.
Either get a special maid costume or wear an apron only to serve your partner. Let your partner lose control as you do the chores.
74. Milk the cow
Buy a sexy cow outfit and crawl on all fours. Tease your partner like a naughty cow and suggest they milk you.
This is a great turn-on and direct invitation for your partner to get a handful of the lumps. Feed your partner your nutritious treat.
75. Spank the naughty student
Alter your school uniform or get a sexy one online. Wait until you fail your supplementary tests. Ask your teacher (partner) how to pull up your grades.
They might suggest an innovative and hard method. Spanks might help you memorize algebra much better.
76. Arrest them for drugs
Wear a seductive policewoman uniform, pull over the over-speeding person in your bedroom. Cuff them up, write a ticket, and search their junk for illegal drugs, alcohol, or substances.
Make sure to strip, search and rub everywhere because you never know where they hid it.
77. Meow your heart out
Does your partner like cats? Wear a cat outfit and purr until they caress and scratch you everywhere. They don't like it?
Well, this is their chance to punish the naughty cat as they like. Pop in an egg vibrator to surprise your partner with juicy naughtiness.
78. Save their day as a superhero
Are you guys into Marvel or DC? Get a pair of your favorite superhero outfits. Save your superhero partner's day as they can't reach orgasm alone.
Or, restrain the superhero and show them how helpless they are in your hands.
79. Hop like a bunny
Like to go on top and hop on their joystick? Wear a bunny outfit with fishnet stockings.
Slide the one piece aside and tease your partner with the luscious parts. Slay your partner's heart and genitals as you hop on them sexily.
80. Be a gift
Wanna congratulate your partner? Don't know what to give them? Or, think your gift doesn't convey your feelings well?
Well, wrap yourself up in a big ribbon sans clothes. Gift yourself to your partner and let them enjoy this wonderful surprise on their special day.
Was that too less to make your night? You have high standards, I see. Perhaps, you want something more extreme and lewd?
Something too dirty to imagine for others? Does that sound enticing to you? Then we got the perfect list for you here…
Dirty sex ideas
Speaking of being dirty, have you tried anything near to "dirty" yet? How far? Even talking about dirty sex with your partner might result in something fantastic.
However, if you never tried any but wanna learn badly, I'm here for you! Let me show you around the world of dirty sex…
81. Challenge yourself for a nipple orgasm
Do you have sensitive nipples? Then search up some ways to play with your nipple until you have multiple orgasms.
Ask your partner to give you a hand and not touch you anywhere other than your nipple. If your nipples aren't as sensitive, still try it to explore.
82. Get it at the cinemas
Let's be honest, raise your hands if you had movie dates but never made out. Yup… I see no hands!
Book two corner seats and let your beau eat you out while you munch on popcorn. Challenge your partner to try everything to make you come to the theatres!
83. Dirty your car
Park your car and reward your partner with oral sex. To raise the stakes, keep your windows open. Try hard to make your partner moan out loud.
Or, you may tease your partner's junk while they're driving. However, avoid doing it in a residential area. Things will get dirtier when you reach home.
84. Visit a strip club together
Whether your man wanna stay monogamous or open the relationship, this is the best way to find out. However, if you're not into open ones, this isn't for you.
Pay for your man's lap dance and feel him up. If he's loyal, even if he gets hard, he'll do you hard right that instant.
85. Go back to school
If you can visit your school, take your bae to the toilet or inside an empty classroom and get playful right there.
Realize your all-time fantasy of getting at it with your lover in school. Make sure you keep the doors locked before you start!
86. Try a masseur and client role-play
[Trigger alert: Non-consensual sex, not promoting it in any form!] Play the part of a dirty masseur who feels up the client without consent.
Molest your partner's erogenous zones and say how the muscles are tight and need to relax. Your partner must try hard not to cum. If they do, punish them.
87. Play surprise exhibitionism
How do you two feel about exhibitionism? Make your partner wear transparent lingerie, secure a coat over them, and get consent about blindfolding your partner.
Hold their hands and take them outside so they don't fall. Reach a somewhat hidden alley and begin with your blindfolded partner.
88. Get a quickie from the mailman
Make your partner role-play as the mailman. Be prepared with a super short dress without panties.
Ask him to wait at the door, take the delivery, face away from him, and bend down to place the box, so he gets a quick peek. Invite him in because you can't open the box yourself.
89. Try dominance and submission
If you're still wet behind the ears about domination and submission, pull out your Fifty Shades of Grey.
To get a slight idea, read a chapter together every day and explore the different possibilities of pleasure and pain. Switch up your dominant and submissive roles to prevent monotony.
90. Try out texture play
Blindfold your partner and stimulate them with different textures. Get feathers, silk, fur, leather, metal, or anything you can think of.
Ask your partner if they particularly like something or have them try out everything that comes to your mind. Leave them moaning for more until you're ready.
Do you wanna add something fun to the room? I'm not talking about a third person, but an object that can make you or your partner scream out their lungs!
Sex toys are great for lonely nights, but it's hotter when you're together. Let's see how that works here…
Sex toy ideas
The female body is complicated, to say the least. Women take much longer to orgasm and when you try out penetrative sex, men always reach climax before women.
Forget about mutual orgasm, most women feel frustrated because they didn't reach one. But wait, we have some surprises for men too. So, let's explore!
91. Unbox the magic wand
Wand vibrators are one of the most popular sex toys. Talk about sex toys in porn and there's always one. It also works great for nonsexual body massages.
Take the bad boy out on a date and use it when nobody watches you. Get ready for steamy sex back at home.
92. Buzz with the clit vibes
How about a little bit of clitoral play? Next time when you order takeout, tape a clitoral vibrator on them, turn it on max vibration, and ask your partner to accept the order.
Watch her try keeping her moans down. What will you dig in first – your babe or food?
93. Go wild with suction toys
Order a clitoral suction toy, tape it on your clitoris, and go jogging together early morning or in the evening.
Bet with your babe that you'll complete one round of jogging before your orgasm. If you lose, he gets to do whatever he wants right there.
94. Try double penetration with a dildo
Does your babe like anal sex and/or double penetration? Are you guys not interested in getting a third person?
Well, you don't need one. Lube up a dildo and push it up your woman's front. Meanwhile, have fun with her anal cavity. Gift her this amazing experience soon.
95. Get dirty with a butt plug
Does your partner like anal but you're not ready? Train your anus with a pretty butt plug without your partner's knowledge.
When you're somewhat ready, shove in the butt plug, grab the lube, and go to meet your beau during their lunch break. Pull them in the car or a toilet and surprise!
96. Reach your G-spot with the toy
Reaching the G-spot or even A-spot is hard. However, there are toys for both but they look somewhat similar.
Board a crowded train with this toy inside you. Lean on your partner while they massage your clitoris and sometimes move the toy.
97. Be independent with rabbit vibrators
Wanna seduce your lover while you give them a nice show? Play with a rabbit vibrator to stimulate both inside and outside.
It's even better if your babe ditches sex for gaming with the boys. While he plays, tease yourself with this and wait until he can't hold it.
98. Tease him with prostate toys
Women have a variety of sex toys… does that mean men don't? Well, if your man likes receiving anal himself, this is the best surprise for him.
Get one in his favorite color or go toy shopping together. Experiment as much as you want with this phenomenal toy.
99. Fill your backdoor with beads
If you like to feel full in the anus, try pushing in anal beads slowly. Let your sphincter open and close repeatedly and mimic the feeling of the real action.
Ask your partner to help you out if it's too much to do on your own. Challenge yourself to orgasming to it alone.
100. Try temperature play with metal toys
Try out a metal non-vibrating toy if you haven't begun penetration or feel discomfort from it.
You won't feel any pain from friction and insert the toy without effort. Dilate your vaginal cave slowly and enjoy sex without the fear of pain.
Are you looking for something entirely unheard of? Perhaps, regular sexual variety doesn't appeal to you?
Are your fantasies a bit too different… so much that you don't usually share them with others? I think I know exactly what you need here…
Nasty sex ideas
We all have our own likes and tastes. If you're into something really crude and nasty, that's your choice. Who am I to judge you?
However, if you're playing with nasty and risky stuff, make a safeword, follow safe sex practices and take care of your bodies. Other than that, just enjoy the ride…
101. Choke your partner
Get CONSENT! During sex, choke your partner slightly and let them breathe. Understand how to do this in detail from online or offline sources.
Make sure you establish clear boundaries and a proper safe word. Sometimes, breath play is all you need to turn them on.
102. Get at it in the yard
This might not seem that nasty. You may have sex in your yard, balcony, or your rooftop.
Get out there naked, you may turn on the lights or have a small campfire if you're comfy. Enjoy the thrill of being seen… or, scream enough to let people see you.
103. Gangbang the woman
If you're open to the idea and you both consent, look for multiple people online to have sex with your woman.
This is not like cuckold play but a regular gangbang. Make sure they're strangers, recreate a "robbery gone wrong" with your partner.
104. Sit on his face
Sit on your partner's face and force him into cunnilingus (with consent). Make him lick your anus too if you like the idea. If he does a bad job of licking you, make him smell your stinky rear or sit on his nose to choke him.
105. Get raped
Go out in the wilderness individually, and meet up with one another as strangers.
Ask your partner to camp with you and attack her when she's least expecting (all of this happens with consent!) Make her scream for help throughout the night in the woods.
106. Undress the cheerleader
Take your partner to a private sports ground. Choose somewhere covered from the outside view. Make your partner wear scanty sportswear without any underwear.
Challenge her to a few rounds of the sport until her outfit soaks from sweat or throw water on her outfit. Walk home while feeling her up.
107. Add a random person in
Go to a sex bar hit on a random man or woman. Ask them to lick you both and return them the favor.
It's like a threesome but in a sex bar in front of many more people. It may take the form of an orgy if that interests you.
108. Play with turd
K, this is the nasty section… the heading says it all. Pass your bowels in disposable cups and play with it, smear it on one another's bodies. Make sure you don't put it inside your body. Otherwise, you might get nasty infections (for real).
109. Strip your partner at a concert
Tear your partner's clothes off at a concert. The men/women around you might show interest and join in the fun.
If you're both okay, let them play with your partner as much as they want… but don't allow them to penetrate them.
110. Try a grope and greet
Go out at night, hit up a conversation with everyone out there on the streets, and tell them your partner is doing a free grope and greet.
Watch them play with your partner's body together. Have fun as long as you want, return and enjoy a steamy session.
But life is so busy with hectic schedules. You also gotta earn a living and sometimes sex becomes your last priority. You feel lonely, detached, and feel resentful.
Sex is an important part of a healthy humane life. It's not a luxury, it's a necessity. So, let's find an alternative here…
Phone sex ideas
You can't make time for one another, but you got a phone and their number. Or, a random stranger left you their contact… and now you're suddenly feeling so brave that you want them badly.
You imagine doing so many things to them but they're just not with you. Well, we can do better with phone sex like here…
111. Just talk dirty
Dial his number and talk about what you like to do to your partner, what you like them to do to you.
Talk about which spot he hits the best and at which angle. Touch yourself sensually, put the phone on speakers and moan loudly.
112. Let him hear the slush
Put your phone on speakers and place it near your genitals. Use a toy or even your hand to get yourself wet.
If the sounds aren't as loud, use lube to make it super slippery. Ask if they can hear the lewd sounds of your bodily fluids. Tell them everything you do to yourself.
113. Describe your outfit sensually
Your babe can't see you, but don't slack off on your attire. Wear sexy lingerie and tell him all about it.
The color, style, design, coverage, transparency, cleavage, and other factors… express it all to your partner. Hear their breath go deeper and heavier with every detail.
114. Flaunt the vibrating buzz
Next time have phone sex with a vibrating toy. Touch your erogenous zones with the toy and moan out loud whenever it feels good.
Let them hear the buzzing noise of the toy along with your voice. Make it sound all the more realistic and in-person with the descriptions.
115. Try it on the balcony
Challenge one another to laze in the open air on sultry summer nights. Lie down naked in front of your open balcony.
Rub yourself hard and feel the cool breeze hitting your privates. Tell one another how excited or scared you feel about it but don't stop pleasuring yourself.
116. Talk dirty when they have guests
Does your man have his friends over? Call and ask him to stay on the call with Bluetooth speakers.
While his friends chat away, tell him about your naughtiest sex fantasies and the sex positions you wanna try. Help him get uncomfortable and miss you.
117. Play out their fantasies
Know about your partner's sexual fantasies and if they like any kind of roleplay. Someday, when they forget about this conversation, play out their fantasies.
If they're into office sex, doctor and nurse play, or anything else, play the part they want you to. Know every detail beforehand and make it perfect.
118. Ask them dirty questions
Look up conversation games like Never Have I Ever and Would You Rather. Mix it up with a sexy touch and know one another's preferences in the bedroom.
This will slowly raise the heat and prepare you for steamy phone sex.
119. Have power play
Who said dominance and submission work in person only? To try it over the phone, make sure both of you honestly listen to one another.
To make sure no mishap occurs, choose a safe word. If your partner is usually dominant, play the dominant role on the phone.
120. Window shop for lingerie online
Share your screen with your bae, ring them up, check the sexy lingerie, rate the lingerie, and discuss how you wanna use them.
Will you wear it at home, outside under your clothes, on a date, or at a family invitation? Spice up the evening with your imagination.
For those who have their partner just beside them… be more grateful because many people can't reach out to their bae even when they live in the same city.
So, next time your babe returns home, surprise them with good oral skills like these…
Oral sex ideas
If you're uncomfortable about it, please skip this. For those who are interested, but feel yuck going down… semen is over 90% water.
It's not that filthy if you clean your genitals. The same goes for a woman's genitals. You'll help her get wet and experience mind-blowing sex. So, try it out with these…
121. Wear edible thongs
Wear a thong made of candy, let your partner eat you down to every last nook and cranny.
Order your partner's favorite flavored candy thong to ask for oral sex. Make sure your partner doesn't have a cavity or diabetes before you indulge them.
122. Cum on their face
Ask your partner to give you oral until you're on the verge of orgasming. Spray your load all over their face (popularly known as sex facial).
Cover their face in warm and fresh cumshot. Ask them to smear it on their face.
123. Put on the condom with the mouth
Surprise your man next time you give him oral. Press the condom in between your lips with the rolled side touching around your lips.
Put on the condom without using your hands. Slowly roll it down as you take him inside your mouth deep.
124. Play with chocolate
Some people have issues with oral sex because of odor issues. Odor isn't always due to poor hygiene.
However, it's a shame that you can't give your partner oral because of the smell alone. Put a large piece of milk chocolate in your mouth before you go down on them and enjoy the magic.
125. Get noisy with every move
Whether you suck on a penis or a vagina, make sure you become noisy with every suckle.
Your voice will naturally come out so don't try suppressing it. Make the splosh splash smooch and ugh count. It will turn your partner on even more.
126. Don't break eye contact
When you go down on your partner, force them to keep their eyes peeled on you. Look them in the eye as long as you give them oral.
Your partner will naturally close their eyes with overwhelming pleasure. Give them a little spank as punishment.
127. Try edging
Edging is when you bring your partner close to climax but deny it when they're about to release. Repeat this over and over, make them frustrated until they can no longer take it.
When they beg for it, allow them intense orgasm. This is a great way to please your partner.
128. Lick the tip
During oral, focus your tongue on your partner's penis glans or clitoris. This part is extremely sensitive and the rough texture of your tongue gives intense pleasure to the one on the receiving end. Make your partner's head turn right round when you go down.
129. Have a whole body tongue play
Nobody said you gotta stick to your partner's genitals during oral. You can also have a break and suck on different parts of their bodies.
It will be a break for your mouth from repeated movements. Alternate between their other ero zones and genitals to make it interesting for yourself.
130. Chew on minty gums
Do you suffer from a dry mouth? Is giving your partner oral a tough job because you don't produce enough saliva?
Try chewing on minty gums before you get down. Xylitol gums help you produce more saliva and cool your mouth. Isn't that a great way to give a wet and cool oral?
Do you lose your mind while having sex? Or do you want to lose your mind during it? Do you behave like an animal in bed?
Hmmm… I don't think you're here to calm the wild beast within you. So, let's find more ways to bring out the animal here…
Wild sex ideas
Being an animal in bed is a great compliment. However, if your partner can't complement your animalistic desires or if you go out of ideas, sex can be pretty boring.
So, whether you're the animal or it's your partner, you gotta keep an eye out for appealing sex ideas for the beast-like these…
131. Have fun with vibrating panties
Get yourself vibrating panties that have a pocket for vibrators. Put the vibrator in, pass the remote to your partner, go on a family or friends get together.
Let your partner play with the remote control like a child. Wait until you get your treat later.
132. Try a wild scavenger hunt
Make some sexy clues to your scavenger hunt. Each clue must come with a sexy item like lingerie, handcuffs, silk ties, ribbons, sex toys, or anything else.
Let the last clue lead your partner to the location you wanna have sex – kitchen, living room, doorway, or wherever you want.
133. Make your partner your canvas and dinner
Get hold of edible body paint. Make your partner pose as your nude model. Paint a masterpiece on your partner and dig in.
Lick off all the paint until no color remains on their body. For more, get naughty when you wash them off.
134. Be their food tray
Promise your partner an exciting date night at home. Prepare nyotaimori – a Japanese way of eating sushi off the human body.
Combine food with sensuality and have an exotic experience with even regular foods. Make sure you don't cover your naughty bits so your partner gets an eyeful while eating.
135. Enroll in the mile high club
Sex is illegal in aircraft toilets. However, people still do it and flight attendants have full knowledge about that.
Next time you guys book a flight somewhere, plan how to inconspicuously pleasure one another. Stimulate one another a lot but don't let them release. Wait until you reach your room!
136. Have office sex, for real
This one is so wild that if you're not careful you might get sacked. If you're dating a coworker, take them to the room where your company keeps old folders.
Or choose any room where the surveillance cam doesn't work. Get as wild and nasty as possible.
137. Blow your partner mid-meeting
If your partner works from home, they might attend many online meetings. If you stay at home during one meeting, sneak in under their work table and give them oral sex.
The possibilities? Your partner might enjoy their boring meeting for you or you're up for rough sex later.
138. Go skinny dipping
Choose a nearby hidden water body that nobody frequents. Take your partner there, put your clothes in a secured place (this is the most important), and dip in naked and tease one another underwater. If it's at all possible, try having underwater sex.
139. Try having sex standing up
Strip your clothes, make out at the doorway, lean on a wall, and have sex standing up. If your partner's legs give in, spank them so they stand firmly.
Don't forget to tease them so they can be loud enough to wake the neighbors.
140. Have sex in every surface
Your safe haven is the best place to go wild. Without any disturbance or security issue, unleash all sides of your beast and have a sex marathon on every surface of your house. If you can't finish all the surfaces in one day, carry it over to the next time.
However, if you're not into too much rough play, love cherishing your partner in bed, like slow sensuality, and want to have meaningful sex to connect with your partner… don't hide yourself, you hopeless romantic!
Get your fill from this list here…
Romantic sex ideas
Are you smitten by your partner's beauty? So much that you want to cherish them and show them everything special in this world? Do you think sex is another way to connect your hearts closer?
Of course, your soul is full of love, affection, and devotion for your partner. So, help yourself to some wonderful memories with these…
141. Have sex under the stars
Go on a stargazing trip up in a convertible van up in a higher altitude location. Park the van in a suitable place, pull out your blankets and food, seduce your partner while comparing their eyes with the stars. Have sex passionately and slowly to enjoy together.
142. Prepare a candlelight dinner
Make or order your partner's favorite cuisine. Light a few candles, decorate with their favorite flower, make them their go-to cocktail, and serve the food naked in an apron.
Enjoy this dinner, rub their feet with yours and slowly reach their nether region. Watch them burn in desire.
143. Have sex somewhere new
Take your partner on a vacation, prepare your hotel room with roses or your favorite flower petals and exotic chocolates, light scented candles, and wear a special outfit for your partner (or prepare one for them). Make this night even more romantic with a proposal.
144. Go for a romantic bath
Light aromatic candles, fill the bath with warm water, and add essential oil to the water or add a bath bomb.
Prepare a glass of wine by the bath with their favorite sides. Join the bath together, give them a foot massage and slowly work your way upwards.
145. Do it by the fireplace
If winter is around, there's nothing cozier than the fireplace, blankets, and your lover.
On a cold night, lay your futon at a distance from the fireplace, get your blankets and invite your partner in. Kiss your partner and strip to begin the steamy night.
146. Make a sexy song playlist
Some couples love to have sex songs. But you can have multiple! Choose your favorite songs to have sex with your partner.
During this activity, the mood will eventually get steamy. If not, ask your partner to match a sexual activity for each song.
147. Dirty Dance to your sex tune
Now it's time to use the playlist! Slowly dance to your favorite song sensually. Wear flowy easy-to-strip clothes and slowly peel off a garment from one another.
Dance until you both strip one another completely and get naughty in between.
148. Go lingerie shopping together
Take your partner to shop for lingerie with you. Let them choose accordingly, pay for it and try on all the outfits.
Give your partner a sneak peek at every attire you put on. Ask them to rate all of them and which one they want tonight.
149. Try it in the Jacuzzi
Book a fancy hotel with a Jacuzzi, hop in the hot moving water and relax yourself. When you feel a bit better, get playful inside the water.
Grab your partner and move your hand away. Blame it on the water. Play along so long your partner doesn't catch you.
150. Try it in a scenic location
Book a sea or mountain view room. You'll get great sceneries like sunrise, sunset, or even starry night.
Watch the romantic views together and sneak in with a reason to have sex. Compare the pretty sky colors poetically with life for more romance.
Couples who live together have many more scopes to make awesome memories. It's not just in the bedroom or on other surfaces.
Though it sounds a bit crazy, have you considered shower sex? Perhaps you did but feel too uncertain? Let's get rid of uncertainties here…
Shower sex ideas
Not only is shower sex straight-up hot, but it's a bit risky because of the slippery floor. However, I have an idea to make it safer here.
Moreover, if you take a shower together, it'll save energy, water, and money. And if you turn the water off while you're on the go, you'll save more. Let's do our bit to help the planet here…
151. Focus on the hand shower
Get in the shower together, sneak in behind your partner with the hand shower. Focus the nozzle on your partner's breasts, clitoris, or penis. If the pressure is good, this might take them very close to orgasm.
152. Have tantric sex
Tantric sex is slow, meditation-like, creates a deep bond between you guys. It's not only sexual but also safe in the shower because you won't slip on the floor. It's great for intense orgasms, stress-busting, and good sleep.
153. Give them a back rub
Offer a foamy back rub to your partner in the shower. They can't reach their back after all. But slowly insist on cleaning other places too.
You'll slowly heat the mood and forget everything about showering soon.
154. Get a non-slip mat
Plaster a non-slip mat in the shower and show it to your partner. If they ask you what's that for, strip them naked, turn on the shower, get sudsy, and give it a go for demonstration. Go all out to check how good it works.
155. Push your finger in
When your partner is busy rubbing their body in the shower, get a hand full of silicone lube, and slowly shove a finger inside their anus.
Notice your partner's reaction and react accordingly. Since it was a surprise attack, apologize if they mind. Continue otherwise.
156. Get waterproof sex toys
Invest in one and make your shower sexy time even more erotic. There are butt plugs, vibrators, and even vibrating loofahs available for shower sex.
Keep it a surprise for your partner and attack them when they least expect it.
157. Try doggy style standing
To secure your body, lean on the walls with your palms, bend your knees slightly, and let your partner have the glory of penetrating you along with teasing your other sexy bits. Enjoy the variety together and fall in love.
158. Fix a water-resistant seat
Build a water-resistant foot stand or seat to explore a variety of sex positions. You will get easier access in their crevices if you wanna go all the way to the bathroom.
Don't be shy to bend over after putting your leg up to show the pretty folds.
159. Foreplay before the shower
To be pretty honest, domestic water doesn't come free or easy. It undergoes a lot of treatment before reaching you.
Foreplay in the shower isn't that easy either unless you have enough space. So, get creative with foreplay before you enter the shower.
160. Angle the showerhead
Shower sex is risky because the water might get in your nose and choke you… or it might increase friction if it hits the genitals.
Face the showerhead legs or torso to avoid any mishap. Safe sex is not just about barriers and contraceptives.
However, if you guys' live thousands of miles apart, it's a bit hard. Think you guys don't have a chance to spice up? Totally wrong!
In fact, this is just the beginning to look forward… until you get one another in your grasp and turn into reality what you do here…
Long distance sex ideas
Technology came through a lot and it still evolves every day. To amp-up your long-distance relationship, technology is your best friend.
But think video calls and dirty talking are the only solutions? Well, tech is much more than that!
So, bring an end to your lonely nights with these mind-blowing sex ideas…
161. Report about new lubes
Order one another brand new lubes and use it on yourself (for women) or with a pocket pussy (for men).
Talk about your experience with one another on a video call. Show them the best one you liked, use it in front of them and enjoy.
162. Try long-distance sex
Get teledildonic toys for yourself. Have your partner download the app it works with. They can control the toys from the other side of the world, so long they have the app installed. Reach orgasm even when you're not together.
163. Send them nudes
Feeling naughty when your partner is miles apart? Perhaps they're in a different time zone and you can't wait to get steamy when they wake up.
Take your time and surprise them with your naughty pictures pleasuring yourself. Let them feel hot and bothered and suffer from loneliness.
164. Ask them to return the favor
On the weekend when you feel bored, ask your partner to send nudes. Direct them how to pose or what action you wanna see.
Don't send your nudes and observe how they react. Have fun with their photo, and obviously, don't share it further.
165. Send them naughty videos
Get the perfect lighting, angle, room, attire, and get comfortable. Shoot small solo porno clips of your masturbation.
Scream out your partner's name, what you like in bed, what you wish they did to you… and maybe they'll soon fulfill your wish.
166. Play virtual strip poker
Play poker online, stay on a video call through your smartphone, use your clothes to bet. Enjoy stripping one another layer by layer as the game proceeds.
This will not only result in steamy video sex but also make them unable to wait for your next meeting.
167. Take fetish quizzes
While you're away, this is the best time to share your darkest fetishes. Express your desires while answering the quiz.
Notice your partner's reaction and figure out their needs without judgment. If you love one another, this will boost the eroticism in your love life.
168. Be their personal stripper
Light up your room well at the right angles. Put on their favorite attire and video call them. Slowly and sensually strip while you talk about serious daily life stuff.
Play innocent when they ask you what you're doing. Light the fire with foxy innocence.
169. Try getting yourself multi-orgasms
Pop out all the sex toys you got or buy at least two heavy vibration ones. During the video call, tease yourself with the toys and moan loudly.
Don't tell your partner what you're up to until they notice you fidgeting. Continue until you get multiple orgasms and make your partner restless.
170. Try goodbye sex
We're not talking about breakup sex… it's unhealthy and I don't support it. When you and your partner part after every visit or before you begin your long-distance relationship, have sex and let go of all the bittersweet and heavy feelings of separation. Promise to wait for one another with this one last love-making session.
Does your sex life depend more on arousing one another than penetrative sex itself? That's actually good news because arousal means better lubrication which is ultimately smooth, painless, and stimulating sex. If this sounds yum to you, you gotta try these…
Erotic sex ideas
If you define sex with penetration and reaching climax… you know how short that is. Also, to really enjoy sex, you need good lubrication. And erotic sex comes with lots of arousing ideas.
Lube is always there but natural lubrication is always the best because it sensitizes you more. To arouse your partner, use some erotic moves like these…
171. Work out naked
Ditch your workout outfit and break a sweat without clothes. Experience this liberating feeling and check out your hard-working partner.
Boost the endorphins and this will eventually lead to sex… burn your calories on the bouncy ball while having sex.
172. Give her a wedgie
When you're in the mood, send her signals with a wedgie. Pull her panties from both sides of the front and focus the pressure on her clitoris.
Make sure it doesn't hurt and feels nice. Ask her instead of assuming she feels good.
173. Use a tingly arousal gel
Order yourself a tingle feminine arousal gel that is similar to a lube. Apply it to her clitoris and wait until it warms on her skin, promotes blood flow, and tingles her clitoris. Make her beg for more all night with this magical product.
174. Create an ero fiction
Try brewing an erotic novel yourself. Let your partner read it out loud and watch their reaction.
Your partner may insist on trying out everything in your book. Don't be surprised if they jump on you instantly.
175. Indulge in rimming
Stimulate your partner's anus with kisses, licks, sucks, and everything you can do orally. However, this can cause many STIs so make sure to use dental dams before you get down and dirty on your partner. Make sure you guys get yourself tested for STIs before trying this.
176. Swallow the stuff
Feed your man more fruits to improve their semen taste. Give your partner a blowjob without a condom.
Don't tell them what you'll do when they come. When they're near, don't let them out of your mouth. Seductively swallow it all in.
177. Try out Boudoir photography
If you can splurge, book pros for your bae's boudoir photoshoot. Take the best shots of your bae's sexiness because she deserves this cherishing moment.
You may use it for future references, get some outfit ideas for sex, or simply wait until it's done to do the nasty.
178. Have sex with someone out of your desired gender
Sexuality is too vast to understand. You feel you're attracted to only men or women and leave out the other possibilities.
Try a one-night stand with a different gender. Discuss boundaries and exchange STI status beforehand. You might reveal a new side to yourself.
179. Suckle on a flavored lube
If your partner has a penis, help them put on the condom, apply ample flavored lube, and go at it.
It will ease the oral friction and feel actually tasty if you compare it with flavored condoms. Don't apply it without a condom because it hampers the genital pH.
180. Wait to orgasm mutually
Women take a lot more time and effort to reach climax. However, men climax too soon. Try to delay your orgasm and hasten your partner's body or vice versa.
Mutual orgasm, though tough, is completely possible with some practice. Enjoy the afterglow of this phenomenal feeling.
Again all of this might be just too much for some. Sex isn't the same for everyone and I'm here to support your individual likes.
You may wanna try something that's good but not too much… your wait is over because you'll find everything here…
Good sex ideas
If you want to make the simplest of good things into naughty ones, you reached the right place. Sometimes, small changes can even make the missionary style cooler and more exciting.
I don't have anything against getting your knees dirty, but if you don't like too much variation but still want it good, here you go folks…
181. Rip off their clothes
Let's face it, ripping stockings, lingerie, shirts… it's a hot way to show how much you desire one another.
Make sure you don't wear your favorite piece else you won't enjoy the steamy hot sex at all. This one pairs best with rough, animalistic, and satiating sex.
182. Familiarize with nipple clamps
Are you scared of hurting yourself? Well, nipple clamps have adjustable tightness, so don't fear the pain.
It's an extra stimulation for you and might turn on your partner. Your partner might feel more turned on than usual which led to longer sex.
183. Challenge yourselves to silent sex
Usually, people can't keep it down when they feel good during sex. Small ahh and oohs always leak out.
Ask your partner to not make any noise. If they do, punish your bad girl/boy however you want. Make your sex life even more exciting with challenges.
184. Look deep in their eyes
Look deep in their eyes from the moment you feel horny. Kiss them all over and see how they like it. Notice their eyes and facial expressions
185. Use a gag
If you want to add a hint of BDSM props in the bedroom, buy a ball gag together. Have your partner's consent and gag them or be gagged.
Enjoy sex with muffled voices and if ball gags turn you both on, you found something new.
186. Try CBD
If sex is painful even after trying different lubes and you can't focus on the pleasure at all, try out CBD.
It will considerably relax your body, reduce your usual inflammation if ingested. You may also apply it topically to relax your blood vessels and help arouse you.
187. Try out couch sex
While you watch a show in the living room and everyone else is asleep… slowly touch your partner's knees and feather your hands up to their crotch.
Notice their reaction and if they moan, dare to dive a bit further. Switch to a naughty movie and give oral or go for a home run.
188. Try angry sex
Conflicts are normal in relationships and only communication can resolve it. However, sometimes you just can't resolve it.
That's your chance to get rough with your partner in bed. Make sure you don't deliberately hurt them but are rougher than usual to express your anger.
189. Go for makeup sex
When you make up after a bad fight, it's time to shower lots of love and affection. And slow, sensual, and romantic sex is the best way to convey your feelings, make sure to verbally say what you mean even if it's only "I love you" during the sex. Pleasure them more to show your devotion.
190. Fondle them during your meetings
When you're in an important meeting and working from home, grab your partner as inappropriately as possible. Provoke them to touch you in that situation.
Get hot and filthy while you try to have a sane conversation with your colleagues. Suppress your moans and let the heat rise.
However, if you're in a long-term relationship, you might be in a rut. Relationship and sex coaches always suggest having sex dates to spice things up. It's a great way to revive an almost dead or bland sex life. Think you can't get some ideas here…
Sex date ideas
Many people swear by spontaneous sex and feel more nervous about sex dates. However, sex dates aren't that bad because you get to plan out your perfect night of hot steamy sex.
If you have the mix of the right ideas, nothing will stop you from enjoying sex dates. So, let's get more sex ideas here…
191. Go on a tease-ful sex fast for a week
Until your next sex date, tease your partner whenever you can. Don't give in to the lust, don't have sex, don't allow them the toys either.
Enjoy this painfully long time together and indulge in passionate sex at the end of a long time.
192. Learn to pompoir
By the next sex date, challenge yourself to learn to squeeze your vaginal muscles. This stimulates your man's penis and if you never tried it before, it might catch your man off guard and turn them on for steamier sex.
193. Learn Shibari
This is a rope bondage-style famous in Japan. It's full of pretty patterns and knots and a gorgeous restraint that sensitizes the genitals. Learn this art to apply it to yourself or your partner on the next date.
194. Visit a sex resort
This is a great chance to swing with other couples, have consensual orgies, and indulge in any sexually exciting activities. If you're both cool with sexual nonmonogamy, this will bring loads of excitement to your life.
195. Try pegging
Prostate play stimulates men beyond words. In pegging the female partner wears a strap on and penetrates the male partner's anus.
So, convince your man and prepare lots of lube for your next date. Try all the possible positions too.
196. Sext them your intentions
Once your partner begins your day, send them short naughty texts about your night menu.
Will you go down on them? How will you lick them? How will you make them sopping wet? Be very descriptive about the bits and make them hyper-excited for the night.
197. Get it in the water park
Wear a fancy bikini and trunks to the water park. Play in the water away from the kids' area.
When nobody's around, slide your finger in your woman's bikini or your man's trunk. Go around the deeper side of the pool so nobody notices.
198. Learn to give a lap dance
From online tutorials, learn lap dancing and practice alone. Make sure you're confident about what you're doing even if you're not.
To make it feel more realistic, get a sexy outfit to compliment the dance. Keep dancing until your partner throws you on the bed and attacks you.
199. Invest in a sex swing
Without your partner's knowledge find the perfect sex swing and fix suspending hooks on the ceiling. On the day of your date, fix this harness and suspend your partner mid-air.
Have fun exploring and experimenting with the possible angles. Make your partner helplessly fidget and scream for more.
200. Tease them the whole day
Make your partner wear a long-distance sex toy. Whether they go to work, shopping, run errands, or stay at home.
Play away with the remote control all day long but don't let them orgasm. Be consistent and let them rest in between. Before night-time, your partner will go crazy for you.
Wondering if this was enough, head to my secret sex tips down here…
---
5 Tips to Make your sex date even more spicier
Do you know how to get the perfect spicy sex? It all depends on what you both like and how you both handle your desires.
Though that sounds easy, there's more to it. It also depends on respect, love, and devotion. Come on, let's learn the secret recipe with these sex tips…
1. Get consent
Doing anything forcefully, even to your spouse, is rape. I don't know what different nations define rape as but that's it.
If you want to surprise attack your partner, pause after the first attack. Gauge their reaction and if they object, retreat and apologize.
Consent is sexy and heart-melting, so don't forget this beautiful aspect.
2. Push your boundaries willingly
For good kinky sex, discuss your boundaries. So, they won't turn you off or trigger a trauma. During sex, push your boundaries only if you want to.
Don't do something you dislike but your partner likes. Go out of your way to please them, only if you want it wholeheartedly.
3. Excite them with lingerie and grooming
Wear sexy uncomfortable lingerie like thongs and g-strings once in a while to spice up your sex life. However, there is also comfy yet attractive lingerie available on the market.
Men, try wearing clean and intact lingerie. Both partners must groom and clean their naughty bits regularly.
4. Prioritize comfort and safety
There are too many sex positions, toys, and even types (from BDSM to exhibitionism). All of them are appealing but make sure you're careful when you explore.
They aren't for everyone and of course, exhibitionism is illegal in the US. Try what won't get you fined, behind bars, in the ER, emotionally scarred, or bedridden.
5. Communicate about your needs
Be verbal about your desires. Most loving couples have different sexual needs and they fix everything with communication.
If you don't like something that your partner does in bed, let them know without attacking them. Calmly try to figure out what you both like rather than fighting over differences.
A word from ThePleasantRelationship
Still wondering which kinda sex will suit your life? Sex isn't just about your solo performance. So, why not get your beloved's thoughts on this?
It'll be a new experience if you guys discuss something new in bed. After all, which man or woman won't like such steamy conversation?
You're worried about their pleasure and that sounds just as romantic and loving as slow sex. Moreover, discussing sex itself leads to steamy sex… win-win situation, right?
However, your partner may not like everything but still, give it a try. You'll never know your likes and dislikes unless you give it a shot. So, stop worrying, get consent and try everything!
Surabhi Kedia
Surabhi wakes up every day with a drive to craft words that can create a soulful impact. Creatively adventurous, she is always seeking to learn new skills and acquire new experiences. With a hidden soft corner for languages (especially Urdu), she writes poetry occasionally, binges on romantic shows, and LOVES to talk. A hustler, admirer, chaser, Surabhi is just another-someone who refused to give up on her dreams. She says, she is just somebody who's trying to make herself a writer and for now, she's just writing...