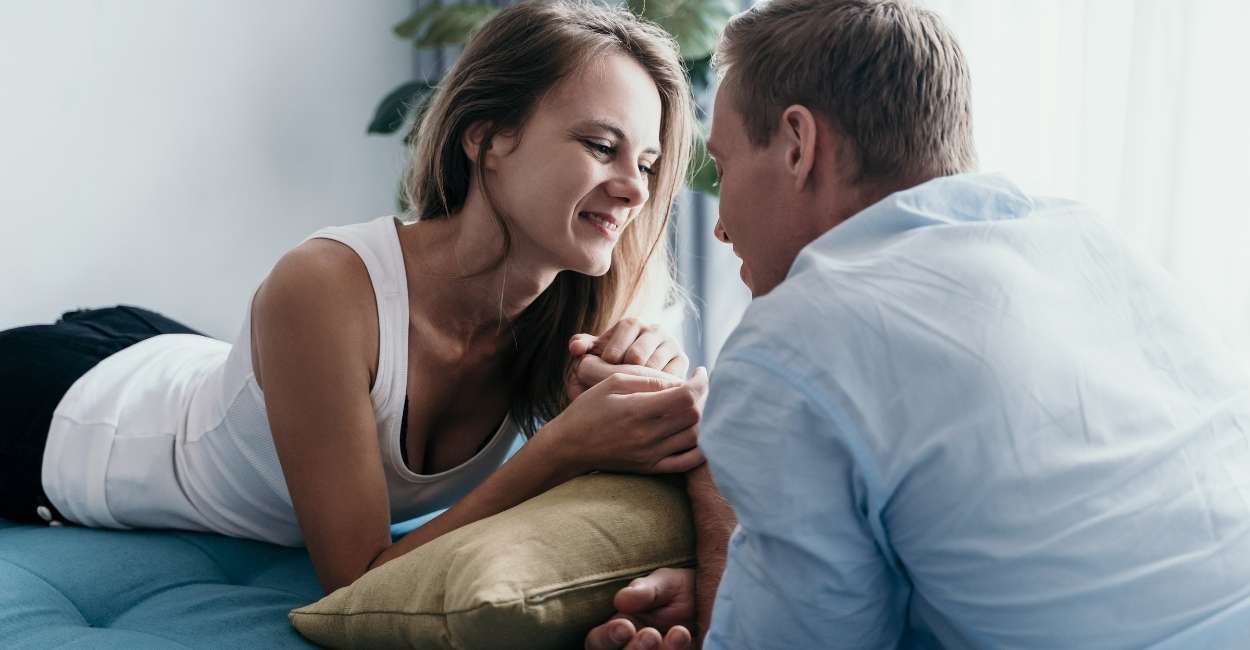 Wondering how to dirty talk? Feel your relationship is in a rut and want to spice up your relationship with something?
Well, dirty talking isn't rocket science, so stop beating yourself over it. You don't need to be an ero novelist or imitate porn either. 
You only need a little creativity, confidence, understanding, pushing your comfort zone, and lots of sexy thoughts.
Still, confused about it? Well, that's what I'm here for. With this think piece, you'll become a pro in dirty talking in no time. Soon, you'll know how to drive your partner crazy.
Can't wait for it? Let's get right into it…
…and I hope you have the hottest time together!
How to talk dirty in person
If you have your special one beside you, you're the luckiest in this world. Whether you need emotional support, physical intimacy, or sexual satisfaction… you have the best of all worlds.
But did you ever think about what your partner wants? Maybe they have a feisty hunger for sex?
Talking dirty might give your partner just what they need. So, let's head to pleasure land with…
Step 1: Clear any possible confusion
For any couple, dirty talk is the spice to their sex life. Though spicy, everyone's palate is different. So, know about your partner's comfort level.
If they don't like it, then avoid it… rather than turning them on, it'll turn them off. You can't enjoy dirty talk with an angry partner.
Another situation: Your partner doesn't mind you doing it. But they aren't comfy responding back.
If you don't mind doing the talking alone, go for it. However, if you like it only with responses, skip it. It's all about the win-win situation, so meet in the middle.
Step 2: Choose your language wisely in and out of the bed
When you get the green signal, discuss if you or your partner want to avoid any terms. A random word without consent kills the mood.
If you hear anything uncomfortable during sex, don't get angry or deny them pleasure. Rather, say…
"That word makes me uncomfortable, please avoid using that".
If they don't understand you or continue using it, stop there.
Also, if you feel shy talking about it during sex, say it later on. Explain your side clearly so they don't mention it again.
If you're both fine with some derogatory terms in bed… let that stay a discussion in bed. Don't say or do it unless you're having sex. 
When you're not turned on and say derogatory words, that's verbal abuse.
If you're a dom during sex, that doesn't refer to regular life dynamics. Your partner isn't your slave in reality. Keep the bedroom dynamics for sex only.
Step 3: Add a taste of "YOU" with the ideas
You'll find many ideas here, but someday you'll run out of them. Watch porn together and find what turns you both on.
Though the ones in porn are always extreme and unrealistic, it's only a reference.
Reading erotica and porn mags together also work. You'll get some ideas about what you like… and also set up the mood. Share your likes about the terms and phrases and practice them in bed.
But always, stay original. Be naughty and say relevant things. For instance, if your partner has comparatively small breasts, don't comment on how much you like big breasts.
Be yourself and get your act together. If you stay natural, you'll sound more confident and enjoy it more. Make it naughty, racy, and devilish BUT comfortable.
Step 4: Adjust your voice
This one is a bit tricky. Before you start talking dirty, adjust your voice to a sexy tone. Your bedroom voice isn't the same as a not-so-sexy time voice. Talk slowly and softly to get in the mood.
You may not get it right the first time, so keep practicing. You'll find your sexy and soft voice with regular experimentation.
Also, the sound of a woman adjusting her voice is sexier. So, men, slowly transition your voice with the conversation.
Before you use a dirty phrase, express your pleasure nonverbally. Moan, groan or sigh and encourage your partner to respond similarly.
Step 5: Sneak in compliments with soft-core sexiness
Don't straight off start with hard-core words. Go soft on your partner, compliment them to warm up the atmosphere. Tell them something like
"I missed you so much… let me just take a good sniff of this gorgeousness"
"I like it when you take off your shirt"
If you like an exact body part, then comment on that
"I love your toned legs"
"I can't get enough of your sexy back"
Appreciate them with small compliments and add a splash of sexiness to your lingo. Don't pressure yourself, go the natural way.
Step 6: Avoid pressuring yourself
Many of you worry a lot during sex. "Does she feel good?" "Do I look fat from his sight?" "Am I doing this right?" "Hope I don't say anything they hate" "Are they really feeling good or are they faking it?"
Whoa there! Stop with the worries you worrywarts. Whether it's just sex or dirty talk, stop beating yourself up over that.
There is no dirty talk rule so long you're both comfy. Stop thinking about possible embarrassment. Even if it happens, that's normal.
Listen to your heart and you'll eventually feel good… and also, make your partner feel good. This is no competition so give yourself a break.
Step 7: Specify your likes and actions
Now comes the raunchy part. Talk about what you like about their actions. Do you like it when they touch certain body parts? For instance,
"I feel so good when you nibble on my lips"
"I love it when you stroke my thighs"
"It feels amazing when you lightly graze your fingernails"
Other than that, also talk about what you'll do or are doing to heat the situation. Talk about something you really like. Your partner will feel more pleased with the words. For instance
"I love to help you undress" Or, "I like to tease you when I undress"
Step 8: Turn them on with your excitement
Know if they like what you're doing. Touch them sensually while asking this. To make the questions sound sexier, mention the actions along with it.
If they like your actions, it will turn them on. You'll also learn more about their likes. Ask something like this…
"How do you feel when I kiss you here?"
"Like it when I caress this place?"
To heat it up more, tell them when you feel good. Don't be afraid to share exactly where you like it. You'll boost their ego and they'll try harder to please you. Since this will turn them on, do it sexily like,
"I feel so turned on when you rub me there" [point to where exactly]
"Please rub me a bit here, this place really wants you" [show them where]
Step 9: Get dirtier with your fantasies
Don't say the same thing repeatedly. Rather mix it up with new ideas. If you want them to do something else, tell them.
Play along with other examples you find here. Or, talk about one of your fantasies to make them horny. If it's possible to turn it into reality, your partner might try it.
Go with the flow and be candid about your desires. If you're not comfortable sharing too much or worry they might judge you, no pressure.
Decide your flow yourself before sharing sexual fantasies.
Step 10: Boss them when you're close
When you're close to climax, verbally express it. It will turn your partner on even further. This is another ego booster as your partner feels proud to make you feel so good.
It might even trigger a mutual orgasm. But don't keep high hopes because it mostly doesn't happen. When you feel good, don't fear bossing them. Of course, this works if you both like it.
When you're close to orgasm, say
"Hit that spot more", "Rub me [location]", or "Pinch my [body part] harder"
You may even be bossy from the beginning or between words like "Undress me", "Kiss me", "Stroke my [body part]". It's your call, so make it work your way.
But who said dirty talking only happens at home? Let's learn how to talk dirty in public…
---
Examples to talk dirty in person – In Public
Talk dirty in public to get your beau crazy. Make them anticipate the possibilities and imagine the crude and sexy thoughts.
You might make them wet and get a bit frisky in public. Can't stop imagining? Let's turn into reality…
"If we weren't outside, I'd make you bend over"
"I wanna take you to the changing room, gag your mouth with your undies, and ram in your little coochie"
"I loved how you moaned out for me last night trembling beneath me… and today, nobody can tell this is the same person"
"I can't wait to get home and kneel down"
"I miss how your thing throbbed inside me this morning. I'm already wet at the memory."
And then, let's get back to the normal way of talking dirty…
---
Examples to talk dirty in person – In Private
Though old-style, this will never go out of fashion. After all, public sex is illegal in many places.
But who said sex and dirty talk in private are boring? You'll notice your partner's wildest side at home. So, go wild with these…
"Are you teasing me with those toned legs? Because it's working."
"I can't wait to rip your stockings apart. You want that, don't you?"
"I swear I'll tease you all night long unless you beg for it."
"I don't need dinner, let me eat you instead."
"Tell me what you were thinking when I hammered you senseless."
Don't live together? Have their phone number? Well, take a quick peek at this…
---
How to talk dirty on the phone
When you don't share the same roof and lead a busy lifestyle… moreover have issues with internet connection… you may be lacking the "fun".
Well, not when you have network coverage, a phone, and their contact number. Get an unlimited pack, listen to their voice, and unleash the beast with these…
Step 1: Fix the time beforehand to prepare yourself
Firstly, fix your date and time for phone sex when you're both free. I understand that you can't schedule a sexual drive, but you'll slowly get into the mood.
If you randomly initiate phone sex, they might be preoccupied with friends or family. Also, if either of you isn't at your best, it won't go far. Plan it someday you're both free.
You'll also get to groom yourself if you know the date. Groom your body, throw on sexy lingerie under your seductive outfit. Don't let them see your outfit… it's only for turning you on.
Massage your legs with oil and lotion to feel silky smooth.
Step 2: Set the mood to avoid distractions
Look around your room… is it messy? You may feel distracted so remove the trash from your room.
To create a romantic atmosphere, light scented candles, dim your room light, and pull the curtains… you don't want anyone peeking.
Change the sheets if you have your own favorite sexy-time bedding. Try everything you might do if you did it for real.
Engage yourself with such chores so you don't overthink. If you sit idle, you'll check the mirror, criticize your looks, or even your dirty talking skills.
Keep yourself busy to prepare the ambiance and relish the mood to calm yourself.
Step 3: Think and moan to get horny
You don't always need to touch yourself to feel it. You can't rub yourself and feel that kinda good. So, take time to think about a sexual fantasy. Or, imagine how you want to be touched.
Close your eyes to block off any distractions and replay all the hot and heavy moments.
Stroke your neck, arms, and legs slightly. Don't begin it all alone. For now, enjoy your caress and moan out loud.
Since your partner isn't there, cough out and adjust to a lower voice. Get comfortable with your whispering voice without any pressure.
But don't try to mimic anyone else, your voice is already sexy.
Step 4: Praise their body features
When you get on a call, don't express you're sexually aroused right away. If you didn't talk the entire day, know about how their day went.
If you're in a regular relationship, talking about just sex doesn't sit right. If you're in a sexual relationship only, that's a different story.
Then start with something smooth about their body like
"You sound so sweet, I missed it", "I miss your body so much", or, "I thought about your supple legs the entire day… wasn't able to focus on work".
Step 5: Let them imagine your outfit
Hopefully, you both donned your best attires for this steamy moment. But of course, during phone sex, you can't show them what you're wearing. So, slyly describe your outfit.
If you made any extra prep for your body, describe that too. For instance
"I wore your favorite lingerie"
"I wore that white shirt you love"
"I think this dress isn't my size. It comes tight around my chest"
"You won't believe how far I shaved"
"I'm not wearing anything underneath"
Also, ask your partner about what they're wearing. Mentally peel their clothes off them to arouse yourself further.
Step 6: Share your desires and how you fill for it
Tell them what you wish them to do with you right now… that is if they were with you in person. Be specific to help them picture it. For instance
"I wish you hugged me tight right now"
"I wish you kissed me hot and hard and wouldn't stop even if I asked you to"
But since that's not possible, tell them what you're doing instead. This will turn on you both.
Before you say it, begin doing what you like. Tell them you're imagining it's them doing it. For instance
"I'm <action> my < body part >. <Moan their name> do that more, it feels so good"
Or,
"I'm touching myself as you do… it just doesn't feel the same."
Tell them everything you feel, even when you get wet or hard when you orgasm… and when you mimic their actions.
Step 7: Give them "hot" orders
While you do yourself, don't forget about your partner. Tell them what you'd do to them if they were with you. Go as dirty as you want, you don't need to hold back at all. For instance, say
"If you were here, I'd plunge my fingers in you"
"I wouldn't hold back if you were her. I'd make you scream louder and cum harder"
Again, these are your thoughts. You can't do anything to them. So, order them to touch themselves your way. If you have had sex with them before, you'll know how to pleasure them.
So, tell them what they like, for instance
"Slowly undo your clothes and caress yourself. Don't touch yourself too hard just yet. Brush your hands over your erotic zones"
Or,
"Part your legs and rub yourself down there. Don't touch where it feels the best. Touch the other areas. Now slightly stroke your member".
Step 8: Let them hear you strip and pleasure
If they order you to strip, put the phone on speakers and strip loudly. If you undo your bra, say "I unhooked it… it's slipping off my shoulders"
If you unbutton your shirt, say "I unbuttoned, what next? Should I leave it hanging or should I pull your skirts down before that?"
Let them hear your clothes rustling. If there's any ornament, let them hear the clinking. It will feel hotter if you give them visuals with noises and words.
When they ask you to pleasure yourself, ask them to do it together. If you can't help but touch yourself, even if they ask you not to, say
"I can't take this… I want to touch myself… I'm touching myself".
Step 9: Get excited with fantasies
If you like it and your body responds to it, tell them how you feel it. Don't shy away from telling exactly how turned on you are. If a certain sex position or toy turns you on more, mention it. For instance
"I feel it so intensely… my toes curled"
"I can't take it anymore… I'm so wet/hard right now. If you used a vibrator or did me [stylename], I'd lose my mind"
Go as wild as you can even with sexual fantasies. Spill your fantasies when you're around the peak. Say…
"I want to do you so hard on the balcony right now…"
"I'm doing you in the changing room of the mall… I don't care if we got caught… I'll not stop!"
Masturbate until you orgasm, let them know when you reach climax. But don't stop talking dirty until they orgasm too. Be considerate because you both deserve sexual satisfaction.
Step 10: Hang up smoothly
Once you're done, don't hang up if you're lovers. Talk about mushy romantic stuff, the fantasies you wanna turn real, tell them how you felt about it, and if there was anything you didn't like.
Take some time to enjoy the post-orgasm glow. Express your love and talk about it when you want it again. Appreciate their efforts to bond better.
If you wanna have a serious conversation about your day, office, family, etc. take some time before you can come back to normal.
Dirty talk differently with the advancing phases like these…
---
Examples to dirty talk on Phone
To heighten expectations
Before you begin the talk, make your babe anticipate for later like…
"I can't wait for tonight"
"I wanna hear your moans so bad"
"I'll wait naked until you make me wet"
"I can't wait to order your sweet ass around"
"Even during the presentation, I walked around with a hard-on"
During the call
"Imagine yourself working on your project. I sneak from behind and grab your breasts. I squeeze your naughty buds and suck on your neck…"
"Remember the time we were in college. You fell on top of me with your breasts at my face? I wish I bit your nipples and marked you mine"
"I'm wearing this <his fave color> colored lingerie. It's transparent… and I'm so wet down there, you might think I peed myself"
"That time I caught you masturbating to my pictures… I found that so hot that I rubbed myself after returning home"
"That one time you sent me home after I got drunk. I wanted to be fucked so bad that night"
Requests
"Tell me the color of your lingerie"
"Peel your shirt off yourself"
"Beg me else I won't let you come"
"Tell me how you touch yourself"
"Send me your all-time fave porn link
Recognitions
"I love how hard you get me"
"You're the only one who made me have multiple orgasms"
"Damn, you're my sex bomb"
"You make me crave more of you"
"I didn't even touch myself and I think I had a mini orgasm"
Afterward
I loved how we did this, think we can do this again?
I'm free this weekend, ready to be my slut again?
I feel so hungry right now, wanna have something? It's on me!
I wish we could cuddle right now. Wanna talk until we sleep?
You make my life so great, wanna do this for real sometime?
Don't feel comfortable talking? Or, do you only have their email address? Make do with these here…
---
How to talk dirty on texts
Sometimes, you might feel awkward talking dirty, especially if you've never done it before.
Dirty texting is a great alternative and warm-up for beginners. So, make way to an awesome sex life with these…
Step 1: Exchange contacts directly
If you're in a committed relationship and wanna sext dirty with your partner, skip to the second step. This step is only if you wanna sext with someone you're not committed to.
Nobody appreciates random strangers' dirty talk. Even if they hook up with strangers or have many no-strings-attached arrangements, they seek consent before initiating a dirty conversation.
So, don't try to collect their contact from others. They'll block random sexy texts, so what's the point?
Rather, swipe your numbers or email address directly. Show your courage upfront if you're ready to take the risk.
If it's on social media, strive carefully. You don't wanna be catfished, make sure it's not a fake profile.
Step 2: Send a slight hint
If you didn't ever text them dirty, test the waters with suggestive yet good text messages.
Your partner might not be ready for it if you never had sex. So, don't throw too many dirty texts or sexual innuendos from the beginning.
Message them "hey babe/sexy/gorgeous".
Don't send the usual "Hey, how was your day?" because they'll really talk about their day. You won't be able to return from that alley and direct to dirty talking anymore.
If you wanna go the roundabout way, text them "So, I was a bit bored, what do you do for excitement?"
If you feel brave, send "So, there's this hot person in this movie. They resembled you… but you're still hotter".
Step 3: Wait for their sexy response
Don't send multiple dirty texts unless your partner responds. If they return to see too many dirty texts, you might turn them off.
If their phone flashes continuously with your texts, someone else might notice it.
When your partner replies in a similar fashion, take this as an opportunity to up your game.
But be patient as they might not be available all the time. However, if they delay their reply, you might no longer feel it. So, push back your sexting to another day.
Step 4: Be playful in regular convo
When they respond positively, make sure you don't go too far. Show that you can wait and you're not a sex-addicted puppet. While replying, add suggestive actions with your regular ones. For instance…
"I'll reply after I put on some clothes"
"Today's too hot, I'll stay at home naked"
"Guess what I'm wearing"
Introduce your clothes into the mix of texts. Don't get too naughty, but provoke their naughty imaginations.
Step 5: Be more daring with the green signal
The last step was another test. If your partner still feels comfortable, gotta raise your stakes. Talk about having them all to yourself beside you at the moment.
Add a mix of touching yourself if they want to meet you soon. If they have any plans of hooking up, that's your green signal. Start typing…
"I'm stark naked right now… wonder what you'd do if you were here"
"It's so cold, wish you warmed me up a bit"
Use the situation and try to suggest having sex… without being too direct.
Step 6: Add a splash of creativity
Introduce lots of imagination with creativity when you exchange dirty texts. Don't bore them with the same old ideas. Spin any dirty text you find online and add an original touch.
Always describe what you're doing, what you want to do with them, what you hope they do to you, or even how you want them to touch themselves.
Don't be too straightforward, make every text juicier. Respond ASAP so that they know you're attentive. They'll pay more attention if you respond quickly. If can't text as quickly, send
"I'm too excited to text after reading yours"
Express suggestive situations vividly,
"I wish you were here. I'd stroke your hair and many other places too"
"Isn't it too hot? Should I just toss my clothes away?"
"I'll take your shirt off. I'll rip it off if you resist"
Step 7: Text between masturbation
Don't stop touching yourselves, ask them to touch themselves and get steamier.
Don't break the continuity and keep texting one another dirty. Let your inner beast out. Say what you really want to do if they were beside you.
If you feel good, your lingo will naturally flow. Don't worry about what they'll think. If they mind, they'll eventually text you that. Text them
"I want to <action> you <body part>" or "I feel so great when you <action> my <body part>"
Step 8: Invite them to hook up
Did they talk about meeting you during dirty talking? Did you suggest something and they seemed fine with it? Once you both orgasm, ask them if they're interested in hooking up in person.
If you both want to get down and dirty in person, then express yourself more freely while inviting them. Text something like…
"Come over some day and let me guess your underwear color. Hope I'll know if I was right or not."
"Want to try it out in reality? Texting is fun but I know something more fun"
"If you're ready, I can drop by any day"
"My bed is really fluffy. Wanna try?"
"I tried imagining you during this exchange. I think seeing you in person is better"
Step 9: Sign off with a promise
Don't end the exchange with just a CYA! or laters! If you had a good time, ending that way is bad manners. Even if it's a casual hook-up, everyone deserves equal treatment.
Don't treat them like a use-and-throw pen. If you liked them and want to do this sometime again, talk about that. Text something like
"Can't wait to do this again" or, "Let's get in touch once again soon".
Don't shift to an unrelated topic, that sounds rude too. If you feel good, focus on the moment. Save unrelated conversations for the next day.
If they promise to meet you, text "Can't wait to do it in person soon".
Step 10: Don't pester them if they refuse
If the person doesn't reply for over 24hours, that's rejection. Don't send them dirty texts every day hoping to change their mind. Don't call or try to meet them to change their mind either.
If they text back their refusal, they're polite. Don't think they're playing hard to get. Consent matters so don't force them.
Moreover, if this person isn't your committed partner but is committed to someone else, go for someone else.
Don't complicate your life unless they're in an open relationship and you're ready to deal with the complications.
Come on, let's see when to sway your partner and how with…
---
Examples to dirty talk on texts
To heighten expectations
"I'm wearing sexy lingerie, wanna see?"
"I hope you're ready when I get home"
"Aren't you daddy's sweet gal? Come on, tell me who'll moan for me tonight?"
"I hope you prepared lots of lube today"
"I can't wait to use the new toy today"
While texting
"I'm so wet right now. Should I touch myself now?
"I wish there was a way to grab you through the phone"
"I can only think about how hot you look in that outfit"
"If only you touched me down there"
"If you were here, I'd make you sit on my face"
Requests
"When did you first touch yourself?"
"Pinch your clitoris and let me hear you moan"
"Rub yourself but don't let yourself come."
"Tell me what you'll do if I ravage you in your workplace"
"Tell me how your insides feel. I want every last detail.
Recognitions
"You know how to get me going don't ya?
"I love how you're so dedicated to making me cum"
"You have potential, wanna be an erotica writer?"
"Do you by any chance direct porn films?"
"My phone is too precious with your texts in it. I'll never delete them ever"
Afterward
"You're quite the crafty person, wanna hook up in real?"
"That was hot as hell. I wanna shower, wanna join me?
"You made me feel great tonight. Can I return the favor in any possible way?
"I so wanna grab you a coffee. If you don't want, I won't touch you… wanna?"
"I'm so exhausted tonight… wanna do this again?"
Do you have a stable internet connection, a gadget, and someone you trust your life with? Then try this…
---
How to talk dirty on video calls
Do you trust your partner a lot? Have no doubts about their intentions? Only if you have full confidence in this person, consider having video chat sex or talking dirty.
If there's even a hint of hesitation, make them wait. If they love you, they won't mind.
However, don't give in because they said they're ready to wait. Wait until you feel comfortable. Once you're ready, make the call with….
Step 1: Pick the person and platform wisely
Don't begin video calling on a random or unknown app just because they told you. Some apps have rules against nudity and some are buggy and not trustable.
Do it only after you know enough about the platform.
Also, don't begin video sex or dirty talking unless you know the other person. Jerks take screenshots or video records during intimate video calls.
So, absolutely nope if you don't know them up close. If you feel uncertain or things are happening too fast, don't do it. Do it with someone who makes you feel safe.
Step 2: Choose a date to look forward
Schedule your sesh on a suitable date for you both. You won't need to worry about shaving, moisturizing, or getting your fave outfit if you know when it'll happen.
For some people, randomness is more exciting. But knowing the date helps you prepare everything to have the best video dirty talk ever.
Your days will pass with excitement as you'll look forward to this wonderful date.
Step 3: Figure out the ambiance and setup
This is another pro of scheduling dirty talk. Find out which is a more convenient device during the video chat: Your smartphone, tablet, or laptop?
Where will you position your device? Look for somewhere comfortable with enough lighting. Or, just get a ring light and stand to set your phone.
Turn on your front camera to check if it lights your image well. Notice the angle because you don't want them to see you from the bottom. It emphasizes the wrong features.
Set it up a bit higher to get a flattering view.
Step 4: Text them throughout the day
On the day you scheduled the talk, dirty text them since the morning. Begin the day with "I wanna say good morning… but it won't be as good until night falls."
Text them something raunchy throughout the day and catch them off guard. If you feel excited, don't hide it. Rather infect them with your excitement and make them eager for more.
If they have a meeting, text them, "If I were in the meeting room, I'd send the others out and lie on the conference table."
Go out of character if you feel comfortable. Don't be afraid to explore unknown territories. This is also a part of dirty talking.
Step 5: Prepare your body and mind
Take care of your skin and groom yourself well from the day prior to your "dirty talk" date. You can also decide what else you'll do, or if you wanna take it a level-up.
Make sure you wear suggestive attire. Go for nurse role play and wear the prettiest bra. Men, wear fitted clothing as you'll do for regular dates.
You may also add a dinner date along to make it more intimate.
Drink plenty of water and stay rejuvenated. Notice if anything around you might distract you. For instance, if your friends usually text you around that hour, mute them.
Step 6: Tell them if you're nervous
Are all people comfortable with video sex or dirty talking? NO. It's quite regular in porn, but not in real life.
Possibly, you and your partner both feel excited but nervous about this.
If so, sharing your piece of mind will soothe you. Even if they're not uncomfortable, they'll try their best to make you feel better. Say "I can't wait for today, but I'm so nervous "
You'll know that they don't expect you to behave like a porn star. They want you to be yourself and feel everything.
Step 7: Start slow
Before you get down and dirty, tease them well. Don't let them have their way. You're on a video call so take charge. Talk really dirty about how you felt throughout the day.
Say "I couldn't concentrate on work, I was constantly wet/hard" or "I was watching this movie where the man plunged his penis into the woman… I wonder when I'll experience that".
Make your partner beg for it. And even when you strip, don't forget to tease them with every garment you take off. Or, play an online game and use your clothes as stakes.
Step 8: Get frisky with toys and lube
Spice up your special steamy night with a sex toy and lots of lubricants. Go for a showy toy because it's about both your pleasure and their visuals.
If it just goes inside you and disappears, it won't help your partner's arousal. During the video call, ask them, "How much lube should I use?" Or, "Lather the lube but don't you dare try to put in anything".
Show them the toys and ask "I want your thing, but I'll make do with this one". Ask them how they want you to use it. "Think I should turn it on medium or low?" Or, give them orders about using the toy.
Step 9: Get them a nice view
When you get into action, don't be shy from showing yourself. Your partner wants to see it really badly.
Throw in a bit of dirtiness in between like, "I'm really wet, wanna see?" Or "I wish you sucked my <point to the body part> clean".
It's even better if you know which part of your body is your favorite. Get the camera close to the body part and play with it. Do they like a particular move? Do that.
You might fear that they'll judge your body. But if you're in love, they notice how gorgeous you are. They crave you and want to enjoy the night together.
Step 10: Moan FFS!
When you feel good, express it. can't scream out your lungs because of self-consciousness? Then at least moan near the device microphone. They want to see you express your feelings clearly.
If you don't let your voice out, they won't know if it feels good. They might worry about boring you and not enjoy it at all. So, let loose and express yourself openly.
If you wanna whisper, keep an earphone handy and have fun with your video sex.
---
Examples to dirty talk on video calls
To heighten expectations
"I promise you'll combust when you see my outfit tonight"
"Fuck me if I'm wrong, but you can't make me cum tonight"
"I'll make your pussy exhausted after cumming again and again"
"Wanna see me tear my stockings tonight?"
"I swear I'll fuck you into oblivion tonight"
During the call
"If I were there, I wouldn't lose a moment and spank that ass so good"
"If this isn't paradise with a fairy in front of me… I'm so ready to sin though. But I'll also punish you"
"I got this toy but I don't know if I should use it"
"I can't wait to meet you again and make up for all the times we didn't have sex"
"I was wondering if I plunge my thing in you, will you be able to take it?"
Requests
"Come on, show me your nipples, I know you wanna do it"
"Now slowly get rid of your panties"
"Spread your pussy for me"
"Put that vibrator inside. Don't moan or come until I say"
"Tell me how to touch myself"
Recognitions
"No offense, but you'll be a great porn star. But nobody can't stand a minute of your moves"
"I didn't know I'd miss you so much after this. But now, I accept defeat"
"I swear, you're the hottest person I've ever met"
"I love how devilish you are, despite being so angelic"
"I love how you shake when you're about to come"
Afterward
"I had no idea you were that crazy, when will I get more of that next?"
"You looked goddamn sexy… but do you really like what you said?"
"Wanna stay on the call while we recover from our orgasms?"
"Tell me if you ever wanna meet in person"
"I'll dream a lot about your ass for the next few days… what might you dream about?"
Ready to go all the way with your partner? Then, you gotta check this…
---
How to talk dirty in bed? (Dirty talk during sex)
If you and your partner are comfortable and mentally prepared to have sex, congratulations!
So, do you bring the dirty talking dynamics to the bedroom? Ofcourse, why not? Sex will be far much better when you get dirty and messy. So, why not mess up your lingo? Come on, let's get your boo hornier here…
Step 1: Discuss the yays and nays
Before you begin dirty talking, know what's digestible for you both. Don't assume that they'll be fine with everything. Are they insecure about any part of their body? Then steer clear from that.
They might not like everything. So, to avoid offending your partner, it's best to know it all from before. If you aren't used to dirty talking, tell them that you found out about it recently and wanna try.
Don't keep anything from them lest they might misunderstand.
Step 2: Research on a variety of lingo
Are you uncomfortable with words like "vagina", "breasts", "penis", etc? Then start looking for alternatives like "pussy", "boobs", "cock", etc.
You might also be comfortable with the first but uncomfortable with the second type. Surf the internet to create your lingo.
Don't back off from saying them. If you face troubles, practice saying them out loud by yourself. They are a part of your body so don't feel shy.
If you want your partner to pleasure you… what kinda lingo will you use? Some are "touch", "stroke", squeeze", and "suck". Look for more to describe your needs.
Don't use any literature-based language like member, moist, buttocks, genitals…. These are turn-offs.
Step 3: Use your body to connect
Initially, when you feel shy and embarrassed, you don't need to talk. Express yourself with body language like biting your lips. Your body language in the bedroom reveals it all.
If you go for a particular sex position, it describes lots of your feelings. When you ride on top, you wanna control them in bed. If you go bottoms, you're a bit unsure.
Always maintain eye contact with your partner. This will help you know about their comfort and feelings. Read your partner's body language with your eyes.
Step 4: Relax and focus
You may feel anxious about it if you still can't talk dirty. You're overwhelmed about the idea and your thoughts mess up your intimate times.
So, before you go to bed, try some body relaxing exercises. Deep breathing, meditation, and yoga might be helpful.
Focus on the moment when you begin. Don't stress about the result or talking smoothly. Nobody did it well the first time.
To focus on the mood, pamper yourself with sexy role-playing outfits, light candles, and use dimmer lights.
Step 5: Set the romantic mood
To make a romantic mood, watch romance movies with steamy sex scenes and lots of talking. Unfaithful and Match Point are nice suggestions for your intimate times.
During the sex scenes, get closer, and try imitating some scenes. During kiss scenes, kiss… when they fondle, try it, and so on.
Step 6: Express with one to multiple words
If you doubt the dirty talk process or are tongue-tied, go with mmm's, aah's, oh's, and yeah's. Whisper in your partner's ears if your voice comes out too small.
When you feel a bit more confident, begin with single words like faster, deeper, more, harder, don't stop, etc.
When you feel ready and confident, attack them with complete phrases like "I want it deeper", "I want it harder", "Go a bit faster", etc.
Step 7: Moan to encourage them
When you feel it intensely, you might not be able to speak. People can't always say coherent words during intense pleasure.
However, it's good manners to express it when you feel good. After all, it's like appreciating your partner's efforts.
So, breathe heavier when you feel it intensely. Moan loudly whenever you feel good or are about to orgasm.
Step 8: Express your feelings creatively
Sometimes, you might be ready to talk… but the usual dirty talking dialogues make you uncomfortable.
During such moments, don't hold back because you can't say something like the movies. Rather, your originality is heart-melting so ace your own dirty talk lingo.
Say exactly how you feel or what you want to do descriptively. If you can't say crude phrases, then don't. Your voice will naturally come out when you feel good. So, let it out freely and don't think.
Experiment with your pitch and tone while you express your feelings. You may scream, moan, or whisper however you like it. Go with the natural flow but don't say anything derogatory to your partner.
Step 9: Dirty talk outside bed
Before your partner reaches home, text them something dirty. You may text dirty to-and-fro the entire day to set the mood.
During their lunch breaks, call them and say, "You're having lunch now, but I'll have you for dinner". Don't force any idea, go with your feelings. Or text "Can't wait to smash my lips on yours tonight."
Hit them when they least expect it to get them hot and bothered.
Step 10: Encourage your partner
Talking dirty all alone might make you uncomfortable and self-conscious. If your partner doesn't reciprocate, urge them to reciprocate to you.
Ask "Tell me where you feel good" or "show me how you like it". Don't snap out of the mood or break the rhythm. If you have a pleading tone, your partner might just give in.
Don't judge your partner if they're bad or too good at it for the first time.
---
Examples to talk dirty on bed
Wondering how to make it more magical? Check out some examples for different stages…
To heighten expectations
"I can't wait to get home and get started with "Umm".
"Your thoughts got me sticky in my pants"
"Tonight, when I get home, you're done for"
"When the kids fall asleep, I'll show you heaven"
"I don't think dinner is enough for me… I need the dessert in between your legs"
During the action
"You look as hot as years back… I wanna ravage you more day by day"
"I'm so hard I might burst in my pants right now"
"I love riding you and messing you up"
"Don't you love it when I dominate you? I know you're craving for that"
"I wonder how slippery your pussy got"
Requests
"Let's suck off one another together"
"Tell me exactly what you did to become this wet/hard"
"Show me how you want me to make you cum"
"Don't cum unless you don't want this meat"
"Shove your panties in your mouth and ride me"
Recognitions
"Fuck! How do you ride so well?"
"I can feel your soft pussy quivering in anticipation"
"Your lower mouth is so much more honest… look at how much it wants me"
"Your pussy is sucking me in… it's so small yet hot"
"Your cock is the best… I live to get rammed every day"
Afterward
"I love how you get me intense orgasms. Is there any special move you like?"
"Give me a moment to relish the afterglow and your pretty ass"
"I'm so glad we hooked up in person"
"I'm so exhausted but I can't forget how you wrapped your face around me. Think we can do that again?"
"I loved how you made me orgasm with my breasts alone. Wonder when I'll see you again sexpert"
The dirty talking didn't go as planned? Well, find your next steps here…
---
How to talk dirty if you messed up (with examples)
For dirty talk beginners, you won't get it the first time. It might feel awkward when you stutter. You might break out in cold sweat too, There are plenty of chances to mess up for pros too.
However, a pro knows how to smoothly get off the hook. Let's learn the secrets of the pros here…
1. Try again
If you wanna do it over, say
"You turned me on so much that I'm tongue-tied"
"Oops, I didn't take permission, I'm sorry for that. Tell me about your likes and dislikes about these names"
"I feel so nervous, I'll give it another go"
"I wasn't aware of my lingo, I apologize. I'll be careful now"
"Give me a moment… I'm just too overwhelmed"
2. Reschedule
You may stop, reschedule, and do something else, ask
"I loved it when we did it the last time. But I'm just not feeling it today. Mind if we try it another day?"
"I was super fired up about doing it today, but I'm feeling nervous now… think we can just text about other things?"
"Work was too hard today and my mind is just a wreck. I can't get in the mood. Let's do this later"
"I know you didn't do this knowingly but this word triggered me, I can't do it today. Wanna discuss some triggers now?"
"My family is over and I can't get privacy. I don't have a choice. Do you have time tomorrow?"
All set to begin your journey? Nuh-uh! Wait, I have some…
---
Tips on how to talk dirty
If you wanna succeed in dirty talking, know how to behave starting from your expressions to your actions. The dirty talking process isn't all about your mouth only.
You gotta express your sexual desires explicitly and also connect with your heart, express how crazily you love your partner with your lingo in and outside the bed here…
1. Use consent as your trump card
If you never dirty talk with your partner, then ask them how they feel about it. If they don't have an open mind towards it, don't push it.
If dirty talking is usual in your relationship, ask if it's a good time either via text, in person, or call. Ask, "I wanna dirty talk, are you in the mood?"
If there's any genuine reason like a wet dream, ask "I had a wet dream, wanna know more?" Consent is always sexy and respectful, so never forget about it.
2. Express your longing
Tell them that you're excited and can't wait to begin. Even if dirty talking is tough, your feelings are there. You want them and your expressions make them feel desired and wanted.
They'll return the feelings and help you feel more confident about it. They'll also try to please you with dirty talking or special sexual actions.
3. Don't think too deep
Don't worry about your partner's thoughts. They'll tell you if they don't like it. Don't worry if you look chubby, you're hot no matter what.
Don't focus too much on making original lines. It will naturally come to you so let your desires take over you.
4. Always ask more
When you don't know the next step, ask your partner what they want. What turns them on?
What they usually do after a sexual action… keep questioning them like "And, what do you do next?" "Tell me more about what you want." Or "what do you usually do at night?"
5. Take your time
You can't turn from "Babe take out the trash" to "I can't wait to get naughty" within seconds. So, slowly ease yourself into the naughtiness.
Think about a fantasy or touch yourself sensually to get in the mood.
6. Emphasize your turn-ons
Let them know what turns you on. If you're sexually aroused from some action, express it to your partner. Say "I love it when you do that" or "When you stroke that place I get so wet"
Obviously, be as specific as you can when describing them.
7. Express yourself (but don't be too specific)
Again describe what you love about them. Which of their actions charge you the most? Compliment them to boost their ego. Talk about their beautiful body parts… but don't get too deep into the details.
For instance, mentioning the penis length or girth, bra cup, hip size, doesn't turn on anybody. So, why take the pain? Remove them from your lingo.
8. Calm your nerves
You might feel nervous about this idea. The only solution? Talk to your partner, get up-close and intimate and share a heart to heart about dirty talking. Let them know what worries you.
Perhaps, they can give you ideas to deal with the anxiety. Or, talking to them itself might make everything better. Communication is always the key to all problems.
9. Suppress the judgmental side
Their ideas and thoughts don't match with yours? Well, that's a regular thing. So, don't ponder over that moment or judge them. Accept their ideas if it doesn't harm you and add yours.
Make a win-win situation out of it. Don't crush your partner's ideas, else they'll shut themselves down.
10. Give them a heads-up before it
Before you begin your sexual actions, tell them what you'll do. For instance, while on your way back home… text your partner what you'll do to them as soon you hit the door.
When you start the action, describe what you're doing to them. This works wonders for everyone out there, especially women. Women love imagining things and the anticipation gets them going.
Men on the other hand need more visuals, so send your man a picture of your naughty attire. This really gets them in the mood.
11. Include all the senses
Build all the dirty talks around your five senses: sight, sound, smell, taste, and touch. For instance,
"I love to see you quivering beneath me wet and hot"
"I like how you moan when I plunge deep inside you"
"I love how you taste down there"
"Your neck smells damn delish"
"I want to touch you everywhere until you're wet and begging'.
12. Lower the crude language
Discuss what kind of trigger words they hate. What kind of language do you like? Are words like slut, whore, maneater, cock, pussy, feminine words like cute for men, or any other reference triggering?
It's better to keep down the crude language. It sounds disrespectful and turns off many. If you don't know about your partner's preferences yet, keep the profanities out.
13. Take a leap of faith
You may fear saying sexy things. It's okay but don't resist this once you start. If you step back today, you might never be able to cross this bridge. So, step forward and get over your fears.
Believe in yourself and your partner. Your heart won't let you do anything wrong. Plus, your partner is there to help you if you feel nervous.
14. Send naughty voice notes
To oomph up with anticipation, send some dirty talking audio to your partner. Also, text them NSFW… you don't want them listening to sexy notes beside their co-worker.
15. Use naughty lingo out-of-the-blue
Text them something naughty when they're busy. During the craziest moments like a family gathering, friends' outing, before meetings and presentations… target the moments when they're in public.
Make them hot and itchy publicly. This will make them feel like returning you the favor. The teasing game will up from that moment.
16. Fight for the upper hand
If your partner says something so sexy that you can't wait… beat them with an even better comeback. Compete with each other and be playful. Trust me, it'll act in your favor on the bed
17. Play out their fantasy
Know about their sexual fantasies? Do they like naughty nurses or office ladies? Or, is it police role play? Prepare to turn their fantasy into reality.
If you can't get role play outfits, tell them to imagine it. Tell them about how the outfit emphasizes certain body parts. They'll feel aroused and won't hold them back.
18. Try S&M
If you guys are into sadomasochism, use bossy dirty talk like "You've been bad, I'll punish you" or "Don't you dare touch yourself until I allow you".
If you're submissive, say "I've been so bad, please punish me."
19. Whisper if you're tongue-tied
If you can't scream during the sesh, pull your partner closer and whisper dirty talk in their ears. Make them go wild with their dirty imaginations.
20. Keep it simple if you're nervous
If you're too nervous and can't get over this fear… tell them how they excite you. If your partner loves you, they'll understand your discomfort. This alone will work wonders for them, so don't worry and enjoy.
Wanna learn some cool dirty talking? Whether you began today or years before, check these out…
---
Dirty talk examples
Dirty talking though sounds easy, it isn't… especially if you don't have much idea and variations handy, it gets crazy boring.
Whether you start today or months back, if you keep saying the same thing repeatedly, the magic won't last. So, get some dirty talk ideas here…
For Beginner level
Are you new to this journey? Feeling shy about speaking out? Or, do you want more variety? Well, you'll meet all of your needs here. Impress your partner with this sexy vocabulary and enjoy this ride…
1. Harder.
2. Slower.
3. More.
4. Faster.
5. Deeper.
6. Please.
7. Louder.
8. Fuck.
9. Keep going!
10. Don't stop!
11. I want you this moment
12. You got me so/dripping wet
13. I can't wait to see you (naked)
14. I was waiting for you the entire day
15. Know how much I'm hungry for you?
16. I feel crazy for you
17. I wanna have a taste
18. This feels amazing, love
19. Come on, sit on me babe
20. Do you like this?
21. You're turning me on so bad
22. Tell me when you'll come home?
23. What do you wanna do to me?
24. I love it when you caress me
25. I love how you talk sexy
26. You look sizzling hot
27. I like it when you grab me
28. I like the way you stare at me
29. Relax and let me take charge.
30. I love it when you purr
31. You're so sexy
32. I love your body a lot
33. Tell me where you wanna cum
34. I love how you look at me when you're turned on
35. I see that you're having fun
36. Have me your way
37. Naughty little girl…
38. You little good girl
39. Tease me to the point of begging
40. I wanna spend the whole day in between your legs
41. I want it inside
42. You make me feel so good
43. I feel so small in your arms
44. You taste/smell delicious love
45. Your eyes say you wanna take advantage of me
46. Ready for me to enter you?
47. I'm close
48. I orgasmed so hard
49. I wanna do this every day
50. I wanna have a second round
51. I can't stop imagining what I'll do when we'll get alone
52. Guess what I'm wearing
53. Your face makes me horny
54. Call my name
55. Moan for me
56. Come here, baby
57. You're so good at it
58. You make me come hard. I love it
59. Your tongue is incredible
60. I wish I was with you/could hold/do you
61. That keeps playing in my mind
62. What's your fave sex position/toy?
63. Wanna try <sexual activity>?
64. You're always on my mind
65. I miss your taste
For Intermediate level
Began months back? Feel your dirty talking skills are in a rut? That happens to almost everyone.
Don't feel bad if you can't say something new to your partner. You'll soon get the hang of it. Let's flourish your bed lingo here…
66. The memory of us doing it last time… gets me too hot and bothered.
67. When you hug me, my knees give away and it feels wet between my legs.
68. I want to get alone ASAP… I wanna surprise you tonight.
69. When you ride me, you look so damn hot
70. You were on my mind last night… till I lost consciousness.
71. I love the feeling of your skin in my hands
72. I love it when you dominate me.
73. Don't you dare stop… It feels so good!
74. Come when you're ready.
75. Touch me more… I can't get enough of it.
76. How do you want to be done tonight?
77. I wanna make you come
78. I'll make you come harder
79. Grab this booty
80. Kiss my entire body
81. I love it when your pussy squeezes me
82. Cum for me
83. I'll fuck you senseless tonight
84. Cum on/inside me
85. I'll dominate you all night
86. Your dick is a perfect fit for me
87. Your mouth is quite talented
88. Your pussy/cock is my perfect fit
89. Show me how you touch yourself
90. Get on your knees
91. Take this pussy if you own it
92. You look gorgeous when you wrap your lips around my dick
93. Pound my wet pussy, daddy
94. Your cock is so juicy
95. I'll suck you dry
96. Fuck me in front of the mirror
97. Thanks for the good fucking
98. Scream your lungs out when you cum
99. Where's my good little pussy/cock/ass?
100. Where's my cock slut?
101. Tie me up and fuck me
102. I'm not wearing underwear
103. Wait until we're home
104. Undress me
105. Kiss my nipples
106. I wanna get you naked right now!
107. Your voice gets me rock hard
108. Tell me your whore-like secrets
109. Are you alone? Are you touching yourself?
110. Wanna listen to me come?
For Advanced level
If you're a pro and still looking for ideas, I know you want some variation. Everyone needs a little help at some point.
However, to all my beginner and intermediate mates, also take a look over here…
111. I swear you'll get the best oral of your life tonight.
112. Kiss my lips, chin, neck, breasts, navel, and keep going down.
113. I want to be your slave tonight. Use me as you like.
114. Shut up and fuck me
115. I need you inside, right now
116. I get so wet when you push me against the wall.
117. I can't wait to tear apart your pants
118. I love the taste of your cock
119. Plunge your fingers inside me
120. I can't wait to bend over for you
121. Your greedy ass likes spanks, doesn't it?
122. Bite me
123. Last night I fantasized about sitting on your face
124. I love it when you lick/rub my clit
125. I won't let you cum without my permission
126. I can't wait to feel your pulsing cock in me
127. Show me your juices
128. I wanna fuck you till the neighbors wake
129. My pussy is hungry for your cock
130. Let me taste your delicious dick/pussy
131. This greedy pussy is mine
132. Fuck my face, daddy
133. Gag me with your cock
134. This whore loves sucking daddy's cock
135. Destroy my pussy
136. What an obedient slut you are
137. Don't make noise until I give you permission
138. Don't stop and keep fucking me
139. Pull my hair
140. Fuck me from the back
141. I'll suck your dirty clit and finger you at once
142. Let me calm that throbbing cock
143. Thank you for your naughty pussy dessert
144. Dump your cum inside me like a good boy
145. You came way too much without my permission, ready for the punishment?
146. I'll slap your clit until you orgasm
147. Suck my cock until I ask you to stop
148. Aren't you a disgusting little slut? Want me to fill your ass with toys?
149. Suck me nice and clean until it sparkles… make me your little whore
150. I wanna jam your mouth with my cock when you moan.
Wondering what's the necessity of this? Well, let's know it here…
---
Why should you talk dirty?
Summary
Dirty talks can spice up your sex life like no other and also help you both understand each other's needs and desires.
Suppose, you look at your partner with a silly expression and say "I can't wait to touch you". It might sound cute, but it won't get your partner going.
Suppose, you bite your lips, rub your thumb on your partner's hands, graze your nails on their skin, look at them seductively, and with a low voice say "I can't wait to go home tonight and ravish you".
This is too hot for your partner to resist. They'll want to forget about all commitments, take you to the closest private space, and taste you.
This can have a bomb effect on your relationship… the first one, not as much.
Wanna try dirty talking but don't have a partner? Read on to…
---
How to do dirty talk without a partner?
The Juicebox app is well known for its custom relationship and sex coaching and advice. They created a bot called Slutbot which is available 24/7 for sexting sesh.
If you live in the US or Canada, text "SLUTBOT" to 415.212.6448 to begin your sexting sesh. The services are paid and will charge standard message rates.
If you live outside either nations, text "SLUTBOT" to chat with Slutbot on messenger
A word from ThePleasantRelationship
Talking dirty isn't about throwing in a few crude words here and there. You say what you really mean… if you promise to do something to sexually satisfy your partner, you gotta live up to it.
But sometimes when your hormones are on the moon, you might say something entirely unacceptable in normal life.
For instance, you won't choke your partner for real when you're not having sex.
If you and your partner are okay with that kinda language, embrace it. If you're not, avoid it. It's your relationship so you call the dirty talk rules.
In reality, there are no rules, so enjoy what you're comfortable with together.
Surabhi Kedia
Surabhi wakes up every day with a drive to craft words that can create a soulful impact. Creatively adventurous, she is always seeking to learn new skills and acquire new experiences. With a hidden soft corner for languages (especially Urdu), she writes poetry occasionally, binges on romantic shows, and LOVES to talk. A hustler, admirer, chaser, Surabhi is just another-someone who refused to give up on her dreams. She says, she is just somebody who's trying to make herself a writer and for now, she's just writing...