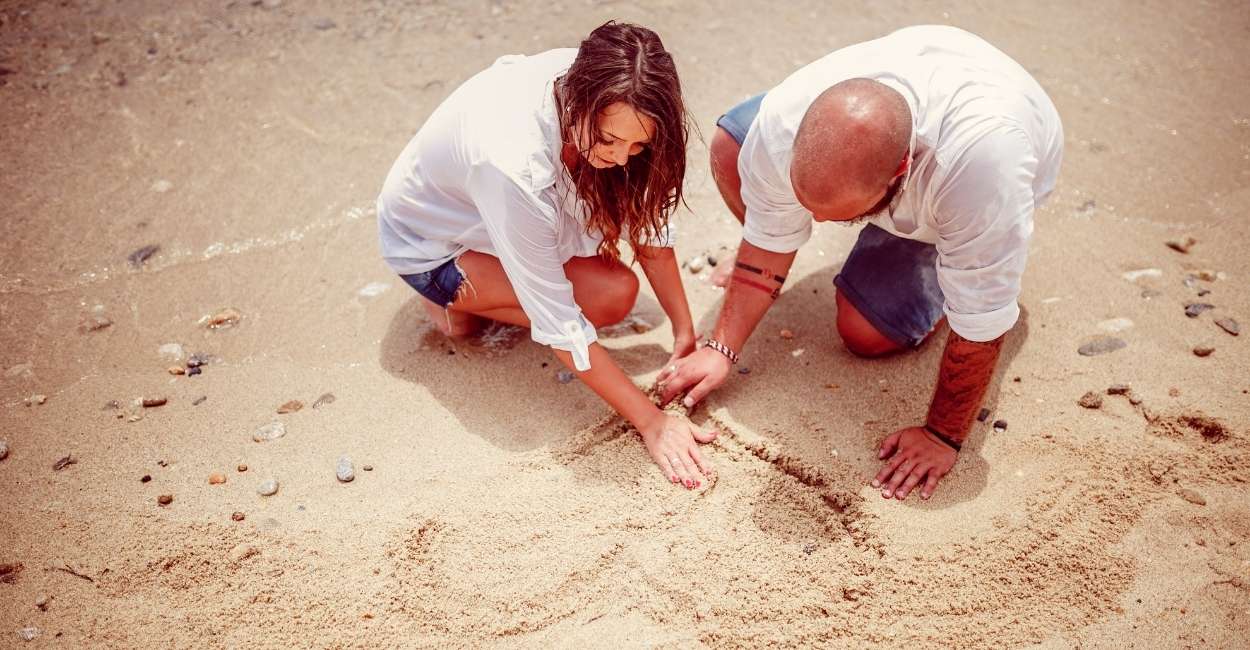 Looking for beach date ideas? Love the beach but out of ideas for a good date? Or are you just nervous and can't think straight?
Well, it won't be long until you frolic about the seashore once again with your lover. How? Because I have an amazing list of beach date ideas waiting for you in this think-piece.
Whether it's your first date or your 20th anniversary… whether you're a millionaire or on a tight budget… I'll always root for you guys.
Because you guys look for ways to make your partner happy, I believe this world is a beautiful place and will become even more gorgeous.
So, as a toast to your celebration of love, let's dive in a sea of date ideas…
Beach Date Ideas Infographic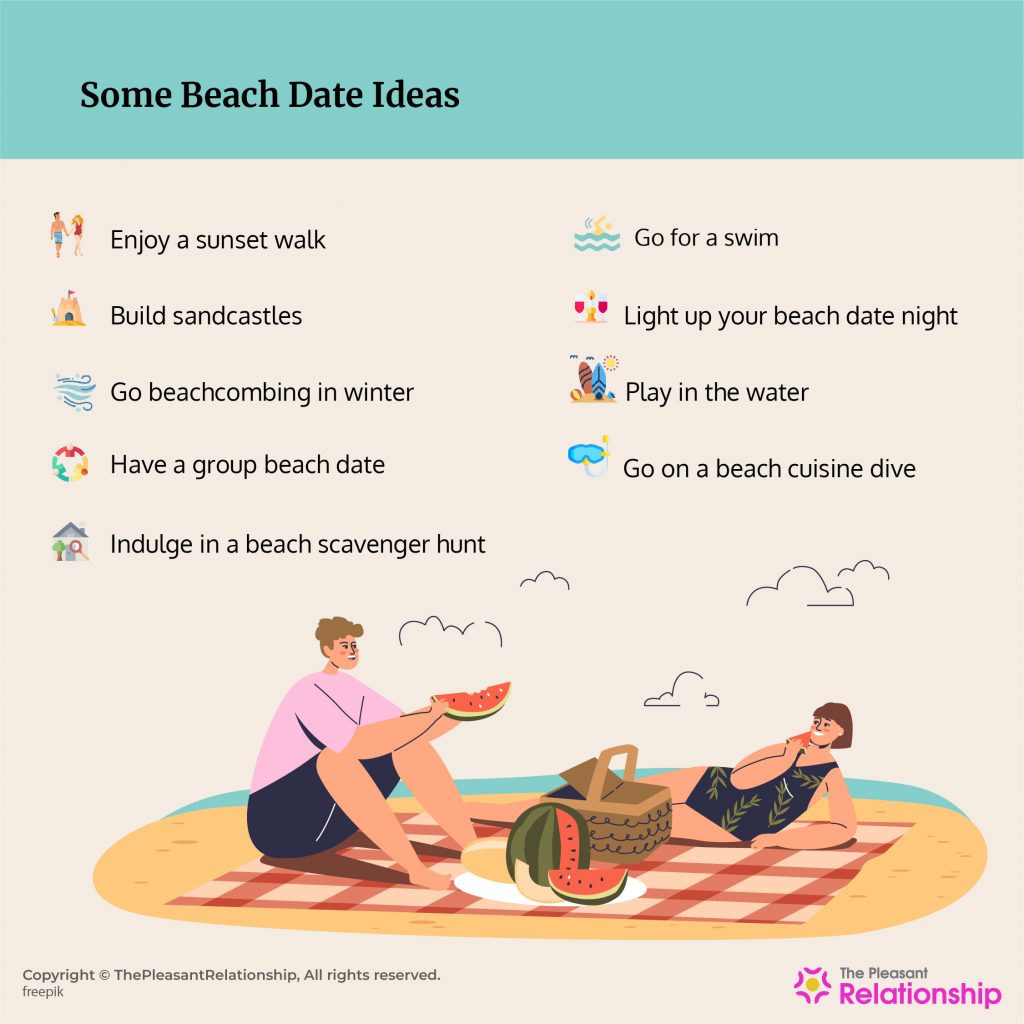 First date beach ideas
First dates are so precious because let's. You want to look good, don't wanna make them uncomfortable, wanna create a memorable first date… the neverending pressure might even be the reason for a disastrous date.
Don't worry, because I won't let your chance waste. Here are some ideas to ease the first date burden…
1. Enjoy a sunset walk
For this, you don't need to do anything other than going to the beach together before sunset. Take off your footwear, roll up your pants, and enjoy a walk on the sand.
Enjoy the sensation of the uneven yet minute sand particles clinging and falling off your feet.
Go near the shore just so that the waves come hitting on your feet. It's a great date idea to decrease the distance between you both.
2. Build sandcastles
Almost everyone played with sand in their childhood and tried their hand at building sandcastles.
Who said you can't build sandcastles after growing up? This is an all-time fun activity and fits in just right to melt the ice on the first date.
It will develop teamwork and sweet moments. So, bring out your sandcastle building supplies and impress your date with your skills.
3. Indulge in a beach scavenger hunt
Think Scavenger hunts are great anywhere other than the beach? Make this date activity more fun with simpler and fewer clues. Don't go beyond ten clues with pretty pictures and quotes.
Though it sounds like a lot of work, it's the best way to show your playful side on your first ever date. While you spend time solving it, have fun knowing one another's train of thought.
4. Go beachcombing in winter
Even if it's winter, the beach has enough to present you despite the season. Though there won't be much water sports on… seashells and pebbles hunting is the best during winters. Lesser people visit so you'll have more variety to explore among shells and rocks.
Make sure you're all layered up and bring in more layers to cuddle later. Don't forget to try out the stalls when you're done.
5. Have a group beach date
If you're a teenager, first dates are a bit intimidating. Moreover, since you chose a theme like a beach, your date may feel self-conscious… because beach time means swimsuits.
So, why don't you add in your other friends and get rid of the discomfort with the group setting? Make sure that there are equal pairs so nobody is left out. Don't worry, you'll still make good memories with more people.
6. Play in the water
Which couple visits the beach and doesn't splash water on one another? This is a common first date activity but people don't realize that they have this option.
I don't blame you because the pressure of arranging the first date is too much and that's what I'm here for. Make sweet memories and etch your partner's sweet giggling face as you let out your playful side.
7. Go on a beach cuisine dive
Your budget in this one depends on the availability of differently priced restaurants on your chosen beach.
Choose a restaurant at an affordable price and order everything in a single small portion. Try out everything under one roof and enjoy worldly desires like food.
If you're a foodie, this date idea will express your love for food. You may even say "I love you more than food" if you really mean it.
8. Go for a swim
For summertime beach dates, we all wanna soak in the water and beat the heat. Moreover, you get to prepare a cool set of swimsuits or trunks to impress your partner.
Once you reach the beach, get changed into your outfits, and choose two floating tires to ensure your safety.
Now it's time to dip yourselves in safety, love, and romance. Swim away together and cool your body in bliss.
9. Light up your beach date night
If you visit the beach at night, it's pretty dark out there. Get your hands on some outdoor lighting, blankets, and food. Make the perfect date with battery-operated fairy lights.
If the temperature drops considerably, prepare some hot drinks or buy from convenience stores and carry more layers in case your clothes don't suffice. Your date will find your actions super thoughtful and romantic. This date will remain etched in their memory.
10. Stargaze on the sand
No, don't lie down on the sand without a mat… that's super gross and grimy. Lay a mat, lie down on it together, and make sure you don't try anything sexual… this is your first date after all!
Talk about your life while you gaze at the stars. Tell them how excited or nervous you're about the date. Know about their feelings until the date started and how they're feeling now.
If it's not your first date, you can try getting a bit more intimate and free on your beach date. Your date won't feel shy or uncomfortable either because of the existing bond.
If you know one another for a while, pouring romance into it is a good idea. So, go ahead and check out these…
Romantic beach date ideas
Beaches are the perfect place to whip up a romantic date. Whether it's the first time you take them or the hundredth time.
You can't end the romantic beach dates because romance comes from your feelings and creative imaginations.
If you both are romance suckers, I'll suggest you follow any of these…
11. Have moonlit beach dinner
Get to the place earlier and let your bae rest somewhere. Order food from a nearby restaurant or get takeout. Don't forget to bring blankets to sit on.
Draw hearts on the sand and stick in LED candles, add in a hint of romantic songs. When everything is set, take bae to the spot and enjoy a great time with the sound of the waves.
12. Enjoy a beach dance party
If you and your beau love to dance, the beach is a great place for it. Clubs and parties are always great for dancing, but imagine the sensation of cold sand on your feet while the sea breeze rustles your hair.
Take your compatible music system out along with your partner. Finding the perfect place with lesser people is a challenge, but you can do it.
13. Go Victorian with Horseback Riding
If you want to level up the romance, then lean into the Victorian-era date ideas. Learn horseback riding yourself to teach your partner on the date. If your partner knows it already, why not learn from them?
If you both know how to ride a horse, then you have two options. Ride different horses and compete or ride one horse and enjoy a leisurely and romantic time together.
14. Pull out your inner artist
Collect all the painting supplies like canvas, brushes, oil paints, paint markers, and everything else you might need. Draw the beautiful scenery in front of you or give one another items to draw from the beach.
It might be a seashell, the nearby food stalls, one another, or any other precious item. Take your time making masterpieces and frame them later as a date memento.
15. Watch the sunset from a beach café
Find the best café or food stall around your chosen beach with all the yummy food your bae likes. Make sure you also get a perfect sunset view from the place.
Book a table for you two and watch the red sun go down while you have delish food and drinks. The combo of the sight and the food will melt your partner's heart.
16. Go for a sunrise view
For this one, you gotta set out real early. Make sure you get essentials depending on the weather like blankets in winter. Many beach food stalls open up before sunrise if there's a considerable crowd for sunrise viewing.
Buy food from a stall or bring the previous night's heated leftovers. Munch on food, snuggle and make fascinating memories under the first rays of sunshine.
17. Hold hands till the end of time
Holding your lover's hands on the beach is an all-time romantic date for ages. Go hand in hand and spend some time on the sand. Build your relationship foundation stronger than ever with intimate conversations.
Soak the beautiful moment when your partner entwines their fingers around yours. This is the most special feeling couples forget, so don't let the feelings slip away.
18. Have a gadget-free date
Bet on having quality time only with your partner with your phones silenced. If you're both working adults, you might not be able to shut your phone because of work.
However, you both deserve undivided attention, so turn on the silencer and be attentive to their gorgeousness.
Ask your partner to do the same. Bring out your phone only to click pictures and shoot reels.
19. Monopolize a quiet spot
Go to the beach beforehand and choose an unpopular quiet spot under a tree. Grab your beach mats, parasols, food and drink, sunscreen, and sunglasses. Laze around in the evening and watch the beautiful night sky together.
Make sure the weather is nice on your date day, you don't wanna disappoint your partner with a cloudy sky or rain. Munch on the food and relax.
20. Bring your homemade food
If you can cook, does your partner like any particular prep? Prepare their favorite dish and don't let them know.
Pack the food in a lunch box and put it in your backpack. Don't tell them what you brought and head out.
While you set the beach blankets and stuff, ask them to get drinks. When they return, surprise them with the food.
Is romance too intense for your relationship? Perhaps, you don't know one another for long enough to jump into romance? Well, we can do something in the middle… neither too romantic nor completely awkward and distant like a first date.
You need something cute to make the best out of it like these…
Cute beach date ideas
Whether you're bored of romantic dates or they just aren't your thing… Whether your partner is a male or female, cute things don't need a reason.
Similarly, cute dates exist because they make you and your partner come closer and you don't even know how.
With smiles and laughs and attract all the positivity on the beach. Make your date memorable with a load of cuteness like these…
21. Snuggle by a bonfire
If you want a beach date night, a bonfire, marshmallows, and snuggles under the blanket is a great way to add romance under the starry night.
Keep yourself warm with the fire and help your babe warm up, hold hands, lean on their shoulder, and add music in the background to make it even more romantic.
However, make sure bonfires aren't illegal in the area before you plan it.
22. Take your Jenga to the beach
You always played Jenga on a flat surface, how about adding a twist to it? Play it on the sand and challenge your balancing skills on the shaky sand. Well, Jenga giant games are available for rent near the beaches.
So, no need to buy a new set or carry the game to your destination. Lookup for such stores on your beach beforehand so you don't mess up later.
23. Try out a Frisbee
One of the perfect beach date activities is playing with a Frisbee. Gather up with other couples and let the child within you lose. In between the game rounds, dip in the water and cool yourself off.
While having fun, make sure to notice if your partner is having fun. If your Frisbee lands on the water, dive in the water to get it and get over the fatigue.
24. Have fun slathering sunscreen on
If you tell me 'beach', 'sunscreen' is the first word that comes to my mind. It's essential for beaches, so why don't we add in more of that.
After lying on the beach mat under the parasol, ask your partner to put sunscreen on your back.
It's a cute way to be playful and flirt. This also counts for a free massage from bae. Once they're done, return them the favor.
25. Play with a beach ball
Beach balls have different colored parts on them. Write a task on each colored face. Throw and catch the beach ball, whichever colored part faces you, do the task written on it. Or, if you find an activity beach ball in the stores, get it.
The store-bought ones are usually more conversation types. If you want to make it more authentic, get a sharpie to make your own.
26. Enjoy a movie night
Some beaches host movie nights and it's truly way more different than a drive-in movie because of the ambiance. Get rid of the monotonous movie date nights and brew up your perfect time to bond.
Snuggle up during the movie and it's even better if it's a romantic flick. Memorize the romantic lines and use them once the movie is over. Woo your partner all over again.
27. Try camping on an abandoned beach
Get a camping tent with an open or transparent top. Grab your favorite food and drinks together, camp upon an abandoned beach, and enjoy the wilderness after dinner. If it feels too dangerous to explore the abandoned beach area, don't try it.
Rather stay in the camp safe and sound while you listen to the wild animals nearby. Notice if your babe cutely snuggles up in your arms.
28. Go on a night walk on the beach
People hardly think of walking on the beach at night. The dark water tides look majestic, intimidating, and mesmerizing. Take a stroll around the eerie dark beach, but don't go close to the water to ensure safety.
You might question "why is this in the cute section?" Well, some people like it when their partner sticks to them a bit more… Tell me why couples watch horror movies even when one of them feels scared?
29. Watch the dolphins play
Everyone likes to watch dolphins while snorkeling, however… Swimming isn't everyone's thing.
Ask around the tourist guides about where to spot a pod of dolphins. They might know where they're mostly seen even from land or a ferry.
Make sure to finish the homework beforehand and book a spot before if you must board a ferry. Bring in a pair of binoculars to watch the dolphins better.
30. Dig the sand
You need shovels to dig out the sand and your beau to compete with. Dig two holes separately, and see who successfully makes a hole faster. If one of you is a man and another a woman, the man will obviously dig it faster.
So, you must also keep an eye on digging a clean pit. Relish your partner's sweat-clad beauty and boost your intimacy while playing in the sand together.
Do you and your partner not like mushy stuff? Well, my partner's pretty practical, so I know that their choice might not be the exact same as mine.
Some people are more into sporty and cool adventures, something that pumps their blood. I totally get your definition of fun, so here you go with these…
Fun beach date ideas
If you or your partner likes adventure, thrill, boldness, daring, and something that makes you feel alive… beach sports are your go-to answer. The thrill pumps adrenaline, you feel happy and jolly, and it really makes a worthwhile date.
If you don't know about the beach sports available to you, this is the time to check with the authorities and decide on one of these…
31. Try out snorkeling
Explore the deep blue and the cute dolphins together with your bae. Capture the cool life underwater and engrave them in your memory. Or, get an underwater camera to get amazing shots of your partner swimming like a mermaid.
Get ideas on the best snorkeling spots to find lots of colorful life. Swim with a school of fish or a bale of turtles.
32. Rent a jet ski
Get two jet skis and zoom through the vast water body. If you're in the mood for competitive fun, ride two jet skis alone.
However, if you're in for intimate fun, one will suffice. Ask your partner to hold tight as you speed up in the traffic-free area.
Show off your Jet Ski skills. Leave your phone in the locker, because you can't find it back if it falls.
33. Surf like the movies
Even if you guys never tried surfing, it's something you can slowly learn. It's great whether you're a beginner or a pro.
Learn to surf together lying down on the board, ride on the smaller waves initially, slowly maintain balance, and try standing up and posing.
It doesn't sound as easy… and yes, it's time-consuming. It's a great way to spend the entire date with fun and giggles.
34. Give stand up paddleboarding a shot
For normal paddleboarding, you lie down on the surfboard and use your hands to swim through the water. It's regular but challenge yourself one step more with its stand-up version.
Make a starting and ending point and race in this sport. Keeping balance through the shaky waters is hard which makes the entire activity even more fun. You might fall a few times before you reach the finishing line.
35. Row through with a kayak
Get a couples' kayak and set on an adventure on Belmont shore. Ask the dealer about any areas to avoid because safety is your priority. Explore different areas which you find interesting.
This is also a great double date idea activity… so if you have other couples around, add them in. You can also compete with the other couples for fun while you coordinate the rows with bae.
36. Try out couples parasailing
If you guys wanna fly like a pair of real love birds, parasailing is the best beach date idea. You'll love the fast-blowing wind on your face along with the adrenaline rush of flying so high.
Enjoy the unforgettable moments up high in the air. Add it to one of your shared experience lists to develop your love for one another even more.
37. Go scuba diving
If you want to explore even more underwater, then snorkeling won't make you as happy as scuba diving. With the scuba diving equipment and outfit, you can dive in deeper and explore the depths of the sea.
Descend so deep in love and water on this mesmerizing date with the underwater flora that thrives without sunlight. If you have underwater cams, don't forget to post them on the gram later.
38. Play tag on the sand
This might sound hilarious and you might ask "Are we back in primary school?" Well, tag isn't just for kids, mate… and playing tag on the sand isn't a child's play.
You need to be careful to not step on sharp debris and keep your balance even when your feet sink in the sand. Honestly, the sound of tag always thrills my mind, so give it a shot.
39. Train yourselves with windsurfing
If you're into heavy sports, the toughest you can go on the water is windsurfing. It's much harder than regular surfing and requires great body coordination with your senses. Hire a trainer to learn to coordinate your body as the wind direction changes.
It's a challenging sport and you might not end the course in one day. That bags on consecutive beach dates with your bae.
40. Return to the shore for volleyball
If you're not so big on the water sports, beach volleyball always awaits you on the shore.
However, you need teams for this… so yeah, another double date idea. Gather up other couples in the vicinity or take your mingled friends to the beach.
Make a cool gift like getting the royal treatment from the other couple for the winning team which also works as a penalty for the losing one.
Does the thrill sound too much for you? I relate with that because I can't take it either. You might like more laid-back dates where you can stay on the land, without any hectic activities, and still, have fun with your beau.
That completely sounds like a picnic… so, let's take a sneak peek here…
Beach picnic date ideas
Whether you or your partner don't like too much excitement, aren't sporty, or just wanna laze around on the sand… beach picnics are the best option to make your date worth it when you don't have enough energy but still want to spend romantic and heart-melting time together.
If this sounds like your thing, go ahead and soak their heart with these…
41. Take your homemade food
If you're a great cook and both love homemade food, then prepare something special together at home. Pack it up in a picnic basket and head to the beach with mats and sunscreen.
Serve the food on eco-friendly plates and remember to not litter the beach with anything. Relish your favorite food in a new place and notice how the taste becomes richer for the ambiance change.
42. Have an expert serve you food
Hire a chef for dinner for two to the beach. Negotiate earlier about the expenses, necessities, and your favored cuisine.
Watch the chef cook your favorite dishes while you lay out your picnic mats and pour yourselves wine and enjoy the time.
Indulge in a hearty exchange as you shower them with flower petals to make them feel special. Watch the sunset and play in the sand until dinner's ready.
43. Learn cooking during the picnic
If you can't cook, then download a cooking class and follow it to make your favorite dish. Ask your beach authorities if they allow self-cooking on the beach.
Make sure you get all the necessities like groceries, cutlery, and cooking gear. Pack it up in the van and take it to the beach. Power up your culinary skills like the team you are.
44. Try a beach BBQ
Do you have BBQ equipment? If yes, this is a great time to take out that bad boy. Go to the beach just before sunset and set up your equipment. Enjoy the romantic pink sunset and start working on the BBQ.
Enjoy this amazing time making delicious food together. Sip in wine while barbecuing together and enjoy a great candlelit dinner under the stars.
45. Chill with fruits after swimming
Buy all of your favorite fruits available at the grocery store. After a round of swimming in the ocean, peel and cut the fruits into small pieces and chill them with ice and add any fruit juice or yogurt to them. Laze under the parasol while mixing your refreshing dessert.
Next, exchange the desserts and score your partner's preparation. Bond better, know one another's tastes and enjoy your time together.
46. Have a taco party
Buy a stack of tortillas and pack a wide variety of condiments and fillings. Set up your picnic spot and blindfold your partner. Make them a taco and have them taste it. Make a guessing game out of your picnic food.
If your partner wants to try their hand at making tacos, allow them to taste test their masterpieces and share love in the salty air.
47. Take your Twister to the beach
Along with your picnic basket, mats, and other necessities, take your twister mat. Choose a cool shaded area a little away from the crowd, lay the twister mat, and start playing.
Allot only 5-10 moves for each player to keep the game enjoyable even if it's scorching hot. Don't tease your partner too much after all you love them to the end of the world.
48. Have a sandwich tasting sesh
What's a traditional picnic without sandwiches? Take sandwich bread, butter, jelly, peanut butter, jam, cheese slices, ham, and anything else you both like for the filling. Now, it's time to make sandwiches for one another.
Taste all the sandwiches half each at the same moment to make it more romantic. If you get a chance, lean in for a quick kiss or a mistaken bite maybe? Don't let this wonderful chance pass by.
49. Try a nighttime picnic in a DIY beach tent
Make a tent with 4-6 long sticks from the beach and a white blanket in the evening. Lay out a blanket inside and cozy up with lots of cushions, battery-powered fairy and led lights, food, favorite beverage, snuggle up, and if you get network reception, Netflix and Chill on the beach.
Take this chance to confess your feelings while the chilly breeze makes a mess of your partner's hair.
50. Act out your favorite dialogues on the beach
Other than your sandwich and juice, also pack your favorite books for the beach. Soak in the warm sunshine and read your favorite romance book. Compete at saying the most cheesy love quotes from the books in the cheesiest ways.
Make your partner laugh until their stomach hurts. Make sure you spill the plan to your partner beforehand so they can prepare something too.
There's an untold rule that the man or the one that asks the other out pays. However, if you're unemployed or don't have much on you to spend… It's a bit hard.
I understand that you don't want to burden your partner with the date expenses as that's unfair. So, I got your back with these…
Cheap beach date ideas
Who said beach dates need to be expensive>? I get that the idea of splurging has a connection with courtship.
However, let's be realistic, can we not be poor and have dates? In this century, almost everything is possible.
Remember, you don't need money to prove love, it's the feelings and compatibility. If you got all those, ask them out on such cheap yet fabulous beach dates…
51. Try people-watching
Go to the beach with a pair of binoculars and a mat. Lay down and watch the people playing in the water. Make crazy stories about them and deduce interesting facts from their appearance and actions.
Deduce what they do for a living, how old they are, and how they might be as a person. Bond your creativity with your partner's and de-stress together.
52. Go on a street food crawl
If street food around your chosen beach is cheap, then buy the best delicacy from about five stalls, don't repeat any item or repeat similar stalls.
Shop for the food hand in hand like newlyweds and taste the marvelous savories available. Share the food and rate your take on each of them. Feed one another what you liked and share the love even more on this date.
53. Scream for an Icecream date
If it's the summer and you're on the beach, who will say 'NO' to icecreams? If you're lactose intolerant, get shaved ice instead. Get all the flavors of ice cream or shaved ice… whichever you choose.
Take your time tasting each flavor and rating them. Cool your partner most cheaply so they don't get hangry later. Celebrate the day with a cheap yet wonderful dessert.
54. Massage them with flower essence
On the night prior to the beach date, make oil or water-based flower essence yourself. Watch YouTube tutorials to make them. Pour the essence into vials and refrigerate them overnight.
When you reach the beach, ask your partner to lie down on the mat or chair, and massage them the essence with their consent. Boost physical intimacy and get rid of their fatigue to show your love.
55. Dance on the beach
Tune into your favorite radio station or music app. Network reception might be an issue so download your favorite music and make an offline playlist beforehand. Visit the beach in the evening, light battery-operated club lights, and turn on the music.
Slow dance passionately with bare feet and indulge in your lover's close proximity and raise your heartbeats together. Fall in love once again with the romantic steps.
56. Contest at badminton
If you're into workouts, then grab your badminton set and begin your journey to the beach. Set up your beach mat, leave your footwear, food, and your scoreboard on it along with everything else you brought.
Begin your badminton showdown and write down your scores after every round. Break a sweat together and achieve your couple fitness goals together.
Physical activities also boost stress-busting hormones which makes the experience beautiful.
57. Do a beach photoshoot
If you or your partner loves to flaunt your dates on social media and make your friends jealous, the beach is a perfect place.
However, find a place with lesser people. You don't want random people photobombing the perfect pictures.
Choose a spot with a hint of greenery to add both greens and blues in the background, use props like bandana and sunglasses, and begin the shoot.
58. Act in reels
If you like lip-syncing and acting, reels are the best things yet made on social media. Take your time choosing the perfect reels you vibe with.
Shoot multiple solos and couple reels. Fill your social media with the memories of this perfect date. Instill even more love while coordinating your acts. Make sure you carry a power bank because so many shoots can't.
59. Do beach yoga together
If you love staying in shape but don't like heavy exercises, yoga is the best alternative for you both. Lay a blanket on the beach, over that lay your yoga mats, play a favorite yoga posture YouTube video, and practice yoga together.
If you both aren't used to yoga, it might be tough at first. Don't push yourself but support one another. Connect spiritually with one another through this date.
60. Go kite flying
If you want to return and relive your childhood days, get a kite on a breezy day and head to the beach.
If you want to begin from scratch and have an artsy side, make the kites yourself with kite paper, dry palm sticks, adhesive/tape, and kite flying thread. Compete at flying your kites higher than your partner. Try to snap your partner's kite to increase the fun.
Or is it that money isn't the highlight of the issue? Perhaps you forgot about the beach date? Or, do you guys set out to the beach without prior notice?
Are you too unprepared for a beach date? Anxious about messing up and turning down your partner? I think we can make something out of this situation, so follow me here…
Last minute beach date ideas
Perhaps you're outside and your bae suddenly wants to visit the beach? Or on a lazy afternoon, making sudden beach plans isn't that easy.
So, it's always nice to know what you might do on the beach… even when you don't have any idea.
Moreover, if your existing beach date idea fails, last-minute beach date ideas can save your day. So, let's dive in here…
61. Head to the dock for fun
Gotta make a perfect date within minutes? Reach the beach, get on the pier and look around for everything available around the beach.
You might find fun activities, a carnival in the vicinity, arcade games, rides like the Ferris wheel, the best eateries, or shopping places.
Walk along the pier for fun or sit down and listen to the crashing waves beside the love of your life.
62. Try out fishing
Everyone has those exhausting weeks and craves for boo to recharge. However, they don't have much in mind. Well, rent two fishing rods, a bucket, and a few cans of fish food. Ask the shop assistant or locals for good fishing spots.
Rent chairs and a parasol and enjoy talking about your hectic week while keeping the rod steady. Snuggle up and let your partner know you gotta recharge. If you catch something, you get lucky for dinner.
63. Go shopping near the beach
Shopping is a lovely way to de-stress. Beaches have many fancy shops for swimsuits, beach games, gear, beach clothing, etc.
Try on different swimsuits, hats, sarongs, bandanas, model for your partner, and let them choose your attire.
Choose a pretty outfit for them too and pay for the shopping if it's affordable. Show them that even if you're unprepared, their happiness matters the most to you.
64. Play beach soccer
Get a soccer ball from the shop and head to one of the soccer-playing grounds. Compete for one on one or add another couple so one of you can be the goalkeeper and the other shooter.
Bond together with this refreshing game, coordinate with one another and boost your problem-solving skills more. All of these are important to last relationships, so don't ignore the importance of playing together.
65. Have fun on the boardwalk
Many beaches have boardwalks with extra attractions like arcade games, street foods, concerts, amusement park rides, beach item and souvenir stores, and specialty shops. There can be much more variety depending on the beach you'll visit.
Look up the closest beach with a fun boardwalk and set off for your date. Make sure to grab your swim trunks and all essentials like sunscreen and scarves. Enjoy the thrill of last-minute dates.
66. Visit a book café nearby
If you're unsure about your date activity but you both are bibliophiles, look around the beach for a book café.
Pick out books or magazines whatever you find interesting, and munch on the food and drinks available in the café.
If you have a hectic schedule, you know it's hard to take a breather. Enjoy the fantastic leisure time together and don't feel guilty for lazing around.
67. Visit a nude beach
If you ever visited one, you'll know how empowering it feels to go without clothes. The liberty you feel going topless feels refreshing and courageous.
If you never tried this, you won't know this feeling… which means you gotta try it out even more.
Allow your partner and yourself to feel the liberty of nude beaches and enjoy one another's free spirit. Let go of social norms of shame and relish it.
68. Buy/Rent a hula hoop
Hula hoops are a really fun way to get in shape. However, you don't need to play with one to get fit. This is generally fun to play with even if you don't know how to use it.
If you want to work with this seriously, find a YouTube video to learn hula hooping together. Help one another perfect your skills while working on your teamwork and strengthening your bond.
69. Go sand art viewing
On most beaches, some artist is always out there making something. Set out with bae hand in hand to look for the sand art exhibition on your visited beach.
Don't shy away from seeking the artist if they're anywhere around to know their perspective behind the art.
Discuss your thoughts about the art with your partner. Art discussion is a glamorous way to connect and fall in love deeper.
70. Or, make sand art yourself
If you don't find any sand art exhibition in your area, why don't you introduce it to that beach? Sit down under the shade, search online for sand art basics on YouTube, and look for easy sand art to complete within a few hours.
Learn together and coordinate with your partner on this date. After making the art, don't forget to take a couple of pictures and frame them as souvenirs.
If your bae's birthday is around the corner, that's your clue to brainstorm months before to brew a perfect date.
However, the beach is again a great place for birthdays too. Mother nature gave you so many precious views at the beach from the breeze, sunsets, the beautiful scenery, and the sound of waves. Now, are you interested in this? Come on, let's check out these…
Beach date ideas for Birthday
If your partner loves the beach, a birthday party on the shore is all they long for. If you want to work on this plan, make sure you begin the preparations weeks prior.
It's not easy to make reservations and pull off everything perfectly for their special day. Can't wait to make them happy? Well, let's begin with a splash…
71. Book a seashore massage
Your partner is probably so tired from the daily hassle, they only wish to rest when they get a chance. On their birthday, book a couples' massage appointment. Get your body detoxed together while listening to the waves crashing on the seashore.
Afterward, surprise them with their favorite cake, flowers, tinsel décor, fairy lights, and beverages in a rented room to complete the evening beautifully.
72. Throw a beach birthday party
Embellish one portion of the beach with fancy cushioned chairs and a table. Make a trail of their favorite flower petals from the table to the spot they'll come from.
Stick helium balloons to the table with a tape on the string. Or, tie the balloon strings to rocks and keep it all around the sitting area like a curtain of balloons.
Add battery-operated candles and set the cake. Watch them get excited over your efforts.
73. Rent an oceanfront restaurant
Check for the closest restaurant near the ocean from where you can see the sunset and waves. Book a table or the entire restaurant months before the birthday, otherwise, you might not get available seats.
Ask them to decorate with red and white roses, golden 'HAPPY BIRTHDAY' and red heart balloons, party poppers, a pretty cake, fairy lights, birthday and aromatic candles. Make this their best-ever birthday this time.
74. Celebrate on a rowing boat
Rent a rowing boat along or without a person to row it. Put the cake, food, champagne, or wine, and get party poppers. Fill the insides with flowers and tinsels (know that the renter may charge extra for clean-up).
Enjoy a leisurely ride on the water together, cut the birthday cake, share a beautiful sunset view from the water, lean on one another throughout the ride, and thank your stars for letting you meet.
75. Make a birthday cake together
If you don't wanna fret too much over the decorations, but wanna enjoy the process, book a sea-facing restaurant along with their baking equipment.
Whip up everything you need to make the perfect birthday cake of your dreams.
Wear casuals for comfort, play around barefoot, stick cake frosting on their face, and lick it away seductively. Imply what you mean to do later and enjoy baking and the anticipation of more.
76. Pop the big question
Weeks before the birthday, discuss if you're both ready to get married. If it's a yes from both sides, plan to pop the question on their birthday. Arrange a birthday cake and décor and set up the party on the sand.
When you're done dining and enjoying the stars, go on your knees and ask them the question with a bouquet and ring. Even if you're married, ask them to marry you once again.
77. Hang curtains for an exotic date
Stick four poles deep in the sand, and secure them with four horizontal poles in between every two vertical poles.
Hang see-through curtains and star-shaped lights around the cubical structure. Stick balloons, flowers, and green leaves to the poles.
Cover the interior sand bed with a carpet, set up cushions and the cake. Give royal treatment to your prince(ss) with this dreamy birthday date on the beach.
78. Walk them through the red carpet
Dig the sand about 4″ deep in the shape 'HAPPY BIRTHDAY' and illuminate it with battery-powered candles in the dugout outline. Beyond that place, place a long red carpet to the dining space on the sand.
Set a jute table and chairs with wine, your favorite cuisine, and of course a birthday cake. Wish them a happy birthday with a kiss and enjoy the beautiful evening.
79. Rent a beach bed
This one calls for an overnight stay at the beach. Rent a beach bed along with decorations. Prepare extra layers because it might get chilly at night even in summers.
Reach the place before sunset, watch the birds return to their nests, listen to the waves crash, say romantic sweet nothings to them, and express how glad you are to have them. Celebrate and snuggle up on the beach the entire night.
80. Toast on a ferry
Lease a ferry a little before the sunset. Ask them to decorate it for your bae's birthday. Watch the dolphins dance in the sea, make a birthday toast during the sunset, and enjoy your time connecting with one another, away from the world.
To top it off, arrange music to dance on the open deck or in your room. Make every moment count with small but hearty gifts.
However, if it's a special day for you both, then this beach date isn't just for them. It's one for you both so also look forward to making yourself happy.
If you both love the beach and your anniversary is just around the corner… if you're ready to splurge a bit, I have just the things you need over here…
Beach Date ideas for Anniversary
If you want to make your anniversary extra special, a romantic getaway is the best idea! Visit Long Beach in California with some fun and cute beach date ideas.
Since it's your anniversary, you gotta make it even more special with multiple activities that you both love.
The city is so fabulous and your partner deserves every ounce of it. So, let's zoom through the Long Beach date ideas here…
81. Shop on 2nd street
Long Beach's 2nd street is famous for boutique shopping. Instead of fussing over what to get your partner for anniversaries… take them shopping and let them choose before you return from a stroll on the beach.
This place is well known for romantic beach dates and the shopping will be a cherry on the icing. You'll also find delicious eateries around here to end the date perfectly.
82. Visit the Rancho Los Alamitos
If you're in Long Beach, you can't ignore the beauty of this beautiful lush greenery. Keep this as a follow-up date as it's open only after 1 pm.
Play on the beaches in the morning, have lunch on 2nd street or anywhere you like and in the afternoon, set out for Rancho Los Alamitos. Look forward to the greenery after watching the blues, making this the best anniversary ever with a forever promise.
83. Get tickets for The Laugh Factory
This is one of the most popular comedy clubs in Long Beach. If you want to make your partner feel special, then surprise them with the tickets after a Long Beach date.
Spending some time at the beach relishing the exotic foods of Long Beach will amplify the good feelings, so don't head to the club straight from your room… because that's unfair to the beach. Share laughs on this special day and hope to be together longer.
84. Ride bikes in downtown Long Beach
Everyone ends or begins their beach date with a sunset stroll, but you can make it even better with a rented bike.
Who said you can enjoy sunsets only on the beach? Downtown Long Beach is super classy and romantic for sunset strolls.. but you can go one notch higher.
Ride bikes from Pine Street to Queen Mary to chase the sunset and head to your room to enjoy your anniversary celebrations.
85. Enjoy your Gondola Getaway in Naples Canal
There are more ways to enjoy sunsets on Long Beach. After a tiresome beach date, book a gondola ride for the most romantic sunset you've ever witnessed. This will wash away your entire day's exhaustion after playing on the beach.
Of course, this again adds up better with other activities like a tiresome round of paddle boarding or kayaking. In between, express your love and remind them you'll be there forever.
86. Enjoy the Queen Mary ride
Board the ship Queen Mary as an anniversary surprise other than a romantic getaway. Your lover can't imagine that you prepared so much for their anniversary, but this will show them what they mean to you.
You have the perfect way to splurge on them with live music and beautiful views from the Observation Bar. When they aren't noticing, go down on your knees and propose even if you're married.
87. Take a bike tour in Shoreline Village
Another famous Long Beach date idea is bike touring shoreline village. Along the beach, you'll find multiple activities to spend a date at the beach. If you turn lucky, you might find frolicking seals in the water body.
The waterfront is full of restaurants so you have lots of options to choose from. Make the best out of this romantic and loving anniversary date with a bouquet, cake, more promises, and a hot smothering kiss.
88. Stroll through the Long Beach Museum of Art
Right beside the long beach, this not-so-hidden gem exists. From time to time, art exhibitions from renowned artists take place in the museum. You also have the option of dining in the museum along with groovy music.
Hold your partner's hand, discuss your perceptions of the different art pieces, and enjoy one another's presence at the moment. To rejoice in your anniversary, read your vows once again.
89. Enliven with the Aquarium of the Pacific
In your long beach vacation, definitely keep one day apart from this special place. You'll find exotic marine life, coral reefs, habitats of June Keyes penguins, otters and so much more. This place really is like the mini Pacific Ocean.
Cheer up your mood even more after a long day at the beach kayaking with this. Add a big surprise like a ring or proposal all over afterward.
90. Head to Catalina Island
Lastly, if you're in Long Beach, take a ferry to this destination. If you and your partner were always busy with the city humdrum, check out the silence of the Catalina Island beaches.
You'll both fall in love with the peace and quiet. And never want to return from this serene island. Go down on one knee, confess your feelings in this iconic place, and return with pretty memories.
If none of these quenches your thirst for an exotic date, you're hard to satisfy, mate! However, I'm not here to back off either.
You'll definitely return with a fabulous beach date idea from here… that's my promise. I got the ultimate legends when it comes to beach dates lined up for you here…
Best beach date ideas
Does none on the list suit your taste? Tried all of these already and wanna try something bolder and new? You can't settle down with any date idea because your partner deserves only the best… I know that feeling.
So, if you are ready to make the best beach date ever, I'll support you till the end with all I got here…
91. Try beach hiking together
If hiking is your thing but you love the deep blue sea, beach hiking is a must for you. Put on sunscreen, breezy clothes, two pairs of hiking poles, flip-flops, and immerse yourselves in climbing on higher grounds.
Explore the beach from higher grounds and find the perfect date sport for later. Or, search for a shaded elevated area with lesser people around to set up your date spot. Make sure to carry food and water in your backpack.
92. Send afloat a message bottle
You both had your fair share of hardships in life. After defeating the obstacles, you both learned many lessons… ever hoped that someone supported you through your struggles? Well, long back ago a stranger's encouragement made me so happy.
Share your wisdom on a paper, put it in a bottle, and send it with the waves to share the love. Promise one another to become better people every day.
93. Make a memory jar
Whether you live beside the beach or came for a vacation, this date is precious. So, make this date even more memorable with memory jars.
Search for pretty shells and pebbles, cut out sea anchor, starfish, dolphin, or boat-shaped small cute cardboard pieces, color them, and fill your memory jar.
Add in notes of what you like about the date and your partner on colored chits. Exchange the jars and open them only after returning.
94. Create a message bottle for one another
Want to leave lingering sweet feelings even after the date? Make a message bottle for one another on the beach. Put down your feelings on fancy papers.
Write in as many papers as you want. Roll the piece of paper and tie it strongly with a pretty ribbon.
Put it inside the bottle and seal it with a cork which makes it look romantic. Open the bottle only when you fight to remember why you're together.
95. Go on a tide pool adventure
If you have lots of time on hand and are willing to explore the beach to its every nook and cranny, tide pool searching is the best activity for you. Ask around for tide pools to cut your time shorter.
When you reach one, check out the sea life in these smaller water bodies. In tide pools you have more chances of finding sea creatures, so don't forget to snap attractive pictures together.
96. Charter a themed day cruise
Gorgeous themed cruises are available for daytime use with booze or with sunset themes. Stroll around the available cruises available on the beach way before your date. Choose the one you like and charter one.
Put on your swimsuits and enjoy the day with just one another or add in a few more couples in the mix. Make the best memories of having fun on the deck with the love of your life.
97. Make sand angels
Who said angels only live in the snowy areas? On this date, with your partner, have the best fun of your life making sand angels. Lie down and move your limbs sideways.
Cover as much sand surface with angels as you can. You might even convert it into a fun competition. Leave behind your trails of a loving day, chemistry, and undeniable attraction toward one another.
98. Make a sandman
We know a snowman has three globes of snow for a body… but what does a sandman have? I'll leave that to your imagination. Work on making one sandman, decide which parts you'll build – top or bottom?
Here's the twist: Don't tell them your idea of a sandman. Make it as you imagine and the final piece will be a masterpiece of your love. Take pictures with this new friend and post them online.
99. Explore sea caves
If the beach you'll visit has sea caves, go exploring on a boat. These caves are full of aquatic animals which might be life-threatening.
Don't dive inside the water without an expert as it might be the hub of stingrays, jellyfish, and electric eels.
Make sure you don't enter with boats during high tides. This is a fantastic adventure if you're with experts and are careful.
100. Race to fill buckets with cups
My idea of fun is literally giving the least effort but still having fun. To you both, being together matters the most to experience the best date of your life. So, take two buckets and fill them with seawater with small cups.
Keep the buckets at a distance, run with the filled cups, and pour them. Careful that your mischievous lover doesn't steal water from your bucket.
Are you ready for the beach date? Choose the best one? Don't set out just yet because you can make it even better with these…
---
5 Tips to Make the Most of Beach dates
Beach dates are fun and all until it ruins in the worst possible ways. You might unknowingly break a rule, get disappointed because they don't cater to your favorite activities, and so on.
So, it's always important to prepare well before you set off. So, let's make your dates bulletproof so you don't need a backup plan at all…
1. Get the most info before you plan
Contact the beach authority to know about the attractions because you won't stay out for too long.
Know about the water and land sports available, cruise renting, beach rules about swimwear, pets, opening and closing hours, prohibited objects, music, car parking, ATMs, on-duty lifeguards, changing rooms, locker rooms, washrooms, tide timings, bonfire permission, and other security.
2. Keep the season in mind
Depending on the weather, you may and may not get to explore some activities. Don't hope to play in the water in winter.
If you want a winter beach date night, make sure you bring lots of layers to avoid freezing to death. Also, in some seasons, turtles lay eggs and seals occupy the land… lookout for those.
3. Make a checklist
If it's a daytime date, sunscreen is a must. Don't burn yourself to avoid the stickiness.
Pack blankets, foldable chairs, thermos, bandanas, robes, swimsuits, hats, extra clothes, extra pair of slippers, parasols, sunglasses, water and food, smartphones, power banks, towels, and mesh bags to dust off the sand from objects.
4. Know about allergies
You might not even know about what you're allergic to… that's a possibility if you don't have an allergy profile. Talk about getting one because it doesn't hurt knowing what's risky for you and avoiding them.
Many people have allergies to sea creatures. Avoid any dangerous consequences and get your allergy profiles. Carry allergy medications even if you don't find anything in the reports.
5. Take care amidst the fun
While you have fun, you might forget a ton of things like drinking water and reapplying sunscreen if you take a dip or every few hours because your sweat washes it away. The wind might blow away your belongings so anchor your stuff well.
Avoid alcohol if you plan to hit any water sport. Finally, keep your essentials like smartphones, cards, and keys safe.
A word from ThePleasantRelationship
If you or your partner doesn't like beach dates, you probably didn't find an interesting beach yet.
Whether it's your first date or one years after you get married, you know beaches never return you without good memories. This makes it even more wonderful for a date venue.
On beaches, you get to connect with nature and bond spiritually with your partner. However, if your partner doesn't like beaches and there's a grave reason behind it… it's best you avoid it.
It might sound weird because I went on and on about beaches and now saying otherwise… but a date is to be happy together.
If you can, enjoy the date responsibly and safely because there are poisonous creatures out there.
Surabhi Kedia
Surabhi wakes up every day with a drive to craft words that can create a soulful impact. Creatively adventurous, she is always seeking to learn new skills and acquire new experiences. With a hidden soft corner for languages (especially Urdu), she writes poetry occasionally, binges on romantic shows, and LOVES to talk. A hustler, admirer, chaser, Surabhi is just another-someone who refused to give up on her dreams. She says, she is just somebody who's trying to make herself a writer and for now, she's just writing...