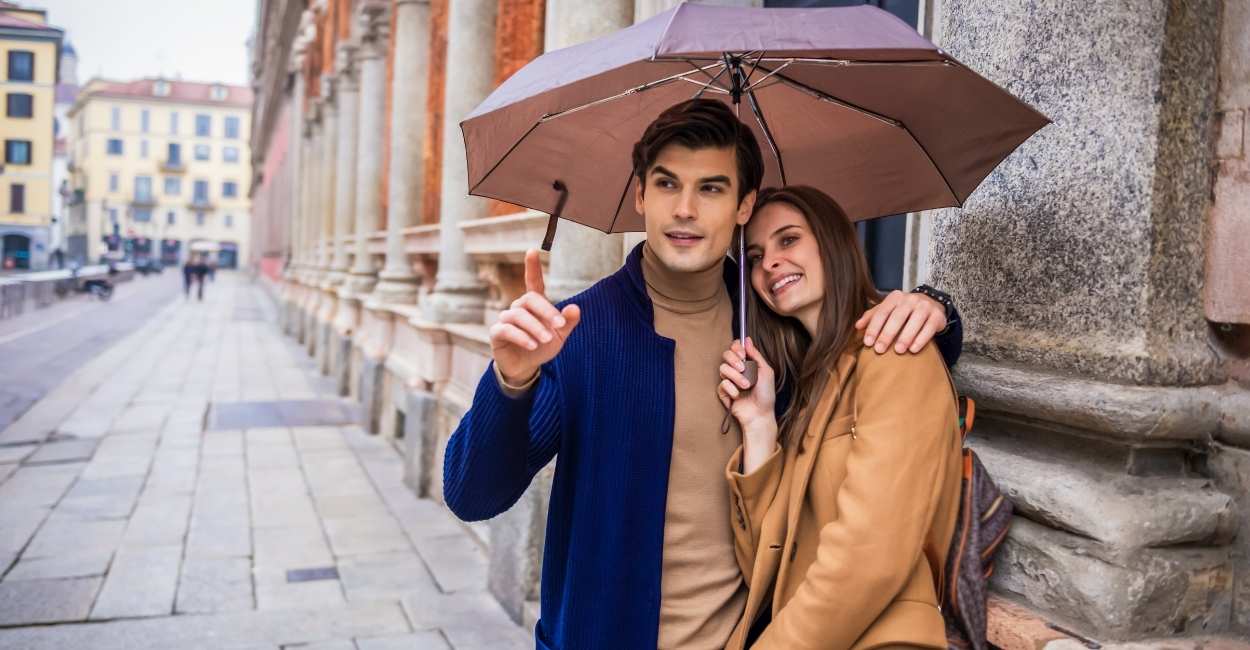 If you think the rain is the greatest enemy of romance, these rainy day date ideas can prove you wrong.
Whether your relationship witnessed multiple rainy seasons or you fell in love at first sight during this rain… let these drops from heaven add more fun. 😉
So, if you want to prove that nothing can stop you from showing your love and affection for your partner, your quest is finally over!
C'mon, let this think-piece show you ways to celebrate love even in rain…
Rainy day first date ideas
It's quite intimidating to have your first date in this weather, but I know your heart can't wait any longer. So, let's figure out all the date activities that can win you a second date even in this rain!
1. Plan a wine & paint night
Break the awkward silence between you guys while participating in a public activity like wine & paint. Let loose with the drink and know each other better through art and conversations.
2. Visit a pet café
A regular coffee date while looking at each other's faces might not always work. So, let the furry friends help you get closer with their cute antiques. Your conversations will flow smoother than butter.
3. Hit up the aquarium
Zoos aren't the best idea in the middle of a downpour, so an aquarium it is! While watching the colorful fish, indulge in a sweet conversation.
Muster your courage and hold their hands to break the touch barrier.
4. Swing at the driving range
Since the golf course is off-limits during the rain, the driving range is great to practice the sport to your hearts' desire. It's a great way to have relaxed conversations while having fun.
5. Binge on pizza
Nothing is more comfortable than digging in a woodfire pizza while it rains. Your date will naturally start talking about how delicious the pizza is, about their favorite foods, eateries, and so on.
6. Shoot the tension away
First dates are always nerve-wracking, so shooting can help you relax and strike conversations comfortably. If your date isn't good at shooting, it's a great way to get closer while teaching them.
7. Try go-karting indoors
While it's a popular and fun outdoor game, their indoor variety fits right in for a fun rainy day date idea to get you both giggling and falling in love deeper.
8. Keep up with indoor tennis
Get ready with your racket, wristband, tennis suits, and a bunch of silly questions. Try to not miss the ball as you ask and answer questions to each other and get more familiar and closer.
9. Set out for high tea
Though it looks a bit feminine, it's a lot of fun. If your date agrees, you'll know exactly how open-minded and serious he is. Enjoy a good time with scones, sandwiches, and tea.
10. Volunteer at animal shelters
To show off your sweet and loving side on a first date, spend your date sharing love with the poor animals. By the end of the day, you'll know each other better and get closer.
Whether bae is down with the flu or it's a national emergency, so long as you live under the same roof, you can still enjoy your rainy day dates with these…
Rainy day quarantine date ideas
After the dreadful year of 2020, you never know when you might need to stay in for long periods. But if you're together, your invincible love can prepare dates any day, any time with these!
11. Enjoy crafting
Bring out your cardboard papers, glue, colorful tinsel, scissors, sketch pens, and anything else you plan to make for a romantic craft night.
Protect your floor from the messy craft and your messy lovemaking in between.
12. Pop your watchlist series
For ages, you and bae added many series to "watch later" but never got enough time to watch them together. It's time to snuggle up on the couch/bed with a blanket all around and binge on the shows.
13. Ace that complicated cuisine
Since teamwork is the secret to success, why not put on your aprons and hold the ladles together during the rain?
Create that too-hard-to-make-alone exotic meal set and share your love through the food.
14. Play card games
Don't let your card games gather dust in the cupboard. Take them out and enjoy a round of fun and exciting games. Make it more romantic by betting on clothing… whatever floats your boat!
15. Begin a pillow war
Who said only friends and siblings can try this childish act? Unleash your inner child's competitive side and have fun while laughing and throwing your weapons – pillow, duh! Grow closer as you share a laugh.
16. Double date with video games
Invite your coupled friends to play online video games with you and your partner together.
Let your partner get familiar with your friend and their partner while they feel recognized in your inner circle.
17. Take cooking lessons
If you lack basic skills in cooking or in any particular cuisine, learn it from scratch. Stream an appropriate online lesson and learn new cooperating skills. It's a fun and interesting way to get closer.
18. Go for a movie marathon
Choose your favorite common movie genre – romance, comedy, horror, superhero, etc. – and binge-watch as many as you can.
To make it even more romantic, decorate your surroundings with fairy lights and snuggle.
19. Make a blanket fort
Take out all the blankets and pillows to build a fort in the living room. Lie down together while you visit down the memory lane with albums or share stories about the past.
20. Bet in online casinos
If you like to gamble but just can't step out in the rain, a computer, stable internet connection, and your favorite casino's online website will get you guys excited and try to hit the jackpot.
But if both of your love for each other is comparable to your love for food, that can be a bonus as it increases the scope of your rainy day date ideas like these…
Rainy day date ideas for Foodies
Do you both have a distinguished palate for exotic food? Instead of following a routine of rainy day activities, why not do what you love the most? C'mon, let's know more here…
21. Coffee dates for the win
Whether it's your first date or your 100th one, a coffee date is always comfortable and cozy. Especially on a rainy day, it will warm you up for a perfect intimate conversation.
22. Try out all the food court stalls
Find the mall with the richest food court, order something from all the stalls for your date and exchange your orders. Know each other's palate while you share a hearty meal.
23. Enjoy a bite in an indoor picnic
Push your living room furniture aside to make space on the floor. Order delicious takeout from each of your favorite joints. Set up the picnic mat and snuggle up whenever you want.
24. Hunt down all the food trucks
Look around in your locality and you'll find multiple food trucks with delish food. Grab a bite from all and share your thoughts on your favorites.
Or, challenge them to try out whatever you pick to make it more fun.
25. Dig in at the Hibachi restaurant
Watch the chef make your food with their interesting skills right in front of you and tease your appetite. This eases any tension and helps you hold hands by the end of the night.
26. Try out grocery cuisine
Invade the groceries that serve sample food. It's a great activity if you're on a budget. Go for the spicy food as it'll warm you both up on a chilly rainy day. If you can splurge, definitely buy some from them.
27. Savor the bar special
Bars have one of the best cuisines, so order their house special and dig in. Since most people don't know about it, score more brownie points from your foodie partner.
28. Visit a restaurant on their anniversaries
On restaurant anniversaries, they have special discounts and even plan free entertainment. So, indulge in a greater variety of tasty food while chatting with bae and making good food memories.
29. Try out a Michelin Star restaurant
If you're ready to splurge enough and want to take a serious step in the relationship, look up Michelin Star restaurants and choose together. Book a romantic candlelit dinner to spend some time together.
30. Grab sushi from the conveyor belt
If you like Japanese cuisine or particularly sushi, the theatrics of a sushi train restaurant will leave your partner in awe of your thoughtfulness. Dig into your hearts' desire during the meal.
On the other hand, if you want to step out of your home but don't wanna deal with the rain or the earthworms coming out of the mud, there's a good chance you'll like these…
Rainy day date ideas outside (yet inside)
Perhaps, your bae's heart just can't afford to stay at home during rainy days, but you hate the rain with a capital-H? I think we can show you how to compromise and drown in deep love here…
31. Search up concerts in the vicinity
On rainy days, local concert tickets are cheaper. Choose a seat near the back, enjoy the live music with almost nobody around you, and sneak in for kisses here and there.
32. Visit the bowling alley
Teach your lover to bowl or indulge in a friendly competition. When you guys strike, use the excuse of celebrating to get intimate publicly. Hug tight and long to leave bae flushed.
33. Munch popcorns in the movie theater
Get tickets for a romantic movie to set the right mood. Cuddle with the excuse of feeling cold. Rest your head on bae's shoulder, feed each other popcorn, and end the date with dinner.
34. Explore the cultural museum
If you wanna learn more about your culture, grab bae's hand and head to the museum. Indulge in a thoughtful discussion and debates about the various exhibits and get intimate intellectually.
35. Book a couples massage
On your next rainy weekend, pamper yourselves on a spa day with bae. Unwind yourselves, let the stiff muscles lose, and feel rejuvenated together.
Shopping and a lunch date afterward will make your partner feel even more special.
36. Enjoy a brewery excursion
If you're beer-lovers, take a mug of beer in this chilly weather and explore behind the scenes of your favorite breweries. Learn how much effort is given to your favorite beer and appreciate the taste together.
37. Try people watching
Head to the nearest mall, and watch the people from the top floor. Take turns to guess about a random person's life story and see how each of your minds works. Grab a coffee and share jokes while you're at it.
38. Have fun in the photo booth
For a memorable date, hit the photo booth and shoot multiple-themed pictures. Take ideas online for romantic, cute, and all other kinds. Find a Japanese photo booth for cute special effects.
39. Take a walk in the mall
If you wanna take a walk but the rain doesn't let you walk about a spacious shopping mall. Try window shopping and know each other's aesthetics and plan surprise gifts for their birthday.
40. Watch a horse race
Bet on your favorite horse and cheer for them together from the sheltered gallery. Enjoy a mug of beer while you're at it. But if it rains too hard and they call it off, ask for horse-petting permission.
Are you up for just a good time together? Nothing too fancy but good enough to show you care? We have the sweetest ideas right here…
Good date ideas for rainy days
A relationship is all about how far you can go with each other… how far you already planned in your mind… how much you already hold a space in each other's hearts. So, let's express it all on your next date from here!
41. Volunteer at an old-age home
This isn't anything romantic or sexy for a rainy day, but the old people will ask you deep and important questions you never thought of. Together, you'll learn whole new things about each other.
42. Find a good couple credit card
You might say "That's so boring"… but hey, sharing finances with your lover is a sign of immense faith in each other. Show them how committed you are while you also save some bucks together.
43. Hit an indoor pool
If you didn't know, indoor pools also come with varied temperature settings. So, dive in comfortably, play water games to break the ice, and get closer with a competitive spirit.
44. Visit the local library
This is a perfect rainy day date for bibliophiles. Introduce each other to your favorite genre and books, read together, pick each other's brains, and bond in a whole new way.
45. Prepare an indoor garden
Herbs, terrarium, bonsai, cacti, and bonsai are some of the few varieties for your indoor garden. Plant them together to mark your dating/relationship anniversary. The plant will forever stay as a symbol of your love.
46. Surprise each other with a smoothie
Gather everything you need to make exotic and creative smoothies. Compete against each other or join the force of love to make something unique. Share it from the same cup to make it romantic.
47. Create music together
If a good sense of music runs in your veins, grab online apps to compose good music and even add lyrics to them. Let the world listen to the jam created by your romantic feelings on YouTube.
48. Declutter your closets
While you separate the things you don't need anymore, you'll definitely come across pretty memories from the past.
It might be a memento from your relationship or even something from your past… visit memory lane while doing chores.
49. Work on the same canvas
It's easy to pour your creativity on different canvases, but making it work without sharing your thoughts is the real challenge.
Paint on a shared canvas to test the differences in your deepest thoughts.
50. Work out together in the afternoon
Don't laze the entire rainy afternoon. Instead, put on your workout shoes and pump your blood to some music. You'll feel a lot more energetic and positive and grow closer this way.
Is your bae feeling low? If you want to cheer them up and make them laugh until their stomach hurts, grab something from here…
Fun date ideas rainy day
You don't need a reason to have fun. If you're crazy in love, you want your partner to have fun every-freaking-day. So, why let the rain stop you? Quickly choose your favorites!
51. Head to the arcade
If your or your partner's inner child can't bear to stay inside you on rainy days, the arcade is where your hearts belong. Enjoy friendly competition in multiplayer games and show off your skills.
52. Visit a bar with board games
Grab a glass of your favorite drink and head to a board game like darts or shuffleboard together. If bae doesn't know the game, take this chance to get closer and sneak a kiss.
53. Go fishing
Fishing in the open on a rainy day might sound so uncomfortable. But this is the best time to catch a bounty from the nearest pond. Return home after catching enough fish and enjoy a feast.
54. Hit the bar for a power hour
Drinking games like power hour are a great way to binge drink and let loose together. It'll lighten your mood before you know and you'll get closer with slurry conversations.
55. Sing in a karaoke bar
If you want to say something romantic but just can't find the words, sing a few meaningful and romantic numbers and let your partner figure out your feelings. If they get it, they might also dedicate something.
56. Enjoy a pub trivia night
This date activity is super fun as healthy competition can make any relationship stronger. It's even better to play against another couple, so that's also a great double-date plan.
57. Practice new languages together
Apps can help you learn new languages but the practice is the most crucial part. So, why not make your lover your practice partner? Say sweet romantic phrases and let them figure it out.
58. Watch bone-tickling videos together
As they say, couples that laugh together, stay together. So, laze on the bed under the sheets and scroll through funny online videos for hours, and make each other laugh out loud.
59. Work on a jumbo puzzle
Order a 1000+ piece puzzle online if you don't have one already. Use your group skills and complete the puzzle while listening to the romantic pitter-patter of the rain.
60. Plan your honeymoon
If you're not married already but are pretty serious about each other, show your commitment to honeymoon plans. Research to choose a destination and all the must-try activities of the locality.
If your lover swoons over anything and everything cute, dedicate a date themed exactly to their personality like these…
Cute date ideas for rainy days
When your date adores fairy tales, unicorns, or cheesy and corny clichés, use cute date ideas to show how devoted and attentive you are to them. Here you go with your best bets!
61. Hop to the chocolate factory
If there's any chocolate factory, visit it right away for a cup of hot chocolate while you watch how all the mouth-watering varieties of chocolate are made. If any chocolate catches bae's heart, your V-day chocolate is set!
62. Go to a nail salon
Men who don't know much about nail salons and are judgmental won't tag along on this date. But if he does, girl you got a keeper! So, don't forget to treat him with a man's mani-pedi.
63. Learn ice skating
This all-time great activity can bring you both even closer as you fall down and laugh at each other's funny poses to balance.
It adds the perfect magic to build the perfect intimacy and create shared experiences.
64. Splash the puddles
Put on your rain boots and act like kids all over. Hold hands and jump together on as many puddles as you find until you're tired. Let your childish sides fall in love too.
65. Visit the local artisan market
Look around together for the best art and crafts. If anything catches your eye buy it for your or bae's home. Discuss the concepts even if you won't buy anything.
66. Try out a cute photoshoot
Go outside amidst nature with a tripod and a good camera and find out where the new flowers bloom. Take cute couple pictures with green and flowery backgrounds. Use the greenery to your advantage!
67. Catch transport to an unknown destination
Get train/bus tickets to an unexplored city/town. Enjoy watching the new scenery throughout the ride as you lean on your lover's shoulder.
Explore the new land and return when you're satisfied with the memories.
68. Plan a rain picnic
Take your tent, picnic basket full of treats, cushions, and blankets, and head to the local park. Set up everything and have the treats out in the rain while you cuddle to beat the chill.
69. Try your hand at baking
Bring all the baking necessities and create cute cakes, cookies, brownies, and pastries. Ask your partner to join in. The sweetness can fix your mood instantly and show how much you love your partner.
70. Pamper them with your personal massage service
Prepare all the body massage oils and tools you need. Take turns helping each other relax on your next date night. If you're ready you can even turn the events into something sensual.
When your sweetheart isn't ready to sit still under the cover even while it's raining, let's hit the streets with these ideas!
Adventurous rainy day date ideas
If you both love to stay active, experience something exciting, or have fun out in the rain, you're star-crossed lovers born for the thrill. So, let's celebrate what brought you together with these…
71. Hit the vineyards
Enjoy the wine tasting sessions indoors if you're both wine lovers. Once you're done, go outside in the vineyards and roam about in the rain while holding hands. To make it even more romantic, dance away in the yard.
72. Set out on a rain walk
Put on your raincoats and boots, hold hands, and get ready to explore the bad weather. Or, skip the coat and share an umbrella to make it even more romantic while snuggling.
73. Try mud sliding
Find some trash can lids or sleds, go on a muddy hill and slide down the muddy slope together. A messy, fun, and thrilling activity is perfect to fall for each other once again.
74. Swim with the fish
During the rain, fish become more active and swim around the surface. So, go for a dip together and check all the fish in your local ponds. You can even try skinny dipping for more thrill.
75. Try to escape the room!
Escape rooms are always adventurous and challenging for couples. You both need immense teamwork if you wanna escape, so it'll force you to learn some survival skills.
76. Go rock climbing
Your adventurous souls can't taste the dangerous thrills of rock climbing in the rain… so what?
Quench your thirst for adventure with indoor rock climbing. Show off your tough and strong muscles for a naughty time later.
77. Chase the storm
If your area is stormy, set out in a car to chase the storm. Usually, scientists do it, but if you want major thrills, just follow the storm's lead and feel the vibrations from inside the car.
78. Watch the lightning
Some people love to watch the lightning, so if you're the same, drive to the areas with more lightning. Make sure you're just close enough to watch them but far enough from the actual site.
79. Indulge in mud art
Go out in the rain, dig out enough mud, and make mud statues. Take out your shovels to carve the wet mud with more ease. Compete at making a finer piece, taking pictures, and spam the gram.
Sign up for free membership, put on your rain boots, and set out with your smartphones. With good teamwork, you can find a lot of surprises and satisfy your thirst for adventure.
For you both, if rain is the symbol of romance, it's best to follow the mood even on dates like these…
Romantic Rainy Day Date ideas
In the wet weather, many couples want to drench their heart in their soulmate's love. It's the perfect excuse to share a romantic and intimate time. If you feel the same, follow me!
81. Take a romantic bubble bath
Add bath bombs, and essential oil, light some candles and add flower petals to the bath. Prepare glasses of wine, turn up romantic music, and snuggle up skin to skin while soaking and spending quality time.
82. Go on a long drive
If the city scenery drenched in rain nudges your romantic side, take a drive through the wet scenery, enjoy as the drizzle splashes you through the window, and indulge in a sweet conversation.
83. Take dancing lessons
Enroll for a professional class or search it up on YouTube. Choose an intimate dance form like waltz or tango. Shower your partner with compliments as you look deep into their eyes and lose yourself.
84. Dance away in the rain
If you both love to get drenched in the rain, dancing is the perfect way to get more intimate. You can even shoot reels while singing and dancing in the rain and upload them later.
85. Cuddle during drive-in movies
Grab your blankets and food and head to the drive-in movie. Don't worry, the windscreen wiper will help you watch the movie disturbance-free.
But if the movie bores you, lean in for a chaste kiss or make out.
86. Play naughty truth or dare
If you're ready to get down and dirty, add a mix of stripping to any game like truth-or-dare, rock-paper-scissors, or anything alike. I guess you can deal with the rest, right?
87. Set up a romantic garden dinner
On your balcony, porch, or garden, create a shade with a large size polythene cover (if there's no shade).
Set up a dining space there, order dinner, and have candlelight dinner while it rains around you for an extra romantic ambiance.
88. Go sightseeing with an umbrella
While most people stay indoors during the rain, the local tourist spots are always empty. Explore all the places in the city with your arms linked while you share an umbrella.
89. Get spontaneous at a staycation
Check into a hotel room with a good view of your city. Order room service, try out all the package facilities, and wrap your day with a steamy night-long love-making… or just rest!
90. Play dress-up together
Visit an outfit rental shop, and rent couples' outfits from a particular era or culture. Have a date befitting the outfits. Impress your lover with your charm all over and hold them captive for a lifetime.
But if you want to play it safe and go for the best dates of all time, here you go…
Best rainy day date ideas
Whether it's your first date or your 50th-anniversary date, these date ideas will always make a huge impact on your partner's heart. So, make it memorable with these…
91. Hop through your city bars
Nothing hits better than a bar crawl on a rainy night. It's fun, gets the conversation flowing, helps you know each other's alcohol limit, talk about embarrassing stories, and even make some embarrassing memories.
92. Hunt for good bargains
Who doesn't like good hand-me-downs? If you're tight on money, fix a particular budget for each other.
Challenge yourself to find cheap and pretty clothes for each other. Have fun figuring out each other's tastes.
93. Snuggle in bed all day
Rainy days are the best when you laze in the bed till late under the covers cuddling with your partner. Bring card games to the bed and play all day. Forget your chores, order food, and relax.
94. Bring out the BBQ equipment
Grill steaks, burgers, sausages, hot dogs, and anything else you both like. Add a few cans of beer and relish the food with your bae under the shade as you watch the rain fall.
95. Begin the date night with a sunset view
Watch the sunset as you soak in the light drizzle. Follow this date with greasy street foods, impulse shopping, and even a movie date. Hold hands and stay close to each other throughout the day.
96. Get inked together
If you're both super serious about the relationship, get matching tattoos to prove your eternal love and promise. Choose a design from their catalog or create a design yourself… whatever tugs your heartstrings!
97. Get high from self-made cocktails
Grab all the different kinds of alcohol and syrups you like. Mix different booze in random proportions and make cocktails for each other. See how long you both can stand each other's concoctions!
98. Recreate your favorite romantic movie rain scene
You probably have something on your mind… but if you don't search YouTube and you'll have some ideas.
Shoot yourselves in a similar background in the rain and act your best. Show off your steamy chemistry online.
99. Make a dessert
Hate the rain? Print out cactus plants and stick them on your living room walls. Cover the floor with a yellow towel or carpet and play pretend you're in the desert. Cuddle to warm up even more.
100. Play tag indoors
To warm up yourselves during the monsoon chills, catch your partner if you can! Oh, and don't forget to grab playfully, tickle, and even get extra intimate when you grab them.
Wondering if you're all set? Maybe not… so prepare completely with these…
---
5 Tips to make your Rainy Day Date unforgettable
Before you execute a date plan, remember that a good date is all about both of your likes, interests, safety, and comfort. So, keep these basics in mind to enjoy the best date ever!
1. Take note of your partner's health
If your partner is down with the flu or feels chilly, try to spend a good time at your home. Don't make them take a step outside even if it's just to the car.
You never know what might happen from slight carelessness. And if you're sick, don't push yourself either.
2. Pay attention to their feelings
For some people, rainy days are extremely gloomy to the point of feeling depressed. If your partner feels the same, stick to a date that will make them forget about the weather.
Have lots of warm food and don't try to listen or watch the rain.
3. Be prepared with backup plans
If your activity is weather-dependent, i.e., it might not work with or without rain, keep a backup date activity up your sleeve.
Don't let down your partner even if the weather doesn't favor you. They'll be impressed with your alertness.
4. Don't try anything too risky
Lightning watching, storm chasing, swimming in the rain, and other such activities are quite risky if you're not careful.
So, if the weather situation is too intense and you're unsure whether you can deal with it, don't try it. Cherish your life more than the thrill.
5. Always keep the essentials
Some rainy day essentials like an umbrella, raincoat, boots, blankets, and zip lock bags for your gadgets.
Carry them in your bags because you never know how your situation might turn out. Your vigilance will make this date the best ever for your partner.
A word from ThePleasantRelationship
Before you plan the date, make sure you have your partner's consent, especially if you recently started dating.
If they refuse you, don't try to convince them or make them feel bad for turning you down. Instead, ask them to plan the next date.
But if they're more than delighted to join you, give it your best shot to make it memorable and express your feelings.
I hope your love becomes even stronger this rainy season!
Surabhi Kedia
Surabhi wakes up every day with a drive to craft words that can create a soulful impact. Creatively adventurous, she is always seeking to learn new skills and acquire new experiences. With a hidden soft corner for languages (especially Urdu), she writes poetry occasionally, binges on romantic shows, and LOVES to talk. A hustler, admirer, chaser, Surabhi is just another-someone who refused to give up on her dreams. She says, she is just somebody who's trying to make herself a writer and for now, she's just writing...