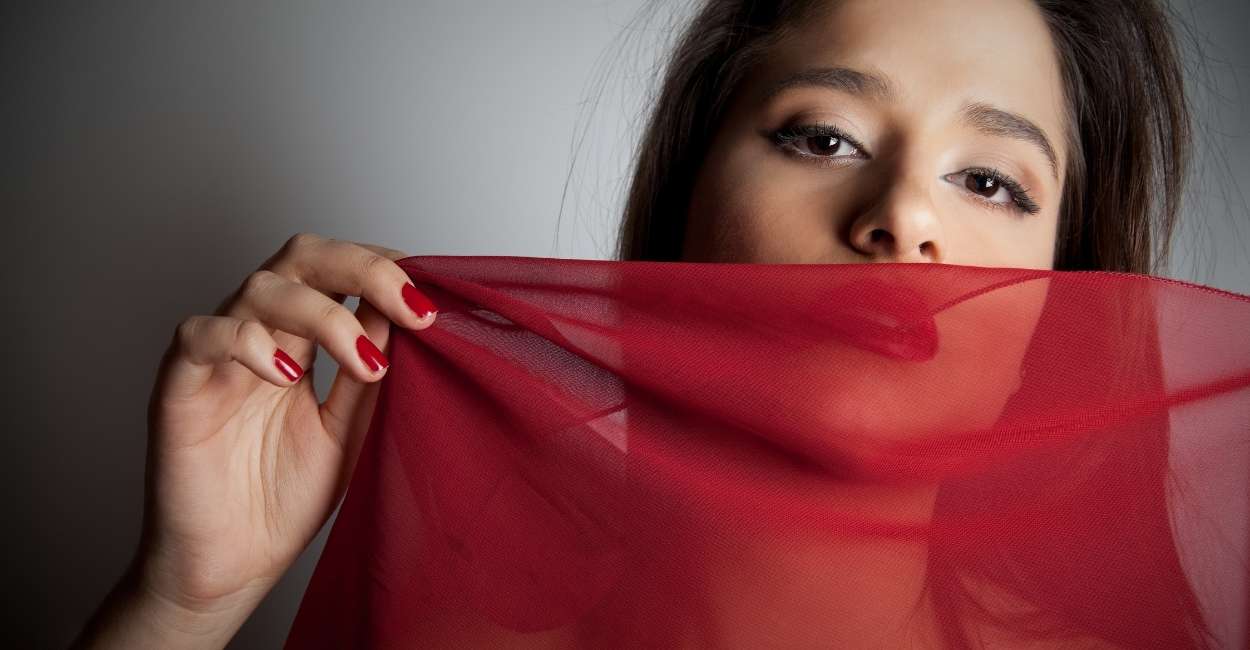 If you're wondering how to seduce a man and get him writhing and begging for more… Well, you're at the right place! 😉
Decoding their sexual desires is no more a daunting task… not on my watch because this think-piece is ready to unleash your inner diva!
So, prepare your heart and mind to get wickedly sexy, seductive, and the only woman he'll ever want here…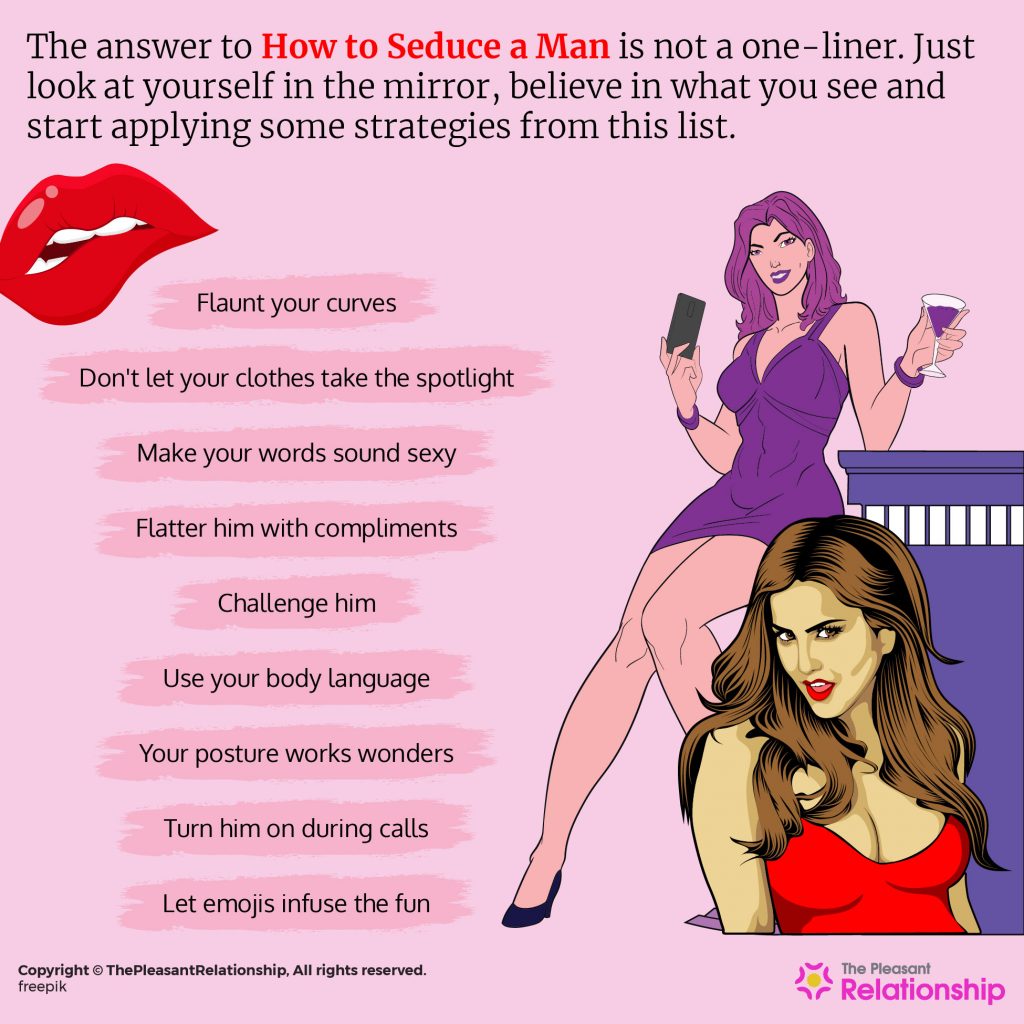 How to Seduce a Man – 50 Ways
Before getting into the details, remember seduction is an art… So, if you doubt yourself, it'll impact your artistic skills. So, start with believing that you have it all… and that your body is sexy just as you are.
Your size, weight, height, or color doesn't matter… because your man only cares for that hidden diva. So, take your time to absorb the sensual tricks.
And remember to focus on the fun details… because that'll get him down and dirty for you. Now, let's begin.
1. Get him hot and heavy with your looks
If you are a fan of "How to lose a guy in 10 days" like me, you probably remember Andie, her beautiful backless yellow satin dress that hugged all of her curves, and Benjamin's look of love when he sees her.
That's because men are attracted to visual cues.
If you want to seduce a man and make him go all gaga for your body, then you need to dress the right way.
A lady of high value like you must be confident and dress elegantly to get her man addicted to her.
For starters, you can wear a black or red dress (preferably satin) that shows just the right amount of skin. Pair it with some minimalist jewelry and a bomb perfume. Bold lips or nude, you are free to choose but make sure you feel sexy to charm him with your confident appeal.
2. Go natural, girl
If you have been following social media, you must be aware of the minimalist natural makeup look and glossy lips that are taking over the makeup trends right now.
But it's just not the internet that obsesses over glossy lips. Those shiny, luscious-looking lips also attract men's eyes like honey attracts bees.
It doesn't really matter what shade of lipstick it is as long as you have some gloss action going all over it. It's enough to make them weak, both in private and public.
So, whether it's fall, summer, or winter, you can never go wrong with some nude makeup and glossy-looking lips to prep your man for bed.
3. Flaunt your curves
Men just love it when they see a woman wear clothes that show her curves. It makes them want to touch and squeeze your skin, gently of course.
So, wear a dress that flatters your curves and shows some of that cleavage. If it's a mini skirt or a dress, keep your one leg over the other for a subtle sex appeal.
If your dress has some cleavage to offer, sit sideways so he can have a good glance without feeling awkward. That's all you need to wrap his mood around your fingers, darling.
4. Don't let your clothes take the spotlight
I know it's tempting to play games with his eyes by wearing the sexiest outfit you've got but take a step back.
If your dress is overly sexual or objectifies your breasts or your thighs, it can actually fire back. You might be successful in making him notice your body but he won't get attracted to your personality anymore.
You'll stay in his DM's just like other girls. He'll just see you as the sexy lady you are but the sensual connection will never go beyond that.
5. Make your words sound sexy
Sexy clothes are not enough… So, infuse charm in your conversations too. No, no, you don't need to have a sexy tone to seduce him with words. For seducing a man, you must be effortless and make him feel comfortable in your company.
Keep yourself engaged in his conversations and ask frequent questions about his childhood, family, and his wants and values in life.
Remember, Rachel's move on Joey, that is the secret behind this trick. It will get him attracted to you so fast and so easily that he won't even realize it, so make the most out of this one.
6. Flatter him with compliments
Guys won't admit it, but they love to be complimented, especially if they put effort into their outfits or groom themselves for this date. So, do not hold yourself back because this might be a good trick to get him turned on with your words.
But, but, wait! Do not compliment him at the start. Wait for the conversation to begin and throw some light touches to say "oh, your beard looks really good" or "Have you been working out lately?"
Subtle compliments are just perfect for getting all his attention on you and you only.
7. Challenge him
Men love challenges especially when it comes to the woman they are attracted to. Those who do not have fragile egos are somewhat turned on by powerful women. So, let's not make it too easy for him, shall we?
Spice up the conversation with some contrasting views to hide statements and see his reaction. If he smirks, then know that you are going well.
Just keep that aura alive and don't be afraid to speak your heart. Look at Rihanna, she is powerful, and confident, and men die to just steal a glance of her. Channelize that aura and soon he will want nothing more than to have you in his bedroom.
8. Use your body language
Your body language has the power to express your sex appeal to them without using your words.
You can always go a little less with your looks and with your dress, but your body language can make him go all crazy for you even after your date ends.
The best way to do that is through a feminine walk. Wear heels if you are comfortable and have a feminine touch to them. Sit with crossed legs and straight.
When he speaks, lean towards him and play with your hair. Maybe one or two times, brush against his body or lightly touch his fingers. This will give him just the right tickle…
9. Your posture works wonders
Body language and postures play a very important role in seducing your man. When you meet your guy or a potential boyfriend, it's really important that your confidence shows within your personality.
So, do not bend your shoulders or make adjustments to your dress all the time. Express your sexy side by sitting straight and being present in the moment.
Keep the conversation going with your mindful answers, and don't get too cautious without touch-ups and lipstick smudged off. Guys find that incredibly charming, trust me!
10. Turn him on during calls
If you do things right, your man will fall in love when you get naughty on calls. The trick here is to talk with a deep voice.
Don't get too excited, be calm, and let him take the lead. To keep the excitement going, ask him what he will do next and after that and after that.
Take a few deep breaths to make him know that you are in the mood too. When he will hear you being as sensual as he wants to be then it's the perfect time to go on a video call or swap some sexy photos if you are in the mood for it.
11. Let emojis infuse the fun
So, how to seduce a guy over text messages?
Emojis are your best bet!
But if you are new to this, let me explain it to you.
First, turn up the heart with some kiss faces. When they start reciprocating, then send a string of fire heart emojis and pink heart emojis.
Ask them to take the lead and when the conversation becomes steamy, send some dirty emojis from your collection.
It works really well to get him horny with those visual cues, and soon you might end up with wet bed sheets too. You never know!
12. Let the eyes do the magic
Every high-value and confident woman knows how important eye contact is to seduce a man. With just one powerful eye contact, he can get drowned in your soul.
So, get this right if you want to seduce him properly. Practice those siren eyes, or if you wish you can go with a subtle smokey eye look.
Whenever he talks, look at him. Look really lost in his conversations and in his hands, lips, eyes, whatever you find sexy. Wait for him to notice, and that's where the magic will begin.
13. Create a mysterious aura
Build some sexual tension with your mysterious aura. Men love women who leave them longing for more. That mysterious aura makes them crave you more.
This will get them easily turned on when you start showing some effort. So, when you don't accept their date invite in one go or say "yes" to hang out with some excuses, they will start craving you more.
But don't overdo it, you do not want your man to believe that you aren't interested in him. Play with your responses and be subtle with hints, that's what drives them.
14. Keep yourself the center of attention
Ladies listen, the secret to getting your man addicted to you is making him long for more. I know, I know how I sound but remember, even Taylor Swift said, "boys only want love if it's torture".
Well, do not get completely obsessed with yourself but don't hold back with the love. Tell him how much you adore yourself and steal a glance at yourself in the mirror a few times.
This shows you're a woman who definitely wants the "best" for her and that will attract him even more.
15. Don't hide that smile
A smile can be a very sexy weapon in seducing a man… only if you know how to use it well. Your smile must make you feel comfortable and confident in his presence.
Neither get too excited nor smile constantly.
When he talks to you, look into his eyes and smile… subtly.
Hell, even if you are married for 15-20 years and want to know how to seduce a married man, your smile can make him throw off his clothes and throw you on the bed for the dirty deed.
So don't hold back to that beautiful smile because it's your cupid in disguise.
16. Ask more questions
With questions like "Did you manage to get an Uber" or "You look nice tonight," you can only break the ice. But if you want him to drool over you, you need to learn the art to strike a conversation!
Get started with some personal questions. Ask him what new position he wants to try to spice up in a long-term relationship or what his favorite bedroom movie is.
If things get too exciting and you are feeling their legs on your thigh, you can continue with some dirty questions of your own.
17. Spend some alone time in group hangouts
If you are hanging out with some common friends or he is busy with his mates, ask him to be alone with you for a few minutes. Subtly tell him to get a drink or play one round of pool with you.
This will generate a sense of accountability in him, and let me tell you, men love that. And in a few drinks, he will want you more and more.
Who knows… by the end of this party you'll be alone again but this time someone will be on top of another.
18. Send sexy Snapchats
Create a streak with your own little flirting and seduction techniques to make him wait for your next notification.
Send him curious pictures of you wearing a short dress that barely covers your thighs or wearing a cami top with just a touch of cleavage. And then send an "innocent" picture!
Trust me, the first one will get him excited, and the next one will make him want more and more. So, you gotta play it like you are the main character and try to make him fall for you.
19. Umm… touch him often
There's a reason I have added this a second time, men love when women touch them slightly. And I am not talking about a deep hug or walking with your hand in his arms.
I am talking about those flirtatious brushes against his cheekbones or his hair, tie, or his watch.
These subtle hints are powerful enough to drive him crazy and behave in a way so you touch him more. He'll want you to touch him again, and there you have it… your man is all up for the night.
20. Let the awkwardness creep in
You and I both try to fill in those awkward silences with anything, am I right? If you want to seduce your man, you gotta be okay with some awkward silences.
Stay calm and quiet, and let him begin with a conversation. When you do this, this will get to him… and make him all bubbly and tickly.
21. Always, ALWAYS be positive
There are some direct signs of seduction, and then there are subtle signs of seduction such as this one…
During a conversation, do not talk about the bad things at work or with your roommate or your family. Instead, mention how much fun you had at the party last night or why you like this dress so much.
It'll make him more inquisitive towards you… that is all you need to build the sexual tension before he drowns in it completely. Eventually, you can drive this conversation with witty and flirtatious talks.
22. Don't throw yourself at him
When men see that a woman is 'desperate' for his attention or will go to heights to sleep with him, they take control.
Unless you want that, don't throw yourself at him. Don't show that you are too interested in him or force a laugh when jokes aren't funny.
Be yourself and flirt as I told you to. Causally, start some conversations without overwhelming him with personal questions.
Do not even talk about your insecurities, especially if it's the first date. You don't want them to fill with emotions instead of those exciting feelings that leave him aching for more.
23. Be the best in the room
See, if you want to seduce him, you need to be the best goddamn seductress in the room.
There will always be someone who will be prettier than you, or their dress will be more expensive than yours… but if you have the confidence to carry the seductress tag in your eyes and your body language, then your man won't dare to let his eyes wander!
So, believe that you are the best, girl. You will create a desirable and unattainable aura, and your man will be unconsciously seduced by the very thought of this.
24. Show that you are approachable
The art of seduction says that you must give him just the perfect amount of attention to make him come back again and again for more.
So, if you remain silent during the entire conversation to appear mysterious, it won't work. To show that you are approachable, keep your walls low and guards down.
Show curiosity with your eye, tuck your hair behind your ears, or rest your chin on your palm. Smile a few times and look down like you are shy, and that will do the trick.
25. Make him feel like a man
Guys love to be called a gentleman, and more than that, they want to feel like they are THE man.
If you flirt with him, he will crave you more… It's like a lion's instinct. A powerful man searches for and gets seduced by a powerful woman.
That's what makes an IT couple, isn't it?
Show your feminine side more and let him take the lead. Let him pick up your purse and hook your loose dress… that will make him weak on the knees and trigger the adrenaline in the nerves.
26. Come back at him unexpectedly
It's always about how good you are at this mental game of seduction. So, whenever you cross a road, make sure to subtly touch his arms for safety. During a conversation, rub slightly over his palms.
Whenever and wherever you sit, touch his shins with your feet. Also, create situations where he can touch you more and he will never get enough of you, ever.
27. Smell good… and sexy!
The smell is such an underrated sense, and if you understand how to use it for yourself, you will be able to seduce any man with minimal effort.
And you don't even have to do anything – Just find a bomb perfume that matches your personality and pair it up with a similar body lotion to make it more long-lasting.
Sprinkle some extra on your neck, wrist, and elbows and when you meet him next, hug him slightly longer to let him smell you… I assure you, he will never forget the smell, rather, it will end up on his pillowcases.
28. Let your moves drive him crazy
If you are at a bar, build sexual tension with your dance moves. Guys go crazy when a woman enjoys dancing and shows off her beautiful curves.
So, if you want his eyes to follow the right places, lead him to the dance floor and let the music build the chemistry.
No need to be a great dancer for this, just move your body delicately to mesmerize him. Touch his body so innocently that he can't help but caress your body… and I promise it will drive him crazy!
29. Give it a break!
Here's the thing, no matter how much you like a man, never make him feel like he's won over you completely.
Because as soon as men realize you are completely smitten by them, the effort frigging stops!
So, give him your attention but don't be afraid to hang up his call or take a washroom break in between a conversation.
30. Sometimes, ignore him
I know it sounds harsh but hear me out first – No matter how much men hate to admit it but they will climb heights if that means they get to chase you.
Men love to get ignored once in a while because that keeps the thrill alive and the testosterone levels high.
So, don't feel guilty if you want him to be obsessed and smitten with you. Leave him on read for a few hours, or don't inform him before going out for a party. Leave a few details out and let him wonder what it's like being with you.
31. Drop sexual hints
If you want to excel at the art of seductive hints, take it slow and light. Start dropping some sexual hints every now and then in the conversation and let him ponder what you meant.
If you are confident enough, insert double-meaning sentences to get him flustered yet composed while he listens to you.
Sexual hints don't have to be direct. So, do not say anything similar to "Oh your house must be so great, but I am more interested in the bedroom".
Be subtle, clear, and yet sexy with your hints, so he gets the message.
32. Choose the hangout place wisely
Most women don't consider this but it really matters what place you choose if you have big plans for the night.
Typically, a crowded bar where people throw up randomly will make you just work harder to show your moves.
Again, a movie is too awkward to have a conversation behind the popcorn and cokes. So, choose a place that has fewer people and fewer things in between that lets you speak your mind.
I mean, you need to make sure he has got his eyes and attention all over you to get seduced right?
33. Don't make things too obvious
Men have an invisible radar when they see a woman being too obvious for sex. If they notice you are desperate for attention and their body… instead of getting seduced, he will be a put-off.
They make presumptions (often correct) that you want to get down with them, and they start taking control of you.
So, while making a sexual joke or flashing your skin, make sure it's not too obvious. Be mysterious and let him wonder. Let him think hard on his own and take the lead. It will not only keep the spark alive but also keep him hooked to you for a really long night.
34. Don't be cocky
Confidence is attractive but overconfidence, ummm I don't think so. And there's a very thin line between being confident and being cocky… the minute you step on the other side, you lose him.
Your radiant personality is never the problem, but don't let that overpower the conversation. Involve him in the discussions and sometimes let him take the lead as well.
35. Make jokes, but never on him
If you are learning how to seduce men, understand that jokes on him never work in your favor. No matter how much your best friend tells you otherwise… No one likes being made fun of or embarrassed because of mismatched opinions.
So instead of this, make him feel appreciated and valued. Try to explain your own perspective and accept his ideas and thoughts as well.
These qualities will give him reasons to choose you… over and over again.
36. Don't make him feel like he's getting seduced
If the guy feels like you already like him, he will stop making efforts to get your attention. He will lay back, and let you throw yourself at him with desperation.
He will take this date or rather situationship easy, he won't be bothered about those sexy dresses, eye contact, and sexy innuendos anymore because he knows he's your only option.
And girls, it's a privilege to be with you, do not let him do that. Never let him know you're seducing him!
37. Let him take the lead
Men love it when you allow them to lead… especially if they are alpha males. So, if he tries to get your lipstick right, let him. If he tries to hold your hand while you cross the road, let him.
And if you are okay, let him touch your thigh at a restaurant. Smile and let him know how much you enjoy caressing his body and his touch. This will get him excited at all the wrong places!
38. Give him space
Most women mistake that to seduce a man, they only need to take care of their body language, eyes, and dresses… among everything else.
But that's what it is… a mistake.
For instance, if your man is emotionally stable and ambitious, he needs space just as much as he needs love. Or, the fact that he can have a conversation with you about anything will get him hooked.
So, my lady, if you want him, don't get carried away by the superficial material things, give equal importance to his emotional security as well.
39. Try a game together
If you want to play and build the tension up slowly and sensually, play a dirty game with him.
You'll find many online, but if you ask me, a classic game like 'truth or dare', 'strip poker', and 'never have I ever' never fails.
You can add the drinks to get the hormones to work even faster and get you down for the deed.
If you want him to make the first move, add the rule to remove one clothing piece after answering every question or dare and do it very sensually. Give a treat to his eyes and make him so high that he makes the first move to kiss you.
40. Share fantasies
A fun way to seduce your boyfriend is by sharing fantasies together.
Talk about the sex scene of your favorite movie that you can never get enough of a sex position you can't wait to try. Or, talk subtly about new adventures if you are in an open relationship or maybe sex toys if not.
Men really get turned on when a woman talks about her fantasies, so don't hold back!
41. Give them a massage
If you are not ready for the action yet and still want to do some fun, give them a massage.
Set the right mood with some scented candles, sexy music, and a satin nightgown. Make him lie down on your lap and massage his scalp, back, and shoulders.
Don't put too much pressure, use your hands gently and touch him here and there… if you know what I mean.
Breathe near his neck and ears to make him shiver and agonizingly want a bite of you.
42. Strike his erogenous zones
Seduction doesn't end with just foreplay. Learn how to seduce men in bed on the go. Men have a lot of erogenous zones in their bodies that respond to touch, kisses, and love bites.
When you kiss, touch his hair and massage it. When you are deep into the make-out sesh, lick on his neck and behind his ear lobe, or get bold and caress his crotch over his pants. Be prepared though… he might really lose his mind!
43. Wear sexy lingerie
If you remember, I told you that men get stimulated by visuals so let's take it to the next level with some lingerie. If you don't know what color you should go for, red is your best friend.
Make sure whatever you choose should make you feel sexually confident. Remember, you must be comfortable wearing your lingerie.
It doesn't really matter to your man if you are skinny or curvy, all that matters is that you are ready to take him down in that sexy skimpy outfit.
44. Play the no-hands rule game
This is probably the naughtiest step on this list. When a man is seduced to such an extent that he cannot keep his hands off you, take away his power and he'll get more excited.
He will love this challenge and will do anything for the moment you drop this rule. Because then he'll show you the time of your life and do everything he promised.
To excite him more, wear new lingerie that he has never seen before and let the fun begin.
45. Go lingerie shopping with him
Of course, this won't be your usual shopping. Tell him that you'll go lingerie shopping, and he gets to choose.
After he chooses, go to the trial room to change. When the coast is clear, ask him to come inside to fix your chain or hook, and that's it.
That's all you need to do to get him under you and get intoxicated by your body.
46. Walk away after a little foreplay
It's not that hard at all… all you need to do is get really deep with foreplay. Wear your sexiest dress, tie him up with the chair or bed, and get started with your kisses and licks. Let him moan out loud and ask him to say your name.
When he completely gets hard, walk away with a smirk on your face. Tell him you need to meet your friends and leave. But, when you come back, finish what you have started and fill his long-due craving in your body.
47. Get rolling on videos
If it's been a long time since you guys met, this is your savior to seduce him. To make this work, act very casually and wear sexy clothing that teases him to death.
Let him take a good peak and when you see that he's really in the mood, start talking dirty, or let him make the move.
When that happens, umm, I am sure you know what to do next! I'll leave certain things to your imagination.
48. Plan a romantic weekend
Seduction is not always doing things together, so free him and let him return to you. Use online dating tips and work harder to make this situationship extra special.
Book an Airbnb, arrange for a couple massages, and go for drinks in an exotic bar. A beach is preferable if you want a sultry experience.
Wear erotic dresses and just go with the flow. It will indeed put him in the mood to get down for some action before you take your flight home.
49. Learn a new position
So, wondering how to seduce a married man?
Well, the trick is to surprise him. To seduce your spouse, learn the new position he's been begging you to do.
Yes, I know it's a bit difficult but think about the amount of spice it'll bring inside the bedroom. That new position will get him all excited and thrilled to be in bed with you for hours and hours.
But don't spill this secret! Tell him that you have a surprise for him and give a sneak peek with a sexy photo. When you go down with foreplay, let him know that you want to try out what he's asking you to.
50. Take a shower with him
Seduction that turns into a long love-making sesh is my personal favorite and that's why I have made sure that it is on this list.
If you really want to do it with him without making the first move, just get in the shower with him.
A man cannot resist if a woman is in a shower with him. The flowing water and slippery foam over a woman's body get a man high on his testosterone levels and he'll go above and beyond to enjoy those moments with you.
A word from ThePleasantRelationship
It doesn't really what you pick from this list but always remember, that men love sexual tension… and they love a woman who can make extra effort to brew that.
So, let the tension and his curiosity build up. Well, girl… It might be slow, but it will be worth it!
Are you interested to know more about 'Signs that Your Girlfriend isn't Sexually Attracted to You' then click here?
Are you interested to know more about 'How To Get Your Wife In The Mood' then click here?
Surabhi Kedia
Surabhi wakes up every day with a drive to craft words that can create a soulful impact. Creatively adventurous, she is always seeking to learn new skills and acquire new experiences. With a hidden soft corner for languages (especially Urdu), she writes poetry occasionally, binges on romantic shows, and LOVES to talk. A hustler, admirer, chaser, Surabhi is just another-someone who refused to give up on her dreams. She says, she is just somebody who's trying to make herself a writer and for now, she's just writing...