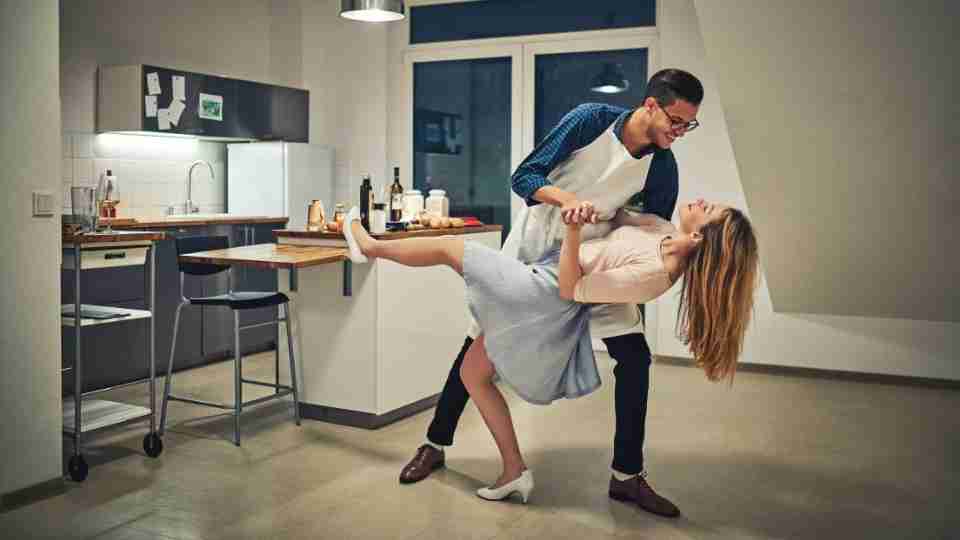 If you have some great at home date night ideas handy, you need nothing else to spice up your love life.
Especially when no magic elites your love life or no new sex technique can bring back the spark in your married life, then these home date nights will come to your rescue.
Neither do you need to step out of your home, nor spend a bomb to enjoy the company of your partner… All you need to do is to invite in the love of your life and enjoy some quality time together.
But, how will you make the date special? Well, why do you think I am here? 😉
This article enlists over 70+ home date night ideas inclusive of birthday, anniversary, late-night, last minute, and so many more…
I am already excited. Let's dive in!
At Home Date Night Ideas Infographic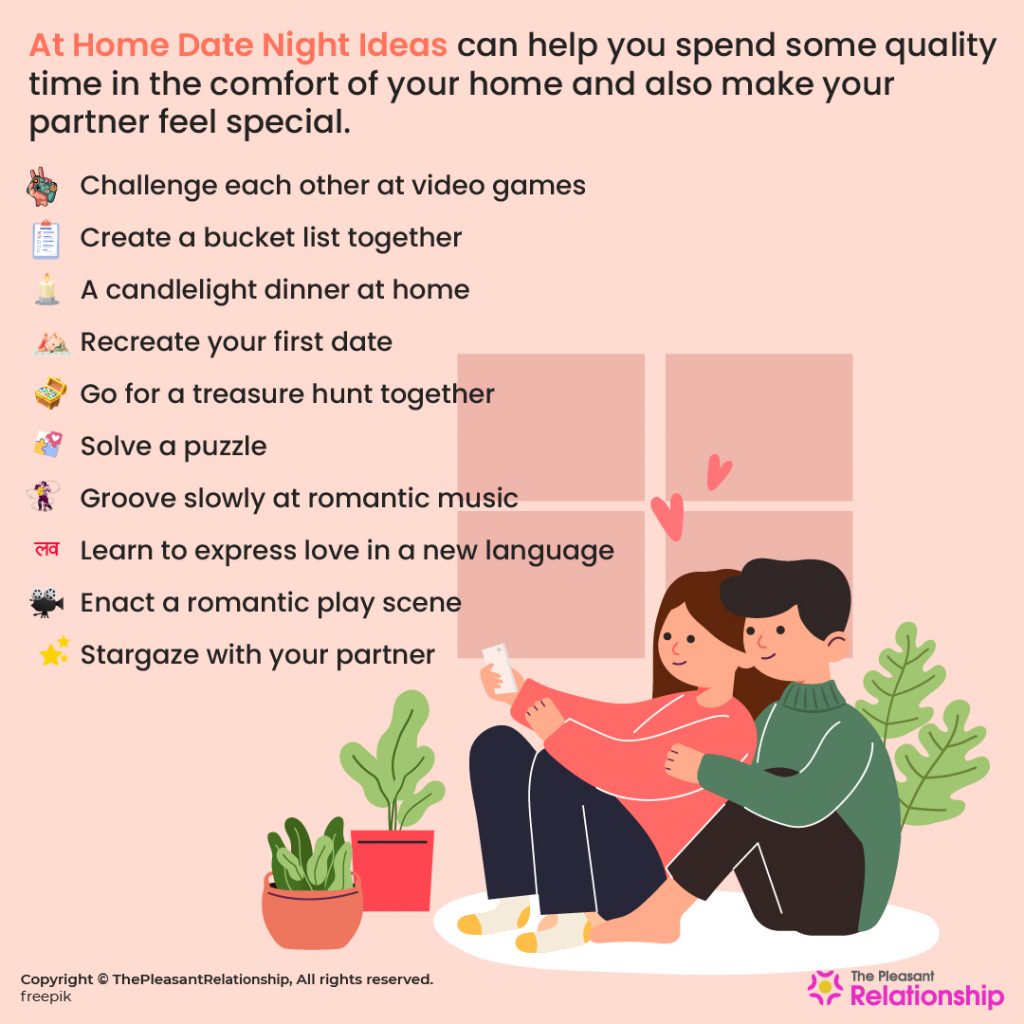 Fun date night ideas at home
A dose of laughter harms none.
If you both have been feeling overwhelmed with daily hustle-bustle, it's time to plan a fun date.
To help you, here are a few fun date ideas to ensure that you both don't stop laughing… all while sharing some silly childhood memories.
1. Plan an indoor picnic
If you and your partner want to spend quality time together in your own space, then what is better than an indoor picnic.
Grab your picnic basket and create a cozy set-up in the comfort of your living room, backyard, hallway, or any warm corner of your house.
Get the ball rolling with delicious sandwiches. Top it up with some champagne. That's it!
2. Wine tasting at home
Do you guys like to sip wine and chill? Do you want to go wine tasting but are too lazy to visit a winery? Then why don't you bring the wineries to your doorstep! 😉
Pick out some of the bests from your collection and let your bae be the guest. Flaunt your skills and test their knowledge, all while you both chatter away.
3. Challenge each other at video games
Are you both game-freaks? Well, a friendly competition is not a bad idea at all. Challenge your bae for a game night and chase them to death.
It is time to take your PS5 and kick ass in the DELTA SQUAD.
You can also stack your table with some ready-to-eat meals and soft drinks to multiply the fun.
4. Create a bucket list together
What is more fun than listing down some crazy fun things to do together? Get a notepad and a pen and let your guards down.
List down everything you have ever wanted to do. From skydiving and bungee jumping to scuba diving and northern lights. All of it!
5. Bowling in the corridors
Revamp your hallway into a bowling alley. Wear your bowling shoes and challenge each other for the night. Arrange the skittles and smash them with the bowl.
Hey, buddy, go easy on your partner if you are a pro at it!
…and let the loser plan the next date. 😉
Had fun? I mean, lots of fun? Of course, you did!
Now for those who are looking forward to having a fairytale-like date night in the comfort of your home, the next list is just for you!
Romantic date night ideas at home
Who said date night can be romantic only when you're dining in a five-star luxurious restaurant?
When you have the romance of your life personified right in front of you, all you need are these lovey-dovey ideas, and nothing can stop you from having the most beautiful romantic date night with your heartthrob!
6. A candlelight dinner at home
If you are confused about what to do on a date night, always go with the classics. And, what is a better idea for a classic date than our very own timeless candlelight dinner?
Light some candles, and preferably aromatic ones to fill the room with a mesmerizing aroma. Order in their favorite food. Brownie points for popping their favorite champagne.
7. Recreate your first date
Surprise your partner with a flashback. You can plan the proceedings of your date as you did for your first date. Make it a mind-blowing replica. If you're able to pull it off, your partner will feel overjoyed and at the top of the world.
Revisiting the old days might trigger the initial spark that you both have been missing for quite a while now.
It will make you miss that passion. The one you had during the honeymoon phase of the relationship. Who knows, things might get steamy at the end of the date… 😉
8. Go for a treasure hunt together
How about hiding a ring for your partner and leading them to it through a treasure hunt?
Prepare a full-proof plan with creative clues. Layout the clues throughout the house.
As they solve the clues, it would lead them closer to the treasure. In the end, get down on your knees and surprise them.
9. Solve A Puzzle
Puzzles never go out of fashion.
Embrace the child within you and try to solve a jigsaw puzzle with your partner. You'll feel the excitement, joy, fun, and laughter surrounding you two.
If you want some more thrill, order a 1000-piece puzzle and chatter away while you both unlock the final picture, piece by piece.
10. Groove slowly at romantic music.
A slow and passionate dance has a different charm. They set the mood faster than any other romantic activity.
So, create a playlist, set up your music system, grab their waist and you are good to go. Waltz with your partner in the living room like a pro.
Uhhm uhhm, are the fingers still locked and the eyes hooked?
Before you unwrap your arms from each other, it's time to take your snuggles a level deeper with these brilliant ideas for a romantic date at home.
Good ideas for date night at home
If you want to savor every moment with your love sitting right beside you, these ideas are simply going to win your heart…
So, without further ado, let's dive in!
11. Ice-cream sundae-making
Order in tubs of ice cream of various flavors and challenge your partner for sundae making. Garnish it with all your favorite toppings and taste-test each other's, to see who won.
Or you can also make a sundae for your partner while they do the same for you. Sprinkle some choco chips on a scoop of vanilla ice cream. And guess what, both of you can gobble on it together!
12. Learn to express love in a new language
Je T'aime, mon amour. Sounds romantic, right? French is not called the language of love for no reason.
It is the most reputed romantic language around the world. So, sign up for an online workshop and learn a new language… and express your love to each other while you're at it.
13. Show your mixology skills
Mixology is the art of making cocktails by mixing different flavors together. You need to master the proportion requirements and also have a good knowledge of the flavors to make a delicious cocktail.
You can mix it together with your own unique preferences. If you want, you can also make your own cocktail. It will be your little secret.
14. Camp in your backyard
Do you want to experience a bonfire while cozying up with your partner in a tent? Oh, you do not want to go miles for it… then why not do it in your own space?
Set up a camp in your own backyard. Roast some marshmallows. Play some music. Gaze at the stars while you lay in their arms eating those roasted marshmallows.
What could be a more romantic date than this?
15. Read a romantic novel
Pride and Prejudice is my personal favorite. Just saying. Grab your favorite romantic novel and snuggle up beside your partner.
You can read verses to each other while lying comfortably in the arms of your partner. Who knows, you might end up sleeping in their arms.
Want to indulge in some cute and loving moments with the special one? Well, the next list might serve your interest…
Cute date night ideas at home
The racing day-to-day schedule rarely allows us to spend some chill time with our beloved. So, when you've finally spared some time, you must utilize it to the fullest.
Don't forget to create a couple of cute moments that you can cherish later as cute couple memories.
16. Get an online tarot reading
Are you both believers of destiny and want to know if you both are meant to be together?
Schedule an online tarot reading with your partner to know what the future holds for you. Oh, you do not believe in all these?
You might want to still try it as it will definitely spark a lot of interesting conversation with your partner.
17. Create an album with your favorite pictures.
Relive your past by handcrafting an album with all of your pretty and weird photos. Decorate it with stickers. Write cute notes for each other.
Tell your partner something romantic about the picture that made you fall for them even more.
It would be a fun time for you both. Also, this album can be a cute keepsake for your relationship that you can look back to.
18. Decorate your living room with some DIY hacks.
Collect junk from around your house with your partner. Look for old things that you don't use anymore. Throw in some paint. Be artistic.
Recycle these things with your partner to make something aesthetic for decorating your living room.
It will remind you of the quality time you spent with your partner every time you walk past it in the living room.
19. Bring out your inner Picasso
Coloring books are a great way to relieve stress. So, why not try this fun activity with your partner?
Order some adult coloring books and some paints… and let yourself loose. The sky can be pink, and the grass can be brown. After all, it is your canvas.
Get wild with your imagination… and let your artistic thoughts reflect in the paper.
20. Sign up for online dance classes
An online dance lesson, where you guide your partner with a few steps (and vice versa) is the perfect date night idea for those who are looking for something out-of-the-box.
Later, you can also groove onto your favorite songs and just rest in each other's arms.
If you both are creative heads and want something that's not so cliché, listed below are some innovative ideas waiting for you!
Creative date night ideas at home
Absolutely love your effort to make your romantic date even more special with your beloved.
Dig in for some super creative ideas and let them fall in love with your creative side.
21. Decorate Mugs For Each Other
You can always order a personalized mug to show your love and affection for your partner, but decorating a mug for them is much more romantic and affectionate.
Buy a mug online or from a nearby store and decorate it with different markers and stickers that express your love for them.
22. Play with the pottery and mud
You can purchase pottery kits that are easily available both online and offline and keep it safe for D-day. On the date night, take out the kits, get your hands dirty and create anything that your mind says.
You are of course allowed to let your guards down… and play with the mud with your partner. After all, the ultimate goal is to have fun!
23. Have fun with face masks
You must have made some DIY masks when you were a kid. Well, it's time to recreate those moments again.
You have an amazing company right in front of you. All you need is your DIY tools to make face masks for each other.
Once you both create masks for each other, don't forget to do a teeny-tiny ball dance right then and there… maybe on a piece of retro music?
24. Play with the DIY message cards.
You can play with cards that have notes on them and communicate with your partner about relationships, commitments, and fantasies.
The cards basically help you to know each other and also make you do certain playful activities. This activity will allow you to let your guards down and get comfy with each other.
25. Sip and paint
Sip and paint is an absolute classic at home date idea. You can order in your favorite wine, and make a painting while you both sip at it.
Make it hilarious, laugh out at each other and make the evening as colorful as you can.
That was great.
Now for all you movie-buffs, which movie is on your list next?
Movie date night ideas at home
Theater nights are double the fun when you've got the right person with you. Keep scrolling if you want to learn about some exciting movie date night ideas at home.
26. Watch a romantic movie. Casablanca, maybe?!
I swear movie nights are the most romantic date night ideas. It is like falling in love with the movie characters and the person beside you, all at the same time.
Snuggle into a comfy blanket along with your partner. Munch on some popcorn while cuddling your partner, I mean you know what I mean!
27. Relive your childhood.
Go on a HOME ALONE spree with your partner. Create a comfortable atmosphere. You can stack the table with their favorite childhood snacks, soft drinks, and dessert.
Share your childhood memories about the movie. This will be a great way to celebrate the good old days with your partner.
28. No touching
Let's be honest: a forbidden fruit becomes a lot more alluring.
Similarly, if you both agree to "no touching" for the whole movie night, it will multiply the sexual tension among you both. And who knows while the movie reaches its climax, you both will too! 😉
29. Watch a scary movie
A scary movie night is the best excuse to be close to your partner and snuggle up for the night. In fact, your partner might even stay back because hey, the streets seem too dark!
30. What about a chick-flick
Hey, you can always watch your favorite romantic comedy to make it all the more humorous for you and your sweetheart.
Have you planned a date for dinner time? No issues! I've hand-picked some ideas for your dinner date as well.
Dinner date night ideas at home
Eating an ordinary dinner at home when it's supposed to be a luxurious date night, is simply not an option.
Why don't you add flavor to your dinner time with these date night ideas…
31. Arrange a luxurious dinner at home
Purchase a dating subscription box, where you will have access to everything needed for a perfect date night. All you have to do is set it up as directed and lounge in with your partner.
There is also a bedroom subscription box available to heat up the bedroom scenarios.
32. Make your own beer
If you are a beer lover, how about making yourself one. You can buy the required things along with the guidelines. Doing such activities with your partner can make your relationship and date nights a lot more fun.
33. Make your spouse's favorite dinner
Good food, good mood! You must have heard it often. But do you have any clue how food can actually drive your senses?
Try making dinner for/with your partner, seduce them in-between, kiss them when they are eating and lick off the food from their lips. Pour sauces over them and use your tongue to wipe them off.
34. Blindfold taste test
A blind taste test is a lot more amusing than it sounds. Blindfold your partner and place different things in front of them.
Now, ask them to identify the food. To make it more sensual, place the food on your lips and feed them from your mouth… trust me, more often than not, it ends up in a passionate kiss!
35. Eat with wrists tied together
Tie each other's wrists and try eating the food. You can take one piece into your mouth and share it with your partner.
Planning a date night on your spouse's birthday becomes so enthralling. It's just you, your love, and a beautiful birthday date night!
Birthday date night ideas at home
Birthdays are meant to be special and celebrated. And there are so many things that you can do to make it memorable. Then why not make it count?
36. Journal
Writing can do wonders. If you don't believe me, try this out. This literary activity will actually make a difference when you both are committed to it.
Buy a couples' journal and write your feelings on it, turn by turn. This way you both will know about each other and can easily get rid of the filters we tend to create.
37. Decorate candy houses
Making candy houses is super fun when done on Christmas but no one said you can't do it on a lazy Sunday afternoon. So, decorate candy houses with your partner… and pop a few in between! 😉
38. Plan a vacation
If you are an adventure-loving person and so is your partner then what can be more fascinating than planning a trip together.
Sit down, plan the trip, budget and enlist the things you're willing to do while on the trip. And you can also add surprises for your partner without them knowing.
This will make the whole evening full of oomph.
39. Surf old photos
Open the closet of memories from all the past adventures you had. Pick up each photograph, discuss the memory behind it and rekindle the lost spark.
40. Engage in a nerf war
To make it a fun and adventurous date night, you just gotta grab some nerf guns, and call a war. And Viola! The winner can choose the price for themselves.
Now that we have discussed birthday dates, it's time to lay down some amazing date night ideas that celebrate love… after all, it's your anniversary night!
Anniversary date night ideas at home
The day when you both met for the first time, when you fell in love with each other, or when both of you got married… Any date that reminds you of your love story is worth rejoicing.
So, what if you cannot head out to a restaurant, or throw a big banner party… When you've got these outstanding at-home date night ideas with you, every moment is gonna be a treat!
41. Organize an at-home spa night
Your partner may be exhausted with the daily chores… plan a surprise for them that involves a soothing spa for the both of you.
To make it sensual, even you can give them a massage… an erotic massage. This will obviously trigger the desire for pleasure in them. You can also take a shower together.
Bonus Tip: The only source of light in the room should be candles, it adds more romance in the air!
42. Plan a baking competition
A baking competition with your partner for your anniversary cake… sounds fun, right? It is.
To make it more exciting, bake less and tease your partner with the creams. Wake the romantic monster within you (obviously, the good one). The props are lying in front of you, take it and get into action.
43. Write or record your love story
Walk down the path of nostalgia and narrate your love story in the most romantic way possible.
See how much you remember or how much they remember and on every wrong answer make them do something "hawww".
It's time to pen down your love story, buddy!
44. Enact a romantic play scene
How about role play, that can spice up your normal evening? For example, you can be a guy from some novel and according to the story, the girl can be tied naked with ropes.
As the story progresses, she may plead you to let her free and you constantly seduce her with your tongues and kisses…. And in the end, you both end up in bed, in each other's arms.
45. Play Dress-up
Well undressing each other is romantic but how about dressing each other. You can interchange the clothes and dress up. It can help you in the role play.
With that, there is something more special coming for you.
You and your love are awake late at night, and you think of turning the night into a date night. What would you do? Check it out!
Late night date ideas at home
These are absolutely stunning ideas that you can apply to all late-night dates at home. When the stars are up and your moon is right in front of you, it's the perfect time to…
46. Stargaze with your partner
Intimacy is not the only ingredient required to make a date night successful. Sometimes laying down close to each other under the sky and gazing at the stars can also serve the purpose.
You can have a heart-to-heart conversation with your partner. Vent your heart out to your partner, and snuggle up in their arms… trust me, you'll never forget this night.
47. Play some questions game
Play a question game specially designed for couples… it's so much fun when your partner spills all their secrets from the past, piece by piece.
Not only do you get to know each other better, but you also enjoy the process.
48. Make Pizza
Like baking, you can have a pizza-making competition too. Buy the ingredients and make pizza for each other with your own chef-mind.
…and munch on it while you both share your first-time pizza-making experience.
49. Sing your hearts out
You don't have to be a good singer to sing… all you need to have is a daring heart.
So, if you really don't care about the world, go sing Karaoke with your partner like there's no tomorrow.
You don't need to have the props of karaoke, just pretend to sing with anything you find such as stands, sauce bottles, or anything under the sky.
50. Taste chocolates
Woohoo… Chocolates! Buying each other chocolates is good but have you ever thought of pouring some melted chocolates on each other and licking them. It's so DAMN sensual!
Let's make it even easier for you to celebrate love with some last-minute date night ideas… that will literally take just a minute to prepare!
Last-minute date night ideas at home
Don't have much time? And you want this time to be a memorable date night? I have got you covered on that!
Leave your lover spellbound with these super-fun last-minute date night ideas at home.
All of us have one couple in the group who's nothing less than Romeo-Juliet. Why not call them over a zoom date with you and enjoy this new yet fun experience?
This will not only make your date fun but will also be a relatively new experience for them as well.
52. Take personality tests together
Does your partner's personality test result match the way they express love to you?
Even if you don't believe in the results of these tests, they are a fun and euphoric way to spend some time with your partner and as a bonus, you get to know something new about them.
53. A year in review
How did your partner make your birthday special? How did that kiss on that hilltop felt? Going through all these memories is the best way to live them again.
Revisit all these memories with your partner and cherish all the special moments that you both created in the last year.
54. Bubble bath for two
Want to comfort your partner after a long stressful day of work? What can be more exotic and romantic than preparing a bubble bath for your partner?
Prepare a bubble bath for you two as they come home from a hectic day and spend some romantic and crazy moments with them.
55. Go for a bicycle ride or walk.
A bicycle ride or walking with your partner is still one of the best ways to spend quality time with your partner.
So, take out your bikes and drive to the nearest coffee shop or take a walk to your favorite bagel counter.
Hey, who told you that a beautiful date night burns a hole in your pocket?
The best surprises are those that are personalized with sentiments and not grand expenditures. Let's see how!
Cheap date night ideas at home
Sometimes cheap date night ideas are the most convincing ones.
Honestly, it doesn't take a lot of money to arrange an engaging date night where you and your beloved can bask in each other's love.
So, stay at home, and make your partner feel special with these cheap date night ideas!
56. Play "Would You Rather?"
Ask creative questions to your spouse while playing the "would you rather" game and get to know a few interesting things about them
These games are fun and quick and usually bring a treat of laughter for you and your partner.
57. Tell Jokes
Tell jokes to each other and make each other laugh with humor and wit.
Make them fall in love with you again as they can't stop laughing at your silly jokes and romantic gestures. Forget the rest of the world and just enjoy the moment.
58. Rearrange Furniture
Didn't have time for rearranging furniture? Make this activity fun and romantic while you share your ideas on how the space should look… and transform it into a fun date!
59. Draw self-portraits of each other
Pour your love for your partner while you make portraits of each other. This activity will show your affection and love towards each other.
You don't need to be an artist to do this fun activity, after all, it's the efforts and the feeling that counts in the end.
60. Ask some paranoia questions
The Paranoia questions game is a lot like "would you rather" only a lot more fun. You would never wanna run out of great questions to blow your partner's cover and can be a great way to know something new about your partner.
If none of the above date ideas were fun enough and you're looking for something exclusive. Here are some…
Unique date night ideas at home
The ideas listed below are not only rare but are also hand-picked to ensure that both of you spend some quality time together.
So, what are you waiting for? Take a dive into the cool and rocking ideas!
61. Visit a virtual museum
Being a history geek and not having a chance to visit museums can be disappointing.
Why not bring the museum to your home when there are so many museums providing immersive experiences in their virtual setup with the help of VR and AR?
62. Watch sunrise or sunset
Watching a sunset with your partner can be a delightful experience if you both are nature-admirers. Moments like these will make up for so many happy memories for you both to look back on.
63. Country-themed night
You can't go for a horse ride now but you can still savor the fun by preparing for a country-themed night.
Prepare a country-style full meal with your partner and gear up for the dance night while you both groove on the romantic country beats.
64. Make a Scrapbook
We all love to create cute keepsakes of the times spent together in the form of photos and videos. However, a scrapbook can help you do a lot more.
Grab your kit, share your favorite moments in creative ways and make every page full of cherished and imperfect memories!
65. Do couple yoga
A perfect date idea for a fitness-freak couple. Find a yoga course online, enroll yourselves in it and start doing it today.
If your partner is struggling with a certain pose, don't fret to help them out and get a little intimate.
Ok, now that we have covered the various possibilities and opportunities, it's time to pop up the best dating ideas for you… ready to be served at home!
Best date night ideas at home
Neither do you need to break your bank, nor do you need to drive all the way to the next city for this best date ever.
The best dating ideas truly combine some smartest moves to bring you both closer, with no over-the-top efforts.
Go on!
66. Breakfast in bed
Dates are not just limited to a dine-in experience at a Michelin star hotel.
So, grab your toque Blanche and make the most delicious breakfast for your partner. Make their day extra special as they wake up to the sweet smell of maple syrup and pancakes.
67. Reassemble your bedroom into a hotel room
An ideal date night is when you both spend the whole night wrapped in each other's arms… still not willing to leave in the morning.
Well, who doesn't want to spend nights in the lavish and cozy hotel rooms, with a view outside and soft and fluffy beds?
These surroundings naturally arouse you and boost up your moods.
It is true that every time, a hotel will not be affordable, so explore some YouTube videos and transform your own bedroom into a cozy space. Trust me, it's just a matter of minutes.
68. Board games are always fun
Do you both like playing Ludo or Chess? Go on… a board game can never be boring!
Your partner will surely enjoy it and your cute gesture to keep their interests in mind can bring it to life!
69. Discover each other's love language
Discovering each other's love language is not just fun but can also be resourceful.
There are five love languages: Quality Time, Words of Affirmation, Physical Touch, Act of Service, and Gifts… explore what makes you and your partner feel more loved so that both of you can satisfy each other's love in the preferred love language.
70. Make Pen Tattoos
Hey, what about scribbling tattoos with colorful pens on your partner's wrist or somewhere more intimate?
Take a temporary pen or marker and draw what your heart desires. It's just gonna be a cozy and sensual moment for both of you.
Voila! With these 70+ date night ideas, you can savor the fun with your sweetheart at the comfort of your home.
Now no worries and no hurries, just a sparkling date night.
But wait, before you make the preparations, you must not miss these 5 important tips that can make your date night unforgettable.
And it's just gonna take you 5 minutes to read through. So why risk it?
5 Tips to make your at-home date night Unforgettable!
Imagine you and your special one had a special date night at home… and after a few days, in a conversation, when you bring it up, they simply can't recall anything.
What a bummer!
All that effort goes in vain and you feel hopelessly turned off.
You don't want this, right? That's why I say, take a look at these five tips and make your date night memorable for both you and your partner.
1. Let your eyes make some noise!
Nobody talks about what eye contact can do at your date nights. In a few simple words: It can stir magic.
Eye contact not only communicates your love but also shows that you're genuinely interested in them.
So, if they are locking eyes with you, it confirms their deep desire for you.
2. Don't discuss your problems
When you are on a date with someone, try to keep the conversations light and pleasant.
The person is here to spend some fun time with you, not to hear your sad stories. It can also ruin the excitement and spoil the mood.
Further, you should avoid talking on touchy topics that may lead to arguments or conflicts.
3. Listen more
Listen carefully to what the other person is saying. People feel loved and cared for when their partner seems genuinely interested in their conversations.
Whether you're an extrovert or an introvert… it's your responsibility to ensure that your partner feels heard and valued.
4. Light some scented candles
Hey, don't forget to add some scented candles if you are spending your date night at home.
Organize your room and the belongings properly and when your partner is about to reach… light the candles and let the sweet aroma fill your room.
5. Make your partner comfortable
No matter how you plan your date night, if your partner doesn't feel comfortable, it will all be for waste.
So, make special efforts to ensure your partner's comfort… know their likes, dislikes, preferences, favorites, and plan a date accordingly.
A word from ThePleasantRelationship
That's it, honey.
Now it's time to make your pick and start the preps.
Irrespective of what you choose from the list, remember that nothing can replace your efforts… and the fact that you're here, reading this already says a lot about your effort.
So, now just take a long breath, invite your partner home, and look forward to the date night.
Surabhi Kedia
Surabhi wakes up every day with a drive to craft words that can create a soulful impact. Creatively adventurous, she is always seeking to learn new skills and acquire new experiences. With a hidden soft corner for languages (especially Urdu), she writes poetry occasionally, binges on romantic shows, and LOVES to talk. A hustler, admirer, chaser, Surabhi is just another-someone who refused to give up on her dreams. She says, she is just somebody who's trying to make herself a writer and for now, she's just writing...