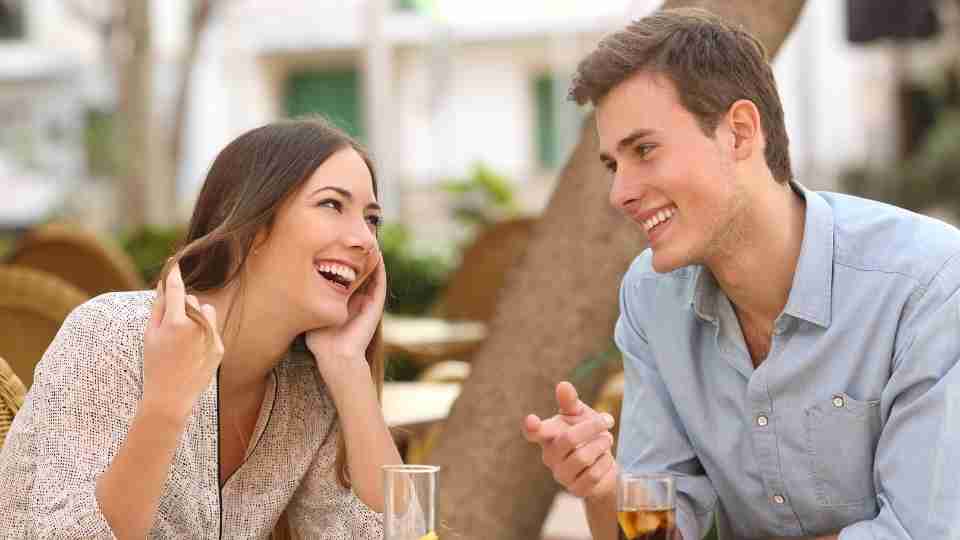 Are you looking for new date ideas to spice your dating life?
If you love your partner, of course, you're always looking out for fun ways to spend some more time together.
But in the run to make it special for our S.O., most of us tend to think too fancy!
With every date idea… your mind tells you "No, I don't think that's interesting enough"
Or,
"I think it'll be boring with just the two of us."
That's where you're going wrong… because nothing is boring when you do it together for your partner's happiness. You cherish them and that's all one needs…
Still, to help you steer clear of the confusion here's me, presenting you with a list of 400+ date ideas – with everything that you'll ever need! 😉
So, now let's begin with you…
Date Ideas Infographic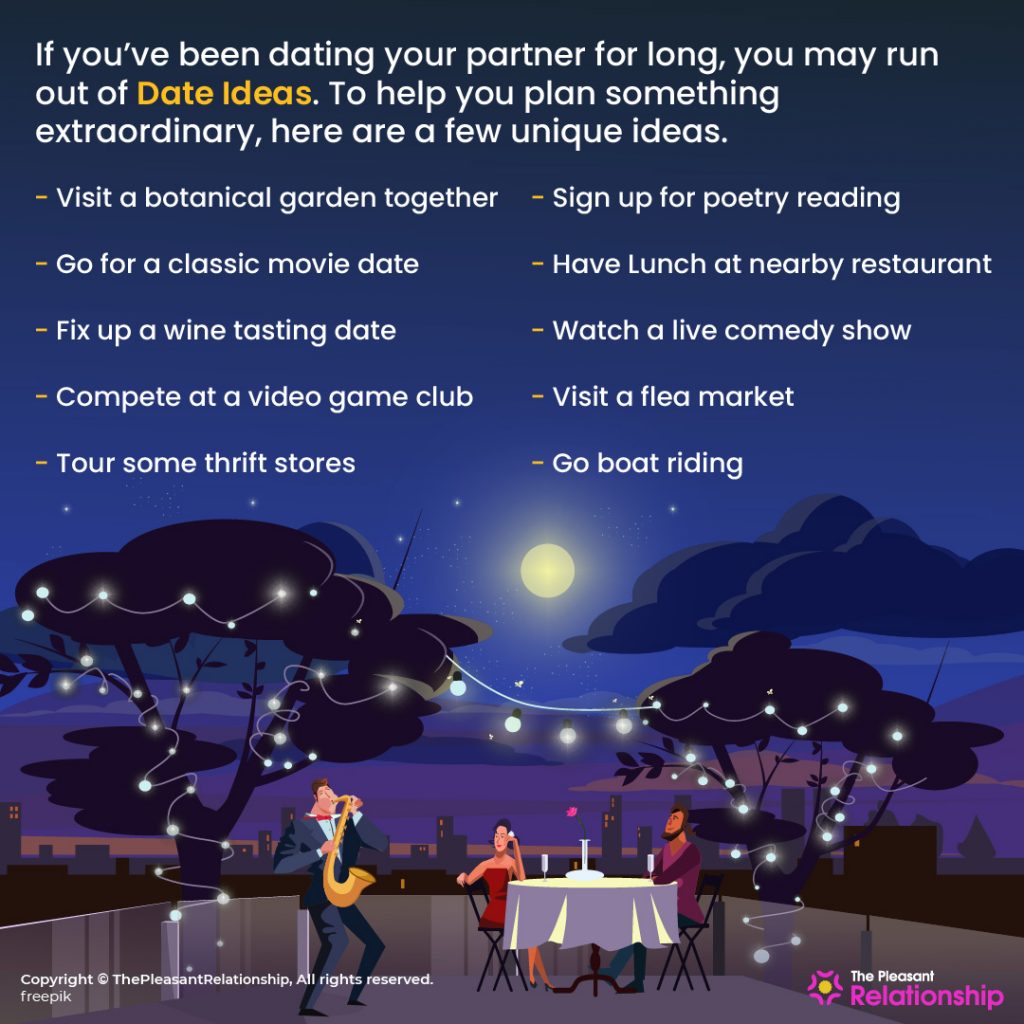 First dates can make you nervous, you obviously want to cast a bloody-good first impression.
Don't worry, I got your back, mate. Here are a few ways to sweep her off her feet on the first date…
1. Visit a botanical garden together
Botanical gardens are full of mesmerizing greenery – a perfect ambiance for two love-struck people starting to know each other while basking in the beauty of nature.
2. Go for a classic movie date
Reach the movie theater in the afternoon to spend time later discussing the movie. You have an excuse to hang out longer and a topic to keep the conversation going.
3. Fix up a wine tasting date
Stopover a nearby vineyard and pamper yourselves with some wine. It is not just soothing but also provides you with a perfect environment to keep the chitter-chatter going.
Plus, you can always buy a few bottles of wine for your second date! 😉
4. Compete at a video game club
Indulge in some friendly competition to break the ice. You'll have fun and find ways to show each other great skills. Pro tip: Lose a few rounds if they're new to it.
5. Tour some thrift stores
Go around a few thrift shops and buy each other a complete outfit within a fixed amount. Discuss each other's deals to find interesting deets about each other.
6. Sign up for poetry reading
If poems fascinate you two, make romantic poetry about your partner and perform it in a poetry reading club. Immerse yourself in a romantic ground, amidst the crowd.
7. Have Lunch at nearby restaurant
Choose your favorite eateries or a few restaurants that you both want to try. Indulge in the delicious paradise while exploring each other's hearts.
Don't forget to ask them about their favorite food beforehand and place a secret order!
8. Watch a live comedy show
Live shows won't get you any chance of talking, but you'll know each other's sense of humor a little better and make great first date memories laughing together.
9. Visit a flea market
Though second hand, flea markets have great varieties of products at cheaper prices. Take your partner and look around for the best things suitable for each other.
10. Go boat riding
Rent a boat all to yourselves and spend some time together, without anyone's interference. Choose a sunny day to lose yourself in your partner's eyes on this date.
After an awkward yet successful date, he/she promised to see you soon, so here are some plans for your second date.
Second Date Ideas
If your first date went well, you've of course set a higher bar for the second one… Don't worry I got your back with these interesting ideas to blow his/her mind…. Once again!
11. Hit up an art museum
Whether you guys have a knack for art, or not… visit an art museum and discuss your perception of the art. Learn each other's views to know them better.
12. Go stargazing
If you're ready to go out of your comfort zone, identify a cozy and breath-taking area beforehand for stargazing. Reach the venue before dusk to experience a romantic sunset along with him/her.
13. Go for a "Sample" ice cream date
Ice cream dates can never go wrong… and when you're sampling all the flavors from a store… Umm, you'll surely win his/her heart with this.
14. Do some gardening together
Visit the market to buy some plants of your choice. Plant it and get dirty while spending time with them. Your accidental touches will spark a pre-seed romance in this date activity. 😉
15. Visit an old bookstore
While smelling old books and skimming through some favorite stories, chat about your favorite characters with your favorite.
You can also recommend each other new books, and fix another date to further discuss them.
16. Hit an escape room
Escape rooms need a lot of coordination to successfully find a way out. So, you'll spend a few fun hours together in a room and steal your girl's heart once again.
17. Visit an amusement park
Ride some challenging rides and explore their fun side. More time for you to be romantic while tending to their motion sickness.
18. Involve in volunteering together
If volunteering is important to you, show him/her your caring side with this date activity. If you guys share similar thoughts, you'll hit it off better in the coming days.
19. Learn ice skating together
Ice skating is tricky and trippy so hold your partner tight on this date. If it's a first, you'll fall more and laugh harder.
20. Try horseback riding
Horseback riding is thrilling and if either of you can't ride, even better! Ride one horse together for a more romantic experience.
Don't miss the beat to impress your princ(ess).
Hey there, lucky lad/lass. Luck is on your side… and it seems as if you have caught your next date!
So, let's check out some more…
Third Date Ideas
If you already came past two dates, you're already an official couple. Hopefully, now you can drop the shoulders and by yourself around them.
If not, I'm back with some more great ideas!
21. Plan a day at the Planetarium
Stargazing at a hillside might feel exotic but a planetarium is a better choice when the weather outside isn't good. You can see them up close with higher clarity.
22. Play table tennis
Outdoor games are fine but when the weather's not on your side, indulge in indoor games like table tennis. Get close while teaching them and break a sweat together.
23. Do a horror movie marathon
Choose the scariest movies for the marathon and grab a blanket. If your partner is one of the I-don't-like-horror-movies types, they will grab your arm in all the epic moments – don't miss the chance, darl.
24. Visit your favorite spot
Everyone has this one spot they visit whether they feel happy, sad, or overwhelmed. If you have such places, show him/her. Your date will feel a bit closer to you.
25. Bring out your artistic sides
Even if you're bad at sketching or painting, try this fun idea. You both can try making portraits of each other. Exchange the portraits and have fun laughing at them.
26. Awaken the Dora in you
Go to some never-explored areas in your locality and immerse in pretty sceneries. Unique shops or restaurants might surprise you so find new and interesting sides to each other.
27. Enroll in pottery classes
Learn to model clay together in the locality. Let your wet hands find your way to each other while making souvenirs of this beautiful day. Entangling muddy fingers can send sparks up your spine.
28. Play a board game
Board games can be fun, competitive, work up your noggin, and you'll also find your intellectual compatibility with it. Play a common board game and start off with low difficulty.
29. Walk in the local park
Go for a stroll in the local park with your date and find a chance to hold their hand while walking. Have a good time while breathing in the fresh air.
30. Get each other coffee
Visit a coffee shop and order some snacks for each other. In the end, you'll have a warm drink and lots to discuss during your date.
Enough with being on edge, it's time to have fun together with your date. If you can't come up with any, here for some…
Fun date ideas
Anything and everything can be fun if there's a little adrenaline rush and lots of laughter. But you also need some background research at least to know what really makes them laugh.
31. Go bungee jumping together
Feel the rush and excitement of bungee jumping with each other. The adrenaline will get your heart beating like crazy and you'll feel you're falling in love once more.
32. Join a cooking class
Learn to cook together and know each other's cooking skills. You'll learn something new together and can charm them with your kitchen skills. Prepare a cute couple's apron for more fun.
33. Explore without a map
Challenge each other to find a new place together and return without using any digital maps or compasses. Go out on this adventure but carry your phones for emergency situations.
34. Book for couple's zip lining
If you both are adventurous, you definitely can't miss out on this one. Combine it with dinner and you're set for the whole day.
35. Enjoy a rage room
If you're crazy or want to check out how crazy he/she is, visit a rage room. Also, if something's bugging your date, he/she can let off their anger there.
36. Go on a morning jog
Apart from the health benefits, you can also test each other's stamina on your morning jog. Also, seeing your date sweat is a different kinda excitement – if you know what I mean! 😉
37. Join the gym together
If jogging doesn't work for you, then go to the gym to find out something in common. Spend more time during classes and bond while encouraging each other.
38. Ride a hot air balloon
Book a hot air balloon if you don't mind the expenses. Enjoy the breath-taking view with your date and follow up with food to combine romance and fun.
39. Go for rock-climbing
Though going out of your comfort zones is challenging, try rock climbing on the next date. You'll create an unbreakable bond after this date with great memories.
40. Wear funny outfits
Choose funny attires for each other, wear them and do a fun ramp walk. Embarrass yourself together and take pictures as keepsakes. Goof around and make your date skip a heartbeat.
So, your girlfriend/boyfriend likes pretty stuff and you want to touch their heart with something kweettee? You can always buy them a teddy bear but isn't that a bit too cliché?
Cute date ideas
If your lover is playful and mischievous, you need to awaken your intelligent mind. Find out what he/she really wants, and then plan your cute date.
You can also seek some help from this list.
41. Play with water guns
If you're daring enough, tell him/her that you'll make them wet on your date. Refill your water guns and revisit your childhood with your date.
42. Compete in kite flying
Fly a kite as high as possible on your next date and for the icing on the cake, make sure the loser is given a punishment! 😉
43. Go to the zoo
The zoo is full of animals of all sizes and you can go "aww"s and "ahh"s on your date. Feed the animals (if allowed) and spend a memorable day.
44. Visit a pet-friendly restaurant
Some people love pets but can't get them because of family or landlord's restrictions. Go to a pet-friendly café and spend a cozy day with the animals.
45. Visit the aquarium
Aquariums have colorful and exotic fishes and a dark ambiance. While your date is busy appreciating the fishes, seize the chance to hold hands – trust me they'll love it!
46. Go to a sports event together
If there's any sports event around the corner, that can be a great date. Moreover, bonus points if you end up in the kiss cam though!
47. Attend a flower exhibition
Some places put up flower exhibitions and competitions, if you hear about any of them, that's a great date idea.
48. Go to a fair together
Enjoy the exotic attractions of stalls and rides at a nearby fair. If it's crowded, you'll stick to each other and find an excuse to be romantic.
49. Share your bucket list
Write down your bucket lists in chits, mix them and then each of you pick one, and share your thoughts about fulfilling it. Brownie points for planning your next date while you're at it.
50. Compete in memorizing games
Pick random books and ask each other to memorize small paragraphs from them within minutes. Make a few levels from easy to hard. The winner gets to choose their prize.
If your partner is a dreamy person, reads romance stories, or watches lots of romance flicks, then their ideal date will be a romantic one. So check out these…
Romantic date ideas
It has been quite a few dates and you still haven't explored their romantic side? Don't worry, you've got lots of opportunities to take them out on a perfect dreamy and romantic date with the ideas listed below.
51. Ride a Ferris wheel
Ferris wheel rides are the best because you get to be together and get your own space even in public. Lean in for a kiss when you reach the top.
52. Watch fireworks together
Fireworks and kisses were always a good combination. So, tell your partner about fireworks watching, they'll get the hint. Lean in for your shot when you get the chance.
53. Watch a romantic movie
Get a romantic DVD and watch it together. Order takeout and buy some wine beforehand to make the perfect date. Cuddle on the couch and vibe with the movie.
54. Join a dance class
Find a couple's dancing class in your area. Get close while you learn to dance with your date. You might trip over his/her feet, but the intimacy is worth it.
55. Visit a tower
Go to a tower around your city after sunset and enjoy the twinkling city lights with your date. Don't forget to wrap them in your arms if it's too windy outside.
56. Exchange hobbies
Share your hobbies and indulge in both of them. You'll learn a new activity and something new about your partner making you guys closer than ever.
57. Share family albums
Family albums hold lots of memories and feelings. If you're ready to share your family albums, you're already close enough. Time to share some embarrassing childhood stories with your boo.
58. Take a weekend vacation
Even if you hardly get time, take your partner on a vacation over the weekend and enjoy each other's warmth, away from the daily humdrum and hectic schedule of life.
59. Attend live music with bae
Surprise him/her with live music fest tickets – preferably of your partner's favorite genre – and cultivate your love for each other. Prepare yourself to dance if your partner is really excited.
60. Plan a candlelight dinner
If you're fine with splurging, then take your girl out on a candlelight dinner in a fancy restaurant. Plan complimenting outfits beforehand to look sexy and gorgeous together.
Is your partner down with the flu, or hurt their leg? Why don't you go over to their place and help them through this time? Meanwhile, you can use some…
At home date ideas
If he/she is stuck at home or just not feeling like stepping out, no worries here's my trick! Have a date night at your home, do something together and bask in each other's presence.
61. Get creative in the kitchen
Make a brand new recipe with your lover. Toss in your favorite ingredients in a basket and add some fancy spices. Couples who cook together, live together!
62. Have candlelight fast food
When dining at a fancy restaurant isn't possible, order KFC or McD at home and have a cozy candlelight dinner at home. Wear fancy outfits for a luxurious vibe.
63. Paint each other's face
Get some bodypaint and take turns to paint each other's faces. It's silly, fun, and includes physical contact and intimacy.
64. Have a dessert-making competition
Know each other's favorite dessert ingredients and try making something exotic without checking the internet. Rate each other's masterpiece when you're done. This date activity will help you bond.
65. Try Netflix and Chill?
Choose some shows beforehand, and cuddle in your lover's arms in the bed while watching some great shows you both want to watch. It's soothing, romantic, and a modern classic.
66. Play video games
While staying at home might seem boring, playing video games can spice things up and awaken your inner gamer. If you're not a pro, your lover will teach you.
67. Pamper each other
Give each other a body massage and a spa to relieve the week's tension. If you hardly get time away from work, it's time to calm your nerves.
68. Indulge in indoor photo-shoot
Put on your best attire, groom yourself, hang some fairy lights in the background and pose away for some aesthetic couple pictures. Frame and hang the best ones later.
69. Solve a puzzle together
Take out a jigsaw puzzle and start solving it together. You'll bond during the activity and even reminisce about some old memories with your lover.
70. Have a karaoke at home
Find lyrics to your favorite music, put on the song on YouTube, and sing away old songs from your high school. Make sure you pick some really embarrassing songs and some romantic ones too.
If you want to make your next date the best one till now, I've got a few ideas here and there. But, to play safe, make sure you know his/her likes and accordingly make the best pick.
Best date ideas
Maybe it's his/her birthday, or your first-meet anniversary, or any other special occasion… and you planned to make this one the best date ever! Here are a few date plans for your best date…
71. Go playing putt-putt
It's a silly game and it can get on your nerves but don't get angry or frustrated. You're there for fun while you laugh at each other's shots.
72. Tour your area
You possibly didn't cover all the tourism spots in your city/town. Go on a date at a tourist's spot with your date and make some new memories with him/her.
73. Try a tandem bicycle
Ride on a tandem bicycle and go tour a faraway romantic place. The second cyclist can hold the waist of the first making it more romantic.
74. Play with paintballs
Prepare to color some white outfits while playing with paintballs. Shower each other in the color of your passion. You can keep the outfits as keepsakes too.
75. Feast on some fancy desserts
Visit a fancy dessert outlet close to you and order one of each kind of dessert available there. Share the desserts to feel more intimate with your partner.
76. Read books in the library
There's a catch in this one! Sit side-by-side and take turns reading pages with your partner. Since it's the library, whisper the story near your date's ears.
77. Go grocery shopping together
Who says getting groceries is boring? Get your crush to tag along and find happiness in even the most basic activities in your life.
78. Go for ballroom dancing
If you have any events to attend, take the chance to ask your date out as your plus-one. You might also meet up beforehand to brush up on your dancing skills.
79. Make Jack-o'-lanterns together
If it's fall, ring up your partner for a pumpkin carving date. Pick up some pumpkins together and get ready with the Halloween décor in the lazy afternoons.
80. Bake a cake with him/her
If Christmas is around, bring over your partner and start baking cakes together. Whisk up those eggs while they sieve the flour. Take your time enjoying the baking.
Being the perfectionist you or your partner is, the best date might not seem enough for these special days. That's fine because I also have some….
Perfect date ideas
Put together a soothing, unforgettable date with some of these ideas. Flaunt your perfectionist side while you keep in mind your date's emotional and mental needs.
81. Re-enact your favorite date
If you're dating for long, there has to be a favorite. Go replay that favorite one once again and cherish the sweet memories. Live the adrenaline rush once again!
82. Take out your coloring books and pencils
Who said coloring is for children? Get two books and a set of colors and start relieving your stress together. Eventually, you'll find a good topic to strike a conversation with while you're at it.
83. Attend a ballet dance show
Take her out to watch a ballet performance. The smooth movements of the ballerinas will remind her how thoughtful and romantic you are. Pair it with dinner later on.
84. Feed the birds together in a park
Go visit a park with her and sprinkle some bread crumbs for the birds. You'll give off a gentle vibe and she'll fall in love with your sweet side.
85. Go to an antique store
Things in the antique stores can be fabulous or bizarre. Visit one with your love and have a lot of fun together while you look for some useful things.
86. Try spelunking together
If you're adventurous, try spelunking together. It's a little scary but the key is having faith in each other. This activity will strengthen your love and trust for each other.
87. Visit a haunted house
Many places have haunted houses, look them up. Choose one and try them out. You'll love the thrill and bond deeply while you find your way out of the house.
88. Prepare a playlist for them
A long drive is always fancy but playing a playlist dedicated to your partner is like a cherry on the cake. You can also sing your hearts out while driving.
89. Play in the animal shelter
Take your date to an animal shelter and play with the animals. If your budding romance is top-notch, you'll end up adopting some of them and making a family.
90. Try apple picking
Dates around harvest season are best with apple picking. Explore a few orchards and prepare to fall in love while picking this forbidden fruit.
Perhaps your man/woman isn't obsessed with anything fancy? Perhaps he/she can't stand the idea of your taking so much pain for one day? So, let's stay low-key with these…
Simple Date Ideas
Simple doesn't mean non-exciting. So, take your partner to these simple dates and win their heart all over.
91. Prepare Ice-cream at home
Everyone likes ice cream but what if you can try a new flavor? Think of some unique flavors with your babe's favorite topping. Flirt and make fantastic ice cream for each other.
92. Try fishing in the river
If you live near a river, this is a great idea, else you can enjoy a long drive to the spot. Spend a lazy afternoon with your lover while fishing.
93. Play Frisbee
Frisbees are quite fun to catch, so get to the playground with your date and relive your childhood memories together. If either of you has pets, bring them along.
94. Attend trivia nights
Go to some popular pub for trivia nights, team up with your partner, and play. Impress him/her with your intelligence, show them you're more than just a pretty face.
95. Learn new languages
Download some language learning software and learn together. Laugh at each other's mispronunciation, teach while you dreamily gaze at each other. It helps you secure another date for yourself.
96. Visit a trampoline park
Who doesn't want to become a child once again? Well, now you can find your inner child together with your partner while jumping on trampolines.
97. Give a shot to couple's yoga
If you're not in the habit of doing some physical exercise, couple's yoga can be quite difficult. So, look forward to a lot of giggles and snickers while you try your best to hold the positions.
98. Donate blood
If you're healthy and have no phobia, share some of your love with the needy unfortunate ones. Give up a little blood and eat something delicious to regain your strength.
99. Indulge in a food truck crawl
Food trucks have unbelievably delish food. Hop around with your partner and immerse yourselves in the delicious street food from the food trucks.
You'll have a great day with your boo and of course, a heartful of amazing food.
100. Go for a road trip
Plan a road trip to a faraway site. It may also take a few days, so spending consecutive days with your lover will make up for your lost time.
Perhaps you just can't stand being simple? You want to do everything for your man/woman and you're ready to hit over the mark!
Here are some…
Over-the-top Date Ideas
If you both find pleasure in luxury, indulging in something outrageous is your cup of tea. Mentally prepare your date for this flamboyant day with an over-the-top date in your life.
101. Enjoy a rich couple's date
Pretend to be a rich couple, test drives some luxurious cars and attend open houses and visit some high-end properties.
102. Hit up the street food stalls
Street food stalls although super tasty never guarantee your health. Now take your chance relishing all kinds of street food from your culture on a Saturday. Make sure you've some digestion pills handy, just in case.
103. Indulge in a house project together
Some people have great skills but never got a chance to implement it. So, start working on making your dream home turn into reality.
104. Ban technology for a day
Smartphones help a lot, but they always ring at the wrong times. Leave your gadgets for a day, indulge yourself in each other's eyes, and keep chatting for hours at the end
105. Have fancy and exotic tea
Nowadays, people are making fancy innovations with tea. If your babe is a tea person, impress them with a fancy and delicious tea like chocolate tea or ice-cream tea.
106. Partake in legal graffiti
Check for places with legal graffiti and make a masterpiece with your partner. Express your love and devotion through your art to him/her. Make it a remarkable date for him/her.
107. Mix booze with "would you rather"
Sip some beer, get drunk and play would you rather. Record yourself on the video to replay later and laugh it out together.
108. Apply makeup on each other
Bring the makeup kit over and give a makeover to each other. The boyfriend may (possibly) not be as good but who cares?
Take pictures after both of you're done and don't forget lip-to-lip lipstick! 😉
109. Visit a novelty museum
Novelty museums are in more demand than regular ones. Do some research beforehand and impress your date with your unusual knowledge on the next date.
110. Plan a multi-course dinner at different restaurants
If you guys' love food as much as bae, then try this idea. Bond while having food at varying restaurants – though it can really have a toll on your digestive system.
Instead of going into anything excessive, you can also try something out of the ordinary. Impress your darling with these…
Unique date ideas
If you want to stand out of the crowd and show originality to your love, you need to think out of the box. How? Don't worry, I got your back with some ideas!
111. Party without power
Turn off all the gadgets around your house, light the candles, and indulge in some board games, alcohol, and great food. And of course seal the night with a kiss!
112. Go silly with the party-poppers
Do whatever you see at children's birthday parties – kiddish games, birthday piñatas, lots of colorful decorations. Awake your inner child together.
113. Why not make piñatas?
Well, this one is time-consuming so it might actually need two dates – double fun! Let loose making and breaking the pinata with your lover while laughing at the mess.
114. Makeover an antique piece
Look for a royal-looking object from your local antique shop, and ask your lover to makeover it according to her wishes. Know each other's likes with this activity.
115. Food sampling in farmer's market
The farmer's market has lots of free food. Take your date out to the farmers market and sample until you're full. Also, bonus points for free meals.
116. Try some YouTube science experiments
Find a few science experiment videos online, buy the apparatus and materials for them. Share your romantic time together with science in your team!
117. Tour a food factory
Remember school field trips? Something like that but a little more romantic. Whisk her off her feet with the cool factory machinery and food sample.
118. Make a time capsule
Write a letter for the future you and your partner ten years from now, put it in a box, and bury it at some special spot.
Years later when you read the letters and reminisce back to this time – I bet, you both will be teary-eyed.
119. Show your creativity on gray roads
Color boring gray roads with sidewalk chalk and have fun expressing your love with your art. Your goal is a happy companion so draw as bad to make him/her laugh.
120. Play pretend-experts
Visit historical places or museums with your date and fake an expert. Make up random stories about the artifacts. It'll get hilarious if more people gather.
If you're planning on a date but can't splurge too much on your date for some personal reasons, you might back out from this idea. Well, I've got great news for you with these…
Cheap Date Ideas
Sometimes, life doesn't stay on track, and money-making isn't always easy. But gone are the days when you sacrificed your dates for money issues. After all, money won't matter with these…
121. Give a makeover to your room
Get some paint and color a dull wall with your imagination but don't tell each other your ideas. Or, change the furniture position and bond while giving a new look to your home.
122. Fill in a scrapbook
Print your favorite couple of pictures from your phone and get a little messy with some glue and scissors… all while you cherish your pumpkin's presence in your life.
123. Play games in a coffee shop
Many coffee shops offer board games during your visit. Check out such shops with your lover and indulge in the aroma of coffee while jogging your minds together.
124. Enjoy a picnic in the park
Relish your takeout on a sunny afternoon at the local park with him/her. Cuddle and lay on the ground together while you brush your fingers through his/her hair.
125. Make unique pies
Look up the ingredients for making a pie but jazz it up with different toppings/fillings. Grab everything from the store and put on some romantic music while working on it.
126. Make your own staycation
Grab some fancy bed sheets, curtains, and scented candles and prepare some drinks. Put on some music, dress sexy and enjoy the romantic time with your partner in your staycation.
127. Go karaoke
Pull-on your singing sock, visit all the karaoke bars in town, and get drunk in your babe's love. Prepare a few love songs to sing for your babe tonight.
128. Learn a card game
Lookup a card game neither of you're aware of, buy it, and try learning it together. You'll unknowingly get really intimate by the end of this date.
129. Go gaga on seasonal sales
Find shops with clearance sales and enjoy shopping to your heart. Buy him/her something nice within your budget and grab some fast food.
130. Visit a close town/village
Catch a morning train to the next town, spend your day exploring hand in hand, and return by the next day. Share the whole day with each other.
Just because these ideas still need some bucks in your pockets, you thought of ditching your date? Have faith in me mate! Here are some more ideas…
Free Date Ideas
If you can't spend money at all, that's fine too. Don't feel ashamed and I'm sure you'll get there someday to buy fancy things for them.
Cherish him/her with these date ideas for loving you truly even when you're broke.
131. Bowl in your hallway
Line up some empty bottles in your hallway and bowl your heart away with your partner. Have fun goofing in the house! Don't forget to tidy up later though.
132. Geocache together
Get the application on your phone and explore your locality of caches while spending quality time with your partner while you breathe in romance in the great outdoors.
133. Try roller-skating
It's even more romantic if either of you doesn't know how to. One can play the teacher and the other student. Skate your hearts off until one of you fall in the other's arms! 😉
134. Share stories from your yearbooks
Dust off your yearbooks and introduce your old self to each other. Share random or memorable incidents at school… Spend the day reminiscing about the good times.
135. Give meditation a go
Meditate and get rid of negativity together. Be the coolest couple in town with great compatibility.
136. Have at-home trivia
Look up some good trivia quizzes online for each other and find interesting new facts together. Add zing with a shot of Tabasco for wrong answers.
137. Ride some playground swings
No matter the age, swings are all-time pleasures. Visit the playgrounds to feel the thrill of teenage dates and fall for their childish selves.
138. Play "Never have I ever"
Explore each other's mischievous childhood memories and share some secrets with your partner (if he/she is willing). Instead of drinking, make them kiss you for not answering.
139. Get back to prom
Deck up in your prom clothes and have a prom night at home. If you weren't together in high school, you'll make new memories, otherwise, jog the old ones.
140. Try three-legged jogging
Tie your legs like three-legged racing, and jog! Although it seems simple, you'll learn to coordinate with your partner with this date activity along with a side hug.
If you want to keep things cool and calm to make up for your noisy heartbeats, you might try something more casual that you might do with friends also. Here are some…
Casual date ideas
Keep it casual if you don't want to overwhelm yourself or your date. If you still feel like a new couple although it's been ages, calm things with some causal plans like these…
141. Grab your binoculars for bird watching
Bird watching can be a great idea for lazy bums but you need to search for good spots, prepare a bird-watching kit, and research about a few birds. Impress him/her with unusual knowledge.
142. Play dumb charades
Silently express your words only with actions. It's so much fun especially when the two of you are making faces and making dumb guesses.
143. Throw axes together
If you're nervous about this date, play with some axes. Let off steam and build back your confidence to sweep off their feet!
144. Shop through the windows
Try window-shopping with your S.O. and try some out-of-league luxurious clothes. If you can afford it, surprise him/her on a special day with a tie/heels he/she picked.
145. Compete with food
Order tall burgers or huge ramen bowls and compete together. The one to finish first gets to choose dessert! Sounds like a delish date?
146. Book couple's spa
Put on your swimsuits and soak in the Jacuzzi together. Sweat in the sauna together. If you think sweat is embarrassing, you're up for a steamy surprise!
147. Enjoy DIY projects
Look up some interesting DIY crafts, and get intimate with this fun and craftsy date. Find more about each other's tastes through this activity.
148. Try still photography
Even if you don't have the skill or gadgets, try capturing some shots with a smartphone. Sneak into his/her pictures and compete on who's better!
149. Make reels or TikTok
Make funny Instagram reels or TikTok videos together and vibe with each other. Although foolish, it's a great way to amp your date.
150. Try Aura Reading
Try aura reading and check if you're each other's soulmates. Although, observe your partner's expression carefully afterward. Are they happy to be your soulmate?
If for any chance you want the total opposite of a casual one, I understand. Perhaps, your man/woman is a completely crazy person?
Get back the adrenaline rush in your veins with some…
Adventurous date ideas
If you guys want to spend some time outdoors instead of staying in or visiting places, try some exciting activities. Make your best pick, buddy!
151. Go bouldering
Try this smaller version of rock climbing with your partner. The difference? There's no support, just a few boulders, and your strength. Strategize your moves together, fall, and love.
152. Soak near a waterfall
You will enter a new world with a "swim or soak together" under a waterfall. Get ready for a dreamy movie-like scene with your babe.
153. Try slacklining
Balance yourself on the line amidst the rocky beautiful nature. If you're new to it, definitely give this heart-pounding activity a shot. What's a better date than two crazy beating hearts?
154. Race in Go-karts
What's better than challenging their inner child with a go-kart on a date? Show them the sport that you are and share a kiss later!
155. Try couple's Kayak
Double Kayaking is a cooperative mission! You need to stay in sync throughout, but it's more fun and romantic trying to sync through your date on a water body.
156. Take a skinny-dip
Skinny-dips are risqué and adventurous. Find a hidden place, talk to your partner, and let them decide if they're comfortable with this date idea!
157. Try your shot with a bow and arrow
If one of you knows archery, you'll have a good time learning/teaching archery. Get intimate while fixing their back posture and hand positions – line it up with a relaxation time.
158. Indulge in a scavenger hunt
Plan a map for your hunt and a few romantic clues. Since it's a date, make the clues relatable to your relationship. Prepare a romantic prize too.
159. Try a day trip
Busy schedules call for shorter dates, so make sure you don't have any meetings this weekend except the one with your partner. Have a good time in each other's presence.
160. Wrestle in the mud
You get wet, you get dirty and it's romantic and exciting to playfully wrestle with your date! Follow up with a good shower and blow-dry each other's hair.
If you're a teen and reading this, you're possibly pissed because I didn't enlist some date ideas specifically for you. But here you go…
Date Ideas for teens
Who said nobody cares for the teenagers? I do, after all, you're our future. I won't deprive you of your school life dates! Read on to know more…
161. Bring out your legos
Dust off your lego set and relish some childhood memories. Relate with each other's lego stories and build something unforgettably romantic.
162. Make a hide-out
Choose abandoned or unkempt areas of your neighborhood and build a secret hide-out or your first home. It may also take multiple dates to complete it… so congratulations on that! 😉
163. Walk the mall ramp
Show him/her yourself in different clothes. See what makes their eyes pop. Know their choice now to mesmerize them at prom.
164. Go bike racing!
Get your bikes and helmets out and race from your house to the movie hall or arcade. The winner gets to choose the movie/game and snacks for the date.
165. Twist "Never Have I Ever"
Say "Never have I ever…" and make your date guess if it's true or not about you. Know tons of new things about each other with this game.
166. Enjoy a Pizza date
Instead of ordering one, try making a pizza together through your date. Choose your favorite toppings and relish on the savory food. Find great secrets through baking.
167. What about an onion-chopping competition?
Take out two onions, record each other's chopping until they tear up. You can find the more sensitive one between you two. Don't forget to wipe out the tears from their eyes, softly!
168. Style each other's hair
Play with each other's hair and style them. Give him/her a complimentary massage. You'll be more intimate and know each other better when you're done.
169. Include them in chores
Call him/her over when you're busy with work. Let them hang around in your living room while you get some work done… they'll also give you a hand.
170. Fancy meals with rock-paper-scissors
Play three rounds each for main-course, drinks, and desserts. Don't stick to a theme!
One day you'll graduate high school and get into college. Hope your love still stays strong till then! But you'll need new ideas once you are promoted to a college…
Date ideas for College Students
Whether you're dating your high school sweetheart or found a new love in college, it's hard to balance studies, a light pocket, and dating life.
Yet, take some ideas from here and appreciate college love.
171. Shake up the shakers
Mix up some booze, with flavors and fruits to make an exotic drink for your babe. Drink and party together with some cheap and fun ideas.
172. Customize couple outfits
Grab some fabric paint and two white t-shirts and a dress. Try something quirky instead of twinning phrases. Look up unique couple designs online.
173. Have a dorm picnic
If you're on a tight budget in college, I understand. Nothing promises a better future than a partner understanding your finances and having a picnic in your dorm.
174. Visit your school
Show them where you played soccer in high school. If you're from the same school, you have more to reminisce about while walking through the hallways hand-in-hand, making new memories.
175. Play dorm treasure hunt
Dorms are small, messy, and the perfect place for a treasure hunt. Prepare a penalty if your boo can't find the treasure in time… a kiss maybe?
176. Go on a campus-date
You have a huge campus, canteen, and games in your college… So why not plan a date around that? Make memories while holding each other's hands or kissing around campus with him/her on your next date.
177. Study in the library
It's a crucial time of your life, so why not study and seek each other's help on your weaknesses? You'll learn faster to impress your boy/girl.
178. Dance-date in the dorm
Download your favorite YouTube music videos and dance to them through your date. It's a tight space so you'll have to adjust in each other's personal space… 😉
179. Plan a hike
If there are mountains around you, grab that date opportunity in the greenery. Climb through the hilly areas, pump up your heart, and hold his/her hands whenever you're tired.
180. Compete in stone skimming
If there's a water body on-campus then use it well. Take him/her to skim rocks on the water. If anyone can't skim stones, learn from each other. Romantic, right?
Moving on from college, you become responsible adults. The sad part is that as you grow up, you can't spend as much time with your lover as you did in school or college.
So, now when you meet on date nights, make sure they are super-fin and super-romantic. If you're still confused, take some cues from here.
Date ideas for Adults
Adult life can get tiring with long office hours. Some days you don't even get to see a glimpse of the love of your life and start questioning the reason behind life. So, let's make up with these dates!
181. Catch a random train
Take a random train ride with your babe this weekend morning. Buy tickets without looking at the destination and visit a new place…. All while being lost in each other's eyes.
182. Tour the cemetery
If neither of you're faint-hearted, go to the cemetery and maybe have a picnic? Trust me it's not scary, moreover, the peace and tranquility are romantic.
183. What about a metro ride?
When did you guys' last talk properly? Instead of talking in a room, go on a metro ride while you chat. You can get off wherever you feel hungry.
184. Plan a mini-trip
You earned and saved a lot, now book those tickets to Venice and enjoy a romantic gondola ride. Watch the pretty Venice sunset as you cuddle.
185. Book a couple's makeover
Get a salon appointment for you two and get a makeover together. Although the results are fabulous, you can make fun of each other throughout the process.
186. Enjoy a mani-pedi date
Instead of going to a professional, give each other's undivided attention at home with a manicure and pedicure session. You can also color your man's toenails! 😉
187. Trespass a closed place
Trespass a shutdown factory or a closed amusement park and have the whole area to yourself. You'll relive your teenage thrill and romance with this activity.
188. Try skateboarding
Add in some new hobby like skateboarding in your dull life. Stay by your love when he/she needs support to learn the activity. Immerse in a youthful romance together.
189. Drive to the rural
Set out for a drive towards the countryside and observe the changing surroundings. Enjoy a rural, pollution-free sunset and return while stargazing or stay till the morning.
190. Camp in the backyard
When you're too lazy to go anywhere, set up a camp in the yard. Take out your barbecue, prepare a delicious dinner, and cuddle in the tent.
Your world definitely changed since 2019 with the facemasks, hand sanitizer, and all the precautions to prevent getting covid. It was a tough time and you must still stay alert with these…
Date ideas during covid
When the world first crashed down with the global pandemic, you didn't know how to cope up with it, and neither did I. But I'll show you how to date through covid because it isn't going away any sooner.
191. Brew up healthy drinks
Look up some important healthy spices to increase immunity and brew some special drinks with your darling. Also, compete at making the health potions tasty!
192. Cook a nutritious Covid19 meal
You can try using all the covid preventive food experts recommended and create a new dish together. You will of course learn so many new things about each other during this date.
193. Solve mysteries together
Buy a murder-mystery kit and engage in solving them together. It's a great way to intrigue your brain, and it might take multiple dates if you both are a novice.
194. Go live on Facebook
Try a Question-and-Answer session on Facebook like celebrities. Your FB live notifications will go to your friends and family. Perhaps dance to a romantic song until then?
195. Get craftsy with Sanitizer
Get the necessary ingredients to make your new daily necessity. Check out ideas on the internet together, don't worry if the plan changes 'cause you just need some quality time
196. Try snowshoeing
Indulge in some physical exercise along with your honey to keep yourselves healthy during this period of crisis. If you have snow around you, what's better than that?
197. Give inline skates a shot
Inline skates are much safer than regular roller-skates, so if any of you is clumsy, pick this instead of roller-skates. You'll feel much calm with your baby's safety ensured.
198. Travel online
Sign up for online traveling experiences from the comfort of your living room or the lap of your sweetheart. Cuddle and find something exciting to watch tonight.
199. Trivia on an old show
Discuss about your favorite old movies or shows and watch one from each of your list. After watching, test one another's short-term memory with some questions about minute details.
200. Plan a romantic getaway
Plan a vacation for the times when this pandemic will end and you both can finally step out.
Write down each of your dream destinations, swirl them in a fishbowl and pick up a chit. Now plan your whole itinerary for this getaway.
Well, covid didn't come alone, did it? It brought along its partner in crime – quarantine! If you're quarantined again yet, I know just the right ways a couple can cope with it.
Quarantine date ideas
Bet you didn't know how bad quarantine can get unless you faced it. Work from home basically works all the time, you can't step out of the house, and even if you're home, no privacy!
But this doesn't mean your date nights need to be lifeless too. Here are a few fun date ideas even while you are quarantining.
201. Make a Masterchef video
Awaken your inner Masterchefs to make a great dish together and shoot it on video. Later on, don't forget to upload it. Make the best of this crisis together.
202. Twist your s'more recipe
Get on with bonfire and custom-make s'mores for each other. Indulge in each other's love to get rid of the frustration. Escape from the daily boredom to a romantic date tonight!
203. Make a hack video
You and your bae might have some tricks up your sleeve nobody knows. Why don't you make a hack video and share it with the world during trying times?
204. Innovate in the kitchen
Do you know all the uses of your kitchen appliances? Bet you don't! Look up some creative and unique usage of your appliance, and try making something new together.
205. Make cute face-masks
Sit down on the living room floor with all the necessities and make one another cute/sexy face masks. Have a heart-lightening time with each other amidst the chaos.
206. Window-shop online
Look up wedding outfits online and rate them. If you're not married, you'll get a cue on impressing your darling with your elegant white dress!
207. Twist guessing games
Perhaps, share screenshots of items and make your darling guess its price. You can also discuss how absurd prices are now and were back then in your college days.
208. Relive precious memories
If you're married, watch your wedding video, flip through wedding albums or scroll through your FB tags from the wedding day. Take a stroll down memory lane.
209. Binge-watch YouTube
Although you have Amazon Prime, Netflix, yet some creative videos are only available on YouTube. Watch the videos that made you vibe back in your early dating days.
210. Challenge your inner child
Video game competitions are great but how many of you know the cheat codes to it all? Try up all the games at hand as long as possible… and make sure to beat your date, buddy. It's a different kind of fun and satisfaction.
Once you're released from house arrest… oops, I meant quarantine, you were still asked to maintain some distance from human contact or as we all call it: social distancing.
How would you date in the times when you're asked to stay away from each other? Keep reading to find out.
Social distancing date ideas
You finally got a breather out of the four walls, but you must prioritize your safety before romanticizing this moment. I'll show you how with these amazing ideas we can spend some joyous time together…
211. Try riding a helicopter
Ride a helicopter at night and enjoy the serene view of the empty city roads. It's adventurous and you can relax around without worrying about the distancing norms.
212. Drop with a parachute
If you live for the thrill, relish the thrill of falling from the sky with a parachute. Feel as light as the feather with your S.O.
213. Go river rafting
If there's a river around you, try rafting with your sweetheart and adore water splashes while you row through the ups and downs together like in real life.
214. Hit up the golf course
Try golfing with your partner in an empty field. Compete to hit the cup with him/her while maintaining social distance. Don't hug him/her impulsively in public!
215. Book a patio dining table
Choose a not-so-busy restaurant with larger gaps between tables. Avoid buffets to ensure your and your honey's safety amidst the pandemic.
216. Attend drive-in movies
The drive-in movies became a hit during the pandemic. So don't miss out on this chance of a drive-in movie date with your darling in the comfort of your car.
217. Plan morning dates
The rush is quite less in the morning so a date in the morning ensures your darling's safety with social distancing. So, step out in your pajamas, mate!
218. Have neighborhood dates
If you live around other couples, mail them at their email addresses to plan a balcony or yard date. Fix a time to have fun with your dates, all together.
219. Go on social distancing camps
Camp together with your neighbors. Each family must maintain their distance from others which is a great excuse to stick to your babe all day long.
220. Take online gym classes
The quarantine has made your bones stiff so why not enroll for some online fitness courses? Help each other get the exercises right and lead a healthier life together.
Covid was always a gloomy topic. You and I, both lost many loved ones. But the goal is your date, so let's move on to something more romantic like…
Valentine's day date ideas
After covid, your views on a life possibly changed. Perhaps you still avoid crowded areas? Or, you want some alone time at your home's comfort? No worries, let's keep romanticizing!
221. Check out a yard sale
If you want to give something to your cutie despite your money issues, then check out a yard sale around your locality. It'll mean more than a gift to your man/woman.
222. Prepare a fairyland
Get some fairy lights, tinsel, and red paper (cut it in a heart shape!) to decorate your room and surprise your sweet potato on a low budget! Prepare some food and cuddle.
223. Prepare a princess' bath
Get some scented candles, a bath bomb, and perhaps a squishy duck to prepare your princess' bath. Decorate the room with candles, rose petals, and your favorite dinner.
224. Custom-make teddy bears
Buy some cotton and fabrics and hand-sew them together. Explore some YouTube videos if you're not sure. Whatever you make, is your honey bun's gift for this year!
225. Arrange a swing chair date
Rent two swing chairs and decorate them with fairy lights, white blankets, pink and white balloons and get them out in your yard. Have a romantic meal under the night sky with candles.
226. Create an artsy surprise
Draw her favorite character or a romantic scene on your place's floor with red chalks. Draw a maze around a gift box with you inside holding the actual gift.
227. Make a personal cinema hall
Set up a projector and a huge screen in your living room or bedroom. Project your favorite show from your checklist. Make some chocolate-drizzled popcorn for snacks!
228. Prepare valentine's chocolate
The classic valentine's chocolate from the store is nice, but it can be tastier if your sugar pie makes it along with you. Don't forget to grab the ingredients together!
229. Do the classic proposal
If you're planning to marry anytime soon, take this chance to propose to your soulmate this valentine's day! If you're married, proposing once again will be silly, romantic, and cute.
230. Record yourself and play
If you're good at singing, record a few songs for your teddy and play… all while you go for a long drive or drive to your actual date destination (restaurant).
Speaking of proposals, the ideal day for one in western culture is Christmas! So how can we leave it out of the list? You were probably dying for the…
Christmas date ideas
Are the bells of your heart jingling already because of Christmas? After all, it's the best time of the year when you can cuddle along with your bae, and what else? I've got you a few plans down here!
231. Head out for a hot beverage crawl
Go around town to taste the Christmas special hot beverages from every shop around with your chocopie. It's a great way to get undivided attention on this special day.
232. Go Christmas Caroling
Show up at other newlywed or couple's homes with some gifts and get down to caroling with your gorgeous "elf". And don't forget to practice some carols beforehand.
233. Challenge him/her at caroling
Compete with your man/woman at how many Christmas carols you can sing whole from the beginning to the end. The winner will get to unwrap their Christmas gift first.
234. Bring out old-school Christmas movies
Watch some old Christmas movies with your babe. Buy some cake and wine to set up the Christmas mood. Cuddle and go wild tonight. 😉
235. Make a charcuterie board
Go shopping with your love and prepare your Christmas special charcuterie board. Show off your culinary skills on Christmas and help yourselves to a hearty meal.
236. Enjoy with Gingerbread houses
You can either build a gingerbread house together or compete at making two different ones, that's completely your call.
237. Decorate for Christmas together
You'll feel great to get a helping hand for decorating a Christmas tree or the complete house. Introduce your love to the plan and hit it off with this year's décor.
238. Try baking fancy cookies
If you two love cookies, give a shot at baking Christmas cookies. Enjoy the cookies with milk later. After all, you're each other's Santa!
239. Donate to the unfortunate
Gather both of your old and unnecessary childhood clothes and toys. Donate them to the unfortunate ones. Share some love with orphans, this good deed will definitely follow you back.
240. Grab a sled
If you can access snow and hills, try sledding together with your boo. Don't forget to layer up your winter wear because your boo's love isn't enough for the cold outside.
But there are couples who defy borders of states and countries and still work their relationship with faith and immense love. To those fighters, this one goes out for your strong bond.
Long-distance relationships were always a thing! People told it won't work, demotivated you without knowing your boundaries. But now that you're committed to yourself, let's make it fun with these…
241. Experience couple's reading
From a couple's tarot readings, you'll build a stronger connection and find ways to solve your current problems together. You'll stay longer if you fight together for a harmonious future.
242. Watch animal webcams
Since you can't do anything outdoorsy together, animal webcams are to your rescue! It's virtual, cute, you can share the screen and drown in the cuteness of different animals.
243. Play jeopardy together
You can either play online jeopardy or customize one. Test your knowledge about each other. You'll find it interesting once you start knowing more crazy things about one another.
244. Try the Newlywed Game
If you know your sweetheart for a long time and think you know him/her the best, then indulge in this game to prove how well you treasure him/her.
245. Relax with VR museum touring
If you're into historical things, tour VR museums together in any part of the world together. You'll save traveling expenses for more romantic dates or gifts for later.
246. Sign up for mixology classes
Learn the art of making cocktails together on this date and awaken your inner mixologist. Rate each other's art and relish on the drinks with a heart-to-heart chat.
247. Write a story together
You and your love will write one sentence alternately to make a meaningful story. Share your screen or simply text each other to test your cooperative creativity.
248. Find the key to exit game
Play online exit games together and brush up on your teamwork. Prove that you are made for each other and impress your honey with your intellectual skills.
249. Play two truths and one lie
If you're a new couple, this game is always a standard way to know everything about each other. If you're an older couple, check if your babe really knows you.
250. Online dinner surprise
Order a meal for you and your partner or order each other's meal. Connect online and relish the meals together in each other's presence through the screen.
Other than virtual dates, thanks to smartphone apps like facetime that allow you to see your lover's face anywhere, anytime in this world. For a little more spice to LDR's, check these out.
Facetime date ideas
Other than LDR, many couples chose facetime during quarantine as they weren't fortunate enough to stay under the same roof. If you're running out of reasons to facetime, here are a few plans for you.
251. Enjoy your facetime ramp walk
You shopped and can't wait to meet your babe to show your haul? Well, be your babe's runway model on FaceTime to know what's yay and what's nay for them.
252. Watch a prime show with screen sharing
Share your screen for a horror or tragedy movie while staying on facetime. You'll learn more with your reactions to different scenes as you miss these while sitting side-by-side.
253. Compete on facetime
You can compete on singing, dancing, acting, making funny faces, literally anything with a facetime call. Rate each other's performance to know how honest you can be.
254. Try scavenger hunting on a smartphone
You can do it with items in your rooms or with pictures on your phone. Give clues to each other and see who can find the object first.
255. Snuggle till you sleep
When you're tired or just not feeling it, stay on facetime, put your phone on charge, and get cozy under the blankets. You can sleep or get naughty, it's your call!
256. Chat while drinking
Grab onto some booze and sides, put on a sexy outfit before facetiming. Drink your sorrows away or celebrate something great together since drinks can go with all moods.
257. Play Mad libs together
If you know about ad-libs, this is nothing different. You two will line up words alternately to make proper sentences. It'll compliment your date with lots of laughter.
258. Party with presentations
Who said you can only use it for work? Give each other simple topics and make presentations in short times. It's a great way to express your love!
259. Play Pictionary
Draw and play this guessing game together. You may find the worst sketcher between you and make fun of each other's skills throughout this date.
260. Read with some drama
Read outrageous reviews from unsatisfied customers and add up matching expressions. Score your date's performance! You can also turn up the heat with A-rated books or articles.
If you guys' plan to meet up this summer and leave online dates behind, I'm glad to hear that you finally got the chance.
Summer date ideas
Depending on your country, summer can be warm, humid, or just scorching! Here are some ideas keeping most of the situations in mind. Do your research well before you implement these plans for your darling.
261. Watch outdoor movies
If there's any outdoor movie arrangement in the vicinity, definitely try it out. Watching one under the starry sky is romantic and calls for the perfect time to snuggle.
262. Run a marathon
Join a local marathon race together to impress him/her with your fitness quotient this summer. Boost your endorphins to feel your man/woman's love harder than ever.
263. Play beach volleyball
Visit the beach and play volleyball in the warm sand. Play hard to increase intimacy. You might get lucky enough to slather sunscreen on each other too.
264. Scream at a summer match
Get tickets to your favorite sports this summer. Scream your lungs out together cheering your favorite team. Strengthen your sense of unity on your summer date.
265. Go tube floating
Pick out your fancy tubes for this one. Go down the river amidst the lush greenery of nature with your babe. Take your time chatting or playing guessing games together.
266. Legally hit the pool
Trespassing into hotel pools might not sit right with you. Instead, rent the pools for a few hours and enjoy a swim together along with a few drinks.
267. Learn to open oysters
Oyster opening or shucking is an art. Learn this from online tutorials on your next date and savory flesh together. It also helps stimulate your woman's libido!
268. Have a juice party
Go to a nearby orchard and pick your favorite fruits. Return to make each other a fancy juice without checking the internet. Share the kitchen space together to get more intimate.
269. Make alcoholic delicacies
Ice creams are the best for summer but twist your ice pop recipe with some alcohol. See how many ice pops it takes you to get tipsy and high.
270. Go to an outdoor concert
Bands around your locality might hold outdoor concerts. So go support them to grow their band and your love for one another while you sing along.
If the rainy season is around the corner, some people feel anxious, others feel great. But mostly, going on an outdoor date becomes troublesome. Don't fret because I got your back with some…
Whether you guys like rain or not – have faith – there's a date plan for everybody. I know is it tough dealing with the rain because you're afraid of spoiling your outfit?
But why not wear your raincoats and splash some water?
271. Go slow dancing
You can put on your raincoats or just get wet while slow dancing in the rain. It's even more romantic to have a hot beverage after a hot shower/bath (perhaps, together?).
272. Hop on puddles
If your inner child delights you at the sight of rain then put on your trench coats, and pull your babe out of the house and hop on some muddy water.
273. Build a fort
Do you remember making forts with blankets on rainy days? Relive cozy childhood days together in each other's embrace. Promise your babe to protect him/her from a romantic ambiance.
274. Pass the baton indoors
Try relay racing inside the house but keep changing the baton as you run from one room to the other. Run through the house and fall in love once again, amigos!
275. Try indoor obstacle racing
Create random obstacles in the hallway, living room, study, bedroom, or wherever you want and jump past the obstacle in your house. Trip in love, not over the obstacles.
276. Pretend there's no rain
If you don't like the rain, get crafty and paint cacti on cardboards. Spend a day together indoors, breathing each other's presence, after all that's what you want, right?
277. Enjoy the pitter-patter
If you love the pitter-patter of rainy days, then shut down all the gadgets and get rid of any distractions. Snuggle up with your babe to listen to the calming sounds.
278. Do a quick clean-up
Go check your wardrobes together and see which clothing you can reasonably discard. If anything's undamaged, donate it to charity- spread the love!
279. Rain over me
Not the song! Lie down together in the rain with your trench coats on. Enjoy the raindrops on your face. Enjoy the soothing facial massage with your love.
280. Host horror story recital
Switch off all the lights, light your fireplace or a few candles, and cuddle under blankets. Hold a torch under your chin, goof around with your babe and cuddle some more.
The seasons keep changing but your love for your partner is constant, or perhaps growing every day? If fall is around the corner, you've got more ways to express your love to him/her with a few…
Fall date ideas
Fall calls for excitement because the festive season is around? It's the season of changing colors and showing your undying love and care for each other. Make sure to pick a great plan.
281. Pick pretty leaves
If you have unique-colored leaves around you, go hunt some pretty leaves. Take a box each and compete at picking the prettiest leaves around your locality. They'll make great memories.
282. Awaken the patissier
Bakeapple cider donuts at home with your darling and make the best out of this season. Add in some special surprise ingredients in every batch… for surprising delicacies!
283. Drown in fall booze
If you like craft beers, it's time to make your own homemade craft beer. Look up some recipes and try your hand at it. Taste test and score each other's talent!
284. Do a halloween movie trivia
If you want to stay in and like horror movies, this one is a great way to spend your evenings before Halloween. Test your boo's knowledge about the creepiest things.
285. Make scary costumes
Find some fancy clothes and make simple Halloween costumes for your babe this fall. You have to wear each other's masterpiece even if it's hilarious… because that's the goal!
286. Shop spooky costumes
If you're not the crafty type then skim through the stores for your darling's Halloween outfits. Choose and buy for each other for this special celebration.
287. Go cider bar hopping
If you guys' love cider as much as each other, then hop through them this season. Check out the nearest ones and also beyond. Go on day trips for multiple dates.
288. Check out seasonal fests
Visit the raging pumpkin carving festivals of this season. Admire the beautifully carved artworks from all the competitors. Let your babe fall in love with you amidst the pretty lanterns.
289. Hit up a pumpkin patch
Marvel at the scenic beauty of a pumpkin patch, make Instagram reels or click a few seasonal pictures to reminisce about this date in the future. You can also picnic around there.
290. Hop on a hayride
Enjoy a hayride together on a nearby farm. You can also look for spooky hayrides in your vicinity to get the seasonal feel. Relive this classic teen date together.
If fall's gone then you're completely in the festive season. This calls for a lot of celebrations for the festivities. This winter, instead of cuddling up in blankets, cheer up with these…
Winter date ideas
The wintry breeze might only remind you about hugging your man/woman for more warmth. But you can have more fun this winter if you're mindful of the occasions in your locality! Try some like…
291. Shop a Christmas tree
If winter is around, then Christmas must already be knocking at your door… then definitely include him/her in Christmas tree shopping.
Know their tastes better, because someday you'll have one tree for you both.
292. Go see festive décor
You can crawl through town lazily to watch the festive lightings together. Take a drive to avoid the cold with one hand on the wheel and the other holding him/her.
293. Do HIIT face-off
You can beat the hell out of freezing cold with exercise. But it kinda gets boring with time. So, challenge your partner into a heated high-intensity training to enjoy.
294. Try mini-skydiving
If real skydiving makes either of you uncomfortable, try a skydiving simulator to enjoy the thrill of falling from the sky. Hold onto your partner's hand and take the leap of faith
295. Make some yum-warm drink
Make the best warm drink for this season together with your love – hot chocolate! Grab some chocolate from stores, melt them at home, and add your own twist!
296. Go hot chocolate hopping
If you're feeling lazy or want a great outdoors date, then take your babe to taste all the hot chocolates available in your town. You won't even need dinner!
297. Paint with icicles
If your windows are stuck with icicles, pluck them up, and start painting with them. Compete at making the most sensible painting together or make fun of the failed attempts.
298. Make snow fairies
Lie down on the snow in your yard and make as many snow fairies as you can. Have a stroll down memory lane while you enjoy it together.
299. Make a snow castle together
If you can see snow outside, share the joy of making a snow castle with your partner. Bring the beach to your doorstep and enjoy a friendly competition with him/her.
300. Twist snow candies
Take fresh and clean snow from your yard and try making as many sweet dishes with it. Use cream, sweeteners, and everything you love. Have some finger-licking sweets together.
But if you're a foodie – well who isn't? Then you might revolve your date around food. Well, if you aren't busy, lunches make more sense because you're too tired at night. Surprise your hon with some…
Lunch date ideas
If you're both working, you'll need to squeeze your lunch breaks. Else, the weekend is the only choice. After all, you need to recharge at home after dinner.
301. Pick an exotic meal
If you're western, try out Asian food to spice up your lunch dates. Keep your bae's allergies in mind before choosing the restaurant.
302. Explore cheap eateries
If you don't want to splurge, explore the cheapest eateries out there and make a whole sumptuous meal from a variety of inexpensive ones.
303. Reserve a balcony table
For a classy date, enjoy a view from the balcony table with your babe. If there's a pretty scene nearby, you'll score a goal in your love's heart.
304. Exchange lunch
Hassling work and romance can be fun if you grab lunch from your office canteens, and exchange them. Have a small getaway in between work hours and de-stress with romance.
305. Walk and eat
If your babe just can't sit still then grab some finger food and drinks. Have your lunch date on your feet and don't forget to wipe off the ketchup from your partner's lips! 😉
306. Go on one big lunch
Buy that extra-large bowl of ramen and share it with your man/ woman. You can share from the same bowl or get an extra plate. (Also save some cash for later.)
307. Go heavy on starters
Try having all the starters from one or multiple restaurants. If your partner likes more flavors this will be a hit lunch date he/she'll remember and might want this again.
308. Binge on desserts
If you guys have a sweet tooth then instead of the same style lunch menu, enjoy a meal with desserts only! Have a slice of all kinds of cakes available.
309. Visit a book café
If you two have a mutual interest in books, then this is it! Have all kinds of quick bites with him/her while you browse through the books and share your thoughts.
310. Grab the dollar menu
Select a fast-food chain together and go berserk at the dollar menu of the restaurant. Relax! Binging one day on oily food won't hurt either of your fitness goals.
If you totally can't make lunch plans, you have no choice other than dinners then? Here you go then.
Dinner date ideas
Nightlife offers many pretty views under the serene dark sky. That's why your love finds it more romantic! So, pick out your best outfit and deck up like never before and pick a classy date idea from the list below.
311. Reserve a rooftop table
If you want a pretty scene for your date night, then opt for the rooftop views. Savor the dishes with the reflection of a million stars twinkling in your eyes.
312. Hit a cook-it-yourself restaurant
You can find such setups in Japanese-styled restaurants. Let your food cook while you have a leisurely chat. You also spend more time with one another.
313. Do coffee dinners
If you don't have a busy schedule the next morning, ditch the watch with a coffee dinner. Stay up late while dining with your love and savor this moment.
314. Dine by a museum
Check out a museum café where you can appreciate art along with befitting food of the same theme. You'll feel like a time traveler out on a romantic getaway.
315. Groove to the music
Enjoy the nightlife in your town! Dance your heart out before dining with your partner. Request your partner's favorite songs to the DJ and groove to them.
316. Crawl through bars and pubs
Taste test all the exotic hard drinks together through all the bars in your locality. Don't drive on your date night because your love's safety comes first.
317. Grab night-concert tickets
If you two have a favorite performer, grab tickets to their concert and enjoy the night tuning your hearts together with the lyrics of the songs.
318. Book a fancy hotel room
Search for a high-end hotel room with a pretty view and classy food options. Order dinner in your room and enjoy your time getting intimate.
319. Try shooting
Few shooting clubs stay open all night. Get rid of your frustrations together and enjoy a lavish meal following that. Stay strong with a healthy mind together.
320. Indulge in motorcycle riding
If you guys love to stay up on thrill rides, then go motorcycle riding late at night in the cool breeze. And with safety in mind, speed up on empty roads.
Speaking of night, perhaps you chose the dinner date because you want to surprise your date with a birthday bash? I have more to say about that, so hear (read) out my…
Birthday date ideas
If your S.O's birthday is knocking on the door, you have to blow away their mind. Because who else will they expect tender care and kindness from? Here are some plans for you!
321. Try old-school letters
Gift a box full of hand-written love notes with everything you like or hate about him/her. Choose words carefully and wrap all the significant happenings of your life as a couple. You'll bring them to tears…. Happy tears, of course!
322. Prepare a performance
If you can sing, then prepare a song. Or play some instrument if you can. Choose something romantic, meaningful, and linked to your memories. Remind them of the good times.
323. Visit his/her hometown
If it's far away, it may take more than a date. Set off on the birth date and prepare some board games for passing time and making it memorable.
324. Pretend-play awkward
Recreate your first date behavior (not the date) which was possibly pretty awkward. Play your part and thank them at the end for standing tall with you for so long.
325. Visit a vineyard
Fix a day out at a vineyard and enjoy the juicy fruits together while you chatter away or roam about the lush green grapevines.
326. Make an appreciation presentation
Gather all the pictures of every age of your babe, and make a presentation with a comment about the pictures. Show how much you love him/her with adorable compliments.
327. Rent a treehouse
If you can splurge, go on a short vacation in a treehouse and enjoy your time amidst the greenery around the house. Indulge into each other's warm heartbeats.
328. Barbeque his/her favorite meat
Make his/her birthday special with a BBQ night. Pick out their favorite meat and veggies and be their personal chef for a day. Or, serve them as a butler does.
329. Invite their family
Surprise them with a knock from their family members early in the morning. Party with the family until afternoon and go easy on the evening date with your regional birthday meals.
330. Do the classic surprise
Pretend you forgot their birthday, keep them away on errands, and get all the décor right. You're all set for the birthday surprise once your baby returns.
This reminds me, how old is your relationship or marriage? Is it almost another year or is it like six months to it? Whichever it might be, you can always take some date inspiration from…
Anniversary date ideas
Your partner always expects a little something on anniversaries and the bar keeps rising higher after marriage. Since anniversary dates are predictable, you can start planning these a month before your day!
331. Charter a cruise
Surprise him/her with a dinner date on a cruise. Arrange the whole day's plan on the cruise, under the open sky. Celebrate with a few drinks and cuddles until mealtime!
332. Gift him/her a pup/kitten
If he/she loves dogs/cats but hasn't gotten one yet, this is your best bet! Buy a pet for them that they have been wanting for so long… and show how much you care about them.
333. Make a living room memory lane
Decorate your room with all the pictures of your dating life till now. Fill a balloon with favorite flower petals and prick it over their head to make it romantic.
334. Arrange a fairy-tale surprise!
Buy her a dress the same color as her favorite princess (avoid imitating to keep it a surprise). Wear the prince's dress color to enjoy a fancy date… vice versa for men, of course.
335. Go down on one knee
No matter if you're a male or a female, or if you guys are married, confessing your love and proposing to each other (once again!) always feels special for both!
336. Go back in past
Prepare a date where you guys first met. It doesn't need to be where you proposed or previous dates. Reminisce about when you had no idea while crossing each other.
337. Book a musician
While you have your dinner in the dark with candle lights, let the musician play their favorite songs in the background. Express how much you mean to each other.
338. Hit up the Theme Park
Take him/her out to their favorite theme park and delve into the facilities in each other's presence. Make him/her feel like a real prince/princess on your special day.
339. Head out to the hot springs
If you guys are stressed, then visit the hot springs in your locality. Soak in the warm bath and let the salts do their magic while you chill together.
340. Replay your wedding
If you're married, get married once again! Go to the church, wear your wedding outfits, buy the same bouquet, and say your vows once more! God bless you both.
If you guys are bored with just the two of you having fun, or you just think "the more the merrier", you might want double dates. But what might be interesting on a double date? Here's your answer…
Double date ideas
If you have other couple friends, it feels great to share the vibe and make more memories. Make it feel like "romance is in the air" with some of these unusual date activities!
341. Raft through ripples
Rafting is perfect for double dates if you guys can do great teamwork. Have fun bobbing up and down the river currents to break a sweat together.
342. Glide through parachutes
Try tandem paragliding or couple's paragliding and double the fun with this double date. Shoot each other's glides through the sky to capture this fascinating moment.
343. Zorb down the hills
Roll down the track in four zorb balls to enjoy your double date. Make sure to choose a shorter track to prevent any accidents during your amazing time together.
344. Give a shot to parkour
If you're super athletic and have amazing stamina, then start this free run-over obstacle to make him/her happy. The more the merrier so even triple dates can work.
345. Go orienteering
Split into two teams and navigate through the green woods with a map. Enjoy running about like little kids in love through the woods. Great excuse to split, right?
346. Play soccer on the sand
Beach soccer is a great group activity so engage both couples in it. Be a little more intimate once everyone gets tired of playing… I know you've been eyeing that! 😉
347. Hit the ball
Engage in cricket or other field games if all of you are crazy about it. Split from your partner to play and flirt hard during the game and later.
348. Try a field trip
Join another tourist group and enjoy childhood field trips together. The guides might take you sightseeing, in various known or unknown places. Feel the romance through the bus trips.
349. Play marshmallow challenge
Build the tallest tower to support your marshmallow (the real one, not your partner!). Relish this group activity while you sneak glimpses of your hard-working partner. Bonus: Loser makes s'mores!
350. Play Pretzel or Twister
Get a Twister board or draw your own with chalks! If your buddy knows, he/she'll get you physically intimate with your partner in this game. Don't forget to return the favor!
If you're studying or working hard for your future, you might need to fly around. All of those who feel left out because you can't go to date nights because of the immense distance, here you go!
Long distance date ideas
Kudos to those of you juggling school/work and a long-distance relationship! I'm not being sarcastic, you're great in your own unimaginable ways.
So, how can I leave you guys out? Hope you enjoy it!
351. Enjoy a hearty QnA
Try out an online question-generating app to avoid any misunderstandings on your date. Know one another a little more with the questions, or check if you read them right.
352. Laugh together with funny clips
You can do this on Instagram while staying on call. Share funny videos from your feed or explore other platforms to send each other funny clips and laugh it out together.
353. Take each other on virtual picnics
Go to a picnic spot around you, video call your partner and show them the pretty view around you. Be each other's personal guide on this date.
354. Browse online houses
Search houses on property sites and rate each of the properties together. Talk about your dream houses and share your expectations from life. Express that their dreams matter to you!
355. Play This or That
This or That can be the icebreaker in your relationship if it's a new one. You can spice it up with your own twist to make it more interesting.
356. Play virtual board games
Compete on a round of chess or mah-jong for an anytime-anywhere date with your babe.
357. Play with filters
Apply funny filters on-call and post them online. Make your friends tell you the funniest one or do it yourself. The goal is to spend time together while showing a little love!
358. Map goals!
Spill your thoughts to make future goals or couple goals and achieve later when you live together. Promise your partner that someday you'll cross all the boundaries and turn them true!
359. Answer character quizzes
Still wondering what kind of person they might be, because you didn't get enough chances to (I understand!) then take some character tests. Know each other better every day!
360. Try fidget toys
If you guys have anything quirky to fidget about… you know, like stress-relievers… show it to each other and give an ASMR-like experience to soothe your partner's nerves.
When you'll finally meet your long-distance partner, you might go blank. It's normal, happens to everybody in front of their romantic interest. So here I am to save the day with…
Picnic date ideas
If you want to enjoy a meal in the great outdoors and also want your partner along, a picnic date is the best bet. You can also club your picnic dates with some fun pastimes like here…
361. Experience a chocolaty date
Each of you must bring different chocolate assortments and dive into a chocolate world. Guess the exotic ingredients inside it. Share each chocolate in half to create a romantic ambiance.
362. Compete in Sushi-making
Pack all of the ingredients for your Sushi platter to your spot. Indulge in making Sushi together while basking in flirtatious glances. Taste test each other's masterpieces and rate them.
363. Twist the tag game
Blindfold your partner and start playing tag like innocent children, unless you want to surprise him/her with a longing kiss (make sure your spot is a couple-friendly area!)
364. Appoint a chef
If you feel like spending more, appointing a chef for a fancy meal outdoors is also an option. Make them feel special with all the luxe and grandeur!
365. Hop on alphabets
Bring your alphabet hopping mat along to your picnic spot and work up your man/woman's appetite. You'll feel great jumping amidst the natural environment beside your love.
366. Lease a tortilla machine
Tacos are great picnic food so if you guys are into it, then lease the machine for it. Indulge in preparing your unique tacos while you enjoy one another's warmth.
367. Book a flowery spot
When he/she isn't allergic to flowers, take them to a flower garden picnic. They might ask you to take Instagram-perfect couple pictures so keep your sweetheart and power bank nearby.
368. Play hide and seek
If there's enough greenery around your picnic spot, return to your old days and play a few rounds of hiding and seek. Top it with a kiss when you finally catch sight of each other.
369. Jenga!
Take your Jenga kit along with your picnic essentials and indulge in this game on the spot. Tease your brain and develop your strategies. Learn to tackle real life together!
370. Play the Pocky game
Grab some Pocky sticks (Japanese stick-like snacks), challenge him to hold on to it till the last bite (oh! And make sure it's a couple-friendly area). Kiss lots with this excuse!
If you're feeling like going on an exotic date instead of a laid-back one, there are many like the sea or the hills. But let's start one at a time lest I overwhelm you. Check out some fancy…
You think the beach means you'll splash saltwater at each other and that's all? Here are some fun ideas to try other than playing with water.
371. Fly on a board
Experience the joy of flyboarding together with your partner. Try to balance yourselves like you balance your life together through the ups and downs of your dating life.
372. Go parasailing
Enjoy the thrill of flying like a kite with parasailing! It's even more fun when you do a couples' one. So don't forget to opt for that romantic arrangement.
373. Go seashell hunting
Put on your swim trunks and hunt for cute shells throughout the beach. Compete at finding the prettiest shells. Keep the best ones as a memory of this romantic day.
374. Sunbathe together
Apply sunscreen on each other, lie down together on the beach mat. Grab a coconut or ice cream and you're all set for a romantic and lazy beach date.
375. Dive in deep waters
Hit the ocean bed with your diving outfits. Go scuba diving together and show your man/woman the mysterious and colorful life under the ocean surface with only you two.
376. Ski on the waves
Go high on adrenaline with a water-skiing lesson or competition. Teach one another new tricks to enjoy an electrifying and unforgettable date with the love of your life.
377. Surf on the waves
Choose each other's surfing board and the safety of one another while getting ready. Fight with the waves while you struggle. Start with the smaller waves until you master them.
378. Fly a kite on the board
If you guys visit the beach on a windy day then definitely indulge in kiteboarding with your babe. Race through the water surface with your babe romantically making extraordinary memories.
379. Bodysurf through the waves
Put on your swimsuits, ditch the board and swim on the waves. Stay together and keep an eye out for each other to safely enjoy this beach sport.
380. Stroll and eat
Stroll through the beach and enjoy all the exotic food on the beach coast. Get food for one and bite on the same food to make it more romantic.
If the high ranges attract you more than the sea-side, but you're afraid you don't know what to do… I'll let you in on everything you can do together on your date with some of these…
Mountain date ideas
Mountains bring in a large assortment of opportunities other than their scenic beauty. It doesn't matter if it's covered in snow or full of greenery, there are endless date ideas in higher places like these…
381. Try via Ferrata
Try this safer alternative to regular climbing to ensure your partner's safety to the next level. Challenge yourselves to overpower the mountains together to reminisce about them afterward.
382. Bike on the rustic terrains
Grab or rent two mountain bikes and go on a new trip towards the unknown. Ride your bicycles through the mountains and achieve new couple goals in life.
383. Try trekking
If you two are sporty, don't forget to trek on one of your mountainside dates. You need great stamina to complete it so support each other through the rough terrains.
384. Go view the canyons
If you want a laid-back date that doesn't include any sports then go sightseeing the canyons of your mountainside. Make him/her feel majestic while absorbing the immense beauty.
385. Explore the canyons
If you're sporty enough, then try canyoning together. You both need extreme stamina for this date activity. You'll take your relationship a notch above after this date.
386. Hop on a cart
Try mountain carting and race against time with only each other's thoughts in mind. Compete in this activity on the rough terrains and enjoy the rage of racing together.
387. Climb on the ice
If the mountains around you have solid and sturdy ice formations then climb through them for a new experience. This is harder than rock climbing so support your S.O. well.
388. Try abseiling
Instead of climbing ranges together, try descending the ranges with harnesses around you. Enjoy this adrenaline-pumping activity with your love and capture some nice shots of each other.
389. Go hunt for mushrooms
Show off your not-so-regular talent of identifying edible mushrooms to your love and appeal to them with this exotic activity. Taste the mushrooms together or preserve them for later.
390. Try couple's hang gliding
Glide through the air like two birds in love or "lovebirds". Engrave this exciting moment of togetherness while you fly across the water bodies around the mountains.
If you have great water parks or pools at your disposal, grab the opportunities to enjoy them well. You might think it's boring to laze around beside the pool, so let me change your mind with these…
Poolside date ideas
You're taking your date to the pool? Great idea! To have lots of fun in the water, you can combine it with some of the date ideas below.
391. Play finders-keepers
Toss something waterproof and expensive in the pool. Swim to the bottom to find it. Whoever finds it, owns it. You can prepare a surprise for your partner this way.
392. Scavenge a water bottle
If you want to increase the difficulty of your pool game, then toss in a water bottle! It becomes really difficult to spot unless you get the perfect angle.
393. Shoot them!
Get your water guns ready and annoy them to your heart's content. What's love without being annoying to each other? Try not to aim at the face for safety standards.
394. Toss the water balloon
Fill some balloons with water and play catch with them. You'll laugh at the difficulty of the game. Don't let the balloon burst in your hands so keep tossing quickly!
395. Race in the pool
What's a little pool date without a swimming race? If either of you can't, then learn it together. It'll make the whole date even more romantic and fulfilling.
396. Play volleyball in the water
You don't need a group for this. Play on your own with the splashing water around you. If there are people around you, others will join in eventually.
397. Try high diving
If the pool has a diving platform, then try to dive from one. Take it slow to make good memories because your partner might not be comfortable with the heights.
398. Sneak into a private pool
If you want to play the daredevil, then sneak inside a private pool and enjoy your time. This will be a huge bet on your luck so try it.
399. Toss a coin
You can toss a coin in the pool and seek it. Take turns finding it and let your partner go in first. Pro-tip: Search it with your smartphone torch to win!
400. Try pool relay
Grease a fruit and play a relay race with it. You'll marvel at its difficulty level, mate! But who doesn't want to see their partner in a funny struggle?
So many ideas for so many life situations and opportunities, but you can't show up all the cards at the same time. To choose wisely, you must know…
How to pick the perfect date idea?
Dates are fun to enjoy but with so many options available, it gets really hard to pick. Plus, if you know your partner for long and have been to 62636532 date nights, you might run out of options.
However, sweeping them off their feet for new relationships is another challenge. Before starting or using any of the fun ideas, you must consider these pointers…
1. Review the relationship
So which stage are you in your relationship? Did you just hit it off or are you dating for years?
For instance, you can't sneak a sudden kiss if you both have just met each other, right? Think about how close you are to each other. Still, get sweaty palms? Are you comfy together?
2. Do some research
Find out about the basics of your partner. Are they allergic to anything? What are the things that can trigger them or make them vulnerable?
The last thing you want is to step on a landmine and make it your last date. If you're unsure, it's better to ask them directly than be sorry for the surprises later.
3. Be thoughtful of the environment
This implies two things – Don't try anything off-season… be it the natural environment or your partner or your health situation.
If you're not fit for a day-out then stay at home and enjoy some homely time together.
No scenery or dinner will be easily compensated with your never-ending attention for each other, so prioritize safety and wellbeing.
A word from ThePleasantRelationship
All kinds of relationships are the best kind as long as you love each other unconditionally without paying heed to any "flaw".
Depending on your health and financial circumstances, or your locality, you can make the best out of anything… truly!
Thrive to be a better person every day but you're enough the way you are. If anyone tells you otherwise, you've stepped into the wrong boat.
You don't need anything fancy as long as you have each other's hearts. You can be rich one day and poor the other, that doesn't mean you can't sustain a relationship.
So be creative in your own way… and you'll see the happiness glowing in your partner's face.
Surabhi Kedia
Surabhi wakes up every day with a drive to craft words that can create a soulful impact. Creatively adventurous, she is always seeking to learn new skills and acquire new experiences. With a hidden soft corner for languages (especially Urdu), she writes poetry occasionally, binges on romantic shows, and LOVES to talk. A hustler, admirer, chaser, Surabhi is just another-someone who refused to give up on her dreams. She says, she is just somebody who's trying to make herself a writer and for now, she's just writing...