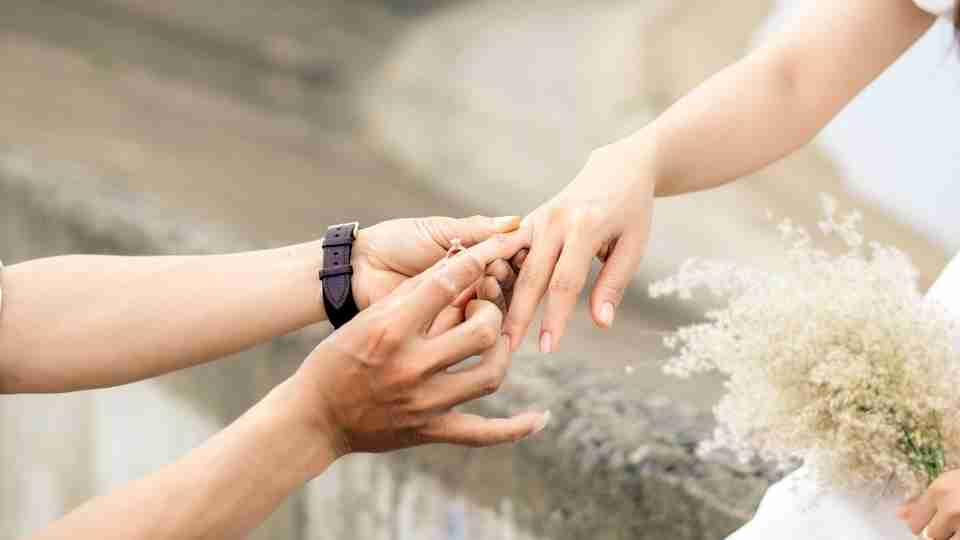 Are you looking for marriage proposal ideas for the love of your life?
Of course, you are.
Or why else are you here, reading this? 😉
Let's just all admit it: It's an amazing feeling when you find someone that reciprocates your idea of love, treats you with kindness and respect, and communicates the same love language.
Relationships that stand through the test of time, thrive through the ups and downs make a special place in your heart.
In the honor of this beautiful bond that you share with this person, it's obvious when you want to pop the big question with all the glitz and glamor.
That is why I have curated this list and hand-picked some never-seen-before marriage proposal ideas for you and your beloved.
Irrespective of the theme or your budget, this think-piece has something for everyone. So, sit tight and make your pick, mate…
…and I hope it's a YES! 😉
Proposal Ideas Infographic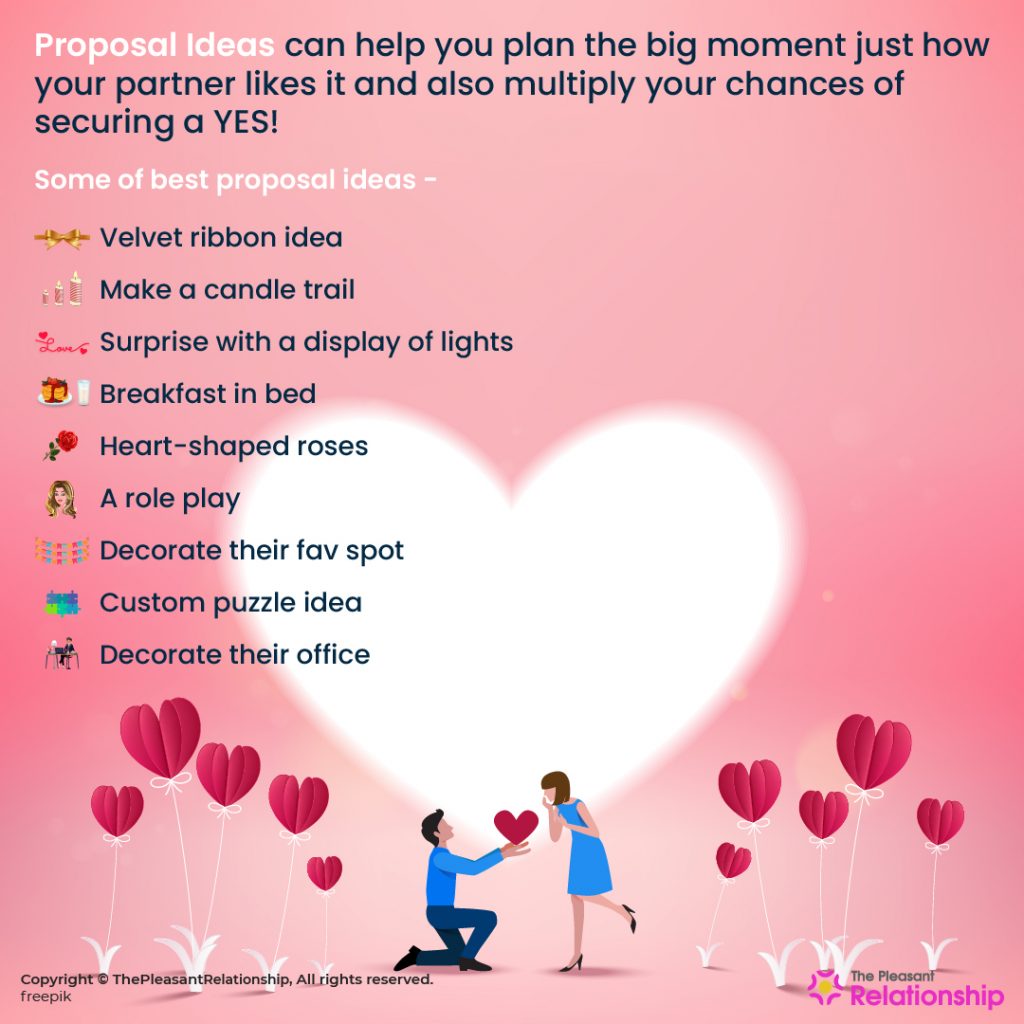 Proposal ideas at home
A home is the safest place to come to after a long, tiring day of work. So, if you are willing to pop the big question in the comfort of home, I have some amazing ideas for you.
Remember, a good at-home proposal makes your beloved feel safe, secure, and special!
1. Velvet ribbon idea
Tie a long velvet ribbon from one end of the door to the position of the ring. Hang some meaningful polaroids and small gifts on the ribbon for your partner.
Wait for them until they reach you and then bend down to pop the question.
2. Make a candle trail
Leave a beautiful trail of aromatic candles from your door to the living room. Create a big heart with candles around yourself where you'll get down on your knees to propose with the ring.
3. Surprise with a display of lights
Decorate your living room walls, with neon or fairy lights shaped like the words, "Marry Me".
Hang them on the wall and put out the lights of your house. As soon as they enter, surprise them with the beautiful lights and an even more beautiful ring.
4. Breakfast in bed
Make your partner's favorite breakfast and serve them on the bed.
And, just when they thought that was a beautiful gesture, make it extra special by proposing with a beautiful ring. Don't forget to tell them how you want to be the permanent chef of their life! 😉
5. Heart-shaped roses
Decorate the house with the most romantic flower of them all, roses, to show your love.
Let them search you all the way to the bedroom, where you'll stand on a heart-shaped rose-petal decor with the ring in your hand.
6. A role play
Starting from a chef-customer, servant-master, or whatever your creative mind can think of. Prepare the setup, and surprise your partner with a role-play.
Treat them with a delightful experience and end it with a ring.
7. Decorate their fav spot
If your partner has a favorite spot in the house, embellish it beautifully for the big day.
To create your perfect love story, pop the big question right there to make it more special.
8. Custom puzzle idea
Create an easy, small custom puzzle for your partner with the solution image asking "Will You Marry Me?" The moment they read it, it is the perfect time to get down and pop the question!
But what if your partner is the workaholic between the two of you. Check out the next list for some great…
Proposal ideas at work
It's no surprise that one of you is more workaholic than the other. You can instead leverage this trait and plan a proposal in their workplace. Here are some ideas to help you with it.
9. Decorate their office
Take permission from your partner's boss and decorate their cubicle or cabin beautifully.
Their happiness will know no bounds especially when they spot you standing amidst the decorations, with a ring in your hand.
10. Decorate their car
Decorate their car, with snow carves, or a ribbon note, with words spelling out, "Will You Marry Me?"
Turn their surprised face into a happy one when you kneel in front of them with a ring in the box.
11. Be the Knight-in-shining-armor
Show up to their office with a bouquet of flowers to prove you'll help them through the bad days.
Keep a written proposal inside the bouquet, get down on one knee while they read it, and wait for the million-dollar smile.
12. Schedule a last-minute meeting
Ask your colleagues to trick your partner into a last-minute urgent meeting only to surprise them with a big, beautiful setup in the meeting room.
Wait there with the ring, they'll instantly know the agenda of the "urgent meeting".
13. Request a pick-up
Tell them to pick you up from your office cubicle/cabin. Deck your office with rose petals and wait for them to get you.
Pop the heart-melting question as soon as they arrive.
14. Propose in their favorite cafe
If you know their regular morning café, request them for a proposal decoration of your choice before their visiting hours.
When they stand there puzzled wondering about the decoration, instantly pop up with your ring and propose.
15. Guide them to you
Make their monotonous workday slightly different with all the co-workers holding placards of arrows.
Lead them to the memorable place where you will wait with a ring in your hand and a question to ask.
16. Propose through lunch box
Make a special lunch for your partner and spell out "Will You Marry Me?" on it with any contrasting-colored ingredient of your choice.
Pay a surprise visit during lunchtime, and propose when they see the beautiful message.
A proposal in the workplace might not work because few offices follow strict protocols. In that case, let's look at some…
Outdoor proposal ideas
Perhaps some of you didn't like the home or work proposal ideas… because you are looking for something grander and more celebratory. And why not?
The night you pop the big question will remain with both of you… for the rest of your life.
So, if you want the whole world to witness your love. Here are some beautiful ways you can do that.
17. Play live music
Hire a local band or artist to play your partner's favorite song while you pass by them "by chance".
As they enjoy the music, get down and ask the big question, mate. All the best!
18. Take a Vespa tour
Rent a Vespa to tour the best places in your city. Stop by your partner's favorite spot. Hide your ring box inside your partner's helmet, and get down as you hand it to them.
19. Plan a picnic
Plan a small picnic at your partner's favorite park and arrange their favorite food.
Hide the ring inside the basket carefully and ask them to unpack.
Hit the jackpot with your beautiful proposal speech once they open it.
20. Go to a winery
If your partner is a fan of wines, book a nearby winery for a tour. Decorate one of the isolated spaces gorgeously.
Kneel down and propose, with the engagement ring of your choice when they enter.
21. Set up an outdoor camp
Hire someone to set up a small, aesthetic camp outside your lawn or a nearby park.
Ask your partner out for a dinner date and wait for your special moment to get down and propose with all your heart.
22. Drive-in movie date
Ask your partner out to watch a drive-in movie.
Book the hall for that hour and request the organizers to play your partner's favorite movie.
When your partner's favorite scene plays, turn to them with a ring in your hand. Don't forget to seal it with a kiss!
23. Propose on a concert
Buy two tickets to your partner's favorite singer's concert.
Wait for her to sing her favorite song… and as you see her lost in the tunes, get down and pop the big question, my love.
I promise she will not be able to say no!
24. Go to a fake proposal
Trick your partner to witness your "mutual" best friend's proposal to their partner.
But instead, they will find you waiting there with a ring and a question they would love to answer.
Still didn't get what you were looking for? Then, the next one will definitely fix that.
Destination Proposal ideas
A beautiful destination? Check. Love of your life? Check. The engagement ring? Check, Check, Check.
And what better way to make it even more memorable with these destination proposal ideas. It may be a bit expensive but that smile on your partner's face will surely make everything worth it!
25. Room proposal
Request the hotel services to decorate your booked vacation room. When they enter and notice the beautiful setup, that's the ideal time to propose.
This way you can also enjoy your special pre-wedding honeymoon.
26. Airplane proposal
Contact the stewardess for the list of dos and don'ts on the airplane and wait for the perfect time after the plane takes off.
Inform the Pilot on-board beforehand and see if you can gather an audience. Then at the right time, get up from your seats, walk up to the aisle, get down on your knees, and pop the question.
Brownie points for a heart-melting speech on how your partner has made your whole world go upside-down.
27. Plan a hike together
Propose to your partner at the end of a hike to live a classic movie scene.
As they enjoy the peaceful, serene view from the top of the hill, get down on your knees, with the beautiful ring in your hand, and confess!
28. Propose in a sunflower field
Request the sunflower farm owner for a private tour of the nearby sunflower field and walk hand in hand with your partner.
Propose once you reach the middle of the field… with a ring and a heart-warming speech.
29. Visit a Van-Gogh Museum
Propose in the Van-Gogh Museum to make your engagement night as dreamy as it can get… right in front of the starry night painting to be precise.
31. Getaway to Paris
Take your partner to the most romantic city in the world.
Plan a date in front of the Eiffel tower, get on one knee, and speak your heart out with the best proposal speech that ends on a "Will you grow old with me?".
32. Propose in front of a waterfall
Visit the nearest waterfall in your area over the weekend. The deeper it's hidden, the better.
Slide a ring in your partner's hands and let them bask in love and the surrounding magnificent beauty.
To all the minimalists, I know these ideas made you cringe… so I've hand-picked some ideas especially for you. Keep reading!
Simple proposal ideas
If your partner finds joy in the little things and moments, I bet they even have a small box of souvenirs for all the moments that were precious to them.
…and trust me, nothing can bring them more happiness than the small-little things.
So, here are some proposal ideas for your simple-and-sweet partner!
33. Propose in an aquarium
Do a not-so-grand yet not-so-simple proposal in an aquarium.
Contact the owner to check the possibility of hanging a card with the words "Marry Me" inside one of the tanks.
Lead them there blindfolded and then pop the question.
34. Create an audio proposal
Share a copy of "the great podcast" you heard with them recently. Record your proposal along with some great memories in the audio.
When they hear it, it's the time for you to pop the big question.
35. Go to a local park
Spruce up your nearby local park with some flowers and propose to your partner amidst them.
Relive all of your memories every time you visited the park in the past and remind them how happy you're to have them.
36. Climb on a treehouse
If you have a treehouse near your home, decorate it with spring lights, a comfortable sitting space, and the engagement ring.
Display a video of your journey with each other until your special moment.
37. Comfy on the couch
Home is where the heart lies, make your partner believe it with your big question while you cuddle together on the couch.
Your raw feelings will make this proposal idea most special.
38. Buy their favorite flowers
Whether it's roses or lilies, buying a bouquet of your partner's favorite flowers will also make up to a simple yet beautiful proposal.
Tie up the ring, or a note on the ribbon that reads "No measure of time with you will be long enough. But let's start with forever?"
39. Grab their heart with coffee
Buy a new cup of coffee for your partner, with "Will You Marry Me?" written at the bottom surface. Once they finish the coffee, ask them to check the surface.
Now take this moment, to get down on the knee and pull the ring out!
40. Walk by the river
Nature gives the perfect scenery to set the mood for your big proposal.
Walk to a nearby river where it is calm and full of greenery, and identify it as your memorable spot with a proposal.
Didn't that feel like straight from a rom-com movie? If not, then let's make it even better with little extra love and spice here…
Best proposal ideas
If you ask me, your choice is the best choice. Still, here are some heart-melting ideas for the love of your life…
41. Go for stargazing
What better way to make your engagement proposal a magical event, than a starry night?
Plan a trip to a stargazing spot. Lay down, reminisce about good times and ask them when it feels right.
42. First date proposal
Take your relationship to the next level from where it all began… your first date spot. Recreate the scenes to express how beautiful of a journey it was.
Wait for the perfect moment to propose.
43. Go to a fireworks show
Plan a perfect proposal while watching fireworks.
Create your own intimate moment, among the beautiful fireworks… get down on one knee and ask your partner to be the only one in your life.
44. An insta-typical proposal
Create the perfect insta-worthy proposal backdrop for your influencer partner. Hire some good professionals to do their magic.
Go all out with the flowers, candles, and sparkles… and the most amazing insta-proposal engagement is ready.
45. Embrace your city
Tour your city's historic places and lay the foundation of your future there. Roam around the place for a while and just when you feel it's right, pop the question, mate!
46. A helicopter ride
Propose to your partner while flying up high enjoying the view of the countryside in a private helicopter.
Many companies offer such services at premium rates. So, pick one and make the most perfect and intimate proposal ever.
47. Dance to their fav song
Whether it's Ed Sheeran or Taylor swift, play your partner's favorite song in the middle of the park, restaurant, or even your home and dance on it with them.
Whisper your confession in their ears once it's over and slide the ring into their finger quietly. Trust me, it makes for a magical moment!
48. Go to Disneyland
Let the child inside you bask in love while you make a grand proposal at Disneyland. The backdrop of the castle will perfectly accompany your fairytale proposal speech… and the ring would be the cherry on top.
Don't worry. It doesn't end here. Instead, it gets cuter. Here's how!
Cute proposal ideas
If your partner loves all-things-cute in this world, why not plan a cute proposal for them?
49. Fill your room with photos
Get printouts of the favorite moments of your relationship and hang them around the walls of your bedroom or hotel room.
Surround yourself with nostalgia and ask questions about your new future. I hope it's a YES!
50. Propose in a season
Propose your partner in their favorite season.
Make a snowman during winters or play with the leaves during fall… then wisely slip your proposal into that.
51. Do a photoshoot
Excite your partner with a couple of photoshoot bookings.
And, just when your partner turns back for a pose, get down on your knee and pop the question to them. You will also get photographs of your special moment.
52. Say it with a gift basket
For your special pampered, soon-to-be-fiance, hand-pick some gifts and arrange them in a gift basket and put a ring in one of the boxes.
Ask them to unpack each one… while you prepare your speech when they unpack the ring box.
53. Make a Surprise video
Surprise your partner after a long day of work, with a video of your relationship journey. Seek blessings from both of your parents and when it's about to end, slide your proposal.
54. Go on a painting date
Grab your canvases to the nearby picnic spot and paint a figure of your choice. And when it's time to show yours, let them find your proposal on it.
This painting will also be your souvenir for life!
55. Write a heartfelt note
Nothing does magic like writing your feelings on paper. Put your heart out on a letter and end it with the proposal.
When they reach the end of it, pull the ring out and wait for the answer.
56. Plan a Pinterest proposal
Stalk their Pinterest feed to find out your partner's dream proposal. Find out their favorite and recreate exactly how they want it. They'll never be able to say NO!
Didn't get enough of the cuteness? Let's add some romance with the following ideas.
Romantic proposal ideas
For all the hopeless romantics out there, what's a proposal night without some over-the-top romance, right?
So let me help you with some romantic proposal ideas.
57. Proposal by curtain call
Request the people at the cinema hall or a musical to help you propose at the end or beginning of the movie.
Ask them to slide a sheet of your proposal and just wait for your partner's answer.
58. A boat ride proposal
Want to do something different? Pack a picnic and go out in the open sea waters on a boat. Sail with your partner beyond the horizon, ask them to marry you during the sunset.
59. Re-enact your favorite movie
The notebook, A walk to remember, or anything, your partner must have a classic favorite movie.
Go all out and re-enact the most epic scene of that movie and end it with a very unique proposal.
60. Surprise with a pet
Surprise your pet lover partner with a brand new pet as a surprise gift and tie the ring or the proposal note on the neck with a soft ribbon. They won't stop gushing over how cute it is.
61. Light a lantern
Gather your friends for lighting lanterns in the sky and do the same with your partner. Light the lanterns with everyone to use the amazing view as a backdrop and get down on one knee.
62. Enjoy the rain
Kissing in the rain is heavenly but what about proposing in the rain?
As you feel the droplets on your face, be the main character of your life by putting a ring on your partner in the heavy rain.
63. A billboard proposal
If your partner loves to grab attention, consider proposing them through a billboard.
Contact an advertising agency and see if they can help you create a billboard with your proposal on it.
64. A memorable fashion spree
Send your partner on a fashion spree with their best friend and let them choose anything they want. Direct the friend to meet you at the designated spot where you'll wait with a ring in your hand.
Well, these were some of the best ideas to help you express the hopeless romantic hidden inside you. Now let's move to explore what your creative side thinks.
Unique proposal ideas
Some couples don't like to follow the crowd. They are unique and perfect in their own way. And to be honest it's very adorable.
So, if you are one of those who have crazy memories trying out unique things, this one's for you…
65. Custom t-shirt proposal
Customize your t-shirt for your partner that says "Will You Marry Me?" Wear it in front of them and keep the ring in your palm. You can also customize a "yes" t-shirt for them to wear afterward.
66. Make a scavenger hunt
Make your own treasure hunt, with clues at different places across the city for your partner to find.
The final destination can be your home, with you, a ring in your hand along with friends and family.
67. Hire a street caricaturist
Hire a street caricaturist to draw both of you on the canvas and instruct him to write the proposal quote at the bottom of it.
Once they finish, the painting won't be the only thing that surprises them.
68. Make a special playlist
Plan a unique yet beautiful proposal at home. Thoughtfully create a playlist of the most romantic songs ever, that describes your feelings for them.
Make sure the last song is a recording in your voice with the proposal at the end.
69. Hire a skywriter
Go the extra mile with a skywriter to write your proposal in the sky. It's a sure-shot way to grab your partner's attention and also proves to be a great proposal idea!
70. Underwater proposal
Propose your partner among the wonderful creations of nature, the ocean.
Take your partner scuba diving at the nearest seaside and compel her to say yes to your unfathomable love forever.
71. Propose in a gazebo
Not only is it unique, but a gazebo is also a wonderful place to propose to your partner if they are a fan of small, intimate spaces.
Don't forget to plant a kiss on your partner's forehead to earn some brownie points.
72. Hire a private limo
Hire a private limo and consider putting together some romantic itineraries around the city. Pop the question at the designated spot followed by a champagne toast.
After that, let them drop you at your engagement party next.
Didn't sit right with the big surprise element you were wishing for? The next one will surely do.
Surprise proposal ideas
Relationships are full of surprises and give you butterflies in the stomach. So why not plan a surprise proposal for your beloved?
73. Plan a Trivia night
Host a trivia night with both of your friends and family. Ask the quizmaster to ask your partner if she will marry you. Turn that into a special moment by popping the big question in front of everyone.
74. Hire a dock
A dock may seem different, but it can actually prove to be a thoughtful proposal idea when you put in the right efforts.
Surround yourself with peace and serenity during your proposal, what's more, intimate than this?
75. Call a radio station
Trick your partner into listening to "someone" proposing to their partner on air which is actually you. Let the world know how much you love them.
76. Create a special menu
Take your partner on a dinner date and ask the chef to create a special menu. The special menu will also have your marriage proposal… and when your partner reads it, slip a ring on their fingers.
77. Pop the question in front of the Family
Get down on your knees and tell your partner in front of the family, how much they mean to you. And just like that, you will have their blessings on the most important day of your life.
78. Surprise with a flipbook
Create a small flipbook of your relationship journey and gift it to your partner.
They'll be delighted looking at your effort and the last placard with your proposal message will surprise them to the core.
79. What about an emergency proposal?
Tell them you need to urgently go to someplace as your friend needs your help. And when you reach there, turn the worrisome face into a surprised one with a grand proposal along with a beautiful setup.
80. Consider an anniversary proposal
Make your partner believe that you forgot your anniversary. And just when you think the time is right, take out the ring and let them know, this is the one day in your life, you can never forget.
Now, I am sure you found the perfect surprising element for your proposal idea. Let's move up a level. Shall we?
Genius proposal ideas
There are proposal ideas that set a good example of your love. Then there are super genius ideas that set a great example of your love for generations to come.
Show that you never settle for less…
81. Hire a personal chef
Take your partner to their favorite restaurant, and hire the chef to make all of your partner's favorite dishes.
Ask them to slide the ring on the dessert plate. The gasp at the end will be a memory to cherish forever.
82. Propose with a book
Buy a second-hand version of their favorite book and cut some pages, so that you can fit an entire ring box inside it.
As soon as they open it, hold their hands and pop the special question.
83. Go live
If you really want to get creative, decorate a setup of your choice. Go live as soon as your partner walks in.
Flaunt your love to the world in the best way and create an example for others.
84. Propose with a candy ring
Propose with a candy ring to your partner at first (they will definitely feel this is the moment) and when they think you're done joking, pull out the real ring and see how their face turns red with joy and delight.
85. Get down on your knees with Fortune cookie
When you are out at a restaurant or order takeout, request the people to customize a fortune cookie for you saying "you will get married soon".
When they read the fortune, bring out the ring the next moment.
86. Play Who knows me better
Challenge your partner into a game of who knows them better. Write your questions on placards.
Arrange one of the questions as, "when did I propose to you?" Once they're clueless, begin your proposal speech.
87. Tell them to bring a snack
Customize fridge magnets that spell out, "Will You Marry Me?" and put them on the freezer.
Then come back and request your partner to grab something for you. They'll be thankful for this "frozen goodie".
88. Do a scrabble proposal
Play a game of scrabble and let them win. When they think they have, surprise them with the proposal message on the scrabble and put the ring on their finger.
I can't get over how amazing these ideas are. So, let's dive into some…
Cool proposal ideas
If you are a cool couple of the group then you might want to maintain that tone for your big night as well.
Trust me, you won't compromise with the intensity of your feelings because you'll just be yourself like you always did.
So, let's check out some really cool proposal ideas that are soft enough to match your perfect vibe.
89. Let someone record you
On a karaoke night, ask any one of your friends to recording the song you two will sing. When your partner concentrates on signing, call them from behind and quickly get down on your knees with the ring.
90. Tour by the photo booth
Tell your partner you want to click some really silly pictures together and while you both are at it, pull out the ring to propose. Capture their reactions forever in an old-school romantic style.
91. Organize a flash mob
Hire a team of dancers to choreograph a flash mob to surprise your partner with an amazing show.
Participate in it and end it with your question on a placard. Get down on one knee with the ring on your hands.
92. Create a website
If your partner is a techie, go the extra mile and create a special website for them. Tell them you're working on something new and show this – take this moment to go down on one knee and pop the question!
93. Propose on a rooftop
If you or any of your friends have a beautiful rooftop with a beautiful city view, decorate it with a bunch of beautiful flowers and candles, and propose to your partner right there.
94. In the bedroom!
Paste some glow-in-the-dark stickers on your bedroom ceiling and spell out your proposal on that. Turn off the lights at bedtime. Cuddle, kiss, and pop the question when they notice it.
95. Deliver a pizza
Customize a heart-shaped pizza from the store and place the ring inside the box. Your partner won't have any idea until they open the box. When that happens, surprise them with a beautiful speech.
96. Go fishing
Ask your partner to accompany you for fishing. When you catch a fish, cleverly slip the ring on the hook. And when they want to see what you caught… turn back and pop the question to them!
Yes, being creative and indulging in cool ideas is fun, but you also need to make sure that it makes for an unforgettable moment in your partner's life.
Perfect proposal ideas
Perfect proposals can lead to a happily-ever-after love story through generations. That's why you also call them timeless classics!
So, make your love timeless like a forever rose and propose through some perfectly curated ideas that will surely make the night 100 times better for the two of you.
97. A planetarium proposal
A proposal in a planetarium under the stars can never get old.
Ask the planetarium staff if they can project a "Will You Marry Me?" during the stargaze show, and as soon as they read what's written, pull out the ring.
98. Plan a proposal with children
Find a way to incorporate your child when you are proposing. Not only will it bring joyful tears to their eyes, but it will become more memorable entering a new phase of life as a family.
99. Make your permanent valentine
Gift your partner a little something every day during valentine's week and then on the 14th day, surprise them with a huge engagement ring and a proposal that delivers the message of your heart.
100. Propose on a Ferris wheel
Request the operator to pause for a while when you're at the top of the Ferris wheel. The beautiful view in front will prove to be a heart-thrilling backdrop when you pop the big question.
101. Play a musical instrument
If you play any kind of instrument or can sing, write a new song or compose music for your partner. At the end of the piece, ask them to marry you. Believe me, you'll find your new love song.
102. Propose during ice skating
A lot of ice-skating parks roll up when the weather gets cold.
Make them laugh with the best Bambi impression and just when they stop laughing at your poor balance, go down on one knee and take out the ring.
103. Pop the question in a marriage
Receiving a bride's bouquet bears the news of a soon to-be-marriage.
Turn that into reality with a request to the bride to hand the bouquet to your partner and you can propose soon after the marriage.
104. Take them to a fair
Take your partner out to a fair and plan everything to enjoy the day.
Suggest a walk after dusk along the pathways and when you feel this is the moment, go ahead and propose to them in front of everyone.
If you already planned a destination like a beach for the proposal then let me show you how you can pop the big question near the sea.
Beach Proposal Ideas
Nice calming waves against the sands can be the perfect exotic location to set the mood for proposing on the beach.
It has the perfect amount of charm to make even the simplest proposals more romantic.
So, here are some favorite beach proposal ideas that you can use to add the charisma of the sea to your precious moments.
105. Walk on the beach
Create a special moment during your walk on the beach with your partner.
Tell them how much you are grateful for them to be in your life, and your wish to keep it like that forever with a marriage – with the words "Marry me" written in the sand.
106. Build a sandcastle together
Make a sandcastle or a sand sculpture with your partner and once they look away, put the ring on the topmost tower.
Ask them to check inside and wait for the gasp. Carry on with your proposal speech, mate.
107. Propose under the sunset
What can be better than proposing on a beach by the sunset? The waves, the orange clouds, the pink sky, and the words "Marry Me" in the sand are bound to make your proposal the best one there is.
108. Propose through a message bottle
Put your proposal in the glass bottle on the sand and trick your partner into opening the bottle you found randomly.
When they finish reading it, propose in that exact moment with a ring.
109. Rent a beach tent
A beautiful tent, on the white sand along with a vibrant beach bonfire in the evening, will make the fairytale proposal for your everlasting relationship.
Pretend it's a normal date, but wait for the perfect moment with a ring.
110. Let the dolphin do the work for you
If there are a lot of dolphins around the coast, consider asking one of the operators to hand out the ring to your partner from the dolphins. And take this moment to pop the big question!
111. Go for seashell hunting
Proposing via a seashell is timeless, innocent, and classy. Your partner won't expect an engagement ring inside a buried treasure.
Take advantage and hand out a shell for her to open for a big proposal to follow.
112. Plan a Lighthouse proposal
Lighthouses are extremely romantic, especially during sunset.
So, bring your partner there to cozy up while watching the waves together, and just when the sun touches the horizon, get down on your knees and propose them to be yours forever.
Not a beach person? Then let's embrace your mountainous side with these…
Mountain Proposal Ideas
Aren't mountains the purest? Their beautiful canvas will prove to be an amazing backdrop to paint the colors of your love forever.
So, be adventurous and take your romance to new heights with a mountain top proposal. Take some inspiration from these ideas…
113. Propose on a ski lift
Give your proposal a breath-taking view from a ski lift, while you overlook the mountains.
Write the question below on the snows and request the operator to pause for a while at the top.
114. Propose during a sunrise
The sunrise at the top of the mountains is one of the most beautiful sceneries ever. Make it more beautiful with your proposal to your partner on the top. Show them that they are the sunshine of your life.
115. Go to a winter wonderland
A great stretch of space on the mountains covered with snow is an absolutely beautiful space to propose to your partner.
If they love winter, they'll love the combo of the chilly weather and your warm speech.
116. Propose in a lodge
Decorate your lodge with some flowers, candles, and a breath-taking mountain view. Leave the ring box on the top of the bed, so they get an idea of what's about to happen next.
117. A hot water bath never fails!
It is extremely romantic to bathe together in a hot tub, near the mountains. Turn up the heat even more by writing your message on a soap bar. When they turn back to answer, pop out the ring you hid.
118. Hanging over the clouds
There are certain peaks from where you can actually see the clouds beneath you. A surprise proposal to your partner at one of these places will take them on cloud nine for sure.
119. Welcome new adventure
A proposal on a secluded mountain peak is a beautiful one. Go to the top and when your partner enjoys the scenic beauty, pull out another beauty in the form of a ring and a proposal speech.
120. Looking for__?
Tell your partner you want to look for mushrooms on the ground.
And when you catch them off guard, place your one knee in front and propose. Make sure you are holding the ring and not the mushroom (for god's sake).
I know how special you and your relationship are and sometimes the normal ideas won't fit your desires. So let me take you to some thoughtful proposal ideas…
Lesbian proposal ideas
Two sensitive, feminine energies passionate in love, are just what this world needs more of. What else?
A good, romantic proposal and wedding to celebrate your relationship. But before that, check out these ideas…
121. Plan a Halloween proposal
If your girlfriend loves Halloween, take her out on the classic pumpkin carving date, and carve your question with your special words. Sure, it will be a lot of work but will be worth it in the end.
122. What about a Hot air balloon proposal?
Propose your girlfriend, from where the world can see you (metaphorically). Going up in the air on a hot air balloon will make the perfect example of a grand yet intimate proposal moment between you two.
123. Re-create a music video
Yes, recreating a movie scene is fine but how about making your girlfriend feel like the main lead with a music video recreation. End the song with your proposal and wait with the ring.
124. Escape room proposal
Take your partner on a fun date to an escape room. Leave clues that will hint her to a proposal. And when she finishes it, a sweet proposal will wait for her.
125. Last day proposal
If you are on a trip, make the last day memorable with a proposal at any famous spot in the city.
Mate, you both are going to remember this trip forever so make sure there are no ill memories attached to it.
126. Visit their hometown
If you are planning for a trip to your girlfriend's hometown. Consider proposing at her favorite spot in that place.
Ask her to take you there and listen to her stories. When you feel right, pull out the ring and propose.
127. Have a heart-warming conversation
It's one of the most beautiful things about an LGBTQ+ relationship. You can always indulge in a heart-warming conversation and if you think it's right, go ahead and propose, then and there.
128. Propose during the pride march
Show support to your girlfriend and your community with a proposal during a pride march. Set an amazing example by showing how pure your love can be.
I cannot and won't leave my homosexual brothers behind. Check out the next slide. I have great ideas laid out for you as well.
If there's something for lesbian couples, then how can you not find something for gay couples. Let's celebrate your sexuality with these…
Gay Proposal Ideas
Your relationship is no ordinary affair and that's the best part about it. Now, make your wedding planning extraordinary with a grand proposal to your 'one'
129. Scrape the autumn leaves
Make an excuse for scraping the autumn leaves from the backyard. But little does he know, you will ask him to marry you with the same leaves you scraped for your proposal message.
130. Propose in an art museum
Show that you're a keeper with a proposal to your city's oldest art museum. If you find a love painting, that's even better. Speak your heart out and put a ring on their finger.
131. Friends proposal
Gather all your friends to a nearby park and make all of them hold a placard containing a letter which will together spell "Will You Marry Me?"
Bring your partner there and surprise them with a big proposal.
132. Write a poem
Words carefully picked and placed with delicacy are just what you need for the magic to happen on your big night.
So choose a classic love poem or compose one with a sweet proposal. It will undoubtedly be their favorite one.
133. Propose during monopoly
Hide some "Will You Marry Me?" proposal cards inside the monopoly cards and ask your partner to play with you.
You'll confuse them with it and that's when you pull out the ring and surprise them with a real proposal.
134. The Harry Styles theme proposal
You won't ever go wrong with a Harry styles-themed party. Make everyone wear a costume and play his favorite songs.
When your partner's favorite song plays, dance with him, and end it with the best proposal.
135. On top of empire state building
If you reside in NYC, make a grand gesture of love with a proposal at the top of the empire state building while watching the whole city in front of you.
136. Mutual wedding planning
It is totally normal if you guys want to talk about wedding planning and marriage proposals.
You can buy each other rings and get engaged. Just make sure you still keep it intimate and thoughtful.
If you thought that's all, you're wrong because there's room for more. So let's explore some…
Birthday Proposal ideas
Birthdays are the happiest days for any person and if your partner is not someone who likes to celebrate their birthdays… then give them a reason to do so with your pre-planned proposal.
And if you need help for that matter, check out these amazing ideas.
137. Propose through baked goods
Surprise your partner with the most amazing birthday cake with your proposal message on top of it. Place the ring as a topping to make it more obvious to your partner.
138. Proposal in a botanical garden
A proposal in the botanical garden, on a birthday, can be your perfect moment to capture.
Take your partner out to the botanical garden. When you feel the time is right, hand out your ring amidst the beautiful greenery and flowers.
139. A classic proposal
Take them out on an intimate birthday dinner. Put the ring inside the glass of champagne while on a birthday dinner to make this timeless classic. Carry out the proposal once they find it.
140. Revisit old memories
If your partner has a childhood favorite spot, visit the place with them. Make that spot a bit more special with a proposal and a beautiful heartfelt speech for the love of your life.
141. Take them to church
If you visit a church or your religious prayer house, kneel down in front of God and pop the big question to them, they'll know your sincerity and God won't disappoint you.
142. Move to a different city
If you guys want to move to a different city, surprise them with the tickets to that place. Put the ring on their finger to make that a double birthday gift. Ask them to move in as a fiancée.
143. Gift them their favorite doll
If your partner has a favorite doll from childhood, custom makes one, get the ring sewn to the neck's ribbon, and wrap it properly.
Now, your perfect birthday gift and proposal are both ready, all-in-one.
144. Propose while cutting the cake
Throw a grand birthday surprise for your partner to make them the center of attention.
After the cake-cutting ceremony, get down on one knee and hold out the best present of them all, an engagement ring.
Not a fan of birthday proposals? No worries. There's still one occasion that will be one hundred percent compatible with your proposal idea. Let's see what that is.
Christmas Proposal Ideas
Christmas is the most popular time of the year for proposals. Well, if you chose it, gotta say you're one romantic fellow.
So, add another reason to make your Christmas worth remembering with these…
145. Propose under the city's biggest Christmas tree
Visit your city's biggest Christmas tree spot together with your partner. Ask someone to take a picture for you two under the Christmas tree. While your bae strikes a pose, get down on your knees.
146. Propose in the brightest street
Take your partner out for a walk on the brightest street on Christmas, and while they admire the lights, you will admire them, down on one knee, proposing in the middle of the street.
147. Propose in front of the fireplace
Comfortable couch, hot chocolate, and a burning fireplace… You need nothing more extravagant to make a special Christmas proposal.
Hide the ring inside the chocolate and wait for them to find out. Express yourself with a heart-warming speech.
148. Hide the ring among the presents
Put the ring box inside a couple of big boxes and wrap it up really well. Sure, they might get a little bit mad, on seeing so many boxes but it will all be worth it when she finds the ring.
149. Use the Christmas lights
Write the words, marry me in your lawn with the help of Christmas lights. On Christmas eve, light it up and ask your partner to look outside the window. Surprise them with a ring.
150. Watch your fav Christmas movie
Cuddle up and watch your favorite Christmas movies with your partner. During a romantic scene, whisper your proposal… and go on to make it the best night of their lives.
151. Build a snowman
Get your partner a snowman-making date. Make a big one and cleverly slide the ring onto one of the sticks. When your partner sees yours, point her to that finger and make a grand proposal.
152. Proposal while Christmas tree shopping
A Christmas tree farm is as romantic as a flower farm if you plan it properly.
Take your partner to buy a new Christmas tree and come home with a brand new relationship tag and the shiniest Christmas ornament on your partner's finger.
If you're studying together and she's preparing her best for prom, take your shot to use these…
Prom Proposal Ideas
Every high schooler looks forward to their prom night. The fun, the glamor, the vibe, everything just falls in place for the perfect night to happen.
And what makes it more perfect?
Your date.
Make your prom night memorable with one of these…
153. Propose during a final dance
Request the DJ to play a slow song after the final dance. Gracefully ask your partner to dance with you. Turn it more special with a proposal for them to have every dance of their life with you.
154. Broadway-inspired proposal
Don't hesitate to go all extra with a broadway proposal. Request the dance club of your high school and perform a small musical for your partner.
And in the end, surprise with a sweet, thoughtful prom proposal.
155. Netflix inspired proposal
Remember how Peter Kavinsky used to make grand gestures of love for Lara Jean?
Take inspiration from that and if possible, stand outside their house with a recording and play their favorite songs, they surely won't say "no".
156. Gossip girl reference
A simple question like "will you be the Blair to my Chuck" or "Serena to my Dan?" will melt any gossip girl lover's heart out there.
But make sure you don't forget flowers for the Upper East Side obsessed diva.
157. The royal proposal
If your prom date fantasizes about a knight in shining armor who comes to save the princess and falls in love with her.
Propose to her with a tiara to make your prom date feel like a princess.
158. A virtual Proposal
If your prom date is an online social butterfly, they'll also use social media on their prom night.
Let some mutual friends know you are going live and when she joins, propose. Make it cute and grand simultaneously.
159. The OG one direction proposal
Without any doubt, one-direction songs have been most of our childhood. Go down on one knee and ask her out while you are both dancing on I found a girl, beautiful and sweet.
160. Marvel-inspired
Create a marvel-inspired theme proposal for your prom date with marvel-us quotes such as, "love you 3000" on a big chart paper.
Dress up in their favorite character's costumes and ask them out. Promise to be their superhero forever.
I am sure that the perfect proposal scene is already cooking in your head right now.
Before you finally go down on one knee, I also have some…
---
5 Tips to make your Proposal unique and memorable
Proposing your partner for marriage is the biggest leap of faith you can take.
And, you definitely want to make it the most wonderful and iconic moment of your life. Even if you are not a perfectionist in life, you still want this moment to be nothing less than perfect.
How?
Let me show you…
1. Understand your partner's desire
There can be a thousand ways to propose to your loved ones but that doesn't necessarily mean your partner is fond of all of them.
For instance, if they feel uncomfortable with a public display of affection, don't make them nervous with a public proposal in front of thousands of people.
Instead, choose something more intimate and romantic that you both will comfortably enjoy together.
2. Go according to your budget
Did you fix your heart on a grand gesture of love for your proposal? That's great.
But if you can't fix it in your budget, don't go for it. Even your partner won't approve of it.
Remember your engagement is about you and them, if your speech is real, nothing else matters!
3. Get everything ready before time
If you are planning something that requires extreme coordination such as a helicopter ride, or a grand backdrop setup, prepare everything the day prior to your proposal date.
This way, you will avoid unnecessary chaos on your special day and also ensure proper execution.
4. Ensure the ring is of the proper size
If you are planning to put your mother's or grandmother's ring on your partner, don't forget to ensure it's of the correct size for your partner.
The last thing you want to do is put a ring that doesn't even fit.
So, don't forget this important step at any cost.
5. Enjoy
We all get cold feet and nervous when it's time to propose to our partners. But remember it's the love of your life… and you will spend the rest of your life knitting the threads of your journey together.
So, leave all the nervousness aside and enjoy, because when you will look back 20 years from today, this moment will be one of the best-lived so far.
A word from ThePleasantRelationship
Remember, marriage is not as rosy as it looks.
You'll need to invest some real effort to make it work.
But before that, remember everything starts off with this one ring, one proposal, and one lifetime moment.
So, make it as special as you can.
Because that's a story you will be telling on a lot of family occasions.
But, if you still mess up after all the planning, don't lose your confidence. Your preparation, your thoughts, and your emotions matter the most to your sweetheart.
They'll say YES regardless!
Surabhi Kedia
Surabhi wakes up every day with a drive to craft words that can create a soulful impact. Creatively adventurous, she is always seeking to learn new skills and acquire new experiences. With a hidden soft corner for languages (especially Urdu), she writes poetry occasionally, binges on romantic shows, and LOVES to talk. A hustler, admirer, chaser, Surabhi is just another-someone who refused to give up on her dreams. She says, she is just somebody who's trying to make herself a writer and for now, she's just writing...