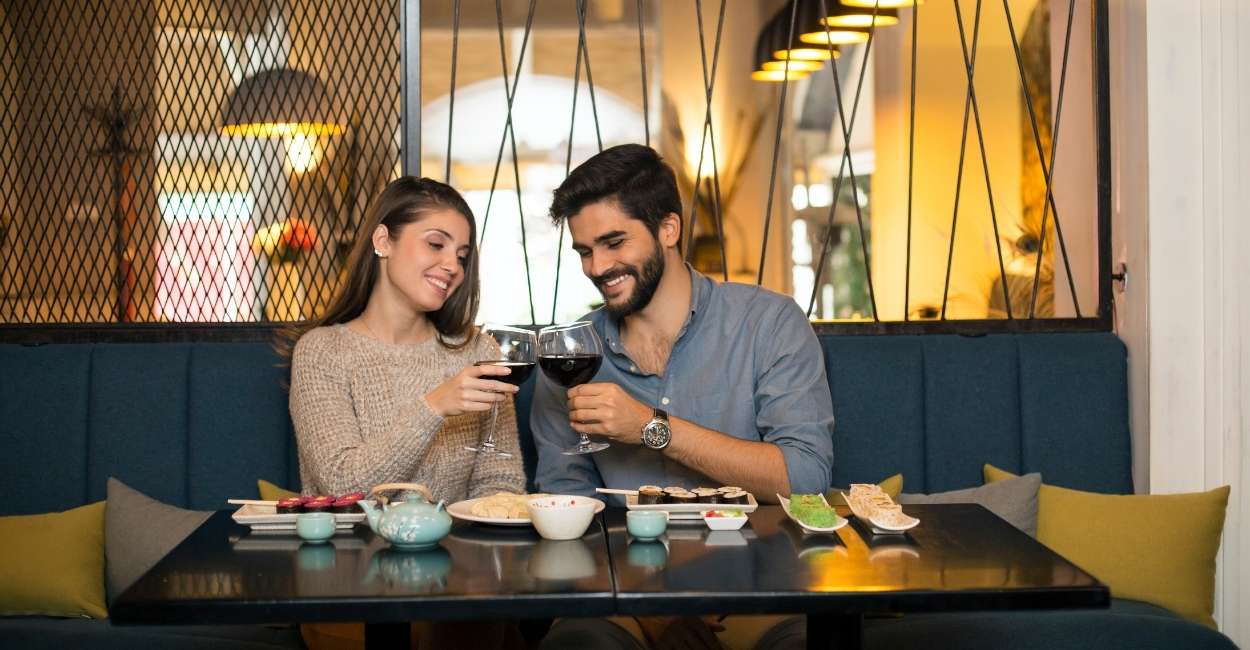 So, you succeeded in the first two dates and want invincible third date ideas?
Well, third dates decide the course of your dating plans, so I understand the anxiety brewing inside you. You probably aren't getting any sleep while planning the perfect third date.
That's why I'm here with all the cool ideas you possibly need to impress your guy/girl… and while you're reading this, breathe, rest and preserve your energy for the grand day!
So, now let's dive in!
Third Date Ideas Infographic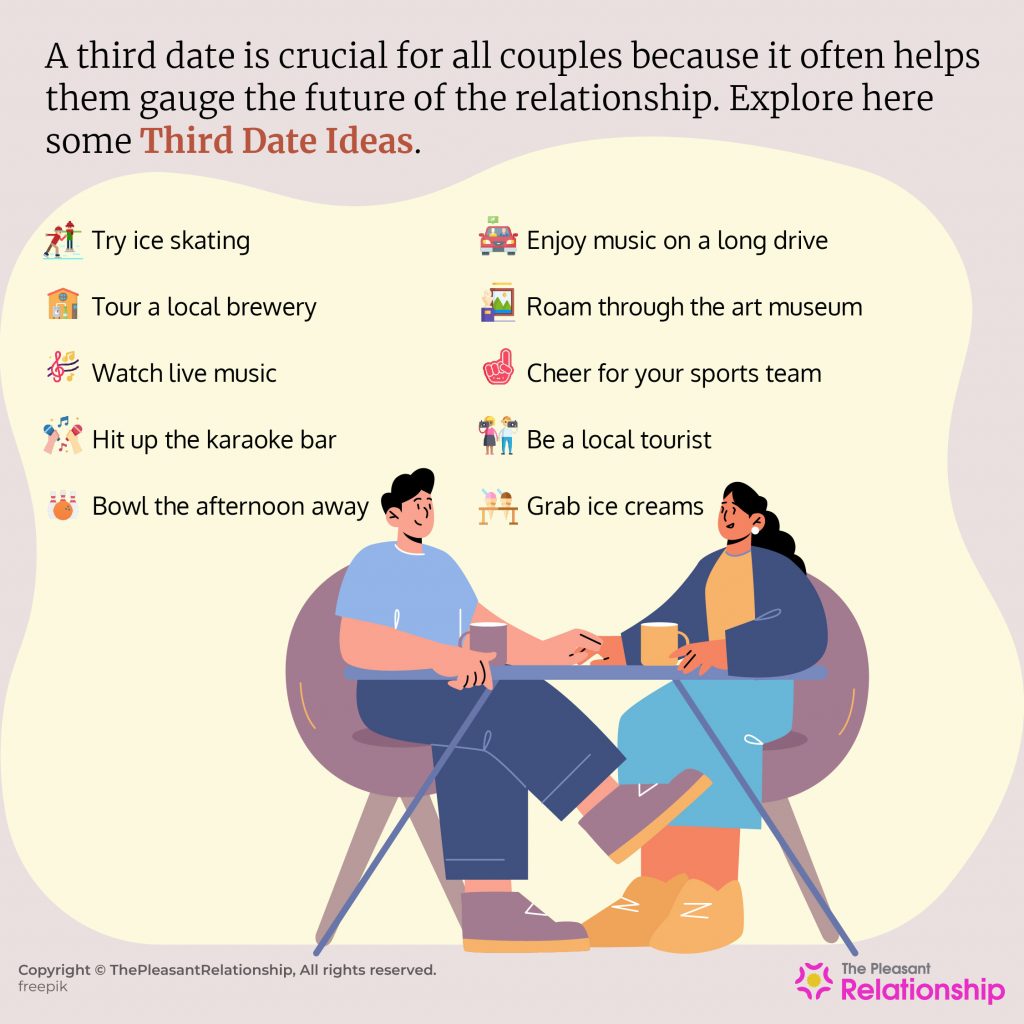 Good third date ideas
If you don't want anything too fancy or too bland yet just good enough for a positive impression, don't stress yourself and consider these ideas…
1. Try ice skating
If neither of you knows ice skating, this is your perfect chance to create shared experiences and memories together. Take lessons together and support one another to rock the rink.
2. Tour a local brewery
If you both like alcohol and want to include it on your date, check out local breweries. Bonus: You might even get freebies at the end of your tour.
3. Watch live music
If your taste in music matches, buy tickets to your favorite band's concert. Book your seats towards the back as it will allow you both to get your hands on each other… if you know what I mean. 😉
4. Hit up the karaoke bar
Enjoy a karaoke night while you show off your singing skills or even have a singing face-off. Order food and drinks to keep yourself energized for the night.
5. Bowl the afternoon away
If you want to keep the ambiance casual, a playful bowling competition is exactly what you need. Hit the food court once you feel tired.
6. Enjoy music on a long drive
For a surreal experience, set off on a long drive to the countryside with soothing music on the speakers. Bask in one another's company and relax.
7. Roam through the art museum
If art got your heart, visit one without hesitation. Enjoy your day while you share your opinions on various art-pieces.
8. Cheer for your sports team
A sports game is all you need to enjoy your date and bond through your mutual love for the team. Scream your lungs out to cheer together.
9. Be a local tourist
Visit the tourist attractions in your locality and dine in the best restaurants in town. You can even hire a guide to make it more real-like.
10. Grab ice creams
Hit the ice cream shop and enjoy the sweetness of the desert and your partner! It's a great way to beat the heat and also enliven your mood.
But if you want a hint of romance in your date activity, welcome aboard to my chest of secret dates here…
---
Romantic third date ideas
Go with a romantic date only if you fell head over heels for your partner and want a serious relationship for sure. So, if you already know where you both are headed, pick one from this list.
11. Have a romantic movie date
Movie dates are an all-time classic. So, head to the theaters and snuggle up to build intimacy while you enjoy the onscreen romance.
12. Indulge in wine tasting
Take your beau to wine tasting and find out the type of wine they like for your fourth date. 😉 You can even buy a bottle of wine at the end to enjoy later at home.
13. Grab your picnic baskets
Another all-time fave romantic date is a picnic. Pack your lunch, mats, and some games, and head to the park. Spend time lazing under the sun and chatting away.
14. Visit a botanical garden
If your locality has a botanical garden, visit one to enjoy a romantic mood amidst the well-maintained green leaves and colorful flowers.
15. Ride on a horse
Go to the beach for a picnic and try horseback riding during sunset. To make it even more intimate, get on one horse and lazily talk during the stroll.
16. Hold hands by the beach
Play with water, make sandcastles, take pictures, and when the sun sets, hold hands and stroll by the coast barefoot while the water washes your feet.
17. Plant a tree in your yard
If you're both serious about one another, plant a little sapling in your yard. Let it mark the beginning of your growing relationship.
18. Show them your secret hideout
If you have a treehouse or someplace where you visit whenever you're sad, take her there and tell them that you want to stay together forever.
19. Dedicate a romantic playlist
Spend your third date while putting together all of your favorite romantic songs with meaningful lyrics. Understand each other's hearts through songs.
20. Have a fancy dinner date
Fine dining is too expensive for a first date as you're unsure about them. So, if you're sure now, book a table to surprise them!
If you love to make your date smile and their laughter rings like bells in your ears, look forward to these merry ideas here…
---
Fun third date ideas
Dates don't need to be always romantic, especially if your date still hasn't warmed up to you. They need something more cheerful and lighthearted like these…
21. Pose in a photo booth
Since you managed to land your 3rd date, it calls for a celebration. So, capture this memorable day in pictures and cherish them forever.
22. Enjoy a video game night
If you LOVE gaming, test your compatibility with your partner in this. Show your challenging side and grow your team spirit through this date.
23. Laugh at the comedy club
For an even more special yet fun date, deck up and enjoy live comedy in your closest comedy club while you sip on the wine with your bae.
24. Hit up the arcade
If you don't have a gaming console, visit the arcade and engage in a friendly competition. Bonus: The loser treats the winner to ice cream!
25. Give them a yes-pass
Say yes to everything your date says for an entire day and see what situations it leads to. It might be more than just fun, so prepare your heart!
26. Play board games on a coffee date
If you miss playing board games, visit a coffee shop that offers them. Sip on the caffeine and nudge your intellectual sides together.
27. Target them with color balloons
Put on your white tees, fill the balloons with colored water, and attack! This is a great date idea for a hot and humid afternoon.
28. Walk the ramp before shopping
Enter any shopping mall, choose outfits for one another, wear them, and pose as if you're competing against supermodels. Buy each other the most suitable outfits.
29. Shoot them with a water gun
Another great way to spend your third date on a scorching day is to play with your water gun. Beat the heat while you enjoy spending time together.
30. Try window shopping
Whether you're broke or don't want to spend a fortune on new clothes, you can still have fun with window shopping. Get ideas of the seasonal fashion and buy it cheaper elsewhere.
If that didn't appeal to your heart and you want to raise the fun factor for your date, then I think I have just the thing for you here…
---
Exciting third date ideas
Different people get excited about different things… it's not always about getting your heart pounding. Sometimes you just need something you're both passionate about like any of these…
31. Visit a science museum
If you're both nerdy and love to learn facts about this vast world, grab your tickets to the science museum. Enjoy the experiments and share your thoughts.
32. Join a salsa dance class
If either of you knows salsa, then spend the day teaching and learning. If nobody knows, enroll in a class and learn to romantically groove your bodies.
33. Try an escape room
Get locked in a room and look for the key to get out… that might sound simple but it'll be the test of your patience, so don't miss it.
34. Explore a food festival
While you try out budget-friendly food stalls and their free sample food, you can leisurely talk and know more about each other while you hold hands and explore.
35. Give splatter painting a try
Get yourself two canvas, drop cloths, paint, and inspiration. With zero talents in painting, enjoy this and make whatever your heart desires.
36. Throw the darts
For a few rounds of darts, visit your local clubs. If your partner is better than you, ask them to teach you a few tricks to have fun together.
37. Survey a castle
Many castles are hidden away in the city outskirts, so look them up online and bond through the history of your culture.
38. Stargaze at the planetarium
If you both love the stars and constellations, there's no better place to relax and nuzzle in while you learn even about astrology.
39. Head to the pool table
This game is easy to learn, so enjoy a leisurely time while you shoot the balls with a pool stick. You can even have small talk in between.
40. Watch the city lights from a tower
Find the tallest tower or building in your area. Enjoy your afternoon date and at dawn, climb up and wait for the city lights to twinkle like fireflies.
But in case you want something so thrilling that your heart stops, that's also possible for a third date. After all, who am I to judge your taste? Let's improvise here…
---
Adventurous third date ideas
If you and your partner mutually like the high thrill and blood-pumping activities, only then try out these… because you don't want to leave a poor impression on your partner. So, carefully try these…
41. Book a helicopter ride
If you're both suckers for a nice view and are ready to splurge enough, take a helicopter ride to make this date even more special.
42. Climb the rocks
If you're both active, rock climbing is a good idea. You can build your coordination and bond non-verbally. Try indoor rock climbing if your partner isn't experienced.
43. Rent a hot air balloon
When you love the thrill of heights, a hot air balloon will take you on a ride while you enjoy your sandwich and wine picnic inside.
44. Fall in love while hiking
Spending time alone in the wilderness can let you build a stronger foundation for your bond. So, prepare your hiking kit and set off this weekend.
45. Explore somewhere new
Nothing is more adventurous than discovering an unknown place with your beau. So, this weekend, grab train tickets to a random place and roam about aimlessly.
46. Go skiing
If you're a pair of mountain-lovers, it's time to visit them. Grab your gears and fly down the trails for new memories. Snuggle up by the fire later.
47. Take a bite of exotic cuisine
Try out food from a different culture that you never tried. Bond deeper while you compete at who can finish the food first.
48. Try skydiving
If you're up for a good shot of adrenaline pump and feel the real thrill, skydiving can make your day! Dive and explore the heights together.
49. Buy a strong drink in the bar
Hit up your fave bar in the town and ask them for their strongest drink to celebrate the third date and try to not get knocked out.
50. Get your fortune read with tarot
Know how compatible you are with a professional tarot reader. Match your sun signs and birth chart for a rough insight into your future.
If you want to add your own twist to your date activity all while spending some good time together, here are a few that'll highlight your magic here…
---
Creative third date ideas
If you want to try something different and more thoughtful, you're looking at the right list. Dive in!
51. Try painting
Make a grand painting or a couple's matching t-shirt with fabric paint. You can even buy pottery and paint to make fancy house décor.
52. Join a hayride
During the beginning of fall, many hayrides take place. If your partner feels self-conscious about dating, this date can get them comfortable as many people will be present.
53. Click pictures on the pumpkin patch
If Halloween is knocking on the door, visit the pumpkin patch before they pick them all. Shoot pictures and post them on social media.
54. Escape from a corn maze
Navigate through the maze of cornfields together and laugh out on your intuitions about dead ends. Complete your date with a sumptuous meal.
55. Make farmer's market special juices
Pick up fresh fruits from the farmer's market. Create different types of jams, jellies, juices, and squashes together when you both are home. Taste-test and rate!
56. Make something fancy from garage sales
Check out all the garage sales in the vicinity and put on cool outfits together for each other from extremely affordable pieces.
57. Find something in antique stores
Find two cool retro objects in antique stores. Give them a new touch and gift it to one another as a love memento.
58. Learn magic together
Stream a magic tutoring video and try to learn as many tricks as possible. If you ace them, shoot a video with each of you conducting one trick and upload it on social media.
59. Have a musical livestream
If you're both good at singing, go live on social media and face off with your vocal or instrumental skills. Bond while the viewers decide who's better.
60. Volunteer in a soup kitchen
If you want to show your thoughtful side, ask them to volunteer with you in the soup kitchen. Help feed the poor and win your date's heart.
However, if you're not ready to take any kind of risk with a theme or plot in mind, you can always stick to the all-time great third dates that never fail…
---
Great third date ideas
If you're just unsure about what you and your date have in common, it's not a good idea to assume they'll like something. So, let's stick to the common yet great ones here…
61. Give snorkeling a shot
If you guys live around the coast, this fun underwater activity will make your date memorable with all the crazy colorful fish and underwater organisms.
62. Dip your feet while drinking
Sit near a clean water body, dip your feet, drink from a beer can or a bottle of wine, have pizza, and relax together.
63. Book a cabin with a view
If you're all set to get intimate, rent a cabin with an exotic view and let the night steam up. But make sure your partner consents.
64. Get back to the campgrounds
For outdoors lovers, get all the camping necessities and begin your journey. Enjoy different activities like paddle boarding and stargazing to grow close.
65. Canoe away
If you like water sports, spend the afternoon floating down a gentle stream while canoeing. Embrace this activity together and cherish the memories.
66. Glide on a skateboard
Buy a pair of skateboards and if you're beginners, join a class to learn together. If you're a pro, enjoy a playful competition till you're spent.
67. Float on beach waves
If there's a beach nearby, share a surfing board to learn the sport together. If you're both good at surfing, get two and enjoy.
68. Enjoy a cardio date
If you both have the stamina, connect with your date on a jogging session down a nature trail with scenic views.
69. Immerse in Tai Chi
Stream a YouTube video to practice the seated relaxing exercise. When you feel relaxed, hold your posture and talk about life.
70. Reminisce about your childhood with Truth or Dare
If you're adventurous and want to know more about your partner, play this game. But discuss what's off limits beforehand.
But if you get a hint that your date is a sucker for cute things and feel they deserve something of that sort too, I'm glad to help you out with these…
---
Cute third date ideas
Does your date swoon at the sight of small animals? Do they love classic and sweet ways of wooing? If yes, then let's find the befitting and unforgettable date idea for them…
71. Visit the zoo
If your partner loves looking at cute animals, this is the best way to lighten up their mood and enjoy a fun-filled day.
72. Enter a haunted house
This date number can help you naturally get intimate. You'll both jump and hug one another whenever something spooky pops out.
73. Watch a play
If you want to experience traditional courtship, let your emotions flow with a heart-touching play. Discuss your experience while grabbing dinner.
74. Head to an orchard
Pick fresh fruits at a low cost, take cute pictures, and return home to make pies. This cute date is also pocket-friendly!
75. Kiss in the amusement park
For this all-time cutesy date, get on the Ferris wheel and kiss when you reach the top. Click kissing pictures for the gram if you're adventurous.
76. Drop by the aquarium
If you or your beau loves colorful water creatures, this date will leave you both swooning over them and feeling closer to each other.
77. Attend local events
You'll find many local events around you on Facebook. Search them, decide on one, and visit the interesting ones. You'll know your partner's tastes much better.
78. Make a puzzle together
Grab a 1000-piece or bigger puzzle and solve it together. Help one another grow with your new ideas and sharpen your problem-solving skills.
79. Go to a dog park
Whether you guys have pets or not, if you love canines, this date will fill your heart with joy while you watch the dogs play together.
80. Dedicate a poetry
If you like literature, then compose a few lines of romance for each other together. Write one line alternately to make it fun.
If you both like to stay at home or can't step out for some reason, don't worry! You can still have your third date without a hitch with these plans…
---
At-home third date ideas
You might be a homebody, there might be a lockdown, or you might even meet with an accident… you might need a home date for many reasons. But you don't need to push the third date back for that, so let's explore!
81. Binge on a movie night
Order takeout, stream your favorite movies, and chill on your couch. If you plan to get frisky later, this can set up the perfect mood.
82. Pretend there's no electricity
Light up your entire house with candles, keep your phones away, shut down any devices, and enjoy chilling with a coffee, sandwich, and talking about your day.
83. Cook them dinner
If you want to get serious with your partner, cooking them dinner and feeding them will make a great date. Care for them with your culinary skills.
84. Meditate or do yoga
Since you guys are a bit more comfortable with each other, why don't you show what keeps you grounded? Bond spiritually with yoga and relax.
85. Create your couples bucket list
Build your couple's bucket list to show that you'll stay around forever because you need to be together for a long time to fulfill them.
86. Create jack-o'-lanterns
If it's Halloween season and you're busy decorating your house, call bae over and carve the pumpkins together. Watch your masterpieces glow in the evening.
87. Bake a Christmas cake
Call them over on Christmas Eve, decorate the house and Christmas tree, and bake a cake together. Spend the night dancing and exchange gifts at 12.
88. Share everything you like
Whether it's YouTube or TikTok, watch all your favorite videos online and enjoy a good laugh while you both snuggle and relax on the couch.
89. Walk around the neighborhood
Take bae around your house and share memorable childhood stories related to everything around you. Return home and grab a bite and let them share some stories too.
90. Whip up a delicious dessert
Pick up the necessary ingredients together and create made-up desserts without any help from recipe books. Relish one another's masterpiece (or not).
But again, if you believe your date deserves nothing but the best, I'm happy to present you with some…
---
Best third date ideas
If you want the best of the lot, you won't be disappointed because, in this list, you'll get every cool thing you can ever think of for a third date…
91. Extend a hand at an animal shelter
Take your partner to volunteer for the snuggly furry animals while you show off your kind nature and create a good impression on them.
92. Go mini-golfing
If you want to be outdoors but not engage in heavy activities, mini-golfing is a pretty smooth, relaxing yet fun game to spend your third date.
93. Go Christmas light-seeing
Meet up on Christmas and roam about the city wherever there are lights and Christmas trees. Pray in churches and wrap the night with a drink.
94. Plan surprise dates
If you know what your date likes, plan as many of them as possible on one day and wait until their jaw drops in amazement.
95. Have your lunch on Cruise
If you're open to splurging, this date will show you the time of your life with the scenic beauty and tasty food.
96. Visit your first-date location
If you recently started dating but met way back in the past, take a stroll down memory lane and discuss your feelings about one another back then.
97. Go on a double/triple date
If you're ready to introduce one another to your friends, invite a couple from each of your friends' circles. After all, the more the merrier.
98. Learn from a cooking class
If you want to learn a new cuisine, take online classes and try your hand at it together. Rate one another's dishes and your dinner is set for the night!
99. Make a snow couple
During winter, a lonely snowman is a sorry sight to watch. Instead, make a pair of them in your yard or anywhere you get snow. Take funny pictures with those and spam the gram.
100. Show your old pictures
Grab your school yearbooks or childhood family albums from your parent's house. Show one another what you looked like and marvel at how much you changed.
So, that was a list of 100 third date ideas. But wait, that's not all, I also have some…
---
5 Third Date Tips that You Must Know About
A third date is crucial for all couples because it often helps them gauge the future of the relationship. So, to make the best out of your situation, follow these date tips…
1. Pick the date idea carefully
Make sure during your date activity, you get plenty of scope to talk and bond. The activity mustn't demand excess time and attention.
To focus on your partner, choose something casual and fun but nothing that prevents you from talking like loud pubs or libraries.
2. Don't stretch it too long or too short
If the first and second dates were only 1-2 hours long, make your third date at least 3-4 hours.
You guys might not be ready to spend long hours, but it mustn't be as short as the last dates either. So, plan all the activities within a timeframe.
3. Try to be yourself
Third dates are all about getting rid of your masks and showing your true selves… after all, nobody is comfortable being too vulnerable initially.
Show off your goofy sides to make your date understand you. This'll encourage them to be equally open.
4. Dive into your backgrounds
It's time to talk about your past, childhood, traumas, hopes, dreams, and all the deep stuff.
You've had enough of small talk, so shoot some questions about their childhood house, their relationship with the family, and their major life decisions. You'll understand them better with this.
5. Know if you're compatible
Don't forget to analyze your life plans to understand whether you're compatible.
You must know whether you're headed in the same direction or not with questions about the type of relationship they want, their passions, and where and when they plan to settle.
A word from ThePleasantRelationship
While choosing a date activity, consider both your and your partner's comfort. Don't go out of your way, otherwise, if you fall sick or are incapable of continuing the date, your partner will judge you for not knowing your limits.
If you force them into any activity against their wishes thinking they'll like it eventually, they won't wanna see you ever again. So, keep the small details in mind to have a mind-blowing experience
…and I hope you also land that fourth date!
Surabhi Kedia
Surabhi wakes up every day with a drive to craft words that can create a soulful impact. Creatively adventurous, she is always seeking to learn new skills and acquire new experiences. With a hidden soft corner for languages (especially Urdu), she writes poetry occasionally, binges on romantic shows, and LOVES to talk. A hustler, admirer, chaser, Surabhi is just another-someone who refused to give up on her dreams. She says, she is just somebody who's trying to make herself a writer and for now, she's just writing...