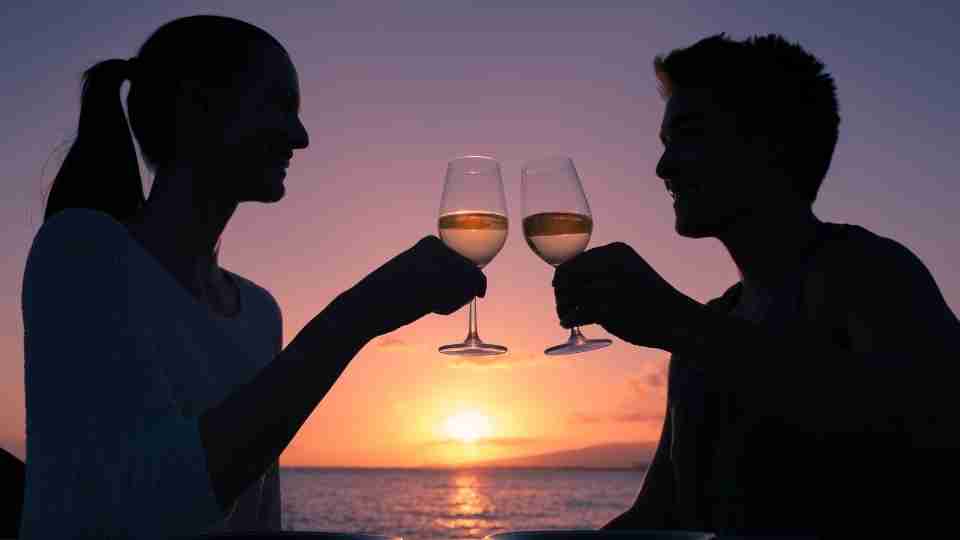 Hurrah! You have already worked your way up towards the second date… and I'm guessing that's why you're here… looking for second date ideas.
Btw, the first level is not yet accomplished.
First dates often tend to leave people in a dilemma. That feeling of confusion about how they found you on your first date leaves you unhinged.
But, what adds up to that already built-up stress is the upcoming second date.
Planning your second date after that dreamy first date can be super nerve-racking. No worries, my dear friend, we got you!
The second date facilitates the feeling of connection once again. It washes up that feeling of isolation after having a spellbinding first date.
Here are some ideas that will help you ease your nerves and make that second date count!
Second Date Ideas Infographic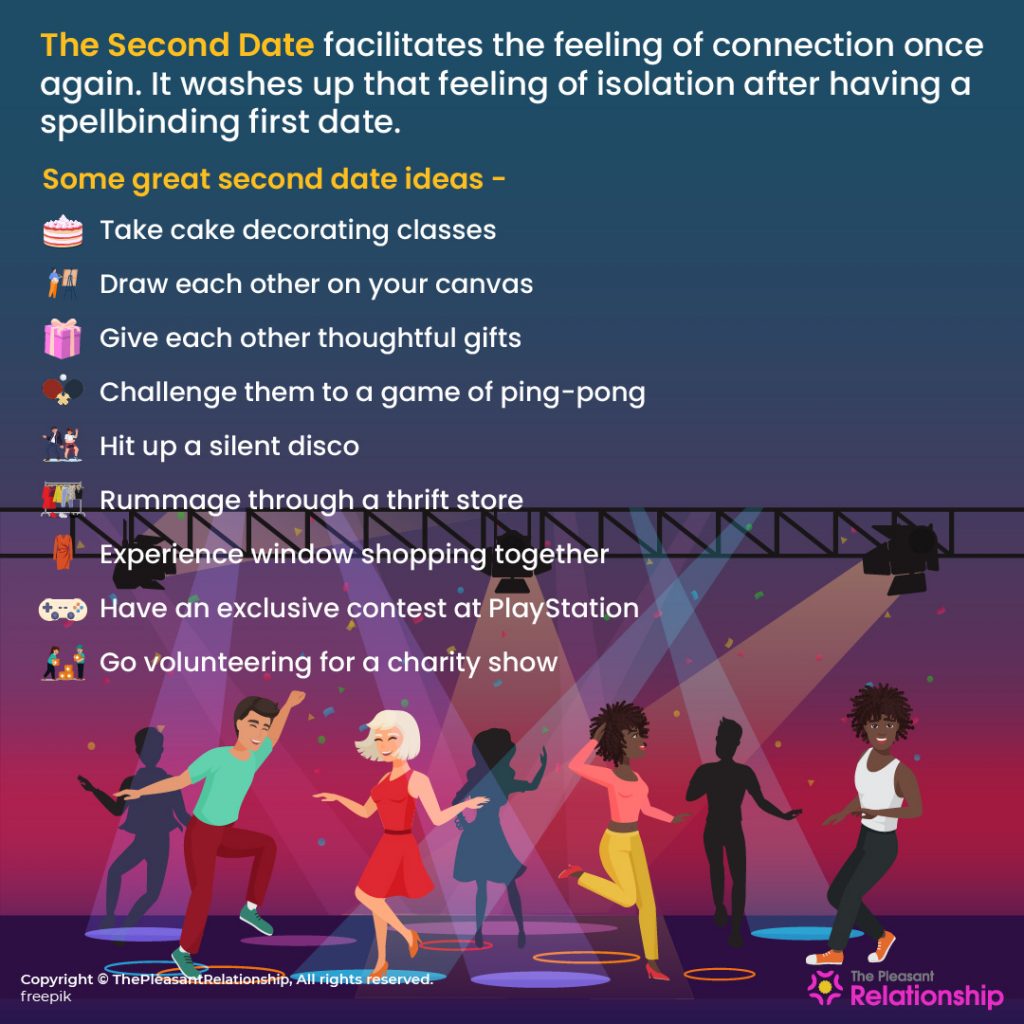 Good second date ideas.
Now that you are going to have a second date… a lot of pressure is already relieved. So, look at these ideas that I have handpicked for you and make sure you secure a third.
1. Take your pets out for a walk together.
Are you both pet parents? So, why not take your pets on your date too. Hang out with your pets at the park. This way, your pets can bond too. (An added advantage for the future.) 😉
Be careful with your pet's shenanigans. As they might indulge in a fight with your partner's pet. Oops!! That won't be a nice date and lead to awkward silences.
2. Take cake decorating classes.
Sprinkle your cake with glitters on top of a navy-blue fondant. Decorating a cake is a pretty impressive way to win your partner's heart. You can even take a class together to learn cake decoration skills.
Make your partner go awwwwwww with their favorite theme on the cake. Shower those stars on them, honey.
3. Draw each other on your canvas.
Satisfy your artistic spirits on your second date. Draw your date on the canvas (of your heart.)
Make intense observations. Let them know how serene and beautiful they appear to your eyes and pin down every detail in your art. Trust me, it is all in the details.
4. Give each other thoughtful gifts.
Isn't it the best thing ever? When someone gives you a thoughtful gift. It shows that the person actually made a lot of effort before finally giving you their present.
Usually, it is easy to ascertain someone's feelings by the kind of gifts they give you. It also says a lot about their inner self.
So, give your date a cute and thoughtful gift and not a mindless one. Please, do not give them that random candle from the supermarket.
5. Challenge them to a game of ping-pong.
Test the skills of your partner with a game of ping-pong. It is also a good test of your compatibility.
You can get to know them better while you dilly-dally on the road of high school memories embracing that nostalgia.
A game of ping-pong will also help you bond. Who knows, they might share some crazy ping-pong table stories from their frat parties.
This is the key to being privy to all the insider secrets. *Let them spill the tea, amigo.
6. Hit up a silent disco.
Silent discos have been quite a thing now. They have been a hot destination recently, because of how convenient they are.
They are available anywhere and everywhere. Silent discos are perfect for people who want to dance in the crowd but want to groove to their own music.
Have a great time together while cherishing your difference in opinions with a silent disco. Dance buddy. Dance till dawn.
7. Rummage through a thrift store.
Now that you are on a second date, you can show them how thrifty you are by raiding a thrift store. Explore your experimenting self and try some bold outfits.
You can bond with each-other while bargaining for some clothes and accessories at the thrift store.
Get ready to have some bold and beautiful additions to your cloth rack. Go ahead, try on those leather pants and take them home.
8. Experience window shopping together.
Window shopping is fun, especially on your second date. You can go ahead and show your partner how you might look if you were born into the royal family.
Try some over-the-top outfits and make each other laugh.
Go crazy with your choices and throw them into a fit of laughter. So, how is our pseudo-Prince William looking in those cloaks and tunics?
9. Have an exclusive contest at PlayStation.
Take out your PlayStation and dust it before it becomes a token of the past. Challenge your partner to a dual on the second date. Second dates are supposed to be fun and chill rather than grand and happening.
Talk more about each other while you kick each other's ass at the game. Lay the table with some delicious snacks and explore their competitive side.
Do you think they will cry over losing that game of FIFA 15?
10. Go volunteering for a charity show.
You probably know every random detail about their life from your first date. If not, then this is your chance.
Take them to volunteer at a charity show and you will get plenty of time to know everything about each other's life.
On the surface, you can talk about various things in their life while also getting to know the kind of person they are.
Their behavior will give you a lot of insights into their inner self. Continue with your kindness and trust your heart.
Now we are done showcasing the good date ideas for you. Hold your horses while I pull out some fun ideas from the box.
Fun second date ideas.
What is better than dating a fun person? Nothing. Have fun with your partner, and you will never have to worry about anything else ever again.
11. Set up a tent.
Travel to the nearby mountains or lakes or whatever you prefer. Pitch a tent in the neck of the woods. Light a campfire and roast marshmallows.
You can also try catching fish from the lake and then cooking them for dinner.
Look at the stars while listening to some music. End the night in each other's arms with a talk about what you want from life. Man!! This date is so dreamy. *Heart eyes emoji
12. Learn a new language together.
Bonsoir! Comment ça va. Learning a new language with your partner can help you ascertain how expressive they are. You might impress them with your fast learning skills or vice-versa.
What's better than upgrading your skills and being on a date at the same time? Keep learning. You might soon end up saying je t'aime to each other. 😉
13. Share a hotdog from a food truck.
Streetside hotdogs are the best hotdogs you will ever eat. Roam around the park till you find a food truck and gobble that hotdog topped with everything they have.
Yes! A hotdog dipped in sauce and several toppings is the real deal.
Hotdog hotdog hot diggity dog
14. Slurp milkshakes.
Milkshakes are healthy and sweet, just like the kind of relationship you want to have with your partner. (Haha! You saw what I did there.)
You can go on a milkshake spree and try every kind of milkshake that exists. Get crazy with the combinations and in the process, invent your own extraordinary combo.
This combo might be your special memory. Start your spree of slurping milkshakes, NOW!
15. Head to a planetarium.
How about a ride into the surreal cosmos? Then, the planetarium should be your place to go.
Get fascinated with how the universe works. Learn about stars and the constellations they make. Hold hands in the dark ambiance. Bag a kiss or two, maybe.
16. Foray into the carnival.
Win your partner their favorite stuffed toy by shooting range. Munch on some cheese caramel popcorns.
I know this all seems like a scene from some 90s romantic movie. But trust me, it is fun. You won't regret buying tickets to a carnival.
Talk about how Carnival was like when you were a child. Then, go all childish and taste that cotton candy. Who knows, you might end up kissing on the Ferris wheel.
17. Take a late-night dip into the pool.
Night pool is a whole different mood. It looks so fascinating during the night. The glistening water of the pool makes you excited.
So, dip into the pool late in the night and feel the shizz in your bones. If you are at a public pool, you both will still be alone at night. Flaunt that hot bod, babe.
18. Play around with a metal detector.
Turn into detectives and search for that treasure in your backyard with the help of a metal detector. Act like detectives and raid your backyard for those valuables.
If your backyard is too small for it, go ahead and raid the beach. The treasure might be anything from a dime to a can of coke.
19. Up for a couple's massage?
Get relaxed with your partner by your side. Spend time talking about how stress-relieving this massage is.
You can move on to talk about other things that are important to you. This massage represents how peaceful you're supposed to feel in the presence of your partner.
Relieve that stress while moving towards a beautiful relationship. Do not forget to compliment your masseuse.
20. Attend a kick-ass concert.
Are they a Swiftie or a Directioner? Take them to their concerts and watch them go crazy over their favorite pop star. Let them shout at the top of their lungs while you admire their crazy love for them.
You can also explore k-pop bands like BTS and Blackpink. Such a date will be nothing less than a dream. Hey! Armies and Blinks can co-exist. (I'm both)
Have you not found the perfect date idea for yourself yet? Sit tight while we pour more date ideas.
Great second date ideas.
Most date ideas are sweet and fun. But, they do not create the desired impression. So, here are a few greatest of all time first-date ideas.
21. Take a pottery lesson.
Bring out your inner Julia Stiles and Heath ledger for your second date. Make them dirty with the clay.
Get close with each other while taking pottery lessons. Make them swoon over your skillset. Let them go nuts over your body aroma while they sit close to you. What a steamy second date, right?
Is there a better way to dissuade the awkwardness? Try to find out what makes your date happy by stepping in their shoes. Witness that joy-filled face.
Find out what makes them feel content. This will not only tell you so much about how they are as a person, it will also show how much they mean to you and how much you are willing to spend a second date doing their favorite activities.
It is a heart-winning gesture, I tell you.
23. Let loose at a Cabaret.
Your first date was enough to break the ice, now loosen up dear and enjoy their company. Life becomes so hip and happening when you can benefit from the good things in life.
Look at those sexy queens while you have your dinner.
It is fun to enjoy that bold and fire performance with your date. This date will let you know that you appreciate the same things in life before moving ahead with your partner. It will be a perfect vibe check.
24. Attend a bar trivia night.
Bar trivia nights are perfect to hype up your competitive selves. This healthy competition will help you both bond deeper. You will also be able to explore new aspects of each other.
You will either be thrown into a fit of laughter at weird traits of each other or might stir up some completely undiscovered emotions for each other.
Not an issue if it is both. Get ready to unleash your emotion.
25. Host a party exclusively for them.
An exclusive party is always a thrilling idea for dates. You can play lots of games and have exciting contests with your partner. Either it can be a party exclusively for you two or, you can also make it a double date.
Do not leave any stone unturned with the preparations and, do not compromise on the grandeur of the theme. Try something like a Halloween theme or a retro 90s theme.
26. Go for a run.
Meeting your partner for a run can be a date, every day. This way, you will always start your day by looking at their lovely faces while you both work towards your health.
What is better than a fit partner who is eager to spend time with you every morning?
27. Upgrade your meme game with them.
Know the trends. Search the topics that are trending and also update your partner with them. This way, you will also know if they keep up with the trend or not.
Make some savage memes together and post them on Instagram.
You can create a meme page exclusively for your memes. Who knows, you might end with many followers and a famous meme page.
28. Work out at an open-air gym.
Open-air gyms are the best place to work out because of their environment. The fresh air is soothing.
Work out hard and breathe the fresh air surrounding you when your heart beats faster after an intense workout session
Get to know them better while working out. Talk about anything and everything with them. Sweat out the fat and talk about your future plans.
29. Spend the weekend together at a vacation spot near you.
Find a perfect vacation spot near your city. Now, if your budget is huge and the weekend is on the way, why not.
Spend your second date in a secluded and romantic place while cuddling with your partner.
Sweep them off their feet with your grand romantic gestures. Come on, it has been long since you did that for anyone!
30. Learn from YouTube tutorials.
Share some YouTube links and tell them how badly you want to complete the Chloe Ting 30 days challenge.
Tell them about those DIY videos that you want to try while making a DIY video yourself. Tell them about your interests and the things you want to learn.
It can also be educational and information-bound. You can also take a deep dive into some severe matters and learn about human psychology and statistics. Get to know how that brain works.
Cute date ideas are pretty tricky. It is the soft spot between romantic date ideas and fun date ideas. You have to hit the bull's eye for this one. But, do not worry. We got you.
Cute second date ideas.
These are some cute ideas for your date that will make both of your heart's flutter.
31. Visit animal shelters.
Are you and your partner both animal lovers? Then you can go and spend a day at the animal shelter for your second date.
It can help you bond over your love for animals. You can also adopt one, together, in the future.
You will know more about the affection and care of your partner towards animals. Pay attention to how the animals react around your partner.
If their response is affirmative – Damn! You have found a catch.
32. Bike ride to a romantic spot.
Ride that bike on the long windy roads. Let the calm wind graze softly by the cheeks of your partner.
They might spark conversations on the way about how beautiful the weather is. Bike to the most romantic place and get to grasp one another in an even better way.
33. Challenge them to a game of laser tag.
Get those laser tags out and revel in excitement. It is time to introduce a touch of silly-and-fun into your second date.
Either team with or against one another and giggle your hearts aloud. You will find that their presence causes butterflies in your abdomen, and you do not need to abandon that smile any time soon.
34. Row a boat together.
Take a boat and row it down the stream and if you suddenly meet their eyes, let your heart go pitter-patter.
Somewhere within the middle of the lake, on a cute boat, solely the two of you with a beautiful scene and a snug silence. Damn! That is everything you ever need.
35. Cook a meal for them.
Impress your partner with your cooking skills. Prepare a delicious lunch for them with your own hands.
Set a table and let them be in awe along with your glorious presentation skills. In the end, they can provide you with tons of flattery for it. Or maybe a kiss too.
36. Pack your moments with a time capsule.
Everyone remembers their first date. So if you want your partner to remember the second, you need to make special efforts for it.
To always remember your second date, create a capsule of a few things. Draft a letter telling each other regarding one another. Embrace a possible cute memento for the longer term.
Decide about when you would both want to open it. And keep in mind, this will help you continually reminisce and care for your partner in the future.
37. Skate your heart out at the ice-skating rink.
Go skating along with your partner. You will even be able to teach your partner if you are a professional at it. Doing an activity together will bring you both closer.
You may also discuss the progress you made while grabbing some drinks later.
38. Escape that Escape room.
Escape rooms are pretty well known recently. They are not that high-priced and help you to know your partner well.
The caring nature of your partner while you escape the escape room can tell how much you mean to them.
39. Jump on that trampoline as if there's no tomorrow.
Hit the closest trampoline park and jump your hearts out. Nobody I know hates having fun jumping around while having no fear of being wounded? It will be thrilling and exciting for a primary date.
You will conjointly get to take your date a notch higher and unleash the fun facet of your date.
40. Make graffiti on your home wall.
indulge yourself in the captivating feeling of decorating your house along with your partner. Create some graffitis, mess around creating silly things with paint, and perhaps color your partner too. 😉
Run to flee from getting painted and eventually get wrapped into their arms while gazing into their eyes. That will be a cute date. Trust me.
Perfect dates are always mind-blowing but, some of us don't want those grand gestures. We want a date best suited for us. So, let us rain on you some best date ideas ever.
Best second date ideas.
If you want to make your second date a memorable one, you need to touch that sensitive spot. Spend time to spot it.
Take them to a date that will leave them swooned. Check out these best date ideas that might bring you close to your date.
41. Take a tour around the brewery.
The brewery tour sits at the heart of all the fun. This can be a thing you can both vibe upon and the fun and adventures of the first experience are going to be remembered.
Places like these automatically get you going with the flow.
By the end of it, make both of you feel all buzzed and enthusiastic. The freshly brewed beer adds up the extra spice and makes you feel alive at the moment. Whoa! That beer mug slays.
42. Explore a flea market.
Take your date to a flea market on a second date. Walk around and discover varieties of extraordinary things. This will make things easy for both of you to vibe upon. This is a cheap date and the best one for casual outdoor dates.
This can be a lot more fun if you plan out things and find a nice restaurant to sit back and relax and enjoy quality time with each other at the end of the day.
Flea markets are an endless source of fun, entertainment, and great food as well.
The second date in a flea market can be great if things went awkward during your first date. Shrug away that awkwardness this time.
43. Play miniature golf.
Inviting your partner for a classic golf evening at the green! How fun is that?
Mini golf dates with silly twists and unique golf challenges can make this a game of flirting as well. The playfulness and the focus you both have on each other's moves can prove to be really interesting.
The after-game conversations are also fun and exciting when you both discuss and comment on each other's strategies.
44. Picnic by a lake.
Picnics are beautiful getaways that are extremely inexpensive. Soak in the sun while acquiring mastery at preparing snacks. Also, carry some quick meals with yourself. Efforts matter.
Take a bottle of wine and make your date feel special in the picturesque garden. Sip wine and appreciate the beautiful nature around you.
45. Attend live music at a cafe.
Live music is an ideal kind of date as you can groove with the music while enjoying your dinner.
If you have clicked instantly over your liking for music on the first date, then a live music cafe for a second date is a hit.
Enjoy the magical vibes and look into their eyes. That might make your heart do a backflip. These dim lights give you a lot of hand-holding potential.
46. Attend a lecture together.
This can be something between both of you. Like, one of you is really good at something and the other one is getting lessons on the same, or it can be something new for both of you.
Something creative always paves its way towards romance and intimacy- pottery, painting, learning a new language.
All of this will be really helpful in knowing each other on deeper levels by observing their behavior.
Taking a class/lesson together also gives you both an enormous amount of quality time to be with each other.
47. Hop to those art galleries.
Attending art galleries is the best way to immerse yourself in art before you are too immersed in your partner to even look at art.
Dive a little into art before you get busy drowning in their eyes. Oh! So smooth. *self pats on the back
48. Prepare a meal with your date.
You and your partner? In the same kitchen? Cooking your favorite dish? Oh. So romantic! Cooking together is an impeccable activity for couple bonding.
This will encourage you both to understand how comfortable you feel around each other.
If things go down, you can always order pizza. Do not make me nervous. I have high hopes for you too.
49. Spice it up with some jazz.
If Jazz is your jam, then hit the bull's eye by flaunting your skills. Take them to a romantic Jazz Cafe and show them how deep your knowledge is.
The ambiance at Jazz cafes is always great. It helps you calm down your nerves. While you're at it, do not forget to take an active interest in your partner's opinions. Listening is key. Be it Jazz or your partner.
50. Become a pro at mixology.
Mixology is the art of mixing cocktails. Impress them with your exquisite combination of cocktails.
Ask them what flavors they like. Play with both of your favorite flavors. So, the final conclusion – experiment and impress.
A plethora of go-to-date ideas does not see the light of the day. Our hopelessly romantic audience wants everything spick and span.
So let me dive deep into our magic pocket for some awesome date ideas.
Awesome second date ideas.
Well, our awesome couples want everything fantasy-like. They want their second date to be as neat as a new pin. So, pouring a few awesome second-date ideas below.
51. Speed away your Go-kart on the track.
Get that adrenaline rush with a go-kart race. Challenge your partner to it and see if they can keep up with you.
Find out if your partner has got that rush or not. Do not get aggressive and prioritize your fun spirit, not the competitive one.
52. Sky-dive together.
Sky-diving as a date? You already have my heart. Do not cling to that 'keeping it casual' straw.
Instead, take a leap from the plane and jump right into the boat of love. This second date will go down in history as the best date ever.
53. Try spelunking.
Are you adventure maniacs? Try spelunking. It is a thrilling activity where people go and explore hideous caves. It is a tiring job but, for some people it is fun.
If you and your partner are one of those people, grab your helmets and go spelunking. Roll in the dirt while dragging your body through the caves.
54. Take trapeze classes
Trapeze lessons are magical when you have a flexible body. If not, then you can attain one by regularly taking those lessons.
Burn your extra calories by stretching. In the end, you will feel relaxed. Flaunt your flexibility and make them swoon.
55. Enjoy that burlesque
Attending the Burlesque is one of the boldest dates. Those drag queens are a joy to watch. Their precious expressions set the mood at the cafe.
The thrill and quirk in the show make everyone feel at the top of their sexy selves. This is, most definitely, a date to remember.
56. Hike together.
The best way to let loose is to go on a hike. Take your date on a short hike and flaunt your adventurous side.
Talk all you want because hikes usually last long. The mountains and forests would be witnessing your beautiful date while you share a water bottle after that hike. Isn't it lovely?
57. Camp in the mountains.
Visit the beautiful mountains and let that chill breeze intensify your chemistry. You know, what is even better? Sharing the same sleeping bag. 😉
58. Go ax throwing.
Angry? Throw that ax.
Throwing an ax is better than ruining your date with your mood. You can forget your problem and take out your anger in the woods instead of your date. HIYAAAAAHH!!!!!
59. Hit up a rage room.
Are you also smiling at your date while your inner self is frustrated? Do not muffle that scream.
Instead, take them on a date to rage room and scream your heart out. Who knows, striking objects can lead to striking each other's hearts.
60. Go on a random scavenger hunt.
Do you remember when you last went for a scavenger hunt? Well, Even I don't. But this is your chance.
Make a list of some objects and spot them on the way. One who spots the most number of items will win the game. Spot everything on the list. And, remember, no cheating.
Okay!! Some of you prefer keeping it out of the box. Your one-in-million aura influences all your activities, including your date. Keep scrolling for those out-of-the-box ideas.
Classic second date ideas.
We have squeezed out a few ideas that are not the talk of the town yet. So, impress your date with your one-in-a-million attitude. Here are a few date ideas to hit it out of the stadium.
61. Relive your childhood with those board games.
Dust those board games before they turn into an artifact. Find interesting ones and challenge each other on your first date.
There are tons of board games. You can play anything from Jenga to Scrabble to Snake and Ladders.
Make it engaging with an engaging bet for the loser. The loser will buy drinks. Btw, my personal favorite is Uno.*Draw four!
62. Take a visit to your alma mater.
If you both are from the same school, did you have a crush on your date then? Yes or no. You already have so much to look forward to. If you are not from the same school, it is still good!
All the memories will flash right back to you, and you can share them with your loved one. You can also create new moments with your partner. But hey, Do not make out in the library. *Sshhhh
63. Dance with them all night.
Dance like there is no tomorrow. Go crazy with your partner on your favorite songs. Oh, and if you do not know how to dance, ask your partner to teach you their best moves.
It will be fun. Or let them go gaga while you enjoy the show.
64. Get lost together in those underrated alleys.
Get lost in the city. But, do not compromise your safety. Explore your town, like an oldie. Go ahead and ask people for directions.
Try to explore those underrated streets and lonely alleys. Find an unknown place. Make it your personal place for further dates. It will be your place.
65. Foray the record store for some classic records.
Show your partner that indie record album you like and play it to them in the record store. Spend time in the record store playing all the records you love.
Your taste in music tells a lot about you as a person. Show your partner your favorite music albums while you are asking them for theirs.
Relive that 90s pop era. And take some records home as keepsakes.
66. Go to a lake and beat them at a game of rock skipping.
Go to the lake. Find out how your rock skips when you throw it in the water. The person who makes their rock jump most times wins.
Test the rock-skipping talent of your partner. My childhood was full of rock skipping games near the lake. My highest score was eleven and, yours?
67. Kiss on the top of the Ferris wheel.
Get rid of your fear of heights and ride that Ferris wheel. Hold hands and caress the top of their palm with your other hand.
Tell them how much you like them. Explain how they make your life better just by being in it. And when the sun is about to set – Lean in…. for… a…. KISS.
68. Bake your own pizza.
Ever tried baking your own pizza? Well, ordering a large pizza does seem a better option than roughing up the puff.
But who knows that this exact thing might make your partner fall for you? I do not know about you, but it worked well for many people. Also, do not forget to sprinkle some Oregano.
69. Look at the stars while cozying up in a blanket.
I will repeatedly say that stargazing is the most romantic date ever. Gazing at stars on a date is nothing but pure bliss.
Carry a comfy blanket and soothing playlist to set the mood on that starry night. Starry skies and loving eyes! Always.
70. Sing together on a karaoke night.
What if you do not sing well? Who cares? It is Karaoke. Sing your hearts out with each other and break the ice. Who knows, you might end up with 100 points? *100 points to a Gryffindor, aye?
Oh so your budget is not so much… don't worry, you can still have the time of your lives.
Cheap Second Date Ideas
Dates don't mean that you must always have a high budget… you can enjoy just the same with these cheap second date ideas.
71. Plant a bunch of seeds in gardens around the town.
Plant a few seeds around the town. Apart from being a great second date idea, it is also a great way to secure future dates.
If you want to keep them with you, there is no better way than engaging them in long-term commitment. Nurturing those plants will be a great way to see each other every day.
72. Try your hand at some backyard science experiments.
Did you also try burning paper with a magnifying glass in your childhood? *raises hand
Surf YouTube to find out some crazy backyard science videos. Go ahead and try those experiments. Stay safe, and do not forget to take precautions.
73. Tour a bakery.
Oh! that mesmerizing aroma of a bakery. Roam around the bakery to find out what gives way to that aroma. End your tour by tasting some sample cakes. Such a fun plan.
74. Forage that orchard for berries.
Take a walk around the farm and pick some berries. Tell them about your love for fresh fruits and nature.
Sit under the shade and enjoy those fruits together. Later, you can take the excess home and make jam out of the remaining ones.
75. Download an app like Pokemon Go and roam around all day.
Pokemon Go is a fun app that lets you catch Pokemon by roaming around the city. Go ahead and catch those Pokemons together.
76. Share a bucket list.
Draft a bucket list together. Include activities you want to do together. This to-do list will secure your further dates. Perfect idea, Right?
77. Color drawing books.
Grab some coloring books and some crayons. Start coloring to calm yourself and enjoy a peaceful date with your partner. Remember, do not color outside the lines.
78. Write a song with original lyrics.
Compose a song together. Get creative with the lyrics. Channelize your Taylor Swift energy and make it a hit.
79. Enjoy the Yappy Hour benefits.
Gather your yappy little pets and cuddle their neck. Watch them as they roll on the ground while soaking in the sun while you talk to each other.
Let's face it, your puppy is cuter than everyone, even your partner.
80. Visit a free exhibition.
Exhibitions are free in most countries. They charge little to no admission fee. There is free entry to renowned museums and galleries on certain days.
You can even arrange student passes or discount vouchers to avoid pricey tickets. Many museums and galleries offer great discounts to young people… some sweet benefits of being young.
If creativity is what you are looking for, we will serve you some. Put in some creativity yourself or take inspiration from the ideas listed below.
Creative second date ideas.
Hey, we need some thoughtful ideas, right folks? Here are some date ideas that your Da Vinci-like friends use to impress their dates. Pick one of these and enjoy the compliments that follow.
81. Snowboard till the sunsets.
Snowboarding is the most fun activity ever. Sliding through those slopes gives us an unexpected thrill and excitement.
Have fun with your partner while snowboarding but do not forget to take the necessary precautions.
82. Test your cosmic energies with a tarot reading.
Let's see what the tarot card says about you. You may or may not believe in tarot card readings but, you can still have fun with the experience and cherish it in the future.
83. Visit a gemstone shop.
Go to a gemstone shop and choose that lucky gem. Give it to your partner as a keepsake. Or you can also give it to them after putting it in a locket.
84. How about some partner yoga?
Partner yoga is the perfect way to bond with your partner. After that first date, if you want to get to know your partner more, then spending time together while staying fit is the best way to go.
85. Peruse the farm market.
Search the market for fresh fruits and vegetables. Switch to eating healthy along with your partner. It will be fun and something good will also come out of it.
86. Win that pumpkin carving contest.
Take part in that pumpkin carving contest along with your partner. Participate together in the competition. Winning against other couples is the best way to celebrate your second date.
87. Praise the wind by flying kites.
Appreciate the wind by flying those colorful kites. You can also make kites for each other and customize them with your favorite things.
You can also be a team and fly your kite higher than other competitors.
88. Go ice fishing.
Ice fishing is perfect during the winters. You can also cook the fish later for dinner. It will be a chilly and delicious second date.
89. Flaunt your creativity at an improv show.
Improv shows are famous for taking inputs from the audience. Give some creative inputs and flaunt your creativity in front of your partner.
90. DIY your house decoration with some recycled junk.
Find some old mason jars and recycle them with beautiful stones and glitters. Decorate them in your house to increase the aesthetic quotient of your home.
If you are a sucker for romance, you must be wanting a romantic date like one of the 90s rom-coms. Read on for your perfect romantic date.
Romantic second date ideas.
Get your suit and hold that rose. Open the limo door and let those sparks fly. Here are a few romantic date ideas for that perfect romantic date.
91. Go to a Ball.
I just wanna know, will you slow dance? If your answer is YES, then let us take this date to the next level.
Put on your best fits and get ready to experience an evening of romance and intimacy. Attend that ball all suited up or dolled up. Anyone else getting Bridgerton feels?
92. Do the cooking and the looking together.
Exchange looks while helping them with the dinner. The key to winning your partner's heart is paying attention to them even while you work.
Steal some glances while you can't stop appreciating their cooking skills. But, do not burn the food. Please.
93. Take a romantic stroll at the park.
Will they accompany you for a walk? You just need their company. A long walk can be engaging and intimidating for a perfect outdoor second date.
Having beautiful conversations with your partner while walking side by side and holding hands will make it the best date ever.
94. Recite those oh-so-lovely poems of love for them.
Will they become Shakespeare or Allan Poe for you? Planning to recite poems for them! Go for it. It can also be really fascinating to see them writing poems for you about what they love about you.
Write a poem that isn't excessively elaborated. Persuasive writing can do wonders and add to the excitement of the second date.
95. Light a lantern together at the lantern festival.
Light a lantern together under this massive sky. Doing an activity such as lighting a lantern will make you both compassionate towards each other.
96. Get lost together in a corn maze.
Visit a corn maze for a fun escape session and let your partner come in search of you. This can be such a thrilling and exciting experience for both of you.
Let them go on a search mission like your Disney Prince.
97. Sing for them at an open mic.
Will they dedicate a song to you? Singing on an open mic takes a lot more courage than it actually seems.
Singing for them can make them vulnerable and also create a sense of belongingness with each other.
98. Ski down those snow-covered slopes.
There is something magically unquestionable about winters and snow.
The snow put up the best show making it a perfect second date by skiing down those snow-covered slopes, holding onto each other and the feeling of warmth in that cold environment.
I bet nothing can be more perfect than this!
99. Paddleboard together while watching the sunset.
Paddleboard together while watching the sunset. Can a second date be more perfect than this? Well, strolling on a paddleboard in the lake.
Spending hours together and finally waiting to witness the sunset make the whole idea and atmosphere perfect for a second date.
100. Rent a hot-air balloon for yourselves.
Take your love in the air cause love is in the air! Wanna add a little adventure and escape activity on your second date?
Rent a hot-air balloon and, up in the air, you go experiencing and exploring the massive sky and possibilities it holds for both of you to witness in the madness of air.
If you want to experience winter at your home or at those exclusive places, I've listed some date ideas that will help you enjoy the winds of winter.
Second date ideas winter.
You don't have to search anywhere else to relish a great winter date. Let's dive in!
101. Take her to see a symphony.
Symphonies are the most culture-rich shows. Attend them in your best fits and flaunt your chivalry in front of your significant other. Take lessons from Mr. Darcy, if needed.
102. Tour your city like tourists.
You make them fall in love with this city! Take them strolling across your city and make them feel the enthusiasm and excitement the city holds.
Traveling and exploring together can never go wrong in any way.
The best part is you can spend hours in each other's company and still can't have enough of each other.
103. Match your outfits.
Wear seasonal matching outfits. You can also go for a themed dress. Go crazy with the theme. Money heist jumpsuits or squid game tracksuits? Anything you like.
104. Indoor trampoline? Now is the time.
Crash that indoor trampoline and enjoy to your heart's content. Jump till dawn. Fall in each other's arms and stay there until the sunrise.
105. Push each other in that ball pit.
The ball pit was my favorite thing as a child. Relive your childhood days by throwing your partner into the ball pit.
You might also hug each other and fall into the ball pit. It will be so dreamy.
106. Challenge them to a game of pool.
A game of pool is a fair way to decide where you are going for your third date. Give them a tough competition and surprise them with your favorite place the next time.
107. Indoor rock climbing is so dope.
Hit the indoor Rock-climbing gym and enjoy rock climbing during winter. While the real mountains are capped with snow, you can climb these faux mountains with your partner.
108. Cater to your Christmas spirit by Holiday light seeing.
What is the most beautiful time of the year? Yes, you guessed it right! Christmas. Spending time together during holidays can, indeed, prove to be all nostalgic. Take this whole thing to the next level.
Holidays are the times when every human being wants to feel loved and that sense of belongingness that would last eternally.
Planning a second date during Christmas can really be spellbinding in all aspects.
109. Drive around for the surreal winter view.
Do you know what can be a perfect second date? A long drive with your partner, around for the surreal winter view.
Such a getaway plan can prove to be really helpful in understanding each other's behavior. Long drives have always proven to bring out intimacy on any date.
110. Say cheers to some hot chocolate.
Are you in the mood for some hot chocolate? Taking your date to sip some hot chocolate in winter can help in boosting both of your minds for some intimacy and romance instantly.
If you want to experience summer at the beach or at exclusive summer places – I've all listed for you.
Second Date Ideas Summer.
You do not have to keep scrolling or searching anywhere else for a great summer date. There are multiple ways to enjoy each other's company during summer… listed below are a few of them.
111. Grab some Gelato ice cream.
Do you not love some frozen gelato ice cream? Taking your date on an ice cream date can help both find the sweetness and add a little bit of closeness too.
112. Go ziplining.
Take your date on a second date for an unusual, romantic, and exciting ride. Go spend a weekend in the woods. Then, attend a zip line tour along with an overnight stay in a treehouse.
113. Whizz around the city with a motorized skateboard.
Experience the thrill of a motorized skateboard with your partner while buzzing around the vicinity of the city.
The fun activity can make you both feel all pumped and that adrenaline rush can make things go really steamy and hot.
114. Bingo!
Wanna have some fun? Playing board games can be really great as it brings out your competitive side, and betting on it can even make it more interesting.
115. Attend a fundraiser.
Attend a fundraiser together and work the entire day cooperating and coordinating with each other. The activity can also help you, deep-dive, into the chemistry between you both.
116. Make goofy faces in a photo booth.
Taking random pictures and clicking each other's polaroids can serve as the best source of memory and entertainment.
Making goofy faces in a photo booth can help create a lot of good moments to look back on.
117. Do a Vogue-like photoshoot for each other.
Tour around the city and find Instagram-worthy places to pose. Do a vogue-like photoshoot for each other and pose like Gigi Hadid.
118. Try outfits that are out of your comfort zone.
Go shopping together and try outfits that are out of your comfort zone. Pick up outfits for each other and complement each other.
This will help you to appreciate the fashion sense of your partner. It will bring out the hidden fashionista in you.
Nevertheless, both of you will end up with beautiful additions in the closet.
119. Taste a totally new cuisine.
Exploring the restaurants together and trying new cuisine can be a fun activity when you have your significant other by your side.
120. Challenge each other to a game of Bocce ball.
How about you take your partner to play bocce ball? This Egyptian game acts as a great summer play that helps in bringing out the summer spirit in both you and your partner.
The pandemic has ruined dating for most of us. But, do not worry. Every problem has a solution.
So take a chill pill while we bombard you with date ideas that are efficient during the pandemic. Stay at the comfort of your own home and cherish these date ideas with your partner.
At Home Second Date Ideas
Save these date ideas. These date ideas will help you stay at home while getting you closer. These at-home date ideas are a steal. Grab them ASAP.
121. Feast your eyes on feel-good rom coms.
Taking your date on a nice movie date can prove to be really exciting and fun for both of you. Feast your eyes on a feel-good rom-com on which you can connect and talk about.
122. Invite her for a fancy candlelight dinner.
A fancy candlelight dinner can never go out of style. The exquisite setting with some soft music and a self-cooked meal is all you need.
Even if it is Maggi, it is enough to win their heart. Efforts are all that it takes to win a heart.
123. Get the face masks and de-stress yourselves together.
Dive into some self-care with face masks. Self-care is a must, irrespective of gender.
So, it is healthy for both of you to indulge in a care session together. Korean face masks are really effective.
124. Have a Nintendo battle.
Challenge them to a Nintendo game. Get your competitive side out of the closet and show them who the original gangster is. The loser buys ice cream for both.
125. Groove to some slow music.
Dancing in your home at your own comfort is the best thing ever. Slow music is very romantic. It gives way to slow dancing and slow dancing is the ultimate romantic gesture.
Get lost in each other's eyes while slow dancing.
126. Find out if they are an ENTJ. (Mine is!)
Take the Myers and Briggs personality test. Also known as the 16-personality test. Find out the traits of your partner.
This personality test does not go wrong. So you will know exactly how your partner is on the second date itself.
127. Drown your crumbs in that fondue.
Get a lot of breadcrumbs on a plate and drip them into the cheese fondue. Give a dipped breadcrumb from your own hands. Lastly, share your thoughts like you said that fondue.
128. Show off your skills with that crossword.
Solving the New York Times crossword can be your idea of a romantic date. Test how knowledgeable your partner is at guessing crosswords. Let's see who wins.
129. 'Never have I ever ' or ' Would you rather ' or both? Decide.
You can play games like never have I ever or ask each other some would you rather questions. Both are exciting ways to spice up your date.
These games will help you know more about your partner.
Explore the deep insides of your partner with these games.
130. Channelise that Van Gogh in you.
Bring out the painter in yourself. Paint your partner like Da Vinci painted Mona Lisa. Embrace their features and fill colors in those features as your partner fills colors in your life.
Keeping it chill is not easy for someone who is constantly awkward around people. Coming straight from the horses' mouth.
Well, go on a double date to avoid your relationship from hitting the hay.
Double Date Second Date Ideas.
Are you skeptical about showing your loving side too early? Well, if you want to act cool, we are glad to present you with some double-date ideas that will help you bond while also keeping the distance.
131. Rent those double-seater kayaks.
Double seater kayaks are perfect for a double date. Take your friends and your partner to a kayaking zone and cherish the beauty of nature while you sail that kayak through those forests or mountains.
132. Get together at a Rooftop Bar.
Invite your friends to a rooftop bar and celebrate your second date with them. If you still have some amount of awkwardness left after the first date.
Then, this meeting will be perfect, to break the ice. Do not forget to treat your friends for support afterward.
133. Go on a beach.
It is summer. You and your partner crave a short trip. What's a more comfortable way to relax than to go to a beach? Sounds nice, right?
Pick up your swimsuits for some cold drinks and get yourself out of your daily life. Go enjoy the sounds of the water, watch sunsets, and have some quality time.
134. Ride that water taxi.
Ride a ferry boat or a water taxi with your partner and friends. You can sail to the other end of the river.
Enjoy the cool sea breeze and the beautiful glances of your partner. Make sure your friends are comfortable too.
135. Roast marshmallows on a bonfire.
Light a bonfire and roast marshmallows on a windy night. You can have your friends and partner gathered around that bonfire.
Talk about your lives. Take an active interest in what each one is saying. Play some music or have someone play the guitar.
If you can play the guitar, it is the cherry on the cake. *Ed Sheeran vibes on the way.
136. Ditch riding with a train ride.
Ride a train journey with your partner and relax. Driving is not your responsibility anymore.
Enjoy the surreal view from the train and talk to your partner and friends. Enjoy the complimentary food at the locomotive.
137. Trail the whole amusement park.
Who would say no to an Amusement park? Spending the whole day trailing the entire amusement park and hovering around can be the best of all experiences you could ever have.
Going on a rollercoaster ride together will make room for some extra romance.
138. Flaunt your wine collection.
Invite your friends and your partner for wine tasting. Flaunt your wine bottles and impress them with your collection.
If you do not mind sharing your oldest and finest wine with them… Show them the art of tasting wine. Parade those skills you learned at the winery.
139. Go together to watch the NBA game.
Are you the Lakers or the Knicks?
Get tickets for an NBA game. Have fun with your partner and friends while watching the basketball game.
Do not forget to have a fresh breath. You never know when you and your partner might appear on the kiss cam.
140. Get into character with a murder mystery dinner.
Host a murder mystery dinner exclusively for you and your friends. Make it exciting with some props.
Scare them a little with some silly pranks and complete the dinner by finding out the murderer.
So, now tell me the secret. Who is the murderer?
If grand gestures are not your thing, make them. Your second anniversary is approaching. Do not worry, we got you. We have listed a few date ideas to help you make it grand this time.
Second anniversary date ideas.
Left no stone unturned for the first-anniversary celebration? Good job. Are you confused about what to do on your second anniversary?
Do not worry. I've got you covered. Given below is a list of second-anniversary date ideas.
141. Relive your first date.
What is better than experiencing those butterflies again? So, relive your first to the exact moment and cherish how far you've come. Make sure to book tickets before to avoid missing out on the big day.
142. Surprise your partner with breakfast in bed.
This is the cutest gesture ever. Breakfast in bed is super romantic and inexpensive too. If your wallet is not ready for the splurge, this is your go-to idea.
143. Go to the movies.
It is baffling how many movies are set to release. Stay active and keep track of the upcoming films.
Mark your calendar for the movie dates and book tickets in advance for that perfect movie. *Spiderman: No way home is releasing soon. Hit or miss.
144. Throw that phone away and spend the day together.
This idea is really inexpensive but very difficult to follow. If you want to spend quality time with each other, it is a no-no to mobile phones.
145. Bowl like The Big Lebowski
This date is a little cliché but that is because it is so much fun. Rent those bowling shoes. Grab a packet of potato chips and a couple of drinks and you are good to go.
At the end of the day, do not forget to tell each other how grateful you are for each other's presence.
146. Roam all the pubs in the city.
Are you ok with partying hard on your anniversary? Get that booze and live that buzz.
Hit the bars during happy hours and take advantage of those free drinks and special snacks. Make it a boozy celebration.
147. Make out at your favorite romantic spot.
Do not get bothered by those eyes. Who cares, anyway? Make out like you're doing for the first and last time.
Let that orchestra play in the background of your head while the sky is filled with fireworks.
148. Find a beautiful place and sip wine together.
Such random dates have my heart. All you need is a place and a bottle of wine. You can also take some practical things from your home like a comfy blanket and some ready-to-eat snacks.
A quiet spot and some quality time are all you need to make your anniversary special.
149. Drive to an unknown destination.
Do not pick a destination. But, do not drive too far away. Make it a one-day trip. Try considering the places that are surrounded by nature. Enjoy your one-day getaway.
150. Watch the sunset while hugging each other.
Watch that beautiful sunset with your loved one. The last rays of sun falling on your significant other's face make them look so beautiful.
Cherish the moments you have lived together and tell them why they are perfect for you.
So that was a list of 150+ second date ideas for you… but do you know which one is the best for you?
---
How to Pick a Great Second Date Idea?
After being on the first date, the butterflies in your stomach have become fat, and wanna pick a second date while planning further dates with them.
Well, in the dating world, the first impression cannot be your last impression… there's more.
But you need to understand that all date ideas are not fit for you… you need to know how to pick the right one.
Let's see how you can do that.
1. Take leads from the first date.
The first date must have given you an idea about the person, their traits, preferences, likings, and dislikings, etc.
So, take a cue from that and pick a date idea that can cast a lasting impression on your partner.
If you are willing to explore more, you must select a date idea that is comparatively less noisy and you both can talk to each other.
2. Put a lot of thought while picking the location.
Picking a thoughtful location is the prime element of planning the second date. Of Course, you know that the vibe and the environment set the tone and energy for the entire date.
So, if you already have an idea about the activities and preferred locations of your date, then, you can plan the location for your date, accordingly, like a bike ride or sunset watching.
This way, it will be easy for you to make a pick from this list.
3. Pick a casual environment.
Unless you are unsure about anything mentioned above, it is best to pick a neutral and casual environment for your second date.
Instead of going out on a dinner date and making things awkward cause you hardly have any topic to make conversations with!
Something like a nearby cafe that can give you both enough time and space to talk to each other will work wonders.
4. Communicate effectively.
Communication is the key, as we all know. An ideal second date is where you both can open up and communicate your thoughts and opinion about different matters.
Women tend to get fascinated by men who spark a conversation… men who make them curious instead of empty-rated compliments and cheesy pickup lines.
While keeping everything in mind, remember that listening plays just as much role in a conversation as talking.
5. Be mindful.
When heading towards your second date, make notes from your first date and enlist all the things that make her uncomfortable and insecure.
Keep such factors in mind and be mindful enough about her expectations from the date.
Women appreciate when men observe their behavior and habits and try making them feel comfortable and at ease.
A word from ThePleasantRelationship
Do not make assumptions beforehand.
If you know what I mean!
As humans, we tend to compare and connect every experience in the past with our present ongoing situation.
Well, this can go really bad if you continue doing this on your future dates.
Being judgemental can actually kill the vibe and connection.
It is not necessary that your "perfect match" would be everything that you've ever desired for.
But that doesn't mean you must take a step back.
In fact, give your thoughts a little rest, for things unfold in the best way when they do not unfold in a planned way!
Surabhi Kedia
Surabhi wakes up every day with a drive to craft words that can create a soulful impact. Creatively adventurous, she is always seeking to learn new skills and acquire new experiences. With a hidden soft corner for languages (especially Urdu), she writes poetry occasionally, binges on romantic shows, and LOVES to talk. A hustler, admirer, chaser, Surabhi is just another-someone who refused to give up on her dreams. She says, she is just somebody who's trying to make herself a writer and for now, she's just writing...