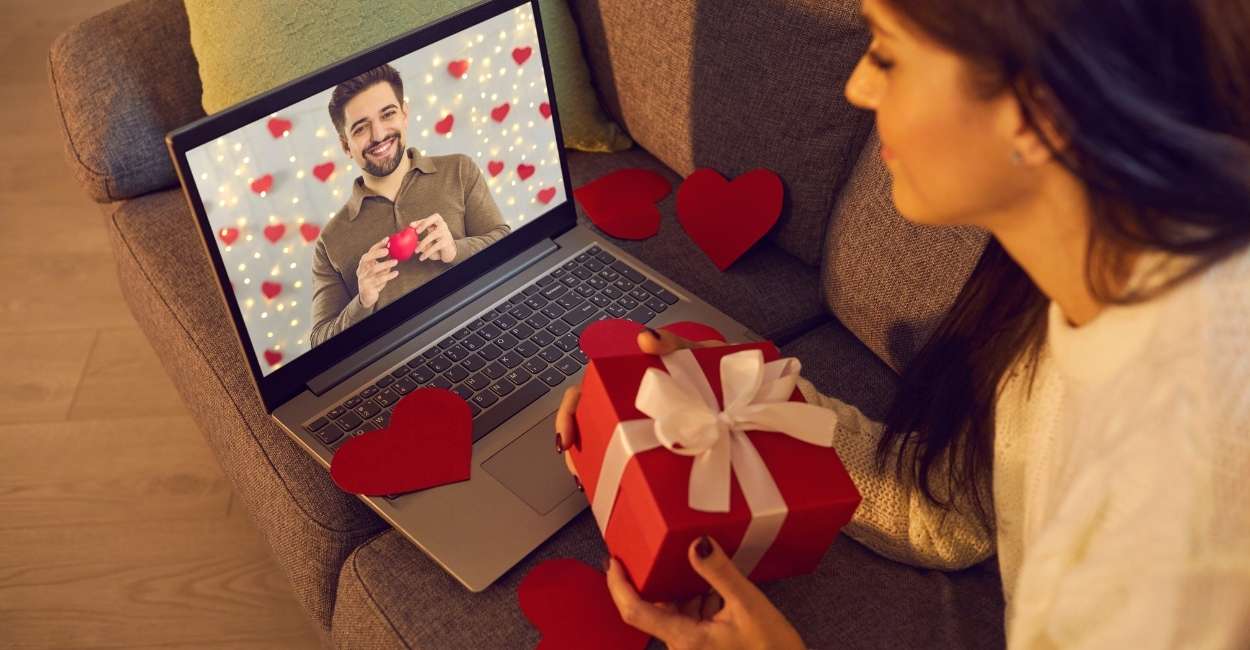 Are you looking for virtual date ideas? Perhaps, you and your partner are amidst a pandemic? Or, are you social-distancing? Or did you two meet on online dating apps… but aren't ready to meet them yet?
Searching for ways to connect with them better? Don't worry, because you reached the right place! This think-piece has all the possible date ideas for your virtual dating story.
But let me tell you a fact: Virtual dating is much harder than regular dating… you need more devotion and loyalty to pull this through.
Surely, you can't wait to know more? Come on, let's begin with a kick…
…I'm so jealous your partner was such a caring person!
Virtual Date Ideas Infographic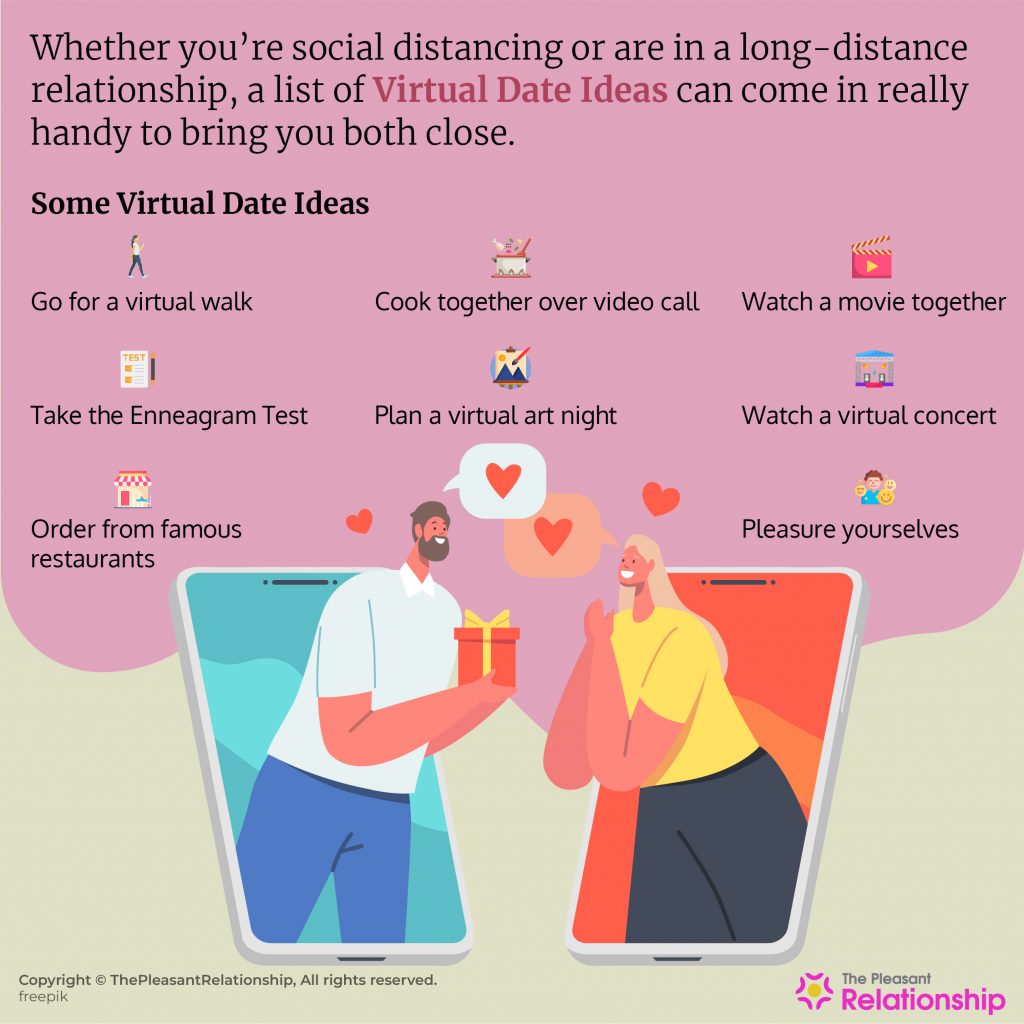 Cute Virtual Date Ideas
Are you or your partner a sucker for cutesy dates? Does your beau swoon over your small yet thoughtful actions?
Perhaps you love how you make them blush with the sweetest gestures? You miss touching their flushed and excited faces.
Now that you're miles apart, think you can't make sweet gestures? I beg to differ because now you'll redefine your cute times here…
1. Go for a virtual walk
Turning lazier and lethargic by the day? Then tighten up your shoelaces, put your beloved 'boo' on FaceTime, and set out on a virtual walk!
Go on a hike, preferably where there's a decent network connection, and feel closer with every step you take!
2. Cook together over video call
Bring your inner culinary MasterChef to life and whip up something spectacular. Use the same selection of ingredients with your beau but don't reveal your recipe.
Surprise each other with unique dishes. Although there's no Gordon Ramsay to impress, expect some hearty laughs here and there over the video call.
3. Watch a movie together
Let's take a moment and appreciate apps like Teleparty. Use it to organize your very own virtual movie date!
Choose your favorite entertainment from Netflix or Disney+ and enjoy a movie together, and share every emotional moment. Don't forget to gather your favorite snacks too!
4. Take the Enneagram Test
During your virtual date, know each other better and indulge in in-depth discussion. Take the Enneagram personality test to learn more about yourself and how you see the world.
Know how long you've been dating. With the self-reflection from Enneagram Test, gain a better understanding of you both and get closer.
5. What about a virtual art night?
Time to get your hands messy and indulge in a virtual art date with your man. Nobody expects you to be a perfect artist… moreover, there's no one to judge!
Surprise each other with fun and creative drawings. It's a great way for you both to get out of your comfort zone!
6. Watch a concert
No need to be present AT a concert to enjoy the feeling of it. Streaming platforms like YouTube and Netflix have pre-recorded concert cassettes of many celebs!
Log into your streaming platforms and enjoy a concert from the comfort of your home. Dance, sing along, and groove to the tunes with your partner on FaceTime!
7. Play games
We're talking about games that are fun to play—not relationship games, of course. Heat up the competition virtually even if you're not physically together.
There are tons of virtual multiplayer games. Try them out with your beau and turn the day into something exciting yet cute!
8. Play virtual truth and dare
Feeling brave now, are we? Spice up your virtual date night with some sexy truth and dare questions with your beau.
Some dares might be out of reach because of the given situation, but raise the hotness level with sexy prompts. Don't get surprised if the game takes a cheeky turn 😉
9. Order from famous restaurants
Wherever you might be, you are bound to have McDonald's nearby! So what if you can't go on a real date?
Take this amazing opportunity and order food from your local restaurants (preferably something similar). Chat away while enjoying delicious take-out beside your beau on the screen!
10. Start with your morning beverage
Start your day with a video chat with your beau. Inquire about your partner's feelings about the upcoming day.
This morning pick-me-up gives you the opportunity to get some caffeine and check-in.
Ask about each other's routines and schedules for the day. This will enable you both to have a deeper understanding of each other's lives and accordingly you can set when you both can talk.
Think cute isn't the best way to define your partner? Looking for something more romantic and lovey-dovey? Is your partner more into romantic gestures? Then cute dates might not work for you.
Though you may give it a try, take a quick glance over this…
Romantic Virtual Date Ideas
Whether it's raining too hard, you're geographically distant, or just not in the mood to go out, virtual dates can rescue the day.
So long your hearts are closely bound… so long your minds are interwoven… you can make it work even online. If you're both in the mood for romance, nothing can stop you! So, let's get some more ideas…
11. Play dinner delivery roulette
You and your boo must know a lot about each other. Possibly, if you get the chance, you'll invite him over instead of a virtual date.
But don't let the distance come between you two. Exchange addresses and plan a surprise takeout night!
Set a delivery time and deliver your favorite local food. Whether you're a plate-sharer or not, have fun watching them unbox and enjoy your favorite food — and you, theirs.
12. Watch an erotic movie together
Remember all the moments you two were together? Then add some spice to your virtual sex life as well. Stream an erotic film from the vast options of Netflix or Hulu.
Choose a movie to watch together while FaceTiming, or use Netflix Party to share the heated moments!
13. Plan a virtual dinner-and-drinks
Arrange a dinner or drinks date if you don't mind sharing dinnertime through a video call. Put on your best dress, order food or cook together, and continue with the normal over-dinner discussion like any real-life date.
To spice things up, look up a recipe for dinner and make it together.
14. Pleasure yourselves
When you and your darling dearest can't touch each other physically, the next best thing to do? Watch them pleasure themselves!
Get your partner on FaceTime, light up some sensuous candles, and set up a seductive atmosphere.
Masturbate together or take turns watching each other. It might spark ideas for your next foreplay session.
15. Take a bath with each other virtually!
Ever shared heart-to-hearts while cuddling in the bathtub together? Set up your own virtual luxury bath night.
Throw in the aromatic bath bomb, light candles, and chat away the night with your boo on the screen. Bonus points, if you can include some red wine!
Ask them to do the same, and have a romantic bath time together even when you're miles away!
16. Create a sexy bucket list together
This date idea has romance and spice written all over it! Spice up your virtual date night and create a sexy bucket list together. Or, write down your sexual desires on call and read them aloud to each other. Make the atmosphere 100 times hotter and the next call is yours 😉
17. "Discover" a new place
Though you're unable to visit a new nation, online experiences can help you do that. Some of these virtual events are available through Amazon Explore.
"Stroll" through the lovely city of Venice in a 50-minute group session or another where you can catch a glimpse of the enigmatic Santorini.
When you're through, bond while discussing the experience.
18. Spend some quality sexy time
Don't let the distance stress you out. Instead, set up a virtual date and spend some quality time with your significant other.
Put on a sexy outfit, light candles, and get in bed with your laptop to spice things up. Go old school with cybersex.
19. Play the 36 Questions
Wanna go in a more emotional direction? Ask each other the 36 questions online and plunge deeper into the abyss.
Indulge in deep conversations with your significant other and bond while you know each other. Things get more intimate with each question so don't get surprised if things take a naughty turn.
20. Play strip poker
On PokerStars, compete with a game of virtual poker for free. Make things more exciting by betting clothes for each losing hand instead of betting money.
This is such a sexy date idea that you can enjoy from the comfort of your home. Make it spicier with sensual teasing while taking your clothes off. Who knows, you might get virtually laid this time!
Did you feel the butterflies fluttering in your stomach? Or, are you looking for something more ticklish? Maybe you want to quench your thirst for excitement or fun? Think it's not possible anymore?
If you believe, for fun, you gotta play together in the amusement park… let me prove you wrong here…
Fun Virtual Date Ideas
A communicating device… check! A video-calling app… check! Your bae's contact… check! Common leisurely time… check!
Can't have fun while you're apart? Miss the days when you played tag in the park like kids? I understand. Whatever your reason is… not having hearty laughter with your partner sucks. But what if you pull it off at home… even when you're apart? Don't believe me? Let's unbox the surprises here…
21. Plan a cocktail haul
Play bartender for the evening, whether you're a sucker for a complex cocktail or a sober curious ATM. Watch as your darling concocts a drink and adds unique garnishes.
Compete against each other with a similar selection of ingredients and liquor to make it exciting.
Or, choose liquors and ingredients for each other and compete!, Create the best cocktail. Cheers!
22. Dress UP!
If there's one thing we've learned recently, it's that dressing up no longer requires an excuse. Why not plan a fancy dress night?
You can also up your virtual dating game while showing off a sexy and sultry outfit to each other, or even better, put on a striptease show for your significant other. If that ain't sexy, I don't know what is!
Put on a new outfit, try out that bright-colored eyeliner trick you saw on the internet, and deliver a bottle of wine to each other's house. Voila!
23. Have a virtual Dance Party
Who said virtual dates aren't fun? Get on FaceTime with your darling dearest and dance the night to your favorite songs! Or try out the latest TikTok dance trend on the Internet.
So, put on your dancing shoes and get ready to wow your beau with this amazing virtual dance workshop.
24. Send a package – but with a twist!
A lovely couple's shopping challenge? Buy goods from the same list—favorite snack, color, or something that reminds you of them.
If you plan to spend Valentine's Day together, this is the perfect V-day gift hunting.
Shopping with a budget, and show the items on Zoom. After that, package the treats and send them to your lover. Enjoy!
25. Indulge into a heart-to-heart discussion
No rule says you can't go deeper with them, just because virtual dynamics are different. Don't use the camera or the distance as an excuse to have superficial conversations.
Scared you can't think of any conversation starters beyond "What's your favorite color?"? Use ready-to-go questions online.
26. Read to each other
It's clichéd, but sometimes you only wanna hear your partner's voice. Is there a way to do so? Make it a tiny book club between you two. Read your favorite bits or a chapter to each other over phone calls.
If you're both suckers for literature, then this is your ideal date. It's a great way to emotionally connect and the effect will be even more, as you're doing this on your date night.
27. Bring out the conversation cards
Whether started dating today or years back, a deck of conversation cards can deepen your connection more intimately.
Ask each other intimate questions while video chatting. Let the temperature rise between the both of you. Order yourself a deck of these amazing cards, and make your online dates even more interesting!
28. Plan a trip together
Planning a trip together is a fantastic way of deepening couples' bonds, whether you're apart or together.
Sit down with fine wine and your sweetheart on the screen, and delve into the various things that you wanna do together in this lifetime. Or, plan to visit each other… it's all up to you!
29. Create an online shared photo album
Create a shared photo album on your phone or Dropbox. Scroll through the photos while talking on the phone. Collect old photographs from past enjoyable times. Or, take a trip down memory lane… collect photos from both your childhoods and high school glory days.
30. Take a compatibility test
These are very common nowadays and there are plenty of websites that offer the same. Connect to a video chat with your partner, and take these tests together.
These tests are exciting, fun and will help you give each other the benefit of doubt! Take the test together while being on a video call and test out your compatibility levels!
Whoa! Whoa! Was that too much fun? Aren't in the mood for that either? Are you looking for something more special? Let me guess… is Valentine's Day around the corner? Uh-huh… so that's why you're still eager for more. Alright mate, I'll give you what you want here…
Virtual valentines date ideas
Valentine's Day is already here, folks! So, giddy up lovebirds and prepare something amazing for your bae this Valentine's Day. This V-day gets a bit crazier and more head over heels for your partner.
While you select the best V-day gift, don't slack off on the date night. Yeah, you're apart, so what? The world is way more developed. Nothing can stop you from having dates even if you're not together!
Swipe your favorite highlighter across your cheekbones, wear your favorite blouse. Contact your boyfriend, and enjoy this night with these…
31. Long-distance sex isn't so bad! 😉
Wanna make your Valentine's Day special, but live miles apart? Check out We-Vibe and Satisfyer, two sex-toy websites, that come to the rescue.
From your phone, control the pressure, speed pulses, and other aspects of the long-distance vibrator or sex toy. Make this toy your V-day gift and enjoy.
32. Learn something new together
With MasterClass, try something new together. Experts offer virtual lesson plans of approximately 20 films lasting approximately 10-minutes each.
The two- to five-hour sessions bring you virtually face-to-face with celebrities and experts in their areas. Choose something you both enjoy. This is a terrific way to learn more about each other.
33. Arrange for an online brunch
Pity you guys can't be together this Valentine's Day. But don't fret! Get your darling on FaceTime and spend some quality time together, along with some typical American brunch.
If you don't have the necessary ingredients, order-in your fave brunch delicacies… don't forget to pair it up with some Rosé!
34. Learn a TikTok dance together
There are two types of individuals in the world: those who believe that learning a TikTok dance is the best idea ever and others who believe it is the worst.
Get your beau on a video call, share your screen and stream the ones you both wanna try out. Fool around all you want – get a little bit goofy, while you both try out these catchy dances!
35. Enjoy some live music
Many events take place on YouTube on Valentine's Day. Stream live music and enjoy with your significant other. Put on a cute outfit and have your own virtual jam session!
FaceTime your boo, and spend this Valentine's Day serenading each other through music…
36. Take a "Fakecation"
Since we mustn't travel these days, avoid the TSA and satisfy your wanderlust with a couples "fakecation" this 14th.
Many destinations around the world are inviting idle travelers to virtually walk along their beaches, meander through their historic alleyways, visit their landmarks, and more.
37. Play some sexy truth and dare
Start a game night of sensual truth or dare if you're feeling playful. "What is your favorite position?" and "Are you open to toys or props?" are some examples.
Dares like "touch yourself there" or "take that off" can start a very hot conversation, while "touch yourself there" or "take that off" are plain hot.
38. Discuss real-life date ideas
You don't have the chance now, but be enthusiastic about the future. To develop anticipation for the future, pin all the wonderful activities you're looking forward to.
When you get to meet them, you'll never run out of ideas.
39. Look into new sex positions
Wanna take a risk? Make a list of exciting sex positions you wanna explore with your partner. Take turns explaining them to each other.
If you're both interested in the same sex move, you know it's definitely worth trying.
40. Get fancy!
Many people enthusiastically embrace the "sweatpants 7 days a week" revolution and never look back. If you guys, however, fantasize about red lipstick and crisp button-downs, then go ahead and get your glam on, babes.
Light some lights, splurge on a bottle of the good stuff, and turn on some soothing music to really make it a night to remember. While you may not be able to go out, you may still indulge your opulent side.
But hey, if you guys didn't meet in the past six months to a year… let me assume, are you a long-distance couple?
Though you guys are kinda sad with the distance, y'all are the romance bearers of this era. I really look up to LDR couples for their persistence and dedication. So, this one goes out to you…
Long-distance virtual date ideas
Long-distance relationships are hard, but don't let the distance take away all the sweet moments in your relationship.
Dates are mandatory, whether real or virtual. Indulge in a romantic date night over video call and spend some time with your loved one.
Wondering how that's possible, don't worry, I'm here with these…
41. Write military love letters to each other
Ever heard about the crazy, romantic, and sometimes sad love letters? Soldiers often wrote to those their loved ones.
For your date night, pretend you're in the army, war-torn… write to your loved ones. Include little tokens of affection, maybe a chocolate or a rose, and mail it to your beau.
When you receive them, read them out while video calling. This will take your relationship to the next level!
42. Enjoy a traditional movie + a movie – LDR style!
Miss them during dinner and movie nights? Take turns and choose TV shows or movies and dinner menus.
Talk to each other while cooking and setting up the table. When you're all set, set up a rented movie. Have long, engaging chats with each other as you eat and watch the movie.
43. Play charades
Print two copies of this free charades game, assemble the game and send one set to your partner. Make a Skype date and play a game of charades on FaceTime or Skype!
Enjoy the fun game with your boo. Bring out your favorite snacks to munch on your virtual date night!
44. Play relationship Mad-libs
Did you know that Mad Libs has an adult version for couples? This is an absolute must-try date idea.
Share the template online, fill in the blanks, and record yourself reading it aloud. Trust me, it'll be a lot of fun!
45. Make a surprise pizza delivery
Call the local pizza joint in your partner's/spouse's neighborhood and order a surprise pizza for your later-in-the-evening Skype date.
Order their favorite or something new that you think they'll enjoy.
Light candles and guzzle them down together. Experience an extra wonderful night looking after one other!
46. Invite your partner to a virtual haunted house tour
Ever heard of virtual haunted houses? You guys can go to a mystery/horror/haunted house together — some even have storylines!
You'll want to utilize a screen-sharing tool or just travel through the haunted house on each of your PCs at the same time.
Various websites offer actual visits to a haunted house virtually. So why don't you try this out with your partner?
47. Plan a family history date night
Have fun learning and researching about each other's ancestors together.
Dating Divas devised A Family History Date Night, replete with free printables! Print two copies and send one via snail mail, or print one for each of you individually.
It'll be interesting to see what you can find out about each other while on Skype!
48. Create a secret Pinterest board mutually
Create individual Pinterest accounts and make a secret board about your relationship, such as relationship ideas, wedding planning, vacation planning, fantasizing, and so on.
To collaborate, invite your partner to the board.
Now you both have a new way of communication – post pins about events, couple activities, or useful information, and no one else will know (except your sweetheart).
49. Go to a bar trivia night
Are you a fan of pub trivia nights? Since you won't be able to attend a pub night together, play against each other in real-time with QuizUp. There are infinite subjects to pick from.
To make it more interesting, decide on a prize for the winner that the loser must accept!
50. Snap the date away!
Be cautious about sending dirty photos— so send something sensual but not too revealing… that's definitely your best chance.
Snap streaks are so fun to do and why not put this as a date idea? Enjoy your date night and snap away, love birds!
Long-distance relationships are difficult, but don't let the distance rob you of your relationship's wonderful moments.
Dates are necessary, whether they are real or fictional. However, if you completed another year of togetherness… you need something more. Let's find more from here…
Virtual anniversary date ideas
It must be hard to be apart from each other, especially during your anniversary. But just because you aren't together 24/7 doesn't mean that you have to sacrifice your favorite day! It doesn't matter whether you physically get to meet each other.
Of course, physically spending time together is important… but if it's not possible, don't sulk. Why waste this special day brooding over.
With the right effort and creativity, let's keep the spark alive even though you're thousands of miles apart…
51. Start a countdown to your reunion
There's nothing more satisfying than continual reminders of your reunion. Configure everything about a countdown app for free, including putting the countdown on your home screen.
Plan and prepare the things that you both wanna do together when you finally meet each other. As the days go by, you'll get more and more excited as you're finally about to meet your beau!
52. Challenge each other for an online game!
Try to defeat each other in a game even if you aren't in the same room. Free multiplayer options are available on websites like Pogo and Yahoo.
They allow you to connect through some open enmity with your BAE!
53. Send each other surprise gifts
A really cute one!
Surprise your boo with gifts and tokens of love. Let your darling return the favor. Sit down when you both receive your gifts and do a virtual unboxing session with your BAE.
Trust me when I say this because I'm talking from personal experience, this is a fun and relaxing activity. Share some hearty laughs while you open your presents!
54. Pen down your love story
Don't let the distance between you both have the last laugh. Spend this Valentine's Day writing down your own love story together!
Start with the time when you both first met. Include all those tiny little cherished moments in your relationship. Talk about the things you wanna do together in the future and so on.
Use this peaceful and creative date idea to strengthen your bond even more.
55. Send each other voice memos
Take the time to record beautiful messages on your phone and regularly send them to your significant other. Say "I love you" or read a poem.
In any case, your significant other will value being able to hear your voice anytime they require it, and vice versa.
56. Spend a few bucks on matching jewelry
Matching bracelets, rings, or necklaces will always remind you two of each other. Have the pieces engraved with initials or a special date to take it a step further.
Just imagine, you and your beau walking around (when you meet of course) with matching bracelets or necklaces… cute, right? So grab your custom jewelry now!
57. Take a funny quiz online together
A short Google search will turn up a slew of couples and long-distance relationship questionnaires.
Assess your compatibility… since most aren't scientific or backed by researches, share a good laugh over it. They're a fun pastime even if you're physically separated.
58. Set Goals
Use your time apart as an incentive to achieve personal objectives. For example, until you're reunited with your love, promise to abstain from drinking for the sake of your health… or, challenge yourselves to work out three times a week until you meet.
Find a way to get there together, whatever you're aiming for.
60. Delve into deeper conversations
It's fine to admit to each other that you're having trouble bridging the gap. Long-distance relationships aren't easy, so it's crucial to stay in touch and be honest about how you're feeling, especially if it's negative.
In the long run, sharing these unpleasant emotions can only help both of you, and chances are you're both feeling the same way.
Anniversary is a happy occasion… however, you don't need dates during happy times alone. Sounds bizarre? Well, don't you need one another the most during the darkest hours?
During the pandemic and the recurring waves of the virus, you need more dates to stay mentally strong. So, let's check these…
Quarantine Virtual date ideas
It's difficult to stay physically far from your lover. It's so hard to feel close and connected without actually being around.
Moreover, if the virus is raging in your area, you might be super-depressed. Your partner might also feel worried for their loved ones.
You need emotional support badly but can't meet one another for quarantine? Let's beat the quarantine loneliness here…
61. Visit a novelty museum
If you have never heard of it before, novelty museums have the most bizarre to fantastic objects. There are ones who hoard toilets, male sex organs, weird art, different forms of beauty, and even art made of condoms.
Check out the museums online and get rid of the quarantine blues together.
62. Take a virtual cooking class
Cooking workshops take remote dinner dates to the next level, and they're a lot of fun. Choose a dish to learn to cook together before your date.
Then, either enroll in a live virtual cooking class or pick a recipe tutorial to follow online. Go grocery shopping before the date. Meet up on Zoom when your date arrives and prepare your meal together.
63. Watch some animal cams
Can't go to the zoo with your beau, so why not bring the zoo home? One of the cutest online dating ideas is watching animal webcams together.
Choose a critter cam first. Either pick an animal that you both enjoy or take turns watching each other's favorite animals. Pull up a live stream and share your screen when you're ready to watch.
64. Play some online jeopardy
Jeopardy is a classic game show… It's both entertaining and competitive. Both of you choose two categories and a fifth category that you're both familiar with.
Make a list of questions and quiz each other. Have a better understanding of each other's interests, areas of expertise, and issues of interest.
65. Play scavenger hunt… remotely!
Scavenger hunts over the internet are entertaining pastimes for virtual dates. These activities get you and your date up and moving. Look for clues that are important to you and your date.
Share the prompts on the screen and race to solve the mystery. This can be a super virtual date if you and your date are looking for something exciting to try!
66. Have a yoga session
Yoga is a soothing method for couples to work out and relax together while on the internet. Book a virtual yoga class or locate a video routine to practice remote yoga.
Yoga can be a great way of bonding between couples, according to relationship gurus. So, don't let this opportunity go away, and book a couple's yoga sessions now!
67. Spend the date Karaoke-ing
Spend your virtual date night with online karaoke with your date on the screen! Serenade each other and dedicate songs to each other. Trust me, you'll have a wonderful time!
Load some lyric videos on YouTube, share the screen and sing your hearts out. Cheer your beau up as they try to hit the high note and get some laughs!
68. Plan a virtual picnic date
Get your darling on the video call, pack a basket filled with food, a mat, and some good wine maybe, and enjoy a virtual date out in the open.
Choose the park, beach, or even your own backyard for some fun. Make sure your beau gets a good view of the scenery. Even better, if you both star-gaze together!
69. Try out some new tech
Virtual dates are an excellent opportunity to check out new technology with your partner.
To begin, select a device or program to use. Then place your order and before the date, resist the impulse to try out the new tech device.
Drones, GoPro cameras, and virtual reality apps are some of the technologies you and your spouse can experiment with.
70. Indulge in some online shopping
Miss the times when you shopped together? Well, sulk no more, and enjoy your virtual date with online shopping, just like the old times…just online!
Share your screen and check out apparel or accessories for your partner! Either enjoy each other's company and window shop or buy something.
Being unable to be physically there with your lover might be challenging. It's impossible to feel close and connected when you aren't.
While a date night on video isn't the same as a date night in person, it can still be fun, especially if you come up with a unique concept. Wondering how creative you can get? Let's know it all here…
Creative Virtual Date ideas
Distancing when you're in love is undoubtedly hard. So, virtual dating swiftly became the new norm in this era. We pretty much do everything else digitally.
However, the idea of a virtual date wasn't ever that great. It can't replace the magic of being together in reality.
So, to compensate for the magic, let's add some splash of creativity. Worried that neither of you is creative? Don't worry, you'll still find something great here…
71. Take a personality quiz
Personality Quizzes are fun and intriguing. They tell you so much about each other without disclosing too much personal information.
Plus, taking the tests will keep you both occupied, so no more awkward silences.
72. Surprise each other with a customized Mixtape
Making music mixes is a well-known romantic gesture. Simply select your favorite music that reminds you of each other, or songs that you believe your date will enjoy. Build a playlist and email it to your date.
Listen to the music together on the date, or alone. Making music mixes can be a fun way to get to know someone.
73. Plan a digital campfire night
When you guys can't snuggle up in front of the fire, digital campfires are the next best thing. These are basically indoor camping experiences. They come with classic ghost stories s'mores.
Acquire s'mores-making supplies before your date begins. Play a bonfire video, light a candle, and settle in as your call begins.
If you know how to strum an acoustic guitar, feel free to serenade each other and drown in each other's love.
74. Have your own virtual prom
Looking for a way to relive those high school memories even though you and your sweetheart are living miles apart?
Virtual prom is a fun way to recreate your high school dance with your crush. Deck up in your most gorgeous dress or suit.
Remotely enjoy dinner together, dance to upbeat and mellow tracks, and share photos and tales from your real high school prom during the call.
75. Book a couple's wine tasting class
Another fun date idea is virtual wine tastings. Gather your bottles, meet up on Zoom, and sample the various wines.
Provide your thoughts on each blend, including how it looks, smells, tastes, and feels. Enjoy it with a delicious snack and romantic conversations.
76. Take a virtual coffee break
Just calling your partner up is also a great way to spend quality time. Take a break during the day and have a virtual coffee break with your spouse. It's great if you both have hectic work schedules.
Set up a video call and prepare or buy a cup of coffee to enjoy while you talk.
77. Book a virtual museum tour
Without leaving the house, visit major museums like the Louver, Smithsonian, and MoMA. Simply pick a museum and go on a virtual tour.
Online tours are available in a variety of formats at various museums. Soak in the glamor of the historical era and share your knowledge about it.
78. Try out an online escape room
Conflict resolution is an important part of any relationship, and there's no better way to practice your problem-solving skills than to participate in online escape rooms together.
Digital escape rooms provide a series of timed themed puzzles. Select the correct answer to unlock riddles and win the challenge in these games.
79. Play the twenty questions
Twenty questions allow players to learn more about each other. Take turns asking each other up to twenty questions each alternatively or at a stretch.
Play as many rounds of the game as you choose. It's a great booster to facilitate deeper levels of conversations, and who knows, things might take a spicy turn!
80. Browse photo albums
Browsing through internet photo albums together is one of the simplest faraway date ideas. Start a video call, open a photo album, and then share your screen.
Use cloud-based photo albums like Photobucket and iCloud, as well as social networking sites like Instagram and Facebook.
Don't forget to have dreamy convos and reminisce about the old memories!
Think the creative side doesn't suit you? Nothing to feel ashamed of. Honestly, I'm not that creative either! Wondering what I do?
Well, I look for something more out-of-the-box and unique to cover for my lack of creativity. Curious how it works? Let's jump down here…
Unique Virtual Date ideas
Let's admit it guys, whether it's COVID, long-distancing, or you're simply grounded (good ol' teenage days😉) separation is hard for love birds!
If you feel depressed or lose motivation… I won't judge you… love makes us like that. However, if you have no other choice, you gotta deal with it.
Check out these romantic and one-of-a-kind date ideas and ramp up the dating game!
81. Write a story
Are you both creative? Collaborate on a story! one person may write the characters while the other writes the setting… alternately write scenes without telling the other your thoughts… or go mad-libs style and take turns writing the next word. Allow your imagination to run free!
82. Make a slideshow of your favorite photos
Make this an occasion to learn about each other's lives. Show each other pictures of places, pets, and vacations.
Search through your iCloud storage for images. Even better, if you have real photo albums, bring them out. It is for this reason that they exist.
83. Give a tour of your life with Google Maps
The incredible degree of detail in Google Maps allows you to literally walk through the streets of almost any destination on the planet.
So, take your date on a tour of your college campus, a hike on your favorite trail, or even a tour of your childhood home. Find out if you ever visited the same places.
84. Visit a candy store
It's all about sweetness on Valentine's Day… If you and your partner have a sweet craving, go to a nearby candy store and pick out your favorites!
Stay on a video call while you sample the delectable delights together in your localities. Even with all the distance, we feel much closer to each other this way.
86. Go on a virtual double date!
Organize a four-person video conversation with another long-distance couple. Put some pasta on the table. Discuss each other's lives and how they cope with the vast distance between them.
Share some of your own experiences with your partner, and keep an eye out for the other couple! Enjoy some cuisine while listening to music!
87. What about a book-club night?
Choose a book to read and discuss, or a long-form article if you're short on time. Pick something light and romantic, and read out your favorite passages to your significant other.
This can be such a romantic way of spending a date night. This might also deepen your connection with your lover.
88. Be a (nude) model
Remember the sultry Titanic scene where Rose says, "I want you to draw me like one of your French girls." To your partner's joy, don your own beret and undress.
The most thrilling option is for both of you to participate as naked models. It's thrilling and will lead to a romantic night.
89. Eat seductively
Slurping your soup isn't the best way to get into a sensual mood, but eating sensuously is. Look for some guaranteed sexy cuisine (think strawberries, chocolate dips, whipped cream, and champagne).
Make it a contest to see who can lick or suck the food in the most sensuous way possible, and prepare to eat your way to an amazing night.
90. Paint and drink wine
Choose something you both like to paint — an object, perhaps, or a mood? Drink wine while you talk about it.
If you're clearly the superior painter at the end of your painting session, make sure to reassure your partner that this wasn't a competition, fortunately for them.
Sometimes, life doesn't go the way we want it to. We all want to make time for our partners… but there are so many commitments in life.
You try to prioritize your partner but it's not possible all the time. You wanna make your virtual date special… don't have anything planned? Let's check these…
Last-minute virtual date ideas
Don't have anything planned for your virtual date night? Don't worry folks, because I have got you covered! Sometimes, all you need is each other and the lovely atmosphere around you.
It's completely okay to be clumsy and have nothing big planned for your date night. Have long talks, share laughs, watch videos, binge-watch movies – literally anything! This is your date…. make it special!
For more specific ideas, check these…
91. Watch some sports
If you both hype over sports then this is the time lovebirds! Connect to each other via video call and watch some sports together! Cheer for your favorite players while you munch on popcorn.
It doesn't matter what you do on dates… anything that you both like makes a beautiful date night!
92. Have a virtual coffee shop date!
A coffee shop date is one of the most realistic alternatives to an actual date. With both of you on video chat, in a quiet(ish) area of your favorite coffee shop, with your headphones. What more will you ask for?
Have a long conversation with your significant other and a terrific bonding experience!
93. Write an email to the future
Made any sweet memories together worth reminiscing in the future? For the receiving date, choose a relevant one for you both. Like a birthday, anniversary, Valentine's Day, or when you've moved closer together.
So, on your virtual date night, write a few words to your future selves about your hopes. Discuss ideas with one another to come even closer.
94. Play with animals online
Play online with a shelter animal to instantly turn their frown upside down. Bring a little excitement and joy into their day.
Many websites allow you to connect with pets digitally, and who knows, maybe you'll both adopt one when you meet in person!
95. Learn together
Even if they wanted to attempt something for years, learning something new is intimidating. Having someone, especially your spouse, helps you stay motivated while also making the learning process more pleasurable.
Discover about your coordinating capabilities while tackling and overcoming difficult situations. Make sure you both like it and are educational. Don't rush; take your time and discover the perfect item!
96. Plan your next visit
While planning to visit each other, you both must have had questions like these "Who'll visit who?", "How much will it cost", and so on. Trust me, you're not the only one.
Prepare everything for departure and arrival ahead of time. Relieve unnecessary tension about expenses or the butterflies for meeting them. This is a great way to spend some quality time together!
97. Play some dual Pictionary
Pictionary was such a fun childhood game. So, for your virtual date night, relive your childhood memories with your significant other. Spend the night with some classic dual Pictionary.
Can they figure out what movie you drew? Or which politician they drew? Share a few laughs over your (not-so) great sketches!
98. Read out a play together
Assign roles to each other and read a play you never saw before. Be the stars of your own theater for a night!
Choose an easy and well-known and romantic play to set the mood and spend your date night acting out some passages to each other.
99. Get drunk together
Getting drunk with your sweetheart is such a beautiful feeling… I cannot describe it in words. So why miss out? Connect to your boo on FaceTime and chat away with your favorite poison in hand!
They say, "A drunk mind speaks sober words..". Open your heart to them and let out everything you wanna say, or something that you suppressed inside yourself.
Let out your every sorrow and joy and make wonderful memories that will make you laugh in the future!
100. Reminisce the special moments together
You don't need great things and overdone plans to make your date night special. Sit back and relax, and reminisce all the special moments of your relationship with your significant other on the screen.
Enjoy a few glasses of wine or chocolate, and just spend time with each other with no distraction or interruption!
To communicate your love for your lover, you don't need a fancy or extravagant date. It's the simple things that demonstrate how much you care about a relationship.
Can't choose the perfect virtual date idea? Wondering what will make you feel as close as ever? I think I got you. Keep reading to know more…
---
5 Tips to enjoy virtual date night just as much as real-time date
With modern dating dynamics, many people find soulmates on dating apps. Many people hesitate to meet their date too fast IRL,
So, some decide to date remotely… However, that really doesn't help to find the best virtual dating ideas.
When a communicating device separates you from your partner… sometimes, you can't understand if they're happy… or if they go with the flow to make you happy. So, let's find a definite way to make your dates successful!
1. Break the cycle
Be inventive. Make an effort to be romantic. Make it a candlelight supper if you're having dinner.
It's very easy for people to fall into routines… and even before you know it gets boring and monotonous.
So, break the monotony and try something creative and unique for your virtual date nights! Keep the spark alive and have fun!
2. Do something meaningful
It's okay to have fun on your dates… but sometimes try doing something that means something to you both!
Your partner will feel validated, cared for, and important. So plan something beautiful and meaningful for your next virtual date.
Since you're apart, it's easy to be sidetracked. Make an effort to be present and concentrate on your relationship rather than on household chores
3. Be understanding
When your time together is limited, timing is crucial. To keep long-distance relationships going, know when you'll see each other. Trust that the other person will follow through on their commitments.
Talk to your significant other, learn about their schedule so that you can find a perfect time to have a date night.
4. Don't play the blame game
Every relationship has its own ups and downs. And it's okay to sometimes disagree with your partner. Don't pressurize your partner for a date. Both of you have different routines and habits.
Sometimes your partner won't feel enthusiastic like you… and that's okay. Instead, take this opportunity to communicate and understand your partner's feelings and comfort them.
Maintain a pleasant attitude and partake in your partner's favorite activities. Express your concern and affection for your companion.
5. Do something so that both of you can have fun
Don't try dates only of one person's liking. This will only lessen the interest… it'll be boring and sulky.
Spend your virtual dates with common fun activities. Engage in a great way to draw you both in closer.
A word from ThePleasantRelationship
Whether you're quarantining, in an LDR, or just not ready to meet your babe IRL… virtual dates are always ready to rescue.
However, focus on your common interests, don't assume they'll like all the ideas in this list. Love grows on understanding, compromise, and selflessness.
Arrange your dates based on what you both like. It's important to remember that it's not about what you do on your virtual date night, but rather who you spend it with.
As long as you're together, any of these date ideas will be a blast. It's the company that counts, not the luxure of the date.
So, lovebirds, shower your sweetheart with love and take in the love they pour on you… Don't forget to create the most unforgettable experiences of your life!
Surabhi Kedia
Surabhi wakes up every day with a drive to craft words that can create a soulful impact. Creatively adventurous, she is always seeking to learn new skills and acquire new experiences. With a hidden soft corner for languages (especially Urdu), she writes poetry occasionally, binges on romantic shows, and LOVES to talk. A hustler, admirer, chaser, Surabhi is just another-someone who refused to give up on her dreams. She says, she is just somebody who's trying to make herself a writer and for now, she's just writing...