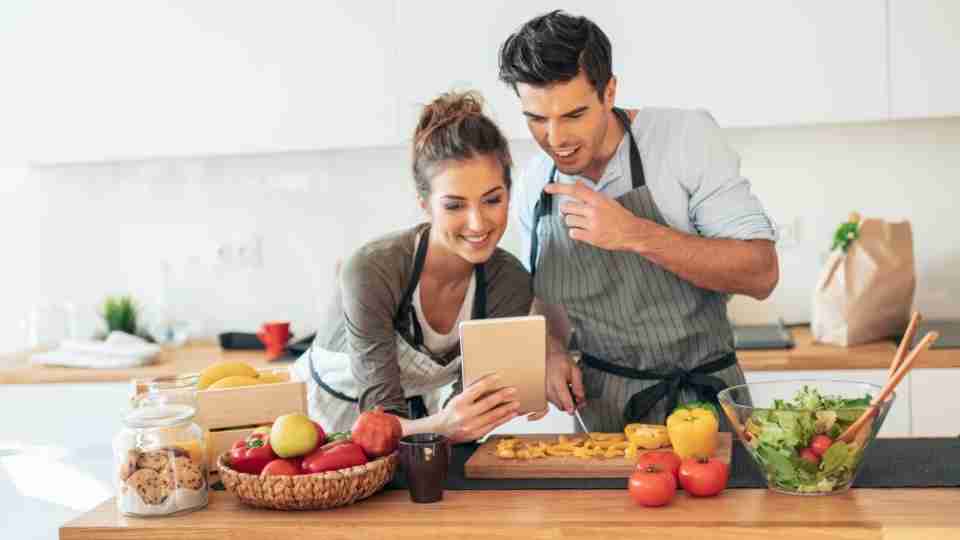 Spending quality time together is the backbone of any relationship. However, when a couple is together for a long period of time, things might turn boring or stuff that they do together gets quite repetitive.
Well, do not worry because this article will bring you closer and strengthen your relationship, because we have curated a list of some of the best hobbies for couples here.
From outdoor activities to indoor games, there are plenty of hobbies you can indulge in and keep the relationship with your partner interesting. The bottom line is to spend more time together and explore things with your special one.
Hobbies for Couples Infographic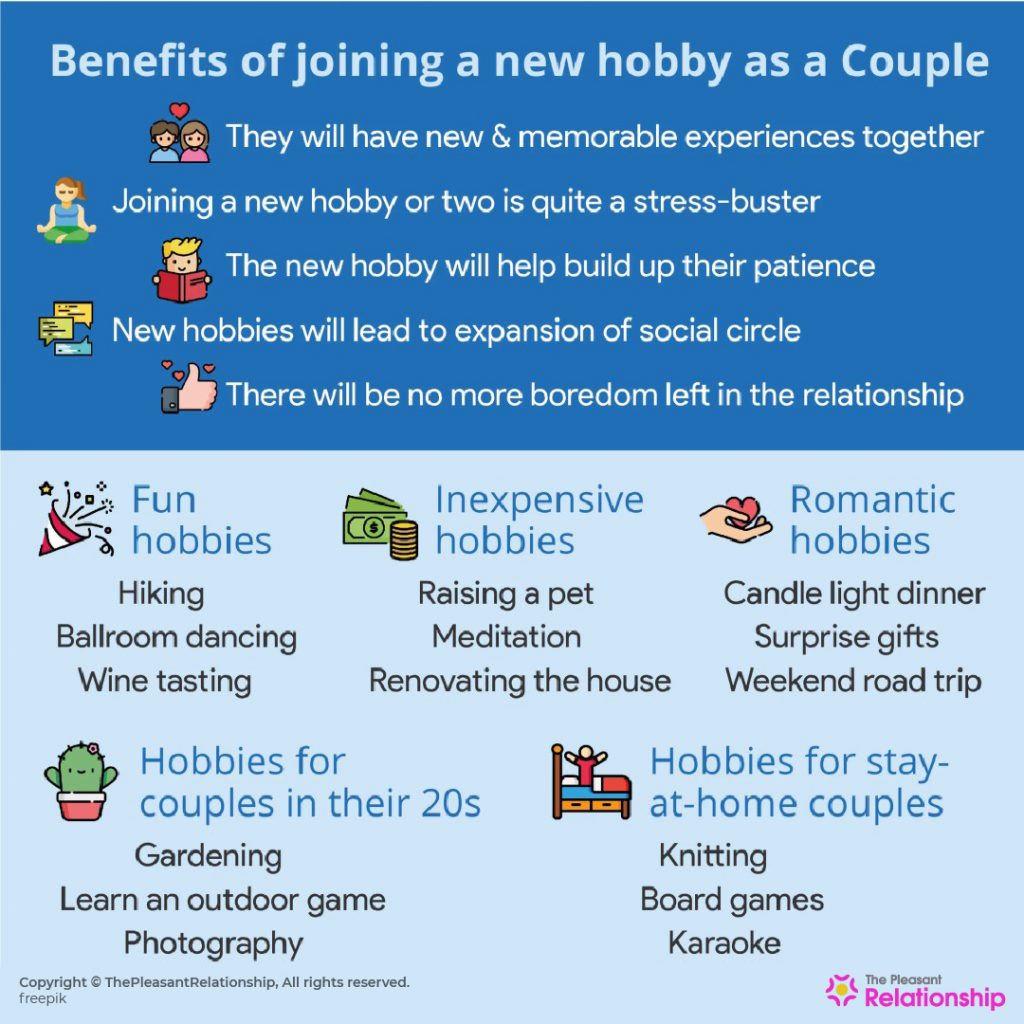 Fun Hobbies for Couples
---
If you and your partner enjoy doing fun things together, then these are a few suggestions to take up as hobbies.
1. Hiking
For a couple who loves to stay outdoors and have fun, hiking or trekking is the best way to indulge in. Bonus points for those who love traveling and exploring new places.
All you have to do is pick a good place, pack your bags, and leave.
TIP
To make things even more interesting, it is recommended to randomly choose a place, or one of the partners can choose the place and keep it hidden from the other until they finally arrive at the destination. This will be a fun way to soak in the vibe of the place.
2. Ballroom dancing
It might seem like an old-world charm but this can be so much fun if you both love dancing or moving your body.
Find a good ballroom dancing class or workshop near your place and get going!
3. Wine tasting
This hobby is a blend of elegance and fun, even better if one or both of you are wine lovers.
Imagine soaking in the country vibe of the vineyard as you hold the hand of your loved one and enjoy the vistas with a glass of classic win in your hands. Amazing isn't it?
4. Recreational activities
For great hobbies, trying new activities or adventure sports, such as rock climbing, bungee jumping, and scuba diving is a great idea.
Head out to your favorite place in the world and give one of these activities a try.
5. Visit flea markets
This would give you both time to interact as you stroll through the market area and buy stuff that you really like.
For instance, you can buy the furniture you both were looking for. It will be a job done as well as a new hobby developed for both of you. Just find the best flea market in the city and head over.
TIP
End your experience by having a lavish dinner at a great restaurant and get to relax your minds and souls in the presence of each other. This will be quite a good experience for both of you. You will enjoy the fact that you can simply be with each other, even if it for a while.
Hobbies for Couples in Their 20s
---
6. Learn an outdoor game
For couples who are athletic in nature, learning an outdoor sport, such as tennis, badminton, cricket, basketball, etc. is quite a fun way to spend time together.
You will burn calories and build them muscles as a by-product of the same.
7. Take up gardening
For those who have a spacious backyard can indulge in growing some colorful flowers and spend time together in growing the same.
8. Go camping
Spend a weekend under the star-lit sky and wake up in the middle of nature and listening to the bird songs as you enjoy the company of each other, away from the bustling city life.
9. Photography
Perhaps the most fun way to spend time together as a couple is photography. You will learn the art of capturing special moments and who knows, might make some bucks out of it!
It also lets you both show your creative talent, and take some memorable shots while at it. You can take cute pictures of each other while you are at home, or you can head out into nature or the city to capture some stunning shots around you.
10. Volunteer
You are young and you are capable of contributing your bit in the betterment of the society. You can go for volunteering in a charity or a cause that is quite close to your heart.
So, go ahead and make the world a better place together!
Inexpensive Hobbies for Couples
---
If you are someone who doesn't want to indulge in expensive hobbies, or your financial condition doesn't allow you to do so, well, then go ahead and try the following hobbies to connect more deeply with your partner.
11. Walkthrough a local park
Stroll through a park with your fingers entwined with theirs is all the hobby and healing you need.
So, this weekend you both can decide to spend a quality evening and night together without having to spend a buck!
12. Feed birds and animals
It is said that when you do good to nature, she gives you back in abundance. Now is the time to do that.
You can visit your local zoo or pet camps or simply find a bird or animal in the open environment and lovingly feed them together.
It would generate the energy of love in you two and you wouldn't be able to stop yourself from falling in love with each other more.
13. Raising a pet
What's better than bonding over a pet that you both love and adore so much? So, go ahead and adopt a pet; the kind that you both agree on.
Most probably, it's a dog or cat. Whoever it is, you must go ahead and get one and remember to adopt, not shop. You can't even imagine how taking care of a pet will strengthen your connection.
14. Meditation
The best thing for couples who aren't into spending a lot of money but looking for something new to try on is meditation.
When you meditate together, you increase your consciousness together which in return, raises their frequency and they move toward more love.
In fact, if it's just one of you doing the job for both of you, it would still connect you two deeper. You can also try healing affirmations along with meditation.
15. Renovating the house
According to psychologists, Jesse D. Mathews, renovating an area of the house or building something great is a good way to bond with each other.
So, what are you waiting for? Start cleaning your room and then paint a wall or simply change its usual setting together.
Hobbies for Couples at home
---
For people who are mostly traveling due to work or remain outdoors for other reasons, staying indoors and exploring a new hobby might be a good idea.
Here is a great list of indoor hobbies these couples can try-
16. Knitting
Knitting has become a lost art. Not many people do it anymore, and you may even consider it something for old people. But the truth is that it is the perfect couples' hobby.
It is relaxing and laid-back, it does not require a lot of equipment, and you will make something you can use!
Just get a few balls of woolen thread and get started! And because knitting does not require a lot of concentration, you can both chat about your day while doing it.
17. Board games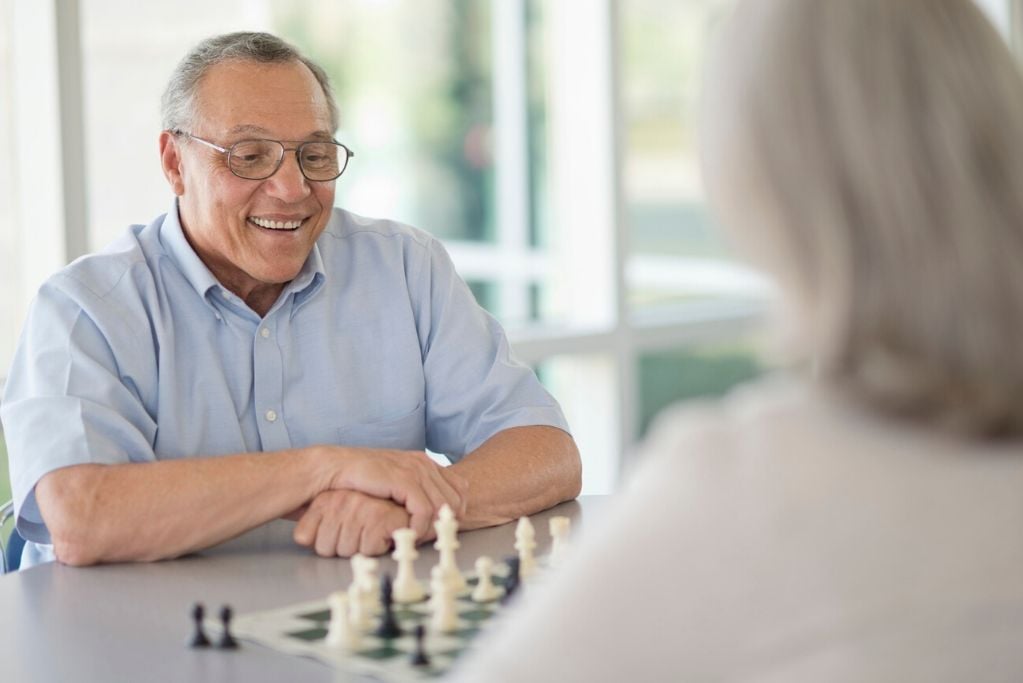 Decide a day to spend with your partner where you do nothing but play board games like Monopoly, Cards, Game of Life, etc.
You both can agree on which game you want to go for and well, go ahead with them. Prepare some snacks together as well to get into the vibe.
NOTE
There are board games available in the market exclusively for couples. If you want things to get romantic or steamy, well, then buy these games and make things quite interesting for both of you.
18. Cooking a meal or two
What's better than staying home and cooking? Cooking with your partner.
Of course, it will be fun! Try new recipes, take up some complicated ones, and take up different tasks as you cook your way up to the final product. Play some good music in the background to keep up the enthusiasm.
19. Movie or TV series marathon
Get on Netflix and start a movie marathon all day! Well, this is perhaps the most common things couples do but it works magic every single time!
Oh yes! Try it with your partner on a weekend. Order a pizza to turn it into a movie date night! Married couples are already doing it and loving it!
20. Karaoke
Pick each other's songs and laugh about it! Decide a night to enjoy karaoke and even invite a few close friends to completely get into the vibe of it.
It is fun to keep score as well as long as no one takes it too seriously and gets competitive about it. It is a great way to destress and decongest with your partner!
Creative Hobbies for Couples
---
21. Creative writing classes
Creativity is very important in relationships. It can reveal things about you and your partner you never knew about each other.
So, don't be afraid to do something adventurous and take a creative writing class together. You will learn a lot, and you will end up having fun too.
Not many people try writing as a couple. It is certainly a fun and exciting way to spend time with your partner.
22. Ceramic Workshops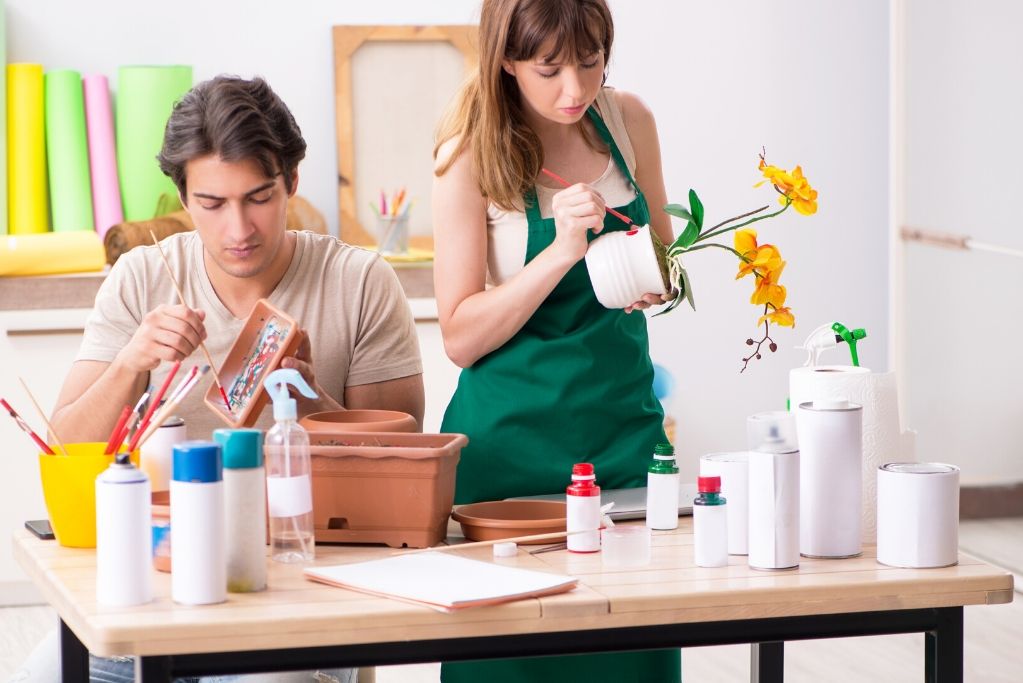 Whether you are already a ceramic pro, or this is just something new you both want to try, pottery can indeed by a lot of fun.
You will both create something with your own hands and will have some mugs and plates to take back home. Plus, every time you use them – you will be reminded of the time you spent with your partner!
23. Join a pottery class
As much skill and concentration this hobby requires, it is also quite therapeutic in nature. Thus, you, as a couple would really enjoy doing stuff related to pottery.
24. Painting
If you have tried painting, even for fun, then we all can agree that it is quite therapeutic in nature. You and your partner should hold a paintbrush and start painting whatever you feel like and see what the end result from it.
Whatever it is, you are going to enjoy it, for sure. And who knows, over time, you may even find out that one or both of you have a flair for it!
25. Learn a new language
Learning a new language is quite fun if you both are into it. Believe us, you are going to love it. Feeling intellectual never hurt anyone.
The best part is that you can learn it online and from the comfort of your home.
Hobbies for Married Couples
---
This will perhaps be the favorite of all the couples out there. If it's romantic, it makes sense and should be a yes. So, check out the following few hobbies for a couple looking for a little romance.
26. Candlelight dinner
As cliche as it sounds, a night spent under the stars with candlelight on the table is the perfect way to reconnect with one another.
Leave the mundane life at the threshold and embrace every moment of the dinner.
27. Attend an event
It can be anything, from a music festival to a stand-up comedy show, depending on your choice and liking.
When you attend an event that's close to you, you can connect with other people and soak in some fresh vibes.
28. Weekend road trip
Go for a luxury vacation, get your food packed and jump into your car—sounds like the perfect road trip, yes? Choose your favorite music and play it along the way.
Do not forget to soak in the vibes of the countryside as you fall in love with the presence of each other every moment.
Who knows, this trip may bring the two of you closer to each other than ever before! And who doesn't like the thrill of exploring an entirely new city?!
29. Surprise gifts
Nothing charms a person more than surprise gifts and who would be luckier than your partner if you gift them something that they cherish for life?
So, pour some of your precious time in selecting that perfect gift for your special someone and slowly, make it a part of your habit.
30. Spend a day in bed
The simplest way to connect with your partner is to laze around with them in bed and have lots of sex.
Nothing will connect you more than good sex and spending time together. It is the most natural and romantic thing to do as a couple.
Miscellaneous Hobbies for Couples
---
Now that you have done all of the above hobbies and still not getting enough of them, well, then make some more space in your life for here are some more activities for you to take on!
31. Massage class
There is one hobby that can make you a happy couple! You can either massage each other at home or go to a spa or massage parlor to keep your bones and muscles grateful for being a part of you.
You can enjoy it as much with your partner. Click some before and after pictures to remember the moment.
32. Yoga or Zumba session
What's better than spending time together and build strength out of it? Well, you can enroll in an online yoga session or go for live Zumba session as well and enjoy two-three hours together.
This activity is useful for both of you together as well as individually. Keep the muscles strong and live your best life together.
33. Join a book club
You don't have to step out of the house to join a book club since there are online clubs available for those interested.
Still, it will be more fun to visit the library or in-house club to meet new members and who knows, they might become your company for the next double date!
Additionally, books are a great source of knowledge and experiences of people who are far smarter than us. Whether you like to read fiction and fantasy books for the fun of it or want to get into reading history or some heavier topics – a book club is a perfect place to start.
You can find plenty of book clubs according to your and your partner's interests. So, what are you waiting for? Join one today!
34. Journaling
Not only is this a great hobby but also it makes you mindful. When you continue journaling for 30 days, you will experience an elevation in your mental and emotional state.
Thus, it will benefit you as a couple more than other hobbies. As you become more open about your feelings, you will start getting into more open and honest conversations with each other.
And when you do that, your relationship with each other will strengthen too.
35. Crossword puzzles
This hobby will not only bring you closer as a couple but also feed your brain to become better, stronger and faster.
Plus, you can do these puzzles anywhere and anytime—kitchen, bedroom, park, at the time of cooking—anywhere!
Crossword puzzles have also shown to be helpful in increasing brain activity overall, along with improving your vocabulary.
So, not only do you have fun as a couple, but you will also become a smarter version of yourself. Win-win!
Winter Hobbies for Couples
Couple hobbies are great in kindling the fire when you want to warm up your bond. And guess what, winter makes these extra romantic hobbies. Isn't it? Here are some of these –
36. Go for Ice Skating or Make a Snowman
Play in white snow. Enjoy ice skating with some fascinating hand in hand moves. Or, try your hand in throwing snowballs at each other.
And the age-old cute snowman is always fun no matter how many times you make it together.
37. Have a Bonfire Night
In late winter evenings, sit around a warm comfy bonfire. Gaze at each other's eyes in the lovely light of dazzling flames.
And maybe have some delicious mac, corn and cheese? Well, those bonfire nights will be more dreamy than you think!
38. Host a Pajama Party
Don your comfy avatar in daily pajamas. Relax on your bed. And cocooned together in the warmth of a quilt, with some quick snacks, binge watch, have a fun chat or ask questions to each other you always wanted to.
Or, have a fun time, dancing hard to your favorite music, pillow fighting, and doing all the crazy fun things you want to share with your love.
39. Long Chats Sipping Hot Cocoa
How often do you talk to your partner? More often than not, couples get distracted in this and that.
Obviously, they rarely get time to have some relaxed meaningful conversation. This winter, get it done! With a sweet mug of hot cocoa or the warm beverage of your choice, open your heart to each other.
Adventurous Things to Do as a Couple
Are you done with your bucket list of hobbies to have a fun time? Be it a yes or no, either way, here are things you won't like to miss as a couple looking for some adventurous hobbies.
40. Cycling
Feel the fresh air blowing through your hair. Ride the long lanes. Or, have a cycle race. You can either go for a double ride or have separate bikes to show your skills.
Whatever is the way you choose, this hobby is perfect when you want a refreshing yet slightly adventurous, fun couple time.
41. Nature Viewing
If both of you are into the kind of nature adventure that actually makes you sweat, hiking is one of the most favorable choices.
Firstly, you get to explore some unexpected shades of environment around you as well as each other that you more often than not miss.
Also, it can be pretty bold depending on your choice of place. Like, think about mountain trails or nearby woods.
42. Canoeing
It is great when you want to experience something exciting that compliments your partnership. Canoeing is funny, energizing, and a great mood booster.
So, next time when looking for a hobby, don't forget to try it out.
43. Skydiving
Okay, something daring to make your adrenalin gush is here. Skydiving is definitely something that faint hearts won't go for.
Thus, if both of you are willing to flex your bold audacious selves, sky is calling you!
44. Explore Haunted House or Historical Ruins
If your kind of adventure involves doing something out of the box, this hobby is something you should definitely go for.
There would be so many unexplored haunted spots, historical ruins, etc. that would pass the chills through your spine on its first encounter.
Bonus, you have your partner by your side to combat an unexpected ghost if it turns up, anyway.
Date Night Hobbies for Couples
Are you looking for amazing date ideas that you can turn into a romantic hobby? Here is a set of some good ideas that brings you closer.
45. A Long Drive Date
Long drives are almost always dreamy.This makes an amazing fun hobby for couples who want to spend quality time together yet not want overwhelming proximity.
Since a long drive gives you enough space to explore each other while having a fun time, you can safely always go for it. It's simple, lovely, and often rejuvenating for your relationship.
46. Dance Night Out
What can be a better date hobby than a dance night out with your partner? Get into your coolest outfits, or maybe try twinning, and rock the dance floor.
Well, it is fun, romantic, and amusing – all at the same time.
47. Date at Beach
Stroll by the sea, hand in hand, feeling the velvety sand and waves sweeping over your feet. Beach dates are perfect when you want to have a whole day to spend with each other.
Firstly, you never get bored of the sea. Plus, you have tons of things to do at a beach with your loved one.
48. Watch Sun Rise Together
A bit off track as it may sound, sun rise is really the most underrated romantic scene.
Sleeping together and getting up early before the sunrise to get a nice view of the blooming sun in the sky, the bird chirping, and a mesmerizing overall feel would fill your heart with a refreshing, tranquil, sublime affection for your partner. Yes, give it a try.
49. Visit an Adventure Park
As most of you might be already aware, adventure park is one of the most favorite dating spots since the adrenalin rush of exciting rides hypes your love-excitement naturally.
But not many are aware of night adventure parks. Mostly, you can expect an eye feast of dazzling lighting decorations, fireworks, music, and a fun night together.
Quirky Hobbies for Couples
Normal can be boring sometimes. Especially when it is about a couple's fun time. So, here's a list of amazing quirky hobbies for couples that would ignite the weird fun your relationship needs.
50. Develop Your Own Secret Made-up Language
Like those of secret agent movies or webtoons, have you ever thought about a secret language of your own with your partner? Well, it is thrilling, interesting, and might be a life-saver at some points.
You can create one with gestures, hand movements, expressions, sounds, or anything that you two prefer.
51. Choreograph Weird Dance Routines Pretending It is Sexy
If both of you like shaking your feet a bit, it'd be quite funny. All you have to do is, pick a cute sexy song of your choice and create some really weird routines.
Finally, make sure you feel sexy with those funny awkward moves together. Have fun!
52. Come Up with Funny Nicknames for Each Other or People around You
Nicknames are always interesting. And when you get a chance to name your partner with some cute strange ones, what would you choose?
Plus, you can come up with nicknames for others around you with your partner. Benefit? You can have a secret chat about them right in front of them, when they are clueless about their strange names. Funny, right?
53. Play a 'How Much You Know Me' Quiz
It's plain, easy, yet enthralling. Both of you have to create separate questionnaires about oneself. Now, let your partner ask you those and vice versa.
It'll help you know the hidden shades of each other's personality in an interesting manner. Also, it's a great communication exercise for couples.
Intellectual Hobbies for Couples
So, both of you are into doing something intellectual that suits your personality? Well, that's pretty impressive. These intellectual hobby ideas for couples would definitely be your answer!
54. Debate or Have Discussion Sessions
If you're here looking for some intellectual couple hobbies, chances are high that both of you are into long meaningful discussions.
So, you can have some time every weekend, or random evenings, to discuss anything and everything under the sky. Or, even more. It's a good mental exercise. Great communication booster, and perfect to know each other a bit more.
55. Storytelling or Podcasting
Telling your stories together to the world is really fulfilling and warm. So, if you both have something to tell together, this is your perfect choice.
You can start your own podcast and have some beautiful memories to create and share with others.
56. Writing
How about writing a book together? As a couple, you two share a kind of comfort zone and understanding that is crucial for the co-authoring process of a book.
So, be it a fiction, life lesson, or anything you two are mutually interested in – give it life in the form of an interesting lovely book.
57. Sudoku
If both of you are into exercising your brains, why not try your hand in something really interesting?
Sudoku demands your logical side to solve puzzles, mostly done within a given time frame. A word of caution – it would be too engaging to leave once you get into it.
Cool Hobbies for Couples
There are couple hobbies with lots of fun and a cool feel associated with it. So, if you're looking for something similar, you're on the right track –
58. Playing Video Games Night
A video game night is always fascinating for gaming geeks. And if both of you share this interest, you can plan your night together with the fun and cry of a never-ending gaming cycle for hours at stretch.
It's your couple time playing games that you always wanted in the company you enjoy most.
59. Running
What about flexing your athletic side to your partner in a quick race? You and your partner can have running competitions to add the spice in your bland schedule.
It'd be stimulating, rousing, and super exciting, warming up your bodies and relationship.
60. Improv
Are you sure both of you have seen enough of each other's crazy sides? Guess what, there's much to explore yet. Try your hand into an out-of-the-box activity like improv and make people laugh together.
You two can join comedy classes or, if you're confident enough, a local club. Also, you can make people laugh in casual social occasions with your amazing comedic chemistry.
61. Visiting Live Concerts
Live concerts are absolutely stirring. And those who love it know how much they look for someone who shares the same interest.
So, if it is something that both of you might share, give it a try starting together with your favorite ones.
62. Learn Archery
How cool would it be to stand beside each other, aiming to shoot with a bow and arrow right on your target as they show in movies!
And it's great for the couples who have an edge for sporty spirit. If it excites you already, make sure to listen to the archer inside you.
Good Hobbies for Couples
As a couple, you are looking for some hobbies that are good for your relationship. Well, it is a great move. Here are some really good hobbies for couples that you can incorporate in your lives –
63. Traveling
Traveling, as a hobby, is obviously fulfilling. And as a couple, traveling can be even more fascinating.
Besides, more often you reflect upon your lives, the world, and each other better while walking on those unknown roads than a pre-decided daily route. So, pack your bags and start a journey.
64. Calligraphy
Are you both into the beautiful art of penmanship? If yes, calligraphy is the next good thing that you'd love to do together. It's an aesthetic, creative, and strangely pleasurable hobby.
So, you can begin it together as per your preference. Like, there are classes available to learn the craft. Or, you can buy the calligraphy set and try your hands directly.
65. Scrapbooking
Beautiful pictures, letters, articles, a lovely flower bud, or anything that creates some wonderful memories for both of you. Do you care about these little things?
Scrapbooking is the art of creatively preserving this simple memorable stuff. And it is double rewarding. Firstly, doing it together would make you happy. And then, later whenever you'll see it, it would make both of you smile.
66. Visiting a Book Cafe
If you are looking for a hobby that takes you out of your daily life for some calm, peaceful moments, this is the one for you.
A mug of warm comforting coffee and tons of books to read with your dear one in a little secluded cafe is a hobby good enough to destress your minds and souls. Plus, you can create your reading lists to explore each other's favorites.
67. Singing
Just like music, singing itself is a therapeutic hobby. Together, when you sing your heart out, you can share some tranquil moments of warmth and affection.
It helps in creating an emotional bond between you. Also, it has a lot of health benefits that is an additional plus.
Healthy Hobbies for Couples
Couple hobbies to keep you healthy is quite a good idea. As often said, staying active is the first step of staying fit. So, here are some active hobbies that would keep you healthy and happy.
68. Join a Fitness Class
A fitness class is great when looking for motivation to workout daily. Besides, doing it together makes it more interesting.
Fitness classes can be of various kinds that help in boosting your physical and mental health. Also, it might cover various activities. So, you can also go for clubs like meditation, yoga, dancing classes, etc.
69. Pick Up a Sport or Activity
From tennis to tango – anything that suits your mood and body while keeping you active is a good choice. Both of you can choose the activity based upon your mutual interests.
Besides, you can also join a sports club or a dance class together.
70. Daily Healthy Platter Challenge
Are you both into good food? Well, who wouldn't be, right? And it can be even better when taste blends with health.
So, start a daily healthy platter challenge in which both of you will cook something innovative, delicious and healthy together daily. You can prepare meals together or do it alternatively and give it points. So, what's today's menu?
71. A DIY Spa Massage
Massage is great when you want to detoxify your skin and refresh your body and mind. And this can be your couple-hobby with a twist. You can do it at your home for each other.
All you need is a care package or a home-made massage kit. You can choose organic materials for a better experience. So, turn your home into a spa!
Hobbies for Long Distance Couples
Stuck in different time zones and places, a long distance relationship can be a bit tough for couples. Yet some simple hobbies can make this far better for your long distance love and emotional connection.
72. Make a Daily Routine E-Journal
What do the long distance couples miss most? Yes, the little day-to-day activities of each other's lives.
So, creating a shared e-journal to note down your daily routine, activities, how your day was, etc. is your answer. By this, you would be aware of each others' daily lives by having a glimpse of it. Amazing, right?
73. Post a Letter
In the times of emails, a postal letter might sound like snail mail. But the touch of hand, words written in your dear one's handwriting, and the entire feel makes it much more personalised and warm.
Maybe that's why we have love letters and not love emails. So, take your time and write letters to each other.
74. Create a Digital Photo Album
You might not be able to see each other for some time. But you can always create memories together. A photo album is such a memory box.
Besides, the good news is – you can create these together without being physically present next to each other. There are many apps and tools to share photos and create digital photo albums together.
75. Video Chatting
Well, a surprise visit is rather difficult. But an unplanned video call isn't. You can have video chats or even play online games together to spend couple-time.
And using phone calls staying connected isn't that bad when you can see each other, right?
76. Make a Special Couple's Playlist Together
Songs are like memories. And sharing a playlist is like sharing those wonderful memories with someone. So, why not create your own couple's playlist?
You can pick songs together and listen to those songs whenever you miss each other. Or, maybe together? Yes!
Hobbies for Retired Couples
Why not take retired life as a great opportunity to reconnect the dots of your beautiful bond that might haven't got enough attention amidst part-times or jobs and so on? Here are some great hobbies for retired couples –
77. Explore Your City
Chances are high that you would have not explored the city you live in to it's depth as a free traveler. Till now, you had visited places out of necessity.
Now, you have the time and opportunity to discover some unknown shades of your place with your partner. Or if you have done it before, it's a great chance to relive those memories.
78. Co-Mentoring
Retiring gives us time to do the social work that we always wanted to do. But to give back to society, you don't always need to volunteer at a soup kitchen or NGO.
Together you can mentor those young people who need guidance. Your experience can be more valuable often.
79. Starting a Business
Do you have the entrepreneurial spirit or some amazing ideas in your mind? Why not go for a business together since you have time to do so, after all?
From a simple cake business to an e-commerce idea, you can do whatever excites you. Plus, some extra money is never a bad thing, right?
80. Antique Collection
Do aesthetic antiques make your hearts skip a bit? Be it rare stamps, artifacts, paintings, or any other thing that attracts both of you. Antique collection is a hobby that would make you both engage in it like crazy.
Since it requires a lot of time, research, and interest, it is perfect for a retired couple when they want something interesting to engage in.
81. Declutter
No matter how much we try, our lives often get cluttered with daily life chaos. If that is your case, decluttering together can be an amazing hobby. All you have to do is – pick things in your life and simplify it.
In other words, from your home, your wardrobe, pantry, laptop, to your relationships, your mind, and your priorities – choose what matters for you together. One thing at a time.
Nerdy Hobbies for Couples
By nerdy hobbies, we often think about hobbies that are productive and insightful. Of course, it's great when your partner has a similar taste.
Be it your favorite geeky hobby or a nerdy one, here are some ideas that might excite you.
82. Art Study
Visiting art galleries, studying art, or, in other words, being an art connoisseur is such an amazing hobby.
Especially when someone is there with whom you can discuss things in detail. If both of you share a love for art, this is the perfect hobby you are looking for.
83. Join an Online Course
Learning more about the topic of your interest is really exciting as a nerd. And if you have a partner in this course, well, that's the cherry on the cake!
So, from the tons of available online courses, choose something that both of you prefer and start your learning journey together.
84. Reading
Of course, reading is a really productive and satisfying hobby. Also, you can pursue this hobby together with your partner to make it more interesting.
So, both of you can read together. Or, you can create your reading list together and go complete those yourselves to discuss your views further.
85. Play 20 Questions Game
This is about 20 random questions about any chosen topic that you can ask each other. You can plan it your way. Additionally, you can decide on an award for the win or something to bring more fun to the game.
Outdoor Hobbies for Couples
Are you both into exploring the outside world? That's pretty impressive. Here are the hobbies that are great outdoors, especially for active couples –
86. Go for a Walk
Walking is as simple as it sounds. Just decide upon a time together and brush off your shoes to the streets as far as you can walk.
Not only walking is a great mood-booster and a healthy activity, but also it is a great hobby for a couple to indulge in.
87. Open Water Swimming
When talking about outdoor activities, swimming is something that one can never miss. It is refreshing, fun, and a great hobby for couples.
Try it yourself once and most likely you'll fall in love with this amazing activity.
88. Kite Flying
It is a skill and an art to fly those colorful kites high in the sky. So, if you are assured enough to flex your skill together with your partner, or want to try something fascinating and new, it would be a perfect choice.
89. Bird Watching
Step out of your home with binoculars or maybe a camera and get ready to explore together some beautiful creatures of nature.
You can visit nearby woods, the national park, or a neighborhood where trees are abundant.
Relaxing Hobbies for Couples
Tired of daily bustles of life? It's okay to have some peaceful moments with your partner with a relaxing hobby. Here are some amazing ideas –
90. Star Gazing in Night Sky
Feeling the calm cool breeze, sitting under the vast sky studded with sublime dazzling stars, hand in hand with your love… Isn't it amazing?
Stargazing is a wonderfully romantic experience that will fill your heart with utmost joy. You just need a simple stargazing kit and a right spot. That's all. Go for it!
91. Adult Coloring
Did you enjoy filling those beautiful color books with different shades of your choice as a child?
If yes, you can do it together now with an adult coloring book and color set. It's artistic, delightful, and an amazing stress-reliever.
92. Bedtime Storytelling
Remember how as a child one used to have those 'feel good' storytelling sessions? You can do the same now with your partner.
Choose beautiful stories to tell each other before sleeping. It would be really warm and relaxing with a dose of love.
93. Aromatherapy
Calming aromas that soothes your mood and soul… doesn't it sound wonderful? And choosing those sweet calming essential oils together, with its alleviating notes is an interesting affair.
It's great for your skin, your mood, and your senses. Plus, a perfect hobby when you want to relax together as a couple.
Hobbies for Couples in Their 30s
So you're in your 30s and trying to find new hobbies to pursue as a couple. And that's great! Some amazing ideas are here for you –
94. Organic Skincare Ritual
What can be a better hobby than taking care of each other? Start a skincare ritual together with organic materials that suit your individual skin type.
It would be great for your skin, relaxing, and more enjoyable when done together.
95. Watch TV Shows, Web Series or Movies
Of course, this is the most obvious hobby. However, it can be far more interesting if planned with your unique choice and preferences. So, why not literally netflix and chill together? Yes!
96. Redecorate Your Space
What's more interesting than decorating your space? Think about how you want it to be together. It's exciting and full of fun.
97. Vlogging
Be it travel, something specific, or your daily lives – vlogging is a great way to self-expression. And doing it together makes it far easier and more interesting.
Hobbies for Couples over 40
Though all the hobbies mentioned above are good to go for anyone and everyone. Still, if you are here to find hobbies specifically as a couple over 40, here are some ideas –
98. Music
Can there really be someone who doesn't like music? Music boosts our mood, relaxes our mind, and can be therapeutic often.
Plus, sharing your favorite music with each other is like sharing your emotions. So, why not spend some time together listening to music of your choice!
99. Card Games
Not a single game is as diversified in the world as cards. You just need a single deck and you are good to go for uncountable games together.
It's a great stress-buster, a mental exercise, and a perfect hobby to pursue together as a couple.
100. Upcycling
DIY upcycling is not just a trend in modern society. It's a step towards a responsible and sustainable life. What's more?
It's actually gratifying and enjoyable once you get into it. So, together, start this wonderful hobby of saving your money, being creative, and helping the planet – all at once!
Closing Thoughts
Hobbies for couples are aplenty. However, it is tough to choose the one that would suit the best for individual couples. To get your hands on a great hobby, it is important to get to know each other better and then go ahead with the kind of hobby you both want to try.
At the end of the day, you both will be grateful to have explored a new one and gained a new experience, because it will only help your relationship grow and flow.
There is nothing more important than having a healthy relationship with the person you love and these hobbies will surely help you stay connected with them all the time.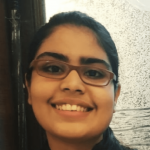 Kirtika Surolia
From Psychology, Spirituality, Wellness, to Art & Literature, Kirtika loves to connect dots of the vast Cosmos in little ways. As a Writer, Artist, and Creator, she is all for exploring the inner self before the outer world. With ThePleaseantRelationship, she hopes to help others in finding their shining real selves!