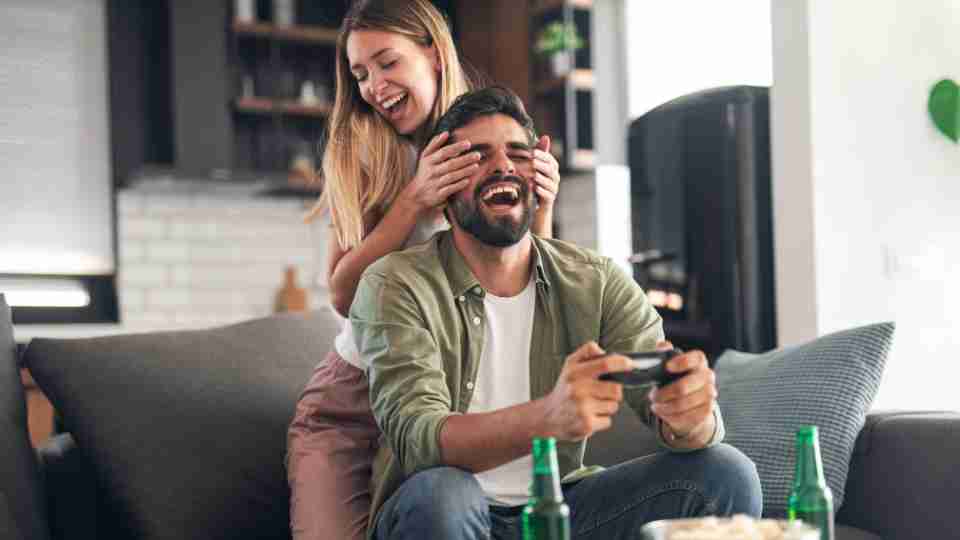 Do you remember the last time you played some couple games with your partner?
I'm sure you miss it… The laughter, the fun, the chemistry!
Romantic date nights can become a part of daily riff-raff if you don't add some spice to them.
And if you have been in a relationship for more than a year, then you should shake things up every once in a while, to keep that chemistry intact!
But frequent weekend getaways and exquisite candlelight dinners may burn a hole in your pocket. So, why not try your hand at games, to save both money and the charm?
Adult games are everything about adults. There's more fun, love, and lots of spice. Everything that you need to make the most of your nights.
So, here are some handpicked couple games to help you feel the butterflies again.
So, shall we begin?
Couple Games Infographic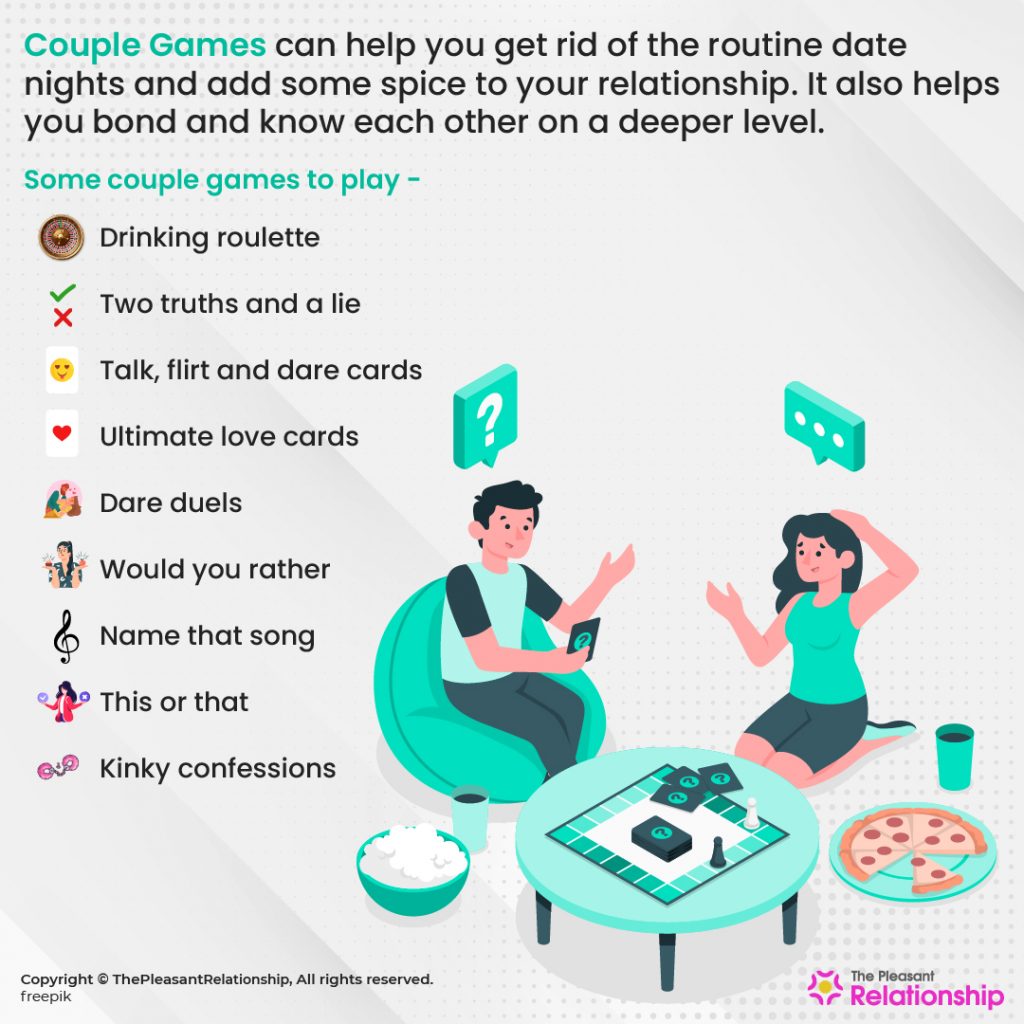 Sex games for couples
Let's just admit it: Healthy sex is, undeniably, one of the most important signs of a healthy relationship.
If you are on the same page as me, then this list of amazing sex games is sure to grab your attention.
These games have been curated with extra love, so I wouldn't be surprised if they end with great sex afterward (wink, wink).
1. Experience the ice cubes
For ones who are suckers for seduction, this game is surely gonna bring you to your knees. Just keep a bowl of ice cubes ready in the freezer.
How long can you bear the ice cubes on your body while maintaining sizzling eye contact with your partner? Is your chemistry so hot that you don't feel the cold? Why not find out?
2. Kinky confessions
Another way to seduce your partner is by engaging in kinky confessions. Each one of us has a list of dark desires that we want to be fulfilled in the bedroom.
Get creative with your questions and get your deepest desires in the open. Ask your partner to do the same. It's a great way to make your sex gets even sexier!
3. Masturbate for each other
Nothing will make your partner hornier than an act of masturbation. But here's a twist: You won't help your partner masturbate. Instead, you would masturbate in front of your partner.
Get kinkier by using sex toys or oral sex, and I guarantee you both will end up in bed doing some dirty things (if you know what I mean!). 😉
4. Sexploration
This 52-week card stack is full of sizzling sex games. If you are looking to indulge in a new sexual experience with your partner, this game is your hail Mary.
All you have to do is pull out a card from the stack and carry out the naughty actions written on it.
Pro tip: A little role play will make everything even more heavenly!
5. Sex dice game
Sometimes all your sex life needs are some dice.
Roll the dice that are loaded with sexy prompts and perform the action it asks you to.
This particular game is going to make you try out many sex positions in ways you probably haven't tried before.
Isn't that just perfect to spark the fun in your sex life?
Let's take advantage of the mood set by the dice games and see what else the night has for us.
Drinking games for couples
What's a couple game night without drinks? Drinks, especially alcohol, set the perfect mood for you to communicate your emotions without really talking.
So, let's get you tipsy before you start talking… with these drinking games for the night:
Choose your favorite and dive straight into it. Let's goooo!
6. Adult Jenga games
Is there anyone who doesn't love Jenga? I don't hear a yes.
But this is not your usual high-school version of Jenga. It is custom made for a couples' night. All you need to do is stack the blocks of Jenga together with lots of alcohol in place.
The key is to take a sip, every time you pull out a block.
Every block will have conversation starters or fun dares that must be carried out, and the alcohol just makes it more and more fun!
7. Strip poker
There's no better game for a drinking night than strip poker. Take the game to the next level by making the loser lose a piece of clothing after every round.
The drinks will make sure you are enjoying every bit of the game including the slow striptease which would be happening right in front of your eyes.
8. Drinking roulette
Opt for this fun and amazing game if you wish to spice up your night with your partner. The easiest way to do this is, fill every glass on the roulette with different drinks.
Now take turns spinning the wheel. Wherever the ball lands, the person has to drink the contents of the glass. Evidently, the easiest way to get the drinks in!
9. Sink the ship
Sink the ship is one of the most well-known games for couples.
All you have to do is drop alcohol into a glass that is already floating on water, directly from a beer bottle. Anyone who sinks it is the loser.
The key here is to take sips before pouring them into the glass!
Pro tip: You can expect great sex as a punishment (feels more like a reward!).
10. Two truths and a lie
In this famous game, both of you are to make three statements and your partner has to guess which one is a lie.
If they fail to give the correct answer, they have to take a sip (vodka, or something strong, would be better). If your relationship is new, this game is perfect to get the party started!
But wait!
If your relationship is new, you might not want to include drinks in your game night. In that case, I have something else for you.
Card games for couples
Are you out of ideas to continue the game for a long time? That's where card games come into the scene.
All you have to do is pick a card, let it do the talking and you do the action. Trust me, everything that you need to have a fun games night is a card stack.
Here are some choices that can help you pick the right one.
11. Truth or Drink Card game
A perfect card game is one with some romance and a lot of spice… because why not. That is exactly what this game does.
With over 300+ cards this game has a lot of fun questions you can choose to answer on your next night-in… and if not, be ready to take a shot!
But beware, things may slip out of control very easily. (But is it not what you want? 😉)
12. Talk, flirt, and dare cards
Giving the truth or dare game a sensuous touch, the talk, flirt, and dare card game is sure to spice up a romantic night between the two of you.
As the name suggests, it is divided into 3 parts, the talk cards feature naughty conversations while the flirt and dare cards feature exciting, spicy dares.
So, make sure to squeeze that last drop of opportunity to make your night naughty and fun!
13. Ultimate love cards
This ultimate card deck with a total of 200 questions is a perfect game that will help you know your partner better than before.
Expect a lot of naughty truths and funny dares as the game progresses. And since the cards put a limit on the words, it also gives you the chance to insert your own details inside the dares to make it even spicier.
14. Dare duels
The truth and dare game is definitely super fun. But how about an all-dare game? The dare duel is an amazing card game that you can play the next time you see your partner.
Each player takes turns to draw out cards, and select phrases or words to carry out any romantic act.
Points are awarded and the winner gets to decide the final dare, which has to be performed by the loser. (Make sure you make this dare count!)
15. Romantic tic-tac-toe
How can a tic-tac-toe game be romantic? I'll tell you. Grab sheets of paper and make cards with some intimate actions written inside.
Take another sheet and draw boxes with some other activities written such as kissing etc.
When both of you will choose your spot while playing the game, the action has to be carried out before moving to the next turn.
Aren't these games filling you with excitement already? If yes, then let's dive into the fun mania…
Fun games for couples
If you are someone who wants their game night to go just "perfect" without taking the risk of trying any new game, then this list is your savior.
Moreover, it's never a bad idea to go back to the old board game you've grown up playing.
So let's see, what are some epic fun games you can choose from.
16. Roleplay monogamy board games
Gain a new sexual experience with the monogamous board game. This popular couple's game is based on various role plays that can fulfill your undiscovered sexual fantasies.
You can start by moving pieces around the board that will land you on different squares directing you to do specific actions like kissing, stripping, licking your partner, and so on.
And as you move forward, it gets more and more intimate and intense!
17. UNO dares
I can bet you would have never played UNO like this. This is a UNO dare game that can easily heat up your date. It can be played whenever and wherever. In the day, night, park, or even in the car.
Some fun and naughty dares accompany the game, but you can let your imagination run wild and make a few along the way.
18. The never have I ever game
The OG classic game just got better. This version of the never have I ever game is going to make your couple's night a fun one.
Go with a few basic ones to break the ice and then turn up the heat by asking some dirty questions during the game.
You can choose your own drinks, but alcohol trumps all!
19. Truth or dare games
One of the most loved games, the truth or dare game can be twisted along if played for a couples' night.
Prepare some naughty truth or dare questions beforehand or search online where you will find plenty of them.
You can ask personal, dirty questions if they choose truth or turn up the heat by giving some naughty dares if they choose that.
20. Twister
Another classic game, but even this can be modified into a lovely fun game if you have the right intentions (especially, if naughty).
Get into some comfy clothes, put on a little bit of perfume, because you are about to get super close.
Things may get even steamy if you wish for it, but even if it doesn't there will be a hell of lot of bonding over laughter.
Okay enough of playing inside the bedroom, what about the times when you both are on a road trip?
I have the solution.
Road trip games for couples
Road trips are an extremely fun way to bond on nice moments over the weekend.
But things can become a little boring after a few hours because all you are doing is just driving. But not if you are playing games!
Here's a list to make your road trips worth remembering.
21. Yes, no, maybe
In this game, both partners can turn up the heat during a drive. You both just have to identify yourself as a giver or receiver.
Pro tip: Use a coin for that! 😉
The giver would ask for actions to do, for which the receiver has to give permission.
Yes, means consent by the receiver, no means it's a refusal.
The twist here is that "maybe" means, the giver has to persuade the receiver to give consent.
22. Name that song
Road trips and music go hand in hand. But in this case, we are going to create a playlist that is going to turn into an interesting game. Go ahead and play a small bit of any song you like.
Your partner will have to guess which song that is. If it's easy, then play the harder verses that will make him clueless and bond on the laughter that's going to fill the car.
23. One-word one-answer
Even in relationships, partners tend to think first before doing anything. But in this fast-paced instinct-driven game, there won't be much time to think before speaking.
You can start this game with one word, any word. Your partner has to say whatever comes to their mind as the answer, within a fraction of a second.
This is a great way to dive deep into your partner's thoughts while having fun.
24. Gottman couples games
The Gottmans are two of the world's leading relationship experts, and their "how well do you know your partner" quiz covers top-to-toe everything you need to know about your partner.
Whenever you pause during your trip, sit down and complete the quiz. And when you drive again, discuss it. This way you'll have fun and also get to know your partner more intimately.
25. This or that
In this fun game, a person is given two options among which he has to make a choice.
This is a fast-paced game that can be played when the trip is starting to become a little dull and both of you are in dire need of a fun element.
You can either keep it clean or dirty but one thing is sure, you would know a lot about your partner at the end of the session.
Now, that is a road trip you will remember for the rest of your life.
Let's see what games you can play if you aren't physically close at this moment.
Texting games for couples
Long-distance relationships are very VERY hard to handle. You cannot go to dates, or movies or cuddle like a normal couple.
This leaves you with a lot of frustration and anger. It can also develop into arguments or misalignments between the partners.
No, I don't want that to happen to you.
So, here's an option. You can play some fun texting games that will help you keep the romance alive even when you're miles away.
This game is for couples who are all about their partner… that's quite adorable, isn't it?
For playing this game, start by saying why you love your partner and then let them continue.
Take turns simultaneously. And in the end, you will have a nice memory preserved in your texts and your heart!
27. The emoji game
This game is a fun and quirky way to express your feelings about your partner. To start playing, create a row of emojis that best communicates your emotions.
Your partner has to guess what you're trying to say. If they are correct, they will reply in emojis as well and if they lose, they have to perform a dare for you.
Pro Tip: Make this dare as spicy as possible! 😉
28. What if?
This is a very fun and exciting game if you wish to explore the different personality traits of your partner.
Start by giving a hypothetical scenario to your partner and ask what they would do in that situation.
You can also put in some relationship questions into that and wait for their creative answer. After that, it's your turn to answer and your turn to ask.
29. Complete my sentence
Texting can get annoying. If you want to kill your boring chats, then this is a great way to do so.
The key to playing this game is creating unfinished sentences and letting your partner finish them.
You've all the freedom to get a little naught… and flirty. Start by letting your partner finish an incomplete sentence and ask them to do the same.
30. Would you rather
If you want to know more about your partner's likes and dislikes, then would you rather game is your best pick. Here's how you should go ahead with it.
Give two options to your partner and ask them to choose one. Once they give you an answer, let them ask you a question. After a few rounds, you would love where the game will take you.
Now let's talk about some games that would probably come in handy in the future. Scroll down to see what I mean.
Couples shower games
A wedding takes tons of preparation and lots of planning. But one thing that is often missed is how to keep the guests entertained.
Now that doesn't require making adjustments to your already fixed budget, it only requires you to introduce some fun games to your party, so that everyone feels excited to participate.
You can check out some ideas mentioned below for inspiration.
31. Who knows the couple best
Everyone feels like they know the couple better than anyone else. Well now is the time to prove it.
Get a customized question template about your relationship and distribute it among your guests.
Whoever knows the maximum answers, wins. This amazing shower game is sure to keep everyone hooked until the end.
32. Over or under game
In this game, the host can ask a question about a soon-to-be-married couple's relationship and the guests have to decide on a number. For instance, for how many years they have been dating?
Now when you say it's not the right answer, they need to choose whether it was over or under.
The person with the most correct answers wins a prize.
33. Wedding shower bingo
The time you open presents can be turned into a lot of fun with this amazing bingo.
Hand out the printed templates and before the shower begins, the guests have to guess what kind of gifts the couple is going to receive.
As the gifts are opened, the guests will tick off their guesses and the first person to tick all, gets a bingo.
34. Match the movie
If you and your partner are movie junkies, spice up the wedding shower with this game.
Write down some iconic quotes and let the guests match them with the movie it belongs to. It can even be played in teams… and the ones who get all the right matches, are the winners.
35. Love Story Mad Libs
Strike conversations among the guests with this Mad Libs game. You can customize and print out your own love story and hand it to your guests to fill it. Tell them to use their best imagination.
At last, read out everyone's version. It is surely going to fill the house with loud cheers and laughter for hours.
If you're planning a 3-hour long wedding shower, you can actually play every game mentioned here. It will make sure the fun never ends.
That was for your D-day, but what about the days you want to play something really out-of-the-box.
Couple dress up games
For couples who like to play really quirky games… you are going to love this one.
This list of games doesn't require you to be fashionistas of Instagram… all it requires is a really daring heart (if you know what I mean! 😉).
Keen to know more? Then keep scrolling, mate.
36. The Halloween Costume
If you and your partner are having trouble deciding on your outfits for Halloween, here's what you can do…
Write different costume ideas you have in your mind. Collect the chits and shuffle-mix them. Now, let stone paper scissors decide who gets to pull out the chit!
37. Different wardrobe
This is an exciting add-on to any game that is surely going to tear you with laughter and good memories. Pick up any game: chess, monopoly, or even Ludo.
Make a bet that whoever loses the game has to get dressed up in the opposite partner's clothes for a whole day.
Make it more interesting by planning a day out. You would not want it to end, trust me.
38. Let your partner be in charge of your wardrobe
This game also works the same but there's a slight twist.
Start by playing any fun game and the person who loses the game has to give up the control of their wardrobe to their partner for 3 consecutive days (weekdays, if possible).
Get creative and pick out some hilarious outfits for the loser and make sure you record each and every moment.
39. Who are you?
If you're planning to do a couples' party at your house, then this game will be the best to get everyone involved.
Keep a dress code for the guests, so everyone comes in as an iconic movie/real-life couple.
All the other guests have to match the real-life couple to reel life ones. The couple who gets the maximum points wins.
40. Virtual reality game
For all the game freaks, this virtual reality dress-up game is surely going to get you excited.
Start by playing an interesting VR game of your choice, the winner not only gets to decide what game is to be played next but also the dress-up for your partner's persona.
They can also be half-naked… let the imagination run wild! 😉
Surely that would have cracked up both of you. After all, a little bit of weirdness makes a relationship stronger.
Cute couple games
This next list is for couples who are all mushy. It's cute when couples don't hesitate to express their affection for their partners.
If your relationship is one of those, there's a good chance a lot of people are jealous.
So, it's time to make them even more jealous by playing these cute games.
PS: Don't forget to upload an Instagram story every time you play one.
41. Scrabble
All of us have played this game at least once in our lifetimes. But let's turn it into a romantic one this time.
Choose a category like kissing or making out. When your partner reaches points that have been set before the game (like 30 or 40). You have to do an action that they ask you to.
This is a great way to steal kisses from your partner anytime you want. Isn't it?
42. Date idea box
If you and your honey love to go out on dates but are bored with the same old regular movies and lunch, you need to try this game.
The date idea box is for all the cute couples who like to go all-in for an adventure. With around 52 cards, this box will help you go on different unique dates each week.
43. A Surprise case
This game requires a bit of preparation, but it is cute as hell. Write different actions such as kissing for 2 minutes, cuddling for 15 mins, on different pieces of paper. Fold it and put it into a case.
Take turns opening the jar and whichever paper is picked, the action is supposed to be carried out by the two of you, completely non-negotiable.
44. The picture game
There's nothing wrong with twisting the game according to your wish. So, why not?
Start by pasting some cute pictures on a small cubicle box. Take multiple boxes if you wish to. Now take turns rolling the cube and carry out the action the picture demonstrates.
Pro Tip: Choose some pictures of cuddling or kissing to make the game romantic.
45. Sing-song ping-pong
This special game can turn any boring night into a fun one.
To play this, start by singing any song that you like. Now your partner has to sing a song with the word at which your song ends.
The same process has to be followed by taking turns and whoever fails, is the loser.
Aren't these some of the cutest games you've ever played?
Now, since we are heading to the last one, let's look at the collection of the best games for a couples' game night.
Best games for couples
There are some games that are fun to play… and then there are some games that help you bond, express your emotions and also make you laugh till your stomach hurts.
…and you want more of the latter!
That's why I have hand-picked some games that are guaranteed to bring fun, joy and charisma into your couple's game night.
So, take a good look into this one because it's going to be epic.
46. Karaoke
Go to a bar or if you have a system at your home, set the mood with a karaoke night. You can bond over both of your favorite songs, or maybe impress them with your fascinating ability to hit high notes.
Don't worry if you mess up, there won't be a moment left for embarrassment because you will be busy holding your tummy from continuous laughter sessions.
47. Ask intimate questions
If you and your bae like to bond more on sensible topics, then asking intimate questions is the ideal way to have fun and also know a lot about your partner.
You can start with some really basic questions like:
What's your favorite color?
Your favorite memory with your dad?
Your favorite movie?
Favorite celebrity crush?
Favorite school subject and so on.
Keep making notes because that will come in handy later on.
48. The tasting game
The best way to play this tasting game is by blindfolding your partner.
Grab bits of different items like frozen pickles, strawberries, ice, fresh cream, soap, and anything you can think of and make them guess what it is.
For every right answer, plant a kiss, and for every wrong answer… Umm, I leave that bit for you to decide! 😉
Pro Tip: Let them bite a bit of you and get ready for some wild act! 😉
49. Pretzel-making
If you haven't done it yet, know that cooking together is an amazing way to bond with your partner.
So, drag your partner to the kitchen, find some amazing recipes online, and start making some amazing pretzels.
You can even compete with each other, just make sure you don't burn the kitchen down. This will be a fun memory for you both to remember.
50. The Stare game
The last but certainly the best game to ignite the spark between partners is the stare game.
In this game, both of you have to look into each other's eyes. Make it passionate and communicate through intense eyes.
The first one to look away has to bear the punishment. The punishment should be fun where you can ask for flowers or a kiss.
That may be the end of the games. But wait, I have something else packed for you.
What made you believe; I will bid you goodbye without the bonus?
---
5 Tips to spice up the game night with your partner
Spicing up a game night is actually a lot easier than you can imagine. You do not have to rent any private rooms or resorts to have fun with your partner. You can do it in the comfort of your house.
To help you make that happen, here are some 5 tips for you!
1. Order Food (lots of it!)
Always keep loads of snacks handy to make a game night cozier and fun. Especially, if you and your partner are food lovers, then consider making a charcuterie board.
It has every snack served on a board with a cream cheese dip. Yummmm. Now, that should be called a perfect game night platter.
2. Plays that you both like
A couple's game night is intended to bring fun and excitement to your relationship. But if your partner doesn't enjoy the game, the whole purpose will be lost.
For instance, if they are not a fan of dress-up games, try playing card games instead.
A healthy relationship is more than just playing games, so keep a check where your partner gets uncomfortable.
3. Mix and match
A perfect game night for couples is a combination of fun and spice. It is supposed to bring you together and rekindle your romance so that the other areas of your relationship stay healthy too.
So, let your imagination run wild and search for ways to keep it fun and sensual.
4. Alcohol always helps
An adult game without alcohol just doesn't make sense. So, if you are planning a game night this weekend, make sure you've your favorite alcohol stacked.
Running out of it in the middle of the game is a big turn-off, so please don't.
5. Keep it cozy
A game night becomes immensely fun if it is played within the comfort zone of both partners.
If you are trying it for the first time, consider setting up a cozy decor with fairy lights and lots of cushions. It will be a cherry on top for your game frenzy!
A word from ThePleasantRelationship
If the relationship becomes dull, it becomes hard to reignite the passion it once had.
In those cases, indulging in-game night-ins becomes very helpful, as it allows you to have fun with your partner without worrying about anything.
It might not be the way to solve relationship issues but it definitely makes that path easier for you to walk on!
So, think no more, call your partner for a game night-in tomorrow. And don't forget to thank me for all the fun you had!
Surabhi Kedia
Surabhi wakes up every day with a drive to craft words that can create a soulful impact. Creatively adventurous, she is always seeking to learn new skills and acquire new experiences. With a hidden soft corner for languages (especially Urdu), she writes poetry occasionally, binges on romantic shows, and LOVES to talk. A hustler, admirer, chaser, Surabhi is just another-someone who refused to give up on her dreams. She says, she is just somebody who's trying to make herself a writer and for now, she's just writing...