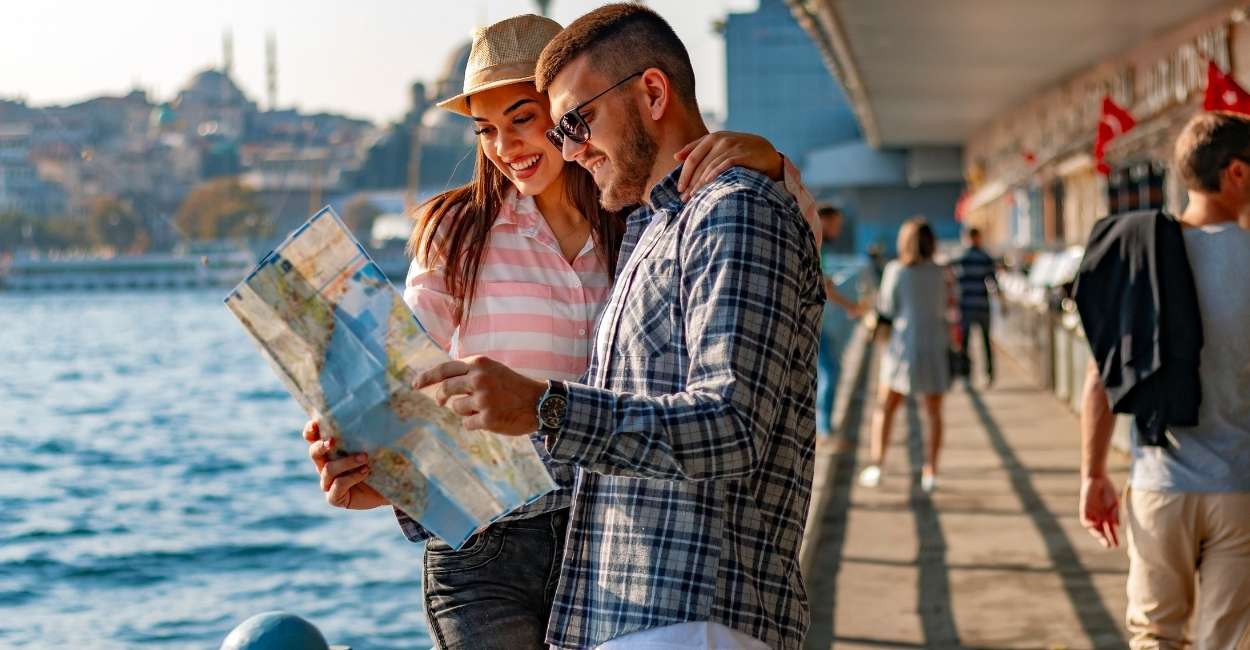 Whether you've just started dating or are married for years, a couple bucket list can make your bond stronger than ever!
If you plan to create your custom bucket list but don't know where to start… you reached the perfect place. This think-piece is ready to share all the terrific experiences you can go on with your partner!
So, if you're ready to tick them off, dive right in, my friend!
Couples travel bucket list
If you're both consumed by intense wanderlust, your mind might always drift away to faraway lands. So, let's add a twist to your travel bucket list and quench your thirst in a new way like these…
1. Say "I love you" in an exotic place
Go to a famous lovers' spot in your travel destination and confess your feelings once again with flowers in your hand. Take a picture as a memento.
2. Spam the gram
Visit an unexplored land, enjoy your time together, and capture the moments with your camera. Compete to post the best pictures online. 😉
3. Let darts choose your destination
Take out the map and darts, blindfold your partner, spin them thrice and shoot! Plan a vacation wherever the dart lands. This will make your experience even more unique.
4. Set out to see Wonders!
Save up enough money to visit all the wonders in the whole wide world. The Great Pyramid of Giza, Victoria Falls, Hanging Gardens of Babylon… the list is endless.
5. Touch the land on each continent
Choose one city that intrigues both of you in each continent for your upcoming vacations. Explore the mesmerizing nations beyond the continental borders. If you can't choose just one, pick two different cities.
6. Book a Finnish glass igloo
If you're not Finnish yourself, this one will amaze you. enjoy the view of the northern lights in your lover's embrace and the coziness of your hotel.
7. Try an African Safari
An African Safari tour is a lifetime experience that both of you will never forget. Based on your and your lover's thirst for thrill, choose from luxury, rugged, or hunting safaris.
8. Book a world tour cruise
Some cruises take you out on a vacation for around 100-250 days. Book one of them and in some locations, you can even avail extended and overnight stays with the love of your life.
9. Explore your country on a road trip
If you're both wanderlust souls and have a car, pack your bags right away. Set out on a road trip to visit all the interesting and famous areas of your nation.
10. Rent a Maldivian overwater bungalow
If you're both tired from the daily hustle of life, apply for leave and enjoy your stay surrounded by the blue waters of luxury bungalows in the Maldives.
Traveling is cool but if your heart wants something naughty, don't be ashamed. Think about exploring your deepest bedroom desires here…
Couple sex bucket list
Sex is fun… but when sex gets dirtier and lets your inner lusty-animal out, it makes your relationship becomes much deeper. So, let's fill your sex bucket list here…
11. Try phone sex
If you're a long-distance couple, you might feel devoid of all the intimacy. Well, what are your phones for? Call them when they're available and let your vocab steam up.
12. Get long-distance sex toys
Your partner can control these toys with an app and help you reach the peak of ecstasy even when they're miles away. You can buy some couple toys and enjoy a mutual orgasm.
13. Have shower sex
This is a common sex bucket list for couples. So, hop under the streaming shower or in a hot tub with your partner and get frisky. Because nothing is better than touching smooth and wet skin!
14. Turn their sexual fantasy true
Know about your lover's secret fantasies and secretly work on them. Research the play, invest in any outfit or toys if needed, and surprise them when you're ready.
15. Try edging
If you have a male partner, buy a cock ring for him together. Build up tension and deny him an orgasm until he can take no more. Let him have the night of his life with this toy.
16. Buy a sexy outfit
At least once in your relationship, wear a naughty outfit or buy your partner one. Turn up the temperature with a sexy nurse or police roleplay.
17. Explore the Kama sutra
Take time to learn all the sex positions in the Kama Sutra and try them out. This will broaden the horizon of your sexual experience beyond missionary and doggy style.
18. Add whipped cream to oral sex
Whether you like to give oral sex or not, whipped cream makes your naughty snack even tastier. It can even make you go on longer with the licks and sucks.
19. Try tantric sex
Tantric sex includes a lot more sensual eye gazing, foreplay, and teasing. Achieve a spiritual contact in your bedroom and build a relationship deeper than the ocean.
20. Have a sex date
Schedule a sex date and refrain from sex for a few weeks. This will heighten your senses and expectations. You both will have plenty of time to prepare for the best sex of your life.
Do you think you're both crazy but not in the bedroom? If you like crazy experiences, you'll find your bucket list items here…
Crazy couple bucket list
Perhaps a regular bucket list activity just doesn't appeal to your heart… if you're sick and tired of the same old bucket list for couples, this list is sure to make a hit!
21. Play with paintballs
Either invest in paintball guns and capsules or make your paintballs with colorful water in balloons. Step out on your yard in white outfits and paint your bae with love shots.
22. Go for a weekend camping
Don't let your partner know a thing until you pack everything for your short camping trip. When the weekend comes, surprise your bae with packed and prepared bags.
23. Binge-watch a cringe show
Choose a show neither of you likes or you both borderline hate. Compete to binge-watch it on your day off together. Take your time grimacing at the show and later discuss your thoughts.
24. Try shark cage diving
You and your partner will be in a cage with your diving suit and gears. Enjoy how the sharks around you interact while you stay in the protective cage!
25. Indulge in a mechanical bull riding
Hold on to the bouncing bull so that you don't fall off it. Test the strength of your and bae's muscles. Balance yourself as if your life depends on it.
26. Chase the storm
Usually, scientists do storm chasing and it's a risky activity. But if you're both crazy enough, this might be all you want to try while you're alive.
27. Experience your own Man vs. Wild
Go in the woods with bae and basic necessities. Lose touch with the world and try to survive in the forests. Carry your smartphones for emergency purposes.
28. Enroll in an ultramarathon
If you both love running and active sports, join the ultramarathon around you. Support one another to complete the run and build an intimate bond over this activity.
29. Try fire-walking
Go the extra mile in your relationship by walking on coal together. Grab your partner's hand and take brisk steps to save one another from getting your soles burnt.
30. Go ice swimming in Finland
Take your time dipping in the nearly frozen ice water with your partner. Afterward, return to your hotel and help raise each other's body temperature. Show that your love for them won't ever turn cold.
If you still haven't found your perfect thing to-do, then let me guess… Do you like cute things and gestures more? If yes, keep reading…
Cute couple bucket list
If your heart desires the cute innocent teenage love that makes your heart flutter, I promise this list will satisfy you beyond words…
31. Visit Disneyland
You probably visited Disneyland lots of times with your parents and will even do it with your kids someday. But take a moment to enjoy the childish thrill with your partner.
32. Plan a date on your first date venue
Remember how awkward you felt on your first date? And look at how so in love and confident you both are now! Pay tribute to your nostalgic feelings with date nights!
33. Kiss on the Ferris wheel
Take your lover on an amusement park date and try out all the rides this weekend. After sunset, ride the Ferris wheel and kiss when your cabin reaches the top to seal the deal.
34. Write love letters
If you stay miles away, adopt the retro way of showing love. So, what if you don't have a messenger pigeon? Pour your emotions out in your love letter and let them soak in every bit of your feelings.
35. Book a professional couples' massage
If you're ready to splurge on a high-end massage parlor, grab yourself a spa day, and let experts recharge your muscles. Your partner will thank you for your thoughtfulness.
36. Join a cooking class together
Take your time to learn to cook special cuisines from top-class chefs. Taste one another's dishes and practice until you both ace it. Bonus: bag unlimited at-home dates with yummy dishes for the future.
37. Watch a live event
It might be hard to get the tickets for a music concert or stand-up comedy, but try your best to grab them before the tickets run out. I swear the experience will be blissfully surreal.
38. Write your love story
Write down where you met, how you fell in love, where you first kissed or went on a date, your most precious memory together, and many such answers. Discuss your answers and know more about your relationship.
39. Lean in for a second first-kiss
Your first kiss with your partner was the sweetest because that's when you felt your heart swelling in more love. Why not hold your hands under the night sky there and lean in once more?
40. Create a time capsule
In a sturdy metal box, put in a letter from each of your present self to your partner in the future. Add in more items like mementos if you want.
Bury it in somewhere like your ancestral house yard so the land doesn't get dug up or sold to others.
So these couple bucket list ideas seem too run-of-the-mill for you? If you want something totally original and never-heard-of-before, I recommend you hop on the next ride…
Unique couple Bucket list
If you already hit most of the bucket list ideas for couples mentioned till now, no wonder nothing caught your eye yet. But, I'm not one to back off, so here you go with some unique ideas…
41. Enjoy a screen-free day
In the current world, devices like smartphones, laptops, and tabs are a daily necessity. Spend a day without any gadgets in your bedroom. Laze around planning a trip or sharing your dreams.
42. Watch the sunset on River Thames
Lease a sunset cruise on the River Thames. Soak in the fresh air and drench together in your love and the orange sunset.
43. Tour the Napa Valley wineries
In Napa Valley, tour across the wineries and even book a wine tasting session. Relax in the hot springs nearby with your lover and maybe add a bottle of wine to that?
44. Dine underwater
Look around for underwater restaurants and align them with your dinner date ideas. Marvel at the exotic creatures while you enjoy your food with your fingers entwined.
45. Sponsor a needy kid
This world needs a lot more sharing and caring, so if you're financially strong, choose to sponsor a child together, and help improve the future of society.
46. Help the homeless
If you're financially stable, extend your helping hand to the homeless. Sponsor their haircut and shower, and buy them clothes and dinner for one day. Strengthen your love with good deeds.
47. Give bae an All-Day-Yes pass
Grant your partner a day when you'll say "yes" to everything. Know how crazy your partner's demands can get while they rule you. You might know your partner's hidden side.
48. Pay for a stranger
If you see someone barely making for their regular needs and get a hint they're a noble soul at the grocery store, pay for them. Bask in the glory of a good deed together.
49. Try floating in the Dead Sea
The Dead Sea has a high salt concentration, so anyone of any weight can float. Enjoy the sensation of floating together and add a new memory to cherish forever.
50. Ride a private jet
Book a private jet and pilot for a day and enjoy flying in the sky with just the two of you. Watch the view from high above while indulging in this shared experience.
Do you want to raise the fun factor in your bucket list item? If you only want to enjoy a good time without anything fancy, this one goes out for you…
Fun Couple Bucket list
After a long week at work, you might not have enough energy to do something crazy. If you only want to elevate your mood, these ideas can help in seconds…
51. Have double dates
If you have mingled friends, plan a double date. During your double date, enjoy your time with both your lover and best friend. Bonus: A BFF couple is really important for relationship advice!
52. Book a room in a staycation
If you don't have the time or energy for vacation, rent a local staycation for an overnight stay. Try out their breakfast-in-bed and spa services to rejuvenate together.
53. Adopt a pet together
If you're both in love with furry animals and don't have fur allergies, this is a great idea to strengthen your bond with a new lovable member.
54. Book a whale-watching cruiser
Watch the most majestic mammals on earth freely moving around in their natural habitat. Enjoy the rest of your time together with your partner by having meals on board.
55. Soak in natural hot springs
These natural marvels are available in many cities. Plan a trip to your nearest hot springs and soak in together. Get close to one another as you let your nerves relax.
56. Enjoy camel riding in Egypt
If you plan to visit the Pyramids of Giza, why enjoy that alone? Book a camel riding session around the Pyramids to put a cherry on the cake.
57. Run across the Great Wall of China
The Great Wall Marathon is a popular and challenging activity. So, grab your running shoes and try to reach the breathtaking view of the surroundings before bae.
58. Deepen your love at the Taj Mahal
This place is popular as a sign of the Mughal King's love for his deceased wife. But you can confess your love to your partner when you're fit as a fiddle!
59. Ride on hot air balloons
Hop on a hot air balloon with delicious food and wine in your picnic basket. Enjoy the spectacular views from up above while your love blooms.
60. Enjoy an Alaskan dog sledding
Aside from the astonishing wildlife of Alaska, try out the thrill of a dog sleigh. Cuddle with the dogs with your partner and thank the poor animals your way.
If you want an exclusively romantic couples bucket list idea, I'm so glad to show off my favorite section of all…
Romantic couple bucket list
If you want to immerse your bucket list in romance, we're on the same boat. We live for romance and can't imagine a life without it, so let's know the best ones here…
61. Plan a romantic birthday party
On your lover's birthday, plan their dream surprise party. As per their likes, choose the venue and decoration, customize the guest list, and go all out to make it worth remembering for decades.
62. Pamper each other with a home spa
Buy massage oil, face and body packs, scented candles, and flowers, and create a spa parlor ambiance. Help each other relax your muscles at a low cost while you build intimacy.
63. Get couple tattoos
If you're ready to commit to one another for all of eternity, get inked in remembrance of your love. Choose a special pattern or design it yourselves.
64. Move in
For couples, moving in together might be the most heart-melting step in a relationship. With this relationship milestone, show your partner how committed you are to them.
65. Or, buy a home
If you're ready to get hitched and live together for the rest of your life, this is a must for every serious couple. Invest big and together in your dream house where you'll begin a new family.
66. Snuggle in a drive-in movie
Pack your weighted blankets and snacks in the car and take your time to enjoy a movie in one another's embrace. Make memories under the open starry night and sneak a kiss.
67. Go horseback riding on the beach
In the Victorian era, courtship during horseback riding was quite common. Raise the score of romance by doing this on the beach during sunset.
68. Watch the sunrise from the mountains
Book a mountain cabin with a sunrise-facing balcony. Wake up early in the morning, layer up together, watch the golden sunrise, and enrich your relationship with the warm beam.
69. Stay up talking all night
If you're the boy in a boyfriend-girlfriend pair, know that your girl loves talking. She may not tell you but she secretly wants this. Give her the
70. Propose in an exotic place
Take your partner on a vacation, choose the fanciest spot, and prepare an engagement ring. Go down on one knee with a bouquet in one hand and the ring in the other.
If you and your partner thrive more on adrenaline than romance, you probably want something much more exciting than this. Let's show you some of those here…
Adventurous bucket list for couples
You like it when your heart pounds hard and love it when your partner is around. If that sounds familiar to you, c'mon, this one is just for you…
71. Dive through the sky
The number one thrilling activity is always skydiving. Jump from a great height and drench yourself in an adrenaline rush. Make new memories while you feel the thrill of love.
72. Climb the Everest
This classic activity has been around for ages and even gained popularity among adventure couples. Give one another a loving and motivating hand to conquer the highest ranges.
73. Try skinny dipping
Find a secluded water body that nobody visits, keep your clothes and belongings in a car for safety, and dip in your birthday suit together. Enjoy the liberty and thrill of being caught.
74. Jump from a bridge safely
Bungee jumping is an all-time fave activity for couples as some allow you to jump while hugging your partner. The adrenaline pump promises to intensify your love.
75. Climb the rocks
If you and bae have strong muscles, get your couple rock-climbing gears right now. Enjoy good exercise and relish the view from the top in the breezy nature.
76. Try veganism for a month
If you're both meat lovers but are curious about veganism, try it for a month. Try out all the vegan restaurants in the vicinity and lead a strict vegan lifestyle. Notice if it brings any positive change in your lives.
77. Make out in an odd place
You may join the mile-high club (make out in airplanes), a movie theater, or a trial room. Make sure your partner gives consent. Discuss how you both feel about your experience.
78. Visit one another's hometown
If you're from different towns, take turns to explore each place. Show one another a glimpse of how and where you grew up. The places you visit after a bad day, your school, favorite eateries, and so on.
79. Live in a treehouse for a week
Try this out to get closer to nature where the birds help you wake up and the crickets lull you to sleep. Connect to Mother Nature together and calm your nerves in soothing surroundings.
80. Fish with a spear
If you ever tried fishing, give spearfishing a chance. Together visit a water body with many fish available. Hunt like the Stone Age man, roast your fish on spot and enjoy your loot.
Do you want something based on the seasons? Perhaps, your bucket list changes as fast as the seasons? I think you'll like it down here…
Spring bucket list for couples
If it's spring in your locality, you're probably in love with all the fruits and flowers around you. So, to enjoy this season to the core, here you go with some must-do bucket lists for couples…
81. Visit the farmer's market
The farmer's market is full of fresh produce. Cook together a healthy and delicious meal for you both. Pair it with your best wine and have the most creative at-home date night.
82. Dye Easter eggs
If you celebrate Easter and have children in either of your family, decorate Easter eggs together. Apply the easiest ideas to complete this project fast enough so that the kids can enjoy a wide range of games.
83. Build a DIY bird feeder
You'll find many different ideas if you search online. Create a bird feeder together and add both of your own twists to it. Invite the birds into your porch with grains and water.
84. Make a garden
Spring is the season of new blooms so create a garden with both of your favorite flowering plants. Take care of the plants together. Help the plants grow with your love and affection.
85. Revamp your kitchen
Since spring is the season of new, give your kitchen or rather any room a makeover. Think about all the colors you desire to add to your space. Suggest each-other 's ideas to get the best out of it.
86. Create wildflower bouquets
Step out in spring and you'll see flowers blooming everywhere. Take a basket each and hunt the most exotic flowers you can. Return home to create the best bouquet with tinsel, ribbon, and wrapping polythene.
87. Create unique spring cocktails
Come up with creative and delicious drink ideas with your favorite alcohol, flavored syrup, and fruit juice. Take your time getting drunk together in the afternoon while you express your love lazily.
88. Visit a/all national park(s)
If you have multiple national parks in your state, explore all of them. Take many pictures of the birds and animals and create an album out of them. Memories might fade, but the album won't.
89. Visit a detox retreat
Just like nature, it's also time for you both to let go of the toxicity of yesteryears. Grab a couple's booking to a detox retreat and return to your daily life feeling rejuvenated.
90. Gaze the stars
Spring is the best season for stargazing due to low pollution, so rent an open-roof minibus and drive to the closest elevated spot. Don't forget to grab your meals, warm drinks, and your sleeping bags.
Wondering what you'll do when the weather turns warmer? Don't worry, being sweaty won't stop you from enjoying your time together. Let's dive into the summer bucket list here…
Summer bucket list for couples
Most couples think they can't do anything fun in the summers and forget about bucket lists. Well, that's far from true and I'll show you that right here…
91. Create your own Sundae and binge!
Don't wanna step out on a hot and humid day? Gather the necessary ingredients and toppings to make your sundae beforehand. During the weekend, whip up exotic and enormous sundaes and taste tests.
92. Take a bubble bath
Grab your fave bath bomb, liquid soap, flower petals, essential oils, scented candles, and a glass of wine each. Prepare the bath and dip in for as long as you like.
93. Sleep in the garden for a month
Get a tent with an open or transparent roof. Talk with your beau as you fall asleep gazing at the summer night sky and the moon waning and waxing throughout the month.
94. Build a majestic sand castle
Grab a pair of summer trunks and bikinis and build a sand castle with your own design. Start off from the opposite side and don't share your idea with your partner. You'll know one another a lot better.
95. Set out on night picnics
Grab your waterproof blankets, lights, tents, and all other picnic essentials. Enjoy a picnic in the open nature and enjoy your food. Play card and board games together to spend the evening away.
96. Explore a virgin waterfall
Look around for a lesser-known waterfall around you. Visit one when you find it and enjoy your time soaking in the stream with unlimited privacy.
97. Learn a water sport together
It might be surfing, jet skiing, kayaking, canoeing, or anything else. Learning a new skill will also help you both grow closer and learn better with one another's help.
98. Compete at kite flying
The sunny and windy weather is perfect to get your colorful kites out. Try to cut off one another's strings to win. Bond deeper under the open sky.
99. Pick fruits
Various juicy fruits are available in summer, so book a slot in a fruit picking garden. Pick as many fruits you want and make jams and juices out of them later.
100. Rent an exotic pool
Save enough money to book a 5-star hotel room with a pool or Jacuzzi for a day all to yourself. Enjoy this regal treatment and get many pictures as souvenirs.
If you're like me, you might hate the rain… or if you're like my partner, you're in love with rain. There are only two possibilities and we've got suggestions for both…
Rain bucket list for couples
During rain, some of you love to stay indoors, while others can't wait to jump in the puddles. But that doesn't matter because this bucket list is for you both!
101. Build blanket forts
On cold rainy days, make a fort out of your snuggly blankets and soft pillows. Grab a cup of hot cocoa each, sip on it as the rain drops tap on your window and you share childhood memories.
102. Create and upload a video
On platforms like YouTube and TikTok, couples exhibit their unique talents or dance to the music. While you stay indoors, create a video of your choice and upload it… this might be a new career for you both!
103. Paint the shirts
Grab solid t-shirts of each other's size and fabric paint. Take reference online and compete at making the best couple outfit. Wear the couple tees on your next date.
104. Go on a rainy long drive
Long drives are great as it is but when paired with rainy days, it can't get any better. The natural scenery becomes even more romantic when the rain washes away the dirt.
105. Dance in the rain
Whether you want to wear your raincoats and boots or not, dancing under the drizzle is always heart-melting. If possible, set up your phone to capture a video of your dance.
106. Complete a 1000-piece puzzle
Get yourself a brand new 1000-piece puzzle and work on it from the morning together. Try to finish it within that day itself and understand the power of your unity.
107. Visit your college
On rainy days, most students stay in class or bunk. Explore your college campus with bae and show around the places you spent the most time. Introduce them to your professors if possible.
108. Learn a language together
Sign into well-known language apps and pick a foreign language of your choice. Instead of wasting your time doing nothing indoors, invest in something fruitful.
109. Take artistic rain pictures
If you're a photographer-model couple, the rain will tickle your creative minds. Take all kinds of pictures of yourself, your partner, or even just nature stills and frame them on a floating shelf later.
110. Host a dance party
Pull out your speakers and invite over other couples in your neighborhood. Bond with your neighbors as you enjoy the chilly evening dance with your partners.
Did the leaves start changing colors? If you already reached out to your flannels, your bucket list needs to follow the trend here…
Fall bucket list for couples
Fall is all about the yellow and orange colors of leaves, pumpkin, and of course, Halloween! This is an all-time favorite season for couples and brings you multiple bucket list ideas like these…
111. See the fall foliage
This fall, try leaf peeping with your beau. Wear your favorite fall outfits and travel around the neighborhood or somewhere with lots of trees. Photograph bae with colorful leaves.
112. Make couple Halloween outfits from scratch
You can buy them but that isn't even close to fun. Choose the characters you want to be, and get the fabrics, accessories, and a sewing machine. Treat this project seriously and keep the outfits forever.
113. Create innovative Jack-o'-lanterns
Get as many pumpkins as you can and carve out creative faces in your pumpkins instead of the same old ones. Let your neighborhood marvel at your dual creativity.
114. Set up a pumpkin bread stall
If either of you has a knack for baking, start a business of fall-themed bakery products. Continue this business even beyond the season and slowly bloom in this path.
115. Donate your clothes to the needy
If you have clothes that you no longer wear or don't fit you, take them out of your closet. Donate both of your clothes to the homeless. Those can protect many from the upcoming winter.
116. Have an apple pie competition
If you and your lover both think you're good at baking, compete at baking fruit pies this fall. If you make too much of it, surprise your loved ones with a share!
117. Rake leaves for your elder neighbors
Possibly, your neighborhood drowns in leaves during fall and the elder couples become tired of this mundane task. Well, extend your hand to other young couples and help them out.
118. Knit something for each other
If you don't know how to knit, learn from YouTube. Start to knit a gorgeous woolen muffler, cap, or sweater for each other as a winter gift to each other.
119. Rake the leaves and jump
When was the last time you jumped on a pile of leaves? Relive the childhood memories of hopping on crunchy leaves with your partner. Take pictures and frame them in your living room.
120. Make s'mores in your yard
Make a bonfire out of the raked leaves in the fall evenings and roast marshmallows together with your lover. Bring in firecrackers to make the evening even more enjoyable.
Right after Halloween comes the Holiday Season which reminds us of lovely times with our partners, friends, and families. Think you'll be too busy attending and hosting parties? Let's know for sure here…
Winter bucket list for couples
You might believe the holiday season won't give you privacy to fulfill your couples bucket list. Well, enough of that gloomy look because this amazing list awaits you here…
121. Cuddle near the fireplace
In winters, everyone wants to snuggle up to their lovers and feel their warmth. But to add more warmth and fun, wrap up under the same blanket by the fireplace and catch up.
122. Plan dinner parties
If you're already married or plan to tie the knot soon, invite your families for dinners on Christmas, Thanksgiving, and New Year's to bond! Don't forget to show off your cooking skills to your in-laws.
123. Kiss under the Mistletoe
This holiday season, pull your lover under every mistletoe you see and steal a kiss. Let your inner mischievous child make your lover blush endlessly.
124. Visit a new city every New Years
Traveling helps you cut down stress, so it's a great way to begin a whole new year with your partner. Explore all the places possible every year to come.
125. Try out a winter sport
Skiing, skating, snowboarding, snowmobiling… you have endless options to learn from this winter. Take your time mastering one together and relax in the snow whenever you're tired of learning.
126. Partake in a Christmas tree contest
Compete with other couples in your neighborhood, your friends, and your family to make the best decorated Christmas tree. Let the kids or elders judge the best tree.
127. Have a bar crawl
Wear your winter wear and warm up your cold evenings with a mug of beer or other alcohol. Visit your favorite bars and enjoy the warmth of both love and the drink.
128. Perform on the streets on Christmas Eve
If you're both talented in music, get your instruments out and sing near the greatest Christmas tree in your locality. Stream your live performance and flaunt both of your talents.
129. Get married on Christmas
Make all the preparations beforehand, and propose to your partner on Christmas Eve. Get married the next morning with your loved ones and enjoy a small party. This is more befitting for couples that want a small marriage.
130. Play Santa for the homeless
Help the needy with a small cake and blanket/muffler this winter. Build a stronger relationship with the blessings of the poor souls and cherish the good feelings.
Wondering if you can do without a couples bucket list? The answer lies right here…
---
How will a couple bucket list help your relationship?
Without a couples' bucket list, your relationship may not be doomed but it definitely won't reach the depths of love and understanding. Trust me, creating a bucket list has more benefits than you know about.
1. You can become more expressive
Communication is the pillar of relationships. So while you discuss your personal bucket list or make a couple bucket list, you learn to express yourself clearly and openly. Honest communication is a rare trait that can help you build a stable relationship.
2. These work as conversation starters
Since the idea of sharing and knowing your partner's bucket list feels exciting, these can lead to great meaningful conversations. You understand your passions and dreams for the future and see one another in an entirely new light.
3. You can learn more about one another
After the honeymoon phase of relationships, partners feel disappointed with one another. People forget how to cherish their partner once the physical attraction fades away. A discussion about your bucket list will help you know one another's personalities better.
4. You become intimate in the process
When you see your partner in a new light and understand them, you naturally grow closer to them. You have a feeling of familiarity because nobody else probably knows them so well. Intimacy helps your relationship survive tough times.
5. You bag in fulfilling experiences
When you work on your couple bucket list, you create new and shared memories, emotions, and experiences. All of these help you grow stronger as a unit. You learn lessons that together you can accomplish everything which assures you about this beautiful bond.
A word from ThePleasantRelationship
Most of us have a personal bucket list, but we hardly think of aligning the list with our partners or including our partners in these activities.
Either because we think our partner might judge us, reject our ideas, or even make fun of us. But, you can't hide your true desires forever… that doesn't let you show your real self to one another.
To be unapologetically you, share your bucket list today and build a deeper connection with your lover. Perhaps, they equally hesitate about sharing their desires… initiate the conversation and know one another better than ever!
Surabhi Kedia
Surabhi wakes up every day with a drive to craft words that can create a soulful impact. Creatively adventurous, she is always seeking to learn new skills and acquire new experiences. With a hidden soft corner for languages (especially Urdu), she writes poetry occasionally, binges on romantic shows, and LOVES to talk. A hustler, admirer, chaser, Surabhi is just another-someone who refused to give up on her dreams. She says, she is just somebody who's trying to make herself a writer and for now, she's just writing...