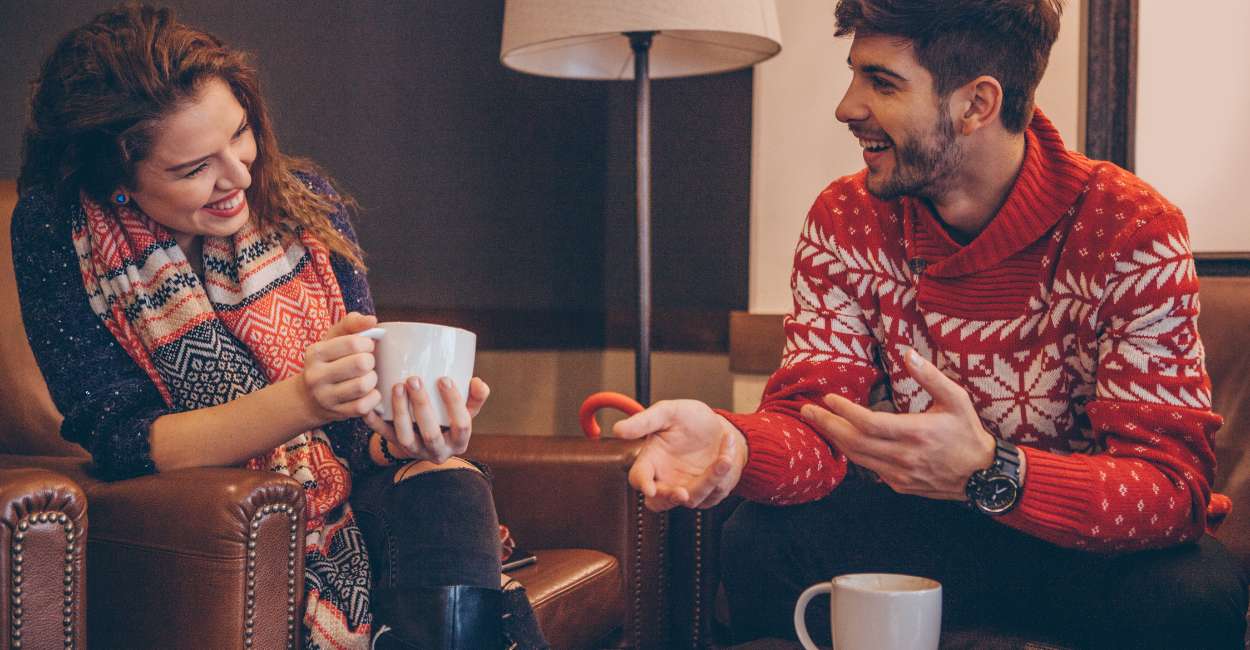 Are you looking for some great winter date ideas? Well, why not… winters are the best months to indulge in romance and love. Yes, summer date nights have their own charm, but winter date romance is easy to slurp like a smooth hot chocolate.
I know, it's quite a task to do anything except snuggle with your partner during winter but walk with me through this article, and you will find amazing date ideas that will connect you with each other.
Let's begin!
First date ideas winter
First dates are so adorable aren't they? You get all dressed up and are on your best behavior to impress your date in every way possible.
So, let's do that by looking at these first dates to make them romantic.
1. A date with favorite things
Make this first date extra special by bringing up more of your favorite things.
You can both wear something similar to their favorite color or eat a dish that is each other's favorite and share why you adore it so much.
It would speed up the get-to-know-each-other phase and move to the romance phase faster.
2. Go for bowling
A lot of people prefer to go bowling on their first date. If that's your vibe, go ahead, get in your comfy joggers, and head to the arcade.
Get your partner some coke and pizza, and maybe maintain the flirty-to-roast ratio by telling them how well they played.
3. A date that's all about you
You can play this game on your first date to break the ice and keep the talks coming right at it. After you are done with your meals, keep some question templates ready and ask things about them.
Once you get your answer, let them ask a question… you will be surprised to see how time passes with this game.
4. Roleplay!
First dates are all about excitement and nervousness. So, to bring out the former and to reduce your anxiety, you can actually roleplay on this date.
Be creative, neither of you can use your original name nor be honest about the work you do, get juicy with the fake details and see how well the conversations spring up among you two.
5. Plan a French themed date
The French are always swirling in love and maybe that's what you need for this date for your anxious heart.
You can visit a French-themed cafe that is often decorated beautifully for winter, in fact, some of them change their entire menus for the season by including hot coffee and cakes.
You would never worry about the conversations stopping when croissants are right in front of you.
6. Visit a fair nearby
There are a lot of fairs that are held at this time of the year.
Head on to these fairs on your first date… you will find the right balance between fun and romance because the environment there is ecstatic.
You can eat, walk, play or just have a light-hearted conversation after taking a bite of the cotton candy. 😉
7. Explore art gallery
There is something beautiful about art galleries that brings out all the romantic emotions with such ease. So, if you want to be cozy with each other, this is just the date idea for you.
Wander around by holding hands. You will love the new connection growing between you two.
8. Go to a water park
A date at a winter park during winter will always be a huge hit and pretty adventurous too.
You can spend hours riding each and every ride without the question of boredom, eat a lot of stuff and take lots of goofy and fun memories on your way back home.
9. Walk in a botanical garden
A botanical garden is a perfect place to spark some initial romance on the first date. It's quiet and peaceful, and you get to admire so many beautiful flowers and plants around you.
Conversations become so easy when you are surrounded by such a beautiful view.
10. Plan a day-out to the zoo
In the mood for a fun and relaxed date? Then a visit to the zoo should be on your list.
You get to walk around together and talk about one fun fact every time you see something new.
Well, if things work out and you get a yes for a second date, then check out the next list for more fun date ideas.
Fun winter date ideas
I'll admit, winters can get some people a bit depressed and sucks the energy out of them.
So, it's important that as a partner you keep their energy levels and fun high by going on these fun date ideas.
11. Find your way from an escape room
Escape rooms are a great way to infuse more fun into your winter dates. These games are popping up in more and more places, and you get to choose the level of difficulty you want.
You go to a room and have fun by solving interesting cues to escape it or you lose.
12. Do some Yoga
For couples who have a different definition of fun, this one is for all of you guys. For this season, you can enroll yourself in your local couples' yoga institute or try out some poses on the internet.
The yoga poses develop trust and positive vibes between partners. You will end up feeling more refreshed and recharged than before and find a connection that will help you feel closer to one another.
13. Go shooting!
I know winters are gloomy, but if your focus is clear, you can still have some pretty great adventures. There are a lot of indoor shooting ranges that are fun if your partner is up for it.
To make things more competitive, you can also plan that the one fires fewer targets, buys lunch. I am sure the challenge is just going to add to the fun moments you two will share together.
14. Play a game of heads up
Whether you are at a restaurant or on a home date, this game is sure to add fun to your date night. You can either visit a website or download an application that lets you play this.
You would end up making hilarious faces and expressions, and also laugh till you cry… all in all, you would have an amazing time together.
15. Try the jeopardy game
Another fun activity that is sure to add huge pumps of laughter to your booze is the jeopardy game. To have more fun, I recommend you invite your couple friends over.
You can set the questionnaire as the adult version and get started. I am sure there won't be a moment when your hands will not be on your mouth to cover your hilarious expressions.
16. Bring in some board games
Got a thing for board games? Fantastic. And considering how badly winter makes us crawl inside a blanket all day long, this might be just perfect for you two pandas.
You can take out all of your board games like chess, snake and ladder, and monopoly, and let the games begin. And oh, did I mention food? You will likely need a lot of it.
17. Buy tickets to a match
NBA, ice hockey, or basketballs – there are a ton of sporting events organized at this time of the year. If both of you share a mutual love for sports, you can attend one of these events for your next date.
Choose your own teams and get the party started. Make it more fun by setting a rule that the team that wins buys dinner. Oh god, I can already imagine the funny breakdowns both of you will be having.
18. Laugh your heart out at a comedy show
Couples who laugh together, stay together. So, for this winter date, remind each other of this crazy fact by attending a comedy show together. It can be a late-night show or a stand-up comedy event.
19. Plan a game night
I know game nights can become 'meh' when you can just stay inside the blanket all day long. But hey, let me make this interesting.
You can play poker and add a twist of strip tease to it. Winter means more clothes to strip out of, which will keep this date interesting for the longest time.
20. A date on a go-kart track
Although it's a little on the expensive side, I assure you, it's worth it. You will not have a single boring moment when you opt for a go-kart activity with your partner.
Just make sure that you don't get too competitive and just focus to keep it fun and light.
Weren't these ideas super fun? I can only imagine the loud snorts and the fun you will have together. Now, let's see what you can do to add some cute-ness to your date.
Cute winter date ideas
It's possible that your partner is seeking for something "more", than just having fun (it's common to feel more cutesy than outgoing in winter). In that case, feel free to use these date ideas to charm them.
21. What about a bake date?
Winter calls for cakes, cookies, bread, and so much more. but you know how you can make it more fun? By baking these things with the person you love.
When you come together for such an activity as baking, you feel warmer and connected with each other and that's what a date is all about.
So, grab your store-bought dough or make something from scratch. And when the timer goes off, indulge in the sweetness of your work together.
22. Plan a theme-based date
You can set up your living room or visit a cafe that's theme based and call it a date. For instance, there are a lot of cafes that have a pink theme where everything – right from the decor to food – has some element of the color pink.
You can visit one of the cafes, dress up in pink and enjoy the aesthetic. Don't forget to click a lot of pictures because these are one-of-a-kind experiences to have with your love.
23. Dance on Taylor Swift songs!
Oh yes, if your spouse is a Taylor swift fan, then trust me with this. The Queen recently released her new album, and it's perfect for winter. Take your red scarves and hot chocolate out and just vibe to her songs.
You can also invite some friends over and ask them to dress up from different Taylor Swift songs.
24. Go on a staycation
You can go on a staycation to the mountains or to the beach to spend some quality time together.
Just imagine having breakfast with the person you love, playing in the snow, and taking a walk around the place with hands curled up into one another, so much in love. Sounds beautiful, isn't it?
25. Read books with your beau
If your partner or you love to read books, this date idea will easily find a place in their favorite dates list.
Buy them a book they wish to purchase for a long time, put some aromatic candles around, a blanket, and some coffee, and read it together (or ask them to read it to you while you caress their hair).
26. Write love letters for each other
Who wishes to go back to the 50s when you shared your love on a piece of paper? I know I would, and you would too.
So, let's bring the 50s here and write love letters for each other on the next date.
You can write out all your feelings while sitting across from each other (no peeking course), seal it with flowers and wax, and save it for your future self to read.
27. Wear matching outfits to your date
When I say you have to wear matching outfits, I mean get into a bear or a unicorn costume and be quirky with each other.
You can have indoor dinners, dance together, and even make out, but you cannot take out your outfits. Make tons of videos to laugh off for the next day and just have fun at the moment.
28. Groove to the music of local band
Some local bands are so underrated, and if your city has got one, you should go see them as your next date.
If both of you are really into the type of music they make, I am sure this will turn out to be one of the cutest dates you can go to.
29. Rent scooters
Rent a scooter or a Vespa and ask your love to accompany you. Drive around and see the same old places, but this time it will be different.
You can buy flowers and eat chips while you rest and have lots and lots of touching during the ride. Trust me, your date will not get cuter than this.
30. What about a dolphin date?
This is one of the date ideas you will never forget. These agencies get you in the water and make you friends with dolphins.
You get to play with them, feed them, and swim with them, does it get any cuter than this? I don't think so.
But what about the days you finally have the guts to leave your bed for a good date outside? Don't worry, I have got some exciting ideas for that too. Just scroll down to the next section.
Outdoor date ideas winter
If you are the type of person for whom winters are never an excuse to keep your body moving and grooving, then these outdoor winter date ideas are perfect for you and your partner.
31. Plan a firepit date
A firepit date is one of the cutest ways to make your partner stay snuggled up with you all evening. Plus, this date involves a lot of food so consider your conversations happening for a long time.
Get a fire pit installed in your yard and throw in some cushions for cozy seating. Take a lot of snacks or better, make smores and eat it later while cuddling up with your partner.
32. Have fun with shelter dogs
During cold winters, it gets tough to find volunteers who will look out for these furry little friends, and so they hardly get any chance to enjoy the weather like you and I.
So, if your date is fond of dogs and loves to participate in acts of service, this date idea might be perfect for you.
Just Google the nearest shelter and sign yourself up to walk them around. I am sure both of you will have a wonderful time with your new best pal.
33. Go ice skating
If you have watched Serendipity, you might be aware of how much the characters enjoyed skating while snow fell all over them. They had the best laughs, the best conversations, and also the best ending to their story.
So, why not let it happen for both of you as well? Go to any nearby skating park and just enjoy.
Even if one of you doesn't know how to do it, your attempt will give you a lot of funny moments to relish in.
34. Do some workout baby
If your conversations with your partner always involve 5 mins of workout conversations then this date might be good for you two. To make things more interesting, you can actually challenge each other to see who does better.
When the timer goes beyond your usual time, you will find yourself laughing, teasing, and hopefully cheering your partner to do better, just make sure you don't fight over your protein shakes afterward. 😉
35. Play with snow!
For days you don't want to spend time inside the blanket but still want to have a nice date outside with your partner, you can go for this outdoor date idea. The rules are pretty simple too.
You can mark your territory with some spray paints and bring out your balls, the person who drops the ball more wins and has to make dinner (perfect for winter isn't it).
36. Fight in the snow
If the game has gotten too easy for you, it's time you take things to another level and get in the spirit of a snowball fight. You can make it a friendly match, but what's the fun in that?
You can keep some of them ready for attack or get pretty quick with stuffing and smashing each other. Do not stop until both of you hit the snowy ground unable to laugh anymore.
37. Enroll yourself in a couple workshop
There are a lot of people who organize these things primarily to help people make their relationship better or to just have some fun with their partners.
You can attend one of these workshops and choose the sessions you are interested in. You can also call some of your couple friends and take part in competitions and have fun together.
38. Plan a brunch date
Are you feeling too lazy to make breakfast? Then let's turn your laziness into a date. Get ready and hit the new brunch stop. But wait, don't order just yet.
Surprise each other by ordering new stuff to try for both of you and have a good conversation. Pour some champagne, if you're in the mood.
39. Go hiking
Winters are perfect to go on a hike because your energy stays up for long and you get to see an amazing view from top.
So, for your next winter date plan a hike and achieve the summit together.
40. Scream on a zip line
If you have got plans for the day but still want to have a quick date with your partner, you can go for a ziplining date.
These are often held outside the city, which means you get to spend time amidst nature, appreciating the bliss with your partner. It will be really fun, go for it.
Not in the mood for outdoors? Then the next section has got some pretty exciting stuff that can get you in the romantic mood indoors.
Indoor winter date idea
Winters can be really harsh in some places with blizzards, storms, and whatnot. In such a scenario, it's impossible to go outside but that doesn't mean you cannot have a good date.
Check out these ideas for your next date inspiration that lets you stay inside your room all day long and still have the time of your lives.
41. Make some hot chocolate
There are so many great things about winter but nothing beats hot chocolate. Hot chocolates seem to bring anyone closer to each other and enjoy their company.
To add a twist, buy some extra little decorative items like marshmallows, and get creative with different recipes.
Use the internet or make something of your own. Pin the recipe, so it takes you back to that day every time you take a sip.
42. Go rock climbing
Get physical with your partner with this indoor version of rock climbing. Many gyms offer couple rates, and you get to choose the levels at which you want to play.
If you and your partner are new to this, I suggest you should start off easy. This activity will require both of you to cheer each other up at all times, and when you'll get on top together, that feeling will be incredible.
So, get your gear and confidence ready because you will need it for this one.
43. Roast marshmallows together
Get many smores stashed with yourself for this date. Throw some cushions around the table or sit together. Take out a non-scented candle and roast your marshmallows over it.
Share the smores together and have long conversations filled with jokes, laughter, and shared memories, or just enjoy these moments in silence.
44. Plan an indoor picnic
You might not go out for a picnic for the next so many months, so let's bring the picnic to you. You can do tons of activities, strike conversations, and play board games while sipping on some coffee and hot sandwiches.
If you wish to make it more outdoorsy, bring some flowers from the market or have plants nearby and just enjoy!
45. Take out dinner
I know winter already makes us lazy, but still, you cannot compromise on a date right? So, order a takeout. Simple, easy, and always a mood lifter.
Put your heater on, go inside a blanket, and relish the dinner amidst your loud conversations and warm touches. Do not forget to share because love is all about sharing and caring.
46. Play video games together
If you two are the type of person who would rather play video games all day than do anything at all then this is perfect for you.
Teach each other new video games, order some pizza, beer, and spend an awesome time trying to beat each other at every turn possible.
It doesn't matter if you fail or succeed, you will have a hell lot of fun on this date. So, go surf some videos, order the essentials you need and carry out the quirky (safe) experiments.
You can add your own little twists and see what becomes of it. Ensure maximum safety while doing this.
48. Build clay models together
Get your creative juices flowing with clay models. You can try out a bunch of stuff together, like animals or teddy bears, or you can make a miniature version of your partner.
Give it a nickname and add that model beside your workspace as the cutest memory of that date.
49. Listen to podcasts together
This can only work if both of you enjoy podcasts and audiobooks together. You can try out the self-help ones or even the juicy ones that revolve around celebrity gossip (don't worry, we all are guilty of it).
I am sure you would love spending time in a new way like this.
50. A non-lazy yet lazy date
If you guys are too lazy to step out of the house but not too lazy to leave the bedroom, then you can go for this date.
You can watch a bunch of different workout tutorials, get in your gym clothes and start working out together and end it with some good breakfast cooked together.
Told you, didn't I? But it's not the end, not just yet. I have compiled some really romantic date ideas that you can use to keep this fun date last longer.
Romantic winter date ideas
Winters are already great for romance but don't let the fallen snow and warm ruggy blankets do all the work. Take inspiration from these romantic date ideas and surprise your partner with the most romantic winter date.
51. Cook together
If both of your love languages are food, then this date matched with this weather will be perfect for the romance to thrive.
Winters bring a homely vibe within all of us, and what's better than cooking together? So, choose a dish that you both might enjoy, such as pizza or pasta, and get started with the preparation.
Make sure you do everything together and eat it in candlelight. Trust me, this dish would be the best you would ever eat.
52. A date in a hot tub
There is always one partner that would do anything to stay away from cold water all winter long but if you have this date, I wonder if they would ever say no.
A hot romantic bathtub is sure to heat things up between you two and open possibilities for more romance throughout the day.
You can also add bath bombs, some aromatic candles, champagne, and soft music, and get drowned in each other.
53. Plan a sleepover date
Now, it's not what you think. Although you can still do it if you wish 😉… a sleepover date during the long winter months means you can have dinner together, get in your comfy clothes, and strike some deep conversations while cuddling up together.
If there's snowfall, you can shift in front of a window and just watch the snow falling over the ground in silence, I swear nothing is better than that.
54. Book a couple spa session
Winter calls for extensive skin care because of those scratchy and dry skin (I know it's very annoying). So, for your next spa date, why don't both of you engage in self-care as your date?
You can soak yourself in bubble baths, face mask sheets, and some face massages. To make it even more special, light some scented candles, perfumes, and satin robes to feel more expensive and relaxed.
55. Organize a photoshoot date
Photoshoot dates are lately becoming a thing, and I don't complain. You pick a theme, dress up and click Pinterest-worthy pictures.
Not only do you get to spend an awesome time together, but you also get so many photos for the gram for 'IT couple' tag.
56. Decorate a cake
A date where you get to decorate a cake together, have it later, and pat each other on the back. Sounds too romantic, isn't it? So why don't you hop on this one?
You can order a normal cake and get artsy with the decoration, I assure you it's so much more satisfying and tastier when you do it together.
57. Explore fishes in the aquarium
There's something absolutely romantic about aquariums. You feel so calm and connected with your partner even when there is silence.
If you want to explore the same with your partner, plan your next date to the aquarium.
58. Dance!
Not everyone has the courage to show off their dance moves to their partner, especially if your moves are like Chandler Bing's… but maybe that's why a dance class can be so fun.
You can enroll in different styles and keep the heat and energy up between you two in these cold winter months. You will not only find new opportunities to show your love to your beau, but the chemistry will also light up.
59. Go on a road trip
Breeze through your hair, your legs on your partner's lap, romantic songs on the dashboard, and cookies shared by a kiss… I mean, there's nothing more romantic than a road trip date during winter.
So, take this as your sign and go for a romantic road trip with your love.
60. Plan a date near a lake
I don't know about you, but if my partner asked me to sit beside a lake while they tell me how much they love me, I would definitely cry.
A lake date is perfect for the romance you want with your partner without going too much or too less.
Loved these ideas? Then maybe you should check out some unique dates that I have written for you. I am certain one of them is surely going to be on your bucket list this season.
Unique date ideas winter
Well, since you have raised the standards pretty high with romantic date ideas… you will need the help of my unique date ideas to maintain them. Let's see what's in store for you…
61. Take your beau on a carriage ride
We all have seen those massive and extravagant carriage rides that parade across the big cities after Thanksgiving up to New Year. Why don't you hop on one of these for your next winter date?
If it snows in your city, that's the cherry on top. Don't forget to kiss your partner when the clock strikes 12!
62. Decorate your car
Too fussy to go to a restaurant for your next winter date? Make your car your restaurant instead. Decorate the back of the car with some fairy lights, cozy cushions, a blanket (for later), lots of snacks, and hot drinks.
You can either get dressed up or choose to stay comfy in your pajamas, that's totally on you. But make sure you have a lot of fun and a lot of conversations that make you lose yourself in each other.
63. Eat waffles
Open your pantry and take out all the essentials you have because, for this date, we are going to try a bunch of new stuff with waffles. I know that when it comes to waffles, each of us have our own favorites.
But you never know what weird combination your partner might want to try. And who knows, maybe you'll find a favorite combo of your own too.
64. Plan a Caribbean-themed date
For beach lovers, winters can seem dreadful because they won't get to enjoy those beautiful sunsets and sea waves for long months. So, if your partner is like that, why not bring the beach to your home for them?
Set a Caribbean aesthetic with lots of plants, keep the heater on for warmth, and order-in some warm seafood.
65. Plan a cozy night at hotel
Well, this isn't going to be a usual hotel date. Well, yes, you can have all of it but before that, get changed.
Get into white robes, order some champagne, pastries, and some warm food, preferably a big pizza. Have it right by the bed, enjoy the view of the city and kiss a lot.
66. Take them through the memory lane
Do you remember the first cafe you went to last winter? How it was all beautiful and you sipped the season's first hot chocolate together? Well, it's time to recreate that day once again.
Take them to the same old place and order the same things that you did last time. It would be really unique to show your love for them.
67. A date with everything Indian
It's time to jazz things up with something different altogether. Visit an Indian restaurant or set up your living room with Indian artworks, play those Bollywood romantic jams and dress up.
You can watch a Bollywood rom-com, dip your hands in the delicious food and laugh over spilled condiments.
68. Pretend that you're tourists
This date idea can be a lot of fun if both of you are up for it. Suppose you live in Paris, you can dress up, pretend you are a tourist, and visit the Eiffel tower.
Click pictures like tourists do, ask questions from the guide, buy the local hats and keychains and drink champagne from the roadside stalls. Trust me, you will have tons of funny stories by the end of the day.
69. A paint-by-numbers date
You do not have to worry about being a bad painter because, on this date, you get instructions like numbers to just fill in the colors.
You will find the sets online, along with the colors. Just wear your painting robes, get your brushes and start filling. You will be amazed by how well the results turn out when you finish it, indeed it will be a time well spent.
70. Organize a date on a cruise boat
If you ask me, a date above water with warm lights and fresh air makes everything romantic. And do not even get me started on the romantic music that plays all night.
Oh, your partner must be on cloud nine with all the love you have been pouring on them. But I understand these dates are a little expensive and not doable for everyone.
So, don't worry because the next section has some pretty great ideas that fit under a budget without compromising on fun.
Cheap winter date ideas
It's totally fine if you do not have the budget right now for those lavish dinners, the only thing that matters is your love towards your partner and your dedication to making this date a success.
So, ditch the guilt and have an amazing time with your partner with these ideas.
71. Have fun in the winter wonderland
Has it snowed for the first time this season? Then, it's time to enjoy the beautiful, angelic view of your neighborhood with your partner.
Walk with them and cherish all the things that are touched by the delicate snow and remind them that just this first snow, their arrival in your life, makes it something worth cherishing.
72. Build a fort with sheets
Remember how we used to build a fort with sheets and spent hours inside it doing a bunch of stupid stuff and laughing all day long? That's exactly what you need to do for this date.
Grab some white sheets and start building a fort. Use some fairy lights and throw in some cushions, blankets, and pillows for some extra coziness.
Watch a movie, order some snacks or just talk… you will remember this day for as long as possible.
73. Go on a date with cartoons
I am certain it's been a long time since you've watched cartoons that you adored in your childhood. So, let's revisit them for this date with your partner.
Get a lot of your childhood snacks for that extra hit of nostalgia and begin your date. Thanks to long winter nights, you can keep binging on the episodes without letting the fun pause.
74. Go date hunting with post-it notes
Post-it notes can be a good guide for dates instead of being held up in the refrigerator. Add clues and hints of how and where your next date will be, and let them guess it. You can also add your own details too (if you know what I mean).
This would be so adventurous, and they would be left flustered with all those clues up in their head.
75. Relive old memories
For every couple, there's one event that goes as extravagant as possible, it may be an anniversary or your wedding day, or a trip to a new place. Don't you think it's time to relive those exciting moments?
Bring out that tape or the video from which everything was recorded and relive that day again with some champagne and warm pasta.
76. Play Pictionary
Well, if you get too sleepy with board games, then it's time to play Pictionary for the game night date. You can either call your friends over or play it 1-1 (I prefer the latter).
You also have the liberty to choose the topics you draw. I am sure whatever is cooking inside your head is enough to spice up the date for the night already. 😉
77. Go to the dollar tree store
For a good date, not everything has to be lavish, and I am going to change your mind.
Hit up the dollar tree, play rock, papers, and scissors, and whoever wins gets to choose the movie, the drinks, and the matching bottoms you will wear throughout the night!
78. Plan a murder mystery
Are you one of those couples who would watch "how to get away with murder" to sleep, then this date idea will get you to jump on your feet.
They are available for a few bucks on Amazon and are filled with clues to help you find the murderer. Grab your glasses and noodles because this will be a long date night.
79. Watch a drama together
Wish to go to a musical but don't have the budget? Don't worry, I got you. Oftentimes theater companies sell theater tickets for dress rehearsal at half the price of the actual cost.
Plus, the theaters are often empty. You can be goofy together and maybe even have a soft dance in the end.
80. Do origami
I would never believe anyone that says origami dates aren't a thing.
You can set a theme like an animal kingdom and make your very own realm of cute origami animals to fill your desk. Don't forget to give a cute nickname to all of them.
I am sure you've had lots of fun with your partner, but if you're planning to take your partner out on the 25th December, here's another list for you…
Christmas Winter Date ideas
Christmas is such a special and unique time of the year, not only because everyone is charged with excitement, but you get to go on romantic dates that are typically not possible any other time throughout the year.
So, walk with me and find some amazing Christmas date ideas that you can try out this season with your partner.
81. Wrap gifts
This date idea is perfect for Christmas. Each one of you can set a rule like whoever finishes wrapping up a gift first, they will get to ask questions from the other.
So, unless you want to spill out all your secrets, you need to be really fast with this one!
82. Watch Christmas movies
This list wouldn't be complete without a Christmas movie marathon, isn't it? So, go for a drive-in or an indoor movie marathon, and this year's Christmas will forever be etched in your heart.
83. A date with holiday traditions
We all have some kind of silly Christmas traditions that we absolutely enjoy, don't we? So, this time why not teach each other those traditions as part of your dinner date? Take turns and implement your holiday traditions and let them do the same.
If you have different cultures, this is surely going to make you aware of new ways to celebrate this day and maybe develop your own, new ones.
84. Go on a gingerbread date
I know you were looking for this. Christmas and gingerbread decorations go hand in hand and so, you should have one of them for your next date. You can either get a store-bought gingerbread or make one on your own.
Collect all the decoration materials you can and get started with your creative hands. I am sure you will have an amazing time filled with sweetness.
85. Decorate with Christmas lights
Certain cities go more extravagant when it comes to Christmas. For instance, Rockefeller Center goes all out with its Christmas tree lights.
So, if you have a place like that in mind or you live in New York, it's time to go there for your next date and stop by the tree to adorn its beautiful lighting with the most cheerful person standing right beside you.
86. A people-watching date
This date is perfect for people who love to observe what goes around them and with people on this holiday.
All you have to do is sit in a public place where a lot of people pass by and indulge yourself in conversations about the emotions of many people that will meet your eyes.
This will instantly become one of your most memorable dates, believe me.
87. Buy presents for each other
If you have never bought a gift for them, now is the time to do it. All you need to do is get each other something for this date that has to be worn by them all night, and no one can say 'no'.
Imagine the blushy faces and giddy conversations you will have!
88. Arrange for a holiday photoshoot
There's always room for more photos. For many couples, doing holiday photoshoots in matching pajamas and plushies is a thing and I would be lying if I said I don't find it cute as well.
Buy some matching holiday outfits together. Get a polaroid if you wish, or click some good memorable pictures that would go in your album forever.
89. Go on a sledding date
Unleash your inner child in the snow with this fun date. Find a solid sledding spot, layer up, and slide down the hill. You can also hop on a sled together and go deep down the hill.
The adrenaline rush will ensure the loud cheers never stop, and the chemistry keeps on flowing.
90. Plan a date in a bar
There are some bars that are quiet, with fewer people, more homely vibes, and cheerful lights even on Christmas. These bars are usually on the outskirts of a town but boy, it is worth it.
You would feel lively in an atmosphere like that on Christmas and have the best night possible with your partner.
Ah, if it were me I would never let the Christmas romance end but it does and that's why I worked really hard to gather some cozy date ideas to keep this romance flourishing between you two, scroll down to find them.
Cozy winter date ideas
Apart from the celebrations, the best thing about Christmas is that it gets people cozier and more affectionate towards each other. And to keep up with the coziness, here are some date ideas for you to try.
91. Try knitting
If you don't know how to knit, then start small, go for a hand warmer, and make your own heart shapes on them.
On a sweeter note, choose different colors of hearts and exchange one of them to be stitched onto the hand warmer. It would be a beautiful souvenir, I must say.
92. Have fun in a power outage
Power outages are common during these cold, harsh winters. And I know how much it sucks, so maybe you can make it suck less.
Keep some snacks, aromatic candles, and drinks hidden, and when the power goes down, you can take all of them out and have your own mini candlelight dinner.
93. Go bird watching on a beach
If winters are not too harsh where you live then you can take your love there, why? A lot of birds make a stop at the beaches for migration, and the scenery is beautiful.
You can run with them, dance with your partner among them, bid them goodbye and end the day with packed sandwiches. What's better than that?
94. Visit an antique store
This date is for anyone who has an eye for antiques. You can buy, window shop, or just laugh at all the funky stuff and call it a day.
95. Explore vineyards
A lot of farms organize events for wine tasting in their farms.
You get to taste different kinds of wine, eat fresh cheese and strawberries and wander around the ambrosial farm and watch the sun go down with hands held together, isn't that just perfect?
96. Paint pottery
If you aren't interested in getting your hands dirty with pottery making, you can try pottery painting instead.
A lot of shops let you paint pottery together, and then they fire it in the end to have your very own souvenir for your date.
97. Solve a puzzle
Bring out your inner kid with this date idea. Explore different kinds of puzzles in shops and buy the one that is most intriguing.
Also, get some snacks, blankets, and warm milk stashed beside your table because this date is going to be a long one.
98. Find your new fav show
Almost all of us have had one conflict with our partners about a TV show, haven't we? Well, now is the time to solve it.
For those cozy nights when you don't want to do anything, you can go through all of the streaming devices you have and find a favorite show together, and call it a date.
99. Make a collage
Use your artistry skills to make this date more romantic and fun. You can get matching canvases, polaroid pictures, and stationery… and put your best creative self forward to create a collage.
You can also present this to each other at the end of it. This would be such a cute addition to your living room space, attached with a beautiful memory.
100. Enroll yourself for a couple massage
Get cozier and more romantic with some couple massages. Set the room right with aromatic candles, and warm towels, and just relax.
You can end the date with a steamy makeout sesh or just sleep together inside a shared blanket.
I hope you are still in the mood because I definitely am. For my last set, I wanted to make sure your year ends with a bang, and that's why I have some new year date ideas set for you in the new section.
New Years Winter Date ideas
New Year's eve is perfect to end the night with romance, love, and care for one another, and what better way to do that than dates?
So, fasten your belts and find your favorite among these amazing New Year's eve date ideas.
101. Revisit your year
This date is all about appreciation for each other. You can start by listing down the months one by one and go through your journey.
What was so good about January? November has been a tiring month, but we came out strong. Such conversations will bring out a sensible side of both of you that you would take along the next year.
102. Partaaayyyy!
I would be lying if I said I don't love those new year glam parties. You get to dress up in sparkly outfits, drink the starry-infused wine, mesmerize by a city view lit up with lights and kiss your love when it's midnight.
So, what are you waiting for? Tell your spouse to pick a full-glam outfit because this date is going to be something magical.
103. Dress up and go nowhere
If you do not have tickets or entry to a packed event at this time of the year, don't get disheartened. Wear that sparkly dress, pick some champagne, hit the sparkly streets, and cheer with your hands crossed.
Put some karaoke on and dance to whatever song you wish, and kiss when the timer goes off at midnight.
104. Watch a show
Whether it's clubs, theater, or jazz, a new year's eve is packed with performances all around the city. So, here's a date idea? Why don't you go to watch one of these with your love?
You can go coordinate your outfits like an Instagram IT couple, watch that show and end the night with an elegant after-dinner party.
105. A date with fireworks
Some cities and extravagant parties plan a firework show when the clock turns 12, and man, it's beautiful.
The dark sky lights up with beautiful sparkles and colors, and nothing is more satisfying than a date to one of these and seeing your partner's face lit up under those lights.
106. Go to the hills
If you are not in the mood for the rush of glam parties and prefer something quiet, then this is the one for you.
Go to your terrace, take some candles, bedsheets, some drinks and a pizza with you and just talk with each other with a beautiful view of the city in front of you.
107. Prepare a meal
Well, thanksgivings aren't the only day where you can prepare a meal together.
Grill your own veggies or try out that famous chicken alfredo pasta and have it with each other, in the comfort of your pajamas. Well, that's a good way to have a new year's date too.
108. Plan a date in a cabin
Prefer to have the quiet among the hustle and bustle of the city on New Year's? Then you should book yourself a date to a cabin.
You can sit near the fireplace, eat chocolate cakes, drink warm milk, wish each other a New Year and make love throughout the night. Perfect to start the New Year, isn't it?
109. Make plans for the new year
Well, I know some of you like to plan ahead. The goals, the dreams, the accomplishments.
So, why not make the best out of it on the date of the year? You can appreciate each other for bearing with each other all year and make plans to achieve your goals as a couple. I am getting major boss couple vibes, and you?
110. What about a candlelight dinner?
Well, sometimes things don't go as planned, and you need to make the most out of what you have. So, let's do that.
Make some dinner together, place candles, some mood lights, and have one last conversation for this year when the clock strikes 12 and everyone is busy cheering across the city you can steal a kiss in silence.
I hope you have made your personal list of favorites to try out this year but first, hop on to read why you should plan dates in winter because the reasons might just melt your heart and make you feel more committed to one another.
---
Why should you plan dates in winter?
Summary
Winters are the perfect season to stay close to each other, especially due to chilly weather. It adds a new layer to relationships, and you tend to find quality time to spend together in unique ways and add them to your memory box.
For most people, winters are their favorite season because of the weather. People stay closer, and each one of us spends a lot of time with families and their loved ones. And this is the reason winters are so perfect for building romance and connection with your partner.
You can go all out for activities, a game of ice-hockey or go ice-skating or keep it low-key with simple things such as having pasta on your bed. And no matter what date idea you choose from this list, it will always leave you with happy memories.
And just like that, you will find yourself dancing to 'Until I found you' when the streets would get empty, and the streetlights would glaze up with snow falling all around the place.
A word from ThePleasantRelationship
I hope this list of date ideas helps you find your favorite activities and you both spend some amazing time with each other… all filled with fun, laughter, and lots of love.
Have a cozy winter, y'all!
Surabhi Kedia
Surabhi wakes up every day with a drive to craft words that can create a soulful impact. Creatively adventurous, she is always seeking to learn new skills and acquire new experiences. With a hidden soft corner for languages (especially Urdu), she writes poetry occasionally, binges on romantic shows, and LOVES to talk. A hustler, admirer, chaser, Surabhi is just another-someone who refused to give up on her dreams. She says, she is just somebody who's trying to make herself a writer and for now, she's just writing...