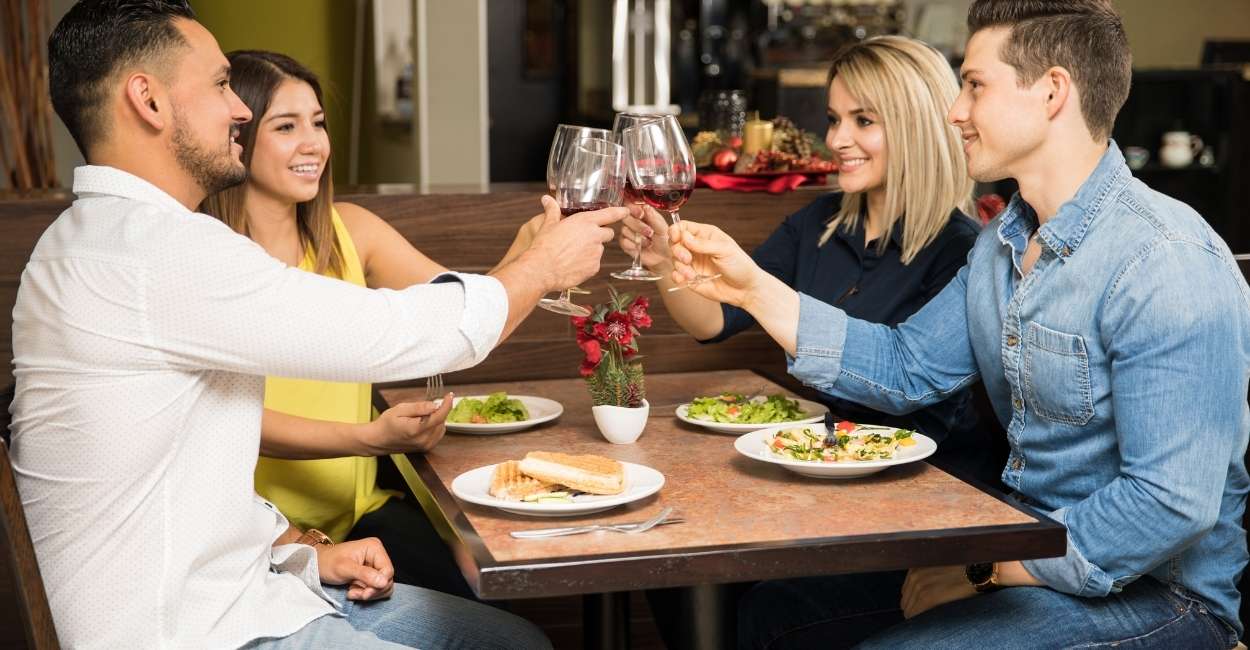 So, you're hunting for some fresh double-date ideas to spice up your relationships? Wish to impress your partners with some unique and fun activities? Also, want to introduce your fave couple friend on the go? But how do you do all that?
Don't worry, I've got you covered… It's the end of the "they'll hate it" and "they might like it" thoughts… Because this think-piece has only "they-will-love-it" options!
C'mon, break through the conventional dating norms with my fresh ideas here!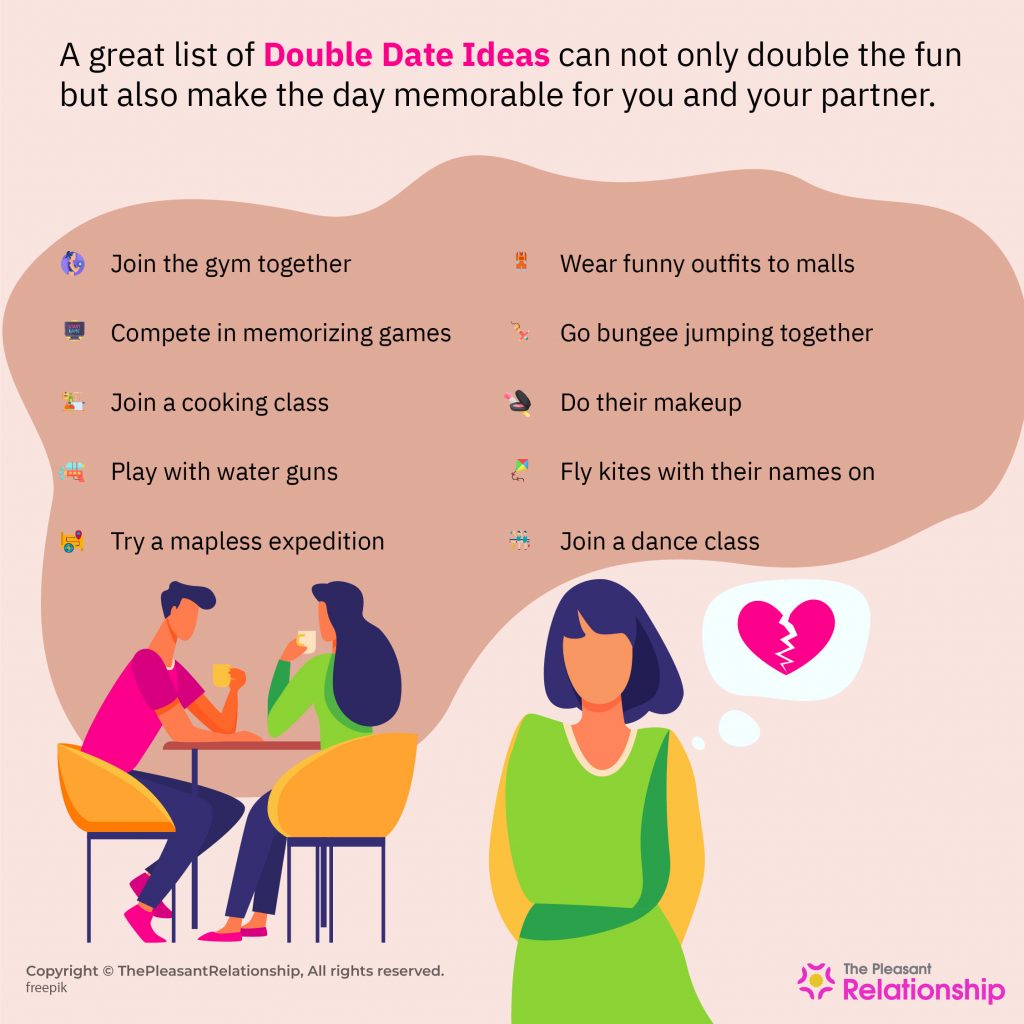 Fun double date ideas
To break the monotony of daily hustle, try these witty double date ideas that fill you with fun and laughter…
1. Go bungee jumping together
The four of you together can experience the rush and move of bungee jumping. Let your heart beat erratically from the adrenaline, and feel the 'young you' once again!
2. Do their makeup
Even if you don't have any idea about makeup, that'll be so much fun! Take the makeup supplies and paint your beloved with all your heart. Do not forget to share the finished look with us!
3. Try a mapless expedition
Without using any map or compass, challenge each other to travel somewhere new together and then return. Go on this expedition, but don't forget to take your phones in case of emergencies.
4. Join the gym together
Hitting the gym together is another option you all must try. Break a sweat together during the classes and motivate each other. Make your date's heart skip a beat by being their 'oh so sexy' S.O. Besides, let them laugh at your funny moves and perspiring faces!
5. Wear funny outfits to malls
Walking to the malls in funny attire can be really humorous! Select amusing outfits for each other, put them on, and resume the fun date. Together, embarrass yourself, and document the moment for more laughter later.
But if you want to surprise them with a sweet day with activities that can melt their heart, so that they look at your face and exclaim "Awww, so cute"… Try these!
Cute double date ideas
Some fun bonding activities that also allow you to express your feelings is all you need to touch their heart…
6. Play with water guns
If you want something bold, promise to get them wet on your date. On your next date, have fun like a kid with water guns pointed at each other. And who knows, if this transitions to a sensual play!
7. Fly kites with their names on
On your next date, fly a kite as high as you can, with your beloved's name written on it. And for the cherry on top, force the loser to comply with the winner's wishes. Challenge them with cute lovey-dovey tasks!
8. Join a dance class
In your location, look for a couple's dancing classes. Get close to your date while you practice dancing together. Although you might trip over their feet, the cute moments will be precious.
9. Join a cooking class
Get familiar with one another's cooking skills and cook each other something with love. Let your culinary prowess and warm love win them over.
Pick a few random novels, and challenge one another to quickly recall a few sentences from each. Let the prize be at the winner's discretion.
Are you looking for something more general and appealing date ideas? Then go for the next list…
Good double date ideas
When the goal is to feel good, this list cannot disappoint you. Welcome to the exclusive list of hand-picked ideas to make your date unforgettable!
11. Visit an animal shelter
Go help the cuddly creatures with your beau… all while you show your kind heart and create a positive impression on your date.
12. Go mini-golfing
Mini-golf is a relatively smooth, calm, yet enjoyable activity for your double date. So, if you want to indulge into an outdoor activity but not a physically-exhausting one – this is your pick!
13. Visit an old age home
Happiness multiplies when you share it. Why not take a visit to an old age home and share your smiles with the old people? Meet some old age couples and hear their love stories… trust me, you will look forward to growing old together.
14. Plan surprises
If you don't want to plan something from scratch, this is it! Do you have a list of all the things that your date craves? Get all those surprises, present them to your beloved, and wait until their jaw drops in amazement.
15. Charter a lunch cruise
Are you guys' foodies? Does food make you feel good? This double date will give you the time of your life with breathtaking beauty and delectable meals.
But if good things are not enough, and you want to mark this date as 'awesome', we have something big waiting for you in the next list.
Awesome double date ideas
To amaze your partner, especially when there's another couple around, can be dicey. But if you are so fond of their awe-struck faces, don't miss these…
16. Kiss on a Ferris wheel
Ferris wheel rides allow you to be with one another and have privacy even in public. When your cart reaches the top, surprise your partner with a kiss and watch their eyes pop!
17. Take them where you first met
If you recently started dating, but you first met years ago, it's time to go back in time. Blindfold their eyes and take them where you met first. Let the other couple do the same and end the day with a sumptuous meal together.
18. Buy tickets to a weekend vacation
Take your date on a weekend getaway, even if you hardly have time, and revel in each other's warmth away from the daily grind.
19. Attend live music with bae
Tickets to a live music festival, ideally in your date's preferred genre, is a thoughtful way to surprise your mate and strengthen your relationship. If your partner is overly enthusiastic, get ready to dance on your double date.
20. Visit a trampoline park
Who wouldn't want to experience childhood all over again? While jumping on trampolines with your spouse, rediscover your inner child on your double date.
Well, let's agree, double dates are not so affordable. Especially when you've got some food and activities planned, splitting the bill is "oh so heavy"…
In that case, maybe you need something like this…
Free double date ideas
Not all double-date ideas cost you a king's ransom. Looking for free-of-cost ideas? Challenge accepted! Here are your options!
21. Watch the city lights from a tower
Locate the area's tallest tower or structure. Enjoy your afternoon double date, then walk atop a nearby hill before dawn to see the city lights sparkle like fireflies. Engrave the moment in your mind to reminisce about it down the years.
22. Share family albums
Dive into history to discover all the deep stuff about your partner. Their childhood memories, dreams, and fantasies… take a ride into their history. Ask them about their relationship with their family members. It's a sure way to understand "who they are".
23. Share your bucket list
Each of you chooses a chit from the list of things on your bucket list, mix them up, and then discuss how you plan to cross it off.
24. Bake a cake together
Bring your sweetheart over, and start preparing cakes together. While the flour is being sieved, whisk those eggs. Take your time enjoying the baking on your double date. You can also do a baking face-off!
25. Try an escape room
This is insane! Lock yourself in a room and throw the keys away (of course, in the room). Find the keys and escape.
Has it been too long since you experienced something thrilling? Time to bring back the spark in your eyes! Grab our exciting ideas for a double date and get your blood pumping…
Exciting double date ideas
Sometimes, all you need to win your beau's heart is something exciting! Especially if all of you feel the same, let this list make your heart stop.
26. Visit a science museum
Get your tickets to the science museum if you enjoy learning things about this enormous planet. Take an escape into the thrilling world of logic and magic.
27. Give splatter painting a try
Buy two canvases for the four of you, some motivation, and paint! Have fun and create whatever your heart wishes, even if you have no artistic aptitude.
28. Explore a food festival
Talk and get to know each other better while holding hands… as you try out cheap food vendors and sample their free food.
29. Survey a castle
Many castles are tucked away on the outskirts of the city. Want to unlock the historical treasures with your loved ones? Go on a crazy survey to satisfy your curiosity!
30. Stargaze at the planetarium
Live one of the most beautiful moments of your life by gazing at the stars and sky. Feel the bond intensify as you feel lucky to be together in this vast world.
But, if you want to beat your boredom with the best list of dating ideas, get ready for something special here…
Best double date ideas
You cannot make someone feel a certain way, but you can give your best to make them feel satisfied. So, let me present to you the best date ever with excellent plans…
31. Go playing putt-putt
It's a ridiculous game that can irritate you, but try not to lose your cool. While you giggle at each other's shots, you're just having fun.
32. Tour your area
Possibly, you didn't visit every tourist attraction in your city or town. Make new memories on your double date by vesting all the popular tourist destinations.
33. Try a tandem bicycle
Go on a trip to a far-off, romantic location while riding a tandem bicycle together. It becomes more romantic if the second biker holds the driver's waist while humming a song.
34. Play with paintballs
Get ready to paint some white clothing while shooting paintballs. Shower one another with the hues of your affection. Bonus: Keep the clothes as mementos!
35. Join a hayride
Hayrides are popular festive activities during the start of the fall season. This activity includes a large audience which can help anyone get over their shyness. If either of you is a new couple, this will be pretty comfy!
However, if you're aiming for a lower budget, don't be shy! You still have lots of options. So, explore the next list of ideas…
Cheap double date ideas
Money can buy you many things, but it cannot buy you perfect dating ideas! Similarly, a lot of things don't depend on money… if your pocket can't handle it, you can still show love while being frugal! Go ahead and enjoy these …
36. Try fishing
This is one of the terrific double date ideas if you live near a pond, else you all can ride to the fishing location. Spend a leisurely afternoon fishing with your partner and friends… grill your bounty later!
37. Play Frisbee
The fun of catching a frisbee isn't just for kids. So take your couple friends to the playground and recall your childhood days together. Bring your pets if you have any.
38. Attend trivia nights
Visit a bar that hosts frequent trivia evenings, form a team, and participate. Show your date that you are a beauty/hunk with a brain.
39. Learn new languages
Download and log in to some language-learning apps. Learn different sentences that let you express love. Say all that you've been waiting to tell each other, but in a new language!
40. Donate blood
If you're healthy and don't have any phobias, show some love to the unlucky people in need. To replenish your strength, indulge in a healthy meal afterward.
When the simple ideas are so fabulous, can you imagine what my great list can bring? I bet not! So, see for yourself the next list of irresistible ideas!
Great double date ideas
Give your partners a spell-binding experience with these dating ideas that are simply above and beyond the usual…
41. Re-enact your favorite date
If you've been dating for a while, your partner probably has a favorite in their mind. This time, share the moment with your couple friends. Who knows if this one ends up being their favorite too!
42. Feed the birds together in a park
Take your couple friends to a park and throw some bread crumbs for the birds to feast. Get the blessings of the little birds so that your date gets impressed and may fall in love with your kind side.
43. Visit a haunted house
Visit the most interesting haunted house close to you. While navigating your way outside the house, enjoy the thrill and bond while you hug each other from the jumpscares.
44. Visit an orphanage
Visit an orphanage on your double date and interact with the kids. Bond with these cool kids that made the best out of life for a top-notch experience.
45. Try apple picking
Or for that matter, pick any fruit from the orchard trees. As you prepare your dream for another season and let your love bloom while harvesting.
In case you planned for an ideal double date, but unfortunately one of the dating partners cannot go outdoors, why not enjoy this date at home? C'mon, let's not postpone and make it work…
At-home double date ideas
Maybe your partner is unwell, or your friend just cannot take the pain of going out. Don't let the situation let you down. Instead, meet them at their home! Here are the ideas that can make your at-home double date special…
46. Be their chef
Create a brand-new dish with your partner and friends. Put your preferred ingredients and exotic spices in a basket. Make them rest on the dining chair, while you present their order!
47. Try Netflix and Chill
Select a few shows in advance, then snuggle in your partner's arms in bed as you enjoy the show. It is tranquil, romantic, and a contemporary classic.
48. Play video games
Video games are addictive, and your date can be jealous of your gaming. But when you play them with your date, they'll know the charm! If they are a novice at it, enjoy teaching them as you flirt along.
49. Solve a puzzle together
Buy four mega jigsaw puzzles. Help each other fix it together. You get ample time and room to bond well, as you reminisce about your childhood memories.
50. Have a karaoke at home
Find the lyrics of your favorite song, play it on YouTube, and start singing old high school tunes. Pick the lamest music you've ever enjoyed.
But if you feel that your partners are a sucker for outdoor activities, I'm so excited to share some cool ideas here…
Outdoor double date ideas
If your date loves outdoor double-date ideas and seeks every chance to step out under the sun, so be it! Instead of tossing your brain with fruitless assumptions, go along with their favorites. Let me show you some options…
51. Try snorkeling
If you guys live near the coast, have fun with all the wild colorful fish and underwater animals. This enjoyable underwater activity will make your double date extra special.
52. Give campgrounds a shot
Get all the gear you'll need for camping with your couple friends and go off on your adventure. To get closer, take part in various activities like stargazing and paddle boarding.
53. Try Canoeing
Go canoeing down a calm stream in the company of your beloved and the other couple. While you soak in the experience, don't forget to flirt with your partner to make their heart skip a beat.
54. Get on with that road trip
Plan a road trip to a distant location. Pack your necessities to keep yourself equipped through the journey. Spending some days together at a stretch with your partners will rejuvenate you from within.
55. Go grocery shopping together
Who says grocery shopping is monotonous? Find joy in even the most mundane routine in your life by making it a double date idea!
So, summer is around the corner but you can't figure out any date idea in the scorching heat? Don't get disappointed, honey. You will definitely find something in the next list…
Summer double date ideas
The best trick to having a double date in summer is to crawl to swimming pools, rivers, and beaches. Agree? Soaking in water makes it easier for you to beat the heat of the Sun, and it also becomes super hot and steamy! So, just get on to it…
56. Go for a sunset walk
While enjoying the beautiful sunset on your double date, unpack the little pleasures of dating and friendship. Go barefoot, roll up your pants, and take a walk on the sand. Let your bae's glowing face leave you mesmerized!
57. Build sandcastles
Remember how you built sandcastles in your childhood? How about recreating the memory with your date and friends? It's a fantastic activity to develop teamwork and create sweet moments.
58. Dip your feet in the water
Take a seat next to a clean pond, dip your feet, sip on low-concentration alcohol, munch your snacks, and let all your worries escape in thin air.
59. Go for a scavenger hunt
How about having a scavenger hunt on a beach? These exciting double-date ideas are full of treats with the least labor.
60. Dive in for a swim
Summertime and the water is an all-time combo. So, put on your flattering swimming outfits and float in the water as you enjoy your double date.
But if the winter is around, you want warmth and coziness! And guess what, I have some good ideas to raise the temperature here …
Double date ideas winter
So, what stops you from snuggling and cuddling in winter? This is the perfect season for your love to bloom like an alluring rose. So, here are some warm and steamy ideas to match your expectations.
61. Make a snow couple
Who doesn't enjoy watching snowmen in winter? But the twist is, make a couple-snowmen this time. And the moment you start to freeze in cold, grab your partner for a warm hug!
62. Have a spa day
To release the tension from the week, treat each other with a body massage. It's time to relax if you hardly get much time off from work… take it easy and talk about your life.
63. Go beachcombing in winter
The beach has enough to offer you regardless of the season, even when it is winter. Since fewer people visit, you'll find diverse rocks and shells for a shell art date. And of course, the sun will keep you warm.
64. Go Christmas light-seeing
On Christmas, get together and explore the city, take pictures around the lights and Christmas trees. Visit churches to pray and wrap the evening with a drink.
65. Grab your picnic baskets
Picnics can never go out of fashion. You can find endless options to make your picnic fascinating. Head to the park with your lunch, mats, and games. Spend time chatting and lounging under the sunshine.
Is your beau always busy in the evening? Maybe they have some prior commitments? Don't feel low, and grab some daytime double-date ideas!
Daytime double date ideas
"Date nights" are the go-to phrase for conventional dates. But who said you can't have fun when the sun is high? Take the help of these wonderful dating ideas to suit your time!
66. Glide on a skateboard
Purchase a set of skateboards, and if you're new, enroll in a class so you can all learn together. If you're an expert, compete until you're worn out. You can also take cool videos and post them on the gram!
67. Visit the botanical gardens
If there's a botanical garden around, this is your sign to visit! Experience a fun-romantic ambiance among the well-kept green foliage and vibrant blooms.
68. Indulge in indoor photo-shoot
Who doesn't like to have fairy tale albums with their beloved? Dump all the excuses for not clicking pictures. Glide in your fancy attires, set the background, and beat the hottest celebrity couples with your photoshoot!
69. Go to the zoo
Explore some flora and fauna as you walk past the cages and also the animals residing in them. Don't hesitate from clicking some selfies after feeding the creatures!
70. Go on a morning jog
Challenge one another's endurance and train together. Wear that sexy sportswear that you might have always preserved for this day. Impress your beau with your stamina!
But if you want the typical well-dressed evening date with fancy cuisine and candlelight dinner, these ideas can make it even better…
Dinner ideas for double date
If you guys can't make time other than dinner time, you know it doesn't need to be the same old fine-dine restaurant… I mean splurging that much is alright once in a while, but not all the time, right? So, here I am with some romantic alternatives!
71. Go for wine tasting
Fearlessly grab as many flavors of wine as you want after a light dinner. But yes, don't let it affect your health! You can even purchase a bottle of wine to sip at home on a cozier date.
72. Light up your beach date night
Beaches are quite dark at night, so grab some food, blankets, and outdoor lighting. Use battery-operated fairy lights to create the ideal date. This date will remain etched in your memory.
73. Have candlelight fast food
Can't get a reservation at a luxury restaurant? Order KFC or McD to your house and have a romantic candlelight meal there. Invite your couple friends too. Deck up yourself and the room to radiate a posh vibe.
74. Do the village cooking
Step out of your modular kitchen, and don't even touch the tools! No pressure cooker, no mixer, no gas stove. Rent the exact village utensils and gadgets to cook your meal. Roast the chicken on fire and eat in mud pots! Grow closer while helping each other and waiting for the delicious food.
75. Volunteer in a soup kitchen
Ask them to volunteer in the soup kitchen with you to demonstrate your thoughtfulness. Win your date's affection while providing for the hungry. The four of you can contribute to a good cause.
If they live in their own romantic utopia where watching, reading, and listening to romance is all they've got to do, make this double date an intimate one with our next list of options…
Romantic Double Date Ideas
If your partner is a sucker for romance or you want to spend an unforgettable romantic time together, the list is on it. Show them how far you can go for love on your next date…
76. Have a romantic movie date
Movie dates are a timeless tradition. Let the onscreen romance make your heart soar. Don't care who's watching you, and beat the on-screen chemistry with your amour.
77. Get dressed up for a hot ball dance
Take out the sexiest outfit secured in your wardrobe and go for a goo-goo ball dance… some aromatic candles, soft and sensual music, and a dancing mask, that's all you need!
78. Plant a tree in your yard
Who says romance is all about cuddling? Put a little sapling in your yard if your partner and you are sincere about one another. Mark the beginning of a developing connection between the four of you on your double date.
79. Spend time in your secret farmhouse
Take them to a treehouse or other happy location if you have any in your mind. Spend a good time together and enjoy the serenity. Let your eyes do the rest of the talking while you snuggle into each other's arms.
80. Dedicate a romantic playlist
Put together a playlist of popular romantic songs with deep lyrics to listen to on your double date. Through singing, you all can comprehend one other's hearts.
Are you all creative freaks? Then why neglect your date of creativity? The next list of ideas provides your dose of amusement with ample creative activities…
Creative double date ideas
A date is not all about romance. It's about a magical company that erases your worries and makes you feel happy and light. And when you share the same passion, these creative ideas are all you need.
81. Describe your love via paint
How would you describe your love via a painting? Sketch and color the perfect image that depicts your love.
82. Write a love story
Write the most beautiful love story that you have always dreamt about. Pen down the future of your love story on the pages. Most importantly, don't forget to read it as you grow old together.
83. Gift painted t-shirts to your date
Let your creative strokes make a couple's matching t-shirts. Write love notes or a pet name on each other's t-shirts and gift them to your partner. Wear these t-shirts to celebrate years of togetherness.
84. Make ensembles from garbage
Open the store room and take out the unwanted things. Use them to make decorative pieces and crafts for each other. The four of you can put together a stylish ensemble for your partners.
85. Write a love song
Give your love a tune. Write a love song in whichever language you prefer. If some of you know how to play a guitar or piano, go ahead and add tunes. The song will be a symbol of your relationship that you will relish till your last breath.
However, if you cannot think of enjoyment without food, plan a date about food and everything edible for your double date!
Foodie double date ideas
'Food lovers' don't depend on fancy restaurants to enjoy their double date. So, all you need are activities that keep you engaged with food and love! Take a look at the options below…
86. Have a farm meal
Does your farm need a makeover? Make this double date more engrossing by indulging in farm activities. Just like typical farmers don't forget to pack conventional meals to the farm and have it under a tree!
87. Make farmer's market special juices
Visit the farmer's market and purchase some fresh fruits. Once you're at home, combine various jams, jellies, liquids, and squashes. Test and rank flavors for fun!
88. Indulge in a food truck crawl
Food from food trucks is ridiculously delicious. Explore various food trucks while traveling with your date and couple friends.
89. Buy a strong drink in the bar
Get your favorite drinks in your most-loved bar. Ask them for their strongest drink and the four of you can play drinking games together.
90. Have a dessert-making competition
Discover each other's preferred dessert components and attempt to prepare something delicious without internet ideas. When you're done, rate each other's creations. It's one of the cutest double-date competitions.
But in case you want to add your own twist to this double date, trying some adventures can definitely be a steal deal… go ahead!
Adventurous double date ideas
Be careful when you pick up these blood-pumping activities because a slightly wrong choice can ruin your health and turn off your dating partners! C'mon, let's explore what I have for you here…
91. Book a helicopter ride
Well, if all four of you are ready to break your banks, this adventure is a must-try. Have a mesmerizing aerial view as the chopper takes your breath away.
92. Fall in love while hiking
Strengthen the roots of your relationships in the wilderness. Get your hiking gear ready and head out this weekend for the most exciting double date!
93. Sail in the boat
Hold their hands tight as you sit in the boat and sail through the waves of love and emotions. Don't forget to capture this fairy-tale moment and hang it on your wall.
94. Go skiing
Climb high if you all enjoy the enchanting view of snow-capped mountains. Share a cup of hot beverage with your beloved and add as many memories as you want with the seasonal activities.
95. Dive through the sky
Skydiving can make your day if you're eager for a perfect double-date adventure! Together, dive and discover the heights as you pound through the winds toward the ground.
However, if you don't want to splurge on something new and classy, go for some evergreen luxurious plans like these…
Luxury double date ideas
Looking for elegant and classy waves to make them feel like the king/queen of your life? Then let these exotic ideas express your love for them…
96. Book a palace night
The four of you can book one palace room you've never dared to afford before. Romance through the luxurious traditions of the palace along with your couple friends.
97. Go shopping
When you are least worried about the budget, visit the most hyped malls in your place. Try all the luxurious activities and overloaded shopping. Remember to give your beau a token of love as you return.
98. Ride on a horse
Visit the beach for a barbecue and go horseback riding at dusk. Get on one horse together and take a leisurely stroll while conversing. Make it even more private while you enjoy the view!
99. Book a cabin
Rent a cabin with an exotic view (preferably in the mountains) if you're ready to get cozy and let the night become steamy. Let them feel on top of the world, literally!
100. Attend a ballet dance show
You all can go to a ballet performance. Remind them of your thoughtfulness and romance through the graceful motions of the ballerinas. Later, pair it up with an exquisite dinner.
After all that, you're probably confused about which date idea is your best shot. So, I have something more to share here…
---
How to pick a great double date idea?
How you start your relationship today portrays how well you will carry it in the future. So make the best out of this time by following these dating tips…
1. Know your friends
You are going on double dates to enjoy yourself with your partner. I completely get it. But, you will be accompanied by your friend and their partner as well. So, know their likes and dislikes to plan the date properly.
2. Go for the right date idea
This is where understanding your friends comes into play. Know what ideas they will appreciate. Don't choose activities that demand excess attention and time.
Focus on dates where you can hold conversations with each other and bond together.
3. Keep a time frame
You're dying to spend the entire day together, but that's too much buddy. However, a very narrow time frame doesn't sound good either. You're four people, it will take you some time to gel with each other.
So, plan activities that fit your available hours. Eventually, it's not how much time you spend, it's how well and comfortably you spend it.
4. Talk wisely
Don't try to run the show and be the center of attraction. Trust me if you do this, you'll turn your date off, so let everyone participate freely. Avoid serious discussions and keep your topics light. Whenever a topic gets heated up, divert it.
Sometimes you get too absorbed in a discussion and your mindless words might sting others. They might not agree with all your opinions. Similarly, if you don't like what they say, learn to let go. Don't ruin your precious time by indulging in debates.
5. Be yourself
Last but the most important thing is to be comfortable in your company. A company where you have to mask your real self, just to impress others' is of no use. However, behave yourself and tackle poor situations smartly. Don't make others uncomfortable.
A word from ThePleasantRelationship
Now that you've unfolded so many ideas to make your date most enjoyable, remember to prioritize comfort. Respect each other's and your own boundaries, and don't risk your comfort to impress others.
Worried you'll ruin your impression for not compromising?
Trust me, sticking to your boundaries is the hottest thing now… it'll show you respect yourself and can respect others.
Moreover, refusing to perform a task will not do as much harm as accepting something beyond your limits. Your partner might even judge you for being unaware of your limits.
Similarly, don't force others out of their comfort zone. Respect each other's choices, and they'll always love you for being such a sensible double date partner!
Surabhi Kedia
Surabhi wakes up every day with a drive to craft words that can create a soulful impact. Creatively adventurous, she is always seeking to learn new skills and acquire new experiences. With a hidden soft corner for languages (especially Urdu), she writes poetry occasionally, binges on romantic shows, and LOVES to talk. A hustler, admirer, chaser, Surabhi is just another-someone who refused to give up on her dreams. She says, she is just somebody who's trying to make herself a writer and for now, she's just writing...