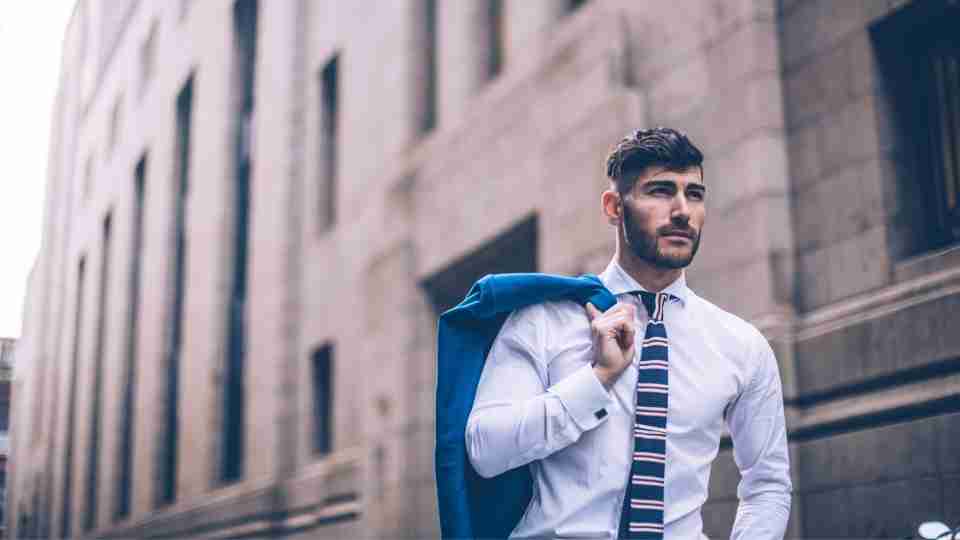 What attributes define a 'Mr. Right'? Finding the right person and live with him is a daunting task at times.
There are a few qualities of a good man that are commonly admired by all women; and there are many that a woman secretly keeps on her wish list.
From a man's point of view, being loving, caring, goal-oriented, good at bed are not enough many a times.
These are minor knick knacks that define you as a worthy partner. All women keep a preference checklist, once they start seeking a life partner and they stick to it.
Let's see the unique and invaluable qualities that make you fit into the box of being an ideal partner.
Qualities of a Good Man Infographic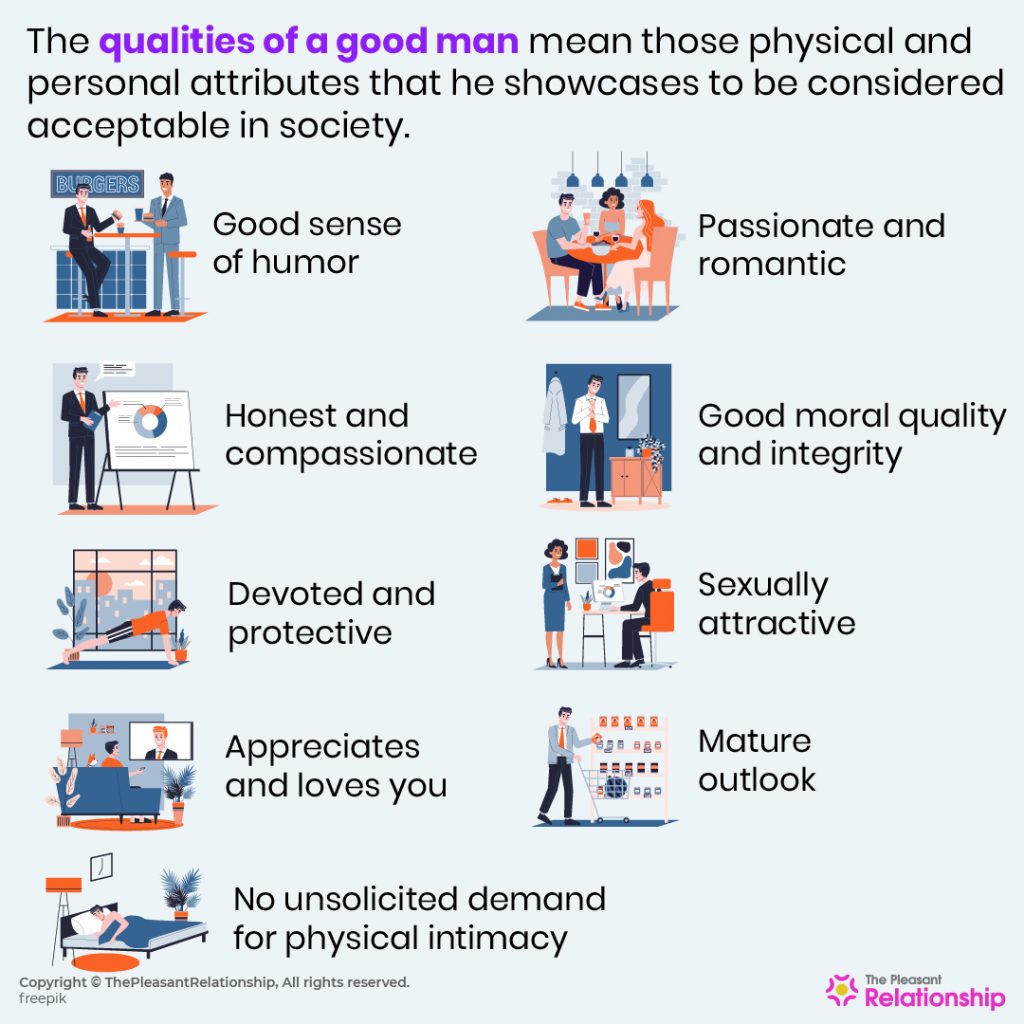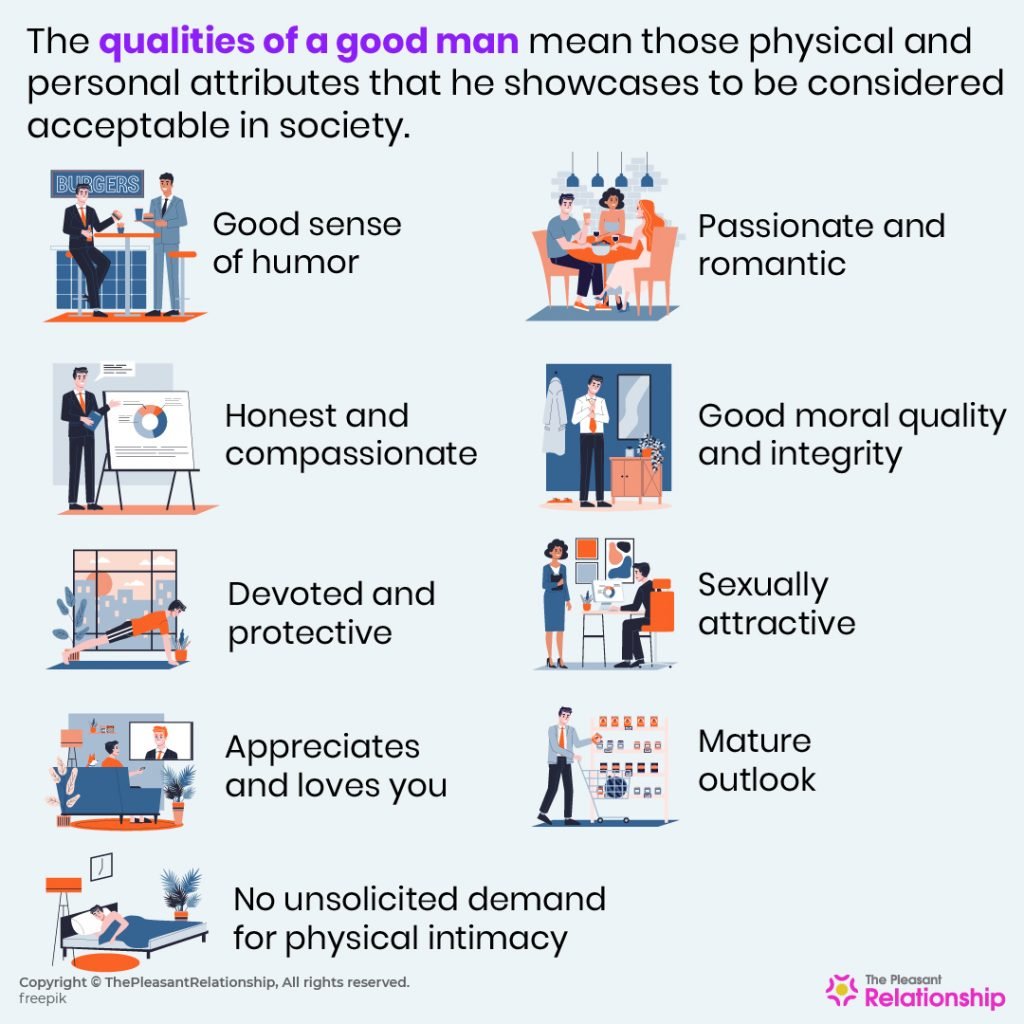 What do you Mean by Qualities of a Good Man?
SUMMARY
When we talk about the important qualities of a good man, it means those physical and personal attributes that he showcases to be considered acceptable in society.
If we talk about love and relationships, the qualities hold a special significance. Women want their 'would be' man to possess certain qualities that make them a potential suitor for dating and marriage.
Being a woman, you will not want somebody who doesn't fit into the frame of a 'perfect man'; as tailored by you. Finding someone, you can have a better life as wished for.
60 Qualities of a Good Man
General Qualities of a good man
A person with good qualities is always liked by others. Being handsome and manly doesn't work well these days.
Women look for some more admirable traits that are unique, and help her dream man stand apart from others in the crowd.
To many women, her ideal man is her dream partner, who is nothing less than a fairy tale prince.
Thus, based on these, the general qualities of a good man can be categorized into
Physical qualities
Psychological and emotional qualities
Social qualities
Physical qualities
SUMMARY
The physical qualities of a good person show the degree to which he is handsome and pleasing in a woman's eye. Physical attractiveness determines sexuality coupled with good health.
1. Robust health
A great man with good physical health is liked by women. He is the sought after guy because he is tall, handsome, looks fit and attractive.
Being robust is a sign of stamina and strength that adds roughness to male charm.
2. A deep voice
Cross cultural studies on man-woman relationships have shown that a deep voice attracts women the most.
A powerful and attractive voice is a mark of confidence and positivity. Men with deep voices are sensual and simply irresistible.
3. Facial hair
Facial hair, whether it is a full grown beard or a little hairy look can awe a woman anytime. Men who possess this look are considered sexy, confident, and attractive.
Women consider this as a desirable quality as it reveals toughness and masculinity.
4. Men who smell fresh
Men who smell fresh and use colognes, perfumes regularly are liked by women. It is enough to turn on a lady who looks for biological compatibility.
It gives a fresh feel leading to greater physical intimacy and greater reproductive success.
5. High cheekbones and full lips
All women are pretty clear about the qualities that describe their 'perfect man'. Looks matter a lot and men with high cheekbones, full lips, toned and sharp facial features always get ticks from women.
Women consider them alluring, glamorous and having a high sex quotient.
6. A killer smile
Being a man, you have a simple weapon to turn on and win over a lady's heart. If you possess a killer smile, it can melt her heart in no time.
It lights up the room with positive vibes from a distance. You can captivate women and stand out in the crowd.
Psychological and emotional qualities
SUMMARY
If you have good emotional qualities, you can expect a better connection with your partner. These qualities help to carve a happy and successful bonding.
7. Good sense of humor
Your partner will fall in love if you can make her smile and laugh in stressful times. You should be able to break tension and light up her mood.
Having a good sense of humor is a must have for you. It increases the chances of moving ahead towards a long lasting relationship.
8. Confident
Women like men who are confident and know his worth. So, being a man you need to feel worthy of yourself. You need to carry yourself with integrity and attitude.
9. Honest and trustworthy
Honest men are faithful and are liked by women. If you are truthful; you have a greater chance of turning on a woman's heart.
All relationships are based on trust and if you are honest, it adds value to the bond. It brings dependability and moral integrity.
10. Passionate and romantic
Women find it difficult to sustain in a relationship that lacks passion. So her dream partner has to be romantic and passionate.
He should know the art of love making and it is a necessary quality. It brings the first pull of attraction and charm.
11. Always available emotionally
Being a man, you need to be present emotionally towards your partner's needs. Be there to guide and support her in times of adversities.
Make her feel that you will be with her thick and thin. This makes her feel comfortable and accepted.
12. Compassionate and helpful
A good man is expected to offer help to his partner. He appears kind, understanding, and compassionate in doing so.
If he offers help, he becomes selfless and is admired by women. This quality also makes him empathetic and supportive. The partner feels loved and cared for.
13. A perfect gentleman
This quality of a man ensures respect. When you act like a perfect gentleman; you become the most liked and sought after guy.
Women adore you because you appear smart, intelligent, and morally strong. You possess a good reputation in social circles and can live up to your personal guarantees.
Social qualities
SUMMARY
It includes good social awareness, being helpful, and knowing the art of relationship management.
14. Socially active
Men who are socially active can involve in interesting conversations. They engage all and speak respectfully. It is much more than hand-holding and greeting in social setups.
If you are a guy who has good social skills, women get attracted to you. A woman finds you worth chasing because you appear smart, expressive, extrovert, and charismatic.
This quality helps to develop social awareness and value-added relationships.
15. Good communication style
This is a hallmark quality of a good and sociable guy. You are the one who can make conversations rock with your humor and speaking power.
Women like this quality because you appear confident, smart, and fluent. Good communication with partner means you are open to sharing ideas with her.
If you are the one who can talk about everyday issues, you can win over a woman easily.
16. Altruistic
Helpful men are liked by women. Men who are caring and considerate towards the needs of the community and society are appreciated.
Even if you volunteer social activities; women would find you interesting and worth chasing,
17. Benevolent sexual acts
If you are a man wishing to fine tune a lady's heart; follow benevolent sexism. It is a concept that involves offering kind acts such as, offering her to carry heavy bags, pulling out chairs in public places, to offer help in household work etc.
These maneuvers are considered good by women and add a soft touch to the relationship.
---
Qualities of a good man in a relationship
Any relationship takes hard work and fine-tuning from time to time. It becomes easier to relate with your partner if he possesses certain qualities that can build a happy relationship.
Being a woman, you can have a long list of attributes that describes your ideal partner; but since you cannot have everything present in one person, the best option is to settle down with those qualities that are important.
Let's find those qualities early on.
18. He is smart
The perfect man has to be smart in outlook. It simply means being handsome, intelligent. Studies show that smart men are loyal, kind, and faithful.
They are also good at giving respect to others. A smart man carries a positive demeanor and is often chased by women.
19. He is emotionally mature
Your perfect man is emotionally mature. He is the one who can accept sorrows and happiness equally well. He can handle emotions well without getting anxious.
Emotional intelligence and maturity makes a man easy going and less anger prone. He can verbalize his needs and pains in a better way. They can share their feelings with their partners as well.
20. He respects you and your opinions
Your partner knows how to give respect to 'self' and others. Being respectful is an important quality because it nullifies the power tussle between couples.
With respect, comes politeness and humility. If your partner respects you, he will consider your views and will appreciate your efforts. He will see the best in you, no matter how small it is.
An ideal man discusses issues with his partner and listens to her.
21. Supports you to build your career
He will support you to accomplish your goals. Even, he will guide you to build your career. He is supportive and caring towards your needs and aspirations.
Celebrating your success will make him feel happy and proud.
22. He is faithful and honest
We all know honesty is a key quality of a good man and it matters the most. It gives recognition to the lady that the person she is with is truthful.
He never tells lies and deceits others. It helps to develop trust in the relationship. If he is honest and faithful, he also becomes a loyal and devoted partner.
A faithful partner will not monkey branch and move around elsewhere. A diligent woman looks for faithful partners.
23. Confident and has a positive attitude
He should be confident and goal oriented. A growth mindset is a must have for being successful.
These men are usually mature, financially stable and can keep his family happy.
24. Dedicated and committed towards the relationship
No relationship can be considered perfect but if your partner is dedicated and committed; life becomes worth living. If your perfect man is devoted, he loves you, respects you as you are.
He shows concern for your well being. This brings commitment and mutual understanding into the relationship. He puts effort into building the bond with more trust and friendship.
25. Selfless
Another good quality of a man is he should be selfless. He should be caring towards you and his family. He should know how to create a loving home atmosphere based on mutual love and sharing.
26. Romantic and sexy
Your perfect man is romantic, loving and knows the art of love making. Some men allure their wife with candle night dinners, gifts, flowers, rings while there are introverted men who are caring and loving in some other ways.
So men who are naughty at bed, loving, and compassionate win hearts easily.
27. Fun loving and humorous
Being a fun-loving guy is an essential quality. Your ideal partner can crack jokes and lighten tensed moments. He is amusing and happy at heart.
A good sense of humor always remains in a woman's wish list, when she is looking for a partner. When he appears lively, he makes you think less and take things easily.
He teaches you to live in the moments and enjoy life to the fullest.
28. Good values
A good guy is always guided by a solid value system. He would possess character traits that show good upbringing.
Good values typically involve compassion for others, humble, and respectful. He behaves ethically and does the right thing when no one is watching.
29. Knows manners
When a man has good manners, he is easily admired by a woman. Good manners and social etiquette are essential qualities to adjust with all.
Good-mannered men respect women and he will put you before himself. They are grateful and humble and so women keep them on top of their choice list.
30. He is always happy
Women like men who are happy, cheerful, and content. She doesn't like men who are agitated, impatient, moody, sad, and grumpy.
Even a man with a low key smile is not in her wish list. Happiness brings positive vibes. It makes the relationship move smoothly for years.
31. He appreciates you
He respects your worth and what you have done for him and his family. A perfect man doesn't involve in blame games.
He takes effort to praise you and motivates you to do better each day. Such men can make you feel special; what others cannot do.
32. Good courtesy
He is courteous and civil in his outlook and mannerisms. Never messes up things and does everything perfectly. His personality emanates positivity.
He looks good and perfect in his everyday gestures and behavior.
---
Qualities of a good man to marry
33. Helpful
With helpful life partners, life becomes easy and joyful. Small helpful acts at home by your husband can do wonders for you.
It makes you feel loved and cared for. You know, he is there for you to make things happen easily.
34. He is charismatic
Your ideal partner has to have some male charm. This charm is a blend of physical attributes fine tuned with good character traits.
If he is charismatic, you can't stop thinking about him. He steals your heart in the first instance. The first pull of attraction feels magical and amazing.
35. Puts effort to build ties with your family and friends
Once married, you will expect your partner to spend some quality time with your friends and family members. When he does so, you become a fan of his.
He takes care to develop loving relationships with your parents, siblings, and friends. This shows that he is caring and supportive towards your family.
He makes an effort to know them well, cares about them and treats them with respect.
36. Celebrates your achievement
You will love to have a life partner who celebrates your little achievements. Whether it's about getting professional accolades or just losing weight in a gym, he knows how to appreciate your accomplishments. He even takes pride in you.
37. Engaging in family matters
Your Mr. Perfect is a family man. He loves spending time with you and his kids. Takes an effort to keep his family happy and joyous under all circumstances.
He loves to participate in the family get together; may take you for a long drive, and hardly nags over trivial family issues.
38. Loves kids
Good men usually become a loving and caring father. He loves to be with small children and shows patience with them. He doesn't get angry with them and handles them well.
39. Loyal and faithful
A good man is loyal and faithful. It is a must quality that a woman wants you to possess. Loyal men are honest and committed.
They do not move from one relationship to another. When a man is loyal, the woman knows that she is with the right person. He speaks and acts truthful. They are also selfless and considerate.
40. Good sense of responsibility
A responsible man will always top the priority list when it comes to marriage and relationship building. Women do not like men who are easy going with life's important matters.
It is a quality that describes an accountable man. He knows his duties at home and fulfills them diligently. You can trust and rely upon him.
He is dependable, keeps promises and honors commitment towards his family.
41. Ambitious and financially stable
He is good with his money and plans for the future. Being financially stable means that he is sound in money matters. He knows how to spend money wisely, makes a budget for himself.
As he is ambitious, he strives to achieve monetary success but assures long term financial stability for his family.
42. Generous
A generous guy is someone who is kind and empathetic. He is benevolent and thoughtful of others' needs.
Women want their husbands with this quality as it makes him pleasing and socially attractive. Being generous, he practices abundance amidst scarcity.
43. Sexually attractive
Your partner has to be sexually attractive with a fit body and sound mind. Sexually attractive means that he possesses an irresistible charm that is alluring and you cannot put it down.
There is a spark that pulls you towards him every now and then. You cannot stop thinking about him.
44. Patient
Patience is a key quality of a good man. If your husband is patient, it means that he is calm, composed, and poised. He is not mentally restless and can make the right decisions.
Your partner can handle situations tactfully because he hardly loses temper. As he is not angry prone, he is less nagging and more considerate.
45. Polite and humble
He is civil and follows social courtesy. If your husband is polite, he can connect with you. He is sober, gentle, and soft. You are attracted towards him because he has a wise temperament.
He is soft spoken but still has strength of character.
46. He is devoted, protective, and caring
It is quite sweet to have a devoted and protective husband. You feel special and cared for.
If your husband makes you feel physically safe and emotionally secure, he is the right man for you. You always wished to have someone who saves you from all harm.
47. He loves you the way you are
Your dream man will never want you to change your innate qualities. He will love and support you the way you are.
He is modest and will make you feel that you are the best person he has ever met.
48. Maturity
You will not feel comfortable to be with someone who behaves like a child. A mature man is confident and takes responsibility for his actions.
He is emotionally mature to handle situations well. With maturity comes optimism; so he is well equipped to face serious threats.
49. Doesn't play blame games
A good husband doesn't blame his wife every now and then. He is considerate and analyzes every situation with its pros and cons.
Without proof; he never misunderstands his spouse. Women like this quality because it makes the relationship understanding and respectful.
At times, he owns mistakes and apologizes too. The relationship gets healthy without power issues between the two of you.
50. Pays attention to you
When you are in a relationship with a man, you will always want him to give due attention to your needs. If he doesn't do so, it brings resentment and anguish.
To pay attention means that he makes himself available to you, whenever you need his support and guidance. He expresses interest in your matters.
This notable quality is a must have for most women, as with attention comes care and affection.
51. Goal oriented and self-directed
Men who are goal-oriented have a definite purpose in life. They know their aspirations and put in hard work to achieve them.
If he is self-directed as well, it means he is motivated enough to make things work.
52. He fits into your life
Your loving partner is an ideal fit for you because you feel comfortable in his company. Moreover, he makes an effort to plan things that you would enjoy.
He loves you more than anybody else. You feel relaxed and tension-free with him. At times, he does so many surprising things for you that make you feel special.
---
Qualities of a good man in dating
Women are quite picky when it comes to choosing the right person for dating and eventual marriage. She wants a date-worthy guy; who has some moral compass to strike chords with her.
53. He has good character and integrity
A woman always likes to date a man who has good moral values. He is the right person for her, if he possesses good code of conduct in social setups.
Your partner knows his right from wrong. A man with integrity is a man of words. He stands for his beliefs and it makes him confident.
54. Bold and courageous
A bold and courageous person can overcome all fears and insecurities. He can take risks without getting overwhelmed.
Women are fond of such men because they are good decision makers and trust their abilities.
55. He is a good listener
When your partner listens well, it means he is attentive and puts effort to understand you better.
This is an essential quality to build lasting relationships. You know he can connect with you emotionally.
56. Respects 'Self' and others
Self respect brings worth and confidence. It gives a positive demeanor to the man that you admire. When he shows respect to others, he treats them well with compassion and regard.
57. Fights against injustice
A good guy always fights against injustice. He is the one who respects women; so does his best to protect them from harm, abuse, or insult.
A woman loves such a man because she feels safe and protected with him.
58. Adaptable
Your ideal partner is comfortable and adjustable in every situation. When things don't go his way, he finds the best out of the worst.
He is neither complaining nor nagging. So, wherever he is, he adapts well to the circumstances.
59. He is happy with you
You will always feel satisfied to be with someone who is happy to stay with you. He enjoys your company and you can feel it every moment.
It makes the relationship strong and emotionally fulfilling.
60. Unsolicited demands for physical intimacy and sex
Women do not like sexual favors. A man who makes unsolicited approach for sex and intimacy is a big 'no' for her. A good guy respects her and never asks for it.
He knows his boundaries and never seeks pleasures that are unworthy or disrespectful. A good man avoids unwanted touches, never demands sex or does indecent acts of sexual harassment.
---
The link given below shows the 10 traits of a good man.
---
Concluding lines
The above discussion simply explains the potential qualities of a good man that a woman looks for in her ideal life partner.
She hardly likes men who invest their energy and time pleasing her for no reason; rather prefers men who are adaptable and treat her well.
Men who can keep the romantic spark on for years will always remain dear to her.
It is obvious that algorithms cannot assess or predict your relationship success. Even if the guy brings good qualities on the table, it may happen that chemistry is lacking between the two of you.
What keeps men and women together for years? Surely, it's an enigma still to be resolved.
So for all the ladies out there, just follow your intuitions and act accordingly.
We get little commissions for purchases made through links in this post. Our editors carefully choose to promote only those products/services that resonate with our readers.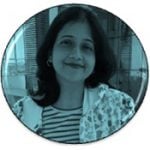 Chandrani Mukherjee
Chandrani is a former school psychologist and teacher by profession. She is a post graduate in Applied psychology with focus in clinical and health domains. Her passion for writing, kindled during school days have now become a full time freelancing endeavor. For her, writing is cathartic and keeps her mentally agile. Her lovable niches includes psychology, parenting, spirituality, lifestyle, and love and relationships. Her work depicts her perspectives about various experiences that she came across; unleashed a richer and deeper meaning of life. "Let me leave an aftertaste in the minds of few, if not many who need to find a path of absolute bliss, happiness, and inner peace."