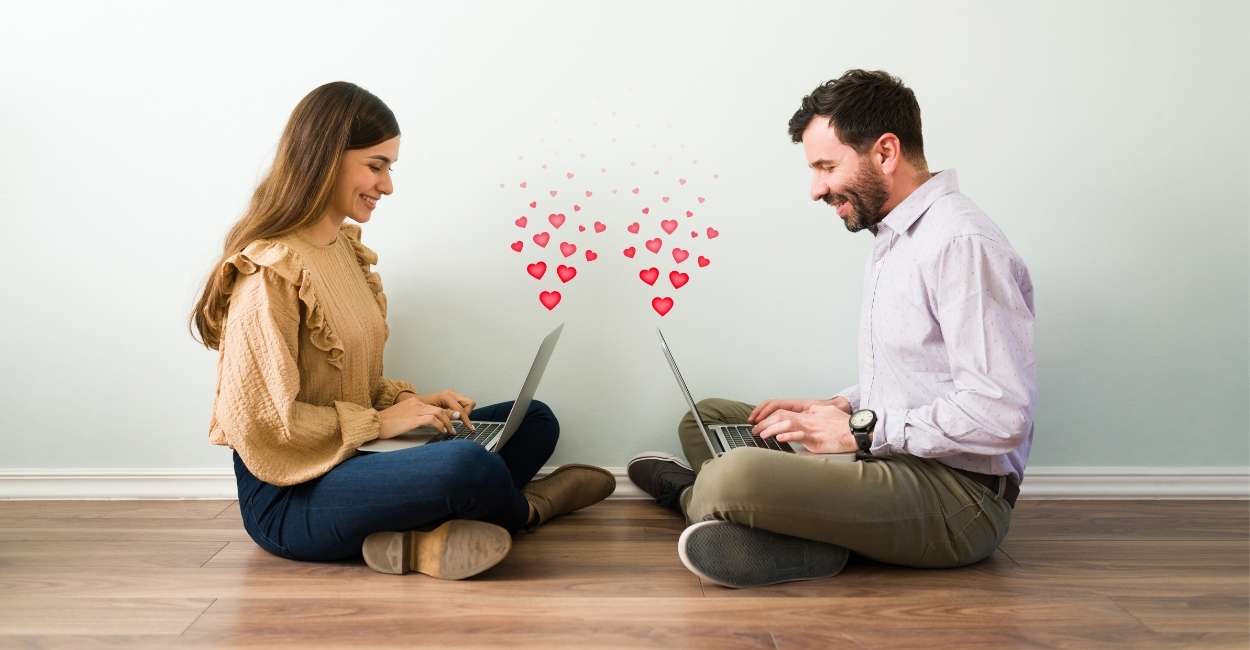 Not gonna lie to you, long-distance relationships are tough but finding long-distance relationship ideas is tougher.
You have to take care of each other's emotions, do some occasional mind reading and keep expressing love to each other to keep the bond strong. And still, distance doesn't leave any chance to separate two people in love.
So, you need to make constant attempts to remain connected while staying worlds apart.
But what can you do when you are thousands of miles away? How to keep romance alive when life gets in the way? I know, you have too many questions right now.
So, walk with me through this think-piece because I have done all the hard work for you and list 100+ long-distance ideas for you and your beau. Let's begin.
Long distance relationship date ideas
Long-distance dates are a bit tough to organize because of your different schedules… but not impossible.
Don't worry, I have hand-picked 10+ ideas here in this list. With these, I have made sure that regular dates remain a part of your routine without compromising on different commitments.
Find the one you love the most and maybe schedule a random date today itself.
1. Plan a virtual date night
Make your relationship extra special with a video chat that goes hours long. You can open a bottle of wine or order food to eat together. I know, it's not the same as the physical date, but hey, we need to make this work, right?
2. Do some pillow talks
For those busy couples, you can always have a bedtime date and pillow talk for hours until one whispers 'I love you' and snores off. BTW, it's mandatory to say 'I love you' before you doze off.
3. Keep some templates ready
Yes, trust me, it's a lot of fun. The next time you both are on a VC, bring in a template and ask them questions. You can also give them a chance to ask you questions as well. This way, your conversation will never run dry and you will also have a fun time!
4. Solve puzzles together
If both of you are fond of puzzles, buy matching puzzles for your next date. Get in the competitive mode or help each other but remember to have fun, okay?
5. Go to the same café
There are a lot of cafes that have branches in other cities too. So, consider going there on your next date, stay on video calls, and have meals together. Sounds super cute, isn't it?
6. Read your daily horoscope
If you are a bit interested in astrology, you can read each other your daily horoscope. I am sure it would be an insightful yet fun conversation.
7. Read books together
For introverts and book lovers, this can be their happiest activity. Grab any book you or your partner might want to read, brew some coffee, light a scented candle and get into video call with your beau. That's all you need for this date.
8. Play Freeze!
When you play games like 'freeze' during your date, it adds a fun element to the conversation. Here's how you can play it – Say freeze in any frequency between the day and your partner has to send a photo in that exact position they are in. Hilarious, I know! 😉
9. Revisit places together
You must have gone on dates or visited places together on days when you both are in town. So, for your next day's date, revisit those places while reminiscing on the times spent together.
10. Virtual reality date?
Too bored with the regular video chatting? Then go all out and make the best use of tech for yourself. Go on a virtual reality date experience and feel closer to each other even more.
I told you, these dates will help keep romantic vibes flowing in your relationship. But what are some activities that you can do together? Let's check those out in the next section.
Long Distance relationship ideas & activities
Doing activities together as a couple is important to have some fun outside of your daily routine, but what can you do "together" living worlds apart? Let me tell you.
11. Watch TV together
Or binge-watch on Netflix.
Look for some shows that you both will enjoy and add a picture-in-picture extension. Grab some popcorn and screenshot each other's funny faces for later.
12. Play games together
If you both share a love for games, download some on a device that lets you connect with each other online. They might be far but you can still beat them. 😉
13. Cook together
There's nothing more romantic than a cook-together date night, isn't it? So don't let the distance stop you from making good food together. Facetime each other, indulge in conversations in between and eat together. Brownie points for mood lighting.
14. Create a photo album together
Long distance sucks less when you have photos of you together. So, go ahead and create a digital photo album where you can add your latest photos for them to see and smile.
15. Play questions games
Stir some fun in your conversation with some questions games. These games contain a mix of spicy, sweet, and interesting questions, so keep a few hours booked for this crazy ride.
16. Take part in quizzes
Of course, they aren't always accurate but what's better than some funny roasts while solving some questions online? The results might surprise you and open some new conversations for you!
17. Sing karaoke together
If you are one of those couples who love to sing, then bring karaoke to your home. Find out an online resource that will help you in this, turn on the webcam, and keep singing all night long.
18. Surf with them
Long-distance partners can have some pretty naughty stuff hidden in their search bar. Unravel them by getting on a video call and presenting the screen for a long laughter session.
19. Have some babies
Oh no, not the real ones. 😜 See how your babies would look when morphed with your photos together. It's a fun way to get a conversation going or maybe a hint at something new.
In this game, your partner needs to decipher a meaningful phrase from some unrelated words. Trust me, by the end of it you will find yourself on the floor laughing.
The last one has to be my personal favorite. But let's get done with the fun part already because I am going to tell you what things you can do together to keep the romantic flames alive.
Romantic ideas long distance relationship
Contrary to popular belief, there are endless possibilities to make your long-distance relationship more romantic. Don't believe me? Well then, use these ideas below, and I promise you will.
21. Create a Pinterest vision board
Create a shared Pinterest account for both of you. Update it with all your bucket lists, travel lists, and some wedding inspo (for the subtle hints). This keeps you both stay in touch with each other's ideas and expectations.
22. Send a care package
You can send your love all across the other side of the world in the form of a care package. So, if they're going through a tough phase, order their favorite brownie or anything else that can instantly brighten up their face.
23. Start a countdown of your reunion
If you are meeting soon, re-ignite the romance much before that special hug. Shoot a story or a reel celebrating a few weeks, days, and hours before you meet your special person and post it.
24. Do a new thing together
In today's world, you both can try something new together, even from a distance. Maybe take up a language class or a new virtual pottery class and discuss the sessions later.
25. Write a song
If you love to write and sing, why not create a song for them and steal their heart in awe? Brownie points if you play a musical instrument that strikes a love note in their heart.
26. Watch a sunset together
One of the highest forms of love languages is watching a sunset together. So don't let the distance come in between. Call them up and enjoy the mesmerizing view on a video call.
27. Watch the moon together
You might be miles away at least you are under the same moon, right? So why not send your love to someone who's watching you together?
28. Send an old video
Keep the dose of romance high in your relationship with some old videos of you two together. This is a super cute way to strike happy conversations and hold on to each other.
29. Call them randomly
Call them up right now and tell them how much you love them and how you wished they were here with you. Don't think too much, just do it. You won't regret this, I promise.
30. Say 'I Love You' Right Now!
Don't let the long-distance stop you from saying 'I Love You', in fact, say it more often. And honestly, sometimes, this is all you need – a quick reassurance from your partner.
I told you, didn't I? The romantic ideas are endless if you are ready to put in the effort. But now it's time to level up from romance to…
Sexy ideas for long-distance relationships
There are tonnes of sexy things you can do as a long-distance couple to keep the spark alive apart from masturbation. Go ahead and try these things from the list below and let me know all the spicy details of your "fun-time", or maybe don't. 😛
31. Send your scent
Sometimes, your long-distance partner's scent is all you need to get in the mood, isn't it? So, take the step and send your scent to them. It can be the deo you use regularly or your favorite t-shirt. Maybe it can lead to something new and exciting, you never know.
32. Play (strip) truth or dare
Spice up your sex game with some rounds of truth or dare, where for every question of dare, one item of clothing goes away. I suppose it would end very soon, isn't it?
33. Swap sexy photos
End your date nights with a better climax. Make sure your messaging app is safe and use it to swap some sexy photos of each other… sexy enough to make you drunk on hormones and end the night all wet.
34. Dirty talk!
You both have been spending most nights without each other. I am sure a small conversation around sex makes you both wet. So go ahead, make the night steamy with some sex talks and… you know the rest!
35. Indulge in phone sex
I mean what else can you do right? End this night's pillow talk with some sexy conversations that get you to do some laundry the next day. 😉
36. Finish yourself on a video call
Get on a video call with each other and get really, really steamy… and finish yourself. Trust me, there's a different kind of joy in masturbating together.
37. Play never have I ever
Play the erotic version of this game with only one rule – if you have done it, send an erotic picture or a video. You get roleplay and action without even doing much. 😉
38. Take showers together
There's a sensuality in showers that distance cannot beat, ever. So, get in the shower together, do some play down there for a bright, beautiful, energetic day ahead!
39. Play Strip poker
Give a treat to each other's all senses with a game of strip poker. Pro tip – Try to be more sensual and remove your clothes, SLOWLY… it gets them too excited!
40. Share your fantasies
It can be a questionnaire or just a casual conversation, but this round of talks can get things really good in bed.
Oh, you are still here! Good, you should keep this stuff for the night because this is the time to show your sweet side for your long-distance love. Don't worry, I'll tell you how… just keep reading.
Sweet date idea for long distance relationships
It's all about small efforts, isn't it? After all, in the end of all the hardships, what matters is love. So, here are some sweet gestures that you must show them on a daily basis.
41. Send a snap of yours
When you send your pics of having your favorite meals, the new flower shop you visited, or the bird you spot in the park, it keeps the conversation alive. So, keep doing that more often.
42. Curate a mixtape
Want to show your love with the sweetest gesture of all? Create a playlist of their favorite songs and send it to them. Sprinkle some more love by asking them to listen to specific few lines from a song.
43. Bake a dessert together
If you are done with going out on every date with a video call, then try this. Bake a chocolate cake or some chocolate cookies, or chocolate-covered strawberries, and have it together on facetime.
44. Attend a concert
Hear me out. Keep a note of your fav artist live streaming on any platform. Watch it together and dedicate your favorite songs to them.
45. Try what they like
Do they have a hobby they can't shut up about, and get super excited when someone mentions it? Why don't you make the sweet gesture and try it on your next video call? I am sure they'll be the happiest!
46. Listen to music together
Is time zone being the villain again? No problem! Listen to some music that you both love simultaneously from anywhere in the world and sing along.
47. Play a game and send the result
You can play any game that lets you customize a message to your partner. At the end of it, it will be sent to their email address as the most adorable notification ever.
48. Open the memory box
If you have been together for a long time, grab your keepsake boxes and reminisce about your journey to date through those memories. I am only presuming it would be your longest and sweetest date out of all.
49. Re-read the starred messages
Of course, you both have texts of each other that you want to read again and again. So, create a collection of all these messages and walk through those conversations once again for this date.
50. Play a game of charades
In this game, all you have to do is guess what the other person is saying and let the game of laughter and fun begin.
Weren't these date ideas just too cute with extra sprinkles of sweetness on top? Okay, just kidding! But honestly, sweet efforts like this on dates mean a lot. And when it's for special days like birthdays, you need to do something extra special, including…
Long distance relationship birthday ideas
You know you are in love when you secretly wish your partner to be with you on your birthday over any other long-distance relationship gift in the world.
If the former is not possible, let's find out how you can make your partner's day without it.
51. Order a round of drinks on you
Not present on their birthday? No worries. Find out their location and order a round of drinks on your name. They will remember the touch of you and thank God for someone like you in their life!
52. Plan a scavenger hunt
Talk to their friends prior to their birthday and arrange a scavenger hunt just like Serena did for Nate in Gossip Girl. I am sure they will have the best time ever.
53. Make your absence special
More than flowers and cakes, all a partner wants is their long-distance partner to be there with them so make that happen with at least a video call… that lasts all day.
54. Send video messages
Make a video of your adorable birthday wish and how much thankful you are for this person. I am sure it will easily become one of their best gifts today.
55. Send a flower on their name
There must be a flower that reminds you of them, right? So, plant it in your house all by yourself and mail that plant when the flower blooms. I know it's tough but you can make it happen.
56. What about a social media shoutout?
Create a story, reel, or post in honor of your love's special day. Not only will they be over the moon about this unexpected notification, you will easily get the tag of the 'IT' couple on Instagram.
57. Organize a movie date
Buy tickets and go on a movie date on their birthday. This will make sure they won't miss you badly as they normally would, and you'll have tonnes of new things to talk about.
58. Create a customized map
Get a small map of your location and add the quote 'You are here with me' with a heart next to it. Get it framed and celebrate your love in a unique way.
59. Send their favorite ice creams
Who would ever say no to ice creams? It's one of those gift ideas that can lift up their mood almost instantly and get them rocking till it's time to sleep.
60. Book a grand decor
Look for decoration services and book one on their birthday. Mention their favorite flowers to the decorators and add a personalized message with it. But make sure it is all a secret, or else you'll miss their cute faces flustered with awe.
Just like birthdays, if you're celebrating an anniversary without your partner, it's more tough on you. So, if your anniversary is nearing, let's not waste any more time and explore some good ideas while you're still surviving LDR.
Long distance relationship anniversary ideas
Anniversaries in long-distance relationships are painful, really painful. I know what you feel, and I know that it's hard. So, you need to do things that go above and beyond to help your partner cope with that. Let's see how.
61. A surprise visit?
I mean what's better than that? Like, just imagine their flustered look when they see you on the anniversary, that would just be worth all the pain… isn't it?
62. Look back on memories
An anniversary is just the perfect day to cherish how far you both have come despite all the struggles and cries. Don't forget to thank them for sticking by you no matter what.
63. Create an anniversary card
Play with some graphics and create a fun doodle celebrating your anniversary. Maybe insert a pickup line in between those and see them get all blush-y and cute while reading it.
64. Send fun coupons
You can give them a gift card or a spa coupon, or you can be extra romantic and gift coupons for the things you will do for them when you meet next. Sounds fun, right?
65. Send your touch in the form of wax hand
Get your wax hand made like you are holding a letter or a note, get it, and send it via courier. It will give them a way to cherish your touch on this special day.
66. How about a soulmate bracelet?
A long-distance touch bracelet has a magnetic charm in the middle that connects when the other one is closer like how you should be. It's pretty proof of the fact that you will meet soon, no matter what.
67. Record yourself
Record yourself once every month, the things you wished to tell them, like how much you miss them or love them. Compile them all and mail them on this special day to make the day extra special.
68. Dress a teddy bear like yourself
Get a teddy bear from your nearby gift store and a few scrappy clothes, and dress it like yourself… Well, if not you, your teddy-bear version will be with them on this special day.
69. Gift them a touch bracelet
There are a couple touch bracelets that light up and vibrate on a gentle tap. This will tell them that you're missing just as much as they are missing you.
70. Plan an outing
Plan an outing for your anniversary for you and your partner simultaneously. Experience everything, call them when you reach home, and talk all about it while wishing the stars to bring you together.
I am sure they will be the happiest person this anniversary when they will see your efforts. But wait, I am not done yet. There is another special day in the whole year that gives you another chance to do something special. Keep reading to find out what I am talking about.
Long distance relationship valentines day ideas
The day of love gives you another opportunity to do something special for the love of your life. I know it becomes difficult in a long-distance relationship. But hey, why worry when I am here?
71. Send a bouquet of flowers
A bouquet of flowers never gets old. You already know their favorite flower so send them to your long-distance valentine to keep them high on love all day round.
72. Ask them to love themselves
On the day of love, ask them to love themselves more. Create to-do-pamper lists for them like go to a spa session, or wear your favorite dress today. I mean, that's love too, right?
73. Order breakfast
A universally accepted love language is sending food for your love. So, make this valentine's extra special by ordering their favorite meals right at their doorstep… along with dessert!
74. Remind them of the valentines you spent together
It's hard to see couples walking around hand-in-hand when your partner is on another side of the world. So, take today to remind them of the valentines you both spent together and bask in the love.
75. Create a future valentines to-do list
Curate a to-do list where you both can write everything you want to do together on the next valentine's day.
76. Plan a fun pajama night
Buy matching pajamas, hot chocolates, candies, mood lighting, and get on video call with each other. Your long-distance valentines day couldn't get better than this.
77. Sleepless in?
Have your sleepless Seattle moment and meet each other on the top of the empire state building face to face on this valentines day. It's giving me chills, already!
78. Organize a paint-date
Keep the fun and spark alive with the help of a canvas and some paint brushes. Paint anything that can reciprocate the love and dedicate that to each other.
79. End the day with a love-filled voice message
Romance shouldn't end with valentine's day so send them a voice note saying all the beautiful things you can think of.
80. Talk about your journey
You can also end this day of love with a long healthy discussion of the journey you both have been through and the journey awaiting you.
You don't have to end valentine's day just yet. Take it to the next level with some sexting ideas that I have compiled for you in the next section. So, before the mood goes away, pick the pace up and keep it going.
Sexting ideas for long distance relationships
We all deserve a passionate sex life, no matter the distance. So, below are some steamy sexting ideas that can level up your fun in bed. Maybe you can try one of them today and pick the others later in the night!
81. Exchange sexy emails
You already know their email address, so send some witty and sexy e-cards via email. Have fun with some new position recommendations or last night's action… and don't be shy to carry the conversation ahead on Whatsapp!
82. Start your day on a "naughty" note
Want some early morning action? Then sext them "I had a dream of you last night and you were doing that thing in bed" and keep going from there.
83. Compliment their body
I mean, why not.? Tell them how you love their curves and how it makes you wet down there. The more detailed you are, the more fun will be the after-play.
84. Visualize!
Tell them the things you would have done if they were right there with you. Make sure to be very specific with deets… because it will make you both horny and ready for action!
85. Talk about underwear
Do you have an underwear that turns on your partner almost immediately? Wear it, send them a picture, and then have a conversation around it. Ask them why they like it so much and how you can't wait for them to open it hook by hook, kiss by kiss. This will make them drooling and thirsty for more.
86. Narrate your excitement
Yes, tell them how excited you are for your next make-out sesh and all the places you are touching yourself when you think of them!
87. Ask them to obey you
Have you ever been fascinated by the dominant-submissive play? Well, it's time to explore it! Switch on the dominant in you and ask them to "touch yourself while thinking about part of my body". Ask them to moan louder, so you get in the mood too.
88. Use dirty pickup lines
Say things like 'I am starving for dessert, can I have you" or "bubble bath relaxes me, but not more than your naked body!". Trust me, it works like a charm.
89. Use naughty emojis
Never, I repeat, NEVER underestimate the power of emojis. Sexy emojis while dirty texting can help you get wet and hard faster than you can imagine. And if you play your cards right, then orgasms can also be in the queue. 😉
90. Add a sexy picture of you
Be bold and spice up your sexy night with a picture of you in a new sex position, and tell them how you can't wait to try it with them. Timeless and steamy and always works!
I am sure your night won't end without some action after using these ideas and when it does, come back because I have some gift ideas that can bring you two really close to each other.
Long-distance relationship gift ideas
I know gifts can be a bit difficult to choose when it comes to long-distance couples but worry not, I have done the research for you and hand-picked 10 really romantic gift ideas for your partner. Check them out below:
91. A scent that reminds you of them
Maybe you find their scent in a meadow or among the smell of fresh grass, so convey it with a bottle of perfume. I assure you it will immediately attain the best place in their vanity.
92. Buy matching jewelry
Let's all admit it, nothing beats matching jewelry – couple bracelets, couple rings, or even a couple lockets. On days when you long for their touch, that piece of jewelry will comfort you.
93. Write small notes of appreciation
You can write why you love them so much and what makes them so great, put those messages in a bottle, and courier them to see their hearts melt right in front of you.
94. Plan a trip
Not possible to meet in their home country? Book a trip and meet somewhere else. Not only do you get to explore a new place but you also get to explore each other.
95. Get a bracelet engraved
A bracelet is the perfect gift to remind each other of the commitment and loyalty you share. You can also engrave a special date or the initials of your partner to shower some extra love.
96. Send a momento
You can frame your favorite couple picture or engrave your initials on a block of wood or maybe send them a keepsake that you preserved for a long. I am sure when they miss you, this piece of you would remind you of the love that you both share.
97. Nothing beats a star map of your first meeting
Get the tag of the most adorable partner on the planet with a star map of the day you first met. Get it printed, frame it, and send it to them on the next big occasion. I promise, they will be crying happy tears.
98. Make something for them
No matter what it is, the fact that it is hand-made with all your love is enough to make them smile. If you're really bad at creating things, find a YouTube DIY video and just follow the steps.
99. Print your own design/quote
You can print any quote or photo of your choice on hats, t-shirts, bags, mugs, and cushions and gift them as a token of your love on a special day.
100. Dedicate a song
Pick a keychain, frame, or t-shirt. Get your picture printed and the QR code of your love song and add a note that says "Scan this for a surprise".
Did you pick your favorite yet? If not, I have dedicated a separate section just for gift ideas that scream Pride and Prejudice romance! So, let's dig in!
Long distance relationship letter ideas
There's nothing more personal and romantic than handwritten letters, isn't it? So, make your partner feel special and valued with these letter ideas that I have laid out for you.
101. A snail mail all the way
Yes, texts are all good but have you ever considered handwritten notes of love? Send your partner some love notes for the routine reassurance of your love.
102. Create a digital "Letters to Us" folder
You can create google docs, rename it 'letter to us', and write letters to each other once every month. Reply when one finishes and read them all after the year ends with loads of memories built together.
103. Journal all your memories
For couples with huge differences in time zones, make a journal of the things you want to do and say to each other. Send it via courier and make up for all the missed texts and calls.
104. Send a whatsApp letter every month
The easiest way to connect is WhatsApp, right? So, let's change it to a love spot with a love letter to each other once every month.
105. Write a letter for the future "US"
Write a letter for your partner's future self, telling them how much you still love them and are excited about this future together. I am sure their future self will have happy tears reading this from the past.
106. Recreate "The Notebook" moment
Just like Allie and Noah, you can write your love story too with every detail that's close to your heart. This way, when you both are old, gray and still in love, you will be able to relish these memories once again.
107. Write a poem
Let out your creative side and dedicate a small poem in their name. Send it over WhatsApp or courier it with some dry flowers to make it even more special.
108. A virtual love note
Send your partner a random link that will open your love letter to them. Not only is this too cute to handle, but they will also be awed by your lovely gesture.
109. Collect all your thoughts in a jar
Write some love notes or quotes every day for a year and keep filling them in a jar. When it's done, mail them so they can get a sneak peek into your sea of love for them.
110. Write an old classic love letter
Send each other love letters that express your affection and care for them. Trust me, there's nothing more romantic in the world than this!
Now that you have a whole list handy, it's time to make a pick and start working on it. Don't forget to add a letter with it because I am sure you have a million feelings and emotions to say to them.
A word from ThePleasantRelationship
Long distance relations are hard, and staying connected is even harder, but working on these relationships is a big proof of how much you love and care for each other.
So, don't let the distance limit you from showing the love you have for one another. Pick a few ideas from this list and trust me, you will be alright until it's time to meet again.
Are you interested to know more about 'What Not To Do In A Long Distance Relationship?' then click here?
Are you interested to know more about 'Reasons Why Long-Distance Relationships Don't Work' then click here?
Surabhi Kedia
Surabhi wakes up every day with a drive to craft words that can create a soulful impact. Creatively adventurous, she is always seeking to learn new skills and acquire new experiences. With a hidden soft corner for languages (especially Urdu), she writes poetry occasionally, binges on romantic shows, and LOVES to talk. A hustler, admirer, chaser, Surabhi is just another-someone who refused to give up on her dreams. She says, she is just somebody who's trying to make herself a writer and for now, she's just writing...