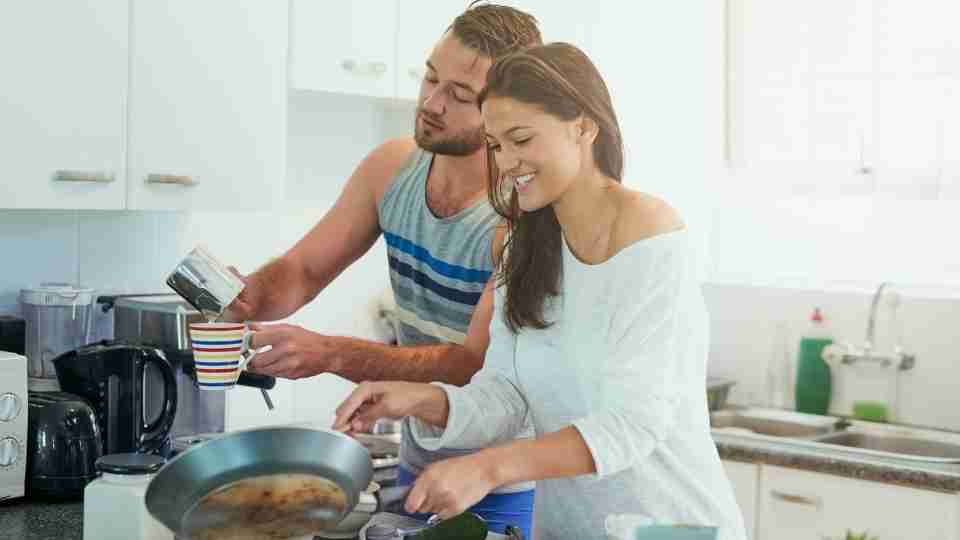 How to spice up a relationship?
If this question just tinkled your head, your long-term relationship might not be doing well recently.
That's fine.
We all face the 'lost spark' phase at least once in our lifetime. I know it seems like a challenge when responsibilities are raining on you.
But the fact that you're here means you've made a brilliant choice. This article won't let your relationship boat sink into the boring waters of 'lost spark' so early. I'm at your rescue!
Let's begin right from the start.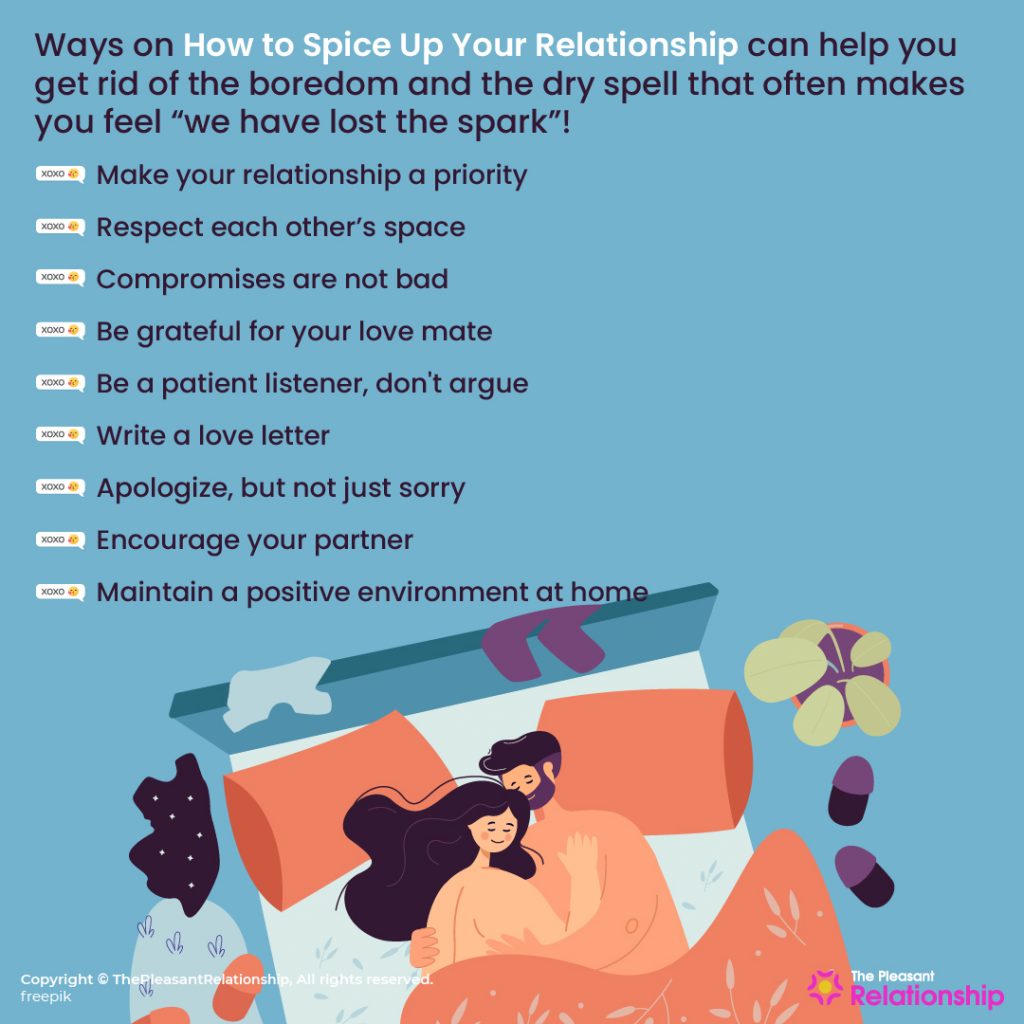 Why do you think your relationship lacks spice?
There could be tons and tons of probabilities to this question. But coming to a general and a mutual note, rocking the bed is not the only way to sauce up your romantic love.
If you think having sex with your partner every day is gonna thrill your relationship, wake up darling, the sun is over your head already.
You've got so many modes of distractions around to keep your real-life entertained.
So, what if you aren't able to keep up the spice and spark in your relationship, your spouse can try online dating, online shopping, online movies, and whatnot!
But ultimately, both of you are going to feel disconnected and separated.
Coming back to the question, your relationship has become dull not because you are not good in bed, it is because you lack the creativity and genuine efforts that are required to keep up the spark.
Well, it's great that you are all set to repair things. Because it's never too late…
I have compiled some 50 ways to keep your spark alive – trust me, if you follow this, you'll need nothing else and in no time you both will be grooving to the same love song.
---
How to Spice Up a Relationship – 60 ways
Even when you're celebrating the silver jubilee of your union, it is no reason for the relationship to get dry.
But before we get into the tips, let me tell you one thing: To keep a relationship alive, it's important to focus on improving your individual personality. It is then that you emerge as a better partner for your spouse. Eventually, both of you can rekindle what's lost.
So, now let's get to the crux.
1. Make your relationship a priority
Don't be a bummer in a relationship, give your relationship the time that it needs. You can't expect your relationship to nourish and flourish without any effort.
Don't take a step back from the relationship, you need to face the difficulties and repair the mess you've created.
And trust me, when you prioritize your relationship, it makes your partner happier than ever… and this ultimately makes you happy too, because what else do you need?
Unless you make your relationship a priority, none of the following tips will make sense or create any impact.
2. Work on yourself
Unlike popular belief, a healthy relationship requires a healthy you. Yes, you read that right.
If you're fit and healthy, it will also keep your relationship fit and healthy. How?
Well, a healthy body will keep you less stressed and give you the right space to think clearly… which further will allow you to adopt new ways to bring back the "spark" in your relationship.
So, start following a proper diet and make sure you do some physical activity during the day.
3. Spend some quality time with your S.O.
Nothing can replace "quality time". I repeat, NOTHING!
A small candlelight dinner at home, a walk to the nearby park or maybe just watching a movie together – trust me, these small little things can spice up your relationship like no other.
Spend some fun time, get a little intimate, cozy out in the air filled with love, and make the best out of the time spent together.
4. Respect each other's space
No matter how much you love each other, normalize spending time with yourself – for both you and your partner. Don't be clingy.
Being in a relationship doesn't mean that you both need to be with each other all the time, each of you has a personal life and you both have the right to live it on your terms.
5. Compromises are not bad
People make sacrifices in love; history has it.
No, I am not asking you to fight a war for your partner… but you can at least step out of your comfort zone.
Suppose your partner loves hiking and you are a lazy person, why not go out, sacrifice that comfy bed for a while, and hit the road just for the love of your partner.
Won't this be such a cute thing to do?
6. Keep saying "I love you(s)"
If you've been in a long-term relationship, it doesn't mean that you should stop expressing your love.
Well, yeah! I get it, you are in a relationship for so long that it's quite understood you both love each other.
But does that mean that you should start your day without the morning kisses, keep the phone without the I love you(s), and come back home to no-hugs no-kisses?
Absolutely not.
Instead, be more affectionate towards your partner, never let a day go by without the small-little gestures… it gives your partner the reassurance that they need in the relationship.
7. Be grateful for your love mate
Aren't you grateful for having your partner in your life? Of course, you are!
So, why don't you express it?
Be thankful for everything you have in your life and try to express your gratitude in your actions. Being grateful makes you even more attractive in the eyes of your partner.
Because let's admit it, people who really appreciate the efforts of their partner are so rare. Like SO rare.
8. Be a patient listener, don't argue
In a relationship, it is normal to get into arguments, but sometimes it's important to listen… just LISTEN.
If you both keep arguing, it will only make things messy and sour. Take deep breaths to gain control of your mind when you both are fighting. You definitely don't want to say something that you will regret later.
Be patient with your partner, even if they've snapped at you. Discuss it when the tempers are back to normal and I'm sure they will understand.
Eventually, they will try to make up for the mistake in so many romantic ways.
9. Write a love letter
Sometimes pouring out your love on paper is a different kind of way to show affection. And when I say writing a letter, I mean writing a love message and not any formal official letter.
The latest digital media cannot match the evergreen nostalgia.
You need to be as romantic as you can be. Talk dirty if you want to show them your sassy side or reminisce on all the beautiful moments you've spent together.
Write everything that your heart feels and bask in the smile (with tears!) in your partner's face… trust me, there's no better sight!
10. Apologize, but not just sorry.
I understand not everybody has the same personality type. For some people, apologizing really hurts their ego.
But that's simply unfair! When you love someone, you have to apologize if you've made a mistake.
But instead of writing a sorry note, go all out and try different romantic methods of apologizing. Head straight to your partner, grab them and be sorry with a heated kissing session! That's it.
11. Encourage your partner
If you don't encourage your partner and always pinpoint their mistakes, it can take a blow to their self-confidence. And the person who is not confident is going to look lost and less interested in things around them.
You definitely don't want that for your partner.
So, instead, encourage your partner to do something good in life. It's totally fine if they aren't a maestro in certain aspects of life.
Understand that they're human too and always be the one who says, "you're so good at it already, you'll be the best!"
12. Maintain a positive environment at home
In your daily errands, you've to deal with so much negativity throughout the day, that you simply don't have the patience to deal with it at home.
Your spouse must be craving a positive response from you when they return home. So, make sure, when you first meet them after a long day of work, you keep the environment happy and optimistic.
Talk about positive things, focus on whatever is going well in life. Happy couples are those who have a positive way to tackle problems in life.
13. Compliments never fail!
I have seen three types of people. One: they simply don't praise their spouses. No matter how good their partners are.
Second: they complement their spouses, but only superficially. The compliments are not heartfelt and genuine.
Third: they praise their partners but not in front of them. These people are either too egoistic or too shy to compliment or share positive feedback in person.
Well, now you know why relationships are complicated.
If you find something good about your partner, just say it to their face.
Remind them that they look good or if they have a good voice. But make sure your compliments are genuine otherwise you'll be hitting the wrong target.
14. Talk to your better half about your goals
As we call them – Life partner aka a partner in everything.
Both of you must have your own goals and aspirations and there is nothing wrong with discussing them with your partner.
If your partner is talking about their goals, listen to them carefully and don't forget to give constructive feedback.
Don't shy away from saying what you really feel, but make sure you don't sound offensive.
On the other hand, if you don't share your dreams with your partner, they are going to feel neglected.
15. Stay neat and polished
If you are a girl and you think I am asking you to stay under layers of makeup 24×7, no that's not what I mean. You can be neat and polished even without it.
Trust me, you don't need to cake yourself with makeup to look your best.
If you maintain healthy skin and body, maintain good hygiene, and wear clean and pressed clothes, you're sorted. The same applies to men!
16. Shuffle your wardrobe
No matter what age you have stepped into, you must still make efforts to blow away your partner with a hot sizzling dress that suits your body type.
Update your wardrobe honey, get some classy new pairs of clothes, and feel good about yourself! Give your partner's eyes a whole damn feast and bask in the "new" you.
17. Change your hairstyle
You may not agree with me, but your hairstyle can seriously make or break your looks. Are you looking dull and sleepy because of your current hairstyle? Then it's time for a shake-up.
Yes, there are hairstyles that make your face look more attractive and lively.
A new hairstyle is gonna stir up your look and the change is definitely gonna draw their attention towards you.
18. Physical Touch leads to emotional pleasure
You don't need permission to touch your partner. Do you?
So, while making a request, hold their hands and say, "please…." (Followed by your request).
Don't think much before wrapping your arms around them when both of you are sitting together, just like in your early days.
All those cuddles and snuggles can add the desired edge to your relationship.
Let your hugs last longer. While hugging, your body releases oxytocin, quite commonly known as the "Love Hormone" and it helps in reducing stress too.
19. PDA is not a crime!
Who said you cannot cuddle with your spouse in a public place? I mean why not?
Those who don't want to do it, it's their personal choice. But let's admit it, you feel top-of-the-world when your partner welcomes you at the airport with a hug and innumerable kisses.
It makes you feel pampered and looked after. You feel loved.
So, what's stopping you from posting a lip-lock picture on your socials with a cheesy caption?
20. Set the mood
Darling, charming your spouse with your looks is not enough. So, what if you're a man, it's time to let go of that lazy attitude.
To add heat to your life, set your partner's mood. Make sure that you spread and tuck a comfortable light-colored bed sheet on your bed.
The cushions and pillow covers should also be washed and pressed. Don't miss out on roses, aromatic candles, and whatever you think works for you and your spouse.
21. A quickie on time saves your relationship!
When you are going to start off your daily routine, and have a couple of minutes to spare, a quickie on time can keep you lifted throughout the day.
A few seconds of a steamy session before leaving home can keep both of you hooked to each other… and also leave you wanting for more.
22. How's your Sex life?
Don't throw excuses at them when they are in a mood to have you in bed. Turning them off when they are ready to play with the heat is a blunder that can ruin your sex life.
In fact, indulging infrequent sex is a wonderful idea to turn on your romantic life. If your partner seems to be tired and exhausted, try to crank the heat with some stimulating touches and massages. But don't force them.
23. Get set for date nights
You may have been dating your partner for years now but that does not mean your love life should be deprived of exciting date nights.
Make sure to have a romantic date night at least once a month. No, I am not talking about a random dinner at a nearby restaurant – that's not what you can call "date night".
I mean a reserved table at your partner's favorite restaurant with roses, candles, and all the romantic gestures you can think of.
It will allow both of you to focus on your relationship and love life thereby making you feel closer to your partner.
24. Try Role Play
Don't go to sleep with the usual boring experience in bed. Try some quirky role play ideas. This applies to both partners.
Remember, you need to keep adding to your sex life has to keep it interesting and the process has to start from somewhere.
25. Play around with Sexual Positions
Another way to add some salt and pepper to your usual cycle of love is to play around with innovative sex positions. Try the various sex positions and figure out what works best for both of you.
Who knows if they are bored of the classic missionary and want to try something new!
26. Mutual Masturbation for all the LDRs
Don't let your long-distance relationship cast a dry spell on you. Neither you nor your partner wants that.
For those who live apart, you can always indulge in mutual masturbation. Discuss this with your partner and if both of you are on the same page, then gift each other some sex toys and enjoy!
27. What about Phone Sex?
Why would you want to have usual phone calls when you can have some steamy phone sex?
In fact, this is another great invention for those who are in long-distance relationships. Call your spouse whenever you're in the mood, and talk dirty. Like REALLLYYYY dirty!
This would of course require you to have the participation of your partner. But then, don't worry about giving it a try even if you are not getting an equal response from the other side.
Gradually they are going to pick up the pace and ride the on-call sex life!
28. Don't forget, Video Sex
What about the times when you are away from home? Let's say you're on a business trip, sitting alone in your room, and suddenly, you have stirring sensations in your body.
You can win the game by masturbating but you have a dying urge to see your partner naked and get all wet.
Don't brush your wildness under the carpet honey! Don't ruin another erotic moment with a regular video chat.
Call them, say that you want to have a video sex. Ask them to fulfill your dirty desires and do the same for them too.
29. Let your text message reveal your mood
If your texts are limited to usual "Good morning, sweetheart" one-liners, then may God save your relationship.
Come on, you're talking to your spouse! Send them a love text, a text to spice up their otherwise boring day. Something like: "lucky to have you love! 😘"… " thanks for the wild night…😉"…
Trust me, your better half is gonna feel delighted all day long with that one text.
30. Take a Honeymoon trip
Did you sign a petition stating that you would go for a honeymoon trip only once in your lifetime? Hope not.
You badly need the honeymoon time and space for each other. The "lost spark" phase is nothing but a usual gap that can be repaired with better understanding.
Honeymoon trips give you the time to get close and understand each other's choices and decisions in life.
31. Pick up couple hobbies
You might be feeling that there is something off in your romantic life recently.
Try indulging in an exciting couple of hobbies. Keep your romance alive with activities you and your partner would love to do.
Grab those paints and canvas, and get artsy with your partner. You can also try reading a book to each other, alternatively. It'll be super fun!
32. Go for a double date with friends
But why would you want another couple on your date night? Here's the logic behind it:
Sometimes seeing love birds invokes similar feelings in you.
It may feel boring and routine-like to hang out only with your partner every day. You might run out of topics to talk about and activities to do.
So, to add the spark to your date nights, invite another couple and go on a double date night – play some fun games, compete on who knows their partner better and sip some wine!
33. Surprise them more often
I mean, who doesn't like surprises?
It does not matter how long you have been together with your partner. Surprises are timeless. Believe me, your partner would never be tired of getting surprises.
If you feel that your exciting bond is taking a backseat, spice it up by surprising your partner with a sexy outfit, a date night, movie tickets, or a weekend getaway.
34. Plan your future together
Maintaining the "honeymoon" spark or trying to rekindle it takes some effort. Your partner might be feeling less connected to you because of the emotional distance between the two of you.
It may be because of lack of communication or even lack of sex.
Conversations about the future are a vital part of every relationship. Talking about it can help you achieve emotional intimacy and ensure that you are on the same page with your partner.
Long story short, a heart-to-heart conversation can solve absolutely anything!
35. Don't sleep angry
The more you hold onto bad feelings, the more they turn to hardened grudges. Going to bed angry is a huge turn-off for your partner, and it does not do you any benefit either.
So, to strengthen your relationship, you should talk it out with your partner. Later, sleep in their arms with a happy heart while you cuddle with them. That's the spark you need!
36. Make a mutual bucket list
A things-to-do list is a perfect way to spice up your relationship. The excitement while creating it will bring fresh energy into your relationship.
Sit together and make a mutual bucket list that includes both of your interests… and take time out to tick off at least one of them every month.
This exercise will always keep you both on the edge and hyped up about each other.
37 Enjoy Sexual Intimacy with a massage
What is a better way to spice up your relationship than relaxing together? Take your partner to a couple of spas and help them get rid of all that work stress.
Giving a relaxing massage to your partner or asking them to give one is a great way to enjoy sexual intimacy.
Nurture your bond by talking to your partner on some feel-good subjects.
38. Cook with them
Put on an apron and bake some pasta together!
If you and your partner have a knack for tasty food, then garnish your relationship and your pasta together.
In the end, enjoy the mouth-watering food and the heart-melting love. And if your partner is not interested in cooking, cook for them. Serve them their morning brew or breakfast in bed.
Food is widely being accepted as the sixth love language – you can't learn this language to communicate with your partner!
39. Show that you care
Expressing your feelings can get you farther than you think. It doesn't take much to show your partner that you really care.
Do not overthink. Send them a 'Text me when you reach home.' message. It does not make you clingy. Instead, it shows that you care. Honestly, I would die for such a caring partner.
40. Do you respect your partner?
A true relationship rests on more than one type of emotion.
The excitement and passion in your relationship might come and go. But respect is non-negotiable.
Respect is what holds the relationship together.
So, if you really love your partner, you will never disrespect them or be disloyal to them. If you have done so in the past, it is never too late to apologize and make amends.
41. Trust is the foundation of a relationship.
You'll always get a reason to doubt your partner's intentions, but whether to trust them would be your individual choice.
I'm not asking you to have blind faith in your partner. But never, I repeat NEVER accuse them until you are 100% sure about something.
Even when you are sure that they are cheating you, blaming and fighting should not be an option. There are respectful and mature methods of dealing with the situation.
42. Celebrate all your special occasions
Most couples tend to ignore their special occasions or milestones as they grow old.
Honestly, these are the same couple who complain about the lost spice and spark in their relationship.
I am not saying celebrating your anniversary or your first-date anniversary is going to revive your romantic life. But when you remember the special dates, it makes your better half feel special and loved.
Both of you celebrate each other's presence and you convey that you are fortunate to have each other as soulmates. It feels good.
43. Forgive them
Yes, they might have made some really big mistakes in the past… that hurt you terribly. But if you really want to keep this relationship sailing, you need to forgive them.
Holding on to the negativity and the grudges is just going to make your present difficulties. Right? So, bury the past and embrace a beautiful life that's waiting ahead.
44. Never let the flirting die!
To make them fall in love with you all over again, it's best to recreate the flirty moments of your early days.
It does not take much to give a winky smile or make a killing eye contact when they're around.
It's just going to give them an exciting hormonal rush and both of you are going to feel hooked all over again.
45. Unplug!
There should be days when both of you are completely off the digital world. No TV, no computer, no mobile phones.
Only you and your love, spending quality time or doing anything from this list… other than using a digital source.
It makes a difference, try it.
46. Have fun… a lot of fun!
There is nothing that can match a good sense of humor.
If you can't make your partner laugh, then I don't think there is the hope of adding life to this relationship anymore.
Humor is as crucial a human trait as honesty. No, you cannot be humorous 24×7 but on days when your partner has had a rough time, you should at least be able to make them smile.
…and your heart must skip beats when you see them laugh. Because let's admit it, there's no better sight than seeing your partner laugh.
47. Discuss and face your fears and discomforts
It's good to share your fear and discomforts when both of you are sitting together and having a peaceful time.
You know that this is a good time to talk about the feelings which you've otherwise swept under the rug.
This will help create a stronger bond between you and your better half as a couple.
Remember you need to be extremely sensitive while talking about such delicate matters. You definitely don't want to hurt them with casual or rude responses.
48. Take a shower or a bubble bath together
The hot movie scenes where the couple indulges in a steamy bath together are sure as hell exciting. Well, these scenes are not just good to watch, they are super tempting to be tried as well.
This is indeed a very seducing way of initiating a full-on session between you and your partner.
49. Call them with pet names
Giving your partner a pet name makes them feel special and pampered.
There should be one "name" that must be exclusive to both of you. This develops a sense of belonging in both the partners… and of course shakes up your heart with love bombs! 😉
To make it spicier you can give pet names with double meanings. Names that sound pure, but mean naughty!
50. Strike both-sided conversations
On days, you may be aggrieved but that doesn't mean you ignore your better half.
Don't do that. Trust me, it's doing your relationship a lot more harm than you can see.
Never dismiss when your partner is talking about. Listen to what they say and respond.
Don't keep ranting and complaining about your own life. Don't limit your conversations to your personal adventures. Listen to their version of the story too.
51. Eye contact is tempting, super-tempting!
Sometimes your eyes can communicate a lot more than words. There's a reason why your mother can easily tell that you are lying… it's because it shows up in your eyes.
So, don't forget to lock your eyes with your partner in a crowded room and see how it makes them swirl. Who knows if eye contact in breakfast will lead to a raunchy night?
52. Play couple games together
Playing couple games with your partner triggers a fun and competitive spirit in both of you… which will add the desired "spice" to your relationship.
It can be something as simple as a riveting Would You Rather questions game, to a Ludo night, a Chess afternoon, a round of UNO cards, a video game, or even cricket. (or maybe, bedroom cricket! 😉)
The gaming hours add up to the lively moments of your togetherness… it lets you laugh, roll and even dance on your partner's lap!
53. Do something crazy!
When your relationship is lacking adventure, it's best to take up a completely new challenge, which you have never thought about!
Trying on new adventures and challenges is going to build your team spirit and trust in each other.
Above all, it's going to be a joyful experience that helps you diffuse the gap of boredom amidst you both.
54. Sit with the early days
Do you have some wedding albums, videos or pictures of both of you together? Then it's time to revisit them.
Talking about your early days, the good memories, the first experiences, the hilarious disasters, all the times your partner made you feel so special will remind you of the love you both have for each other.
…and also add the spice that you need.
55. Don't be too dependent
Well, it's a personal choice, but if you ask me, I will say never depend on your partner for your own happiness. Keep it mutual and balanced between you and them.
Dependency of any kind can never be healthy and is sure to make either of you feel clogged in the relationship. Don't do that.
56. Empathize, don't sympathize
This tip is GOLD. Feeling sorry for what your partner is facing is not enough. Empathize with their pain. Ask them about how they feel, let them cry if they want, and be supported throughout.
Maybe they are talking to you rudely because they had a bad day in the office so instead of lashing back, try and understand. Let's be honest: Don't you expect the same from them?
57. Be an understanding judge!
No matter how much I request you not to judge a person, human minds still tend to do it. So, let's face it, it may be a bad habit but it's a part of human nature.
By the time you try to give up this habit, I have a better idea for you: If you are so much interested in judging then at least be a fair judge.
Put yourself in their shoes before making an unfair judgment. Listen to their story without any biases because they deserve your understanding and support.
58. Meet an expert
If you think that the phase is too difficult to deal with, simply fix an appointment with a relationship coach.
Take your partner along with you. It will require equal efforts from both sides but then it's worth it.
An expert can give your relationship a different perspective and some professional solutions to help you walk out of this phase.
59. Have you been to a sex coach?
If you are having some serious issues in your sex life, then don't hesitate to reach out to a sex expert.
The sex coaches can help you identify the issues, suggest some practical solutions to them, and also help you get rid of this dry spell.
60. Never forget that you love them
I know there is no particular reason to fall in love with the person. But there must have been some characteristics that are unique about your partner… which made you fall in love with them.
Never forget that. Be grateful for your partner in your life. This alone can spice up your relationship like no other.
Your romance will kick up a notch when you feel like showing the world how much you love your partner. So go ahead and follow these steps with all your heart right away!
A word from ThePleasantRelationship
Don't take the entire blame on you, darling.
Sometimes relationships become boring and static without your fault.
I can understand if sex has become a mechanical part of your daily life and you feel disinterested in your relationship.
But now that you know there are so many easy ways to cope with the situation, there's absolutely nothing you must worry about.
A little understanding, some romantic gestures, and a lot of sexual adventures… and that's it. Your relationship will start giving you butterflies just like it did when you both met each other!
Surabhi Kedia
Surabhi wakes up every day with a drive to craft words that can create a soulful impact. Creatively adventurous, she is always seeking to learn new skills and acquire new experiences. With a hidden soft corner for languages (especially Urdu), she writes poetry occasionally, binges on romantic shows, and LOVES to talk. A hustler, admirer, chaser, Surabhi is just another-someone who refused to give up on her dreams. She says, she is just somebody who's trying to make herself a writer and for now, she's just writing...