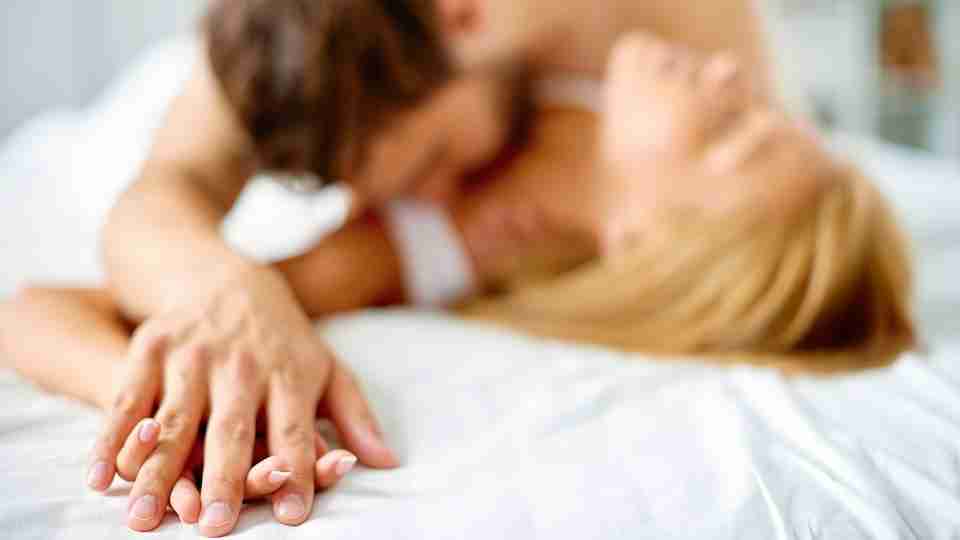 Looks like you're on a search for fresh ideas on how to turn a guy on?
Then, my girl, you're not alone.
Whether you are facing problems with foreplay or just trying to keep things fun, you have come to the right place.
Some people accept boring sex after being together for long periods. But, some want to keep things naughty and full of passion.
Well, girls, seducing a man is an easy job. But it isn't as difficult either. You don't have to get into one of those acrobatic positions that they show in X-rated movies.
There are many subtle ways to drive him crazyyy…
I have hand-picked some of the best to help you add variety and spice to your bedroom.
So, without further ado, let's get down! (No, I didn't mean that in a dirty way! 😉)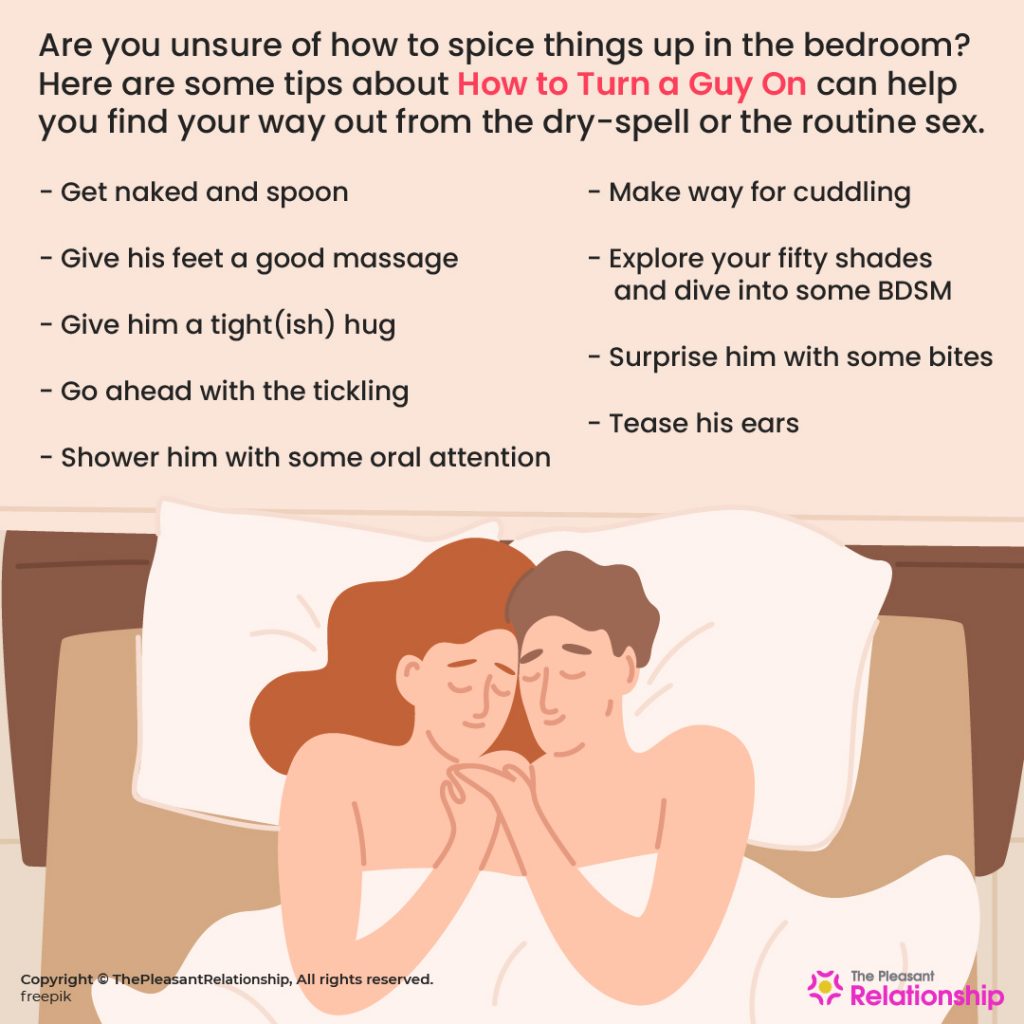 How to Turn a Guy on? – 70+ Tips
You are in for a treat, lady!
If you want to take that sex drive to the bank but don't know how to, I've enlisted some 70+ ways to help you let those sparks fly.
How to turn a guy on physically
Get your hands dirty and turn on your man physically.
Seduction is an art, and I am here to teach it to you. Read on to explore some nasty tips to turn on your guy.
1. Charge up the wrestler in you
Wrestling will provide you with the perfect ground to make physical contact. You can show your man that you are not afraid to get physical.
Men tend to have a competitive spirit, and fighting for victory is a big-time turn-on for them.
This is why your bold attitude and fearless nature will make you even more desirable. So, gather all your strength and Kaboom!
2. Get naked and spoon
Another way to get his sex drive pumping is by lying by his side naked in the spooning position and grazing your buttocks around his genital.
When he is rock hard, you can ask him to enter from behind.
This go-to move is perfect for making out after an exhausting day. It requires minimum effort and the experience is highly satisfying. Spoon up, Girl.
3. Give his feet a good massage.
What is more desirable than a woman caressing your tootsies after a long day?
It is the women who put forward requests for massaging their feet. But, little do they know that men like it too.
After a hard day, nothing will arouse them more than a relaxing foot massage. It is a super easy method to turn the night into a sensual one.
Remember, for better results, use a massage oil with a savory aroma. And then give your man a slow massage.
Start from his feet by slowly working your way up to the calves….and then to the thighs. Ahem ahem! You can take it from here.
4. Give him a tight(ish) hug.
If you want your gesture to be softer than a foot massage, then you can go for a simple hug. There are millions of ways to hug your man sensually and make him want you more.
To lure him into making out with you, you need to hold that hug longer than you would if you hug a friend. Caress his back slowly for a bit and squeeze a little harder but not too much.
Let yourself be under his arms to hug more intimately. If you want to make your desires palpable to him, then press your body against his. Plant a quick kiss on his chest while you enjoy that bear hug.
5. Go ahead with the tickling.
Let me tell you an enthralling story.
In Hindu mythology, when the creator sent man and woman to populate the earth, he realized they were completely unaware and could not really do the job.
So, Lord Shiva advised them to tickle each other and said that the rest automatically follows. Fascinating. Right?
Hence, it all started from tickling, and now we are seven billion.
Go and tickle, and who knows, you might end up with a steamy makeout session.
Tickling is the best excuse to touch each other. Find out the weak spots of your man and tickle him with all your might. Attack!!
6. Shower him with some oral attention.
Giving your man some oral attention is the best way to turn him on. Know his preferences before you get going.
If you have been doing this for a while, you must already know the techniques he adores.
The key to a good handjob or blowjob is talking to your man and knowing his preferences.
Spice up the oral sex… with your own spin to the tips and tricks you have learned.
Remember, it is totally alright if oral sex is not your thing. If you do not feel like doing it, then do not feel obliged to do it.
7. Make way for cuddling.
Who said men do not like cuddling? Come on! Think again. The warmth in your partner's arms is bliss!
Lie close to your man and graze your hands on his chest. You can put your head on his chest and play with these fingers while listening to his heartbeat.
Let him caress your hair while you move your hands all over his torso. Sounds amazing! Right?
Cuddling releases oxytocin, or the love hormone, which strengthens your bond with your man leading you both to better sex and adventurous stories.
8. Explore your fifty shades and dive into some BDSM.
Channelize your inner Anastasia Steele and get rough with your Mr. Grey. Yes, we know already that foreplay will lead to sex. So, why not make it exciting by incorporating some dominance in the activity.
Let him be your master while you serve him with the best sex of his life. Or you can dominate him too while you ride him. Add some kink with handcuffs and watch what happens next…
9. Surprise him with some bites.
Have you ever said to your partner, "Oh! I crave you so much. I will eat you up when we meet"? Well, now is the time to do that (literally).
Giving soft bites to your man can absolutely drive him crazy. A few nibbles around his neck will make him go crazy. It depicts how badly you desire to be close to them.
If both of you are in the mood and you also have his consent, bite him a little harder to send a tingling sensation down his spine.
However, don't get lost in the flow and bite too hard. Ease your intensity as you work your way south.
10. Tease his ears.
You might be unaware of this, but ears are an erogenous zone and, I am sure this stands true for your man too. If you tease his ears with your tongue or trace it with your finger, it might make him go crazy.
If you want to turn on your man, then nibble slightly along his earlobes while dragging your teeth softly. Give a soft tug along with some kissing and licking.
The key to being a pro at nibbling his ears is to avoid covering his ears with your saliva. Remember to regulate your bite strength, do not bite him so hard that he bleeds.
Here is a bonus tip. Pause that ear play and flaunt your dirty talk skills in the ears of your man.
You will not be physically present to turn on your man every time. So let us find out how to rule his mind over text.
How to turn a guy on over text
This is where you play out his mind and make him want you more. Read the tips below for your guy to spring back to life every time his phone buzzes with your notifications.
11. Take off the pressure by telling him what you want.
For centuries, men have been burdened with the responsibility of making the first move and figuring out the turn-ons for their women. They are bombarded with the duty of getting things started in the bedroom.
Ease his nerves by telling him how exactly you want it and watch his eyes light up.
You can beef up his excitement by telling him your desires when you are out in public through a text message and leave him hanging till you reach home.
12. It is a wild fantasy storytime.
Always wanted to be a part of a mile-high club? Or is it your dream to go at it with your man dressed as Harry Potter? Text all of this to your guy.
You do not know how much of a turn-on it is for your man to hear your wildest fantasies.
Sharing your steamy private expectations will lead your man to believe that you trust him. So, let your imagination run wild while you text him your super-private fantasies.
13. Share a picture of your toys.
Are you among those women who possess a sex toy but keep it hidden? It is time for you to break the stigma and embrace your preferences.
I know you bought those toys to use them in seclusion but sharing a picture of your toys is a great way to turn on your man. His thoughts about you using those toys would drive him wild.
Now you can turn on a man with numerous possibilities from sex toys. You can ask your man to use them on you when he gets back home, or you can even send a video of you using them.
14. Choose a sexy movie for the movie night.
If you want to watch porn with your partner, go ahead, but if you are not comfortable watching porn, then watch a movie with plenty of hot scenes.
These great storylines are perfect to set your couch on fire while you are drooling over orgasms. Here are a few movies and series that will definitely get your libido running.
365 Days.
Fifty shades trilogy.
Dirty Dancing.
Bridgerton.
No strings attached.
15. Send him a naughty text.
A random sexy text message is super attractive. The text can include anything that will express your desire to be sexual with your man. Trust me, your man is going to like it.
Frankly, this is not quantum mechanics. You just need to tell your man that you are turned on and craving sex with him through a text message.
Sexually please him with a text like a captive audience. If you want an instant response from your guy, add some virtual naughtiness to your message.
Tell him that fantasy you have been wanting to for so long. If you know what I mean.
16. Arouse him with a sexy picture.
You need to make sure you trust your guy with your digital privacy before sending him this picture.
One of the biggest turn-ons for a guy is when a woman sends him a hot naked picture through Snapchat, Instagram, Facebook, or whatever media your guy uses the most.
Even if you spend the whole day naked with each other, a sexy picture will still have him under your spell.
Many things can turn on men, but naughty pics will also be top-tier. Remember, there is no such thing as too many hot pictures.
17. Make sexual references.
One of the best ways to seduce your guy is to phrase sentences like they are filled with sexual references. This way, you can test if he understands the sexual innuendos in your text or not.
If you phrase a sentence that has a hidden sexual reference in it, your man might make a dirty joke on it. As soon as he makes a dirty joke, be assured that your chats have progressed into a sexual zone.
This way, you indirectly invite him into sexting rather than throwing yourself desperately at him.
18. Send him texts appreciating his skills in bed.
Guys are hungry for appreciation. They want you to acknowledge how much you enjoy them sexually. If you do this to your man, he will take more initiatives to impress you again and again.
But keep in mind if your man is not good in bed, do not fake it in front of him. Instead, talk about what you want or want to do to him.
Start your text with a sentence like, "you know I get so turned on when……" and you are good to go.
You can guide him into your fantasy requirements for bonus points. All of this will turn him on. But present it as a lustful desire and not some constructive criticism.
19. Strike deep conversations.
You do not always have to get into deep conversations with a sapiosexual. Btw, a sapiosexual is someone who gets their sex drive revved by brains and intellect.
You can bond really well with your man by having deep conversations over text, irrespective of his sexual preferences. The closer you are to your man emotionally, the closer he will try to get physically.
Your guy will want to jump your bones if he feels like you know his heart.
20. Perform a striptease on video chat.
Striptease in front of your man and make it a sexy show. I promise he will not be able to take his eyes off you.
You do not have to make it perfect and well-acted. It can be a slow show of undressing each other. This way, you will turn him on, and you both will have fun grooving to some dense music.
If you are unsure about your dancing skills, you can just undress swiftly. Trust me, it is enough to turn on your man. Give it a try.
If you want a reaction from your man without throwing yourself at him during school. Read ahead to know the subtle art of turning him on at school.
How to turn a guy on at school
Make it subtle but bold at the same time. Here are some tips to make your guy go crazy at school.
21. Praise him with some sexy remarks.
Let us face it: No amount of appreciation is enough for guys. You can boost their ego as much as you want, and they will still have the audacity to ask you for more.
If you really want to drive your man wild in school, then whisper a sexy compliment in his ear and walk away while he is gawking at you from behind.
22. Flirt with someone else.
Caution: Handle with care.
This advice should be handled with ultimate care, as it can backfire easily if your guy is insecure or sensitive. Flirting in front of your man with a person who is not his love rival would be a huge turn-on for him.
If you do not want this idea to backfire, then make sure your man knows that you are seriously not interested in this other guy. And that the flirting is just some casual banter.
If triggered correctly, this advice can lead you to drive your man crazy at school.
23. Try something new.
A sudden change in your look is definitely a massive turn-on for your man. It can be anything from a new haircut to new lip color.
A modification in your look will excite him. Constant experimenting with sexual positions helps you find your favorite one.
We cannot deny the fact that men like changes…. Bold changes. Walk into school with that bold haircut and make his jaw drop, Lady.
24. Lock your eyes with his.
Women do not give away any hints about their sexual drive via their bodies. This is why men tend to notice the face of women to find out how she is feeling.
Facial expressions of women tell a lot about their desires. If you want to turn on your man at school, then stare directly into his eyes with unflinching intensity.
Let your man know how much you desire him through your eyes. The Eyes, Chico, They Never Lie.
25. Take off that Scrunchie.
Men are attracted to visibly long hair. If your hair is in a bun or a ponytail, it appears shorter than it actually is.
So, if you want to turn on your guy at school, then take down your ponytail. You can do this activity in front of your guy to turn him on immediately.
Take off that Scrunchie as dramatically as possible and shake your head lightly to let your hair fall back in place. Do not hesitate to act like you are in a L'Oréal ad.
26. Flaunt your natural body odor.
You might find this odd given the popularity of perfumes worldwide. But, your natural body odor works like a charm to turn on your guy.
Trust me. Your body odor has the power to turn on your guy and lure him to you.
You can find natural ways to have a body odor that does not stink. Detox of your body is an effective way to have a non-stinking body odor.
So do not spray a body mist or lather up with a smell-good lotion on your way to school. Your natural odor is the real deal.
27. Take a moment before leaving.
When most people meet their loved ones in a hurry, they do not take a moment to see them before leaving. Do not leave your guy with, 'See you later. I love you.' if you are in a hurry.
Pause for a while and appreciate his presence. Give your guy a one-minute long hug or a sultry kiss. If you are kinky, you can also quickly slap his ass or squeeze it or whatever you like.
All of these gestures will drive your guy crazy at school. So much so that he will want to grab you closer and throw off your clothes. Wait till you see each other in private.
28. Flaunt your confidence.
The sexiest attire you can wear is confidence. Nothing will turn on a man like a confident woman. But do not come across as arrogant or a know-it-all.
Be confident about the person that you are. Value your likes, dislikes, career, and hobbies. Show your guy that you are in charge of your life, and feel secure about yourself.
If you show him that you are sorted with your thoughts and content with your partner and life, your man will find you irresistible.
Next time do not forget your confidence before leaving for school.
29. Be witty with humor.
Who does not want a partner who can make them laugh? Everyone loves having funny people around them. They lighten up the mood and make you feel good.
This does not mean you have to be the clown of your school to turn on your guy. Just be secure and have witty humor. It comes with observation and experience.
Your man will find you extremely attractive if you can make him laugh. Dish out those witty jokes, and boom! You have successfully turned him on.
30. Wear that curve on your lips.
A smile is a curve that sets everything straight. This is the most underrated advice ever. If you want to turn on your man, give him a sexy lingering smile when he looks at you.
Everything can be communicated with your smile. Smirk at your guy in a sexy way and watch him fantasize about you all day long.
Read ahead to know more tricks that will leave him helpless and make him beg for more.
How to turn a guy on and leave him hanging.
Teasing is the key to fun sex life. There is an entirely different charm about it. Here are some tips for that perfect tease.
31. Make him want it more.
Get naughty and tie your man with handcuffs. You can also tie him with a scarf. This behavior will drive him wild with desire.
Treat him like you want to but make him beg for it first. The cravings will make the aftermath more steamy. Whatever you do, do not forget to tease him. You can even do it to the extent that he feels helpless. Tease him, Honey.
32. Test his patience.
You can tie him up for this one too. Tie his hands and make him sit on a chair. Walk-in front of him and start undressing.
Hold on! Make him wait for this eye candy. Start with some foreplay but keep your clothes on. Go ahead, remove a small piece of your clothing and move ahead SLOWWWLLLYYY. You can take a whole minute if you want.
Lastly, he will be aroused like an animal when you remove your final piece of clothing. You can leave him hanging for some more time while you flaunt the view. Or unleash the beast and get straight into the warzone.
33. Establish a No-hands rule.
This is the best way to turn on your man and leave him hanging. Don't let him use his hands. Make a strict rule that includes both of you.
This will be such a hot twist for the night. You will get to see the creative side of your man where he will be trying to find unique ways to make love to you.
Do not cooperate and act like nothing is working. This will make your man feel so helpless. In the end, when you decide to discard the rule, you will be in for a treat.
34. Tease him with old-fashioned techniques.
Kiss him on his chest while you make your way south. Remember, you need to make this gesture painfully slow.
Make him think that you will be going down on him. But just when he thinks he is about to realize his dream, stop.
Do not give him what he wants and instead slowly make your way north back to his chest.
Continue doing this until he is helpless and decides to beg you for it.
35. Whisper dirty thoughts in his ears.
'I cannot wait to treat you like my own jungle gym' or anything similar to this can get the libido of your man running. This is the perfect way to turn him on and leave him hanging.
You can always get his drive racing by whispering something dirty in his ears. You can whisper what you want to do to him.
If you are unsure about what to say, work up some sexy moans, and your job is done. This will turn on your man like crazy and leave him helpless.
36. Wear red.
The color red is said to provoke your inner self. It increases our blood pressure and heart rate. This is why it is used to indicate danger.
But, as times have progressed, Red has been known as the color of passion. It will make your man want you more.
If you want to make his heart go pitter-patter, then put on that sexy bodycon dress that is red in color and leave him helpless with his overwhelming desires.
Keep some red accessories in your closet and make your man drool for you. Red lipstick would be like a cherry on the cake.
37. Have a short and sultry makeout sesh in the car.
Do you want to leave your man begging for more? Then romance him for just a few minutes while you drive him crazy…then depart.
You can make him want more at the end of a date when you kiss goodbye in the car before you go to your house.
Try to give him a sultry kiss (get your hands moving), then pull away and open that car door. Now wink, and get out of the car while he is ogling at you in amazement.
Girl! It will be such a breathtaking gesture with your man ready to find what would happen if you did not end that makeout sesh so early.
38. Make moaning sounds like a pro.
Your sensual moans are a huge turn-on for men. Before the internet era, phone sex lines used to be a huge business. It was nothing but a woman with a sexy voice talking to a guy to make him cum.
Now, you know how powerful your voice is. This is why to arouse your man, you need to mix sexual sounds into your communication and especially in the bedroom, to spice up things.
It is common for people to use sounds like hmm and mmm in everyday life. You can add your own spin and make those sounds seductive by inserting sexual prosody.
Imagine yourself making those sounds at the peak of your sexual experience with him. Do not pour it on thick. Make it subtle and enjoyable.
39. Fill your glass with red wine.
It is a proven fact that drinking red wine can improve your sexual health. But this does not mean that you can drink as much as you want.
Remember, excess of anything is unhealthy. Drink red wine in moderation and get that flame burning inside you. When you are turned on, your man will also find himself going crazy, without a doubt.
40. Skim through the old photos.
When you look back at the memories you have made together, you relive the youth and zest you used to feel during those moments. It will trigger the lustful feelings that you possessed during those times.
Most couples find their libido racing by looking at their old photos together. Reminding your man about that good old sex is the perfect way to turn him on.
You are already at first base, but you want to rev his drive like crazy. Then read ahead to know the secret.
How to turn a guy on while kissing
Kissing your partner is a way to show them how much you love them.
But if you want to show your man how much you desire him. Then go ahead and read the tips given below.
41. Trace the contours.
Hold on, Babe! You need not rush directly to him down there. That is easier and a shortcut to turn on your man, of course. But you can't hurry like that.
Take it easy, Darling. Start reaching out to the contours of his body first. The face, spine, the chest, the arms… shhh… you are doing great.
Trace the knees, the thigh muscles, and now comes the time that you can move down to the penis. Now that is gonna be pretty hard because you have worked well already.
42. Master the art of nails.
Caressing the back with nails is the most underrated magic you have heard about. Do this to your man and watch him go crazy. You do not want to miss this. No way!
Glide in your hands slowly under his shirt, caress and move towards his back. Now work on it with some scratching. See, your nails and fingertips can serve such a sensual purpose.
Pure erotica! You have a good chance of making him sway, Baby.
43. Relieve, relax and raise!
Nah… Who is talking about a typical head massage? I am not!…
This step can easily make him throw you in bed. Give him an exotic head massage, and he will want to have the sex of your life!
Run your fingertips and the lightest pressure of nails to massage his scalp. Scratch a little if you want.
Girl, you may also want to use some pressure to pull his hair now… Do not worry. You are going great, and he is getting harder. Just beat it, you will soon find your way on top of him.
44. Feel his back and surprise him by grabbing his ass.
I know you are used to receiving this move from him. But no one ever said you can't try this.
You can always look for a suitable time and grab his ass while hugging or kissing him.
Press your body against him and let him feel what you are heading towards. It is the perfect sensual play that you can engage yourself in. Agree?
45. Play with his nipples.
This works like a heavenly trick to turn on women, but even for men, it is difficult to control once your fingertips are around his nipples.
The nipples are such a sensitive part of a human body, that it will immediately turn him on. You can try a couple of moves to fire up your man.
Flicking, pinching, biting, rubbing, and if you have got some personalized moves of your own, you are free to explore, Baby!
Take a bonus point if he is wearing a thin t-shirt. Even if he is not, do not get lazy about uncovering him. Go ahead and slide your hands inside his T-shirt.
46. Why not go hard with oral?
I know I don't have to teach you how to suck him like crazy while kissing him. But what you can do to get him going is grab his butt while you are going all French on him and let him get rock hard.
He will have doubled sensations, and do not feel surprised if he goes all wild on you after this.
47. Shhh…This is a secret.
Do you know about the perineum?
The perineum is an organ present in both the male and female bodies. Precisely, it is the spot between his scrotum and buttock, and it is a secret. The perineum is the straight path to his prostate.
It will drive him crazy if you touch his perineum during kissing.
The prostate is also called the male g-spot. Massage him there when he is ready to climax and watch him explode.
48. Give pleasure to his earlobes.
Ears are one of many erogenous zones. Pleasuring the ears of a man can make him go all wild on you. Try it on your man. You will, right?
Give his earlobes a massage with one hand while kissing. Your tongue will keep engaging with him while you give another part of him a massage with your other hand, and see how quickly he goes all wild on you.
49. Climb on top of him while kissing.
Most guys like it when a girl dominates them, every once in a while. Their favorite position is the girl on top.
If you want to turn him on while kissing, then climb on him and sway. You will rock his world by kissing him passionately while riding him from the top.
50. Give him that wet, sloppy, and sensual kiss.
There is nothing that will turn on your man more than a sultry kiss. While kissing, start with a sober one and then surprise your man with those tongue moves.
Go all-in with passion and fire. You should try to lock those lips while having sex to make it super passionate.
If you are already at third base and looking for ways to make him erect again. The next set of tips is your treasure… Keep reading!
How to turn a guy on while making out
Spice up your sex life with some adventurous activities.
Read ahead to catch your man with surprise by performing these adventurous tips on him.
51. Bring out the hot and cold in him.
The most provocative and sensual act to bring out that extra hotness in a relationship is to keep it hot and cold. This balanced act can stimulate pleasure to a different level and enhance the romance.
Playing with ice cubes and passing it to and forth while kissing… with that melting ice in your mouth and then warming things up with your breath can make things very sensual by all means.
Oh! It is icy out here.
52. Surprise your man with a quickie.
When it comes to spicing things up and keeping that fondness of love growing… being touched is the most prominent way.
Like, not keeping your hands off each other type situations will let you have a swift and steamy session. This will keep your man thinking about you the whole day.
Men are visual creatures and extremely imaginative when it comes to love-making. So, a quickie will make him fantasize about you for the rest of the day.
53. Sink in those nails.
To make your bedroom stories all hot and memorable with an extra pinch of pain which is steamy.
Hunt him down and eat him alive, sink your nails down his back, scratch him, grab him and put yourself all over him.
These marks show passion and chemistry between the two and how animalistic and dominating you are.
Unleash the hunter. Your lust for the kill causes you to lose control.
54. Tie him up and go on a tease fest.
Take control and get your man all tied up and handcuffed. Then make him go all out of control and mad about you.
Adding new equipment and accessories to your bedroom stories can make it all really lusty and nasty. Being dirty and passionate is all that is required to continue that flavor and essence of your relationship.
Having a proper understanding of each other's turn-ons is the key to enjoying a great partnership.
55. Make his soldier ready for the war, again.
Make him immediately jump back into the game by adding some naughty comments. While he just climaxed, make him come back at you by making him feel how badly you need him.
Compliment his moves and whisper naughty comments in his ears, make him go wild and rough on you. Trust me, this works like a charm.
56. Indulge him and let him be the king.
Call him your "daddy" because no other word is sexier than this. Agreed!
Lay down and let him climb upon you and let him go all rough and wild on you. Let him punish you in ways that make things spicier.
Let him enjoy the supremacy by trying different dominant positions, challenge him to perform the way you want things to go.
And you can just enjoy all the pleasure without having to do much of it. Bad girl vibes are incoming.
57. Tap into his primal side.
There are days when you want your man to lead the game, and you can sit back and enjoy the play. Nothing makes a man more manly than the time when he dominates you.
You can notice his primal side coming out and radiating far when he can take control and prove his vulnerable and animalistic side.
58. Order him around.
Yes, men like it when they are in charge. But, not every time.
Guys are fascinated when a woman takes charge in the bedroom and tells them what she wants. This will be a turn-on for your man, and you will enjoy the service.
59. Blindfold him and please him.
To keep the mystery and excitement alive, try blindfolding him the next time you are up for a sensual adventure.
Make him wonder what you have in store for him. Let him crave and go all wild into the zone.
When one of your six senses is taken away, the odor sense becomes suddenly aware of the environment and situations.
Trust me, he will sniff his way to you and make you suffer for it! 😉
60. Add some sugar and spice.
There is nothing like spicing up your sex life with some actual spice.
Well, do not use them. Your private parts are sensitive, so spice can be a mood killer.
Instead, use yummy flavors like dark chocolate and whipped cream to make parts of your body tastier and lickable. Have a good wash afterward to avoid a yeast infection.
If you are long-term and have been facing a no-sex phase, then you might be looking for ways to get your libido racing.
The next set of tips will turn on your man faster than anything and everything.
How to turn a guy on instantly
The given set of tips is a no-brainer. They will turn on your man super fast. Read them in detail to set your bed on fire.
61. Give him a great view.
A view is always about giving pleasure and relaxation to your eyes, mind, and heart. What could be better than providing this pleasure to your man to make him relax after a long hectic shift?
So come out naked and let his imagination run wild, out in the open. Let him soak in the surprise. Let him praise that heavenly view… while you sensually touch for yourself.
This will make your man feel special and rev his engine like a Ferrari.
62. Give him a sexy treat that includes no work and all play.
It gets hard for a man to get himself in the mood when you are all set to roll in the action but can't because of lack of inspiration.
Well, you can always take control in your hands, just like a cowgirl, by giving him a peek into your wild imagination without letting him move from his position.
Show him all that you have got – push him on the bed, climb on top of him, and make your move, big girl!
63. Walk that ramp only for him.
When the mood is all set, but you feel like adding some extra spice to it, try reaching his ears and whisper. Tell him he will get rewarded if he does not move from this place until you say.
He will be all ready and swooning… as you keep dropping each layer from your body. Run your fingers and some ice gently over your curves.
Then bring your body close to him to reach but do not let him touch you. Keep doing this until he is all wet, thirsty, and hungry to have you in his arms.
64. Walk up to him from behind and surprise him
A perfect surprise would be giving a hug to your partner from back when he least expects it. This can set his mood for the whole day and become the highlighted part of his day.
A hug from back and a whisper in his ears that tells him how much you appreciate that early bed coffee he makes for you… is enough to turn him on.
Tell him how handsome he looks in that pink shirt. That big bright smile will tell you how much he likes to get acknowledged by his love.
It works even more when these compliments are showered out of the blue. Surprise your man, Ladies. They deserve it.
65. Walk in the shower
We have often seen in movies that men forget their towels. The whole scene ends with the man pulling his girl inside and having a steamy hot shower session with her.
Why can't girls show a little excitement early in the morning by forgetting their towel outside? When it is hand-delivered by your man, grab him in the shower. Own the moment and make his morning a little more thrilling.
66. Explore the restricted areas
If you are thinking of having sex outside the bedroom, then the places that come to one's mind are the garden, jacuzzi, rooftop.
But, the most interesting ones are the kitchen countertops and on the stairs.
Changing the place can set the mood into a new mode, with different settings, options, and experiences. One must consider this if they are willing to bring a spicy element into the bedroom.
67. Go commando and let him know about it
Go on a date all decked-up from top to toe. Wear the dress he chose for you. You will look absolutely divine and will not be able to get his eyes off you.
He is sure to sneak some glances at the party while you both are surrounded by several others.
Take this time to reach his ears and whisper about how he forgot to gift you underwear. And so you didn't wear one!
It will drive him crazy, and he will be eager to leave the party early. Someone is going to lose control as soon as they reach home.
68. Wear your sexiest lingerie.
Men are always curious to discover the new types of lingerie their partners can wear to crank the temperature in the bedroom.
You can never go wrong with a black lace bra and pants. A red thong paired with the white shirt you wear to the office will make you feel all sexy and aroused.
This will give him the sense and vibe of your oozing confidence. Watch his face light up as he struggles to complete his work before the deadline.
69. Give a nude massage to each other.
After a long session of action, what is a better way to end it other than giving him a massage?
For a change, you can also give him a feeellll of your body while trying to massage his lower back. Gently rub your own back to his and see him grrroooove!
Light some candles and create a vibe.
Massaging your partner can escalate things once again. It might ignite feelings and lead you to one more round. Long way ahead, huh?
70. Look at him with those fuck me eyes.
Eyes are the most communicating and deadly feature of a girl. A stare at your man with all confidence can give him butterflies.
But, the same eyes with some intensity looking at his pants zip can make his libido racing.
Keep staring at his lips and slowly move towards his gun.
When your man notices you checking him out, give him a clear indication of what is on your mind. Show your man how nasty and wild you wish to be with him.
If you do not want to make it direct, read the next set of tips to tell your man that you are horny.
---
How to let a guy know you're turned on? – 10 Tips
If you do not want to throw yourself directly at your man and are waiting for him to come to you. Here are a few tips that can help you achieve your desires.
1. Get him going at it with a sexy picture.
If you feel your relationship is getting boring and requires some spice, all you need to do is just send your man one of your naughty pictures.
As you know, men are visual creatures. A sexy picture of you in a black body-fit dress flaunting your features like a goddess can do the kind of magic you never knew existed.
You can send him your post-workout clicks all sweaty… with that healthy and glowing skin.
Next, you can send him your morning selfies to make his morning à happy morning indeed. It does not always need to be a nude or exposing picture. Remember, less is more.
2. Surprise him in your underwear.
You asked for thrill and excitement. Right? What is better than your imagination coming true?
Be the main character of your love life and surprise your hero at his doorstep. You can put on a long coat, only to see you live in the lingerie later that he has always fantasized about.
It also can be a greeting session directly on the bed.
Your man comes to sleep, slides his hands inside the blanket to grab you, and finds you in your lingerie – exciting right?
You can try to wake him and his thing by being covered in just a piece of ace lace where your skin is all visible.
3. Shop for some new toys
What can be better than having a partner who wants to explore?
Nothing. But, the one who is exploring needs a partner who is equally excited about these desires… and is not afraid of trying them.
So, if you want to hint your partner about your rushing emotions – hand him the shopping list and let him make the purchase. He will rush towards the bag to find you a new toy and give you the night of your life.
What about leaving the toy near a block of vanilla ice cream you bought? Keep it on the dining table with a note saying: it is on you to decide what you crave the most. Naughty!!!
4. Rule his lap for a while.
I know girls love to get attention from their man, but what to do when he is all jammed up with a tight schedule.
Telling your man how much you crave for him without speaking a word is just a matter of eye contact.
Make him sit in a comfortable position while you are on his lap, and then spread both of your legs around his hips. Get close enough to be able to feel each other's breath.
Do that little waist movement you do casually to adjust. This will give your man a hard time getting you off his mind and will be a clear indication of what needs to be done about this little situation you just created.
5. Go all French on him.
One of the best gifts French culture has given us is communicating your love through your lips even without saying a word.
Then why not learn the art to spice up your relationship. As feelings and emotions are different for different people, it is the same with a kiss. It comes with all emotions, feelings, and passion.
From grabbing your man tightly in your arms to running your fingers through his hair – make sure you do it all and give him a perfect kiss.
Give him a little less time to breathe while holding his lower lips a little tight with your teeth.
Make every ounce of that perfect moment count and make him realize how passionately you want him, RIGHT NOW!
6. Touch yourself.
'Be Bold' has always been the mantra, Girls. It is the 21st century, and you need to show people what needs to be done. What can be done with your beautiful body should be a matter of pride.
A great way to hit him with the "I want you now" is to own your curves. Be confident in your own skin and don't shy away from making love to yourself.
If you want to make it smooth, you can use chocolate topping over a nice dessert. The blast you are trying to create for your man will make his head spin.
7. Watch porn.
Did I just read PORN? Yes, you heard it right. You can speak about your desire, wants, and needs to your man. Then why not watch something nasty together and see the live reaction of your man.
This will require and generate comfort, understanding, and communication between the partners. It will help them to know each other a little more than usual.
This might lead to some action in no time with a few tricks shown in the porn.
Before you just had it in fantasy, now you both have communicated it to each other without really saying anything. This will lead the romance from reel to real in no time.
8. Mark it on the calendar.
Never knew calendars could be of such great use. Not only do calendars remind us about our menstrual cycle, but they also serve as a letter to our partner.
Instead of writing dinner @ 8? try writing, eat me @8. It will make him starve all day long, make him check his watch every hour just to reach home to have you as his dinner.
How about keeping a reminder set on his phone which starts ringing an hour before the time mentioned with a message: Your dessert is waiting at home!
This will give him all sorts of rush in his body, and he will wind up everything just to reach on time.
9. Print a sexy picture.
Take a printout of you showing off your curves and slide it in the coat pocket of your man. Your man will stay clueless until the middle of the day, only to get a text from you to check his pockets for a surprise.
You dropped that surprise only for him to feel the hit. This picture will make him go crazy, and he might even want to get it painted for his secret wardrobe.
You can also surprise him with a picture of yours hanging on the wall of his cupboard. This gesture will give him the feel of a sudden jackpot as soon as he opens it after a hectic day.
Trust me, your man will be all energized to be the photographer and click some of your pictures himself, for the next time.
10. Just start touching him.
Communication has different languages and mediums. One of them is touching. We are made of multiple nerves that help us talk with the help of touch.
We all have some weak points in our body that will let loose, if stimulated. It is a matter of how well you have explored your partner's body.
From moving your fingers through his hair while kissing, biting his lips, to just touching him over his jeans.
While kissing can turn him on and can make him lose his control, a sensual touch can make him crave for you like never before.
While cuddling, you can move your fingers lightly around the back of his neck. This will give him sleepless nights and can even lead to you having a memorable night together.
---
Remember, it's not always up to you.
This think-piece might be focusing on how to turn a guy on, but you need to remember that this is not your job. Your man's sex drive also depends on his mental and physical state.
If your man is dealing with performance pressure, he might not get hard at that moment. This may annoy him instead of turning him on.
Health also plays a significant role in erection in guys. Any problems with blood flow can lead to arousal problems.
This is why you should not blame yourself if your man takes longer to get erect. You can use this time to talk about the feelings of your man.
Communication will reduce the anxiety your man is facing and make your relationship strong and healthy.
---
FAQs
Now that we have read everything about how to turn a guy on, you must be having some questions.
To clear your confusion, I have answered some frequently asked questions that will help you spice up your sex life even more.
1. Why can't I turn him on?
You might be wondering where you went wrong when your man seems to be struggling with erection. There is no need to worry, it is natural.

It is alright if you were not able to turn him on. Chances are that it is not about you at all.

Stress and anxiety are some common reasons that lead to erection issues in men. They can also happen from performance pressure, poor self-image, or a change in partner.

Another cause for erection problems could be the problems in your relationship. Your man might not find it easy to connect with you recently, which can affect your sex life.

There can also be some medical reasons for erection problems like, your man might have low testosterone levels. These are vital hormones for erection.

Sometimes erection issues also point towards heart diseases and high blood pressure. So, it is advisable to talk to a doctor and get treatment for your health.
2. Why does it take so long to turn him on?
It is common for guys to take time to get turned on. But this is subjective and depends from man to man. If your guy takes more time to get in the mood, it is good because he will not rush you with it.

There are two types of desire, Spontaneous and Responsive. Some men have Responsive Desire while others have Spontaneous Desire.

People with Responsive Desire get stimulated only with specific things, but people with Spontaneous desire have desires for random sex.

People with responsive desire take time to get into the mood because there are only a few specific things to turn them on like, a certain smell or stimulation of a particular place.

So, you will need to figure out the Desire category of your man. This way, you can have a better understanding along with better sex. The more sex you will have, the more you will know about his turn-ons.
3. How do I know he is turned on?
Erection! Duh. Thankfully, it is easy for females to find out if their man is turned on. They simply have to look for or feel an erection.

Sometimes your guy might be turned on in his mind, but there might be no physical signs. When these things are not in synchronization, it is called sexual concordance.

Women do not experience this as much as men. For women, sometimes the body is aroused but the brain is not, and vice versa.

If the sexual concordance is low for your guy, the only way to know his desires is to ask him directly.
4. Why don't the typical things turn him on?
Men will be men is not always true. Some men are different. Sexual preferences are subjective for every man.

Yes, there is a default guide to turn on every guy, but it will not always work.
Do not overthink this situation. Try to focus on the desires of your man. Observe the little things that turn him on.

If you cannot ask directly, then try to make it fun. You can make it like a game where your man rates the sexual activities you perform on him.

But I would suggest asking him directly for feedback. Conversations are also a part of foreplay and are essential for healthy sex life.
5. Will Viagra help to turn him on?
There are many medicines in the market like Viagra. Some examples of similar medications like Viagra are Cialis and Levitra.

But these medicines are not meant to turn on your guy. Viagra or other similar medications improves your blood flow to your penis, helping you function better sexually.

But for an erection, your man needs to be aroused. If he does not desire you, the medication will not work. Desire is a prerequisite for medicine to work.

If he wakes up with an erection in the morning, also known as morning wood, it ensures good sexual health. The problem is psychological or maybe some pre-existing hurdles in the relationship.
A word from ThePleasantRelationship
Now you know all that is required to turn on a guy. It may not be so easy but it sure wasn't as difficult either.
Sure, there are exceptions, and this default guide is not exhaustive.
But remember, communication is the key. If you take proper feedback or try to observe the likes and dislikes of your man, it will be super easy to get his libido racing.
It becomes tiresome to prioritize fun and passion in your sex life after being together for long periods. It is easy for couples in their honeymoon phase but not for long-term couples.
A couple that cannot take their hands off each other even after years of being in a relationship has a rock-solid foundation for a perfect partnership.
Making little effort for your man can bring passion to your sex life, making it red hot. So, what are you waiting for? Throw on that garter belt and take his breath away, Girl.
Surabhi Kedia
Surabhi wakes up every day with a drive to craft words that can create a soulful impact. Creatively adventurous, she is always seeking to learn new skills and acquire new experiences. With a hidden soft corner for languages (especially Urdu), she writes poetry occasionally, binges on romantic shows, and LOVES to talk. A hustler, admirer, chaser, Surabhi is just another-someone who refused to give up on her dreams. She says, she is just somebody who's trying to make herself a writer and for now, she's just writing...