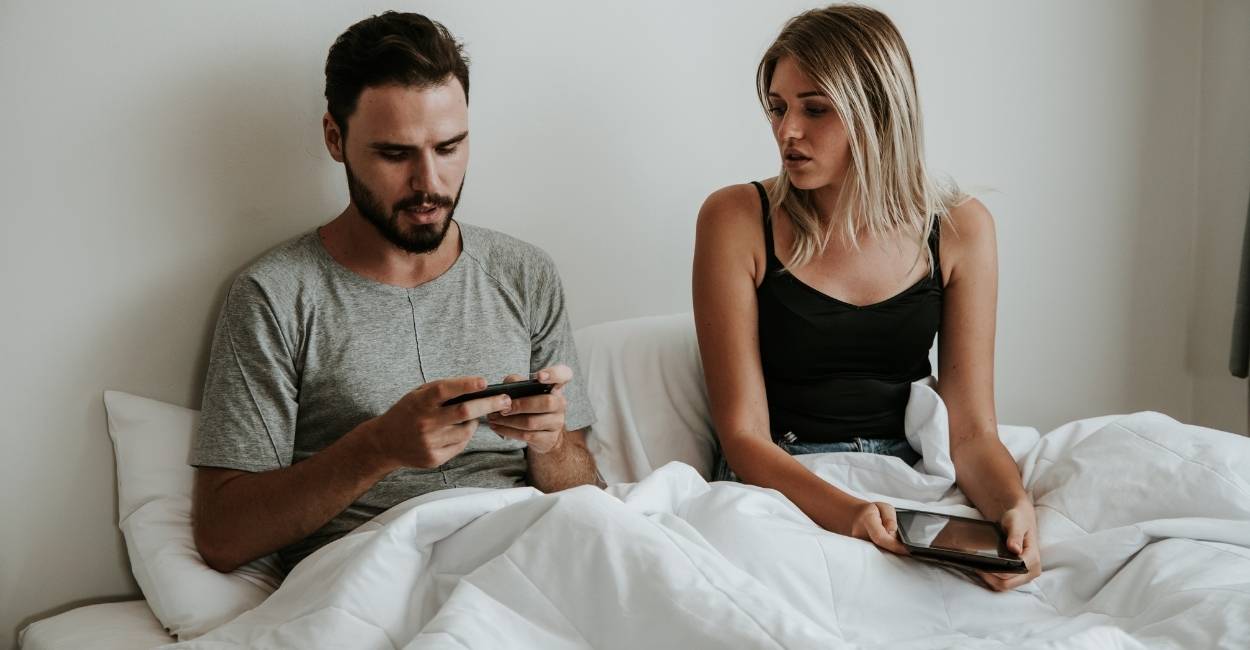 Wondering about the importance of communication in relationships? Or, are you facing communication issues? Or did you find an issue with your communication pattern?
Proud of you for stepping forward… for doing something for your relationship. And great job finding your way to this think-piece… because you'll learn everything about good communication here.
Unfortunately, we learned to talk in our childhood… but nobody taught us how to communicate effectively. It's a basic and necessary life skill to maintain healthy relationships.
However, if you notice carefully, many of our families had communication issues. So, with hopes of not repeating our ancestor's mistakes, let's head in…
Communication in Relationships Infographics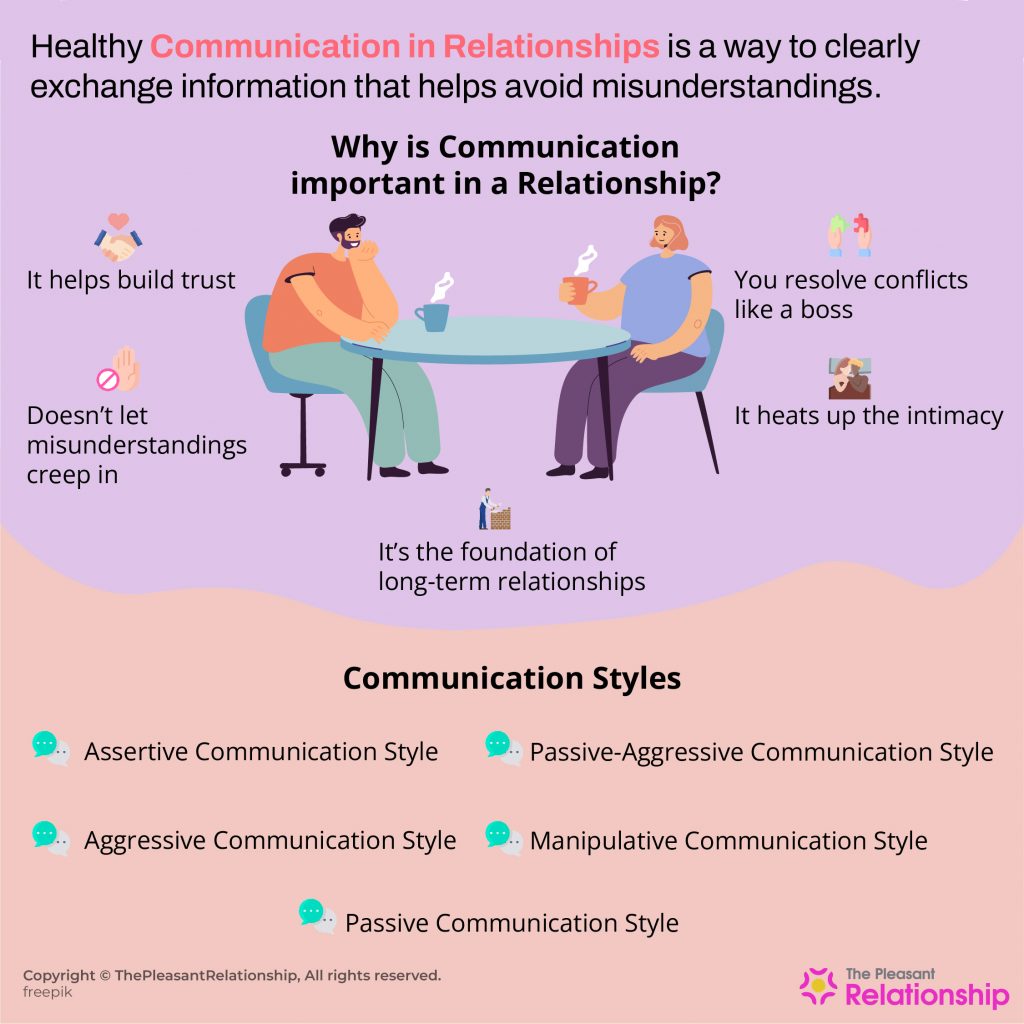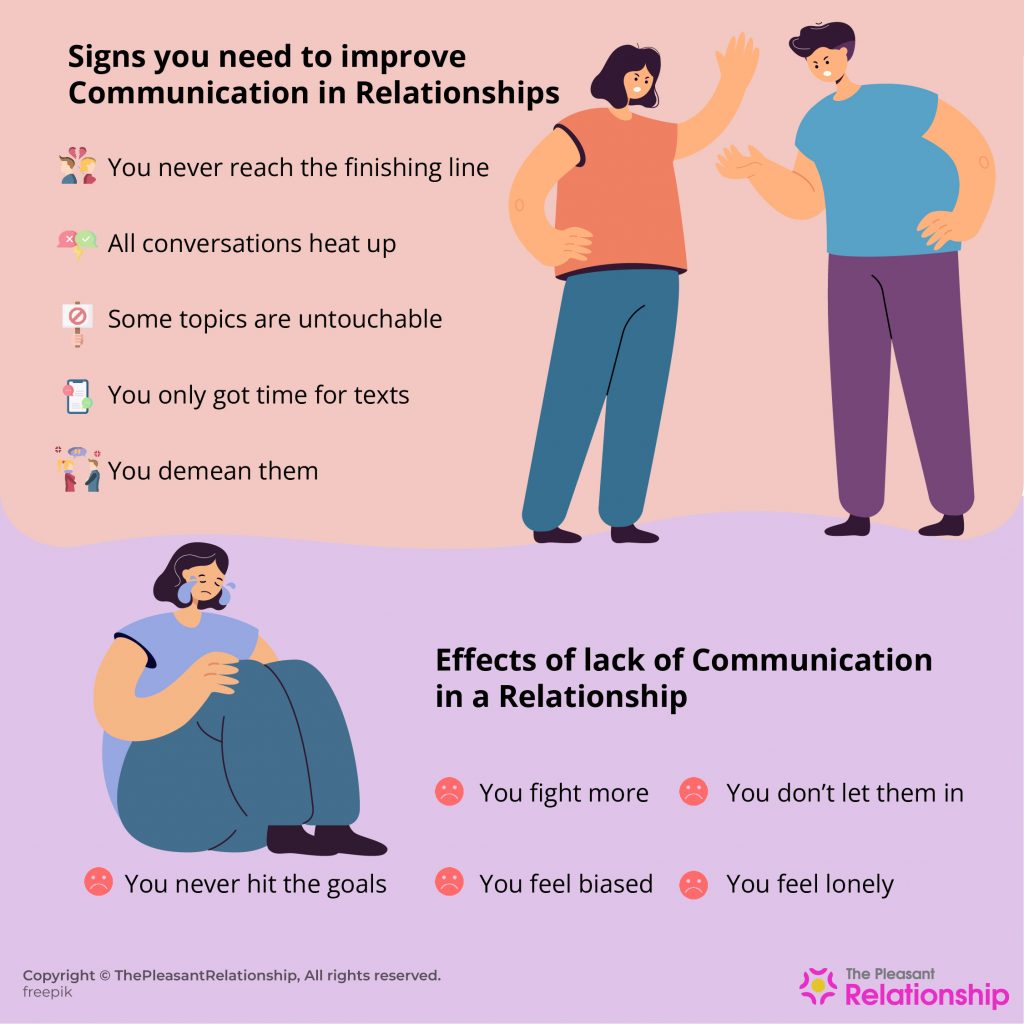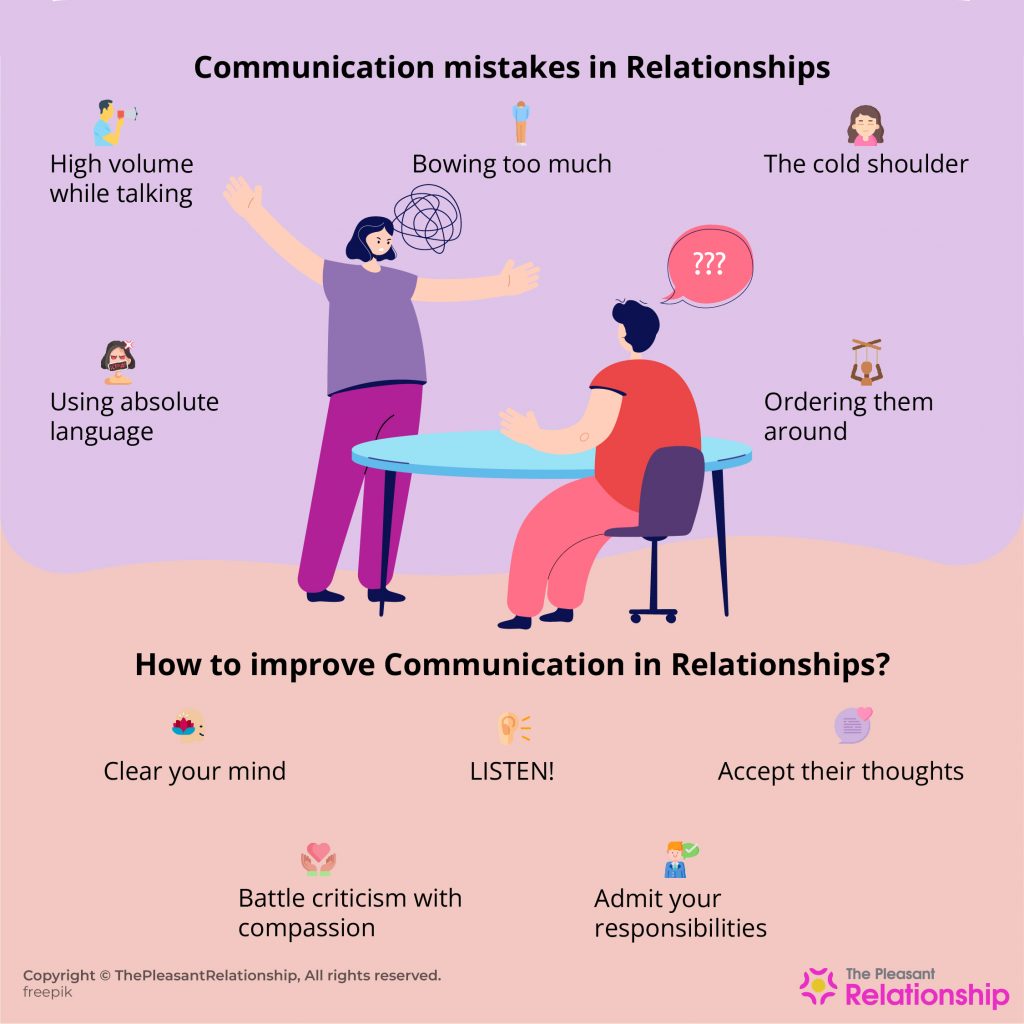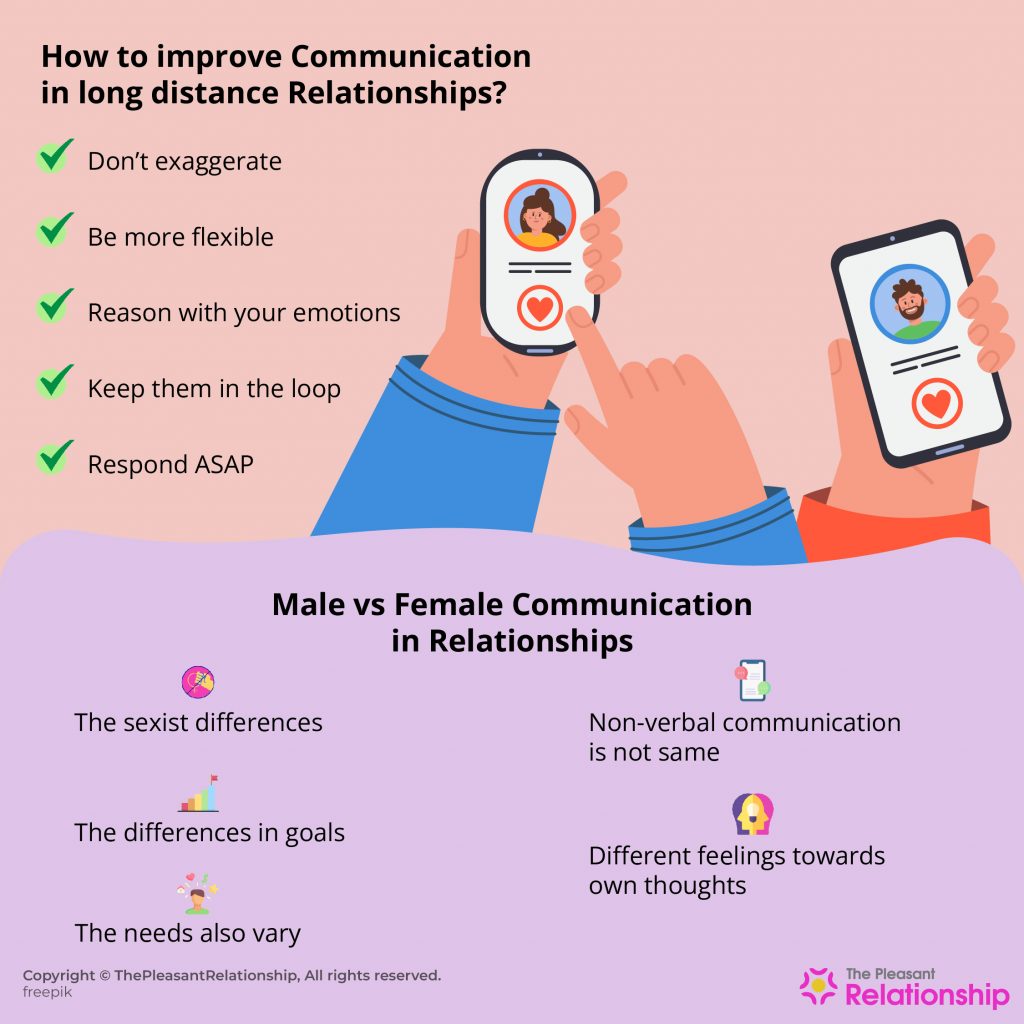 What is healthy communication in relationships?
Summary
In relationships, healthy communication is a way to clearly exchange information that helps avoid misunderstandings.
In general, communication implies sending information from one person or place to another. Communication takes a major role in relationships as it helps to understand your partner's feelings.
So, healthy communication in relationships is the efficient interchange of thoughts and feelings between two people. It also helps build emotional intimacy between the two.
Usually, good communication requires open and honest expressions and active listening. You mustn't talk when the other person talks. Speak only once they finish expressing themselves.
It also includes respectful facial expressions, eye contact, and body language. You pay attention, understand them, accept their thoughts, and find solutions mutually.
All of these express that you're dedicated to the conversation and try to make healthy communication in relationships.
Clearly, it is much more than simply talking and hearing. Also, people hardly practice it because most of us are unaware of how's and why's.
Wondering what's the hype? Let's find out here…
---
Why is communication important in a relationship?
Good communication in a relationship can become its blood and bone. It helps you sustain a relationship in numerous ways.
Lack of communication, on the other hand, might make you doubt a relationship. Come on, let's learn from here…
1. It helps build trust
With effective communication in a relationship, you can share every emotion with your partner. You show them your real emotions and vice versa.
Since you can reach out to one another for anything, it builds trust. You're both aware that you won't push away the other. This allows them to be more vulnerable.
Vulnerability and courage to show it instills trust in any relationship.
2. Doesn't let misunderstandings creep in
Great communication also helps you understand how people feel. There's no scope of interpreting or guessing, which always results in misunderstandings.
So, while you express exactly what you mean… the other person won't understand the opposite or draw conclusions.
Since there's no beating around the bush either, people feel secure in all conversations.
3. You resolve conflicts like a boss
Fights are normal whether it's a romantic relationship or a friendly one. However, too many or too little fights are red flags. Both of them imply a lack of or poor communication in relationships.
If you always fight, that means you never reach an agreeable solution. If there's no fight, then you're both holding back the complicated stuff.
Clear communication skills can help you have a good time in any relationship.
4. It heats up the intimacy
No… for the last time intimacy isn't about sex.
If you improve your communication skills, you'll learn to actively listen in relationships. It'll also result in emotional intimacy and understanding towards one another.
When you exhibit such skills, people understand you value their opinions. It makes your partner feel good about your intentions. So, they openly express their feelings, and emotional intimacy blossoms.
5. It's the foundation of long-term relationships
Again, it might be a romantic, family, friends, or any other interpersonal relationship… Good communication is the foundation of any healthy relationship.
When you and your partner resolve all issues and always feel positive about your relationship… It increases relationship satisfaction.
And if you're satisfied with a relationship, you'll naturally stay connected in the long haul.
The way you communicate depends on your communication style. Let's learn the top…
---
5 Communication Styles
Your communication style can say a lot about your relationship dynamics. Well, other than the assertive type, all other types need a bit of work.
More importantly, it can show you where you go wrong. So, find your communication style among these….
1. Assertive Communication Style
This is the confident communication style and also the most effective one. An assertive communicator believes they're right, but don't try to prove you wrong.
They won't try to manipulate you into agreeing with them. Rather, they'll actively listen to your thoughts… and the best part: They give constructive feedback on your thoughts.
An assertive communicator doesn't exhibit passive-aggressive communication styles (which we'll soon know).
They're optimistic, level-headed, direct, have good problem-solving skills, and respect the other person and themselves.
2. Aggressive Communication Style
With this style, people communicate to win and seem superior. They're unfriendly, threatening, and show high self-importance. Other people can't stand such communicators because of their pride.
An aggressive communicator makes you feel demeaned, intimidated and overwhelmed.
Even when an aggressive communicator is right, people might lash out at them due to their demeaning tone.
This might obstruct you from forming meaningful relationships as it damages the confidence of the person on the receiving end.
3. Passive Communication Style
Also known as the submissive communication style… This is the style of the one you called "teacher's pet" in school.
Passive communicators avoid conflicts, put themselves below, and go easy on others… even if someone hurt or walked all over them.
Many people unknowingly choose this because they want to build amicable relationships. However, in the end, it builds resentful feelings because they feel obliged to suppress the issues at hand.
In the long run, passive communicators unlearn the skill of expressing themselves. It usually leads to being cut off during conversations and misunderstandings.
4. Passive-Aggressive Communication Style
This is the communication style of "two-faced people"… it includes both passive and aggressive styles together.
These are people who seem quite yielding and soft on the outside and conceal their ill intentions towards you.
They might seem sarcastic, gossip behind your back, demean you as a joke… altogether they'll hurt you indirectly instead. Nobody wants to stay in contact with such people because of their toxicity.
5. Manipulative Communication Style
If you know someone who always has their way with their words, they're a manipulative communicator.
They're cunning and deceitful… and go to vast lengths to bend others to their will just with conversations.
These people are never direct about their needs. They'll rather twist the conversations so that you'll agree with their thoughts. The other people hardly ever notice the mind games.
However, once you pick up on their traits, you just can't see them in the same light. Their insincerity and patronizing manner are hateful and toxic characteristics.
But wait, that's not all, gender also plays a major role…let's know from here…
---
Male vs female communication in relationships
Your communication style can be different depending on your gender. Men and women have different types of communication skills.
Though nothing bad, heterosexual couples sometimes have misunderstandings because of their biological build. Let's know more here…
1. The sexist differences
In the current world, people still link communication and expressions with gender. For instance, males can't get emotional… if they do, they aren't a man.
Men grow up listening to phrases like "Be a man", "Don't be a sissy", "Men don't cry"… sadly, men still don't have permission to cry when they're dying inside.
On the other hand, females are always the weak… since crying suits their gender. However, they still hear "Oh it must be that time of the month"… a sick way to dismiss women.
Men and women face difficulties communicating mostly because of biased thoughts. Though not always true, men hide their emotions more than women due to social expectations.
2. Non-verbal communication is not same
Male and female communication methods are different with respect to non-verbal styles. Some men nod to express their attention. Some women touch, hug and pat to show compassion.
Men use far less facial expressions than women. Women feel comfortable standing closer to other women than men. Men prefer face-to-face convo, while women prefer side-by-side convo.
Women make more eye contact than men during conversations. Knowing such basic differences can help resolve many communication issues in relationships.
3. The needs also vary
When a woman reaches out to a man about an issue… the man takes a logical path and tries solving the problem. However, the woman doesn't feel heard enough with a solution alone.
Women seek more emotional support and reassurance when they share their feelings. Men usually don't notice those needs and believe it's over once they reach the goal.
More communication problems arise when the results and the needs don't match.
4. Different feelings towards own thoughts
Men don't express themselves too much. It's either because they feel the issue at hand isn't important or that it'll mess up their relationships.
Women, on the other hand, express themselves to reduce stress. The different opinions make men and women misunderstand their partner's intentions.
When a man suppresses his feelings, his partner might feel he's not invested in the relationship. Men might misunderstand women's more expressive ways as nagging.
5. The differences in goals
Men usually communicate with two things in mind – receive and give information. Women communicate to build connections and take new steps in relationships.
Wondering if you have communication troubles? Let's have a quick glance…
---
Signs you need to improve communication in relationships
Usually, people with poor communication skills don't quickly catch on to their issues. Rather, they feel they meet too many hostile people.
Nobody wonders if they're wrong… and notices other's bad sides only. But, no more… now find out what actually went wrong…
1. You never reach the finishing line
Do you guys fight about the same things all the time? Perhaps, your partner calls you a broken record?
If you have the same fight multiple times, then you never resolve issues. You guys don't understand the meaning of or way to resolve issues.
It might be because you guys have ineffective communications.
2. All conversations heat up
When there's a relationship issue and you guys discuss it together… Does it always become full-blown fights? Whenever they don't yield to your demands in these convos, do you start fighting?
If yes, that's another alarming sign to learn communication skills. Else, you'll only ever fight and mess up the relationship.
3. Some topics are untouchable
If you like to avoid some topics because they're uncomfortable, then you're a passive communicator. But hey, that's not something demeaning… you just think differently.
You believe in avoiding the landmines in your field. However, where a relationship must be full of flowers and perhaps some thorns… do you really feel okay about landmines in the vicinity?
Honestly, you don't… and it can lead to conflicts later. This is an alarming sign to change your communication style.
4. You only got time for texts
If you both are working adults, you hardly get time for one another. Do you usually text or face-time? If yes, you guys are more prone to communication problems in relationships.
In fact, couples need more time to bond face-to-face. Your relationship and your desire to bond… both are suffering from such dynamics. Consider intimate communications more than digital ones.
5. You demean them
During any conflict, do you criticize them a lot? Do you say "You always think that way and trouble me"?
Give it a thought, does that help the situation at hand? Does that solve the current issue or prevent future ones? No, you rather blame and shame them to get the load off your chest.
You really need to change it for the sake of your bond.
6. You get defensive
When your partner brings up an issue… do you fear they'll blame you? Does your next action revolve around… how you didn't mean it and how they blame you for it?
Your defensiveness hurts your relationship on deeper levels. You don't consider the big picture and make the conversation all about you. Obviously, this'll lead to unhealthy relationships.
7. You resort to silent treatments
When you find a difficult topic or listen to your partner begin one… how do you react? Do you stonewall your partner? Give them the silent treatment until they move on from the topic?
So, you always dodge the risky ones and they pile up in the bottom of your heart? But you need open communication if you want a steady relationship. Reconsider before it's too late.
8. You aren't ready to adjust
Two people might fall in love when they find similarities in one another. However, you'll never find two partners who like everything the same. But this shouldn't impact the love you both share.
Love needs adjustment from both sides… where both parties find happiness even after sacrificing.
Healthy adjustments need communication… if you can't communicate, you may never reach the same page.
9. You never make the first move
Did you ever go out of your way to build trust or emotional intimacy? Do you try to make up for yourself or wait for the other person?
For instance, you fought your partner… but you're not ready to make a truce yourself. If your pride gets in the way of your relationship, it's a bad sign.
You gotta pull yourself together and try communicating. Your relationship is not your partner's responsibility alone.
10. You follow logic over emotions
When your partner expresses an issue… how do you look at it? Of course, finding solutions is a part of it. However, do you console your partner?
A relationship is about feelings… it's not a no-strings-attached arrangement where you don't give it a sh*t.
Your partner needs emotional support… but if you never thought of it, then you gotta improve your ways.
11. You get competitive
When there's trouble and you gotta talk to fix the issue… how do you do it? Do you get competitive? Feel a compulsion to win every argument? Or want to prove yourself right somehow?
Then you hardly communicate effectively with your partner. The issues remain unresolved and it results in more relationship issues.
12. The body language is not good
Do you feel strange maintaining eye contact? Or, do you habitually roll your eyes or face away from your partner during conversations? These are some disrespectful body language examples.
Even if you do it unknowingly, unintentionally, or habitually… These can impact your relationship deeply. Negative body language is another common communication issue.
13. Your attention wanders around
While communicating, do you also add other tasks? For instance, you prepare dinner, check professional emails, or even text others?
Such habits show your disinterest in your partner's concerns. You might hear them… but you can't respond to their feelings with compassion when you're preoccupied.
Prioritize them during communications.
14. You're passive-aggressive
When you feel angry, do you effectively communicate about the issue? If not, then do you get back at your partner with verbal abuse?
If you play out insults as jokes, then you hardly have meaningful communication. Moreover, such dynamics never let you reach the end of the issue. Work on your communication if you really want to find a common ground.
15. You don't let them finish
When you interrupt your partner, they feel unimportant and disrespected. Such communication patterns are toxic to your relationship.
If you don't pay attention to your partner's thoughts, it'll result in misunderstandings. Both for them because they feel hurt and you because you didn't listen to your partner.
And then there are parts that are a big NO like these…
---
Communication patterns that hurt relationships (Communication mistakes in relationships)
Poor communication is still bearable… however, there are some communication patterns that are outright disrespectful. It can consume your relationship's life force and end it. Let's check some major red flags…
1. High volume while talking
Yelling, shouting, screaming, shrieking… whatever you name it, if you hurt your vocal cords during a conflict, you'll never resolve them.
Screaming is disrespectful… a louder voice doesn't make you right or more powerful. Also, your partner will completely hate it and rebel against you more.
Rather focus on talking things out calmly and dealing with them respectfully.
2. Bowing too much
Suppose you apologize for way more than you need to… is it because you're really at fault? Or are you avoiding a conflict?
This leads to boundary issues in the relationship… because you never let your partner learn what hurts you. Also, you might avoid serious issues with apologies now… but for how long?
You avoid honest communication in your relationship. It might seriously damage your emotional health.
3. The cold shoulder
Do you give your partner the silent treatment when it's time to talk? You can do it with your neighbors… but with your partner, will it work out?
Withdrawing seems a great idea when you want to save yourself. But at some point, your partner may withdraw for good.
You delay the light conflicts now and invite an unwelcoming end to the relationship.
4. Using too much absolute language
You're the worst… You never understand me… Of course, you will mess it up…
Do you see what's wrong with those sentences? Well, nothing much… you just always think your partner is no good.
If you begin a conversation with these kinds of blames… they'll want to flee at that moment. This is a bad conversation starter… in fact, never use such language in relationships.
Focus more on "I" statements and less on absolutes.
5. Ordering them around
Another detrimental communication pattern is ordering. When you spell out what your partner must and must not do, it's as if their feelings don't matter.
They're their own person and have the right to lead their life their way. If you always order them around, ask them to behave a certain way… that's emotionally taxing for them.
You're invalidating their opinions and feelings this way.
6. Assuming their feelings
In long-term relationships, people know one another like the back of their hands. However, even if you know, don't assume or express your assumptions on their face.
Also, don't assume your partner will do something favorable and leave it in their care. If they don't act favorably, you'll feel resentful. Rather voice out your concerns and ask what you need.
7. Suppressing your feelings
Since love can unite two hearts and minds… Some people feel that their partner will figure out their feelings. Why must they bear the responsibility of figuring you out?
You can express yourself accurately rather than their trial-and-error guesses. Guesswork can attract more trouble and heartbreak. When you can convey your sincere feelings to one another, do it.
You'll save yourself many troubles that way.
8. Waiting until issues snowballs
When a relationship issue arises, how long do you wait until you talk? Always express negative feelings ASAP in relationships.
Otherwise, they mix up with more issues and snowball into a huge unpredictable and unresolvable problem.
Remember, solving one issue at a time is much easier than tackling multiple issues at once.
9. Dismissing others
When your partner talks or rambles about some issue… the worst you may do is show contempt.
If you dismiss them, compare their issues with your more complicated ones… they'll never ever seek you again. That might as well be the last time they open their heart to you.
Always treat their issues as equal… if it's minute, discuss possible solutions and show compassion.
10. Hearing but not listening
Yes, you hear what your partner has to say, but do you listen? Perhaps, your partner's rambles about something actually ask for your understanding and consideration.
A hug might soothe them way better than nodding and saying uh-huh.
Even during conflicts, if you don't listen well, your fights will go off-track. You might pick up a different subject from their words if you're not mindful.
Not hearing is an all-rounder at ruining relationships.
11. Choosing the worst times
Though resolving issues ASAP is a great idea… What if they're just not mentally stable? What if they can't take it? If your partner is upset about something, it's never the best time.
Wait until they cool down and they'll listen better.
12. Evading repairs
After a conflict, you don't particularly feel like being lovey-dovey… after all, they're the villain in your head. But, for how long will you evade loving touches?
They're your life partner, your soulmate… you wanna be close to them too. So, the next time the thought of making up strikes your mind… take charge.
If your partner or you gets flirty, take the hint, accept the chance to make things better.
13. Threatening breakups
Being in a relationship is tough… you'll face ups and downs together. Sometimes you'll want to even walk out on them out of anger.
However, never utter such words… don't use separation as a bargain to get your way with them. If you love them, you'll never force them or make them feel vulnerable for "love".
Your love is both of your strengths… don't make it their weakness. Otherwise, they'll soon get over it.
14. Showing extreme boredom
Relationships aren't fairy-tales… nobody can continuously party or surprise you. If you always nag your partner because the relationship isn't exciting… Why don't you do something about it?
Don't tell them "It's always boring", instead ask them "wanna try this new thing?" Write your own saga your way… and take responsibility for your relationship.
15. Keeping scoreboards
Couples must divide their daily chores equally… It's healthy and less taxing on the body. However, don't keep scoreboards and demand equality.
If you feel a lack of equality in the relationship, ask them respectfully. Tell them "I'm not feeling like doing this today, would you mind giving me a hand?"
Perhaps they didn't notice you were tired of something, so asking can do the trick.
Curious what'll happen if you don't communicate? Let's find your answers here…
---
Effects of lack of communication in a relationship
In simple language, lack of communication can prove to be the end of any interpersonal relationship. It drives in deep wedges between people and ends everything that was good at some point.
Let's know more from here…
1. You fight more
When the communication is down, misunderstandings arise.
Initially you feel "it's okay", "that was a mistake"… you overlook until it snowballs into huge issues. These fights damage your relationship beyond measure.
2. You feel biased
Without communication, you're bound to think negatively.
For instance, your partner forgot to cook for you… you think they don't care… but maybe they're having a really rough time and need your support.
However, your assumptions just add more to their misery.
3. You don't give them a chance
Understanding the importance of communication is important for conflict resolution too. Lack of communication results in big relationship fights too.
Even if they reach out, you don't allow them in. And they feel worse because you treat them as if they don't exist.
4. You feel lonely
Effectively communication instills intimacy in relationships.
However, if you don't communicate with your partner, there won't be any intimacy and your partner will feel lonely from it. You'll be in a relationship, but without the emotional warmth.
5. You never hit the goals
To reach relationship milestones, you need communication. For instance, if you want to introduce them to your loved ones, you gotta talk.
Or, suppose you're in different cities for work. If you want to be together in the future, you gotta communicate about compromising.
Want to do better in your relationships? Let's learn from…
---
How to improve communication in relationships? (How to communicate in a relationship?)
Depending on your relationship dynamics, you can improve your communication in multiple ways.
However, let's find the basic notes of communication… which will surely help your relationship.
Let's begin a loving relationship with these…
1. Clear your mind
You might feel like giving up on rationality… and bringing up a disturbing incident from the past while dealing with the current one.
However, it's not quite the best choice… take your time solving the issues. Don't overdose and interlink all the issues together.
Otherwise, you'll burden both of yourselves and amplify the fight.
2. LISTEN!
When you wanna express something, how would you feel if I interrupted you? You'll hate me… so why do it to your partner?
Also, listen to what they say exactly… don't overthink and understand them well. If you didn't understand anything, ask them again. This will remove any chance of misunderstandings.
3. Accept their thoughts
When you keep a glass of water in front of multiple people… everyone will focus on different subjects.
Some will focus on the amount of water, some on the glass, some on the design, some might even think it's a way to save a life.
None of them are wrong… so your partner's thoughts and emotions aren't wrong either. Accept them… take a look at the other side of the field, and show them yours too.
4. Battle criticism with compassion
Behind every criticizing person is a pained human.
If your partner blames you for something… you'll instantly retaliate and defend yourself. That's human nature but we can do better.
Notice the pain in their voice… Know how it hurts them and soothes them. Retaliating might feel better momentarily, but it's not the solution.
5. Admit your responsibilities
If you're wrong and your partner calls you out… don't dodge the bullet. Take responsibility and apologize for it because it can ease their pain.
Conflict and pain don't coordinate well, so if you remove one, that's only half the battle. Also, you're both winning together because it's you vs. the problems… not you vs. them.
If they were wrong, they'll also reciprocate because they love you too.
6. Begin with "I"
Whether it's their fault or not, always communicate with "I" sentences. For instance, your partner burnt your favorite shirt for the second time.
Never say "You always wreck my stuff" instead say, "I really loved that shirt… I wish it was fixable. Will you please be careful next time? It pains me too much."
There wasn't any blaming, only clear and honest communication.
7. Adjust together
When both of you have polar opposite opinions about anything, agree to compromise a little from both sides.
If you both live in different cities and visiting one another is heavy on one person, financially and physically… meet somewhere in between. It will reduce the hectic journey and expenses together.
However, your relationship issues might not be this simple… but remember, there's nothing effective communication cannot beat.
8. Take a break and continue
During conflict resolution, if you can't keep negative emotions in check… then take a break. Do something you love for 20 minutes and soothe your mind. Calm yourself and get back to the issue.
This will distract you from the negatives. You'll resume the conversation again, but this time without any destructive thoughts.
9. Notice nonverbal cues
Sometimes your partner will say something and mean something else. It can get infuriating but try your best to identify them.
If they zone out, don't behave the usual, or are absent-minded, support them.
This is the moment they need you the most. If your mind says something is wrong, then it is.
Don't coerce them to share it, rather tell them you're there if they need you and pay more attention to them.
10. Note the communication styles
We discussed 5 different communication styles here. Identify yours and work on yourself. If you're not an assertive communicator, learn to be one. Find out ways to fix your communication style.
11. Find your needs
What bothers you about your relationship? Is it more excitement, love, support, reassurance, stability, or more contribution? Once you find it out, you won't beat around the bush any longer.
Usually, people don't understand the reasons behind their dissatisfaction. They hurt their loved ones without knowing the exact reason. That's futile so work on yourself first.
12. Know if they're happy
Never assume that your partner is okay with something. If you're partying every weekend instead of accompanying your partner… ask if they're really fine with it, don't assume.
Passive communicators never spill their dislikes so you gotta steadily know if they're okay. And also evaluate whether you're satisfying them in the relationship.
13. Use honesty and respect
When you talk to your partner, be honest about your feelings and respect them. Honesty and respect can help you fight deep relationship issues.
And it goes without saying, these two will strengthen the bond. Your partner will naturally trust that you won't lie or disparage them. It'll instill healthy dynamics in the relationship.
14. Forgive to focus on the positives
Sometimes, your partner might make the worst blunders. But if they confess their faults and seek another chance, be more forgiving.
That doesn't mean you're not hurt, so tell them you aren't okay but you'll give it a shot for love. And don't think too much about the bad past… focus on how they change for the better.
15. Focus on emotional intimacy
If you don't feel emotionally attached, you'll have trouble communicating. So, build emotional intimacy with them.
At the end of the day, talk about what you did, what got under your skin, what was the best part… All of these can help you feel closer to one another. Even discuss racy things you want in bed.
16. Identify your love language
There are different types of love languages… and it's time you must identify your own and your partner's. When you don't feel loved, you might feel resentful and complications arise.
If you know their love language, you'll know exactly how to put your opinions across. Knowing you're loved can help you communicate better in relationships.
17. Never send mixed signals
Even if you're confused yourself… don't send hot and cold signals to your partner. They won't know how to respond or respond in the worst possible way.
If you're hung up on what happened last day, then resolve that issue. Move on from it and then enjoy the positives of your relationship.
18. Choose proper timing
Did your partner have a bad day? Or are they sick? Put yourself in their shoes… If something similar happened to you, would you like a heavy conversation?
Exactly, you won't… so push back important convos for later when they're alright and can take heavy blows. Being considerate can help your partner be more open and willing to understand.
19. Remind your love
Some couples forget to express the precious words of love with time. "I love you" doesn't consume too much effort, yet some think they can do better without it.
Tell your partner you'll stay beside them forever… even after a fight. Phrase it this way
"I might be irrigated for now… I might not talk to you for a while… but don't overthink because I still love you. Give me some time and I'll figure out my feelings."
Love confession can happen at any time and age… so don't lag behind.
20. Take more help
If you feel troubled having healthy and open communication with your partner, consider seeking a couples' therapist. They can help you find healthier ways to communicate and resolve issues.
Individual therapy can also help if your partner denies it. You may also consider using special apps like Happy Couple for the same.
However, if you're not geographically close, check this…
---
How to improve communication in long distance relationships?
In long-distance relationships (LDR), the distance becomes a bar to proper communication.
You can't notice your partner's body language unless on a video call. Guessing with their voice alone is also risky. So, follow these extra steps in your LDR…
1. Don't exaggerate
In LDRs, of course, your relationship entirely depends on communication through texts and calls. However, if they can't respond immediately, don't think they don't want you… or they're cheating.
Don't jump to conclusions and wait until they get back to you. You'll usually find a legit reason later on.
2. Be more flexible
Sometimes, you plan facetime dates and they can't make it… it's sad because you made lots of preparations for that virtual date.
Possibly got a great outfit ready for it… and now you wanna punish them with no more dates the entire month. They'll surely feel bad about it… however, won't you too?
You're punishing yourself unreasonably and thriving on the bad feelings… don't do that. Life doesn't work our way so we gotta figure out the way with the situations like throwing you in.
3. Reason with your emotions
Did you feel that during the conversation, your partner wasn't behaving normally? Think they lost interest in you? Hung up and started thinking where you went wrong?
Well, unless your partner expresses anything is wrong… why are you thinking that? Also, if you're sure why not talk it out? Bring up the subject and figure it out. Don't overthink alone… it doesn't help.
4. Keep them in the loop
Always share about your daily schedules. Share your calendar so you don't contact during wrong times or feel rejected.
You can't always tell one another about every last detail when you're tired or have too much to say. So, text them in short… and when you have time, discuss some interesting things in your life.
5. Respond ASAP
Your entire relationship depends on texts and calls… so try prioritizing one another. Obviously, nobody expects you to reply during classes or work… but send short replies during your break.
It doesn't take too much effort and keeps you both happy.
Think your partner doesn't communicate? Let's know more from…
---
What to do if there's no communication in relationships?
Summary
Communication doesn't imply talking alone. You can communicate without words too. However, if there's no communication, then listen more carefully without judging one another.
No communication in a relationship implies no active listening. Or you both might be too busy to win a fight. Also, you might be too distracted by something else.
So, listen actively to reciprocate in the conversation. For instance, express that you're paying attention to them.
Also, don't judge them for anything… ask them if any part of their story bothers you. And lastly, don't think silence is a sign of disinterest. Perhaps, they want to silently bask in your presence.
Wondering if you communicate too much? Let's check it here…
---
How to avoid over-communication?
First of all, how do you feel about your communication frequency? If you both feel happy with the current dynamics, then there's no need to change.
However, if you feel communicating is hurting your lifestyle… or distracting you from school or work… you might be over-communicating.
Ask yourself
Why must you stay in touch all the time?
What do you connect about so frequently?
What do you expect from it?
Or, what motivates you about communicating so frequently?
What might go wrong if you don't communicate so frequently?
Understand whether you prioritize yourself as much as the other person. If you contact them more to feel approved and praised, you might be codependent.
If not, it might be only the excitement, so work on timing your communication.
Want more detailed tips? Get help from these…
---
Books on communication in relationships
Since we never learned how to communicate well, this think-piece might not be sufficient. However, many great authors wrote various impactful books for us. So, let's thrive in our relationships with some ebooks or paperbacks…
The book gives great examples about the bad communication styles and their impact on relationships. The author used real examples to explain the impacts of the same.
2. Attached: Are you Anxious, Avoidant, or Secure? (Dr. Amir Levine and Rachel S.F. Heller)
Your communication style also depends on your attachment style. The author explains how childhood treatment impacts adult relationships. It also helps you build better relationships.
3. The 5 Love Languages: The Secret to Love that Lasts (Gary Chapman)
The author explained different love languages in-depth. There are logical steps and methods to express yourself and communicate healthily in relationships.
4. All About Love (Bell Hooks)
The author emphasizes how to love better… communication is one of the ways. She explains that society builds unrealistic expectations on people about love. Redefine love with this book.
5. The Seven Principles for Making Marriage Work (John M. Gottman)
The famous psychologist wrote over forty books. This one is another bestseller that teaches people to communicate. However, he refers to more than just marital relationships in the book.
6. Not Nice (Aziz Gaziapura)
This book covered everything to communicate your feelings and build healthy relationships in all areas of your life. It shows you how to be confident in your own skin.
7. Big Friendship (Aminatou Sow and Ann Friedman)
Though this book is based on friendship and not romantic relationships themselves… friendship is the core of every bond. You can use the same ideas on committed relationships.
8. Tiny Beautiful Things (Cheryl Strayed)
The author describes small issues in relationships… which they can solve with open communication. It isn't a typical How-to book but it contains the most honest opinions of the author.
9. How to Be an Adult in Relationships (David Richo)
This book shows you how to love, pay attention, appreciate, and accept one another in relationships. It shows you everything you need to be a good lover and human being.
10. Loving Bravely (Alexandra Solomon)
This book mainly helps you work on your skills in a relationship. Starting from loving a person to your strengths and weaknesses in your relationship… The author explained everything.
Many great people found the truth about communication, let's know more here…
---
5 evergreen quotes on communication in relationships and what they have to say
Partners, who communicate well, enjoy the best relationships ever. But a good relationship doesn't imply a garden of pink flowers. It shows how you handle your relationship with your strongest weapon: communication.
Let's know what some great people realized
1. "I have been in love, and it was a great feeling. But love isn't enough in a relationship—understanding and communication are very important aspects." — Yuvraj Singh, an Indian athlete
The beginning of loving relationships is beautiful. However, you can't always depend on soft feelings to continue a relationship.
Two people in love can coordinate only when they know how to communicate and understand one another. Else, the relationship becomes short-lived.
2. "Trust is the glue of life. It is the most essential ingredient in effective communication. It's the foundational principle that holds all relationships." — Stephen R. Covey, author
Among the different aspects of communication, trust is one of the core values. When you know the other person will accept you and your emotions without judging… you can't help but trust them. With trust, you communicate honestly with them too.
3. "To effectively communicate, we must realize that we are all different in the way we perceive the world and use this understanding as a guide to our communication with others." — Tony Robbins, motivational speaker and author
Your partner and you have different histories since the moment you were born. Surely, you made common memories, however, those don't conclude their real self.
If you know more about their past, you'll become the best communicator they came across. So communicate openly and learn the love languages.
4. "A lot of problems in the world would be solved if we talked to each other instead of about each other." — Nicky Gumbel, spiritual leader
Most of us believe that our spouse won't understand our problems. We don't share our issues with them but seek help from friends and family.
However, if you try talking it out yourself rather than gossiping, you might find the solutions quickly.
5. "Communication to a relationship is like oxygen is to life. Without it, it dies." — Tony A. Gaskins Jr., life coach
There are loads of ways to communicate… it isn't only when we talk. Though talking is the clearest way to convey your feelings, many couples do without it.
So, if your language of connecting and bonding is something different than talking… feel proud that you're still communicating and sustaining a healthy relationship.
A word from ThePleasantRelationship
Effective communication results in good relationship dynamics, contentment, and relationship satisfaction. It's about making the right decisions for both of you… even if you both must lose a bit together.
Understand and support one another and if you doubt your partner's feelings… Once again, communicate! Verbally express what's bothering you without any hesitation.
If you don't talk now, when will you? To sustain your relationship, communicate with eye contact even if you're not used to it.
You began the relationship with loving thoughts… so cherish and respect them and express yourself calmly. Watch everything play out with smooth loving words.
Are you interested to know more about 'Why Men Pull Away' then click here?
Surabhi Kedia
Surabhi wakes up every day with a drive to craft words that can create a soulful impact. Creatively adventurous, she is always seeking to learn new skills and acquire new experiences. With a hidden soft corner for languages (especially Urdu), she writes poetry occasionally, binges on romantic shows, and LOVES to talk. A hustler, admirer, chaser, Surabhi is just another-someone who refused to give up on her dreams. She says, she is just somebody who's trying to make herself a writer and for now, she's just writing...