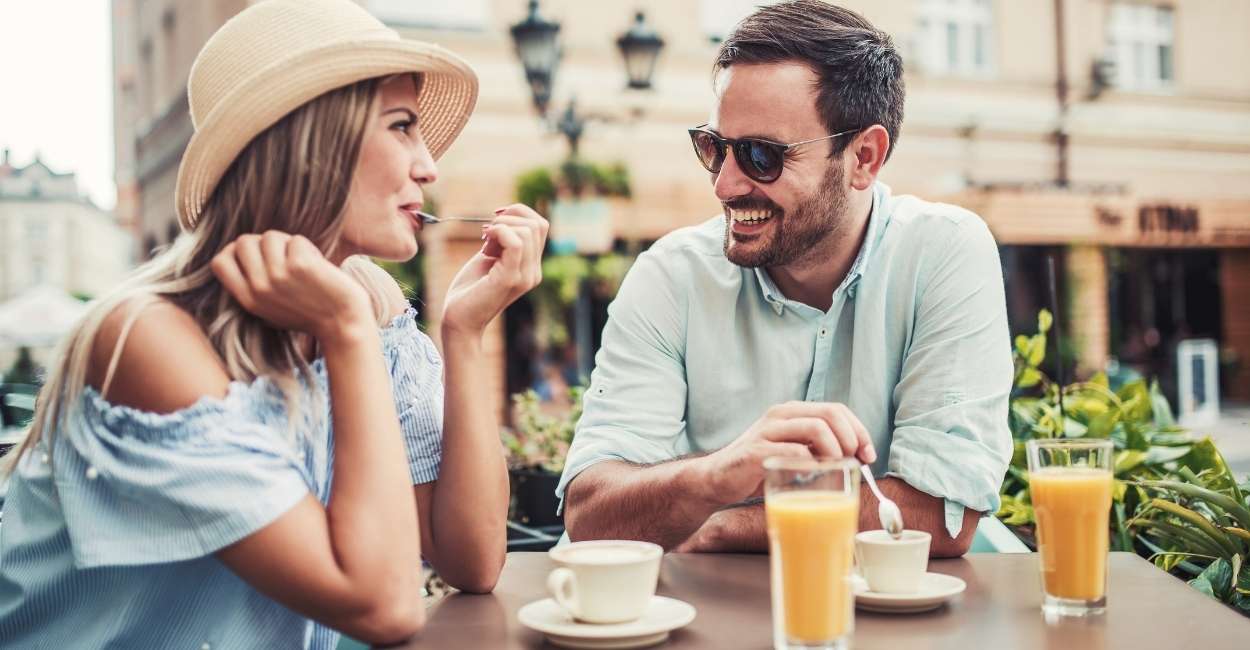 Looking for a mutually beneficial relationship? Want a sugar daddy/mommy to take care of your financial needs? Or, are you someone with lots of cash but nobody by your side?
Well, a mutually beneficial relationship might be the best choice of your life… if you're careful about it. Since scammers are always out there to take advantage, you risk your security in this.
Moreover, your digital security and reputation are also on the line. Society doesn't take the idea with an open mind.
If you want to understand mutually beneficial relationships better and have one safely, this think piece got it all for you!
So, without wasting a sec, let's head in…
What is a Mutually Beneficial Relationship?
Summary
Mutually beneficial relationships are ones where partners get together for benefits only like money, materials, companionship, psychological aid, or mentoring. It's basically what you call a sugar baby and sugar parent relationship. However, a sugar baby isn't obliged to have sex with a sugar parent.
The name mutually beneficial relationship is pretty self-explanatory. It's when two people unite in a relationship to get mutual benefits.
It's common in business deals where both parties involved are in a win-win situation.
So, thinking the same is possible in relationships might feel impossible. However, many people live that life at this instant.
In mutually beneficial relationships, both parties give one another something they need. Be it sexual satisfaction, financial aid, psychological support, companionship, mentoring, or anything else they need.
The ones giving the financial aid or material support are called sugar daddies or sugar mommies. The ones receiving the financial aid in exchange for something else are called sugar babies.
There's an assumption that sugar babies gotta have sex with sugar daddy/mommy… that's a myth. Agreeing to be a sugar baby isn't a promise to have sex.
You may instead compensate the other person in other ways that work. So, communicate what they want before you step into a mutually beneficial relationship.
Wanna delve deeper into the meaning? Let's do it with these…
---
Mutually beneficial relationship examples
A sugar baby might get materialistic or monetary help in exchange for sex. However, sometimes sugar parents don't really want sex. There might be other scenarios, but having sex isn't a given to be a sugar baby. So, let's check with some average examples here…
1. A lonely rich person supports a poor student to pay off their student loan in exchange for spending leisure time together.
2. A rich older woman dates a younger man to support him to reach his aspirations with money or pulling strings in his workplace.
3. A young jobless girl dates a rich and older person to get brand materials in exchange for emotional support.
4. A student spends time with their principal and accompanies them on trips, goes on dates, and anything else romantic but nonsexual in return for tutoring and concession.
5. A loaded man/woman dates a younger girl/boy for sex and pays them pocket money for it.
Wondering what usually happens in mutually beneficial relationships? Let's know everything here…
---
Features of a Mutually Beneficial Relationship
Mutually beneficial relationships have very straightforward features. It's not based on too many conditions or expectations due to the lack of attachment.
There might be some feelings over time, but they never result in attachments. So, let's know the features here…
1. These aren't the best relationships
In mutually beneficial relationships, you won't find true love. It's a give and take relationship… even if you're the sugar momma/daddy, you'll get conditional emotions.
If you're a sugar baby, even if you fall for your sugar momma/daddy… they might not ever accept you as an exclusive partner.
2. They're great in times of need
If you purely keep your relationship transactional, this is literally an amazing way to meet your needs. Whether you add sex in the equation or not, it's cool so long you're happy.
You get to reach your goals with the efforts your sugar parents desire.
In dire times, whether you're a sugar parent or sugar baby, this is a great deal for both parties involved. You'll get money or any other kind of support you want from one another easily.
3. It's common in business marriage
Mutually beneficial marriages are also a thing. It's where two business owners get their children married to unite their business and monopolize the market.
It's an arranged marriage with benefits. The couple may or may not fall in love with one another. They might have other affairs but still chose to be loyal to the marriage while also enjoying it with their partners outside of it.
4. You'll get contractual affection
If you're a sugar mommy/daddy and want a mutually beneficial relationship for affection… remember that these emotions aren't genuine.
Your sugar baby will love you for your money, not for you. Don't expect them to feel compassionate if you lose all of your money. Even if they have feelings, they aren't attached to you.
If they find a better sugar parent, they'll obviously leave you.
5. It's great if you can't commit
Some people have commitment issues or what society calls "have commitment phobia". If you can't commit or find relationships unreal if you're single… it's actually a good way to earn and have a good time.
Many sugar parents are in search of sugar babies. So, if you can't invest any emotions at all, but are ready to satisfy another in some other way… mutually beneficial relationships are added benefits for you.
Wondering what you'll gain from them? Follow me to find the…
---
Benefits of Mutually Beneficial Relationship
If you're not big on feelings and emotions but are ambitious… sugar relationships can show you an entire lot of benefits.
It's all for those who don't really expect too much romance but want to fulfill their basic desires. So, let's put a finger on them…
1. Nobody will tie you down
Regular relationships are demanding. You don't want your partner to stay loyal to you. Your partner always wants to know about your whereabouts.
Or you both depend on one another for love and happiness. If one of you isn't loyal, the other's life crumbles down. Both of your lives are too entangled and you might feel smothered sometimes.
In mutually beneficial relationships, you're as free as a bird to do whatever… so long you make the other person happy. They'll make you happy until you abide by the contract or promises.
2. You get financial aid
Being a sugar baby will bring you immense money. Sugar daddies and sugar mommies get sugar babies in exchange for quite a lot of money.
So, you'll get easy cash very quickly. As a result, you turn your dreams into reality much quicker.
3. You're free from drama
Regular romantic relationships are quite dramatic. You feel jealous, have fights, cheat, then you make up. The cycle goes on and on with spurts of happiness and disappointments.
In mutually beneficial relationships, you can avoid such highs and lows. Why? Because you don't care about such attachments.
You don't need one another to stay exclusive and state it if you'll date or hang out with someone else.
The lack of restraints and mind games removes the uncertainties and expectations from the relationship. You won't need one another's exclusivity either.
4. You're more honest in this relationship
In mutually beneficial relationships, you don't need to lie to one another.
The relationship begins with honesty that the sugar baby needs materialistic or financial help and the sugar parent expects something in return for it.
There's no farce in it that makes it beautiful. You don't feel the need to lie… you both know the other has a life outside the mutually beneficial relationship.
So, it's easier to discuss your regular life or not care about one another's life at all.
5. Breakups aren't depressing
When a relationship ends, many people feel devastated by the separation. You feel emotionally empty and some think they can't hold onto life any longer.
In mutually beneficial relationships, the commitment is superficial. Breakups won't hurt you emotionally… it might impact your finances or you might have to look for another sugar baby.
The breakups are much more respectful in mutually beneficial relationships.
You guessed it right… there ought to be a downside. So, let's know from here…
---
Disadvantages of Mutually Beneficial Relationship
Summary
You stop yourself from finding true commitment or love. You risk your reputation as a sugar baby. People might assume you're a prostitute even when you're clearly not. If you depend too much on them, after separation you may face troubles.
In a mutually beneficial relationship, you won't find love and real companionship… which is important for both sugar parents and babies.
The money doesn't give you the affection you desire. It's a purely transactional relationship.
Moreover, if word goes out that you're a sugar daddy, sugar mommy, or a sugar baby… society won't spare you from judgment.
Though the sugar mommy/daddy won't face many consequences, it's hard on the sugar babies. Society will judge them, their family, and call them hookers, it's a chain of harassment.
Moreover, if you become dependent on a sugar mommy/daddy as a full-time income… the breakup will wreck your financial condition.
Deadset on having a mutually beneficial relationship? Well, learn how it works here…
---
How Does a Mutually Beneficial Relationship Work?
Summary
This relationship works better with written contracts with all your negotiated terms and conditions, the effective date, and even the expiry date of the relationship. However, if you both have immense trust in each other, you can also get into the relationship without a contract.
Mutually beneficial relationships may work in two ways, 1. With contract and 2. Without a contract. The first one is obviously safer and more beneficial as it protects both parties' interests.
In a contractual romance, you both will be bound by several factors you both suggest and negotiate. It's usually in the form of written agreements that you both sign.
It must include factors like from which date you begin the mutually beneficial relationship, how long it may continue, on what terms the relationship may break, and what are your roles and responsibilities in the relationship.
If you find the pointers satisfying and don't find potential loopholes, sign it. The contract becomes effective from the date mentioned in the papers.
All set to begin the journey? Let's get right into it…
---
Building mutually beneficial relationships – How to do it?
If you understand what this sort of relationship has in store for you… and you feel comfortable about it… then you're all prepared for the journey, hun!
But before you build a mutually beneficial relationship, check out these to secure yourself in this situation…
1. Jot down your likes
Whether you want a sugar baby or a sugar parent, what kind of person do you want? Do you have any particular preferences about physical appearances?
What height, age range, body weight, or personality do you want.
Sometimes we can't quite pinpoint our likes… either because it's all too new for you, or because you like more than one thing. So, figure out what kind of physical or personality traits you hate.
2. Don't skip on boundary setting
How much are you willing to be close to your sugar parent or sugar baby? Are you willing to tell them everything about your life?
If you don't want to show your vulnerabilities but they ask you… how will you respond?
What kind of benefits are you willing to give your partner?
If you're a sugar baby…
Will you be their companion? Will you only give them emotional support? Join them in their liked activities? How much physical intimacy are you free to have? Will you go until sex? What will you not do?
If you're a sugar parent…
How much will you pay them? On what basis do you want to pay them? If they make you happier than you expect, how will you reward them? What if they make a mistake? Will you make any penalties for mistakes?
This is pretty much all of your expectations. If you find the answers to these questions, write them down. This will later help you set the terms of your relationship.
3. Figure out your needs
If you're a sugar baby, how much allowance do you want? It depends on your experience, needs, expenses, and other factors like your lifestyle and maintenance to suit your sugar parent's likes.
If you're a sugar parent, what kind of support do you expect from a sugar baby? Do you want to meet sexual needs? Do you want an emotional bond or just friendship?
Make sure you control your expenses, otherwise your sugar baby will get greedy. Don't let them get an air of how much you're capable of spending… else negotiations might not go well.
4. Choose a proper platform
Be very picky when you pick your platform to find a sugar parent or sugar baby. The reason? Well, you'll probably get scammed big time if you don't choose a legitimate platform.
Facebook and Instagram DMs for these might not work out well. Choose a dedicated platform to find your sugar buddy. Check the reviews of the apps and only then sign up.
If you want to keep things private, make sure to not link your social networking sites with the app.
5. Fill your profile seriously
Before you sign in on the dating app, create a new email account. Don't link your frequently used accounts to this app.
Don't add your phone number to the profile either. Set up a Google Voice number and use it. Stay away from unwanted suitors smartly. Prioritize your privacy over everything else.
Sugar babies gotta work more on their profiles than sugar parents. There are too many of you and too few rich older people.
Don't write cliché bio like "I'm not your average sugar baby" or "You don't know what you're missing out on unless you get me". These are outdated… they won't attract too many sugar daddies.
Make sure you don't add too many filters or edit your picture to the point you can't recognize yourself.
You won't just date online… you'll also meet in person. If they don't find you as attractive, the deal will be off.
Make sure to show your real self… not an edited version. Groom yourself and take pictures of poses that flaunt your features. You don't need perfection, because nobody is.
6. Be wise in choosing your sugar match
When choosing your matches, don't be overwhelmed with the variety. Remember, you'll date for benefits, not romance and it probably won't be long-term.
Don't feel too excited if you get lots of matches or frustrated if you don't get much variety. Take time to explore your choices and choose them wisely.
If you get rejected, don't lose hope too soon. If it doesn't work today, leave it for the day. You can't continue the search with a negative mindset.
7. Be straightforward from the beginning
When you get a match, be very honest about what you found in steps 2 and 3. Save more time this way rather than beating around the bush.
If both of you know one another's likes and dislikes from the beginning, you can decide whether this will actually be worth the shot.
If you don't think you can work it out, there's no point in investing more time.
Don't forcibly stick to people who don't have similar desires as you. Be honest about your boundaries and deal-breakers. Encourage them to do the same.
8. Negotiate carefully
If you have negotiable boundaries, don't spill them too early. Take your time to think if the deal is really worth negotiating. Don't sell yourself short too fast… even if you're desperate for money or other aid.
If you show your weaknesses too early, you might not land a good deal. So, tread carefully on this path and don't forget your goal.
However, if you're a new sugar baby, you might not get better offers for a lack of experience.
9. Take time before your first date
Don't meet up too early while talking. Take this opportunity to make sure of their intentions. When they ask you for the first date, dodge it if they ask you out in a private space.
Make excuses to dodge it or simply state you want to meet in a public place.
Meanwhile, complete the negotiations and notice if they're authentic or not. Do a background check instead of believing them.
If your potential sugar parent says they hold a big position in a popular company, look them up on social media like LinkedIn. Cross-check them for authenticity. This will help you avoid any sticky situation.
You may also ask them for a picture for identity proof or video call to make sure quickly.
10. Fix a date when you're ready
Don't delay the meeting for too long, lest they find a different sugar match. When you clear all the suspicions and they're still interested, fix a date and venue to meet them.
If you're on the sugar daddy/mommy…
Make sure the date is on you. Don't expect them to pay because if you make them fend for themselves on the first date, they won't have much hope from you.
Groom well because even if you have money, a sugar baby might reject you for bad hygiene or poor appearances. Yup, it can happen if they have other potential sugar parents.
If you're the sugar baby…
Hope that this person pays for you but still stay prepared… in case they're too stingy with money.
If they don't offer to pay for you, honestly reconsider. You're in for the money or materials… if they can't do that much on the first date, it's a bit weird.
Don't forget to look absolutely gorgeous but don't overdo the grooming.
A word from ThePleasantRelationship
Whether you're a sugar mommy, sugar daddy, or a sugar parent… if you're inexperienced, be very careful about what you share online.
Your safety and security are no joke so always prioritize them. Make sure to not spread your personal life and decisions with your friends and family.
If you're married, however, take consent otherwise it's no less than cheating. It's not worth a try if your serious partner doesn't agree to it willingly.
Be prepared to label your relationship for the public view… in case you come across an acquaintance unprepared.
Take care of your sexual health in case sex is in the relationship. Don't skip using protection, you don't want to be bound to someone unwillingly.
Surabhi Kedia
Surabhi wakes up every day with a drive to craft words that can create a soulful impact. Creatively adventurous, she is always seeking to learn new skills and acquire new experiences. With a hidden soft corner for languages (especially Urdu), she writes poetry occasionally, binges on romantic shows, and LOVES to talk. A hustler, admirer, chaser, Surabhi is just another-someone who refused to give up on her dreams. She says, she is just somebody who's trying to make herself a writer and for now, she's just writing...