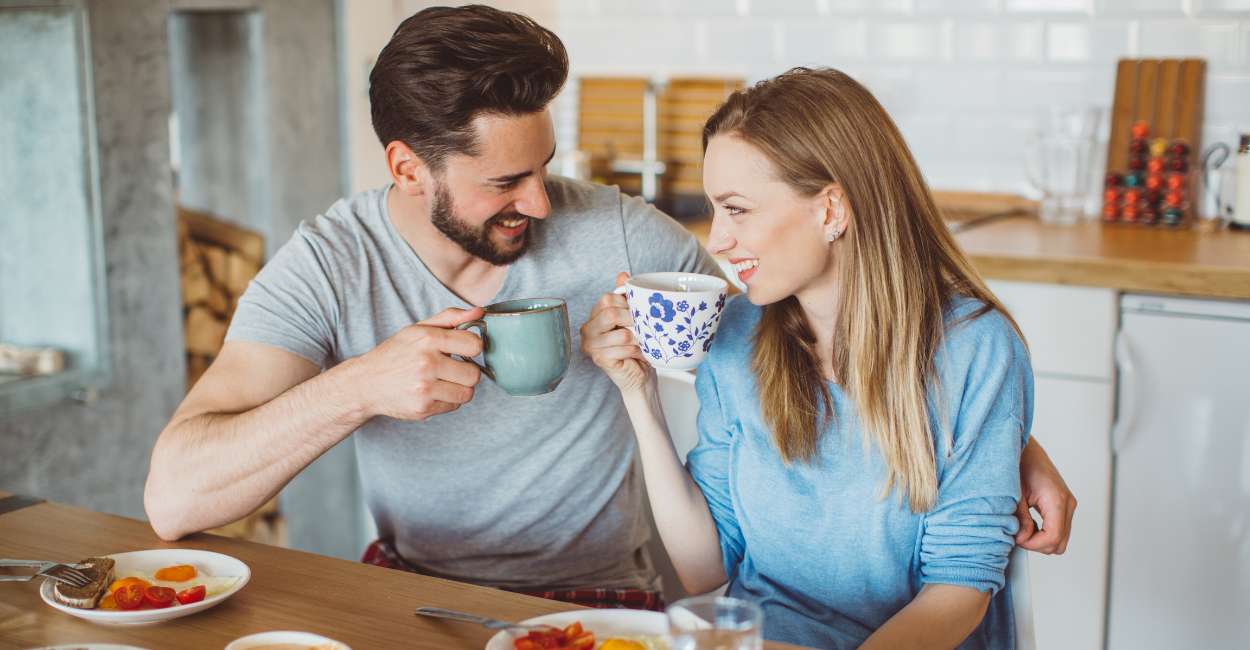 If you want to refresh your marriage, you HAVE TO know how to date your wife. Couples often forget that they can date even after marriage. However, the burdens of new responsibilities often make them forget that.
But now that you're looking up ways to date her, you're already half-prepared to groove things up.
So, keep reading to find out!
---
How To Date Your Wife? – 30 Romantic Ideas
You believe that you have the best wife in the world. But you haven't paid enough attention to her. You feel the romance dying in your marriage, and you want to revive it by dating her?
Well, you've reached just the right place. So, grab all the ideas you need!
1. Plan a classic dinner date
Bring the classics back and plan a dinner date in style. Your wife deserves to feel like the gorgeous woman she is, so give her a chance to dress up and take her to a fancy restaurant. Enjoy a night full of fine things to refresh your mood.
2. Go on a long drive on the weekend
A long drive is the best way to reconnect with your wife. Sit close together in the car, talk for a long time, and make the drive as good as the destination.
Choose a day when the weather is nice. After all, being stuck in a car in too much heat or cold is not a pleasant experience.
3. Plan a 24-hour honeymoon getaway
How long has it been since your honeymoon?
It gets incredibly difficult juggling work and life. Moreover, when kids are thrown in the mix, it is almost impossible to find time for each other.
If this is your scene, choose a day to take off and remind your wife of the honeymoon you shared.
It doesn't have to be your honeymoon destination. Choose any place you both want to visit.
4. Take up a new hobby together
A good way to spend time with her is to take up a new hobby together. 
When you will learn something with each other as partners, you will experience great joy and bond with each other.
5. Set up a late-night date at home
If you are looking for something to do on short notice, plan a date in your house itself.
If you have kids, put them to bed and then have a cozy candlelight dinner on your own dining table. You can also cook something special for her.
6. Watch a tv show together
This is something you can do tonight itself.
Find a web series your wife has wanted to watch for a long time and put popcorn in the microwave.
Share a blanket and cuddle under it while you watch the series together. You can also put on a romantic show and whisper sweet dialogues in her ear.
7. Take her out dancing
Find out a ballroom dance tutor and enroll. Learn the dance together and then go out ballroom dancing.
Make her feel like she is in the movies. It is an incredibly romantic experience to share with your wife.
8. Go on a long vacation without the kids every year
Kids are lovely additions to the family, but being responsible for them is no easy task. It is easy to lose yourself in the roles of parents.
So to remind her that you are husband and wife, take a trip once a year where you can relive your life as young adults again. Do this to keep your marriage fresh.
9. Become reading buddies
If your wife likes to read a lot, you can become reading buddies.
Start reading a book together every month and discuss it when you are done reading. It will become something both of you look forward to every month.
10. Run errands together and make it fun
When you cannot find any time to get away, try to make the daily tasks romantic.
If you have a grocery list you need to fill, take your wife along with you to the supermarket and enjoy a little shopping date.
11. Leave her little love notes around the house
It will melt your wife's heart to find little notes with messages full of affection for her.
Use Post-It to write little "I love you"s. Leave them in unexpected places around your house and her car.
She'll be surprised to find them throughout her busy day.
12. Go to an amusement park together
Visit an amusement park together for a lot of fun. Sit on the swings and take the rides together and hold her hand when you scream your lungs out on the roller coaster.
A day filled with childish fun will refresh you after a week of hard work.
13. Watch a cinema in the theaters
Keep the laptop away and take your wife to the theaters. Watch a good movie on the big screen and hold her like you are on your first date.
You can even take advantage of the dark and steal a little kiss. 😉
14. Cook together
Do not let your wife do all the cooking. Instead, spend time with each other during this daily task.
If you are not very good at it, help her prepare ingredients and bring things out of the fridge. Have a conversation about how her day went, and you will have a daily date with your wife.
15. Sneak in romance during events
If you have an event ahead, make it an excuse to romance your wife. Ask her out like you would ask a girlfriend to accompany you to a family function.
If you are at a wedding, sit at the very back. Whisper in her ear and remind her of the memories of your own special day.
16. Ask her to be your date
Being your wife, she will not expect you to ask her out again. So surprise her by proposing a date to her in a dramatic way.
Get down on one knee, give her a flower, and say, "Will you be my date for today?"
It will surely amuse your wife and set the mood for the date you guys can go on later that day.
17. Recreate your first date
Remember how your first date went and all the feelings you felt.
Try to recreate the same day the best you can. After so many years, it will be incredibly romantic to relive the moment.
Recollect if something funny or awkward happened that day. It will be hilarious to do over the same things.
18. Send her flowers at work
Surprise your wife by sending her a huge bouquet at her work. But make sure she likes attention, otherwise this can go very wrong!
19. Make her a handcrafted gift
Handcrafted gifts are the sweetest things you can give your wife. They show your thoughtfulness and dedication.
Try making a little crocheted soft toy or write her a poem. These little things can sprinkle joy and romance in your marriage.
20. Have a special no-phone and no-work Sunday each month
We all have duties at work and things our families need from us. But if you always attend to these, you will not realize when you have lost your spark.
Have a special Sunday with each other when you keep your phones aside. Let no one reach you. Keep the kids at someone's place and take your wife out. Or spend the day with each other at home.
21. Serve her breakfast in bed
You can make your wife feel loved at the beginning of the day with breakfast in bed.
Decorate a tray carefully with her favorite breakfast item and wake her up with all the love you feel for her.
22. Text her cute things throughout the day
Remind your wife that you are thinking of her throughout the day by texting. Send updates about you and little things that remind you of her.
She will feel appreciated and loved if you let her know that she is on your mind.
23. Go to the spa together
A visit to the spa together will relax both your body and your heart. Book a few procedures and a massage at a good spa, and spend the day with your wife there.
24. Do couples yoga together
Couples yoga is a great way to combine exercise and romance. This is a great way to refresh the chemistry between you.
To successfully do couples yoga, you must be physically close and learn to be in tune with each other's movements.
25. Go to a karaoke bar together
Karaoke bars are a fun idea if you both enjoy music. But it is a funnier idea if you are a bad singer.
So, go to a karaoke bar and sing your hearts out. However out of tune your singing is, the time spent laughing with each other will create happy memories.
26. Do teenage dating things together
Dating during the teenage years is awkward yet so much fun. You have so little money to spend that you are forced to become creative.
Try that and go on an affordable date with your wife. Eat junk food, go window shopping, and make out in the car.
27. Go stargazing with your wife
Stargazing together in an open field alone at night is a lovely opportunity to bond. You can share a calm moment with each other, exchange your thoughts, and grow closer emotionally.
You can also read up on stars and constellations to surprise your wife with your knowledge.
28. Dance to romantic music at night
Dancing to romantic music in the privacy of your room at night is an incredibly romantic activity. Turn off the lights, hold each other close, and sway to the beats of your favorite jazz.
29. Take her on a mystery trip to visit her parents
If you live far away from your hometown, surprise your wife with a visit to her parents' house.
She'll have the chance to reconnect with her family. And you can also explore her neighborhood and take her on dates in the places she loved as a kid.
30. Surprise her with tickets to her favorite concert
Nothing beats the thrill of live music, so take her out to a concert of an artist she loves and dance the night away.
---
A word from ThePleasantRelationship
Follow all these date ideas to surprise your wife. And bring the butterflies back to your marriage in no time. She will know exactly how much you love her and how far you'd go to see her happy.
Make sure you stay consistent and your romance will never fizzle out!
Surabhi Kedia
Surabhi wakes up every day with a drive to craft words that can create a soulful impact. Creatively adventurous, she is always seeking to learn new skills and acquire new experiences. With a hidden soft corner for languages (especially Urdu), she writes poetry occasionally, binges on romantic shows, and LOVES to talk. A hustler, admirer, chaser, Surabhi is just another-someone who refused to give up on her dreams. She says, she is just somebody who's trying to make herself a writer and for now, she's just writing...