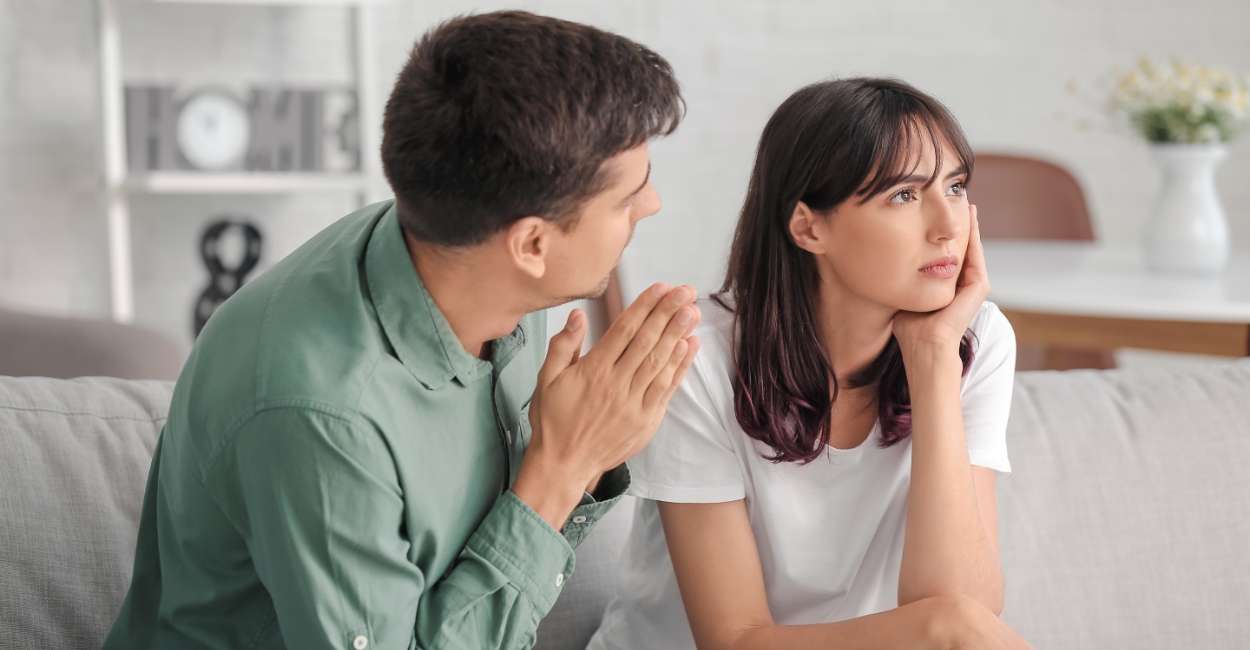 So, you want to know how to apologize to your girlfriend. It seems that you have landed yourself in a bad situation!
Well, whether it was something petty or serious, it can be pretty hard to get her to forgive you. After all, you're her knight in shining armor… and she expects a lot from you!
Well, you gotta learn to live up to her expectations. C'mon, let's settle everything down and win her heart once again here!
How to Apologize to Your Girlfriend? 30 Ways
You have probably tried every trick by the book to make things better and even sought your friends for help. However, you've just noticed that her temper is not something to be trifled with.
It's all because she wants you to appease her even more, show how much you're sorry and what you're sorry about. And if you don't know how to do that, keep reading!
1. Think about her feelings from her POV
If you think that your girlfriend is mad at you for nothing, think about it from her perspective.
When she is angry with you, try to understand why your actions seem hurtful. Put yourself in her shoes before dismissing her feelings. And you will know how to improve things in no time!
2. Say "I am sorry" without "but" or "if"
An unconditional apology always sounds more heartfelt, so do not use 'ifs' and 'buts.'
When you say, "I am sorry but…" or "I am sorry if you felt that way," you are not taking the blame for your actions.
So, instead, say, "I am sorry I did this," or "I am sorry I made you feel this way."
3. Stock up on her favorite ice cream
The way to a woman's heart is often her comfort food. So, buy her favorite ice cream right now. Fill your fridge with a variety of her favorites and watch her mood uplift magically!
She will be much more open to listening to your apology when she's filled with delicacies. So tell her how sorry you are only after half a bucket of great dessert.
4. Give her some space
If you have done something that seriously hurt your girlfriend, give her space to process her feelings. Hold your apology back for a couple of days.
She needs this time alone to think about how to deal with things. So approach her only when she is ready to talk to you.
5. Write a poem for her
Nothing can be more romantic than an original poem from a lover. So, praise her beauty and personality in the poem and how she makes you feel.
This will show her how real your apology is. When you let her know how much she means to you, she will forgive you.
6. Sing a song for her
You must have seen the romcoms where the lead man sings to his girlfriend under her window. Well, give that a try!
Choose your song wisely so that she knows how sorry you are.
The charm of a guitar or any other instrument and a good song on a lady is undefeated. So learn a few chords and strum your way into her heart.
7. Write cute things on sticky notes
Write short messages on sticky notes and post them throughout the house. Put a few where she will never expect them to surprise her.
Some of these messages can be:
"I am the worst I know, but I love you."
"I know I hurt you, but can we talk?"
"You are the best I could ever get, please make up with me!"
Lastly, include some special things that are unique to your relationship. Don't just blindly copy from resources!
8. Be very kind to her
If you have deeply hurt your girlfriend, be extra nice to her while apologizing. Consider her feelings and give her some leeway to scream at you if she likes.
Show her that you are a good partner with little things like, breakfast in bed, packing her lunch, and likewise.
9. Treat her like a princess
Do not let your girlfriend do any work around the house for a while. If you don't live together, drive her to the places she needs to go to for work or any errands and be on your best behavior.
Treat your girlfriend like a princess to pay for your mistakes. Even if you lose a few hours of sleep, you can at least keep the love of your life.
10. Gift her a special photo
Look through your online and offline albums. Choose pictures where you were smiling widely.
Send the cutest pictures of both of you to the framers. Don't forget to choose the most luxurious frames. Hang the picture in the best spot in your house to remind her of the good times.
This is one of the best ways to make your girlfriend realize that your relationship is worth saving.
11. Send her funny memes
Is she mad at you for your petty actions? Perhaps you didn't take the trash out for two days. Then, memes are the best way to lighten the mood.
Make your own memes about your situation and send them to her throughout the day. Be sure to show yourself as the bad guy in them to tell her that you know you are wrong.
12. Send her flowers
Roses, daisies, peonies… What kind of flower does your girlfriend like?
Go to a florist and order an assorted bouquet of those flowers and hand deliver it with an "I'm sorry" card to her house.
Watch her melt in your arms the very moment!
13. Get her a bouquet of chocolate
But wait, if she's not that big on flowers, there's an even better choice than a bouquet of flowers. A bouquet of chocolates!
Choose the chocolate bars she loves to munch on and make a personalized collection to gift her. This sugary present will melt her anger.
14. Plan a little date
This one works as a second step in your apology. You must first convey you're sorry and coax her enough to spend some time with you. Once she agrees, this is your way to go!
Plan the perfect date to make her feel appreciated and relaxed. You can take advice from her friends to guess what she is in the mood for.
Give her a lovely evening to bring you emotionally closer. The best way is to recreate your first date!
15. Surprise her with a home massage
Set up a massage station with her favorite essential oils, hot towels, and dim lighting, and massage her yourself.
As this is a lovely sensual experience, it will relax her and ease the tension. Ask her where she feels sore and help her loosen up those muscles.
If you do it right, she'll understand your nonverbal apology. But you must still say how you feel to make a strong impact.
Don't expect to get lucky, though. Otherwise, she'll think you're only thinking about sex and get mad!
16. Gift her something meaningful
Think about what she likes and get her something special. Cliché gifts are okay, but nothing is better than a thoughtful gift from you if she's hurt by your carelessness.
17. Make a list of what you did wrong
Women want men to understand their feelings without explaining. So, she may not complain to you at all.
Instead, you should take some time to really think about what happened. Make a list to cover everything that you need to apologize for. Show her that you know exactly where you went wrong.
18. Gift her a trip with her friends
If she is so mad at you that she does not want to see your face, take some space. Let her spend some time with her best friends.
Invest in an all-expense paid weekend trip with her friends. It might be just the thing she needs to feel like herself again.
She will come around when she is grateful for that precious time with her friends.
19. Write a romantic letter
A handwritten letter carefully sealed in an envelope with wax and small decorative flowers – sounds romantic, right?
So, write your apology down on some fancy paper. Say sorry to your lady love in an old-age style so that she can see the effort you have put into it.
20. Cook a dish for her
A nice dinner date at home with home-cooked food is a great way to let her know that you are sorry.
Be a gentleman and cook something with all your heart. Show her worth in your life by putting great effort into this meal. 
21. Gift her a good wine
If your girlfriend likes to drink good wines, give her a vintage she can add to her collection.
It is a classy gift that will let her know that she is worth every penny you spend on that bottle. This will naturally help you calm her, and you will enter her good books again.
22. Tell her you miss her
After you made the mistake, does she not talk to you? Is she living away from you and doesn't agree to meet?
Well, express your feelings honestly and tell her how much you miss her. When you are emotionally honest with her, she will understand you better and forgive you.
23. Apologize in public
Did you mess up in public? Then apologize in a public setting to show her you mean it.
It takes great courage to admit you are wrong in front of everyone. So she will be convinced that you will never repeat what you did.
24. Send her a long apology text
If you can't hold yourself back from apologizing even when she refuses to speak to you, say sorry over text.
Do not just write short messages like "I'm sorry" or "Please forgive me."
Instead, write a heartfelt one explaining why you made such a mistake and how you feel about the situation.
25. Tell her some lame jokes
You can also get her forgiveness if you can make her laugh. So, tell her some lame jokes that will surely make her feel better.
Look for some dad jokes on the internet and lighten the mood before you apologize.
26. Take her to an amusement park
A day spent at an amusement park will remind her just how good it is to be with you. So, take her out to ride the swings and roller coasters to help her relax and have some simple fun with her.
27. Take her out on a long drive
A long drive is a great way to be together, away from all the humdrum, and have a deep conversation with her.
Go out on a drive at night and talk to her about what went wrong and how to move forward with your relationship.
28. Bake her a cake
Store-bought cakes hold no chance in front of ones you bake from scratch!
Your own effort to prepare her favorite dessert might hit just the spot! The personal touch will make your apology stronger.
Bake her a cake that she will love and write "I'm sorry" on it with icing. Show her how hard you'll work to have her back!
29. Adopt a pet with her
If she's an animal lover, this will work wonders!
Bring home a little furry friend and be parents together. This will show your commitment to the relationship and your sincere feelings. Let your girlfriend's anger disappear with its cuteness.
30. Tell her you will never do it again – and keep this promise!
Tell her that you will never repeat what you did ever again. Keep this promise because a repeated mistake looks only like a purposeful attack.
Be careful about how you treat your girlfriend in the future.
A word from ThePleasantRelationship
Remember that your girlfriend loves you, and she is hurting a lot. So show her how much you love her and appease her anger. Remind her that you're ready to do everything it takes to get her back.
Follow through on your promise to be a better man for her. Show her that you're a flawed human being, but you'll also leave no page unturned to make things right. Your stubbornness alone will make her forgive you for everything!
Surabhi Kedia
Surabhi wakes up every day with a drive to craft words that can create a soulful impact. Creatively adventurous, she is always seeking to learn new skills and acquire new experiences. With a hidden soft corner for languages (especially Urdu), she writes poetry occasionally, binges on romantic shows, and LOVES to talk. A hustler, admirer, chaser, Surabhi is just another-someone who refused to give up on her dreams. She says, she is just somebody who's trying to make herself a writer and for now, she's just writing...