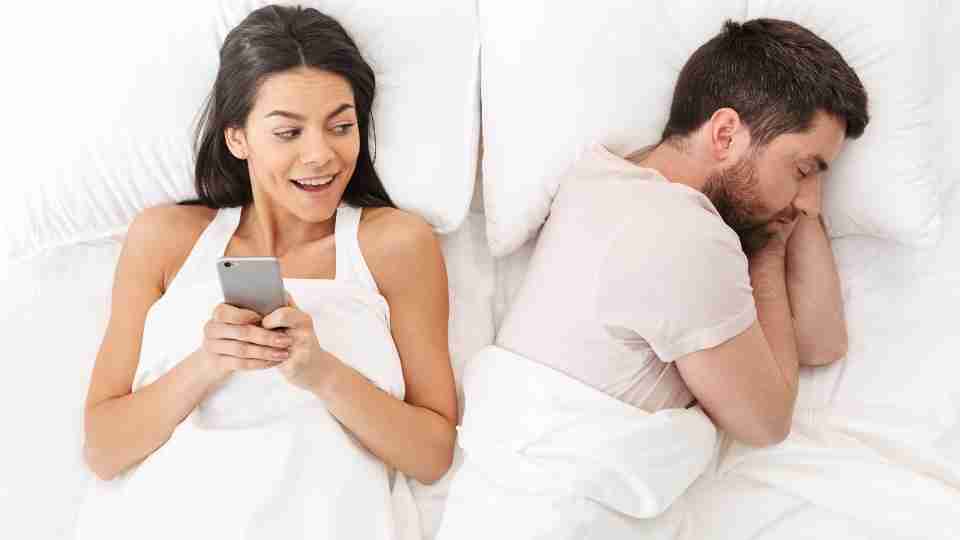 If you think you're married to a cheating wife, instead of flooding your social media status with cheating quotes and love quotes… take some time to explore these 50 proven signs that reveal your wife is cheating.
Don't react before you are completely sure about something.
It breaks my heart to say this, but if you can relate to the signs listed in this article, buddy, you need to address this issue ASAP.
The article packs it all-in-one for you, and it's easier than hiring private investigators!
Catching a cheating spouse is one thing, but this think-piece has a lot more to reveal. It is a sure-shot guide to the after steps too!
Does that sound convince already? So, what are we waiting for? Let's begin straight with the signs!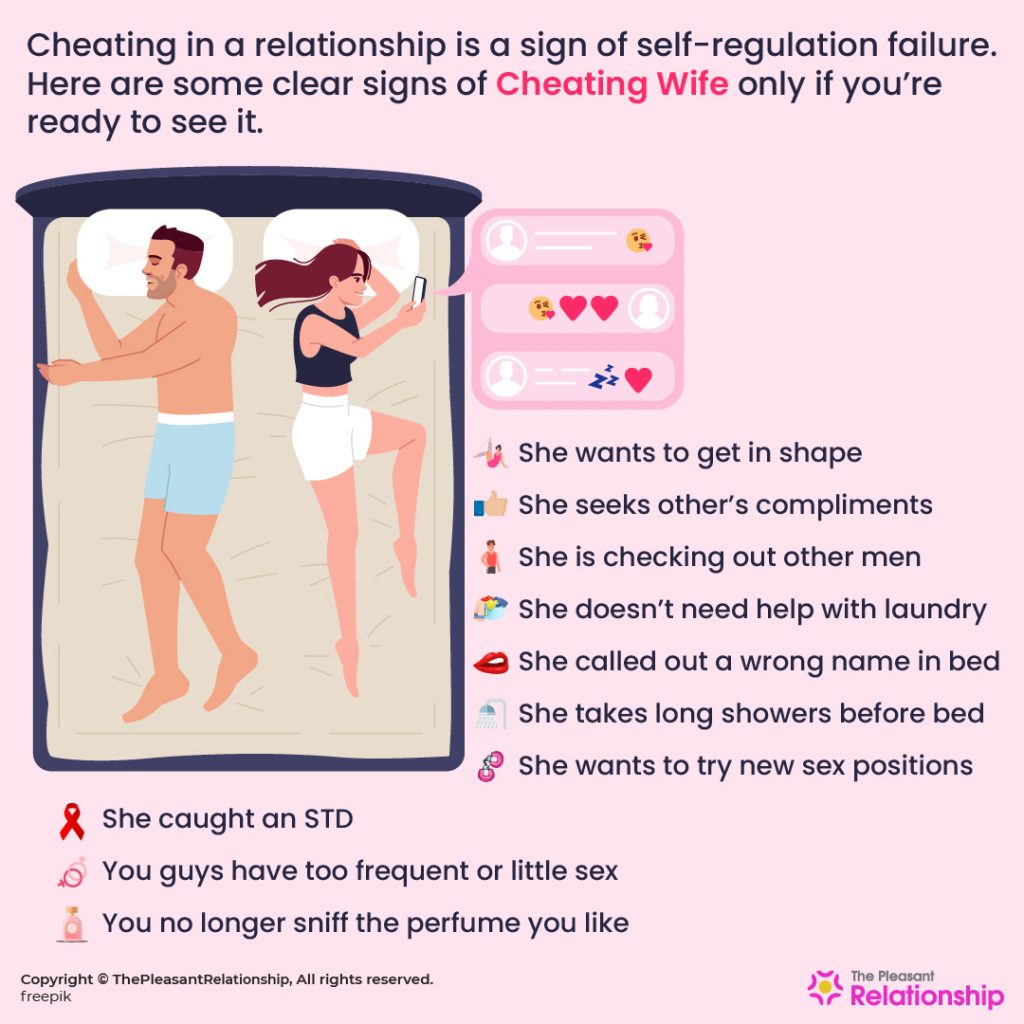 50 Signs of a cheating wife (signs your wife is cheating)
Being a cheat in a relationship is a big accusation and if you confront her without any validation, she will behave like you're the worst husband ever.
So, if you're really suspicious, you need to pick up on the cues and interlink them to reach a sure-shot conclusion.
Buddy, this is going to be an emotionally challenging period for you. Besides, the process is going to exhaust you mentally.
Don't worry, you have 50 strong signs waiting right away to help you with the decision. Let's go:
Physical signs your wife is cheating
1. She wants to get in shape
If she recently joined a gym, there are fair chances that her new hookup waits to meet her there.
If she was never a health freak and you noticed her putting a lot of effort into getting back in shape, all of a sudden, this is a Red flag!
Probably her new interest asked her to shed those extra pounds and flaunt an hourglass figure.
2. She seeks other's compliments
You can't stop men from drooling over a graceful lady.
But if you notice that your spouse enjoys and seeks other men's compliments, it's a definite sign of cheating.
A loyal wife, with a strong character, will definitely not seek informal compliments from male colleagues.
Will she like it if you behave the same with other ladies? Of course not!
3. She is checking out other men
If you catch her checking out other men, it's again a sign that your wife is dissatisfied with her present married life.
If it's just her playful side teasing you, that's absolutely fine… maybe you're the same.
However, if it is not men, and just one particular man who draws all her attention most of the time, man, your wife is cheating for sure!
4. She doesn't need help with laundry
Do you think wives are that easy? If your wife is honest, loving, and likes to serve you wholeheartedly, and takes up all your workload, congratulations!
But if your wife suddenly took up all the laundry work, she may be trying to hide a foreign male scent or perfume.
In the attempt to cover her tracks, she turns into an extra smart wife who often gets trapped into her own ploy.
5. She called out a wrong name in bed
Oops, it was a slip of tongue! But man, it says SO MUCH.
It may be normal in day-to-day life but it is definitely not the same as your wife calling some other man's name in bed.
Perhaps she wants you to be somebody else for her?
Or, is she habituated to sleeping with somebody else too?
Calling another man's name in bed, especially while making out, is a horrendous offense that a cheating spouse can make!
6. She takes long showers before bed
Lately, if your wife takes frequent showers, especially before bedtime, these are signs of cheating.
You definitely need not worry if this has been a time-worn habit, but if this is something new coming your way, you must inspect it…
Perhaps she doesn't want you to sniff the new lover's scent!
7. She wants to try new sex positions
You probably become too excited to think twice before trying a new position in bed, just because your wife wants it. Hang on, Pal!
Have you ever wondered why is she suddenly so weary of the old positions?
If you listen to some famous author of infidelity, Don David Lusterman, you'll find that a wife suddenly starts to ask for new sex positions when she has been getting inspiration from somewhere else.
Yes, it can be movies and female friends, but who knows if it is a new boyfriend!
8. She caught an STD
If you do not carry a sexually transmitted disease, and your wife has got one, this is a no-question sign of infidelity.
Perhaps she hooked up with someone suffering from an STD. In fact, if you know a male friend of her circle, diagnosed with the disease, it might be him!
The situation is not less than relationship havoc! It's not just her life at stake, you are at risk too. That's not right.
9. You guys have too frequent or little sex
Among all the other signs of infidelity, a very prominent one that you may observe is your intimacy rate.
If you guys don't indulge in your sex life regularly, because of complications, it is absolutely fine.
But if you both hardly have sex, it denotes some warning signs in your marriage.
If she makes frequent demands for having sex, perhaps someone triggered her lusty desires.
In contrast, if she turns you off every time you grab her in bed, she might not find you or your sexuality interesting anymore. 😬
10. You no longer sniff the perfume you like
Pay attention to her changing choices if you want to track down other signs of cheating.
Let's assume she has always used the perfume you got her or your favorite fragrance. But now, she's switched her fragrance to something new.
To make matters worse, if she uses it despite your dislike towards the new fragrance, that's not done!
She probably isn't wearing it for you…
You can be sure with these…
Surefire signs your wife is cheating
11. She narrates you cheating stories
Normally, it's human nature to interact with a different character in the story: whenever we are scared of the person's opinion on the matter.
The listener may or may not approve of what we do.
Similarly, your wife tells you stories where the wife cheated on her husband… that's when you know, in reality, she has been cheating on you.
12. She changed her appearance
If she values others' opinions more than yours about her outfit, then something suspicious is happening.
Dressing according to her own choice is acceptable. However, dressing against your wishes definitely bothers you… and that's natural.
On top of that, if she spends more time on self-grooming along with makeup and jewelry, you've got some serious concerns in your relationship, my dear…
13. She posts too many solo clicks
If you don't find yourself in your wife's social media posts, then in a manner, she is blowing her own trumpet.
She might crop you out from some pictures, just because of your fight last night. But that mustn't be an everyday story!
Don't forget to question her on this if you see her doing that again…
14. She keeps her phone on silent around you
If your better half acts differently with her cell phone around you, that's not a good sign.
She might put it on silent mode to avoid your attention from her lover's calls and messages from you.
That's absolutely safer than ignoring her lover's phone call when it is ringing off the hook.
15. She stopped calling you with love-filled names
If she has stopped addressing you as "Honey" or "Darling", and it's hard to recall when she did so the last time, that's another sign, pal!
All of us use pet names to coddle and pamper our loved ones.
Whether it is husband or wife, if any of the partners stop addressing their significant others with some romantic and flirtatious pet names… your love life is about to run out of fire and passion.
16. She cross checks your schedule
If you're cheating on someone, you must keep track of their schedule so that you can get into action in their absence.
If your wife questions you about your whereabouts continuously, then that's because she does not want to get caught in action.
Also, if you find it suspicious, and want to snap your sweety red-handed, then try not revealing the actual schedule.
If your suspicions are legit, you might find something shocking (yet anticipated) when you get back home!
You can also use a navigation system or Google maps to track locations or fix hidden cameras in the house to keep a check on who visits your love nest.
17. She has lost interest in your friends
If she plans to do something outrageous, then she definitely won't want your friends to know… who wants to add onto the already guilt-ridden conscience.
Thus, she doesn't want to hang out with your friends and tries to avoid them in every way possible.
She may have different excuses on different occasions but the goal is the same: not to be seen in public with you.
18. She refuses to visit a "restaurant"
If you plan dinner or lunch dates for your wife and find that she gets nervous just with the name of the restaurant, something is fishy about it.
She possibly visited those places with someone else too and doesn't want the staff or locals to recognize her.
She won't tell you the reason for not liking the place but still wants to change your thoughts.
19. She can't maintain eye contact
Is she avoiding eye contact?
Science says, when you're guilty, you try to avoid eye-contact. So, if she is also doing the same, you know what it means.
Perhaps, her eyes wander all over the place when you talk about important matters concerning your relationship. That's a sign of nervousness and deception.
20. She stocked up new lingeries
You may find it shocking to see that your wife spends lavishly on new clothes and lingerie.
Lingeries are important but did you ever see her using them?
If the lingeries are worn, but you never saw her wearing them.
That's where you need to worry. Is she luring someone else with the lingeries?
Sometimes, we fail to notice some…
Obvious signs your wife is cheating
21. She's protective about her phone
Is your wife acting weird while sharing her phone with you?
Back in the days, she left it lying around the house, but now she is extra cautious about it.
This might be a small indication that your wife is possibly cheating on you.
One thing's for sure, she's definitely hiding something on her phone.
22. She's addicted to social media
If your wife was initially an introvert and has suddenly started uploading her pictures regularly, then there's something to be suspicious about.
However, if she was already an active user of social media, posting pictures might be one of her regular things to do.
In that case, you should look for her comments sections and her followers.
Also, check for the kind of pictures she is uploading. If that thigh-cut red dress hot pic or deep-neck collar t-shirt made it to her Instagram, buddy… you know it, you JUST KNOW IT.
23. Her password is a puzzle
Marriages are tricky. You need to be very careful once you tie the knot. Sometimes wives demand a Lil space and privacy for themselves, and that's perfectly fine.
However, if she's extra confidential about her phone and social media passwords, that's dodgy.
Perhaps she wants to hide something from you? But don't get too suspicious without knowing the reality.
24. Liar and a bloody hypocrite!
Truth is the foundation of any relationship.
If your wife has been lying about every tiny-little thing lately, whether or not she's cheating, you need to get to the crux of the matter.
When you try to confront your spouse on the same, she will behave like a hypocrite and pretend to be a true moral.
You may still ask her questions about where she spent all her money, or why she returned late from work? You might face a fight though!
25. She hangs out with new faces
Making new friends is acceptable.
But if your wife suddenly joins a new kitty, or hangs out with an absolutely new circle of friends these days, she must be coming across a lot of new faces… including men!
And feeling a little insecure about this is obvious. If she's loyal, she possibly wants to make you jealous.
However, if she's never invited these friends over, or introduced them to you… then she particularly wants to keep you away from tracking her activities.
26. What is she doing with your credit card?
If you found something weird in your card transactions, ask your wife directly. If her excuses don't satisfy you, then you have to be alert.
She might spend money elsewhere, maybe on her new partner…
Always double-check the bills she shows you, just for assurance.
27. She's too busy to hang out with you!
Instead of going out with you, does she motivate you to hang out with your friends?
Once or twice, seems like generosity, but if she makes silly excuses every time you ask her out, that means she's avoiding any social gathering or parties with you.
Taking care of children and doing the household course is understandable, but what if she has decided to spend time with someone else?
After all, you never know, unless you have a CCTV camera at your home.
28. She remains mad at you
Is she picking fights without reason?
If she's found a new partner outside this space that you both share, it is obvious that she will argue with you more… so that she can give ground for her betrayal.
She will get furious on small little things. She might be doing this to get rid of you once and for all.
29. Her relationship status changed
This is a big-ticket sign that your spouse is cheating.
If your wife changed her relationship status on her social media accounts, you got to buckle up! "Single" or "vacant" – in either of the cases, men will consider her unmarried.
She might pretend to be a single woman because she is looking up to hooking up!
30. She is guilt-ridden
Yeah, you may be tolerating all the vigorous mood swings once or twice around her menstrual cycle.
However, if you're tired of tolerating her unstable side for quite some time now, you must dig deep into the pit to identify the reason.
She might behave like this because she is guilty of her deeds. It possibly has become really hard for her to accept that she is a cheater.
Tell tale signs of a cheating wife
31. She escapes conversations with you
If she is cheating, she will mentally part herself from you. She will avoid interacting with you, or may even escape day-to-day conversations.
She might be doing this because she feels uneasy and guilty about her wrongdoings behind your back, so she isn't able to face you and talk.
If you aren't sure about this sign, try this today evening… maybe call her to say, let's have a candlelight dinner at home today…
…and see what's the new excuse she finds out.
32. She doesn't share secrets with you anymore
Humans are very complex creatures with simple needs like a heart-to-heart conversation.
If she has a habit of sharing her tittle-tattle with you and suddenly one day, she stops spilling the tea, then that pretty much means the whispers are going to another person's ear.
Spend some time together to cross-check it.
33. She stops stocking grocery
Women really enjoy arranging and decorating their house with new home décor stuff. They get hyperactive when it comes to shopping.
Wives know best how to avail of deals and offers at shopping centers. They love stocking up groceries and ration for future use. This is what makes them 'homemakers'.
And if you don't find a homemaker in her anymore, it clearly indicates that she is with another man.
34. She doesn't invest extra efforts
You might get irritated at times when your wife usually tends to create a fuss about everything – be it any trip, a birthday, an anniversary, or simply an event.
But, you must worry more when she stops doing the same. If she is likely to lose interest in all these things, she may be planning something big with this newfound partner.
35. She isn't jealous of your female friends
Wives can be really possessive if they are in love with you. Like, REALLY possessive. Her lack of jealousy is an alarming sign for your relationship.
So, if she isn't bothered about you hanging out with other female friends, this is not normal.
Perchance, it does not affect her anymore and she is fine if a woman hits on you… or worse, takes you away.
Because let's admit it, that's exactly what she is doing.
36. She is not all ears to you
Once upon a time when she waited for the whole day to hear one word from you… she doesn't retain the same curiosity anymore.
"Why did it take you so long to return?"
"How was the day?"
"What are you wearing tomorrow?"
…these questions made you feel important to her, right?
But now, she has ceased taking interest in your activities.
37. Is she happy?
Your life partner, your woman/wife is not really happy with you.
I know the thought doesn't bring joy, and it's truly hard to accept this.
But if she says that she is not happy with you, it does not necessarily convey that you're at fault.
It might be because she has lost interest in you.
Friend, no need to blame yourself for the condition.
Don't cry because someone did not recognize your value. Their loss!
38. You wait to hear "I love you…"
At some point in time, she came running to hug you and express all her love with these three words.
This gesture possibly even pissed you off at times. But now it has been so long since you heard those three words, that you don't even remember how it sounds from her mouth.
The reason why she is not expressing her love may be because she no longer loves you… and she simply doesn't want to lie.
39. She plays the blame game
That's where it starts… the culprit will try to put everything on you and refocus the center of attention from her to you.
Now when you try to justify your situation (without any fault), it is going to shadow all her actions.
If she finds fault in you even when you tried your best, she's either blind or doesn't want to accept you.
40. "I don't want to stay with you!"
You might face a situation where everything falls apart even if you have given it your all.
"I don't want to stay with you!!!"
…if you get to hear this too often, then there is something wrong with the lady and not you.
Probably, she wants to stay with someone else.
Did she ever leave you for real and stay out? Where did she live that night? Her friends? Parents? Verify with them.
If you're someone who believes in science for such facts, here are…
Proven signs wife is cheating
41. She has a history of cheating
If you ever found that your wife cheated on someone in the past, then it becomes more obvious that it will happen again.
You may have thought to bury the past and move on. But if she has done it once, she can do it again… believe it or not.
People change for the better, but don't turn a blind eye towards her because she's your wife. Look for valid reasons to trust her.
42. She always complains
She picks up fights over trivial things and makes a big deal out of it, showing that both of you are not happy in the relationship.
Also, she keeps ranting about everything that this happily-ever-after doesn't have. She keeps complaining about your flaws… and doesn't seem to stop about your mistakes.
While you're banging your head to improve yourself, the flaw lies somewhere else… I hope you get it!
If anything is wrong with the relationship, she can try to change it herself, or communicate her needs directly.
If she is not doing and yet complains… It's because she wants an end to this drama.
43. She acts like a scared cat
Does she flinch when you enter the room unannounced? Or jumps when you hold her from behind while she's texting?
If she gets scared most of the time as if you caught her red-handed, you don't need to explore for other clues, this is the cue you have been waiting for.
She will act like a scared cat if she is hiding a secret lover from your eyes.
44. You get dissatisfying affirmations
Let's assume you tried to confront your partner about it.
To your bad luck (or bad decision), you got an answer that did not satisfy you.
If she repeatedly dissatisfied you with her answers and you still don't know for certain whether or not she is happy in this marriage, and in love with you – that's a red flag, buddy!
45. No Attention, no We-Time
If you don't get the attention or time that you deserve in a marriage, you'll feel frustrated.
At times, it can be due to the household chores or "workload" but not always!
So, if she avoids conversations or any kinds of discussions, then there's definitely something fishy.
Understand that most humans need to vent somewhere, there are only a few who can keep everything to themselves.
So, if your wife has stopped finding comfort in you, there's a high chance she is finding it somewhere else.
46. NO DEMANDS
Most times, she is like…
"We need a cupboard… there's no sugar… I need some gowns…"
But not anymore.
Honestly, if she is not demanding things with you, she has subdued her rights. It might imply that she's self-sufficient, but if she doesn't have any income, it's sus!
47. She seems happier with her phone (than you!)
If you find your woman texting a lot and grinning all the while, you must not take this sign lightly.
Man, no married woman will talk to her girlfriend on text messages all day long.
So, what makes her smile so wide?
You might ask "Care to share what's so funny?"
If it's her friends, there's no reason she wouldn't want to share it.
48. She doesn't seek your approval
Does this suit me?
Red or Blue?
Do you think this color suits me?
…and it never ends. She will seek approval from you unless you really satisfy her. Like, REALLY!
However, now, she is least bothered about your choices. It's a strong sign of losing interest or investing interest somewhere else.
However, if she stopped shopping altogether and has no interest in luxuries, it might not be cheating. Try spending some more time to understand the situation.
49. She has become indifferent to the trigger point
A little trigger and boom!!! A wife who loves you has the right to argue with you.
Usually, loud volume or a messy kitchen can trigger her anytime.
But now, if she has stopped reacting to the triggers, and doesn't fight anymore, she has most likely become indifferent to you.
Is she really more forgiving and understanding or did she give up on the marriage?
50. Your gut feeling is loud
Females are not alone in the race of "my gut says it". True that. Males can feel it too.
Every person has a different vibe. In my opinion, before trusting your intuitions, search for the truth.
If you can't feel her presence even when she is just next to you… or, if you can't feel the same bonding with her… and if you are feeling disconnected – your intuitions definitely know something you don't.
If your spouse has shown some common cheating signs and you're susceptible, your married life might come down crumbling.
However, don't accuse her without proof. Always seek solid evidence.
Now that you know all the signs, here are a few…
---
15 Traits of a Cheating Wife
Honestly, there are certain traits of a cheating wife that you will notice in your day-to-day life. This will help you validate your conclusion and also be more confident about your next move.
So, let's dive in to know more about your cheating wife. I know it's disheartening, it's no solution to escape the problems, instead go heads-on to fight it.
1. Resentful
If her disputes always end on a resentful note, where she plays the victim card in front of others, she's probably involved in a wrong action.
Like cheating on you.
If she often tries to find one-sided outcomes and doesn't negotiate mutually beneficial resolutions, there's something not-so-good cooking.
2. Secretive
If she hides her information and feelings, it's because she doesn't want anyone to take advantage of her information.
It's a prominent sign of her betrayal.
So, in order to hide the truth, she instead weaves a whole web of lies.
3. Manipulative
If she makes you feel sorry for something that you mustn't be sorry for, this lady knows how to justify her side.
She got the key tricks to manipulate you. That's a sign of a skilled cheater.
Let's admit it: she is trying to take advantage of your unconditional love and compassion… not everyone can do that.
4. Thankless
Yes, she is your wife and it is your responsibility to satisfy her demands.
But if she converts the responsibility into compulsion, it's time you think about it.
She cannot get everything she wants, and whenever she wants them.
You're not a robot for her. In addition to this, she doesn't even feel regretful to see that you sacrifice your own comfort for her needs. Typical thankless cheater!
5. Passive Aggressive
If you think she had a point to fight and she didn't fight because she loves you, you are under some vague misunderstanding, my friend.
You really need to get rid of your thoughts.
She exactly knows when to pick a fight and when to stay calm.
She's extremely clever and capable of playing mind games with you to fulfill her needs.
6. Compulsive Sexual Addiction
If she's a sex addict, it's probably never possible for a single man to satisfy her needs.
If a husband or wife suffers from sexual addiction, they must seek medical advice instead of reaching someone else to fulfill their needs.
Talk it out with her before she takes the wrong step.
7. Self-doubt
If you don't tell your wife her worth and do not treat her with enough respect, she is bound to run low on self-esteem.
She starts to feel hollow and to fill the gap, looks for an emotional affair outside of this thankless relationship.
Now, if her colleagues or male friends make her feel special with unending compliments, they can rope her in without much effort.
The moral of the story is you must give her the desired attention and feel grateful to have her in your life. Treat her right to keep her loyal.
8. Unrealistic Attachment
If your queen had some impractical and unrealistic attachment with you, then it's hard to sustain your marriage anyway.
At any point in time, she may conclude that you're unable to fulfill her needs and untie the relationship knot.
She probably isn't aware of the real world and its difficulties and has vague expectations from you.
You can try to explain things to her if you want to save your marriage.
9. High emotional dependence
You can't marry someone because you emotionally depend on her. Or, that they fulfill your emotional needs.
That's not a healthy criterion to marry someone.
Because, later in life, what if the emotional needs are not satisfied? Will you break this everlasting relationship?
If that has been the condition for your marriage, both of you can feel depressed and cheat each other.
Emotional dependency can ruin your relationship even before you notice it.
10. Empty emotional tank
It might sound like such a realistic and optimistic statement… "I live in the moment!"…
Cool! But that just denotes the fact that you don't have a fixed goal in your life.
If that's how your wife is, she is with you because you give her joy "in the moment"
She is going to leave you as soon as the moment ceases and move on to another who gives her" that moment of joy".
If you really want to find a common ground, confront her about it and see how you both can find joy once again.
11. Blamer
If your wife feels unaccomplished and blames you or others for her failures, she looks at you ONLY as a source of fulfilling her dreams.
She will continue to blame you forever for all of her failures, for the rest of her life. And someday she might leave you and blame you for it.
Speak up now before it's too late. These are signs of a betraying or disloyal wife.
12. Insatiable
Well, what's more, interesting than your love?
If your ways, your life, and your plans now seem boring to her, she doesn't love you.
An honest wife will find her man interesting (no matter what!) and encourage him to achieve his goals.
So, if she instead finds you boring, she won't stay with you forever, my friend.
Instead of finding happiness and love in your presence, she is looking for something interesting! Probably, she has found one…
13. Loves conditionally
Buddy, if she married you on conditions, is that even a marriage?
She is not a relationship or marriage material. Moreover, this marriage is a contract for her.
Marriages and relationships are not business. People with conditional love cannot settle for such ties.
Only when your bond of love is selfless and unconditional, can your marriage last long, faithfully.
14. Desires Instant Gratification
"I need this now"… "it was your fault…"
Either you satisfy her, or it's your fault. What a disastrous combination!
Her sweet and innocent requests lure you into keeping her requests. But one of the days, when you fail to satisfy her needs, she'll ask someone else.
She might also point out your incapability and break your heart in pieces. So don't fall prey to her loving requests for instant demands.
15. Denies Confrontation
Whenever you might ask her about a specific suspicious male acquaintance or a situation, she will either sidetrack the conversation or overreact saying "Don't I have to live my life freely?"
Or say, "Am I your slave/maid?"
She always finds her way out without answering you.
She'll leave you hanging without any justification for your questions.
I know. I know. It's all easy to say but difficult to follow.
Despite all this, most husbands do forgive their wives. Why?
Let's find out!
---
15 Reasons why men forgive Cheating Wife
Don't ask for one, men have got several reasons to excuse their cheating wives. Or better to say, love makes you do everything!
Women are best at melting the hearts of their lovers.
"I couldn't give her enough time…"
"I didn't deserve her…"
"She was manipulated into it…"
"How will the kids survive without her?"
And the list is endless… you may think it as a valid reason but it is just an excuse. To find out the real reasons, dig in with me!
1. You're afraid of spending a lonely life
Who likes to sleep without a warm hug?
Come back to an empty home?
No one. Similarly, a life without a wife is sorry.
Most men forgive their disloyal wives because sleeping with them is better than being alone in bed.
2. You can't bear to lose her
"She left because that man manipulated her."
"She never intended that, just a mistake."…
A man can find tons of excuses to console his heart if he has decided to forgive her wife.
Reason: he just cannot let go of her!
3. You can't start Over with another woman
Instead of starting over with another woman, some men prefer being with their current wife, even if she cheated.
They expect their ladies to get back to the sweet and loving homemaker which she used to be.
4. You can't live without all the love-and-romance
If romance is everything to you, you might forgive a cheating spouse and take her back in the name of romance.
That's not completely justified, but that's how it is.
5. She will get better
If you have divine patience, you'll make yourself believe that there will be a day when your cheating spouse will become saintly and loyal.
No matter how impractical the idea seems, it's one of the most dominant reasons for forgiving cheating wives.
6. It won't happen again
Of course, you've said that to yourself.
It was just this one time. Honestly, how are you so sure about it?
But, if for any heavenly reason you think that way, go ahead! I pray the best for you.
7. You're emotional attached
You may forgive her because of your emotional dependency on her.
This is still better than all the others mentioned above. But still not fair.
You deserve better. Never bet your emotions on a dishonest person.
8. You give her the benefit of the doubt
If you make excuses on behalf of your disloyal wife, it may be because you can't help but give her the "benefit of the doubt" – as people call it.
You might know what she's up to yet let her off because you don't have any solid evidence.
Or maybe because you have closed your eyes and choose not to see it.
9. You go with the flow
You might forgive her because you believe in going with the flow.
Also, you are ready to face the future and don't mind the worse times ahead.
You may trust her now, but what if she breaks the trust again? What if she has got fair reasons to cover her tracks again? Will you still accept her?
10. You can't handle the financial blow
If your finances are in ruins, you might fear spending money on divorce procedures.
Hence, you opt for a compromise. Not bad though! But I'm sure there are better options for you.
11. She's the only one
If she is the only good friend you had, the pain must be unbearable.
However, since she is the only one you live with or talk to, you may choose to forgive her.
12. You're mentally weak
Some men cannot tackle a lot of mental stress and pain caused by unfortunate separations.
If you're one of them, you might forgive your wife because you don't want another mental blow this time.
13. You are forgiving
It's great to have a forgiving personality. But it's not the same when you have a forgetful one.
It may not be entirely wrong to forgive her…
But make sure you take this decision without any biases.
14. You don't want a relationship loss
Instead of divorcing your wife, you want to rebuild your relationship.
You're still hopeful and not ready to face a relationship loss.
15. What about kids?
Well, here you've got three possibilities.
Forgive your wife and live a happily married life.
Forgive your wife and be cheated by her again.
Or, forgive your wife and keep quarreling with her.
If you can stand by (a), great. (b) and (c), are definitely not a healthy choice for a family.
If she promised her loyalty or you felt she'll change for the better, you might forgive her and live together once again.
But needless to say, you'll feel paranoid and want to find out how she got away the first time. Let me tell you.
---
10 Times & Scenarios when your wife can most easily get away with cheating
Are you wondering where she found this person? Maybe at a wedding party or an office event.
Well, she had many opportunities, for instance…
1. Work or Business Trips
Often, because of the unpredictable workload, partners fall short of time.
If you feel she merely threw excuses about the workload to avoid you, you might be correct.
She's busy, but with what?
The truth is far from what you think.
2. Home alone
It's very natural for one of the partners to feel lonely when the other one is struggling with their career and work.
If your wife is too lonely, even when she understands your situation, she might look for companionship.
And she might unknowingly give away her sanity while indulging in new friendships.
This is where the situation takes a wrong turn.
Communication is the best solution to tend to such conditions.
3. Changing work schedule
Your wife might really work odd hours, it's not irregular.
Her late work doesn't always imply she's cheating BUT it's a huge opportunity for her.
She can easily cite excuses about her work and you have to believe it.
4. Late-night shifts
Late-night shifts are the best if your wife wants to cheat.
She can literally get away with anything.
Since you're already exhausted after a long day, you won't have the energy left to think about this situation.
Also, since you know about her shifts, you don't give it a second thought. Hence she takes the opportunity to deceive you.
Sneaky, right?
5. Far-from-home Office
If her office is located far away from home, she can defend herself in the name of traffic, overwork, meetings, and whatnot.
You can't help but believe her. And all this helps her get away in many unfair ways.
She can obviously get along with any man in these "traffic hours"…
6. Hangouts with male colleagues
Women after marriage or even men have to change some behavioral traits which they followed before marriage.
Your wife possibly adapted to the change but her surroundings might not.
Did she spend her lunch break with a male co-worker?
That's a pretty safe way to dodge the suspicion.
7. Blind Trust
You can't build trust over a day, it comes with time.
As for you, you may trust her blindly, but then she will simply take advantage of the fact!
Trust her, but don't forget to keep your eyes open.
That blind trust can sometimes lead to infidelity.
8. Separate Finances
Joint accounts are a way to rely upon each other in tough situations.
But if you do not have one, then apart from being financially independent, she can make financial decisions without your consent.
How will you know if she spent it on her newly found love?
9. Home rides from Male co-workers
Why does she need to ride with a stranger when she can simply book a cab on her way or ask a known female colleague to drop her off?
Will she give you the same liberty to offer rides to female friends?
Well, these are the best opportunities for cheaters.
It gets worse when your wife makes it a habitual practice.
10. Get-away trips
Staycations and trips are cool and soothing unless you cross your boundaries.
It's completely fine to go out with your friends, but only if you are loyal and honest.
She can fly down to a different place and you won't even know!
A committed woman, if she's really trustworthy, will stay out of the situation that demands something off the hook.
Now that you know all the scenarios, let me tell you why exactly…
---
Why do women cheat?
Summary
A woman might cheat because of childhood trauma disturbing her mental situation, or because of her unfulfilled desires in her marriage.
"Cheating in a relationship is a sign of self-regulation failure. When it happens once, it is a mistake.
When it takes place twice, it is unfortunate. But when it occurs thrice or more, it is simply indicating primitive, uncivilized inhuman behavior."
There's a concept in our society that men tend to cheat more, but it goes both ways.
Women also look for variety and versatility in a relationship. And they may search for romance and love out of their marriage.
Now, the question is "why do women cheat?'
A woman might feel lonely, neglected, or not-good-enough. She might also feel that the charm in the relationship is lost due to your routine life or busy schedule.
Sometimes the cause can be physical, and other times it can be emotional.
Or, maybe she has some childhood baggage — neglect, abuse, or a parent who cheated — which also naturally makes her incapable of being dedicated to her relationship.
Women want spice in their relationships. They don't like partners who are gloomy, lifeless or boring.
You must take care of her needs, or else she'll find somebody who does. Make her feel loved and cherished. Be available for her, to cater to her every desire.
It is true that cheating is an offense, but cheaters might not be the only ones at fault.
If you did not give her respect, time, attention, and so much more she deserves in a good marriage, you might be at fault here.
The things that we don't get at home but get from a stranger will obviously seem more attractive and inviting.
Similarly, if someone praises your wife, she will realize her worth, respect, and esteem.
This is where you failed as a husband and not her.
So now if you think you failed as a husband and want to cope with a cheating wife and give your relationship a second chance… Here's how you can do it.
---
How to cope with a cheating wife? – 10 Things to do
"What thou sow, so shall you reap!"
The other man might cheat on her too… as is stated by Newton's 3rd law or the law of karma.
She might realize her fault then, try returning to you, and finally realize the happily-ever-after she kicked on purpose.
Do you want that too? That's completely understandable! What's better if both of you can take a second chance at happiness.
Honestly, coping with a betraying, disloyal, or unfaithful wife needs patience and real love.
If these three words describing a cheating partner made you uncomfortable or hurt you, know that you need more strength. Everybody deserves a second chance. So does she.
Accept her for who she is. That's the first step. No matter who in the world blames her, nothing must jiggle your support for her.
Remember that it's not a one-day trip to recovery, so…
1. Sign in for Couple therapy
One of the most effective ways to deal with a cheating wife is to seek professional help, i.e., go for couple therapy.
Couple therapy can noticeably bring out the emotions, problems, and their solutions for your married life… and if you're meant to be, it might even save your marriage.
2. Avoid comparisons
You mustn't compare your marriage situation to other's marriages.
Understand that marriages are completely personal and unique, and you and your partner might have unique and different ideologies.
If you compare, it will only make things worse.
3. Support your wife
The key to your happy and fulfilling marriage is staying beside your partner emotionally and physically.
Make sure that either one of you doesn't feel left out. Supporting each other throughout all the ups and downs is the only love language that will help you both sail to the end of the time.
4. Do not accuse her
Are you sure your wife is cheating on you?
Or, is it just your hallucinations and paranoia?
Don't destroy a marriage just because of certain doubts lingering in your mind. Your doubts might not even be true.
So, if you really want to save your marriage, approach your wife in a compassionate manner and with complete proof. Do not make accusations without proof.
5. Forgive; Yes, it's fair enough
If you want to save your marriage even after the disaster in your marital relationship, you need to forgive first, NO MATTER WHAT!
Yes, this might be a little hard for you… but understand that time will eventually heal everything.
6. Don't be outrageous
The most common behavior, when you find your wife cheating, is physical violence or threatening the other man your wife cheated you with.
This will only lower your standards and make you appear the bad one in front of everyone.
If you're looking for ways on how to turn a guy on, you're at the right place. Dig in to find some fail-proof ways.
Do not let your emotions take over your self-respect and most importantly, don't seek revenge!
7. Your children want you both
Your children must be your priority during such times. Understand that this whole situation will impact them emotionally, physically… and also legally.
Rather than being selfish and putting yourself first, think about your children's future. So, if you really think this marriage can be saved, go for it!
No matter how bad it gets, keep your kids out of it.
8. Do not fake your relationship
Although the marriage is crumbling, pretending that everything's alright is the most common mistake you fall into.
Pretending that the problems do not exist between you will not solve them!
Confront the issues, sit and discuss them and eventually find solutions that can benefit you both… and the relationship.
9. Take it easy for your health
A cheating situation in your marital relationship is definitely not something you face every day and can be very harsh on your health.
So, buddy…
Take it easy, find a friend you can confide in and take special care of yourself – both physically and mentally.
Sleep well, do not overeat, and most importantly, try to work out regularly.
Try to gain control of your negative thoughts and reroute it towards a positive direction.
10. Seek Legal Help
If you made up your mind for a divorce, it's time to knock on the doors of the judiciary. Make efforts to protect your legal rights, in case your marriage doesn't survive.
Be aware of all the legal assets and liabilities that you acquire.
A word from ThePleasantRelationship
No one can define your marriage better than you both.
If your spouse is cheating you, it doesn't infer your value as a partner. You're still a worthy man! You deserve all the love and happiness in the world.
Give yourself another chance to rebuild your relationship, or if you can't, the ONE is still waiting for you out there.
Whether or not you give her another chance,
Make sure you give yourself another chance… and another…and another… because hey, who says we can have only one or a specific number of chances at happiness?
You are free to have as many as you want.
Are you interested to know more about 'How to be a Better Wife' then click here?
Surabhi Kedia
Surabhi wakes up every day with a drive to craft words that can create a soulful impact. Creatively adventurous, she is always seeking to learn new skills and acquire new experiences. With a hidden soft corner for languages (especially Urdu), she writes poetry occasionally, binges on romantic shows, and LOVES to talk. A hustler, admirer, chaser, Surabhi is just another-someone who refused to give up on her dreams. She says, she is just somebody who's trying to make herself a writer and for now, she's just writing...