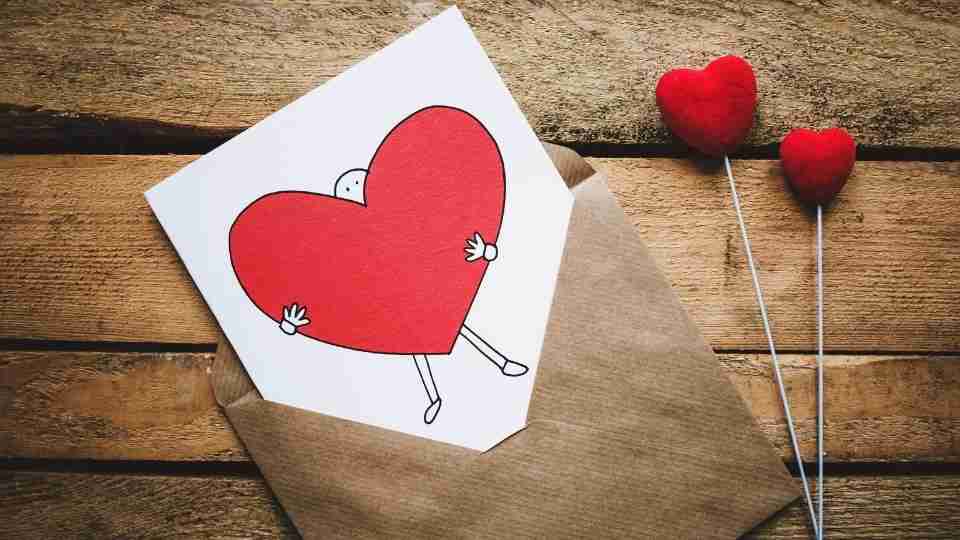 An anniversary letter for the husband conveys your special messages to him. Through this letter, you can show your gratitude towards him. It is simply written, with well-articulated words.
It should be designed in such a way that your partner feels special. He can remember and cherish all those past memories while reading the letter.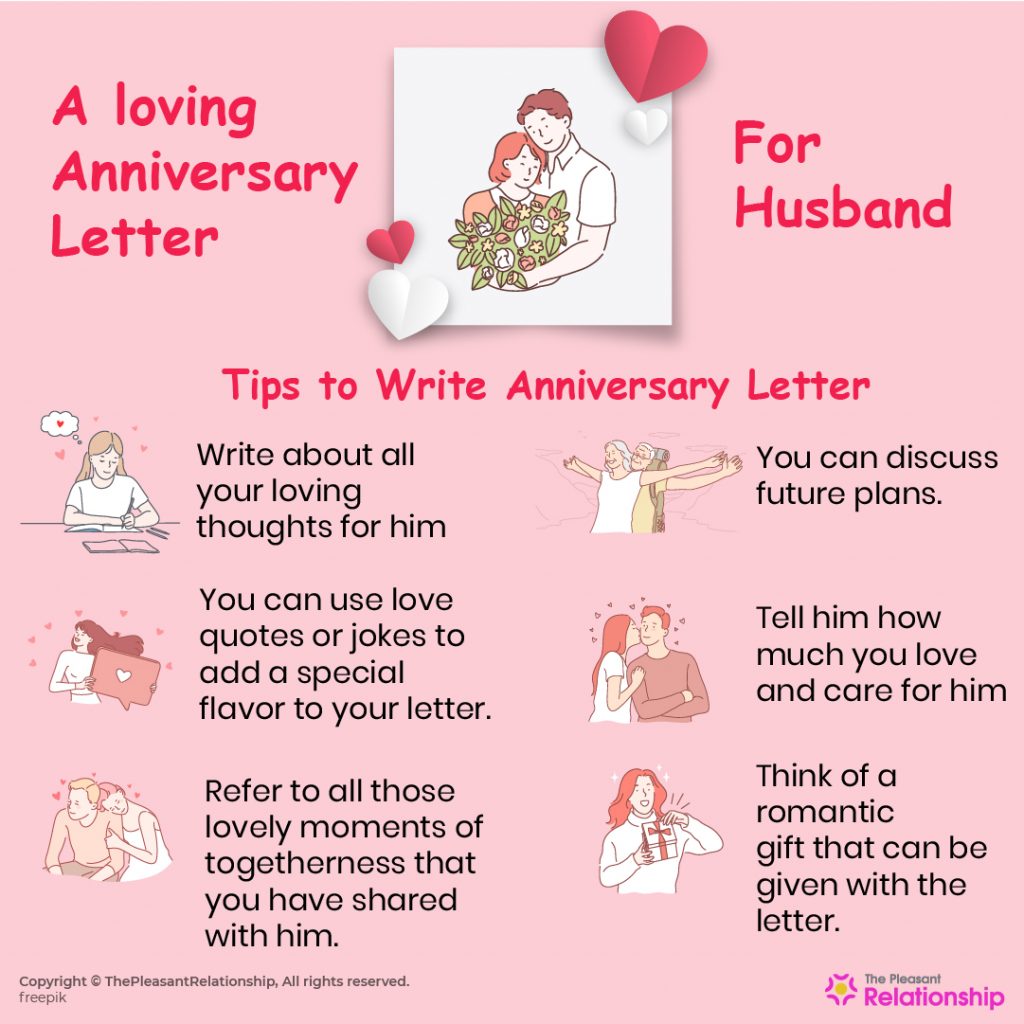 Tips to Write Anniversary Letter for Husband
The below-mentioned points can be considered by the reader for writing an anniversary letter for husband.
Write about all your loving thoughts for him.
Keep the love letter for husband simple and clear.
You can use love quotes or jokes to add a special flavor to your letter.
Refer to all those lovely moments of togetherness that you have shared with him.
Specify your feelings related to your first meeting.
Write about all the romantic moments.
Refer to the things which you do not like about him.
Write about your past experiences and how you both worked together to make a happy home.
Specify all happy and sad moments that you people share.
Refer to those points which make you feel proud of your husband.
Tell him how much you love and care for him.
You can discuss your future plans with him.
Think of a romantic gift that can be given with the letter.
Sample of an Anniversary Love Letter for Husband
SUMMARY
A romantic anniversary letter for husband can be the best way to wish him on this special day. You can express your love and admiration for the special person in your life. It tells him how much you love and care for him.
---
To
The love of my life,
Every year we celebrate this day by having a romantic dinner and enjoy personal moments of love and togetherness. I was thinking about what special gift I should give you today. Nothing seemed interesting.
Every year, I gift you either an anniversary card to wish you or a small gift as a token of my love for you. For this year, I decided to do something different. I thought of writing a letter which will say my deepest feelings for you. An anniversary card will not have enough words to describe my feelings. As you know, I am not used to writing love letters. I am unsure of how well I can express my intense feelings for you. whatever I write, it will all be my true feelings towards you.
Together, we have shared so many beautiful years of pure love and friendship. Life became beautiful after we started a family. I feel blessed and happy to be your better half. It's been an amazing journey for me. Our relationship grew each day. We have many happy moments to ponder and celebrate. One day, I would love to share the feelings of all those good moments with our children.
We have succeeded in the tests of time and smiled and cried together. You have supported and encouraged me, through good and bad times. We have always held each other's hand through life's misfortunes.
I won't say our marriage is a perfect one. We had our share of ups and downs in life which we tried to solve with patience. The uncertain life had taught us to be patient.
This incredible journey of our life had many problems on its way. We faced all challenges with courage and determination. Our love for each other has become strong. Now, we cannot even think of living a day without each other.
I thank God for choosing you as my soul mate. We were so different in our nature and outlook when we met for the first time. I was an extrovert, outspoken, ambitious and impatient. I remember you as a timid, quiet and shy fellow. You are humble, polite and patient. Slowly, I started liking your soft side. It inspired me to become a better "me". I learned how to be patient in times of adversity. You taught me to be a humble daughter in law, a loving wife and a caring mother.
Our wedding day holds a very special place in my heart as on this day, you and I took many vows and became husband and wife. We have pledged to live our life together. I married the man of my dreams with whom I would love to grow old with.
I am grateful that you have given me so many happy moments to remember and cherish throughout my life. Let me give you a big vote of thanks for showering those endless love upon me and our children.
I would like to thank you for being my best friend, my worst critic, my greatest foe and my beloved husband. For us, love started to bloom after marriage. It was an arranged affair set by our parents.
You were in your mid 20's and I was 21. You being the son of my mom's friend, the chance meeting in a common friend's house actually changed our life forever. I never imagined that a shy and sober guy, who hardly looks up to a girl can marry an extrovert girl like me.
I am lucky to have a loving and caring life partner like you. You have always encouraged and helped me in all my endeavors. You have proved yourself as an obedient son, a responsible husband and a loving and caring father.
All through these years, I see a loving husband and an extremely caring father who had taken all the responsibilities of building a happy home. With each passing day, my love for you has grown deeper and stronger. I respect and adore you from the core of my heart.
I can always share my happiness and worries with you. You always had patient ears and a kind heart to solve my problems. Our love life was not without its share of fights and disagreements. At times, we fought over trivial things and sometimes, over some serious disagreements. Actually, we never tried to become a perfect couple. Fights made our bond stronger and deeper.
We always believed in each other and knew that whatever be the circumstances, we will successfully handle things together. I have absolute faith and trust in our bonding. Sometimes, we also have differences in opinion but we never try to force our viewpoint on each other.
If I am in pain or grief, your support makes me feel better. I can lean on your shoulder to cry and relax. The warmth of your loving touch and coziness of your arms makes me feel better. You console my heart and help me cope up with moments of sorrow and disappointments. Thank you dear, for being there, as always.
I agree that none of us are perfect. I am moody and at times do foolish things; which I am not supposed to do. You are a perfectionist and can go to any extent to achieve it. I do not like your too serious side. We love and complement each other. Our relationship withstood many storms and we were always there to support each other.
You will always have a very special place in my heart. I respect you as a person you are. I admire you with all your flaws.
Our relationship has evolved slowly and steadily. From mere acquaintance, we became friends and love birds and now we are responsible parents of two beautiful children. I would like to thank you for being a wonderful father. You pamper them a lot and become their partner in crime.
Our daughter looks and behaves like you and our little man is absolutely like me. I feel privileged and honored to see them growing. You are a kind-hearted husband and an affectionate father, who can do anything and everything to keep his family happy.
I am thankful to you for all the happiness and comfort you have given me. I am sure we will have many more in the years to come. On this special day, I tried to gather all my thoughts and feelings in one place and show my gratitude towards you. I hope you will like it and have the patience to read it. I promise to love you forever.
HAPPY ANNIVERSARY TO YOU, MY LOVE
From your loving wife.
---
Closing Thoughts
An anniversary letter for your husband will speak your heart out to him and you should specify all your deepest feelings for him. Keep it simple, yet elegant.
Are you interested to know more about 'My Husband Hates Me – How to Save Your Marriage When It's Falling Apart' then click here?