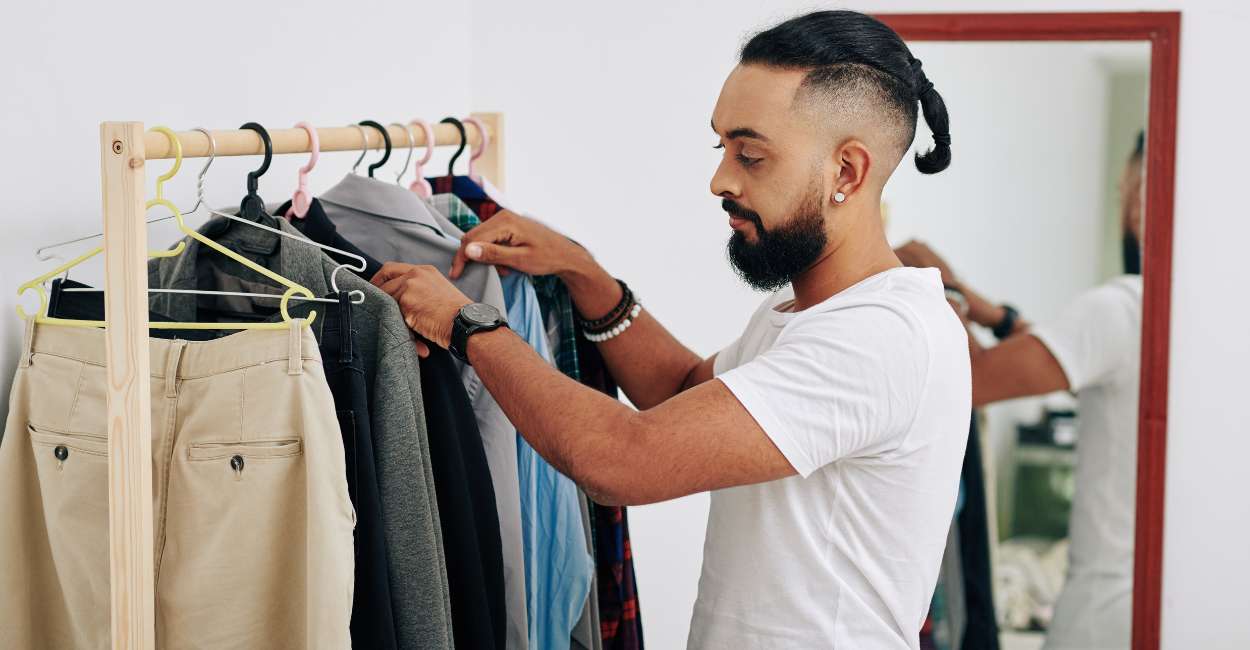 So, you're wondering about what to wear on a first date for guys? 
It's that nerve-wracking moment when you're about to embark on a first date, and the possibilities seem endless. Even if you've been on a lot of dates, the confusion never ends.
You've got a charming smile and a sparkling personality. But as you stand in front of your wardrobe, there's one crucial question that lingers, 'What should I wear?'
Here is how you can leave a lasting impression.
---
What To Wear On A First Date For Guys? 20 Impressive Tips
The art of dressing for a first date is not just about fashion. It's about making a memorable first impression that reflects your personality, style, and confidence.
Whether it's a casual coffee date, an elegant dinner, or an adventurous outdoor activity, you'll find timeless advice here.
1. The Classic OCBD Shirt
The Oxford Cloth Button Down shirt is an ideal choice for various first-date scenarios. It strikes the balance between class and comfort.
You can pair it with chinos, trousers, or even denim, depending on the location and occasion, to leave a lasting first impression.
2. Smart Casual Shirts
If you are going out for a casual date on a casual evening, nothing can go wrong with a casual shirt.
For cooler climates, consider a flannel shirt in solid colors or subtle patterns. Avoid loud designs like buffalo plaid.
In warmer weather, a linen button-up shirt is a breathable alternative that still maintains a polished look.
3. The Versatile Polo Shirt
While often associated with preppy fashion, polo shirts are pretty versatile. They're perfect for warm days when you want to upgrade from a T-shirt to something refined.
Opt for minimal polo designs in neutral colors like navy or charcoal. Choose pique knit polos for a textured, less sporty appearance.
4. The Essential T-Shirt
A well-fitted T-shirt is perfect for first dates involving physical activities, like hiking.
Opt for solid-color crew neck pocket tees and layer them. For a touch of uniqueness, go for T-shirts with subtle patterns.
5. The Timeless Chinos
Chinos are incredibly versatile pants suitable for various casual settings on first dates. They pair well with almost any outfit. It can never make you look bad.
If you are looking for a breezier option, Chino shorts can be your savior.
6. The Trusty Pair Of Jeans
Jeans offer a casual yet stylish option for first-date outfits throughout the year. Dark-wash jeans are more formal, making them ideal for dinner dates.
Avoid jeans with excessive distressing, rips, or fading. Pair your jeans with a casual button-up, polo, or T-shirt for a well-rounded look.
When selecting jeans, opt for slim or straight-leg styles that flatter your body shape. The ideal jeans should have a slim fit around your thighs and gently taper from the knees down.
7. Layer It Casually With A Vest
Vests add warmth and style to your outfit, especially during transitional seasons. To avoid looking overly formal, opt for a quilted vest rather than a fleece one.
Pair it with chukka boots. Skip the tucked-in button-down shirt and choose a casual crew neck sweater instead.
8. Elevated Shorts Perfect For Warm Weather
Wear button-up shirts and shorts if you have a hot outdoor date scheduled but don't want to seem too casual.
If you want to look less preppy, wear them with shoes. Choose your own accessories and be ready to get numerous compliments.
9. Blazer Or Sports Jacket For A Formal Touch
For a more formal appearance, a tailored blazer can be a great choice. Blazers can be dressed up or down depending on their color, construction, and fabric.
Wear it over an OCBD or dress shirt for a smart casual look. In colder weather, swap the button-up for a sweater or layer a sweater over it for a stylish, layered outfit.
10. Versatile Sweaters For Layering
Sweaters are ideal for colder weather and can be layered with various clothing items for a sophisticated look.
Pair different sweater styles with a button-up shirt for a classic layered appearance. Alternatively, wear a crew neck sweater on its own for a simpler yet stylish outfit.
11. Cotton Or Wool Trousers For Comfort
While jeans are OK for many first-date situations, you may need to upgrade for more formal settings, such as fine-dining restaurants. Choose pants made of wool, cotton, or linen in muted hues like gray or black.
12. The Trusted Denim Jacket
The classic jean jacket has evolved from a rugged staple in men's fashion to a versatile choice. It's useful in a wider range of dress codes than you might expect.
You can pair it with chinos, a T-shirt, a shirt, a hoodie, your favorite pair of denim jeans, and a lot more.
13. Pick The Right Silhouette
When it comes to dressing for a date, find a well-fitted silhouette, regardless of your outfit choice.
You may prefer casual attire like jeans and a T-shirt or opt for a more polished look with a button-up shirt and trousers. The key is to strike a balance between baggy and skin-tight clothing.
Your clothes should fit comfortably and enhance your appearance without feeling constricting.
14. Select Neutral Dark Colors
When in doubt, stick to dark, neutral colors for a sophisticated and versatile look. Colors like black, charcoal, navy, brown, and khaki green are timeless and easy to match.
For a laid-back date, pair slim or straight-leg jeans in a neutral color with a well-fitted t-shirt.
Layer a stylish bomber jacket on top to complete the ensemble. It'll offer a perfect blend of comfort and fashion.
15. A Fancy Sport Coat
To achieve a great smart casual look, consider throwing on a sports coat over a long-sleeved polo. It will make you appear effortless yet put together.
The jacket will elevate your outfit. While the polo maintains a more relaxed and casual vibe. This makes it a suitable alternative to a formal dress shirt.
16. Turtleneck
On certain occasions, a traditional blazer or sports jacket might feel overly formal for a first date. In such cases, opt for a turtleneck sweater as a dress shirt substitute.
This combination works particularly well for fall and winter dates. It ensures warmth and style without the need for an overcoat in milder cold weather.
17. The Trendy Workwear
If you have a business casual office job and are meeting someone right after work, you're in luck! You're likely already dressed appropriately.
However, consider making some subtle adjustments to transition into a more relaxed, date-ready look. Swap out your typical white or light blue shirt for something fun, like a pink shirt.
Choose loafers instead of formal lace-up shoes, and inject a pop of color with your choice of socks. Unbutton that second button on your shirt to further enhance the laid-back feel of your outfit.
18. The Suede Bluchers Or Loafers For A Touch of Preppiness
Suede Bluchers fall in the middle of the formality spectrum. They are an excellent choice for smart casual occasions or dressy dates.
If you have Oxfords or Bluchers in your shoe collection, they are certainly formal enough for an evening date.
If your style tends towards a preppy or sporty aesthetic, loafers might be the ideal choice for you.
19. Boots Or Sneakers For The Trend Game
Boots provide greater versatility. You can find a wide range of boot styles to match your specific needs. Whether you're dressing up for a special event or going for a more rugged, outdoorsy look, it matches both.
When it comes to sneakers, opt for a minimalist approach. Clean, white sneakers or darker ones with a sleek silhouette are the best companions for most outfits.
20. Accessorize Wisely Not Loudly
Among men's accessories, a stylish watch stands out as a subtle yet powerful way to express your personality.
Focus on details like a well-matched belt that complements your shoe and watch color. This conveys your attention to detail.
In certain situations, leather bracelets or even a metal cuff can enhance your masculine qualities without seeming out of context.
And if your date happens to be during the daytime and outdoors, don't hesitate to don a pair of sunglasses.
---
A word from ThePleasantRelationship
While dressing for your first date, keep these outfits in mind. These are some of the first date outfits that most men appreciate, and even ladies adore.
Lastly, remember the goal is to impress while being confident and comfortable in your own skin. So, don't forget to prioritize your comfort as well!
Surabhi Kedia
Surabhi wakes up every day with a drive to craft words that can create a soulful impact. Creatively adventurous, she is always seeking to learn new skills and acquire new experiences. With a hidden soft corner for languages (especially Urdu), she writes poetry occasionally, binges on romantic shows, and LOVES to talk. A hustler, admirer, chaser, Surabhi is just another-someone who refused to give up on her dreams. She says, she is just somebody who's trying to make herself a writer and for now, she's just writing...