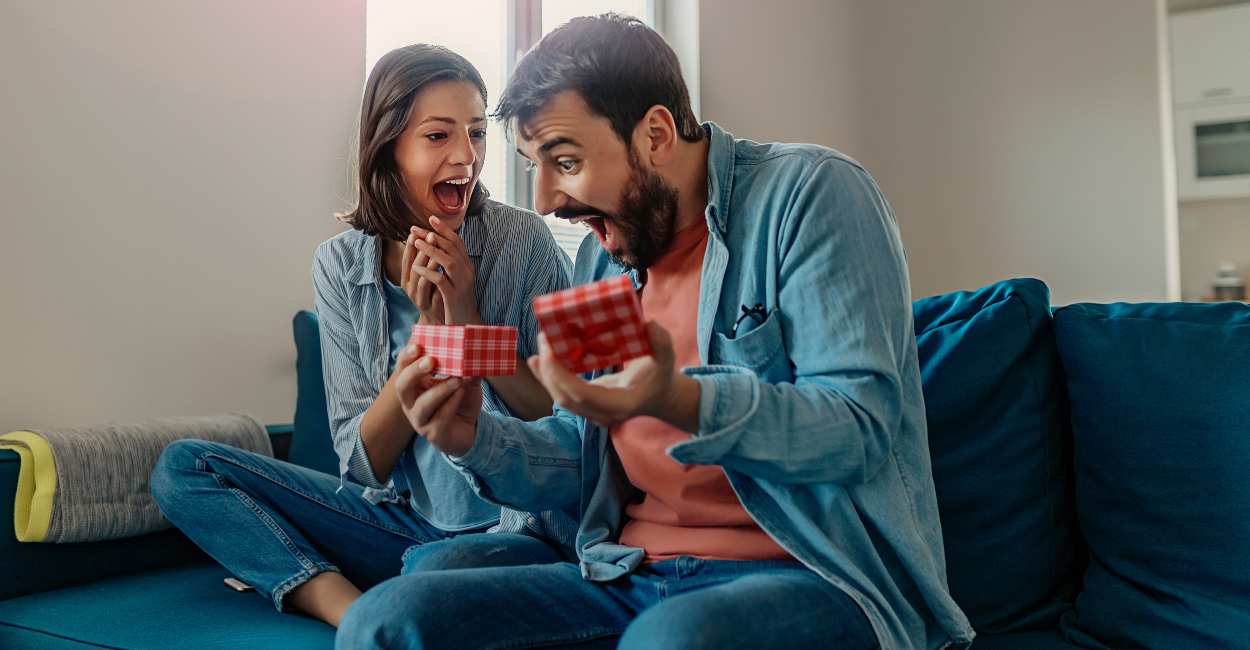 Check out some ways to surprise your boyfriend if you believe you're blessed with the best man in the world.
Of course, you want to do something unique and make the moment memorable for him. And here you'll find all kinds of ways to show how much you appreciate him.
So, keep reading to brighten up his life!
---
35 Ways To Surprise Your Boyfriend And Make Him Melt
You want to make him feel cherished and are ready to go to great lengths for it.
But you've just started dating and don't know what he'd like better. Or you're together for a while, but you're out of ideas.
Well, whichever might be your case, grab the best ways here to make him realize how much you value him!
1. Switch his alarm tone to something personal
The first thing you listen to in the morning can affect your mood for the rest of the day. So, change your boyfriend's alarm tone to something intimate, funny, or romantic.
So, if he begins his day hearing a personal message from you, he will definitely feel special.
2. Stick cute Post-it note messages on the mirror
Write how much you are grateful for him on Post-its. Sneak into the bathroom when he is in the shower, and stick a Post-it note to the mirror. You can also do the same to his car windows.
3. Clean up his apartment
Very few people in this world actually like to clean. So, surprise your boyfriend and make his life a bit easier by cleaning up his apartment for him. Get all the cleaning essentials and tidy up in his absence!
4. Give him tickets to his favorite show
Whether it's his favorite music band's concert, an opera, or even an exhibition he is excited about, get tickets for that.
It may cost you a fortune, but it will be worth his glowing happy face!
5. Put a little note in his lunchbox
This is one of the sweetest things you can do to surprise your boyfriend.
Sneak a note inside his lunchbox when he's absent. This will inevitably put a smile on his face during the short break in between a hard day.
6. Give him a romantic massage
Another way to surprise your boyfriend is to give him a romantic massage. It will help him destress and unwind after a long day.
To set the mood, turn the lights low and decorate the room with flowers and aromatic candles. Get started to give him the massage of his lifetime!
7. Plan a surprise date night
If your boyfriend always initiates date nights, a great surprise is to plan one by yourself. Pick him up from work, make him change in the car, and have dinner at your favorite restaurant.
If that's not favorable, make his favorite dishes and take them to the beach!
8. Book breakfast in bed
Book a room at a nice hotel and order breakfast. It'll help both of you to unwind after a long week and get the space to be intimate. You can cuddle and indulge in your lust all you want without having anyone disturb you. 
9. Cook him his favorite meal
Sometimes, the quickest way to someone's heart is through their stomach. So, cook your boyfriend's favorite meal or oven-bake him a cake from scratch.
This won't just surprise him but also show that you are willing to make an effort to put a smile on his face.
10. Arrange a bubble bath
This will only take twenty minutes, but it can make his day. To arrange the perfect bubble bath, get flowers, scented candles, and some wine. Decorate your bathroom and turn up his favorite relaxing music
Bonus: you can also join him. 😉
11. Get him a pet
Does your boyfriend have a soft spot for animals? If yes, the quickest way to warm his heart is to give him a pet.
Visit an animal shelter and get him a puppy, kitten, or any other baby animal he prefers. This way, you two can also experience the joy of being parents!
12. Give him a random gift
Another quick and easy way to surprise your boyfriend is to give him a present out of the blue. It can be something small, like a tie, his favorite perfume, or something significant, like a watch. Make sure you wrap it up with some fancy paper.
13. Write a love letter
A romantic way to catch your boyfriend off guard is an old-school, thoughtful letter. Write a long letter reminiscing about your special moments together. Confess your love all over and appreciate him.
It will let him see himself through your eyes, making everything more special. Surely, it will also put a smile on his face.
14. Pick him up from work
If you both work and he usually picks you up, this can be a great change of pace. Wrap up your work before he clocks out and surprise him at the gates of his workplace.
Pick him up, and you can also take him on a long drive. This sends the simple yet meaningful message that you love spending time with him and will be there for him.
15. Play party games with him
Revisit your high-school selves and play party games with him. This plan will be especially fruitful if your relationship is new and you are just getting to know each other.
Games like 'truth or dare' or 'beer pong' are especially great at making you both know each other.
16. Plan a year's worth of dates
Search online for the best date ideas and plan a year's worth of dates. Jot down all you want to do from now on.
Now, surprise him every weekend with a special plan. You will never run out of options to spend quality time together!
17. Randomly give him compliments
Give your boyfriend sudden and meaningful compliments to lift his spirits. It can be from a flirty comment about him looking attractive or smelling good. It can also be appreciation about his role in your life.
18. Get him flowers
Men like flowers as much as women. So, turn up a romantic mood by getting him flowers.
A single red rose or a fancy and extravagant bouquet of orchids – the choice is yours! You can also get him flowers that have symbolic meanings to your relationship.
19. Gift him a bottle of his favorite drink
Nothing can make a man happier than getting his favorite liquor without boring holes in his pockets.
So, know about his favorite drink and brand and invest in a bottle for him. This may be on the expensive side of things, but you can try saving up.
20. Have a self-care session with him
Book a professional couple's self-care session. Let the fatigue leave, de-stress, and unwind with a comforting experience and get your thoughts on track!
21. Take him on a spontaneous shopping spree
Women often overlook that men also like to get pampered with new outfits.
So, take him to the mall randomly and ask him what he wants. Spend quality time together as you both choose the perfect fits for him!
22. Indulge the adrenaline junkie in him
Does your boyfriend live for adventure?
Not all men get the time to channel their inner adrenaline junkie. So, plan an exciting activity for him. It could be anything, from skydiving and rafting to mountaineering.
23. Arrange a boys' night with his friends
Organize a boys' night with his friends and let him have his space. It can be outdoors, like watching a football match.
Or you can keep things simple and indoors. Order some pizza and beer and set up the TV for them to watch a movie.
24. Sign him up for a class
Perhaps your boyfriend always wanted to learn a skill like playing a musical instrument, painting, or pottery. But he has not had the time or the energy to pursue those things.
A delightful way to surprise him is to sign him up for a class he has always wanted to attend.
25. Make a record of your memories
A cute way to surprise your boyfriend is to make a collage, a written account of your memories, or even a photo album.
It will help you relive your memories and remind you why the two of you fell in love in the first place.
26. Tend to something he has been postponing
Help him do some important work that he postponed for too long. It might be taking his mom shopping, choosing a gift for his sibling, or planning a surprise event for his parents.
27. Fill his car with fuel
Refill your boyfriend's car with fuel to catch him off guard. When he gets inside his car, he'll be elated to see a full tank. If you want to go the extra mile, you can even take his car for a wash and make it as spotless as new.
28. Plan a movie night with speakers and projectors
Whether there's a specific movie you two want to watch or something you both are a fan of, plan a fancy movie night right at home!
Set up speakers and projectors, get cushions and popcorn, create a cozy ambiance, and enjoy!
29. Make art with him
Painting together is a wonderful way to connect with your significant other. So gather all the art supplies you need, from huge canvas to the best paint brushes.
Set everything up in a room, call your boyfriend, and just paint your hearts out. Channel your inner Picasso to create a masterpiece together!
30. Arrange a grand entrance
Decorate the entrance of his house with balloons and ribbons. Or make a traditional rose petal path with candles on the edge.
Plan things meticulously, and keep in mind when he usually returns home. And he'll be spellbound by the romantic gesture!
31. Guide him to an at-home blind-folded date
When he returns home, blindfold him and take him to the room with the surprise date. Hold on to his arms tightly so he doesn't fall and flirt by tracing patterns on his arms.
Since he can't see anything, the suspense and anticipation will make things more interesting.
32. Arrange a visit for his long-distance best friend or sibling
If you want to blow your boyfriend's mind, get tickets to the city to his long-distance best friend or sibling. Schedule it when he has an open schedule, pack his bags, and lead him to the airport/train station!
33. Learn a few sentences in his language
Do you and your boyfriend have different mother tongues? Learn a few phrases in his language.
Try saying, "I love you," "You're the love of my life," or "I can't think of a life without you!" and make him blush hard!
34. Do his favorite pastime with him
If your boyfriend likes music, join him for a jam session. If he loves playing indoor games, play chess.
Show him how much you appreciate him by indulging in his favorite pastime together. Make him feel special, spend quality time together, and build lots of memories.
35. Arrange a picnic
A picnic is a relaxing and fun way to enjoy each other's presence and build memories together.
Arrange a picnic at the beach or park. Get takeouts or make some sandwiches. Or organize a barbeque party in your backyard with lots of fireworks.
---
A word from ThePleasantRelationship
Remember, you do not need to spend a lot to surprise your boyfriend. Even a seemingly small and random thing can go a long way.
So, whatever you do, personalize your plan and put your soul into it. With your feelings and personal touch, your plan will naturally make his heart melt!
Are you interested to know more about 'Signs Your Relationship Will Last Forever' then click here?
Surabhi Kedia
Surabhi wakes up every day with a drive to craft words that can create a soulful impact. Creatively adventurous, she is always seeking to learn new skills and acquire new experiences. With a hidden soft corner for languages (especially Urdu), she writes poetry occasionally, binges on romantic shows, and LOVES to talk. A hustler, admirer, chaser, Surabhi is just another-someone who refused to give up on her dreams. She says, she is just somebody who's trying to make herself a writer and for now, she's just writing...